Hello! This is the hot-spring-loving Haruka Styles!!
Recently, it's been decided that my beloved Suehiro Onsen is closing down starting from March, so I'm really bummed.
In order to hype up Beppu's hot springs, I'll be doing the Enjoy Onsen Guide today as well!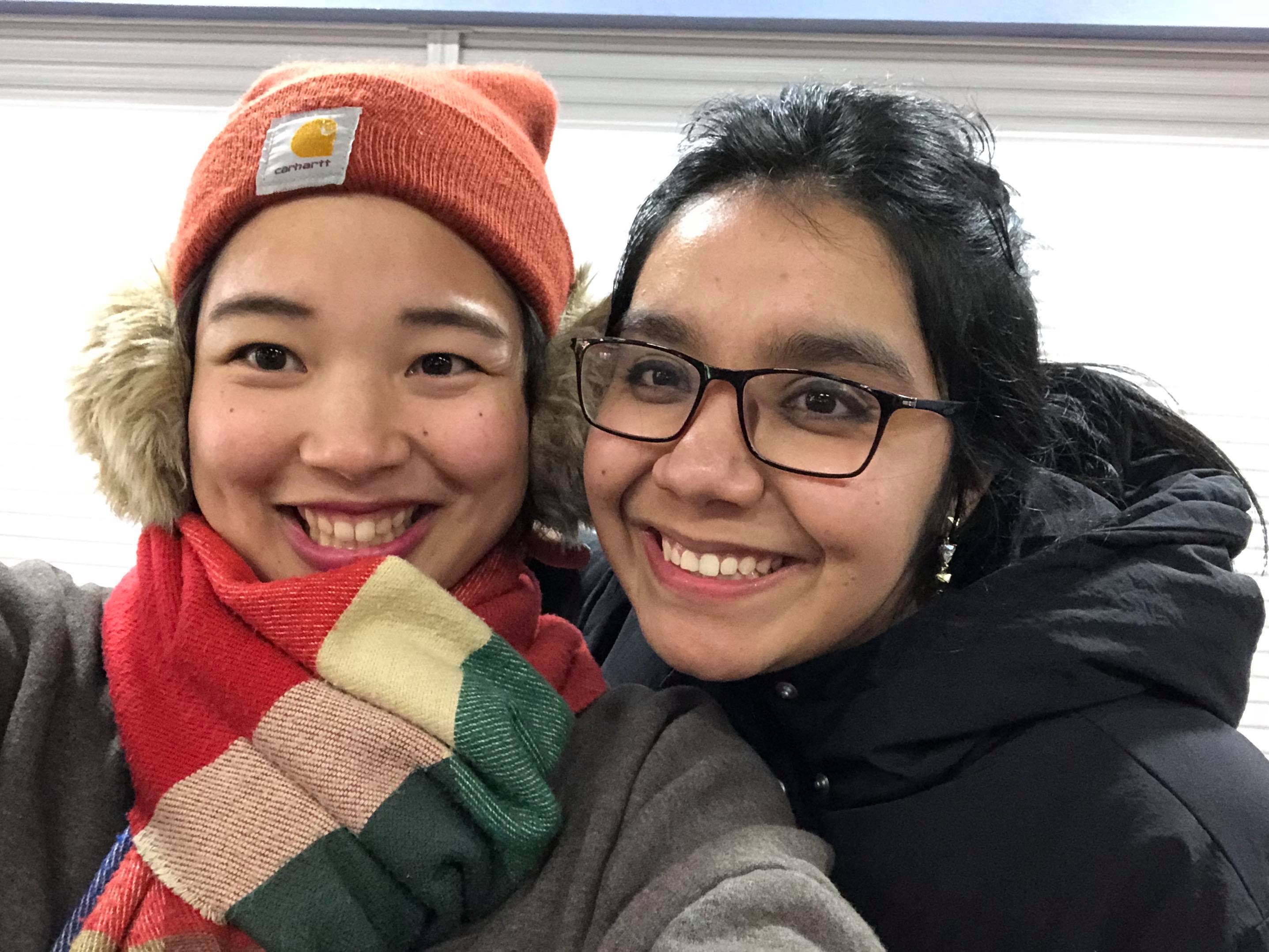 How to Enjoy Onsen Vol.11 from Bangladesh
This is Nishi, a graduate student in Sendai who originates from Bangladesh. She said she would be staying in Beppu for five days and I ended up spending one of those days with her as an Enjoy Onsen Guide. It was her first time in Kyushu, let alone Beppu.
Why did she come to Beppu?
It was apparently because of the effects of the coronavirus. Due to the gradual spreading of the disease throughout Japan, airplane regulations have become stricter. Even Nishi could no longer go through with her original plan to go to Thailand and Taiwan. In light of this, she decided to change things up and go to Kyushu, to which she's never been. Another reason for her decision to visit was because she had friends in Beppu and Fukuoka. (Please note that the events described in this article took place during the early weeks of the coronavirus crisis, several weeks before Japan would enter a state of emergency).
The two of us didn't get through lunch yet so she and I decided to go get something to eat together.
In the short span of the two hours we had on us, I thought to introduce Nishi to the vicinity of Beppu Station. In the surrounding area, there are tons of shopping strips scattered about, and there are tons of places like old, Japanese houses that were reworked into cafes or restaurants and old, local spots that are rich with history as well. Beppu is so dense and bustling that even two hours isn't enough time. In such a place, we went on to eat Beppu's famous "Beppu reimen" (cold noodles).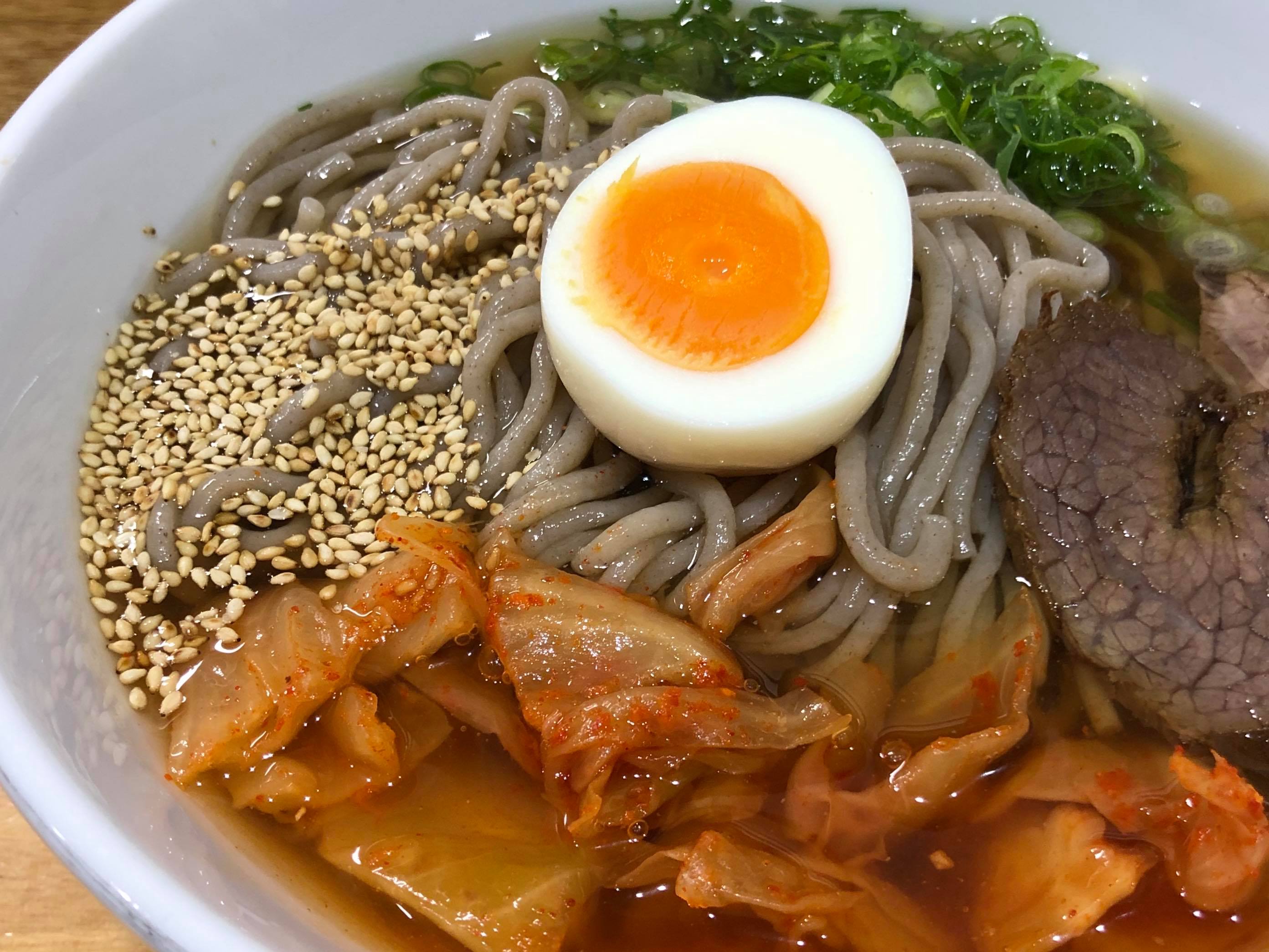 It's said that the start of Beppu Reimen was when people brought it over to Japan from Chousen – now known as Korea – in the post-war period. Distinctive of that post-war time, reimen's ingredients were that of kimchi cabbages (Korean kimchi is typically made from Chinese cabbages) and the noodles were made from buckwheat flour (soba: traditional Japanese noodles).
We went to Rokusei, one of the few restaurants where you can still enjoy the taste of the past. Nishi had never eaten cold noodles before and was delighted. She had a satisfied expression after drinking up every bit of it, down to the soup.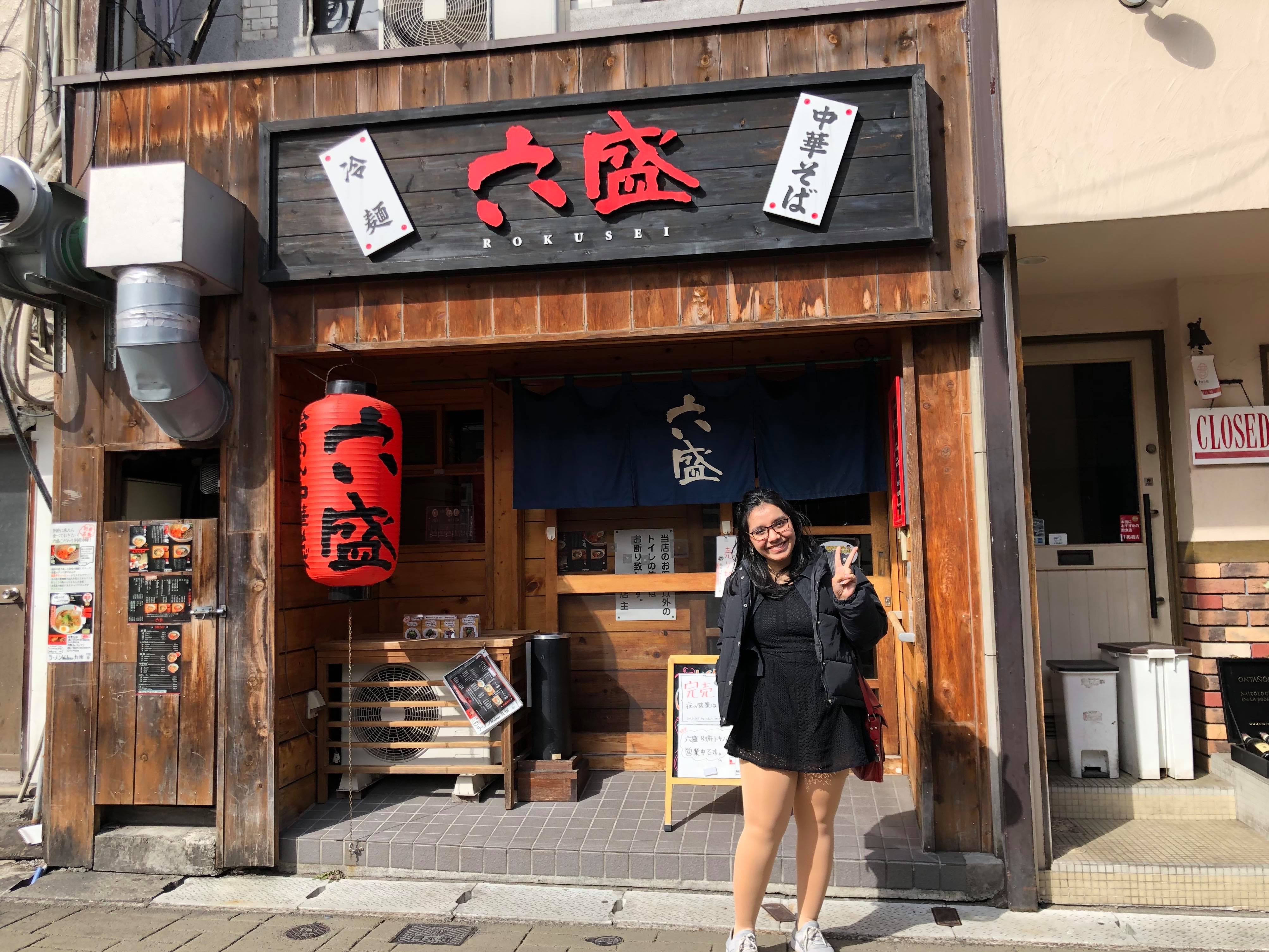 Once we were full, we decided to head over to the hot springs. On that day, it snowed in Beppu for the first time this season, so it was super cold. We wanted to hurry and warm up in a hot spring and chose one called Yamada Bessou, located within a ryokan. Yamada Besso is easily accessible from Beppu Station, a mere 10-minute walk, and you can take advantage of the bath without staying at the inn. This concept of bathing in a hotel or ryokan hot spring without actually lodging there is very common and the baths are very much available to the public.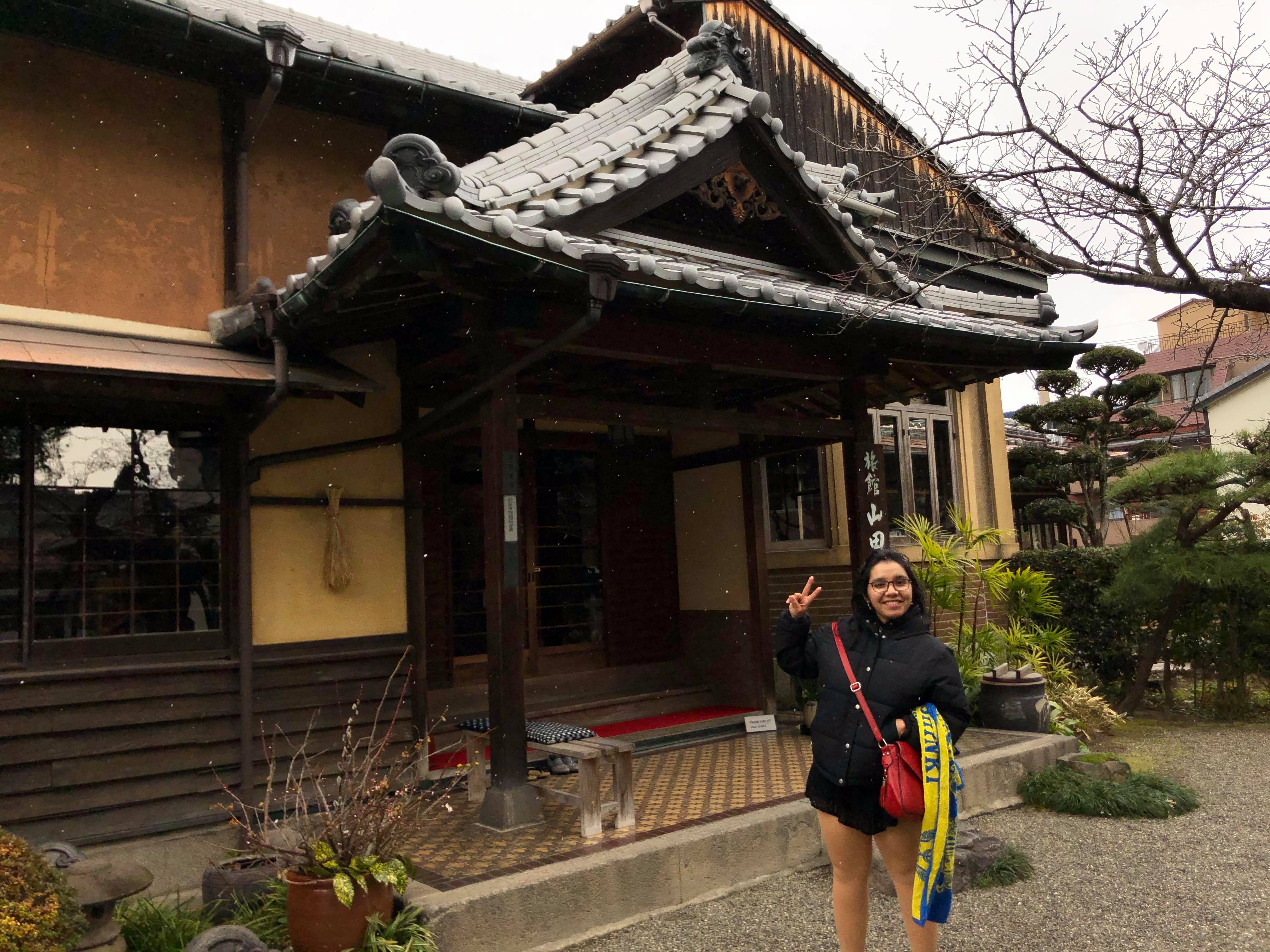 This here splendid Japanese building located 10 minutes away from the station is Yamada Bessou.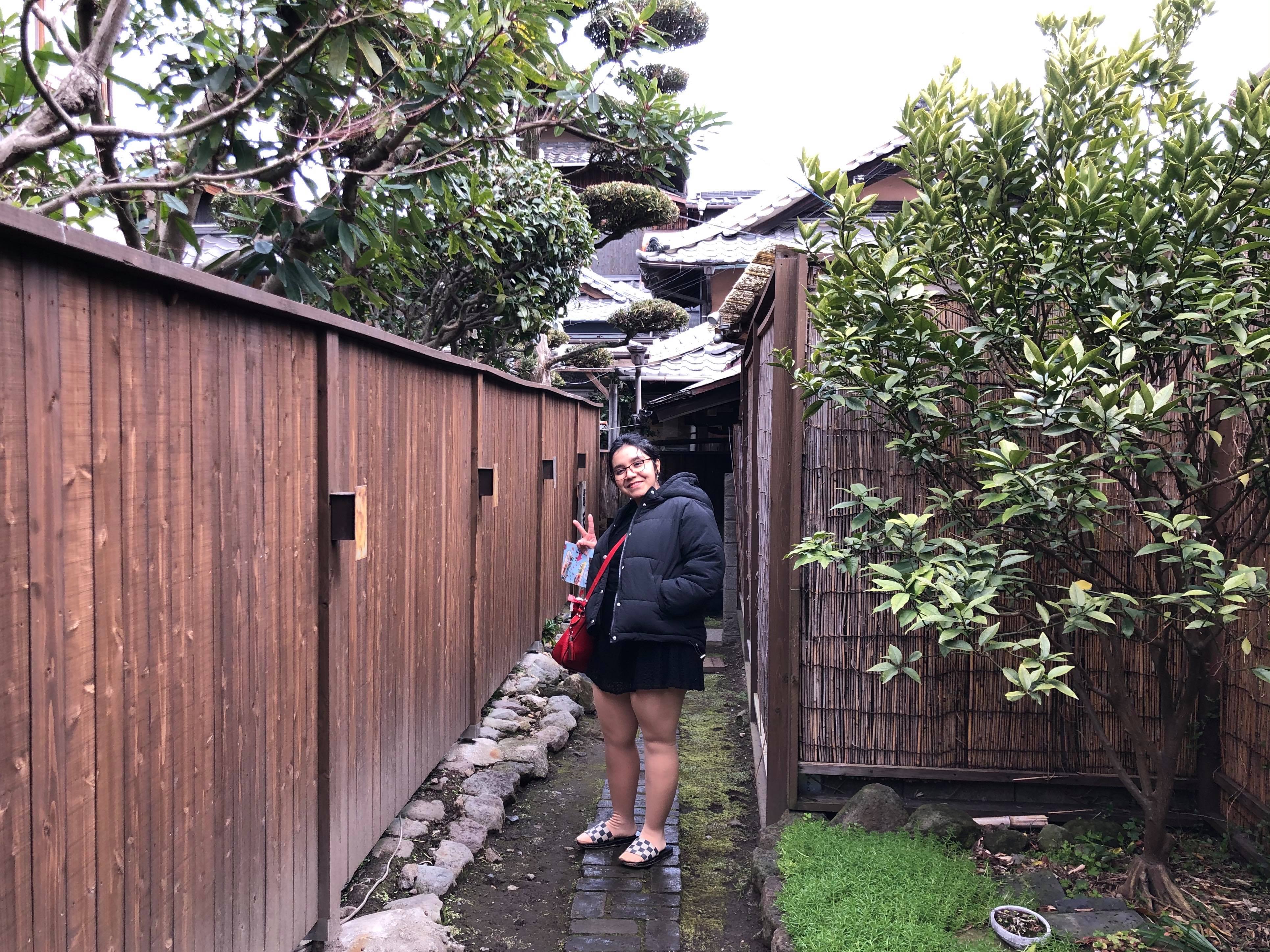 At last, we headed to the hot spring!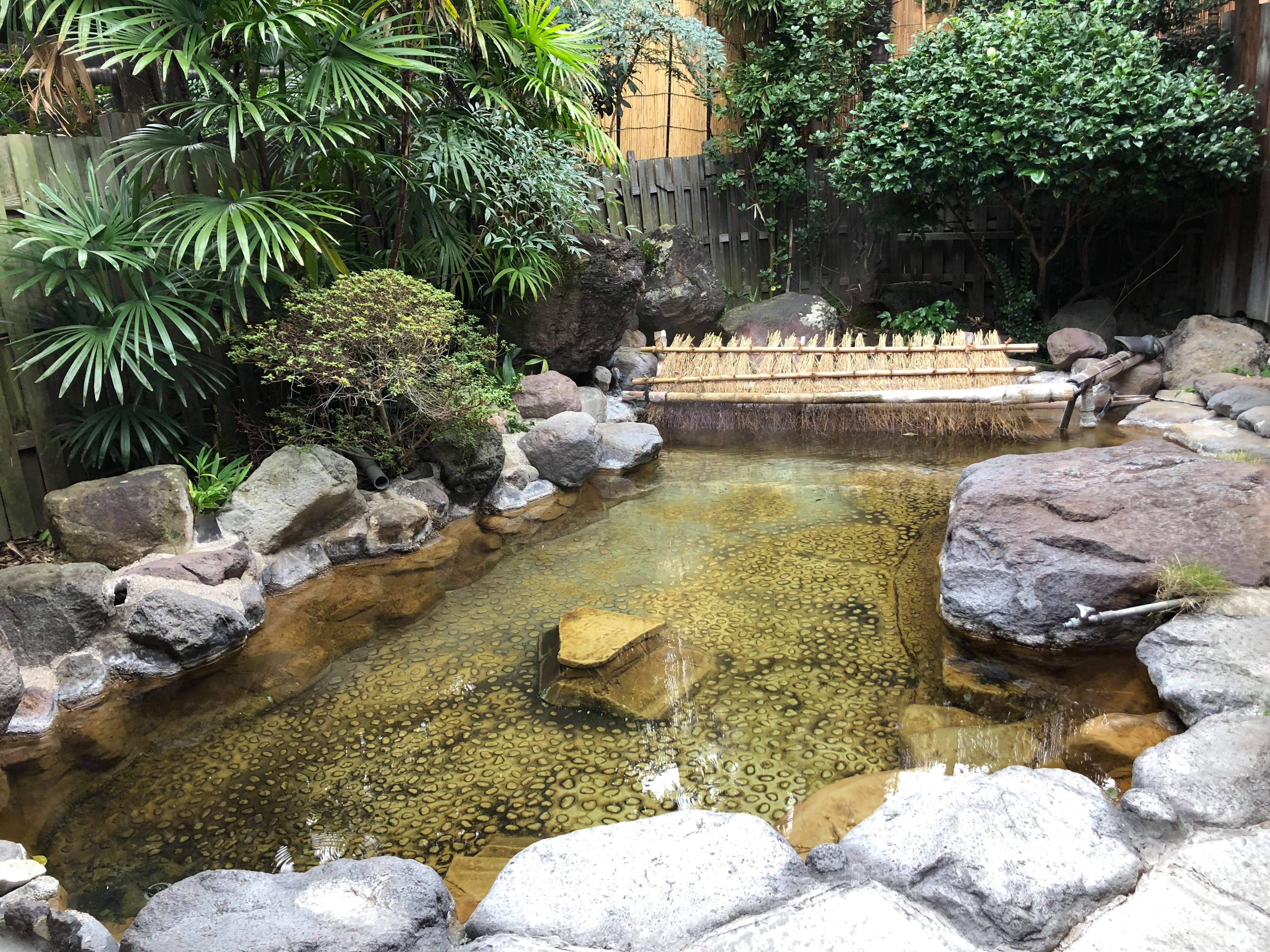 Yamada Bessou has an indoor bath but, this time, it was less crowded and the proprietress led us to the reserved open air bath. The hot water surrounded by splendid rocks in lush, abundant greenery exudes the Beppu Onsen atmosphere.
Since it was snowing as well, we were able to enjoy that alongside a nice soak. The feeling of snow touching your skin as you submerge yourself into the hot bath pairs well. It was a pleasant time spent and the cold was long forgotten.
"Living in Beppu is really ideal," Nishi began. She compared Sendai's lifestyle with that of Beppu saying, "There are many hot springs scattered within walking distance in the town you live in, and I'm really jealous of this lifestyle where you can just hop into a hot spring whenever you want at little cost."
There's not a day that goes by where I don't see someone walking around with hot spring sets on hand. This is commonplace in Beppu but not so much in other areas.
Through Nishi's story, I really felt that this was also one of Beppu's charms.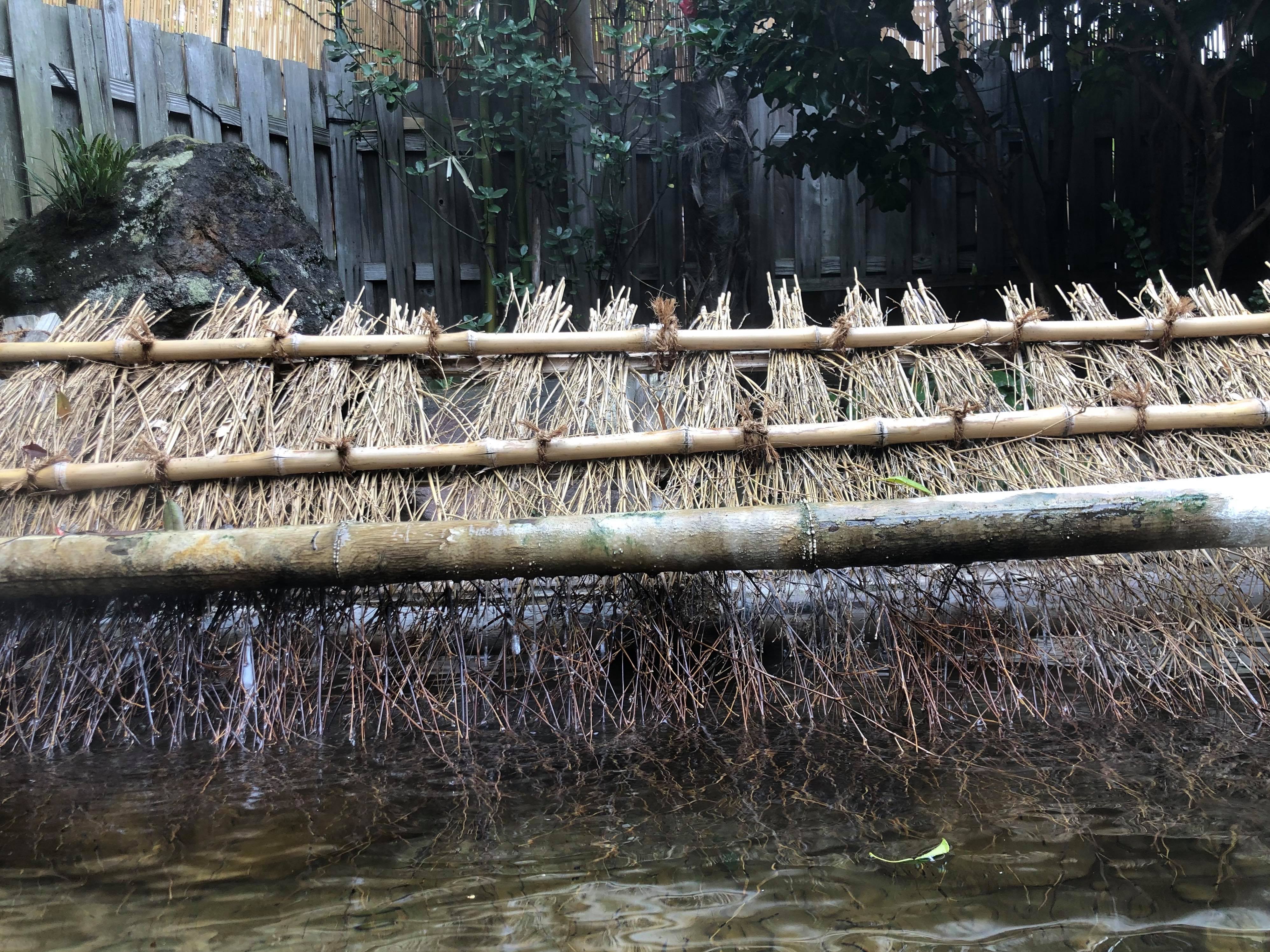 In the open air bath at Yamada Bessou, there are bundled branches like the one shown above. This is called "yumetake." The characters that make up "yu-me-take" are "hot water," "rain," and "bamboo." This is an installation which has been used to cool the hot water in Beppu for a long time.
Allegedly, the hot springs in Beppu were extremely hot – not a temperature people could handle. To remedy this, Hyotan Onsen invented yumetake in 2004. Beppu Onsen is great for your skin and body as there is no need to dilute the water and you can enjoy the hot spring gushing forth from the ground as it is.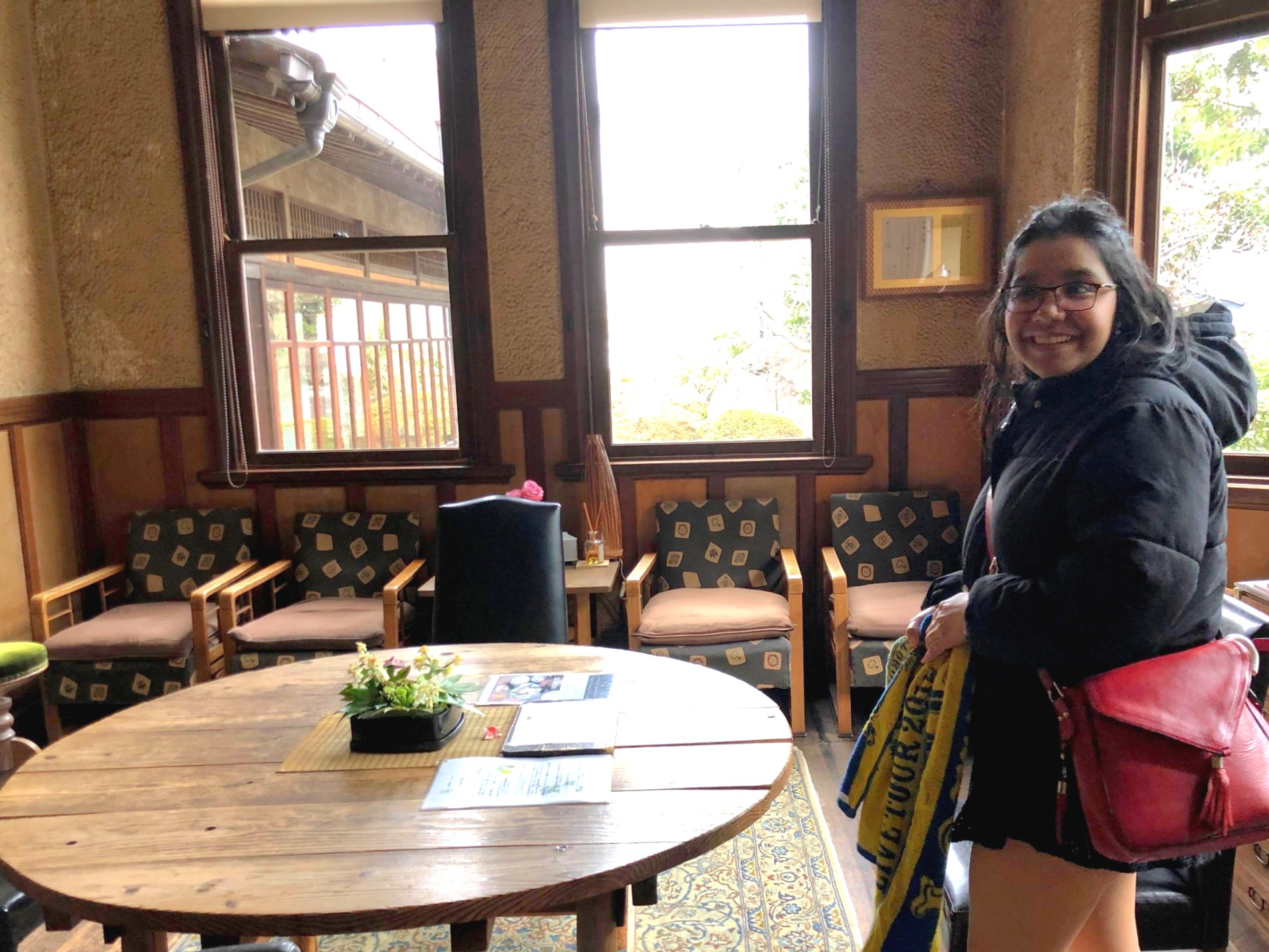 After the hot spring, the landlady was very kind and very satisfied with the fact that we could take a break in their western-style living room as shown in the photo.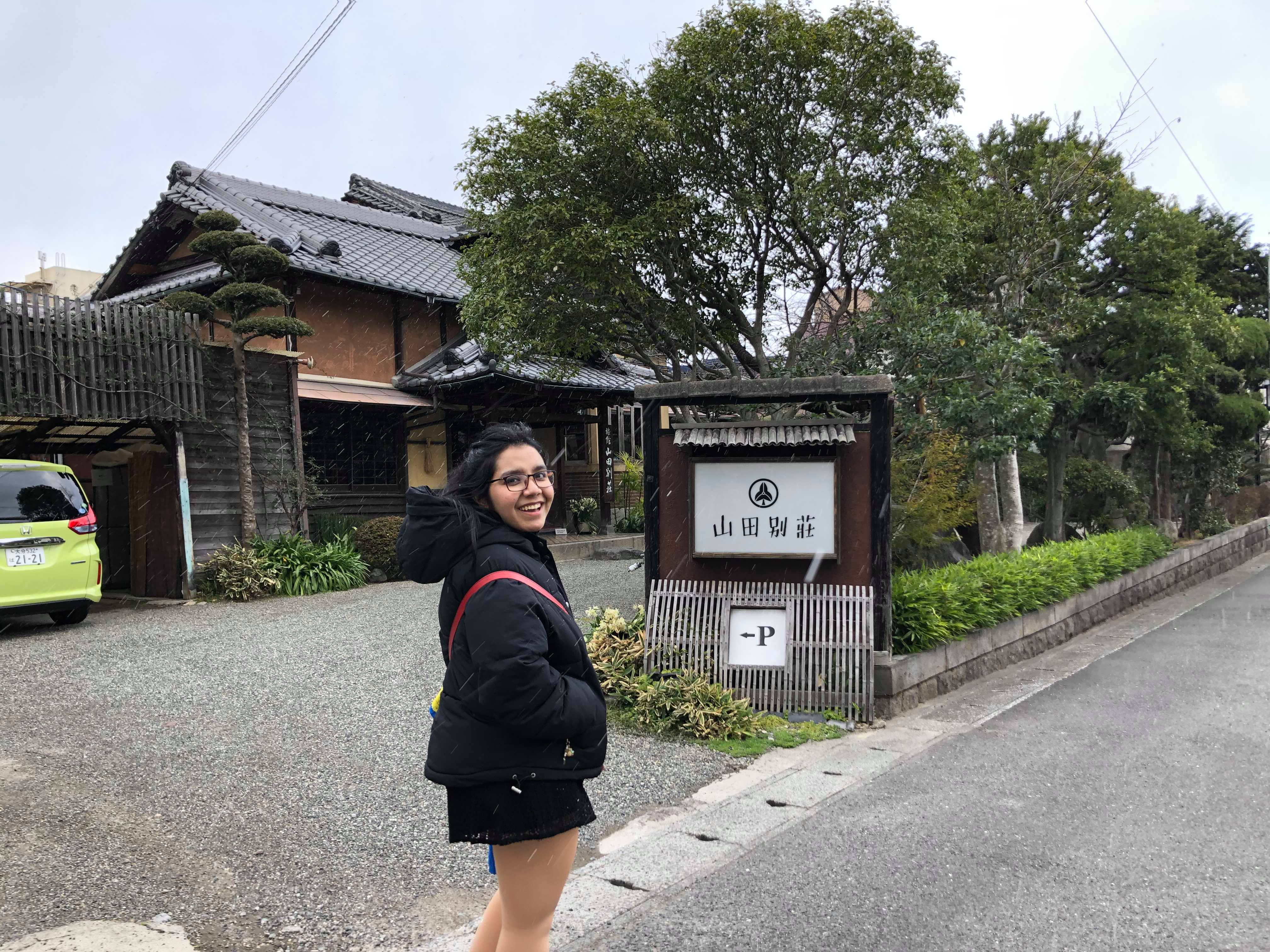 Nishi told me this was her first time travelling alone.
"I had never travelled by myself before, but on my best friend's recommendation, I challenged myself. I'm glad I did. The benefit in this is that there are many opportunities to meet all kinds of people in all kinds of places. Thanks to Haruka and all the people I met through Wander Compass (a tourist info center located in Beppu Station), I was able to enjoy Beppu to the fullest."
"I'll definitely be returning to Beppu. The hot springs here are something special, after all!!"
And she continued on her journey.

Yamada Bessou
OPEN: Mon, Wed, Thurs 10am to 3pm
FEE: 500 yen
TATTOO: Allowed
EnjoyOnsen