How to Enjoy Beppu Vol.14 – From Liverpool
Hello! It's onsen lover Haruka Styles here!
This time, I guided Maya from Liverpool. Last time, I led guests from Sweden on an onsen tour, so you can check that out here.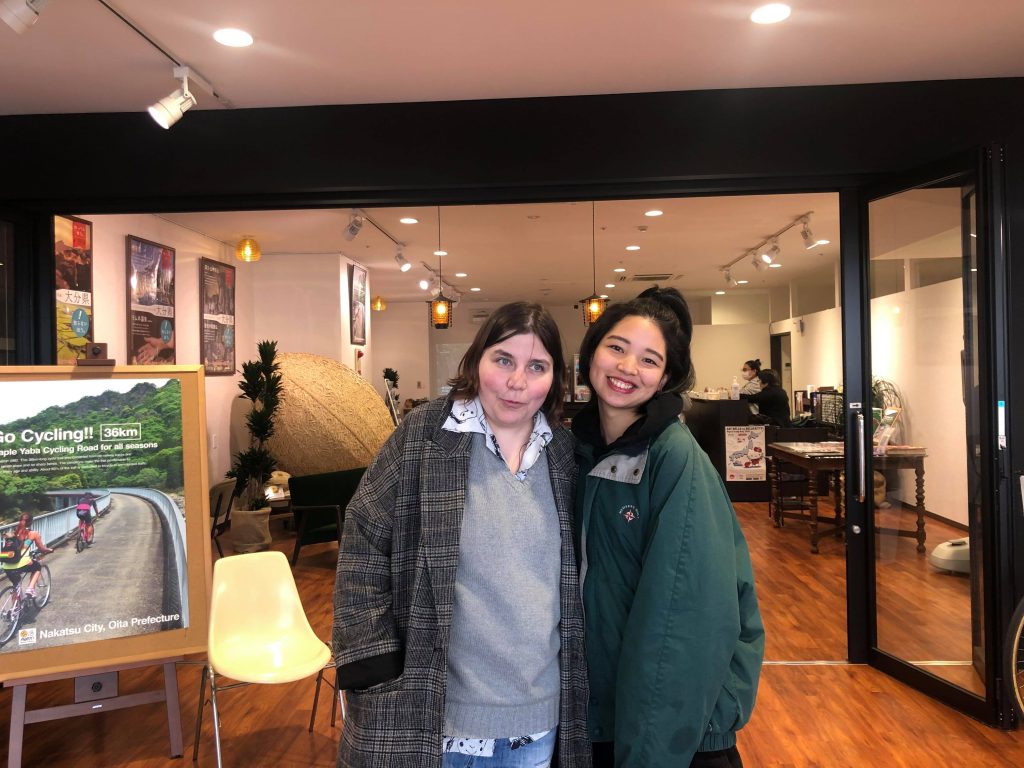 Maya has traveled to Japan 6 times already; suffice it to say she's a big fan. However, there was a catch. She didn't have much time to spend in Beppu. Unfortunately, within a few hours she'd be off to her next destination. That meant she was left with only but 3 hours to enjoy Beppu.
We, the Wander Compass members, devised a plan to enjoy those 3 hours.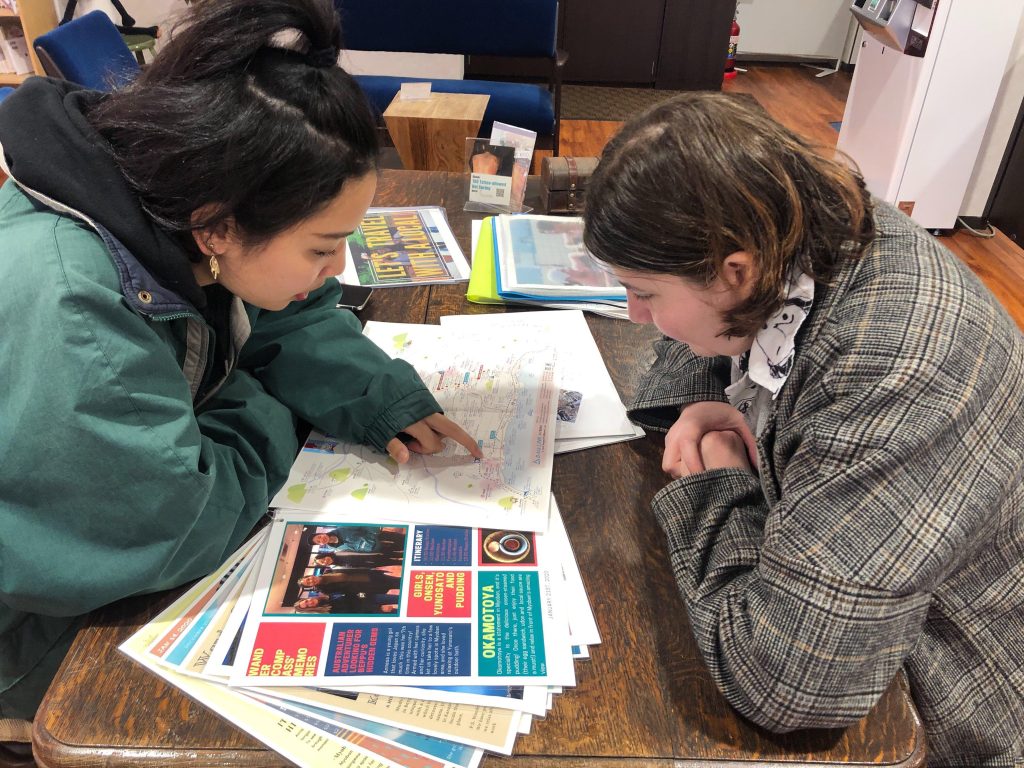 While pointing at the map, I gave a simple introduction of Beppu.
In Myoban, you can see the famous Yunohana, crystals formed by using onsen components, being made. In Kannawa, you can enjoy the view of steam rising from the hot springs. Around the station, you can feel the long history of Beppu through the local shops and restaurants.
Within those short 3 hours, I wanted Maya to understand Beppu's onsen history, so I decided to take her on the 20 minute bus ride from Beppu Station to our destination. We were off to the singular Kannawa, where you can experience historic one-of-a-kind onsen and a one-of-a-kind steam view.
When we got off at our stop, we were immediately hit with the scent of sulfur.
That's how you know you've reached an onsen area. Maya was also surprised at the overwhelming amount of onsen steam.
This is a local tidbit!
Kannwa may be famous for this steam, but that doesn't mean there is a lot everyday. The amount varies depending on the weather and time frame. I recommend early in the morning, dusk, or in the evening. No matter what time you can enjoy the sight of the steam-filled air.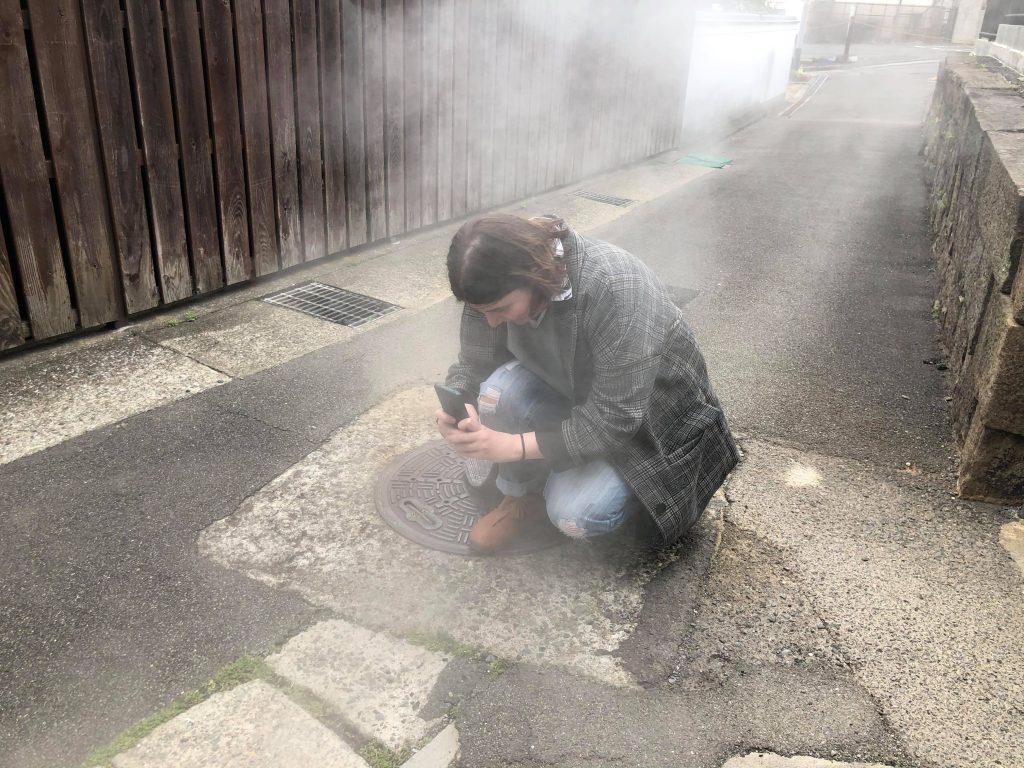 Still, on cloudy or slightly rainy days, the steam appears in much greater amount than on sunny days. This is an effect of the humidity. Of course you can still fully enjoy Kannawa on a sunny day, but being able to enjoy it just as much on a gloomy day is one of this area's charms.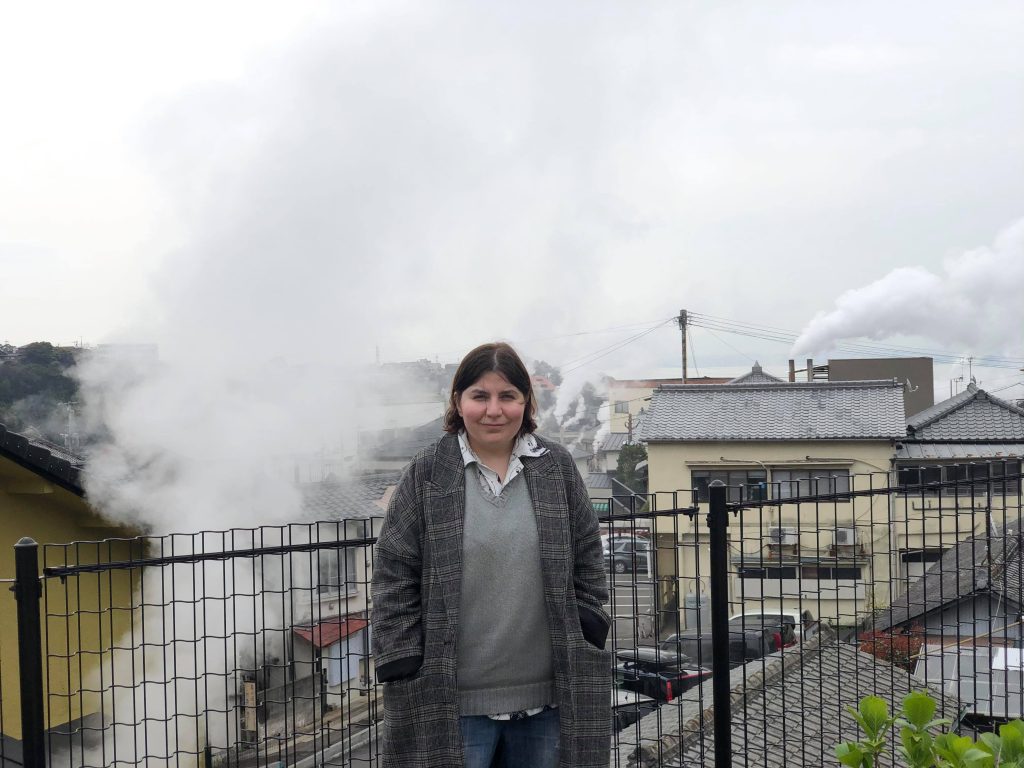 Once upon a time, Kannawa was a place feared by the people. That was because of the steam constantly gushing up. The locals saw that scene and thought Kannawa was truly a hell, and no one dared to draw near. However, one day, a monk visited the area. The man, who called himself Ippen, upon seeing Kannawa chanted a Buddhist prayer. His prayer stopped the billowing steam. Then he explained what had happened to the locals and this was how Kannawa became an area famous for its hot springs! This is said to be a piece of the history of Kannawa.
This is another local tidbit!
This story doesn't end there! Though Ippen's chant stopped the steam, there was one place where it stll existed. Ippen used that steam to create Kannawa's famous Mushiyu Onsen. After I was finished telling the story, I brought Maya to Mushiyu to see for herself.
Mushiyu is like a sauna, in which medicinal herbs called "sekisho" are used. Because this is the only place in Japan that uses these herbs, if you come to Kannawa, it is a must-visit onsen.
Maya loves hot springs. She tried it for the first time on her second visit to Japan in 2016. Maya was charmed by the hot springs' ability to melt the day's fatigue away. She comes to Japan to relieve herself of the tiredness that follows her work in Liverpool.
"Onsen have the power to make me feel twice as good as how hard I worked. I love that!" she told me before adding, "And having a beer after that onsen is the happiest moment."
In Japanese hot spring culture, it is customary to drink milk after bathing.
But it seems in Maya's case, beer tastes best after onsen. That's her style.
With that, the 3 hours were up and Maya had gotten to know Kannawa's history and enjoyed its onsen.
"I didn't think I would grow to like Kannawa so much in just 3 hours. There were sights I have never seen before and unique onsen. This place is great to spend a relaxing time. 3 hours just wasn't enough time. I would love to stay a few weeks in Beppu and take my time," she said.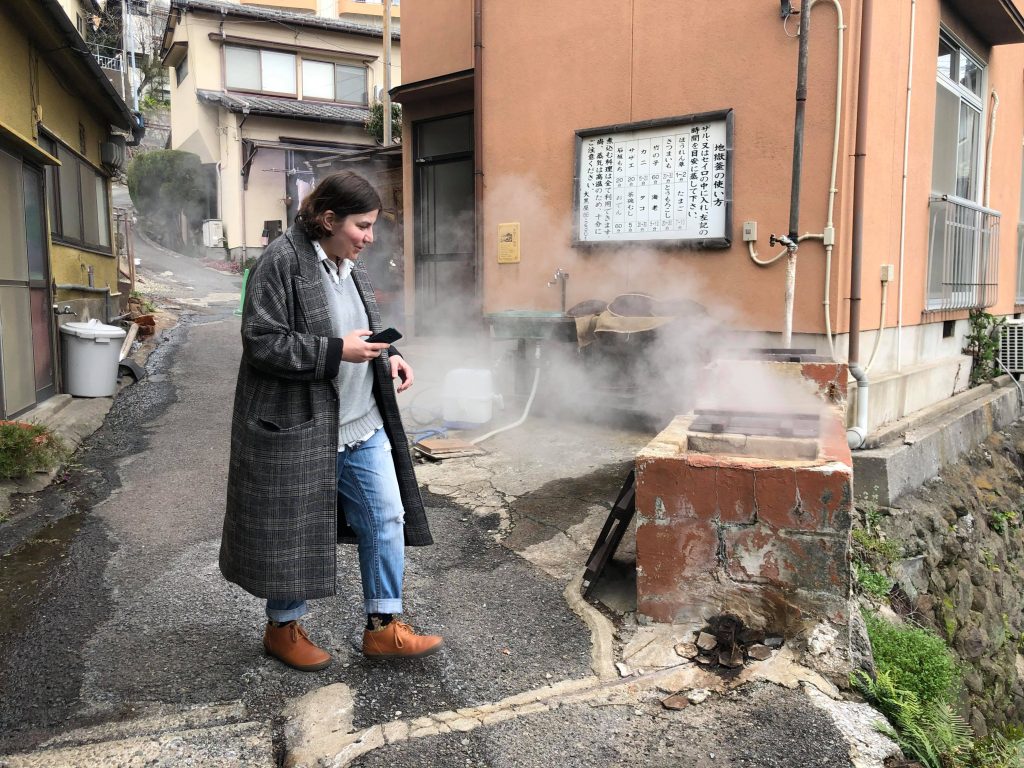 "If I never visited Wander Compass, I would have never gotten so much out of these 3 hours and for that I am grateful."
If you too would like to get to know Beppu's charms and meet the locals, by all means visit us at Wander Compass!

(Please note that the events described in this article took place before the current coronavirus crisis. Wander Compass Beppu is currently closed until further notice.)
EnjoyOnsen