How to Enjoy Beppu Vol.16 – From Singapore
This is Part 2 of our day with Valerie. Click here for Part 1 of "Onsen and Coronavirus; A Wonderful Meeting Under Horrible Circumstances."
Traveling Under The Threat of Coronavirus
Valerie stood with her guides from Wander Compass Beppu on the top of KIfune Castle on a hill in Beppu City's Kannawa district. Originally from Singapore and studying in Korea, Valerie had found herself here due to unforeseen circumstances of the coronavirus outbreak.
Those worries temporarily forgotten, she stood before a panoramic view of the onsen (hot springs) resort of Beppu. The town had already given her so much though it was still only a few hours into her trip.
Beppu Has A Healing Power
Home to the world's largest amount of enterable hot spring water, as well as a variety of unique onsen experiences, Beppu allowed Valerie to shed some fatigue during this stressful moment in time. She particularly enjoyed her sandbath at Kaihin Sunayu.
Taking in the beautiful view of Beppu in all its steam-filled beauty, Valerie vowed to return again. Though the day when the coronavirus outbreak would be a worry of the past and she would be able to bring here parents seemed far away, she saw it in her mind's eye.
Her day was far from over, however.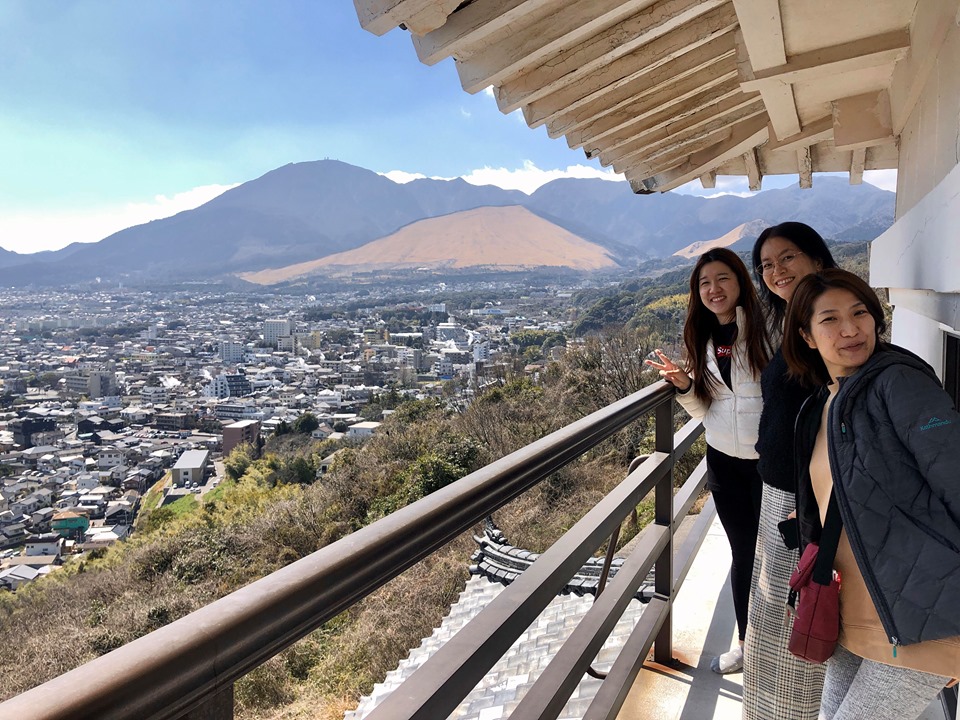 Local Food Is Non-negotiable
By the time we made our way out of Kifune Castle, it was well past noon and our stomachs were rumbling. Valerie's major concern when traveling is tasting the local food, so us guides made sure to introduce her to none other than Kannawa's own hell-steamed food or "jigokumushi."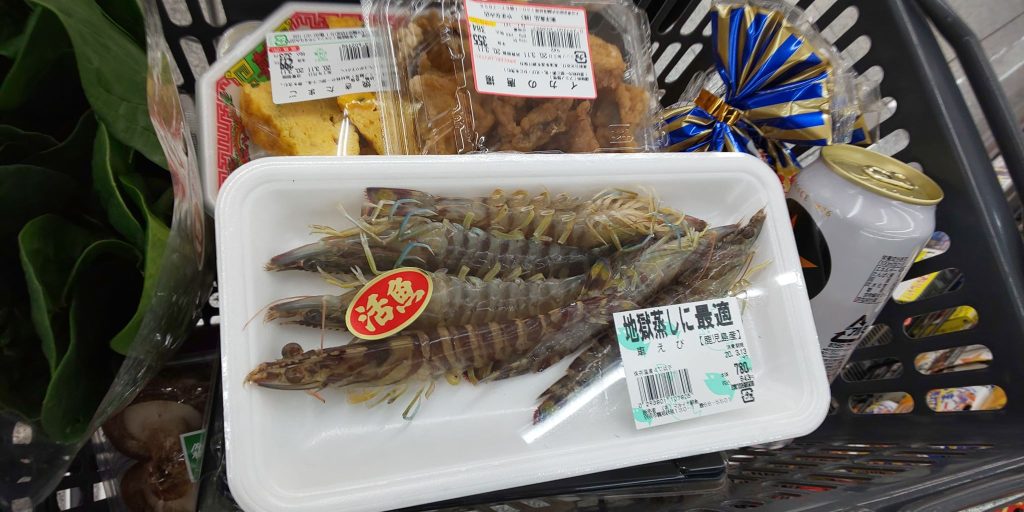 Our first stop was a local supermarket to buy all of Valerie's favorite ingredients. While shopping, us guides were shocked by the contents of Valerie's basket: fish, shishamo, Japanese vegetables, tofu, and mackerel. All were traditional Japanese foods!
Let's Get Cooking!
Since we had just the passed the previous hours enjoying the steam views, we were especially excited to try cooking with this steam. Ingredients in hand, we headed to Jou de Dekiya, where you can pay a fee to steam your own food. Valerie set out to the task at hand like a professional.
She was intent to steam her ingredients to perfection.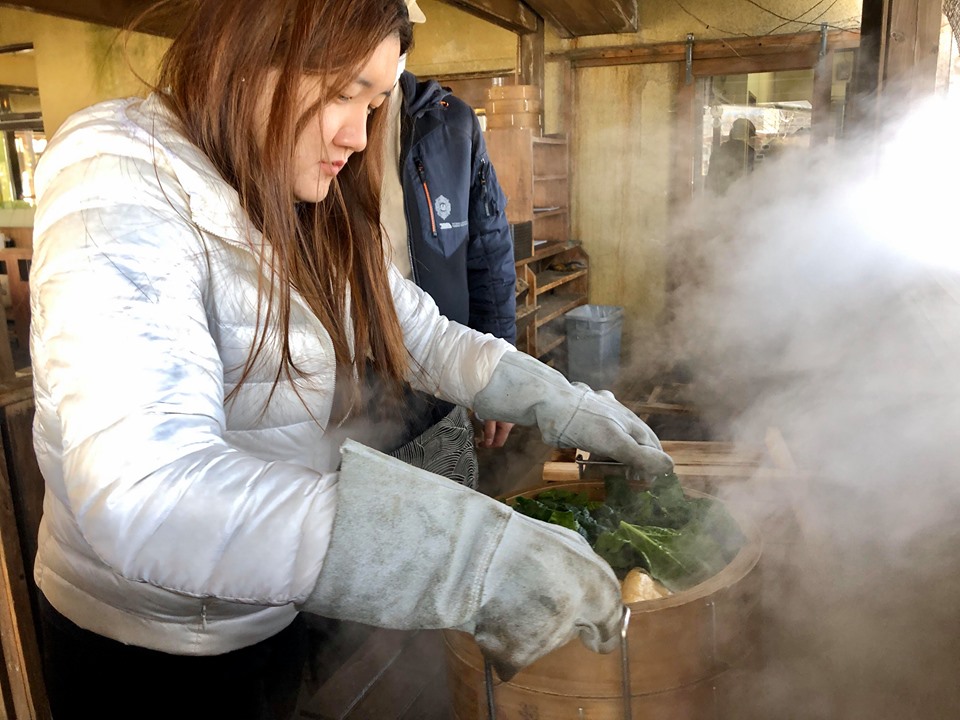 A little while later, we were lined up at the table overlooking the beautiful view of Kannawa. We slid our feet into the foot bath underneath our bench. The combination of the colorful food steamed to perfection, the clear blue skies, and the warm foot bath, or "ashiyu," were a perfect combination. We ate our fill.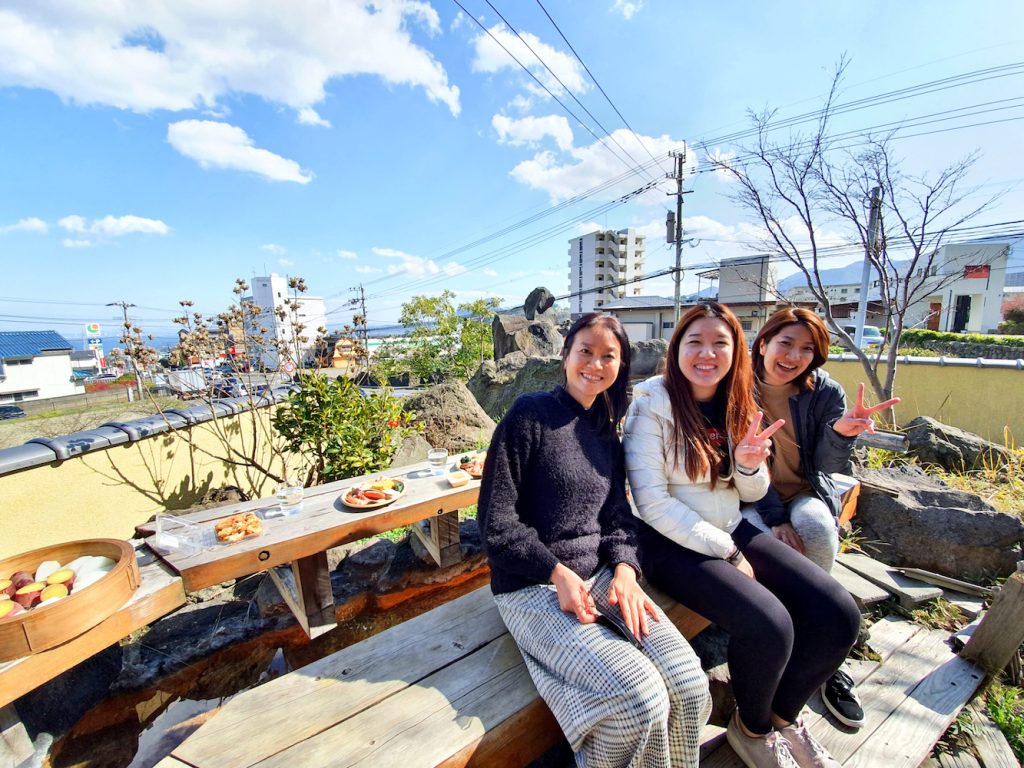 By the time we were done eating, it was late afternoon and the biggest part of our trip was still ahead of us.
7 Hells?!
We wanted to take Valerie to Beppu's Hells Tour or as we say in Japanese, "Jigoku Meguri." We explained to Valerie that these attractions are what Beppu is most famous for! Rather than onsen to be entered, they are onsen to be seen. These 7 Hells (Jigoku) offer Beppu's visitors spectacular views of nature and they each have their own unique characteristics. There's a blue hell, a red hell, there's a geyser, and there's even one with crocodiles!
With 7 hells still to visit, we booked it to the car and headed off to the first: Onishi Bozu Jigoku.
Bald Monk What?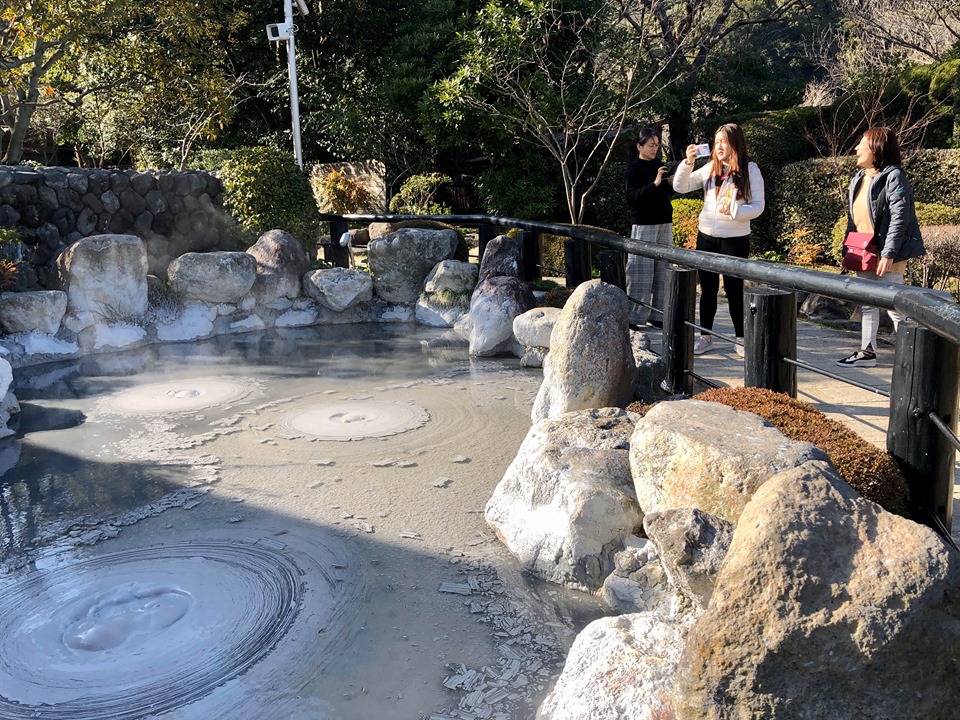 (Oniishi Bozu Jigoku)
We arrived at Oniishi Bozu Jigoku, or Oniishi Bald Monk Hell, where Valerie looked out over the view of the several hot springs. In these pools, pale mud bubbles up, forming the appearance of a monk's shaven head.
Taking as many pictures as she could, Valerie was under the impression that these were the seven hells. We kindly explained that this was just one of the spots and we still had 6 more to go. With that we made off for the next destination.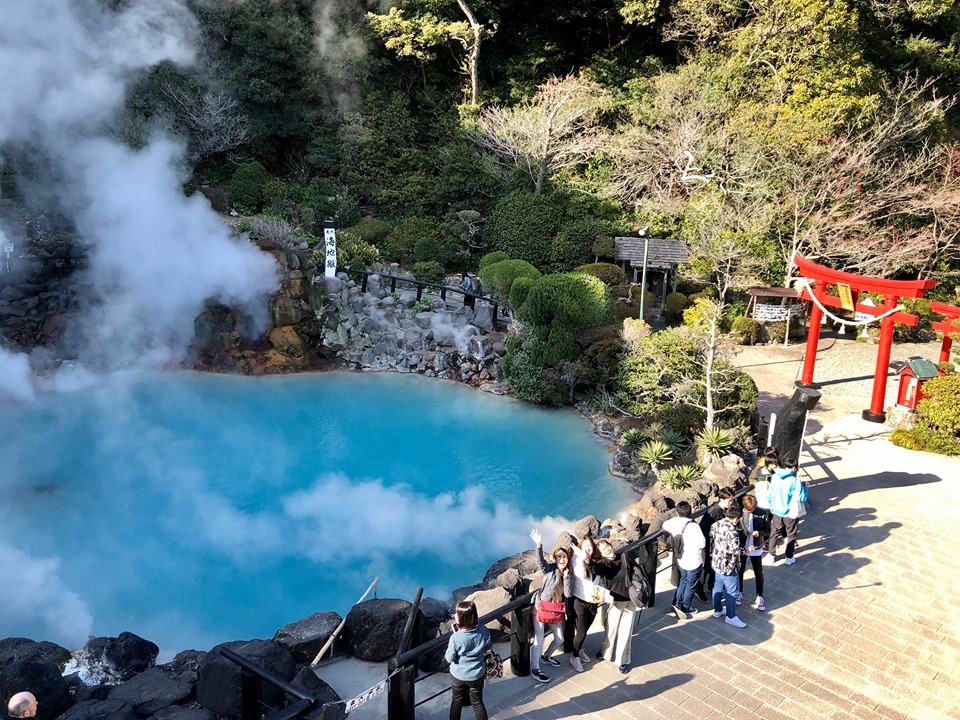 (Umi Jigoku, known also as the "Sea Hell," named for its vivid blue color.)
The rest of the Hells Tour went much in the same fashion. We hurried in, scuttled together to take pictures and quickly retreated to the car to move on to the next place.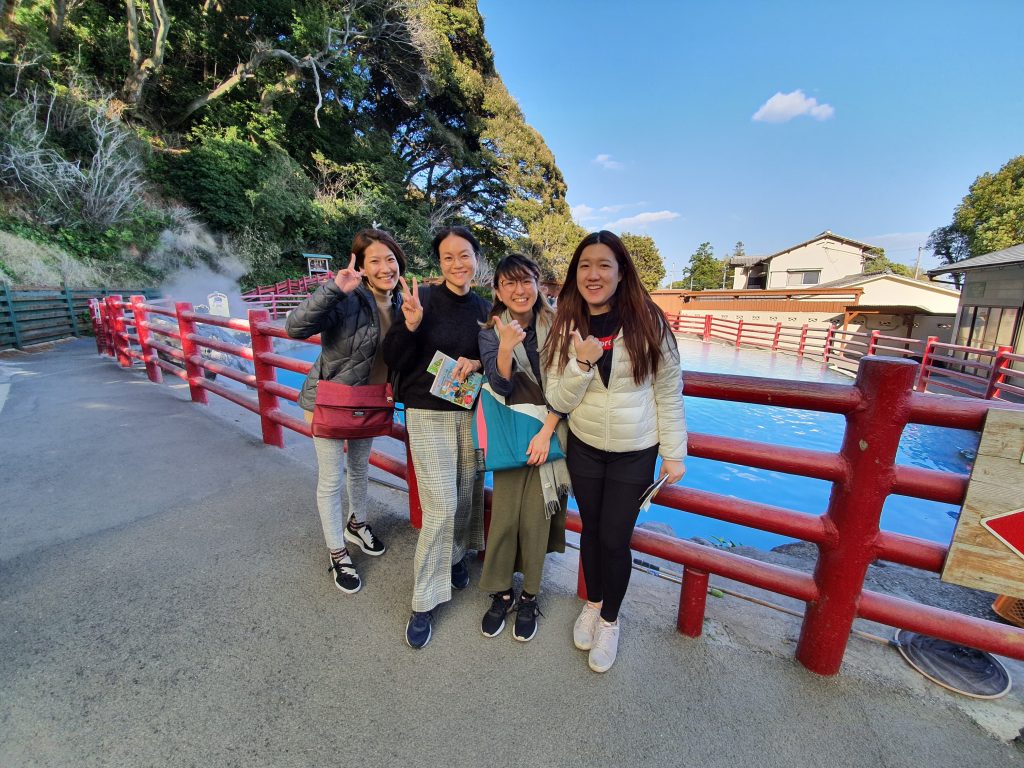 (Kamado Jigoku has many different attractions, including foot baths, steamed cooking, and even drinkable onsen water!)
By the time we completed our final stop, our group was completely worn out. Valerie, in particular, was ready to head back, looking forward to her nap on the train. As tired as we were, we felt a major accomplishment in fitting in all 7 Hells, the entire Jigoku Meguri, in one day.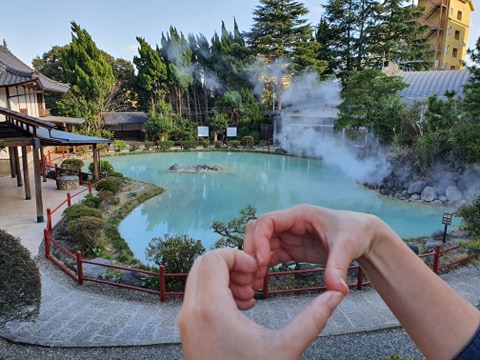 (Shiraike Jigoku or "White Pond Hell" has a great spot to take pictures that overlooks the hell!)
The Beginning of a Beautiful Friendship
After ending the tour, the guides, Timo, Alyssa, Masumi,and Arisa and the guest, Valerie, shared a mutual feeling of kinship. We, the guides, were looking forward to seeing Valerie again and Valerie couldn't wait to return to Beppu. The traveler discovered that these 2 short day trips were not enough time to fully explore all Beppu had to offer. She still has many things she wants to do and explore in this town.
We Look Forward to Seeing You Again!
During the time this article was in the process of being written, the threat of the coronavirus grew, the Japanese government announced a state of emergency, and Wander Compass is temporarily closing its doors. Though it was in this climate of fear and trepidation, we were able to have the opportunity to connect with a wonderful woman like Valerie. Next time, though we don't know when that will be, the kindness and hospitality of Japan and the staff of Wander Compass will be waiting for her.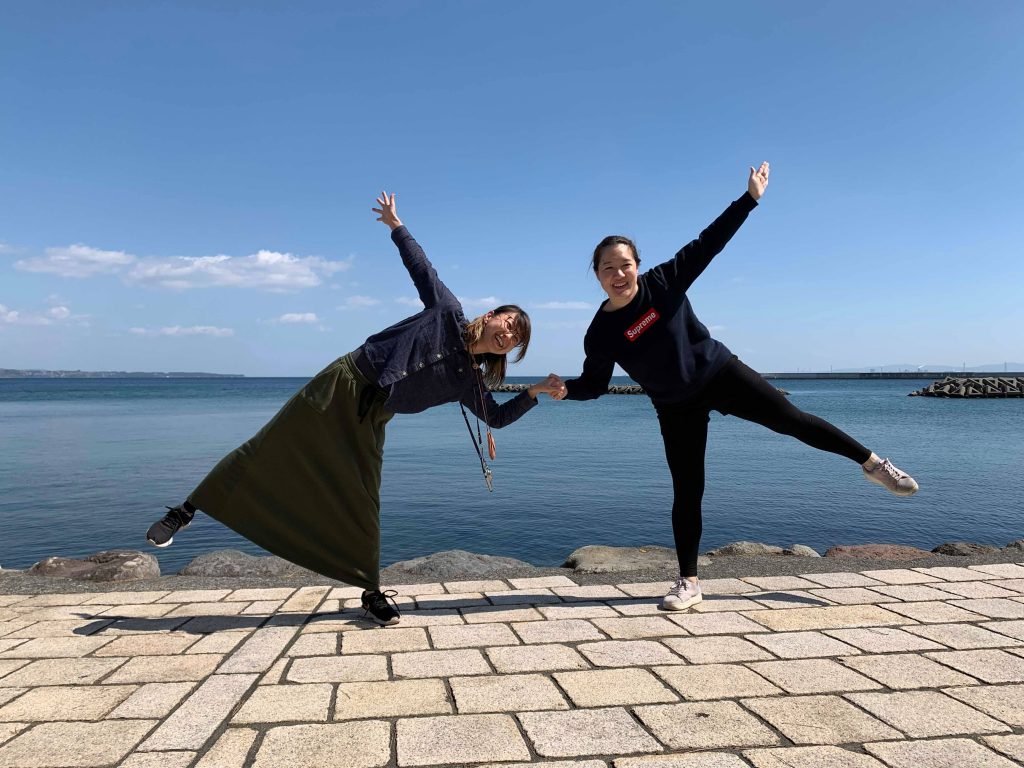 How to get to Beppu, where Jigoku Meguri is located
Recommended hot springs and other attractions can be found by clicking the button below, so please have a look!