How To Enjoy Beppu Vol.3 – From Mexico
¡Bienvenido! means "Welcome" in Spanish! This time, we will introduce Artemio from Mexico, the country of passion, and his personal experiences with Beppu's hot springs! He's had an ever-growing interest in Japan, even having experienced learning the Japanese language in the past.

On the day he arrived in Japan, he set off towards Beppu from Tokyo by Shinkansen. He was very interested in hot springs with which he had no experience and, after researching "Japan Onsen," he found his way to this site, "ENJOY ONSEN."
We heard that, through ENJOY ONSEN, this hot springs lover was determined to come to Beppu, and we completely opened up to him with joy.
Artemio, who had standard knowledge when it came to Japan, aspired to visit more local spots rather than the well-known tourist attractions. Now, without further delay, let's introduce his way of enjoying Beppu!
Welcome to Beppu
To those who love hot springs and local charms, the town of Beppu is perfect! With these words, the elite locals – hot spring-lover Tomomi and Ryuuhei who is fluent in Spanish – appeared to satisfy Artemio this time around! At Beppu Station's ticket barrier, they met today's guest, Artemio, and started their three-person journey!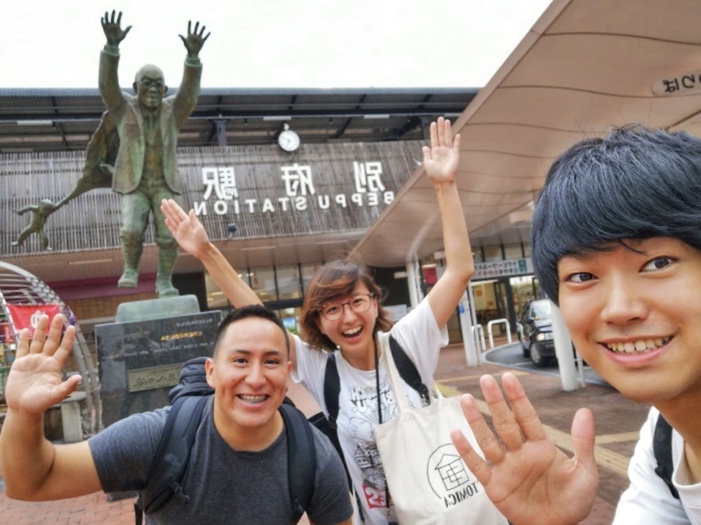 Hot Springs Even In Front of the Station!
The first thing you see is the hand bath in front of the station. The two elites submerged both hands into the hand bath as Artemio casted sidelong glances, unable to hide the wonderment of the hot spring he'd been searching for being this close!
Right away, Artemio timidly put his hands in and, the very next moment, that hesitance disappeared. His expression was one of someone who became completely relaxed by the hot water after a long journey to Beppu.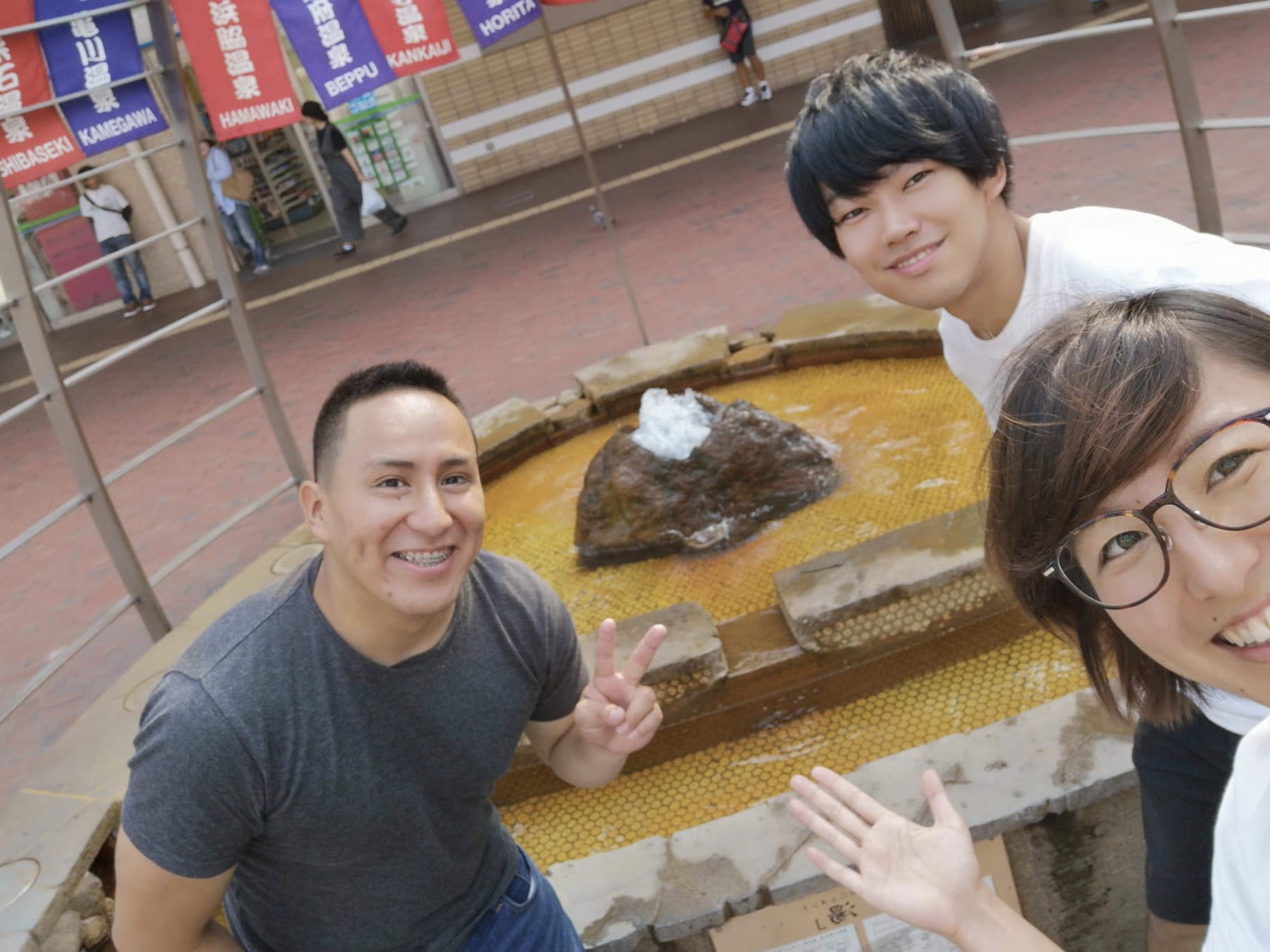 The Mountain and Sea of Beppu Can't Stop The Shutter
Artemio's camera shutter wouldn't stop going off during the trip! He was in awe of the Japanese mountainside and Beppu steam that he couldn't see back in Mexico.
The scenery, which was viewed nonchalantly by the elites, were much more dramatic in his eyes. The moment they went up the mountain, the air suddenly changed. The three take a slight intermission and have lunch at Okamoto shop, located halfway up the mountainside.
Artemio, who listened to Tomomi's explanation of how the hot spring's smell suddenly became strong, took a sweeping view of Beppu Bay while taking in the greatness of nature.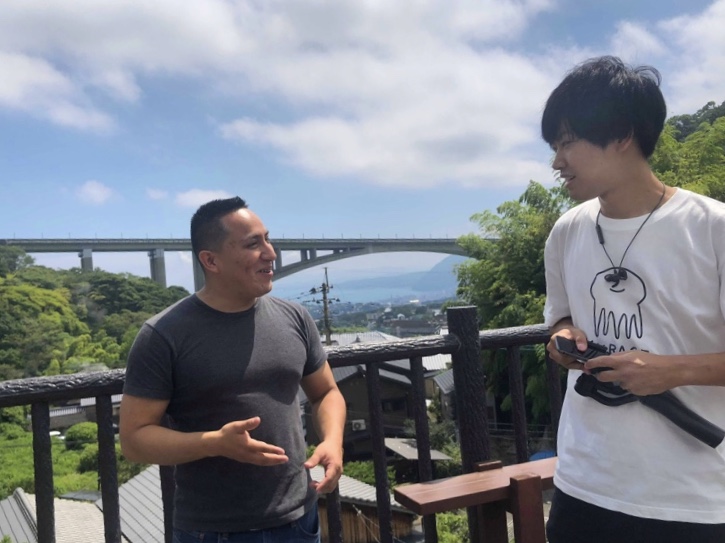 First Onsen Experience At The Mountain's Secret Hot Spring
The trio's next venture is this journey's main hot spring, a secret hot spring called Hebinyu. This place is called secret because there are so little people who know any information about the hot spring.
For someone who loves locality and hot springs like Artemio, you can't go home without checking it out! As expected, what was his reaction!? The photo below is Artemio having his fill of the superb scenery of Beppu's nature enroute to the hot spring in the mountains!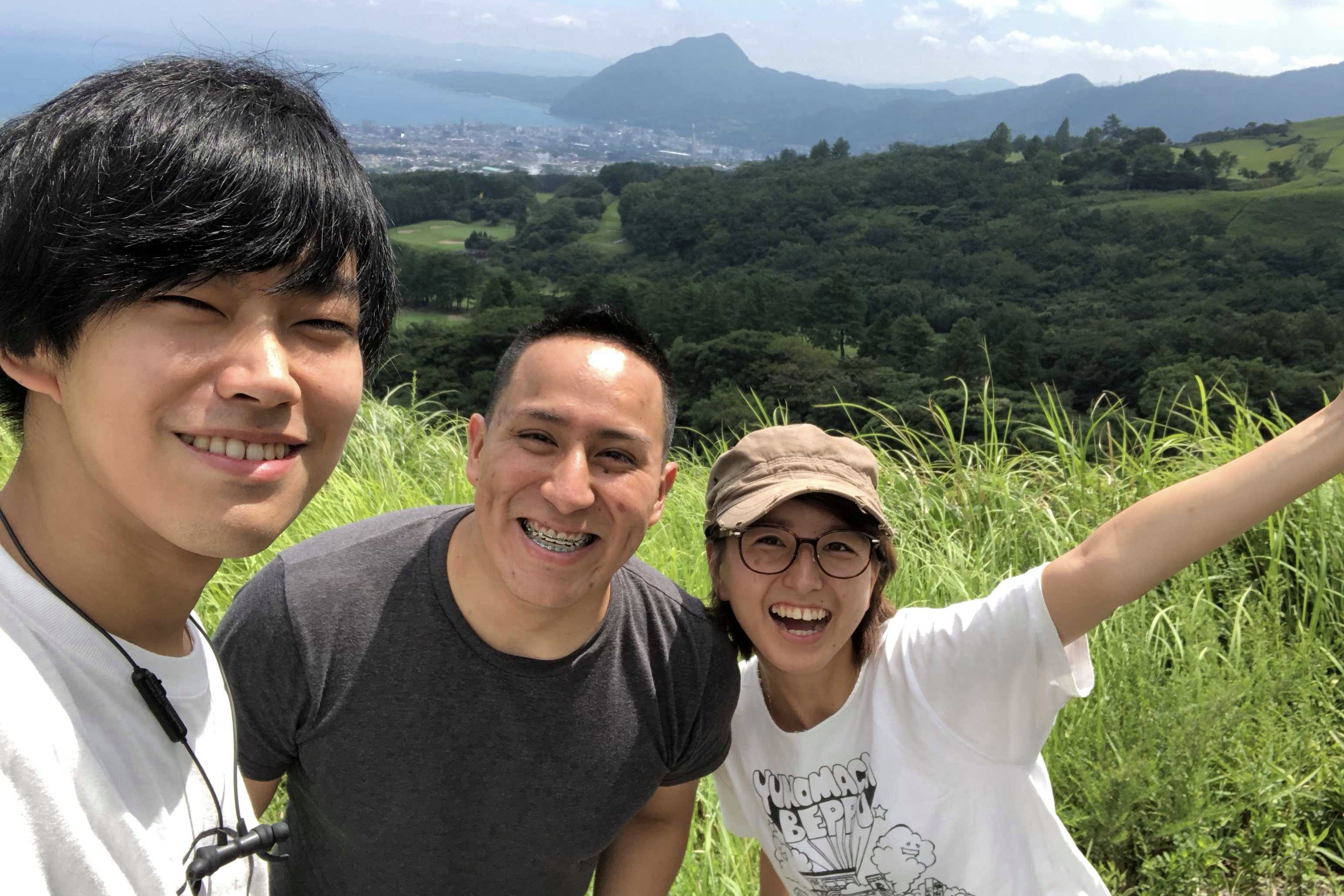 After the taking in the picturesque view and making it past the seemingly endless paths, they arrived at Hebinyu! It was a long weekend so there were many other visitors who arrived prior. Once greeting the surrounding locals is finished, it's time to bathe!
Hesitant to start, Artemio experienced very first hot spring! This is the expression of one who has gradually gotten used to the water's temperature. For someone who doesn't really have bathing culture in his home country, he was able to relax quite a bit in these fairly hot waters!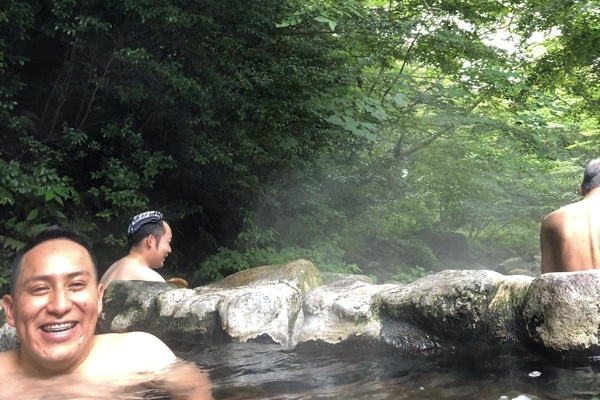 After The Hand and Full-Body Bath… Comes the Foot Steam Bath!?
After having enough of hot springs, the group moved on to the steam-filled Kannawa area. In Beppu's Kannawa area, abound with rising steam, you can enjoy scenery exclusive to Beppu. Here is Artemio enjoying the steam while performing a ninja pose.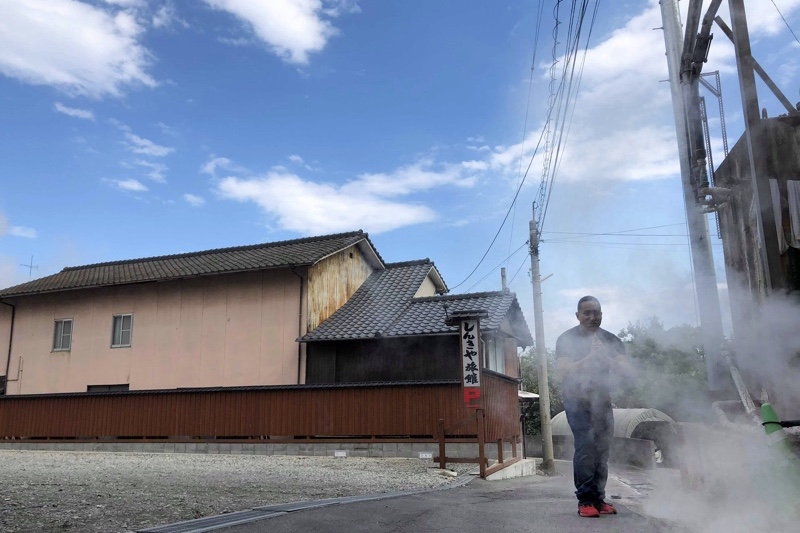 While walking around, they discovered a foot steam bath! Of course, Artemio had a keen interest in this foot spa that was rarely seen even by Japanese people, so the three immediately got steamed and it became a valuable experience only available for enjoyment in Kannawa.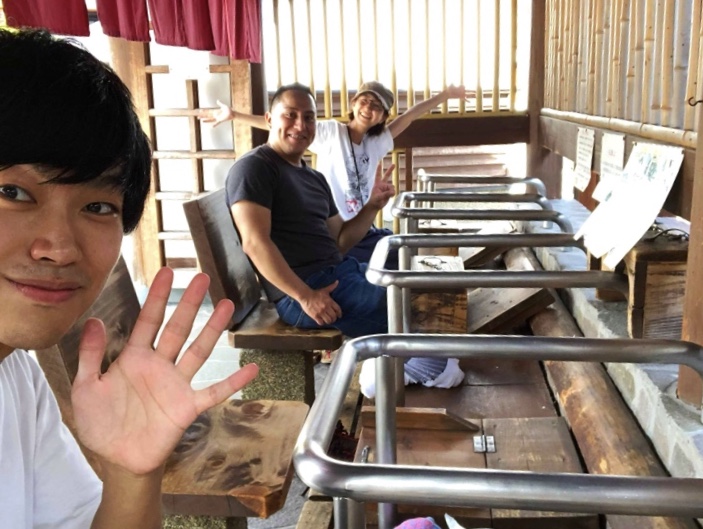 Serendipity: Eating Hot Spring Food With The Locals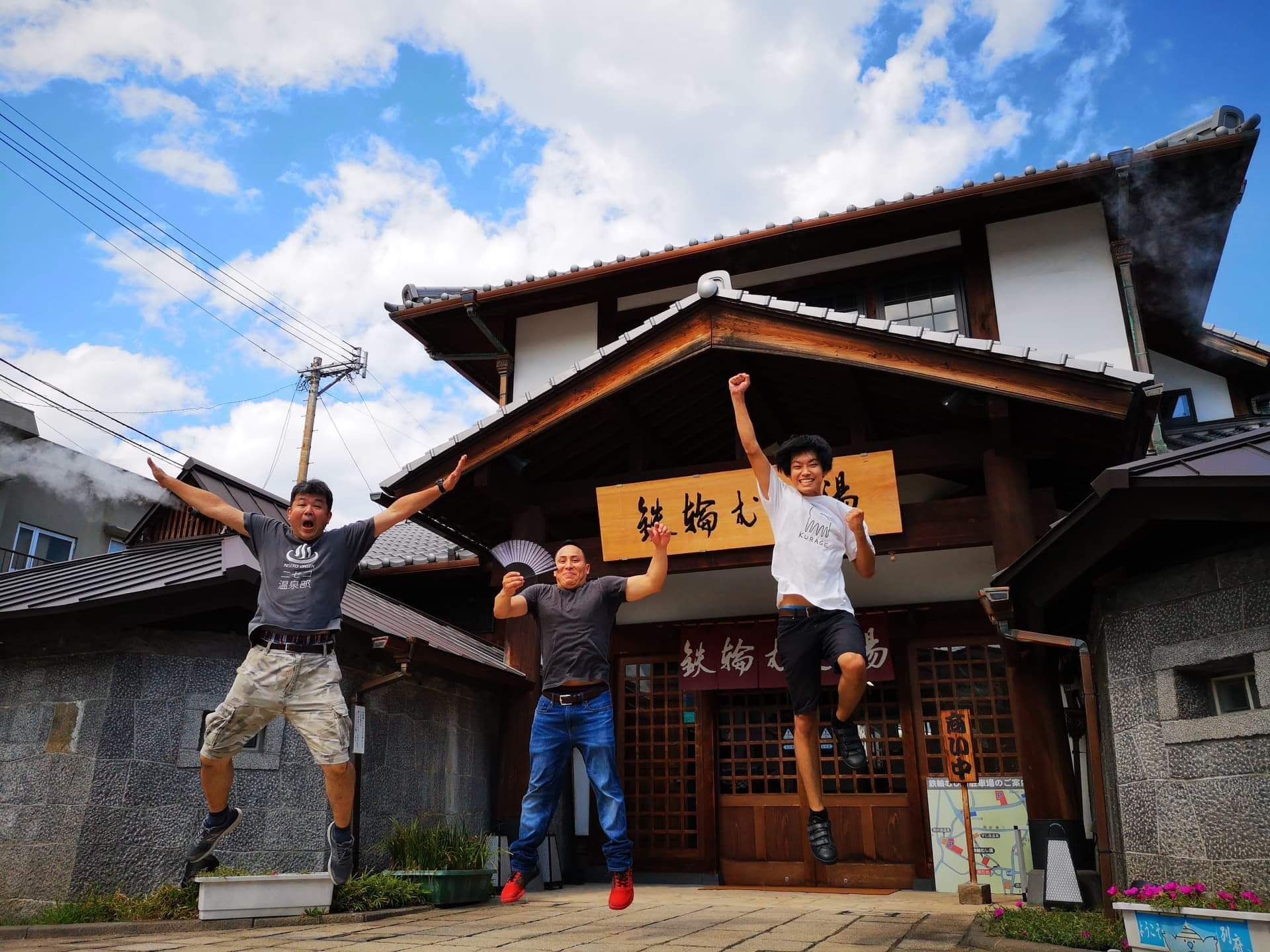 With warm feet, the group who continues on their way experiences a miracle! Apparently, they encountered a hot spring "Meijinkai" group gathered for "jigokumushi" (food cooked using the steam of the hot spring) party!
An invitation to join is received! This "Meijinkai" is a gathering for people who are well-aware of Beppu Onsen, the so-called "hot spring masters." Based on Artemio's deep understanding of Tomomi's explanation, he decidedly called them by "sensei." It was an extremely serendipitous personal experience.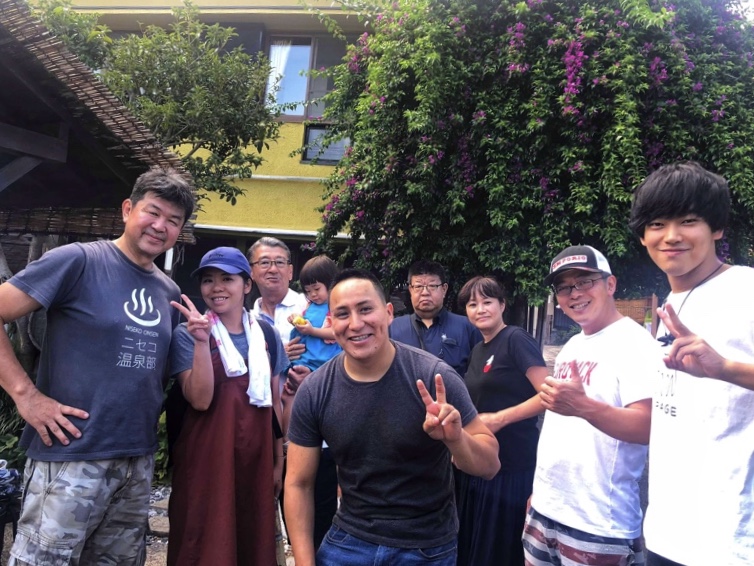 "Where should I begin. I can't describe in words how an amazing time I spent with Tomomi and Ryuhei, you guys are awesome and also so fun to be! The hidden onsen at the very top of the mountain, the spa foot at the very shore of the port, and the incredible surprise of sharing a steam meal with onsen masters, I couldn't ask for more. "ーan excerpt from the Words of Artemio
A Breath at the End of the Journey
Finally, while the group soaks their feet in a free foot bath, they dig into egg sandwiches bought at Okamoto shop and Ryuuhei voices that he thinks anyone who visits Myouban should try this out. In one day, they were able to visit several hot springs. However, during their trip, Artemio not only felt the warmth of the hot springs, but also the warmth of Beppu's people. Just as Artemio was able to experience surprises and make discoveries, the two local guides were also able to deepen their understanding of foreign culture!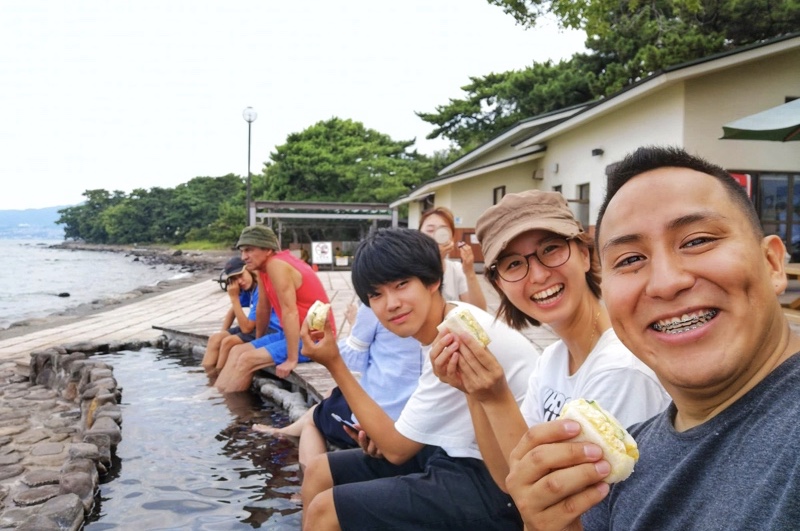 This experience is for you
"I can totally recommend anytime this experience. If you're up to get involve into onsen, even if you're a beginner onsen guy or an advanced onsen guy, this experience is for you. Beppu will surprise you, and Tomomi and Ryuhei too!
Next time I'll be back for this and more!"ーAn Excerpt from the Words of Artemio
Surround yourself with hot springs and kind people, and experience the dramatics of Beppu. Will you join in and create your own story in Beppu's hot springs??
If you click the button below, you can find interesting hot springs more!
EnjoyOnsen