How to enjoy Beppu -vol.7 from Tasmania Island
While I was working at "Tourists' Hub & Lounge Wander Compass Beppu", a point of contact between Beppu and the world located in Beppu Station, there was a little boy playing with origami in the newly created Kids Corner.

"What country are you from?"
"Australia," he responded shyly.

This time around, I was the hot spring guide for a family of four who came to Beppu all the way from Australia's Tasmania Island.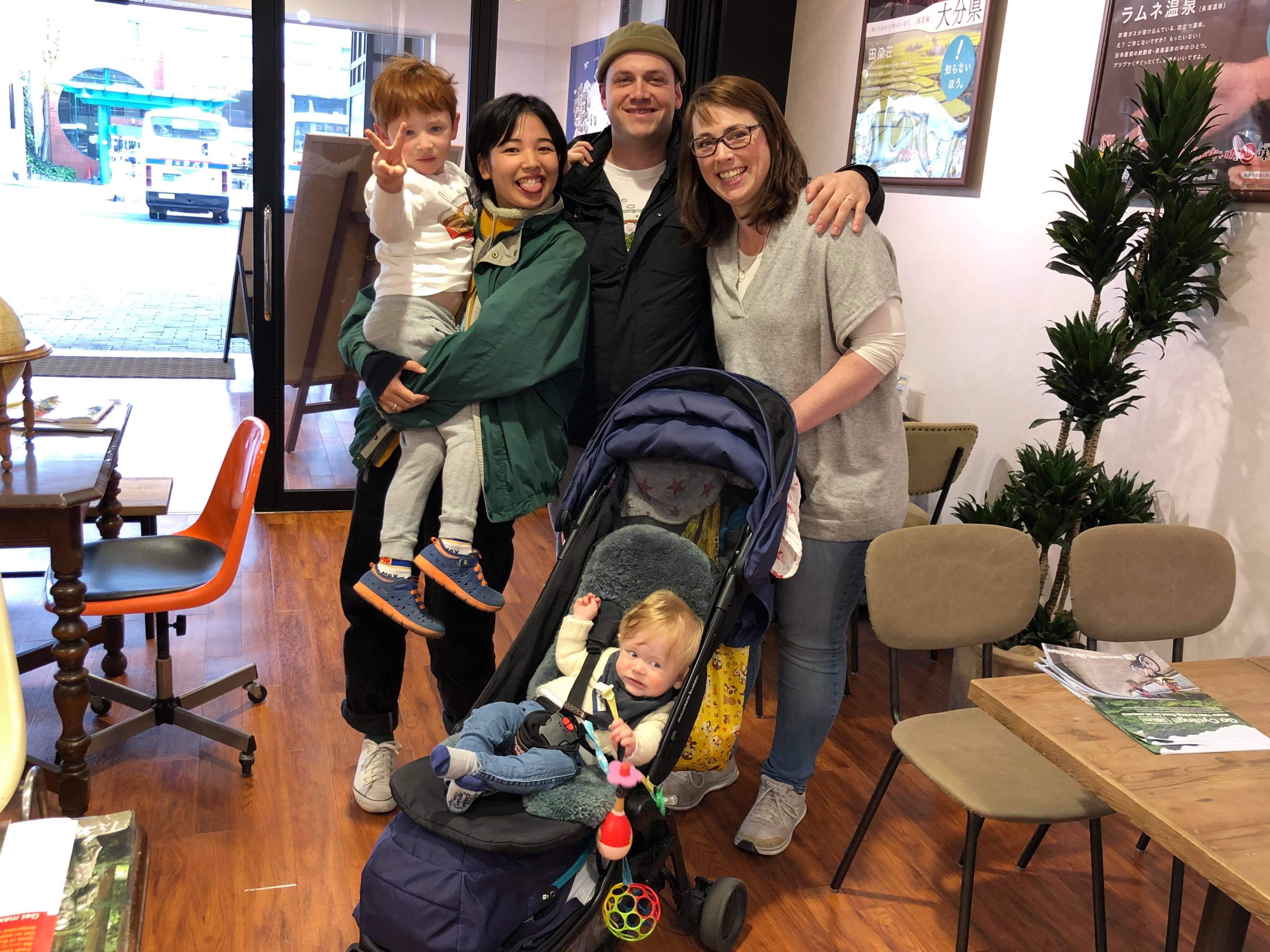 Photo from left to right ; Milo (older brother), Haruka (me), Zane (husband), Sally (wife) and Misha(baby)

They're here for about a week, leisurely enjoying some time together as a family. This is their 5th time in Japan and the goal is always hot springs. So far, they've soaked in many different region's hot springs, increasing the number of favorites while doing so. Wondering whether Beppu will actually become one of these favorites (seeing as it's their first time here) has me feeling a mix of hope and anxiety. I like going where my heart leads me. More than sticking to Beppu's tourist attractions, I want to have others experience a portion of my routine lifestyle. More than that, I want them to be integrated. I always keep these thoughts in mind when I come into contact with tourists. I'm so stoked to be starting this adventure with these two opposites, energetic Misha and calm Milo.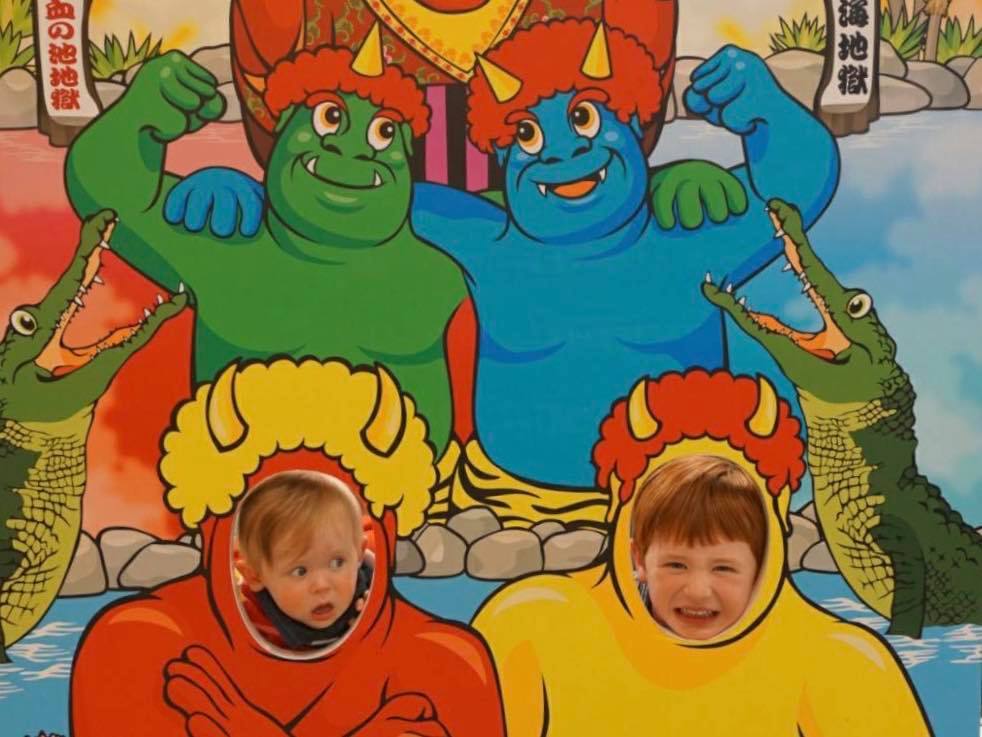 Ramen? Reimen?
While the weather is nice, our first stop is my favorite reimen (cold noodle) shop, Ikkyu No Namida. Reimen means cold ("rei") and noodle ("men") in Japanese. The noodles made from buckwheat flour, are put in a cold broth with kimchi, boiled egg and grilled pork. Beppu reimen is one of the area's local foods. The reason I like this shop is because this Beppu's reimen is, without a doubt, an art. The display and taste are artistic and done very subtly. It also uses Beppu's local specialty, kabosu (Japanese citrus fruit), enabling you to enjoy the same dish in two different ways – with or without kabosu.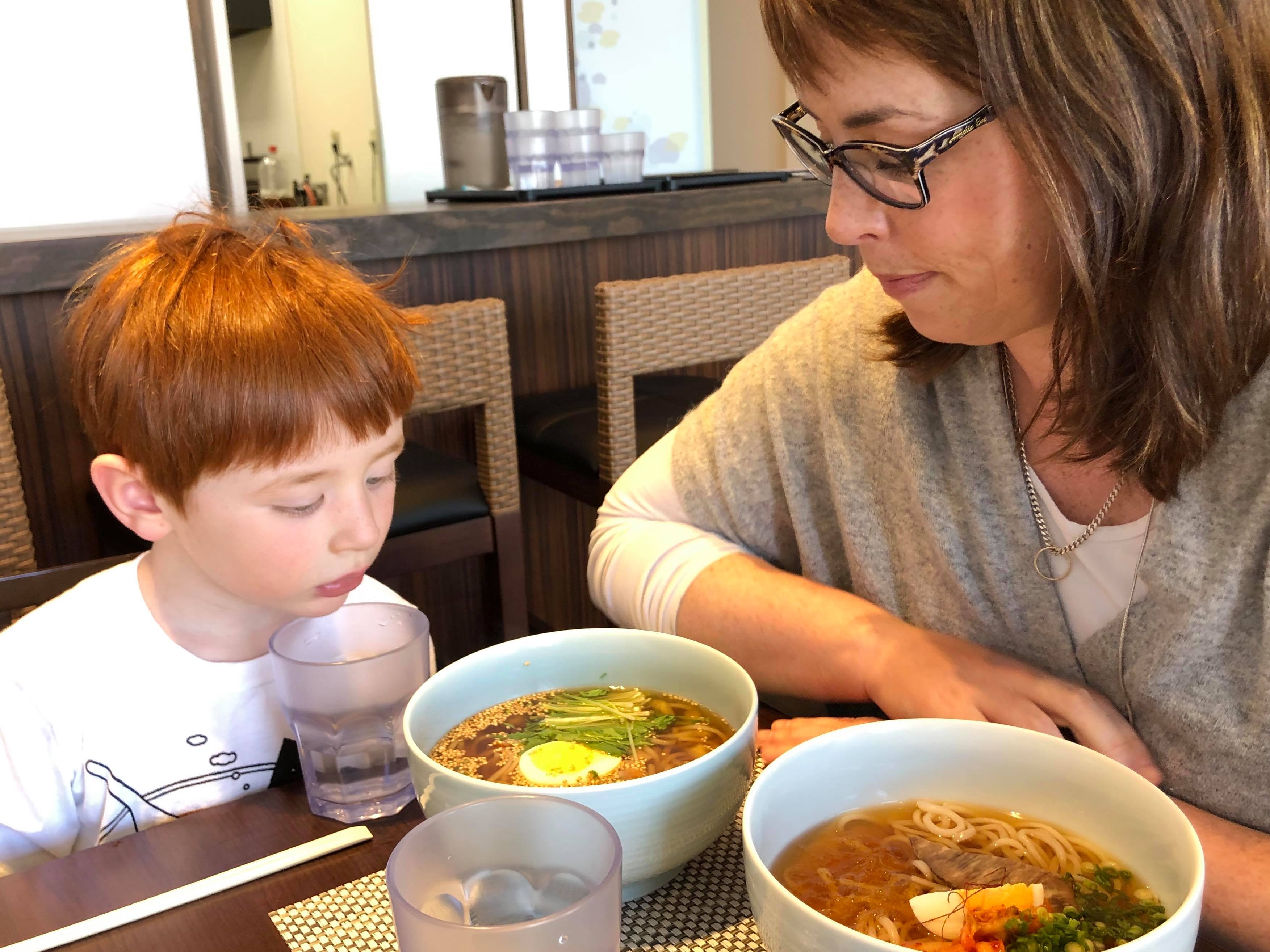 To my delight, these four never knew of the existence of reimen. Every time I ask travellers, "Have you ever eaten reimen before?" they think I'm asking about ramen and say yes. I love those conversations. Since ramen and reimen sound similar, many think they're a similar food and answer yes. For that reason, I always clarify that they're different. When I do, I always get a good reaction. While having this conversation, satisfied, we move on to the town famous for its steam, Kannawa.
The kids were just dying to see the steam-filled scenery and I wanted them to experience the marvelous place. We got around to fulfilling this wish and Misha happily ran here and there, drawing near to the steam and declaring it was warm.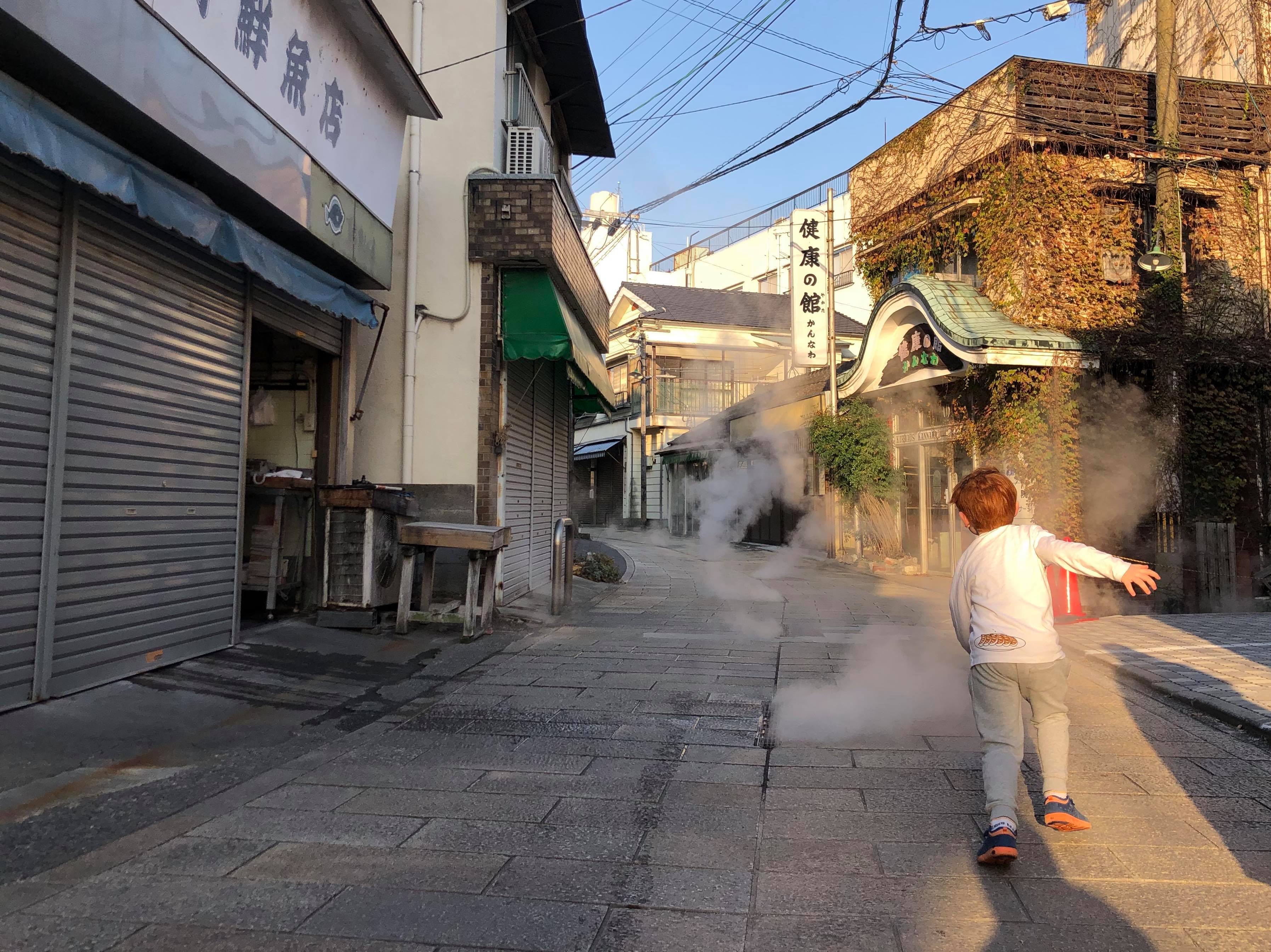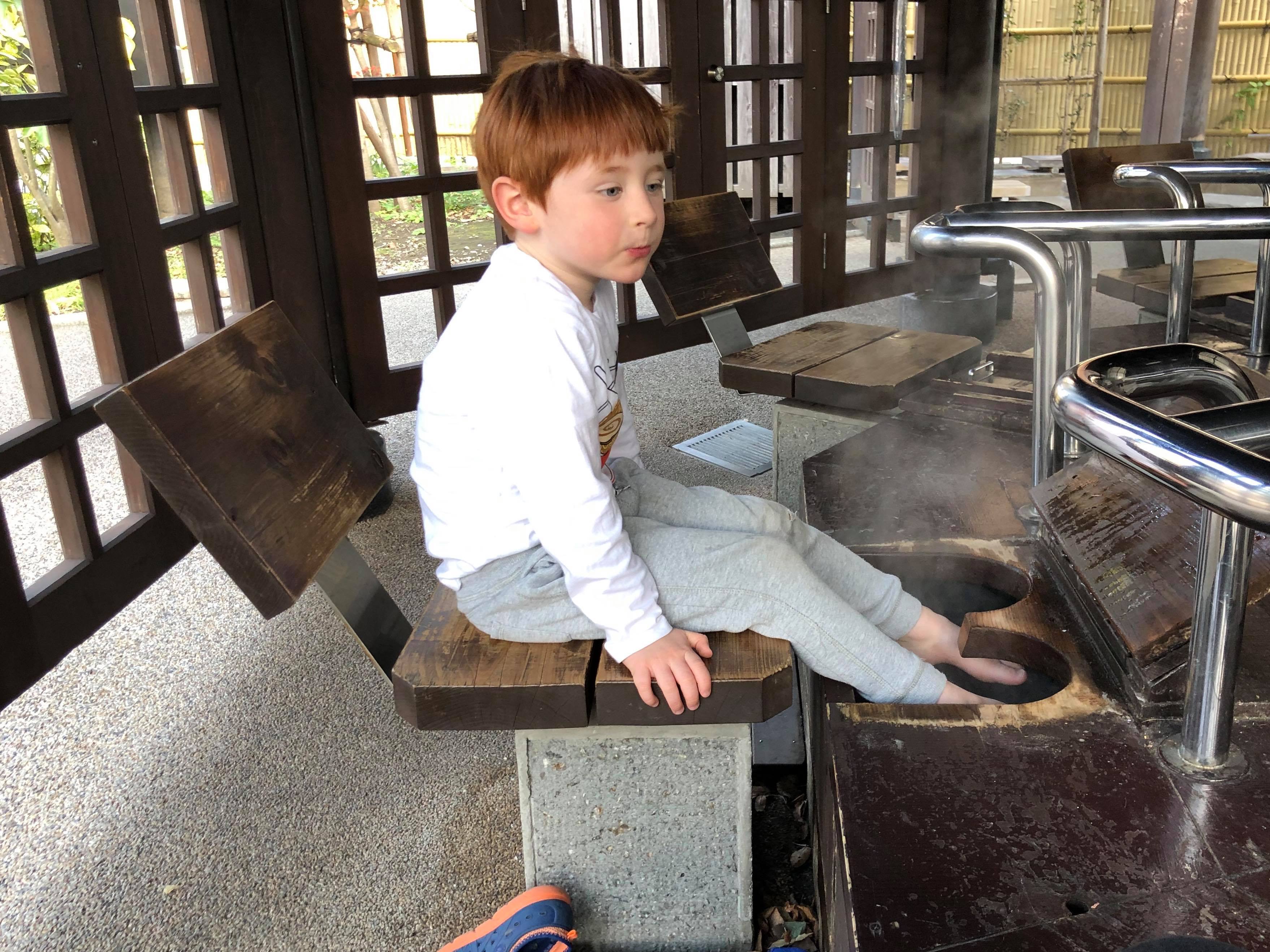 Kannawa has always been a place of restoration that welcomes people with its warm scenery. Whenever I have something I want to think about, I come here and spend that time wisely. This is a small portion of daily life that I wanted them to experience.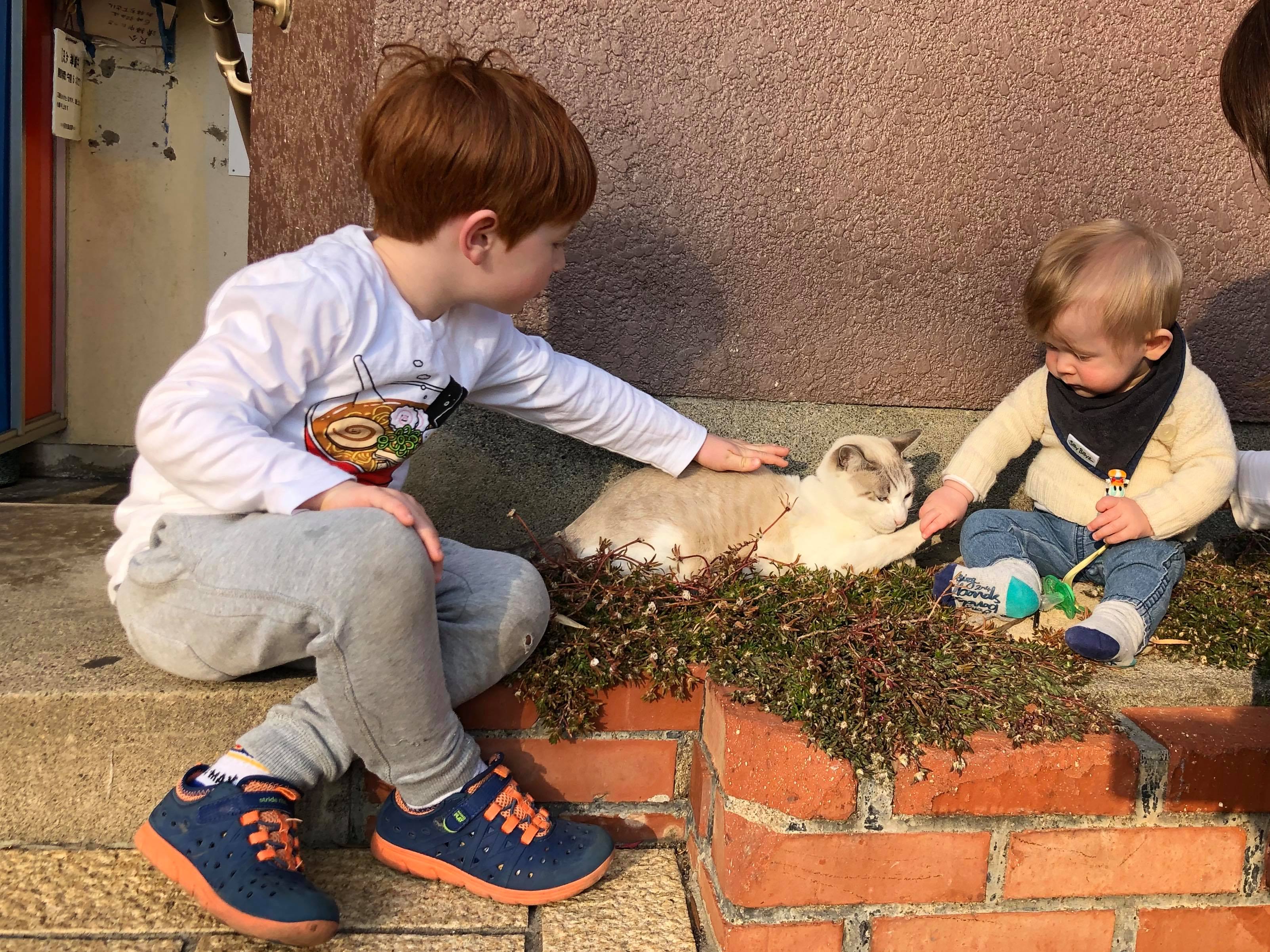 "It's so quiet and beautiful here. It's like time has slowed."
I was able to receive such words from Sally.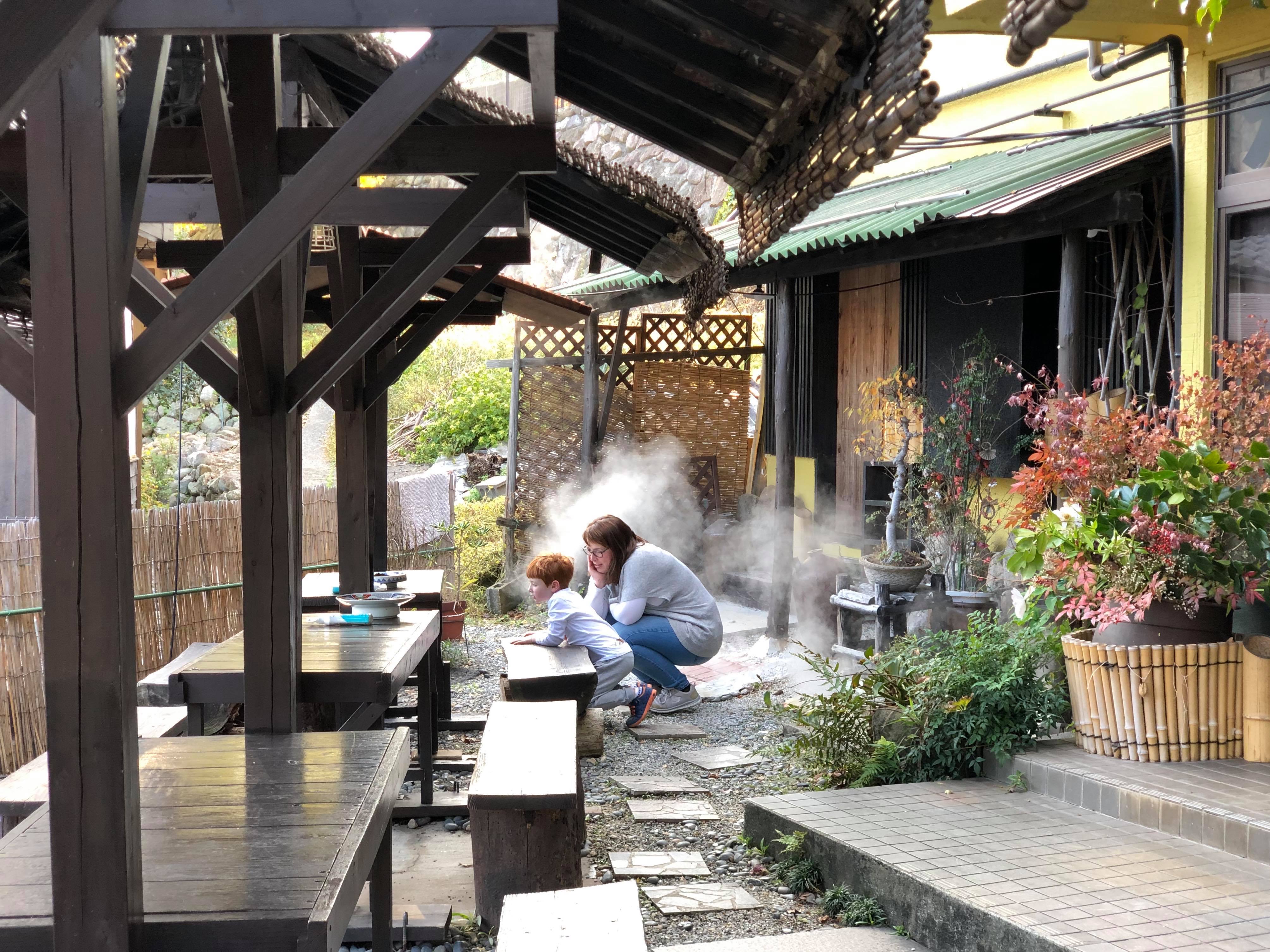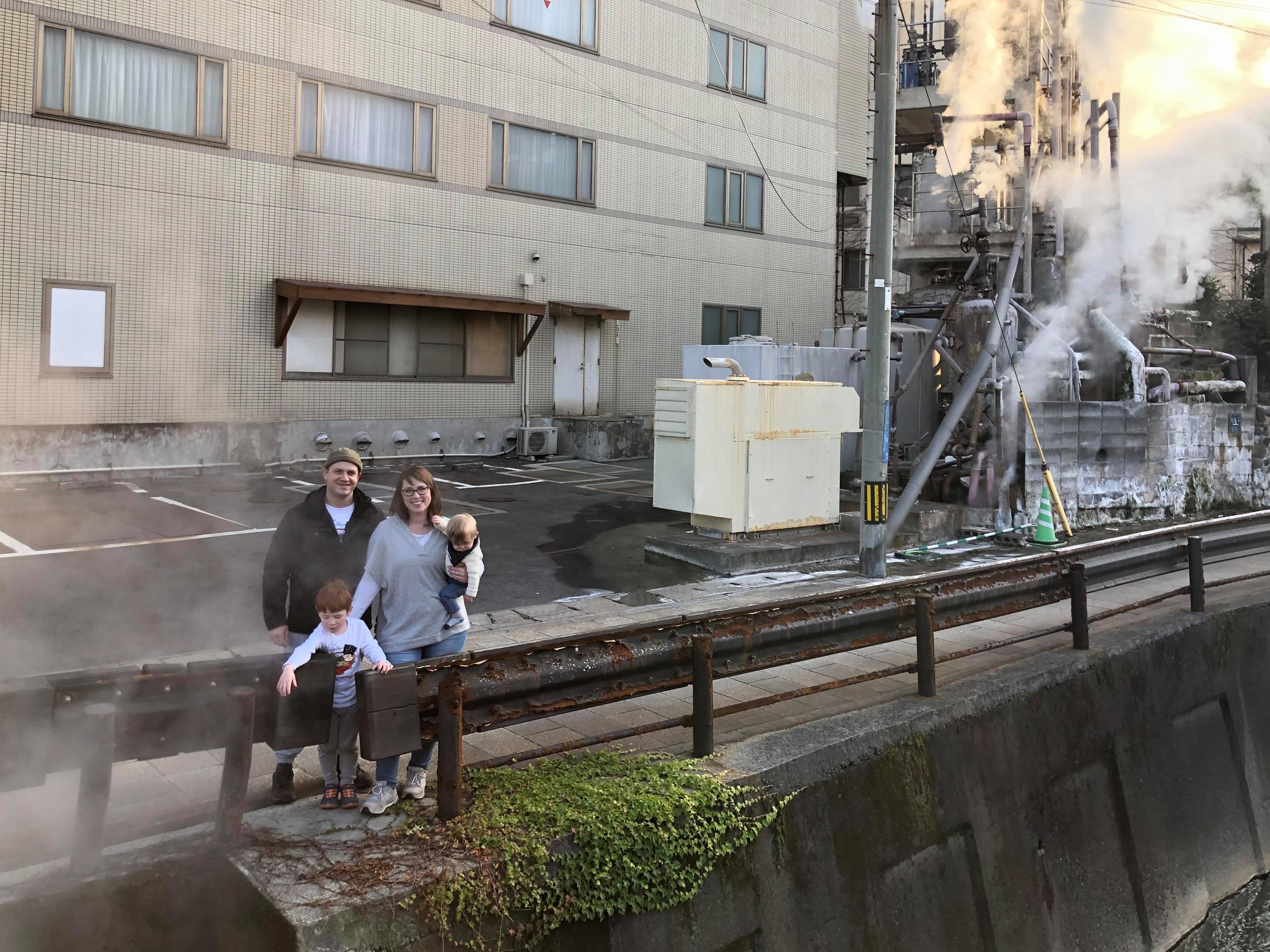 Afterwards, we made our way to Shibaseki Onsen. It seems brushwood (shiba) fossils (kaseki) were discovered here in the Edo Period and it was named accordingly. Additionally, it's become a place rich with history as it is said that the emperor of Japan from around the years 800 to 1050 came here to treat his illness through "Toji" (hot spring therapy)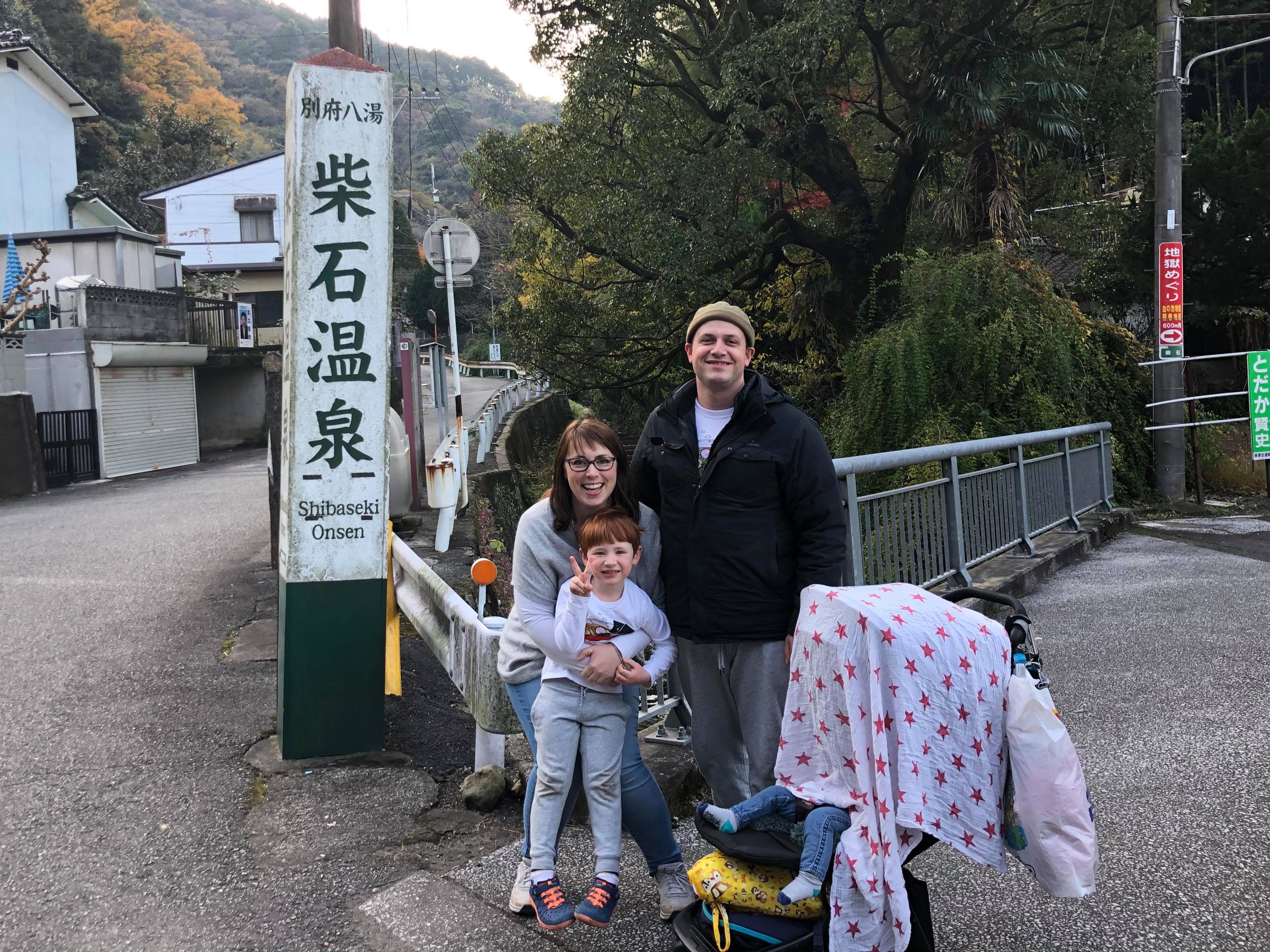 Since I was told they've come to Japan five times – for the sake of this family who's learning about Japan's culture and customs – I lead them to local hot springs rather than the usual tourist spots. There's another reason why I chose Shibaseki Onsen; it's because it's complete with facilities for small children. The diaper station and bench installed in the family bath makes it a great hot spring for families with small children.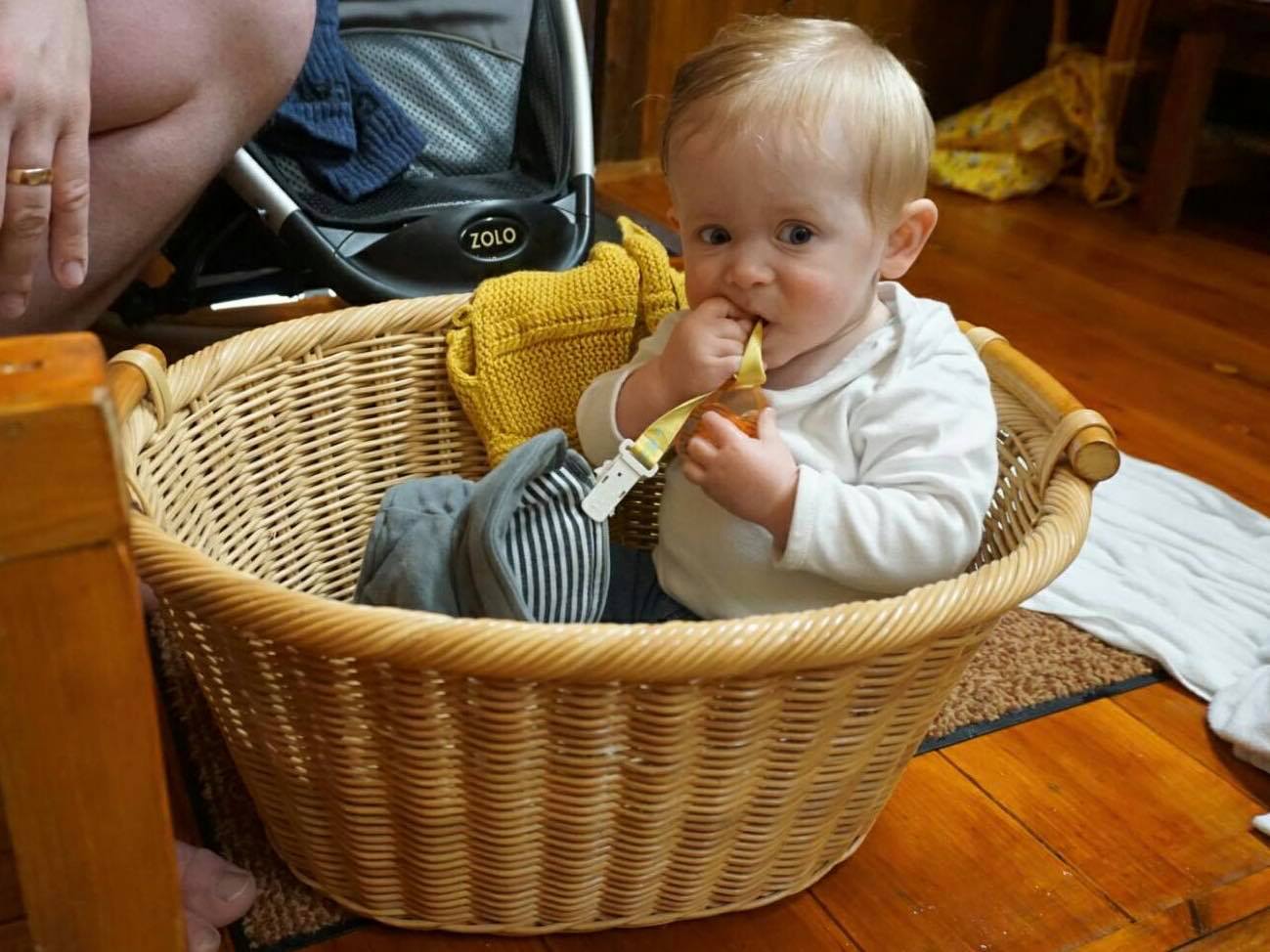 Of course, since it's a family bath, there's no need to worry about your surroundings. Since the dressing room is also private, it's fine to leave it untidy while you are using it. (It would be nice to keep it clean for the next guest before you leave.)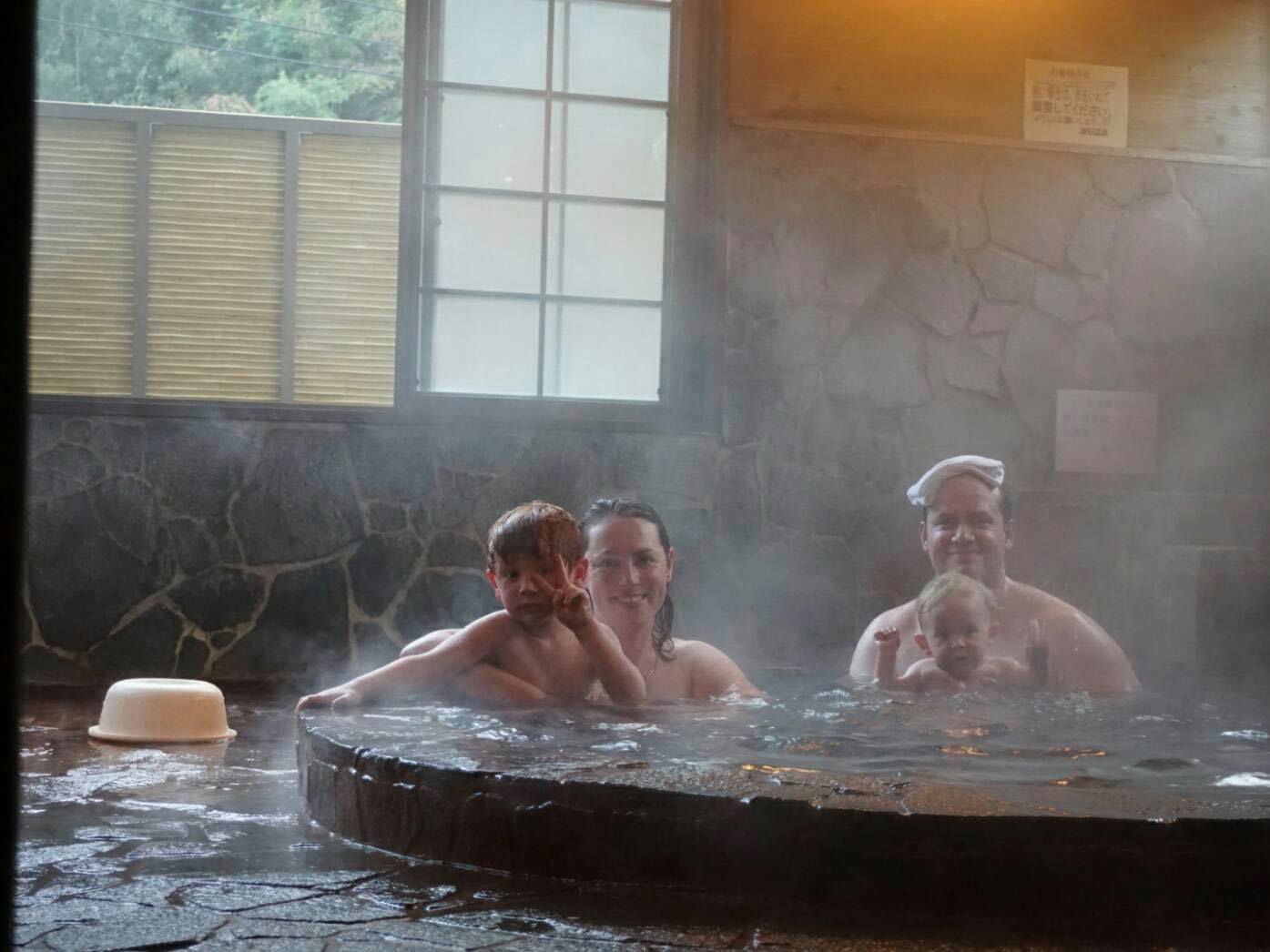 Furthermore, after bathing, a big, Japanese-style room is provided so you can take it easy.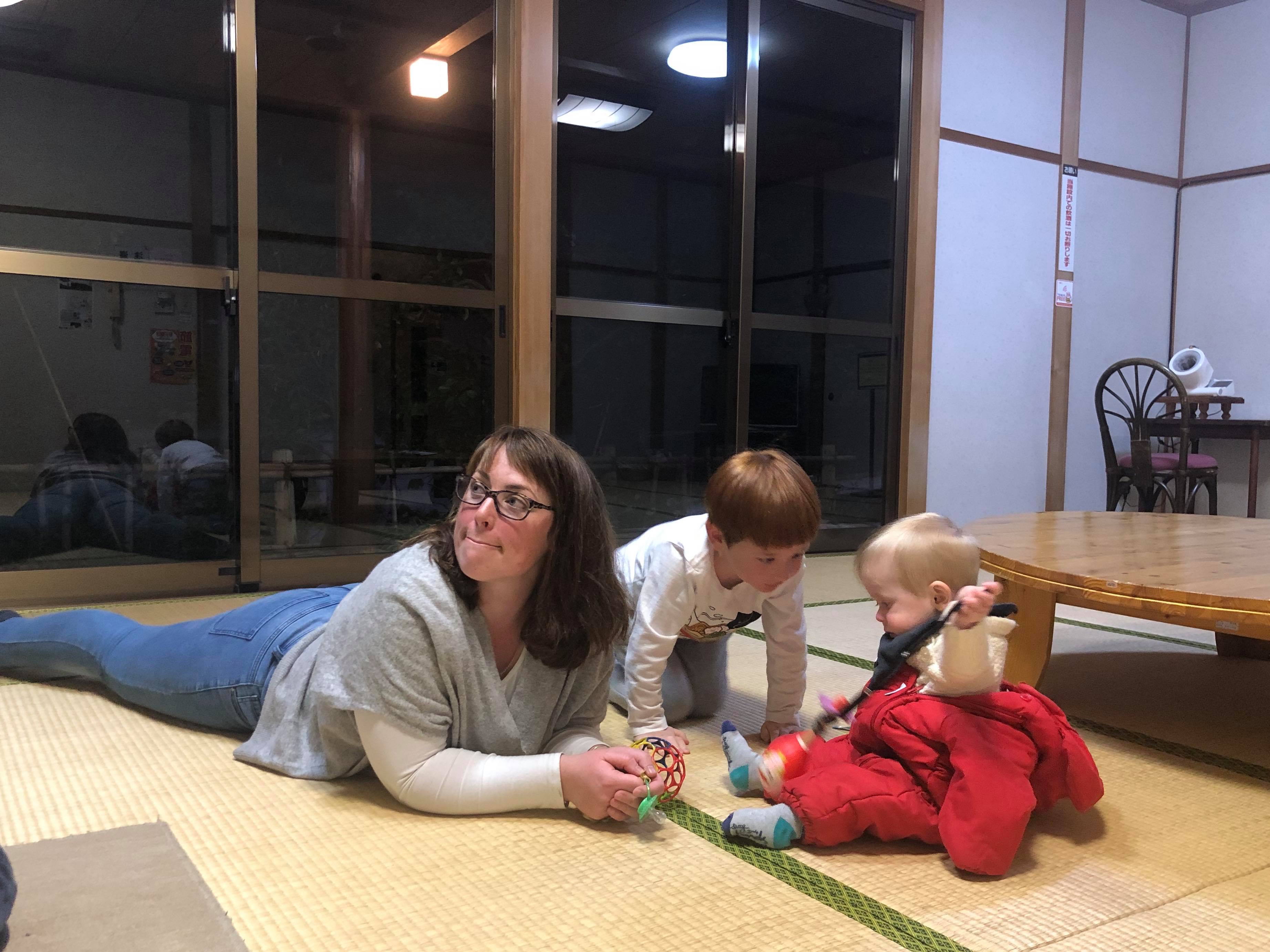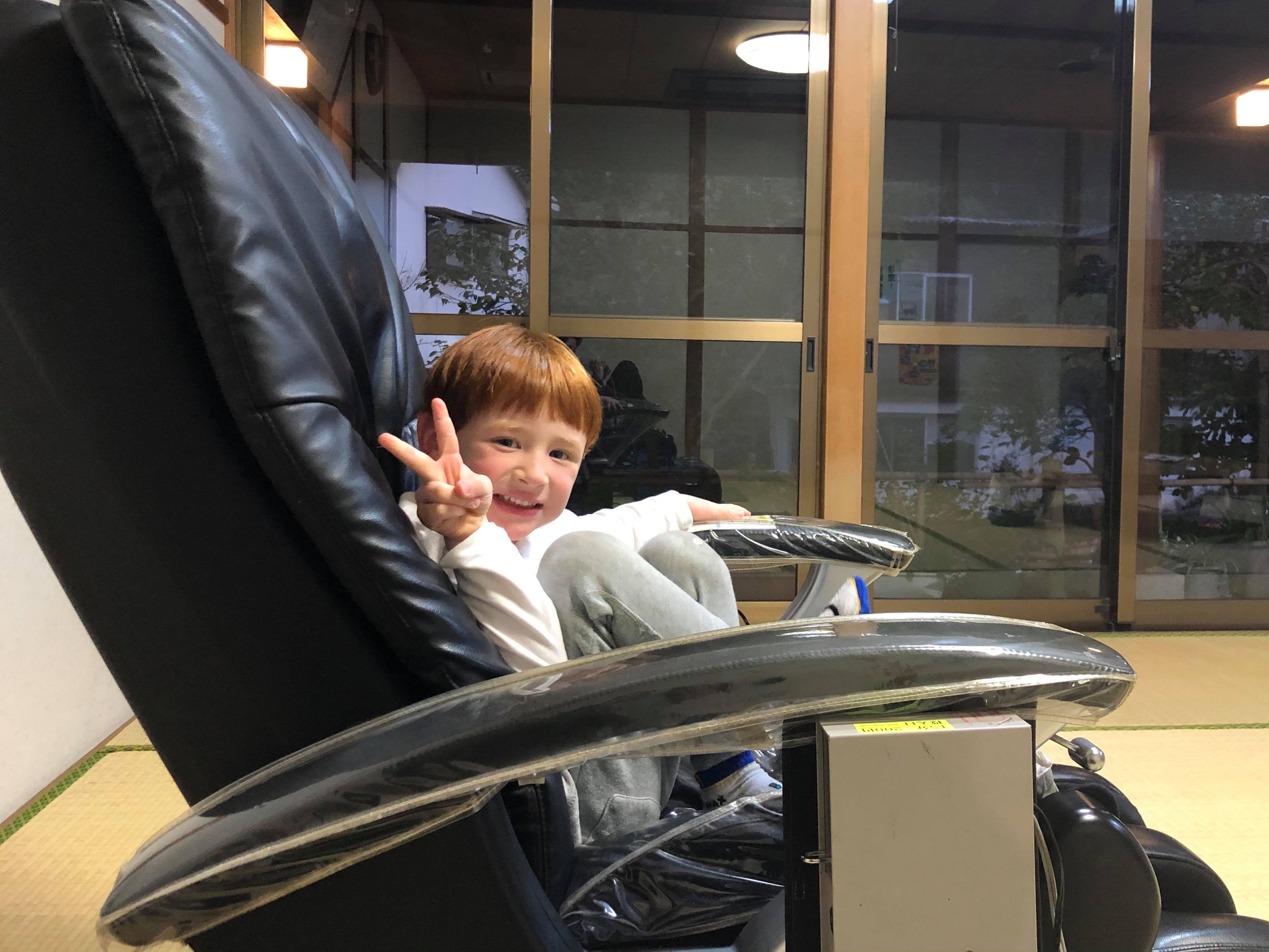 It's a 10-minute walk from the bus stop but the scenery on the way is beautiful. Even in December, some of the autumn colors can still be seen.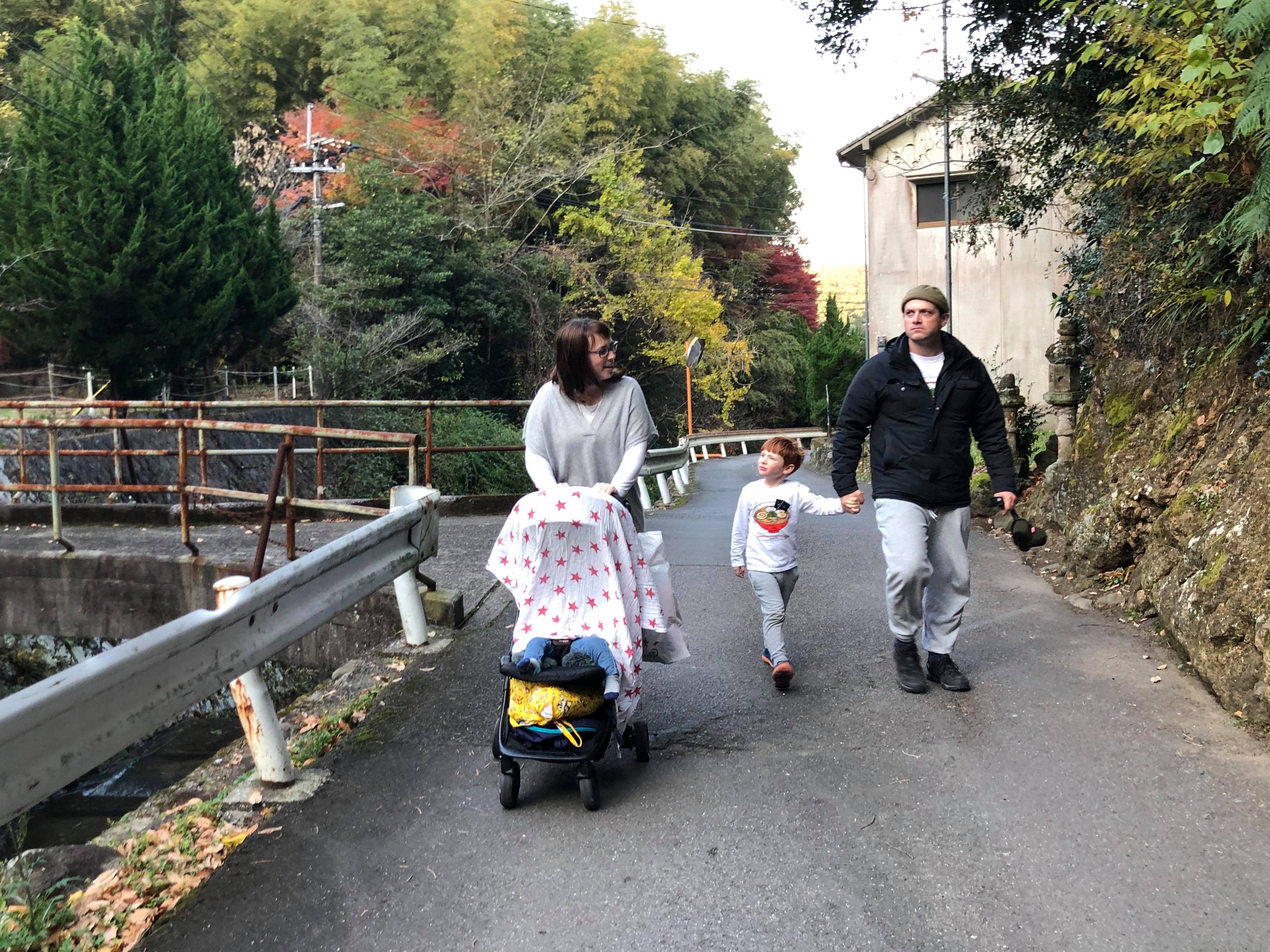 At Shibaseki Onsen, where the quiet murmuring of the river could be heard, I asked, "How was living in Beppu for a week?" Husband Zayne replied, "It's definitely one of my favorite places in Japan. It's a place that has me wanting to return again."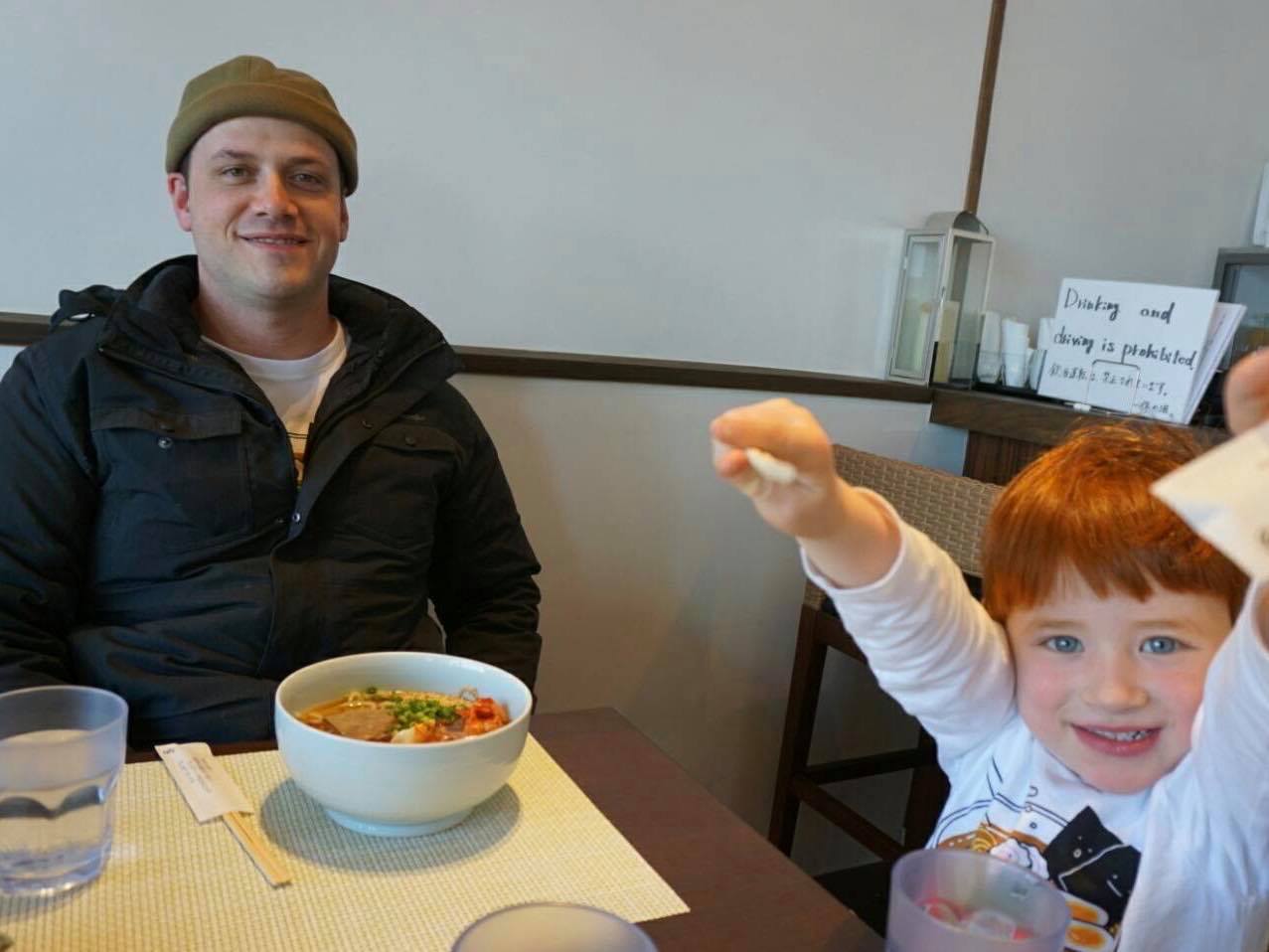 In response, Sally said this.

"When I first came to Japan, I was really reluctant to go to public baths. Getting undressed in front of other people isn't the norm. Even with those thoughts, when I wanted to give it a go, I'd see the females around me – children and the elderly alike – getting undressed without a care. Seeing such a sight, I figured, if children aren't even concerned about it, I shouldn't worry."

She said that's how she was able to enjoy hot springs to the fullest.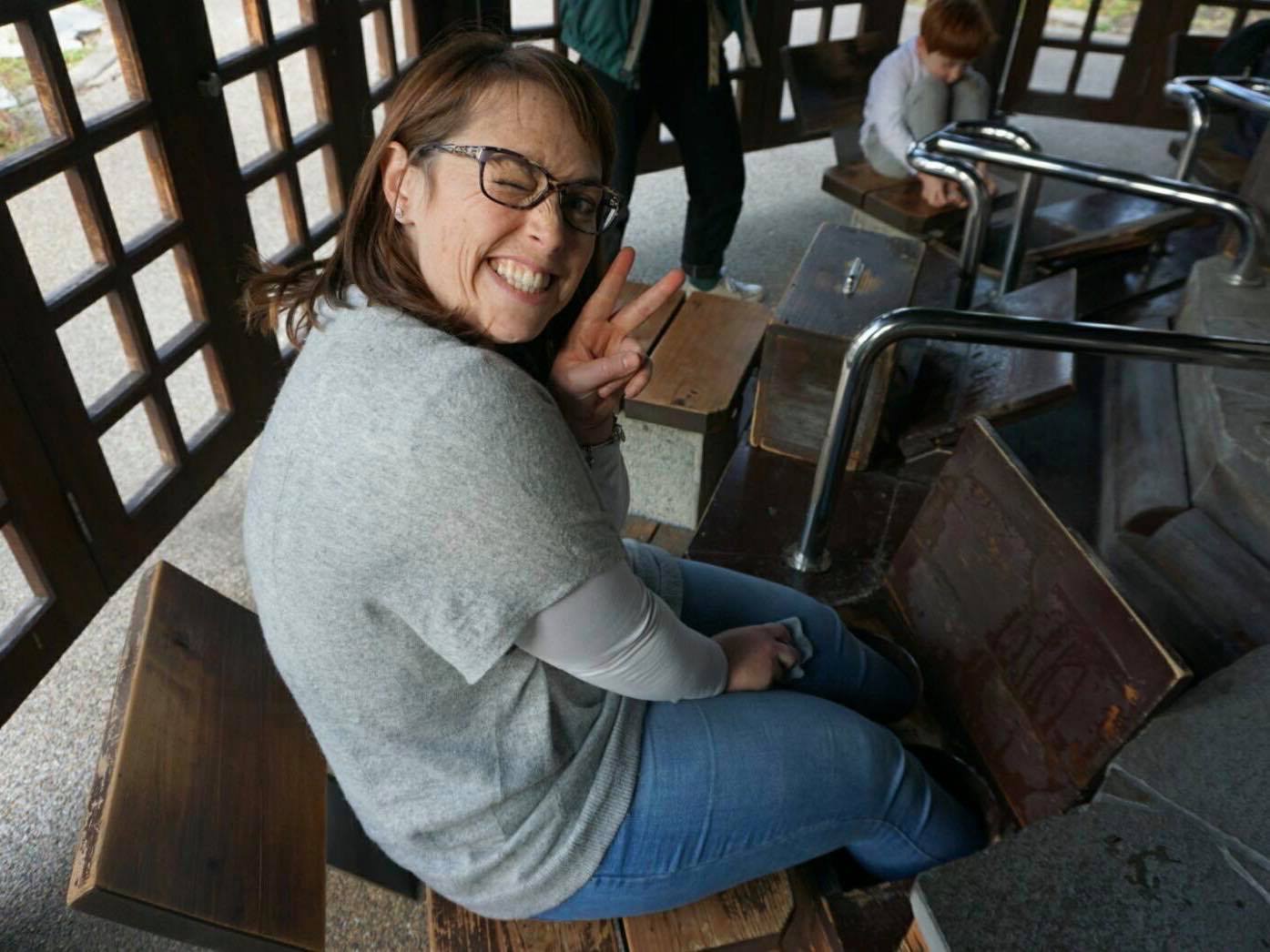 "At the time, Misha was also shocked that people were undressing around him one after the other. Now, he goes for the bath at full speed." she said while laughing. At this time, I thought… Japan's hot spring culture has the power to change foreign tourists' way of thinking and image. That's such a wonderful thing. While thinking that I'd like Misha and Milo to come back to Beppu when they're older, I enjoyed my time at Shibaseki Onsen.

Outline of the visited hot spring
Shibaseki Onsen
OPEN:7:00〜20:00
FEE:210YEN, Family bath 1,650YEN for 60min.(up to 4 people)/
TATTOO:Allowed
How to get to Beppu, where shibasekionsen is located
Beppu is a small hot spring resort town located on the southern island of Kyushu, Japan.
EnjoyOnsen