Onsen master, Mr.Sato
This is Mr. Sato. He originates from Kumamoto and is an onsen master with a great love for Beppu. But wait! You may be wondering just what an onsen master is. Today, we'll be talking to Mr. Sato about what an onsen master is, Beppu's qualities, and the charm of hot springs. Reading this, you too may aim to be a master with a black belt! You may even want to meet Mr. Sato!
What is Onsen master and how can we become one?
Me: Thank you, Mr. Sato! By the way, what is an onsen master in the first place?
Mr. Sato: In Beppu, there are a lot of hot springs, but you can become a master by visiting 88 of the 150 hot springs affiliated with the "Onsen-Do" – or "Way of Hot Spring." Just like the "Do" in Sado (tea ceremony/way of tea) and Judo, the "Do" in "Onsen-Do" carries the image of going through the practice of touring the 88 hot springs.
Through Beppu's tourist information center, you can acquire what's called a spaport, which acts like a passport for the hot springs touring. With this in hand, anyone can collect each hot spring's stamp and become a master!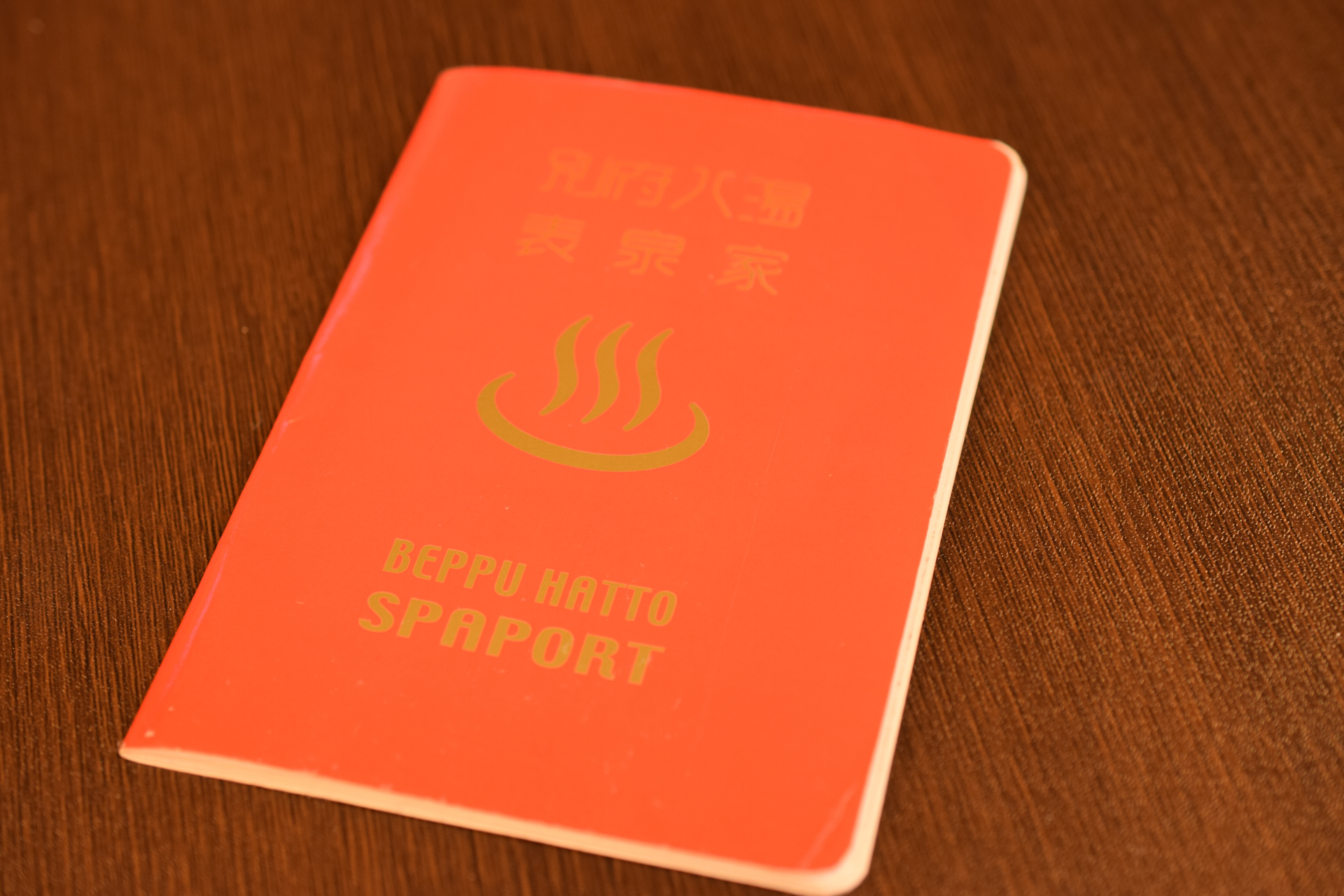 Me: Collecting these stamps sounds like fun but 88 is quite a lot… Are there any tourists who have become masters?
Mr. Sato: It's difficult to do all at once, but there is a person who accumulated stamps over the course of three trips to Beppu. Even Japanese people from outside the prefecture come weekly. Incidentally, it took me about a year and a half the first time!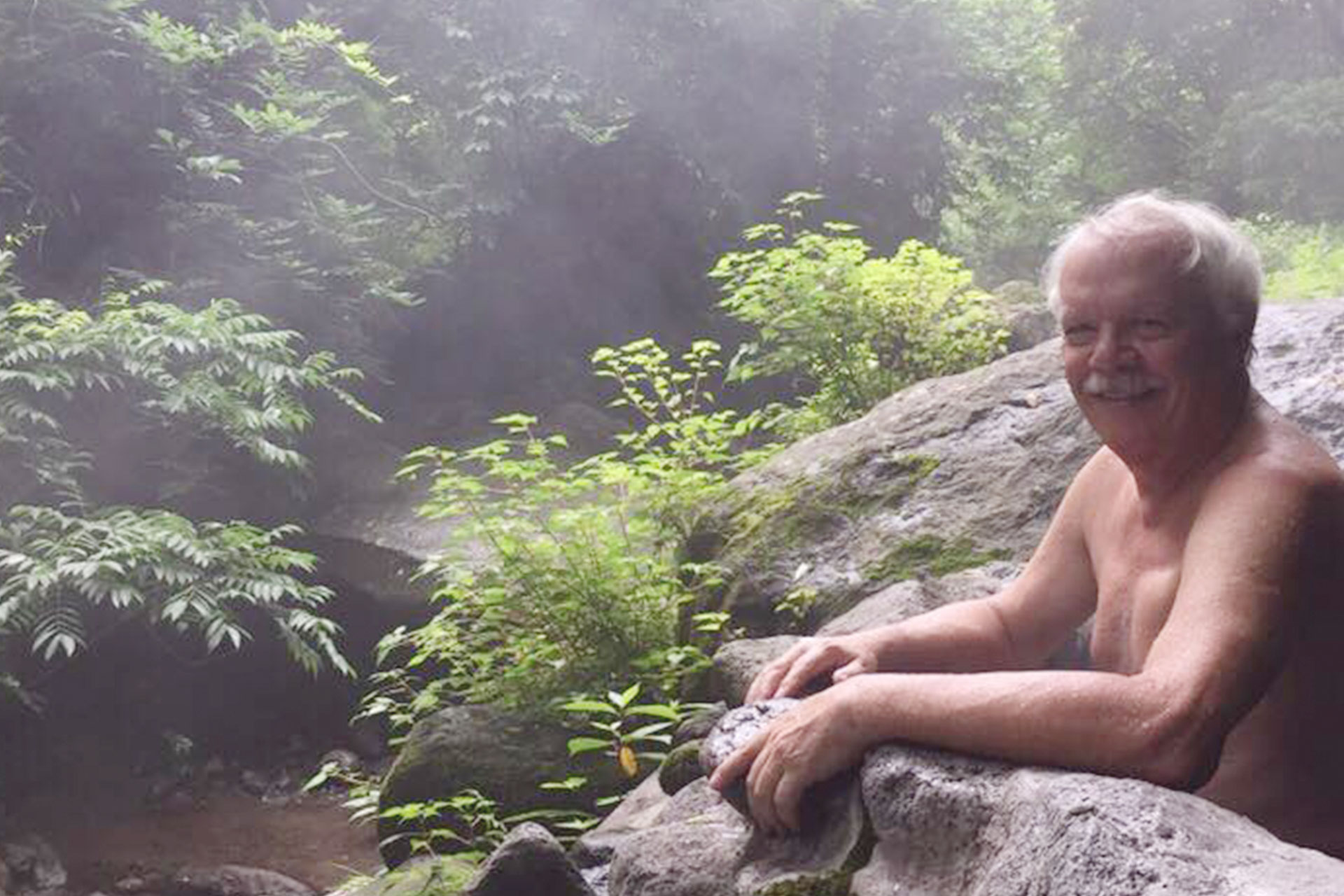 Me: Huh? The first time? Do you know how many laps you've done, by any chance?
At that moment, Mr. Sato suddenly takes something out of his bag.
What comes out is a file with about 10 spaports inside!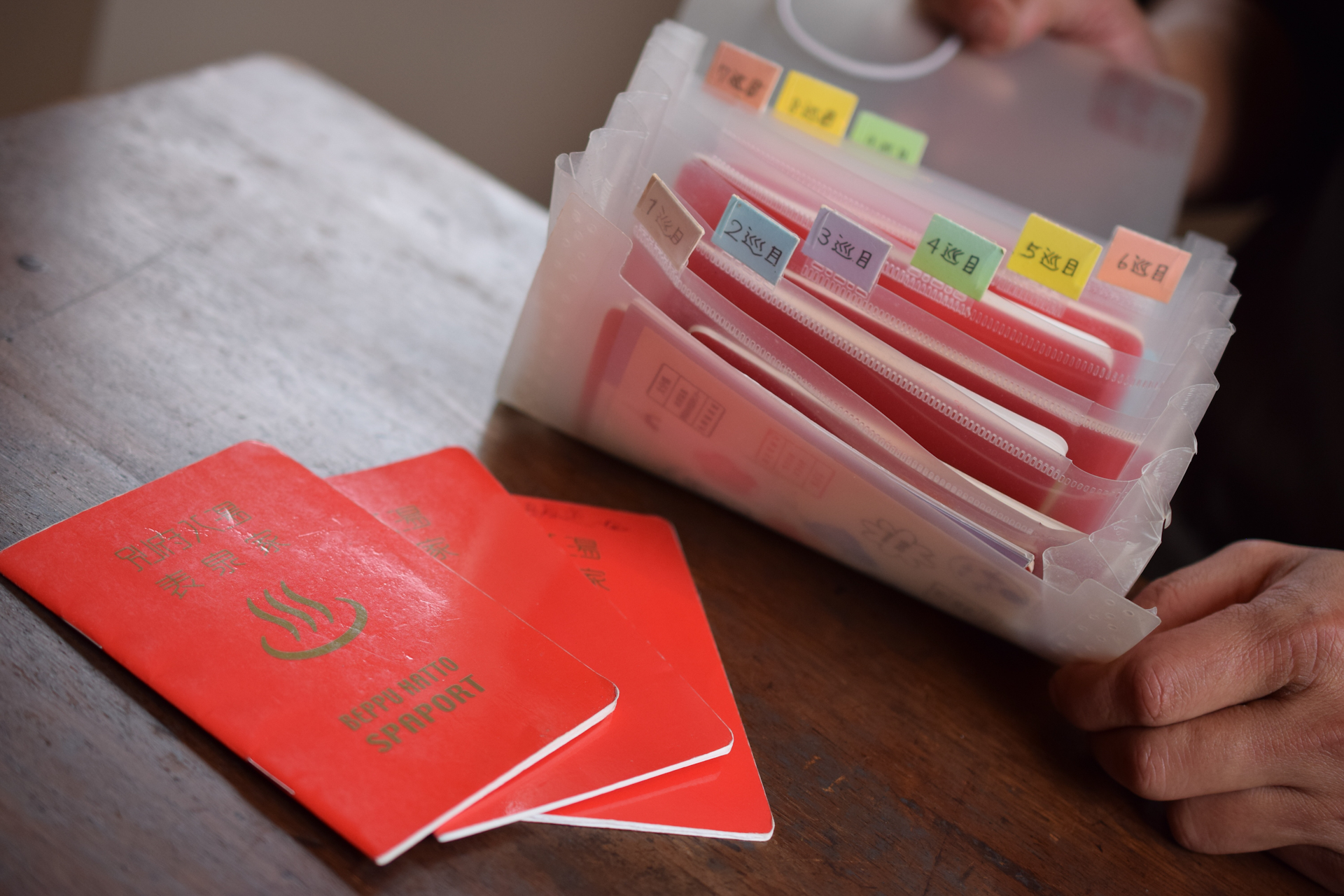 Mr. Sato: I probably did 8 laps now?…. Ah, I ended at 8.
Amazing!!! He went so much he couldn't keep count himself! Apparently, if you go up to 11 laps, you'll earn the title "Eisei-Meijin," or "Permanent Master." It's the master of masters!
Me: If you become a master, do you get certified?
Mr. Sato: First, rank recognition is based on the stamp count, and if you apply for the Meijin-Kai, you can receive a commemorative towel. Additionally, if you go around 56 hot springs and reach level 7, you can get free or half-priced entry to the hot springs in places like hotels and ryokan! Also, you can receive a black towel likened to a black belt with your name embroidered using golden thread! If you join the Meijin-Kai, you'll also get a happi (traditional Japanese straight-sleeved coat) with your name on it.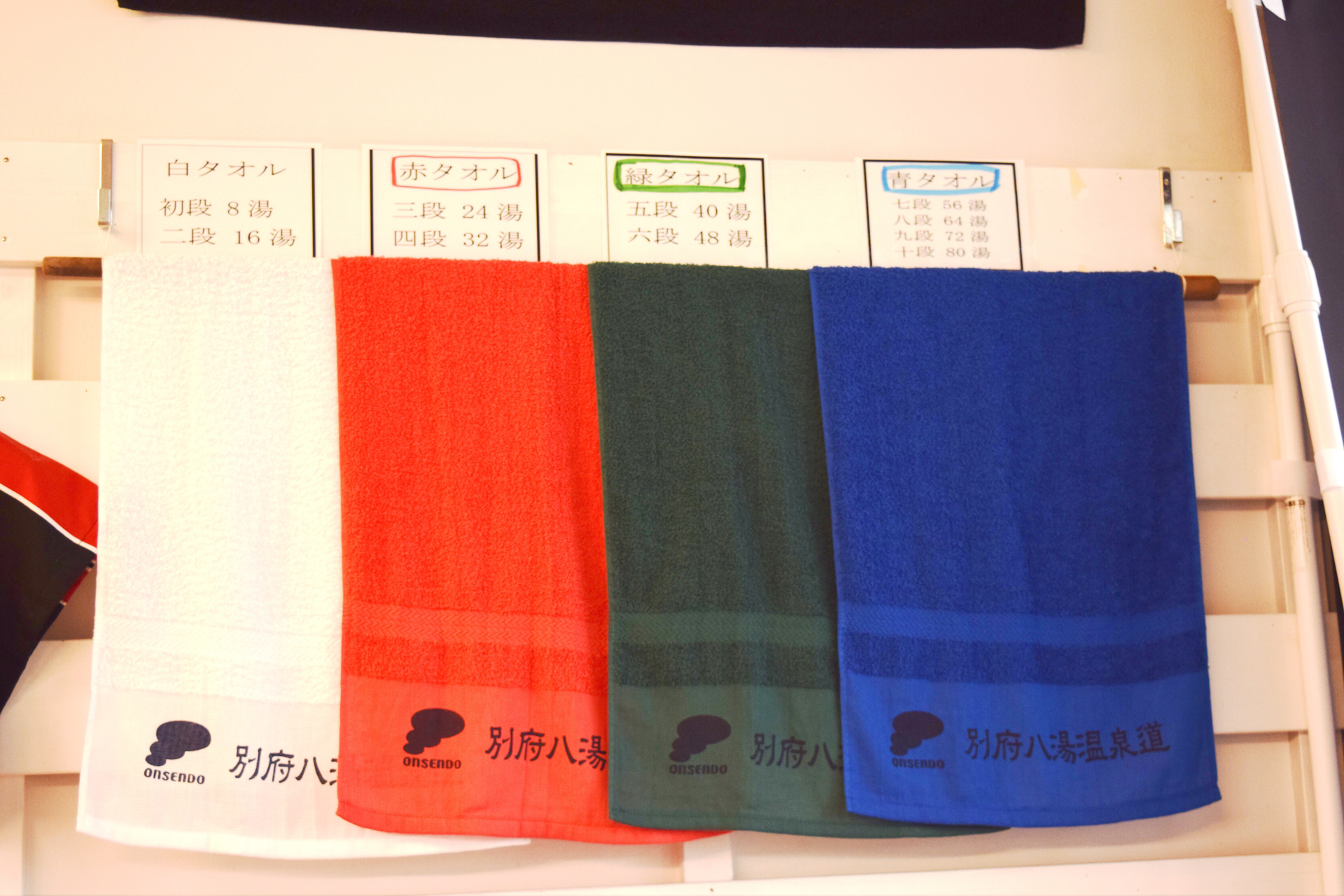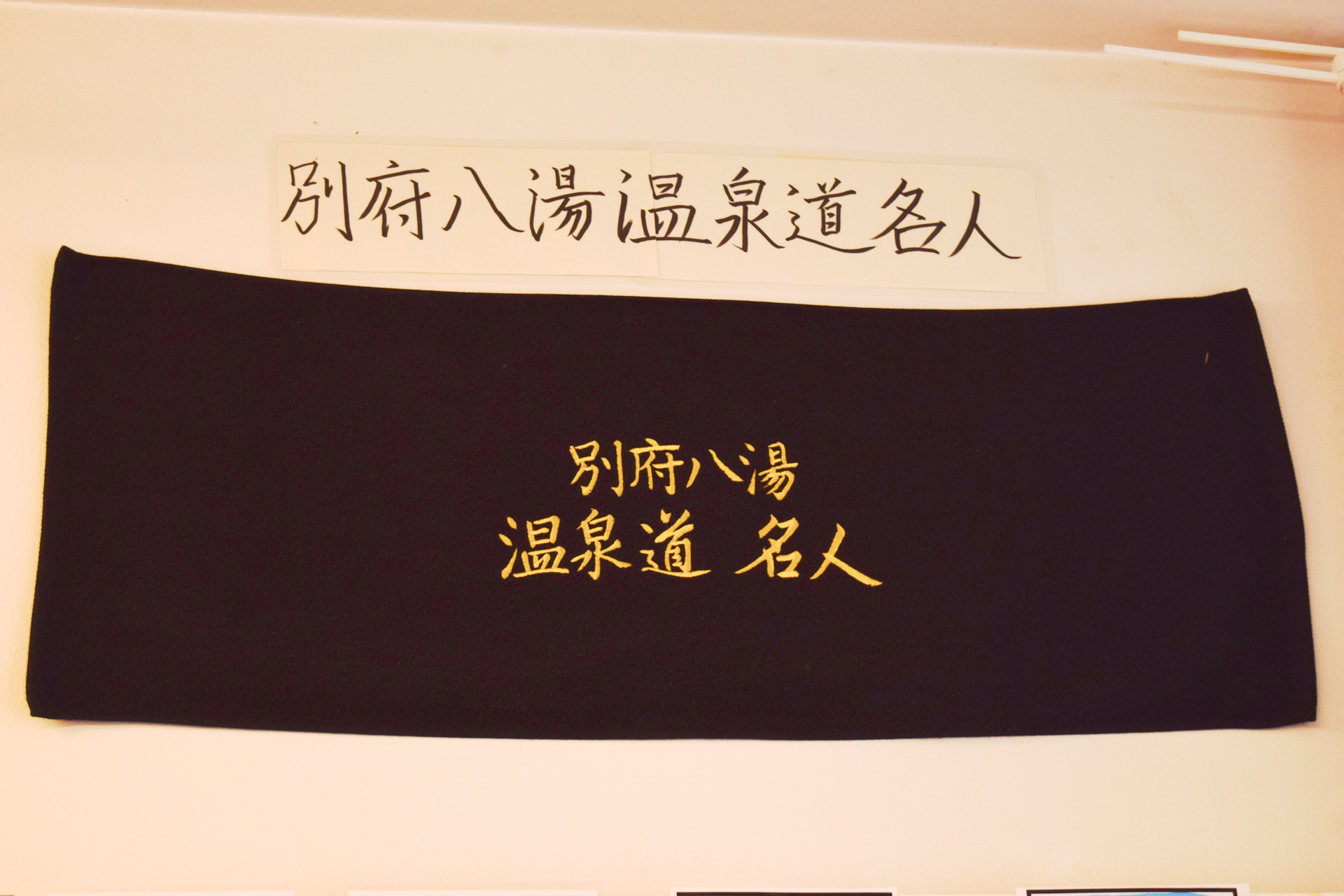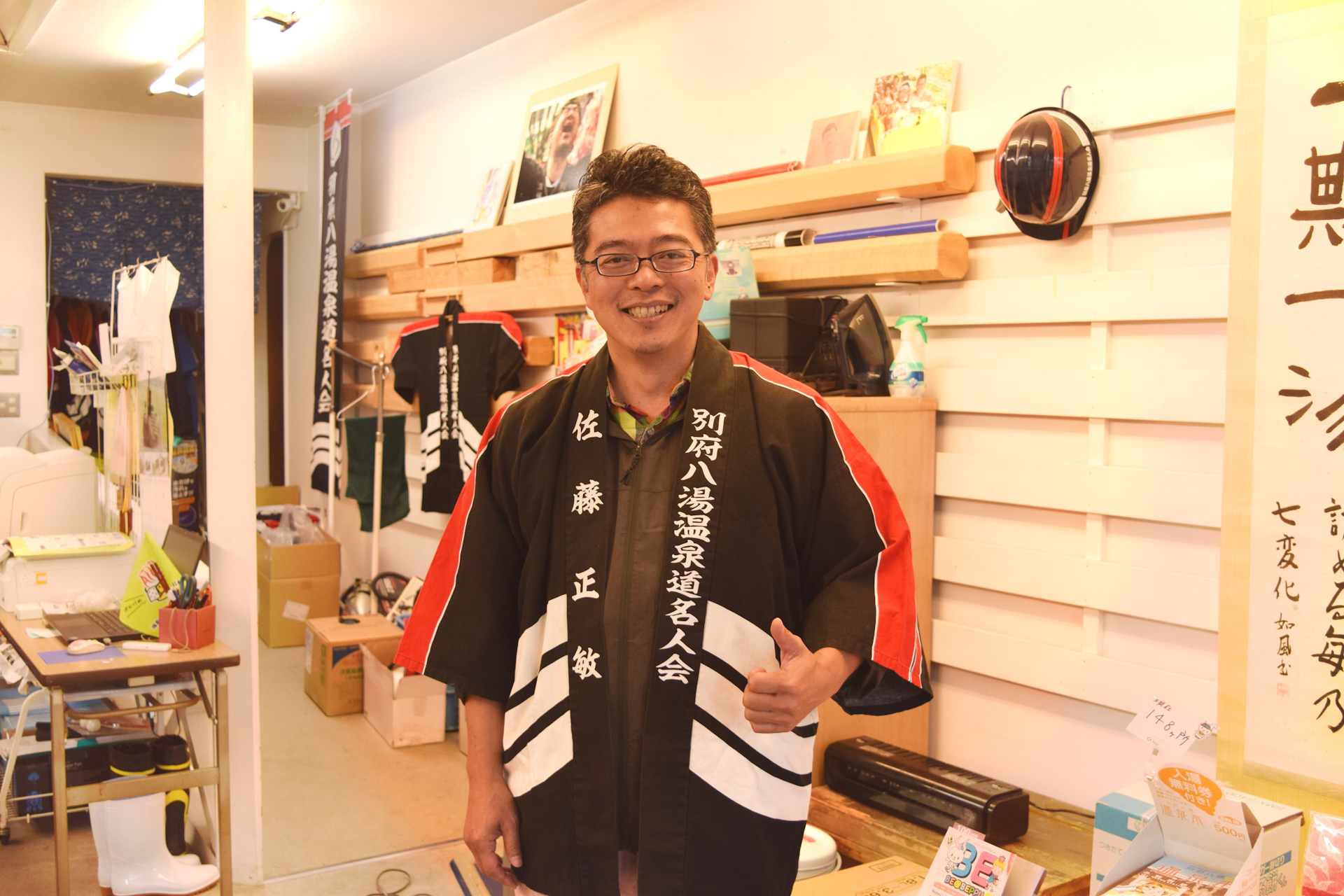 Me: Spaports to towels to happi! Aiming for being a master really seems like fun! Or rather, the towel is really cool! By the way, earlier you mentioned "Meijin-Kai" quite a lot, but what is it?
Mr. Sato: It's the gathering of masters to liven up Beppu through hot springs. I am currently the chairman of the association, which handles things like certifying ranks for the Onsen-Do, and acting as us guides and clerks at information booths for Hot spring festival events.
Wow… It's the master of the masters of masters!
Why Beppu? Why Onsen?
Me: Mr. Satou is just brimming with love for Beppu and hot springs, but you don't originate from Beppu, right? Why did you end up settling in Beppu.
Mr. Sato: At first, it was just because I found a new job in Beppu, but its charms mesmerized me. Before I knew it, I had already been living here for 15 years.
Me: What is Beppu's charm?
Mr. Sato: It goes without saying that it's the hot springs, but I guess it's also how everything is close by. A place to play, the mountains, the sea, the town – everything is close. The food is delicious, and Beppu's people are easy to be friends with. When I first decided to come to Beppu, I didn't tell my wife and she got mad but now the family is completely adapted to life here.
Me: You didn't tell your wife?!
Mr. Sato: It's because I thought it was manageable. In actuality, it is doable.
Me: Maybe that's also one of Beppu's charms… You came to Beppu and, from there, how did you become so crazy about hot springs?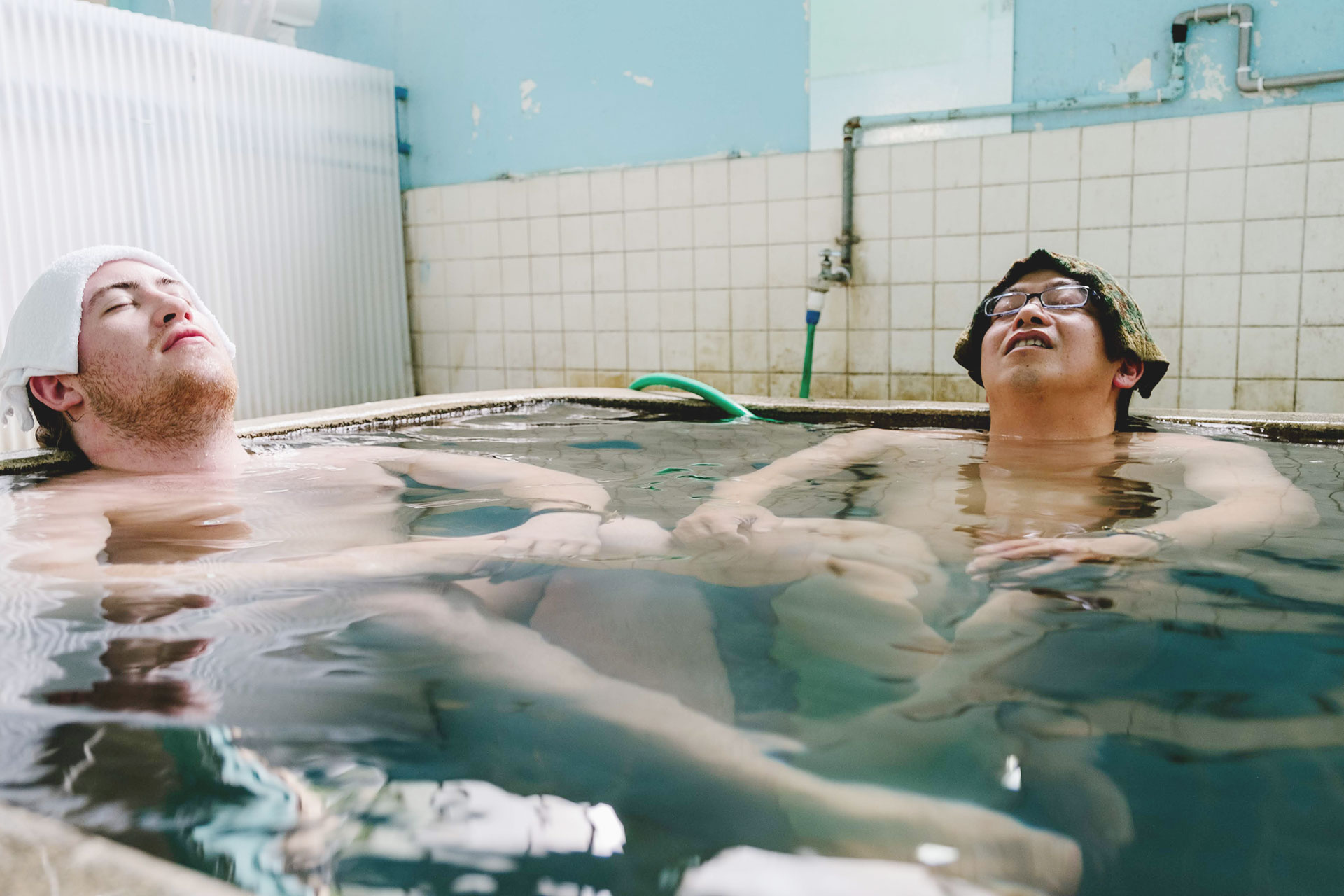 Mr. Sato: This is also because of my job because I used to be a sightseeing taxi driver. While showing the tourists around, they'd always ask "What hot spring do you recommend?" and I'd give the same answer every time. It sparked the thought that I should know more hot springs. At the time, I coincidentally knew about Onsen-Do and decided to aim for master while I was at it. As I began to understand Beppu's hot springs, realizing that Beppu alone has such a vast variety of hot springs, the benefits they have, and the depth of its profundity made it even more interesting.
Me: That's true! In Beppu, there are a number of hot springs I'd never grow tired of even if I went every day. They've got variety! But why is it that you decided to join the Meijin-Kai?
Mr. Sato: Even though there are many wonderful hot springs, there isn't much information on them, so I thought I'd liven Beppu up through hot springs.
Me: I get it! I want people to know more about how much charm Beppu has, too!
Mr. Sato: You should start by becoming a master then.
Me: Alright! Then I'll become a master by the spring onsen festival and participate in a happi!
How was it? What do you think about trying out the Onsen-Do challenge when you get the chance to come to Beppu, too? Onsen master, Mr. Sato, will welcome you with a smile at the office!
You can get a spaport at the tourist information desk in the Beppu Station or at the Meijin-Kai office for just 100 yen! It also makes a great souvenir!

How to get to Beppu, where Meijinkai is located
Recommended hot springs and other attractions can be found by clicking the buttons below, so please have a look!
EnjoyOnsen