Hello dear readers.
I'm Koya, a Beppu local tour guide from the Tourists' Hub & Lounge called Wander Compass. In this post, I will share with you my trip with Patric and Erica from Sweden. I will include what they enjoyed on their trip as well as their impressions of Beppu. I hope you will find some tips for your next Japan trip to Beppu! So let's go!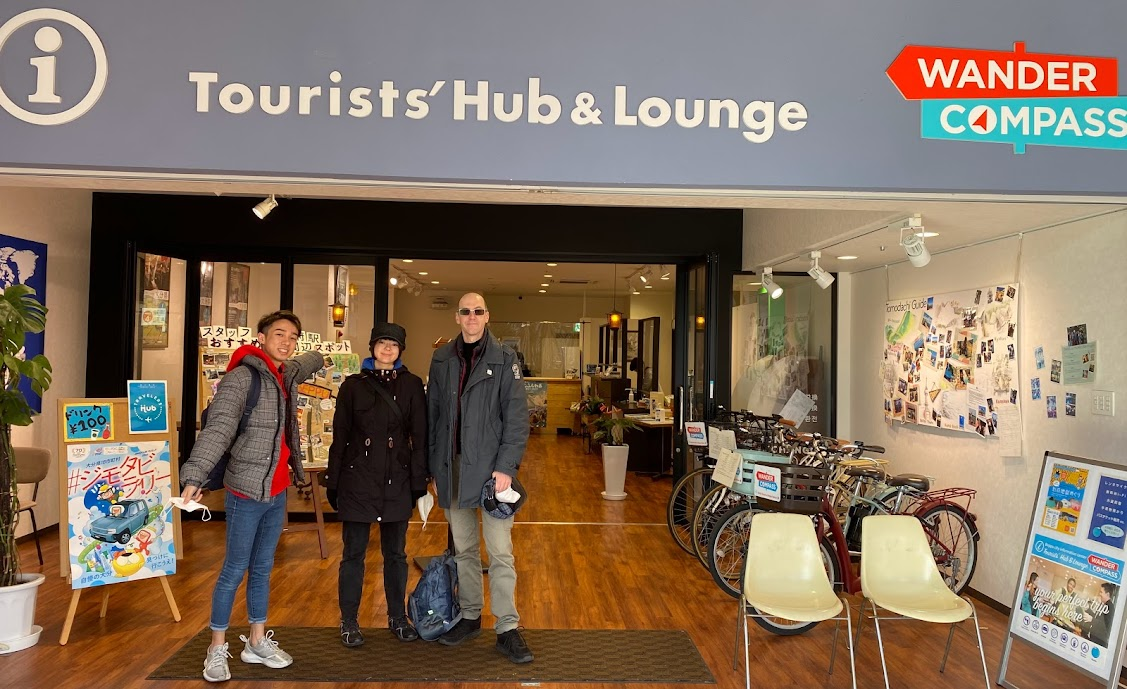 From Beppu Station To Umi Jigoku
First, we headed from Beppu Station to Umi Jigoku; the most popular tourist attraction in Beppu.
Patric and Erika were interested in the central part of Umi Jigoku as well as the shrine and the torii gates. They were also very fascinated by the color of Umi Jigoku and asked what it was made of. For more information about Umi Jigoku, please check out this article. Since Patric and Erica are from an icy and snowy country in Northern Europe, they really enjoyed the greenhouse trees and flowers that are originally from the rainforest. They had never seen a banana tree before, so Erica took some pictures and both of them really enjoyed experiencing this new world.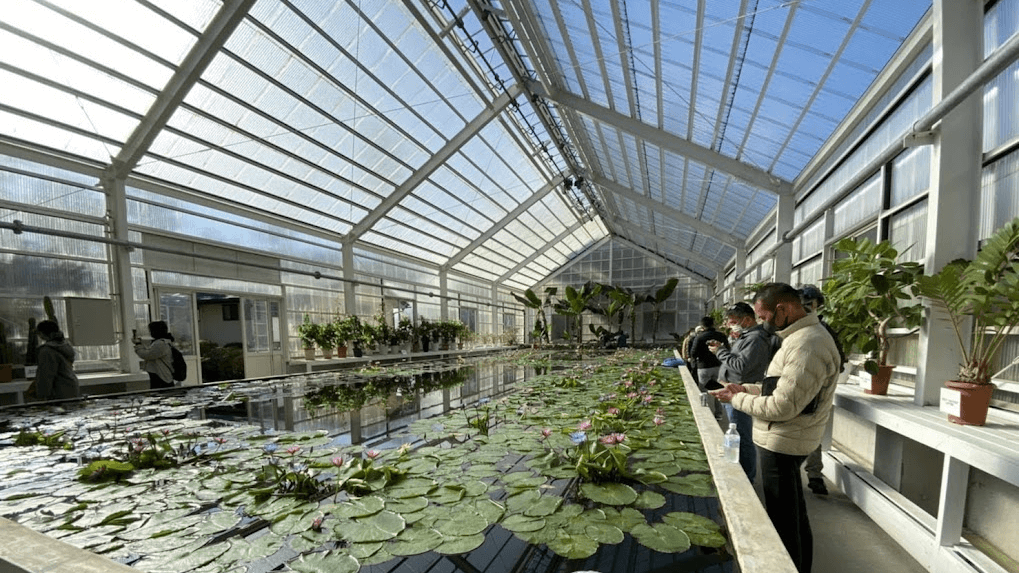 Kamado Jigoku
At Kamado Jigoku, we had a chance to drink the hot spring water. Patric said, "It is very mineral-rich and very salty". Drinking Onsen called "Insen" is not to my taste since my tongue gets burnt very easily when I eat hot food or drinks. But Patric is right, it's very healthy! We also felt refreshed from feeling the steam on our faces and skin. Patric was not so happy that his glasses fogged up, but Erica liked the moisture because it felt good for her skin. Both were very happy to see hell's various colors and shapes here. Please check another article about Kamado Jigoku too.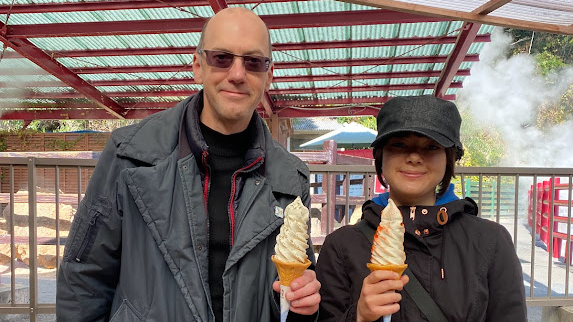 Using a limited Wander Compass coupon, we tried two kinds of ice cream: chili, and pepper. Patric and Erika preferred the pepper flavor and I liked the chili one. It was also interesting to learn that Swedes, don't eat boiled eggs daily, but when I asked them to try my favorite hot spring steamed eggs they were pleasantly surprised at how delicious they were. At the souvenir corner, there was a photo spot selling goods of the Demon Slayer (Kimetsu no Yaiba). Erica loves the anime "Kimetsu no Yaiba," so she was excited to find this. When I took their picture, Erika looked a little shy but very pleased.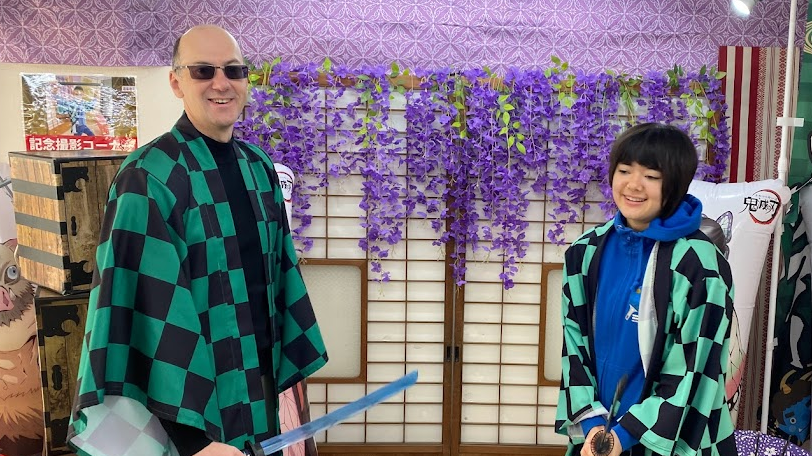 My Favorite View Spot – Miharashi Zaka
After a ten-minute walk from Kamado Jigoku you will reached "Miharashizaka" (Miharashi Slope). I highly recommend this spot as it has a spectacular view! Patric and Erika were also pleased with this spot, saying, "It's wonderful! I would love to show my friends. We cannot see this kind of view in Sweden." I am happy that they loved the steam of Kannawa Onsen and the panoramic view of Beppu.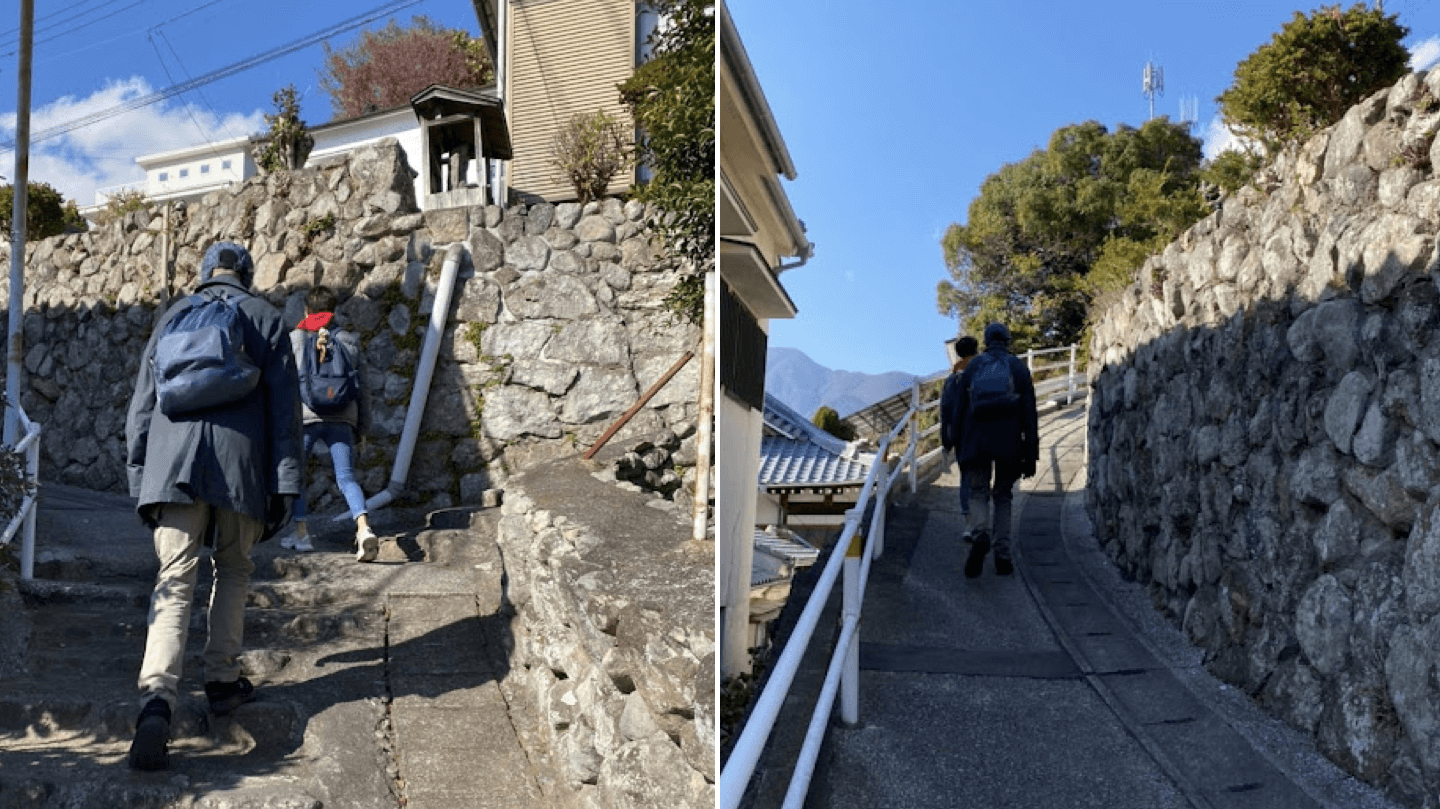 On our tour we also found a Hassaku orange tree. Patric shared that it is hard to grow citrus fruits in Sweden because it is so cold. He shared that we would love to show his Swedish friends how fruit grows so naturally in Japan. Erica told me that they enjoy eating citrus fruits and using their aroma, but she had never seen this type of tree growing in the wild. They also knew that during the year-end and New Year holidays, they could experience "yuzu baths" and "pomelo baths" at several hot springs in Beppu. They were very much looking forward to this!.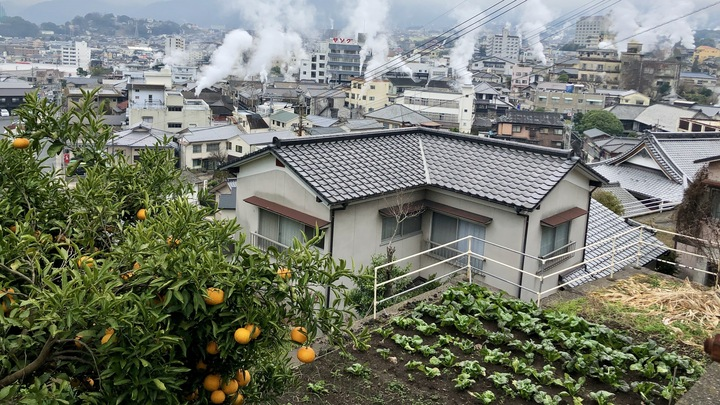 Bamboo Hot Spring Cooling System called "Yumetake"
 "What's this?" Patric asked when he saw "Yumetake". This hot spring cooling system uses bamboo to cool down the hot spring water. It reduces the water temperature from nearly 100°C to 45°C without adding any water. This innovative system allows people to comfortably enjoy natural hot springs. This idea moved him.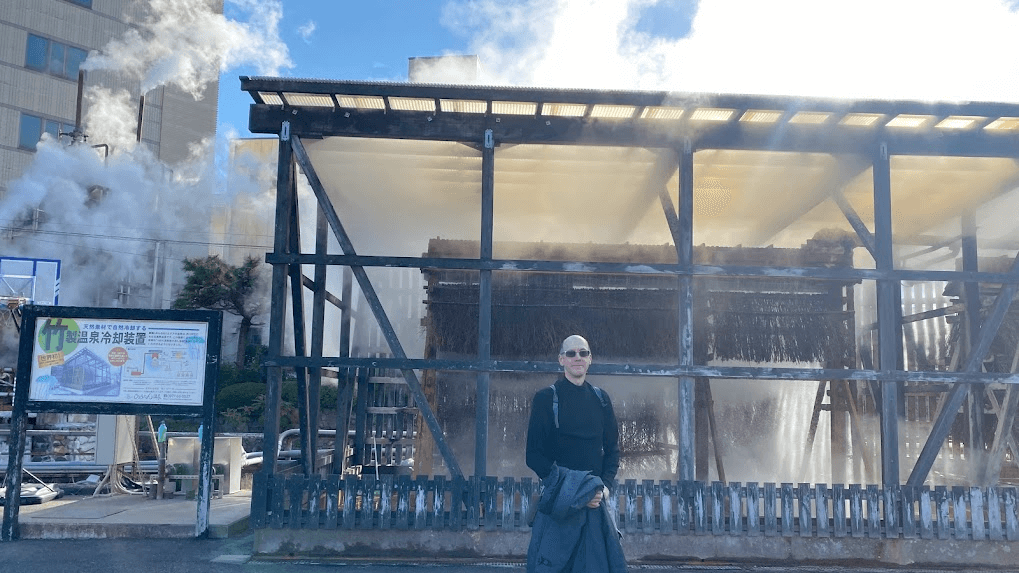 I also shared with him that Beppu locals prefer not to add water to make the hot spring's temperature more comfortable because they want to keep it pure and natural. I believe this is an important aspect of Beppu's onsen culture.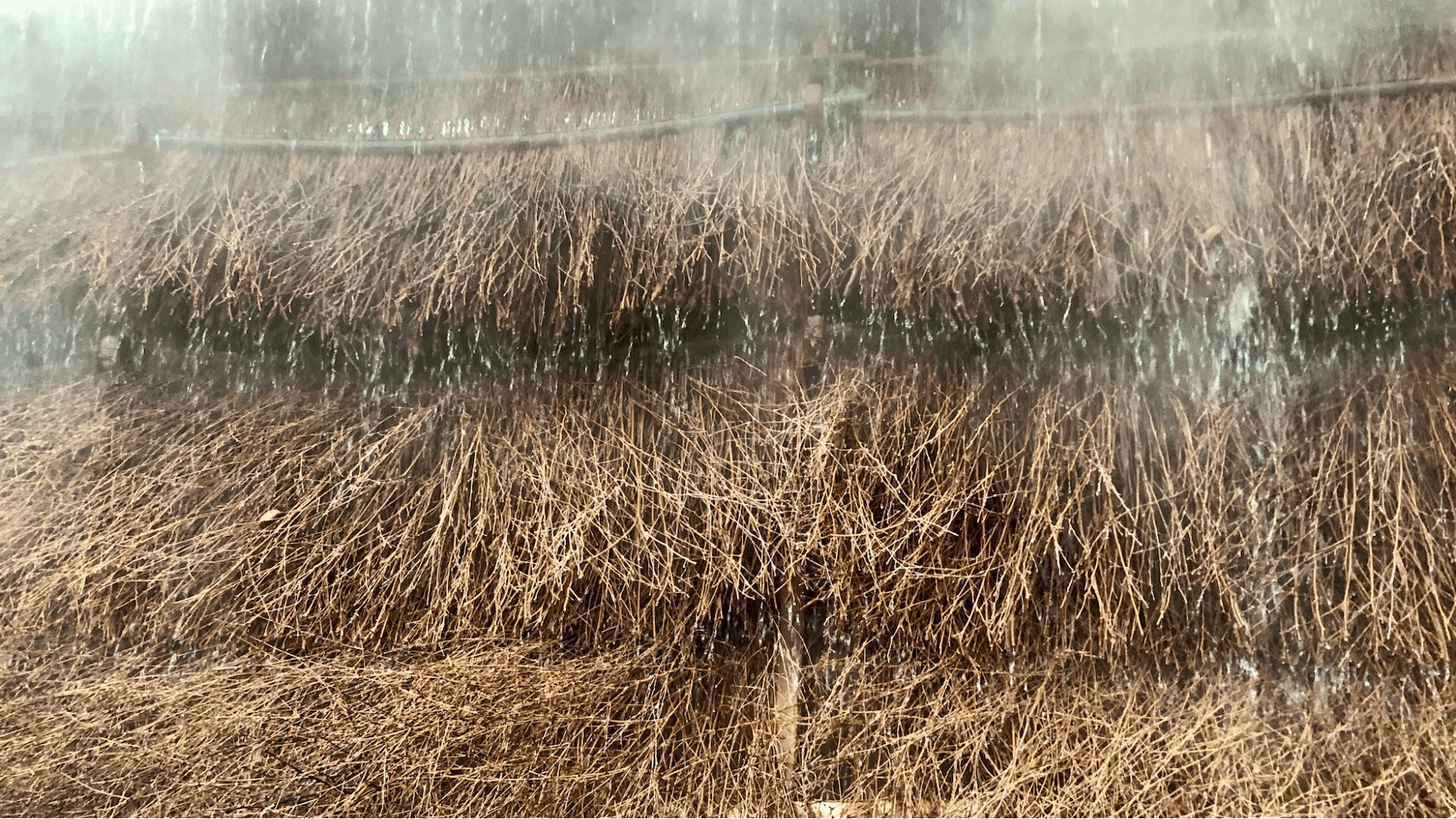 Since this equipment is mainly made of wood and bamboo it is very eco-friendly.  Patric was quite impressed at how this traditional method was made of natural materials and protected the environment.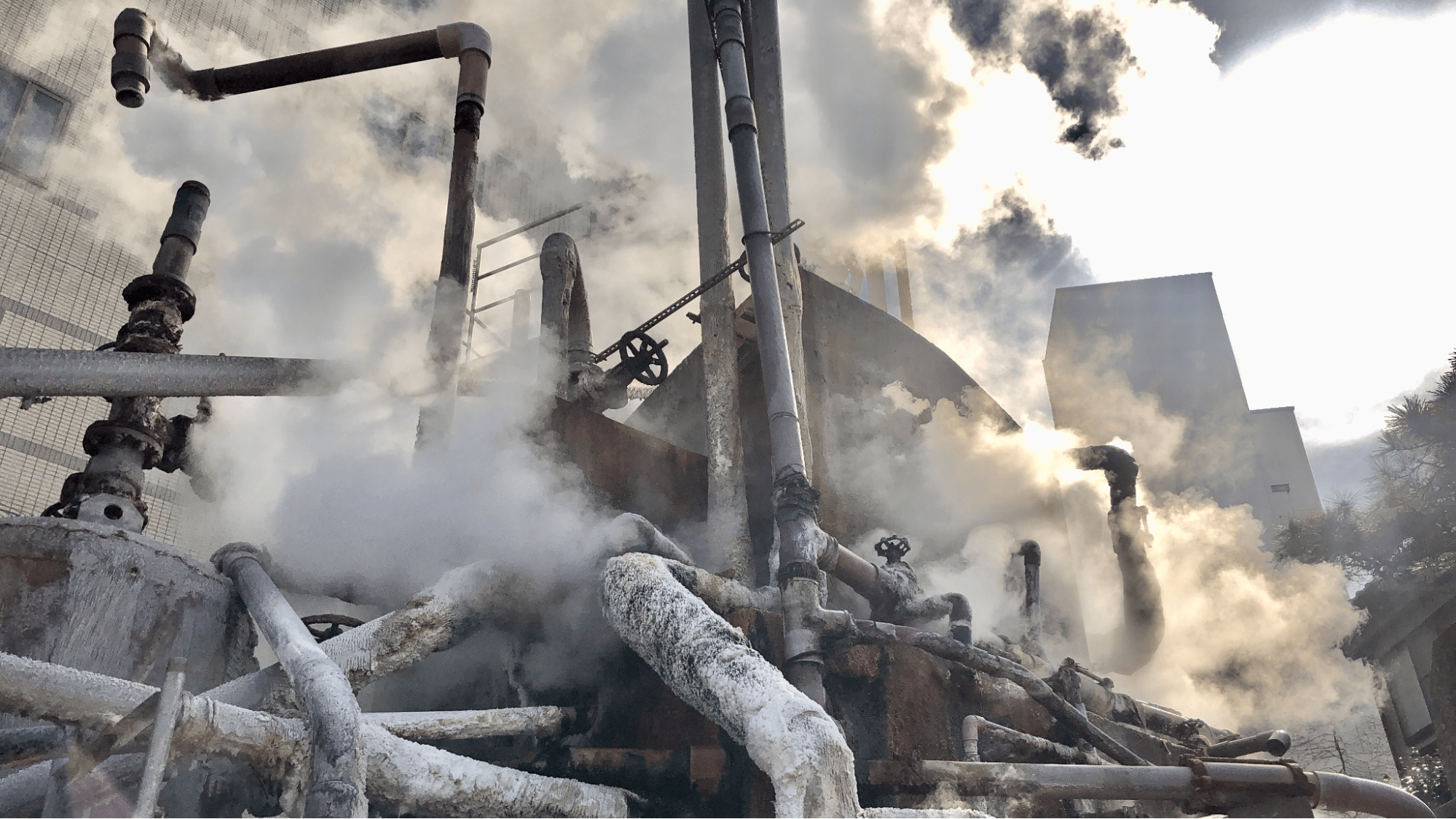 Patric was also very curious about the onsen tank, pipes and steam-liquid separator. These items are predominantly made of plastic, so this prompted a discussion on how onsen technology has changed over time and the effects of a more industrial approach has had on the environment.
​​I hope Yumetake is used at many onsens not only Hyotan onsen and few onsens!
Eat hot spring steamed food at Enma
At Enma, we experienced a footbath and hot spring steamed cooking (geothermal steamed) called "Jigoku Mushi." We had pizza, sushi, and vegetables steamed by hot spring steam and tofu boiled in hot spring water.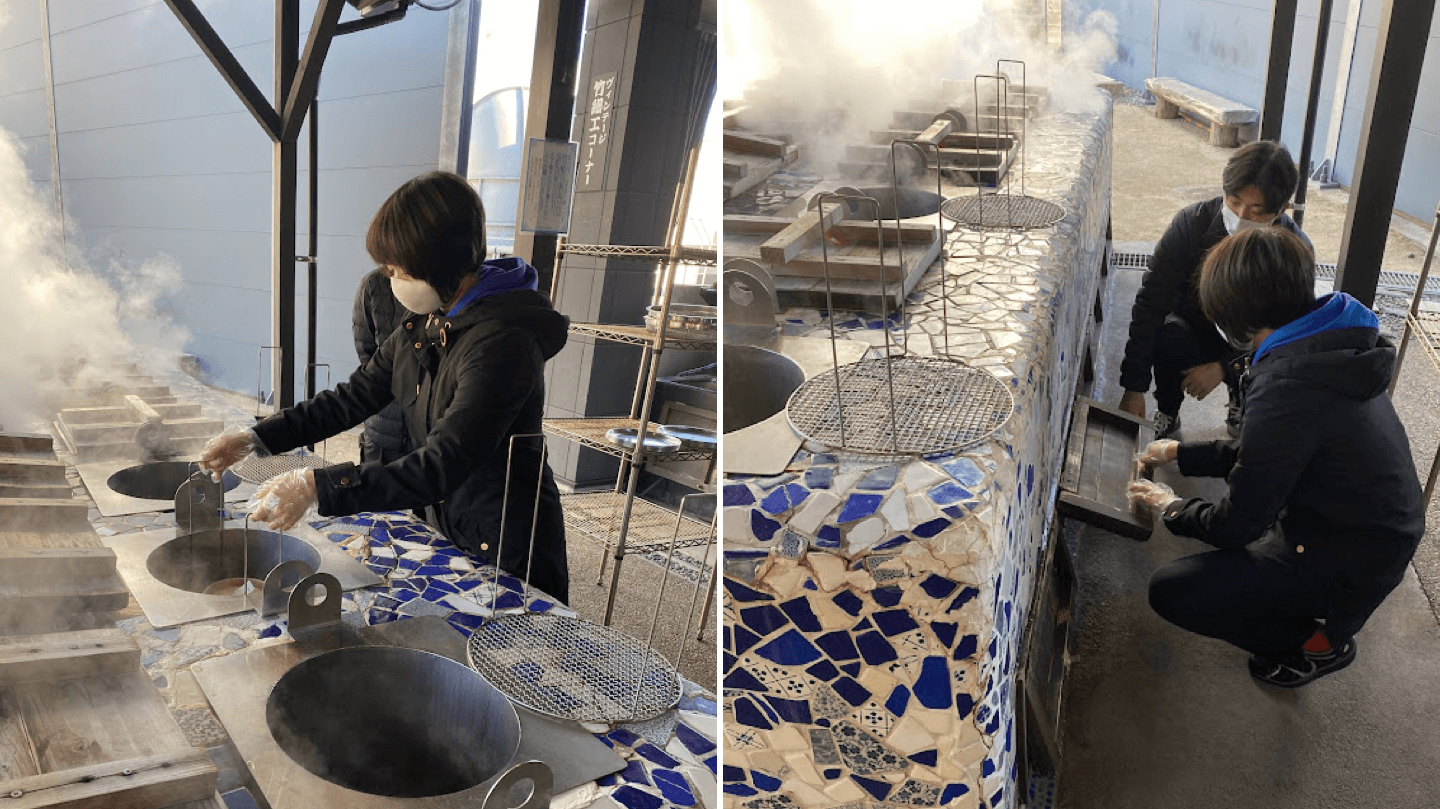 Patric and Erika especially liked the "onsen tofu" and "onsen-steamed vegetables." They could taste the goodness of being steamed in the hot spring, commenting that, "The flavor is different from regular steamed vegetables." The most satisfying dish for them was the "onsen tofu." It is also my top choice and delicious! They finished all the delicious food and tried the tasty soup too.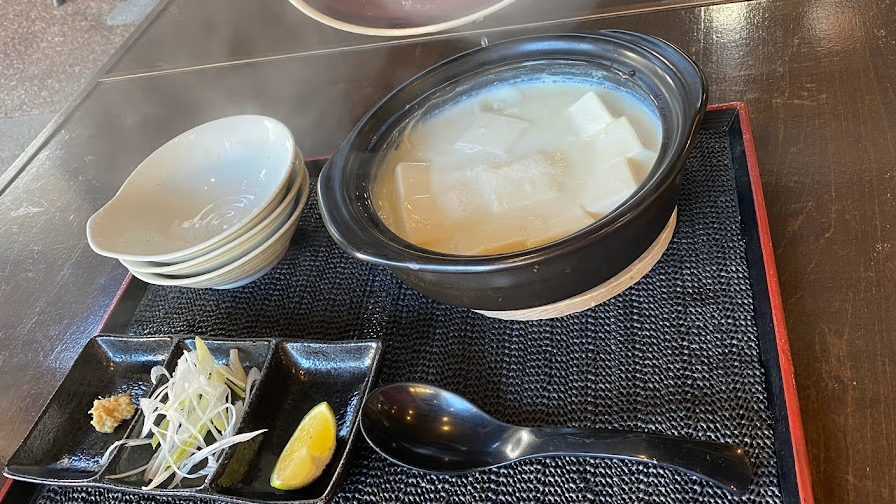 Kannawa Mushiyu (Steam Onsen)
I was looking forward to learning about the differences between Japan and Sweden from my guests. I suggested going to Kannawa Mushiyu (steam hot spring) to enjoy Beppu's unique hot springs and discuss how they are different from Swedish saunas. Patric and Erika really enjoy the hot springs in Japan and go often to relax and unwind. This was their first time to experience the unique Mushiyu onsen. "The steaming hot spring is very relaxing, and the aroma of Japanese herbs was very nice. It is different from Swedish saunas, where men and women do not mix, and after the sauna, you jump into a cold and icy lake and repeat the process many times." They were very happy with their visit.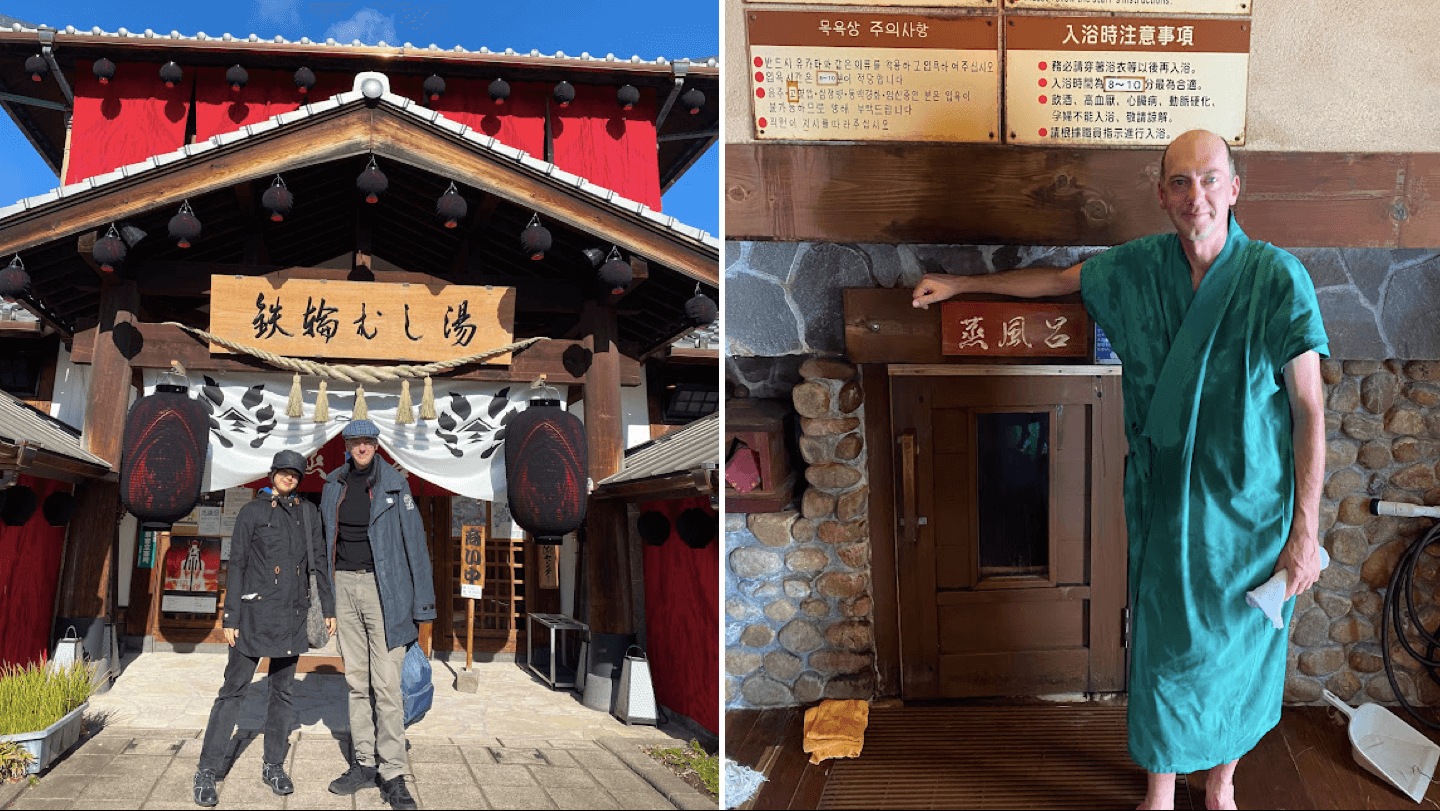 Tatsumaki Jigoku (Geyser Hell)
Patric and Erika wanted to see a geyser in Beppu, so we headed to the Tatsumaki Jigoku. They enjoyed the geyser, which was different from the one they had seen in Yellowstone National Park. We arrived at the best time to enjoy the water show! Here, the eruptions occur at extremely short intervals of 30 – 40 minutes. It just started about two minutes after we arrived. This hell is very simple, but they watched and enjoyed it blast for six to ten minutes from start to finish…thoroughly enjoying this natural phenomenon.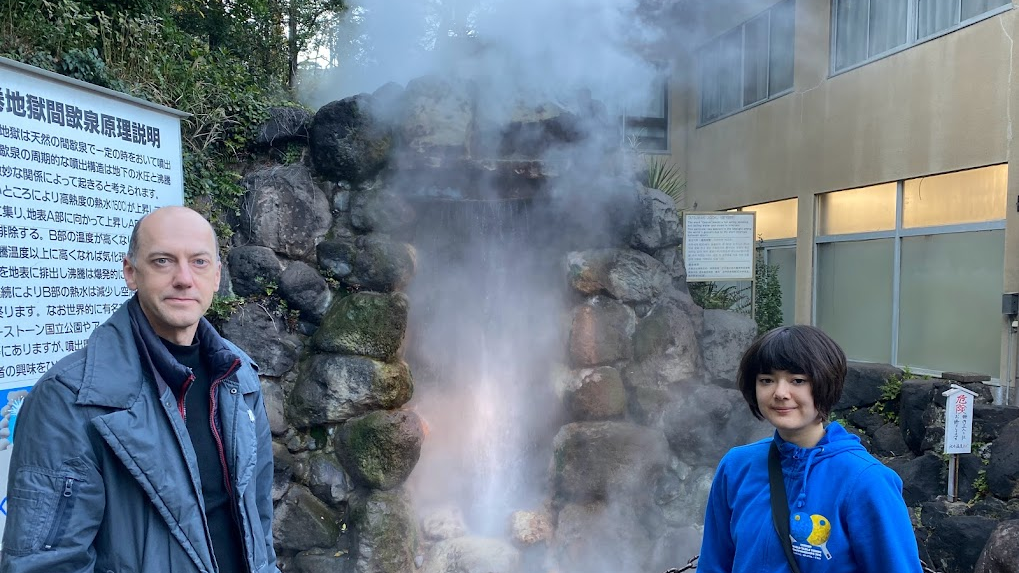 I enjoyed myself with Patric and Erika in the Kannawa area and Tatsumaki Jigoku. I am grateful that they enjoyed our time together. It was beautiful to learn about Swedish culture and expand my knowledge of the world. They gave me a Swedish snack at the end. The best thing about this trip was becoming friends with them. Thank you, Patric and Erica!
I am looking forward to showing Beppu to the next guest!
EnjoyOnsen