October is for the Original Model Route
Hello hello everyone! Welcome back to my article! This is Sherly, a current intern at Tourists Hub & Lounge called Wander Compass Beppu. Last month, it was all about exploring and getting to know more about the lovely Beppu city. For the month of October, our primary focus was to create our original model route which is a kind of itinerary for travellers to explore Beppu.
From my experience speaking and interacting with travellers who came to Wander Compass, it made me notice a trend that usually, travellers would only have one day or a weekend to spend in Beppu. Although it is not a lot of time, with enough planning, they can definitely see the best of what Beppu has to offer.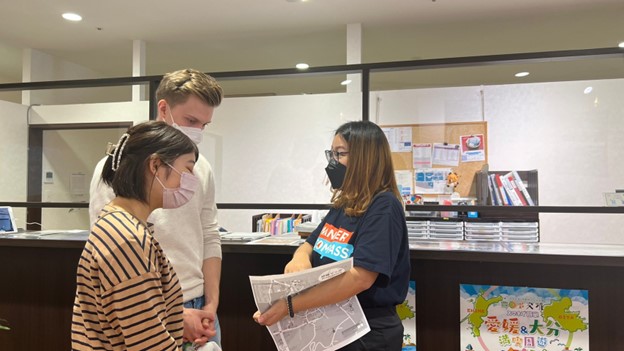 For the model route that I'm building, I focused more on the Myoban area and Kannawa area of Beppu. From my experience exploring Beppu, both of these areas captured some of the best views fully and offered authentic Beppu experiences. One of the easiest ways to know that you're in the vicinity of the Myoban or Kannawa area is the smell of sulfur that is apparent everywhere even from the bus that you're riding. This month, I had a chance to guide Albin from Sweden and Misato from Oita Prefecture on my model route.
Myoban: Eating with a mesmerizing Beppu view
To start off our trip, I brought Albin and Misato to the Myoban area, which is about 20 minutes away by bus from Beppu station. There is no better way than to start our journey with food. And the perfect spot for that is Okamotoya in Myoban. This traditional-looking shop was the birthplace of the original Jigoku-Mushi pudding (pudding cooked by hot spring steam). Our dining experience is well-rounded as we can also see the amazing view of Beppu city from the window.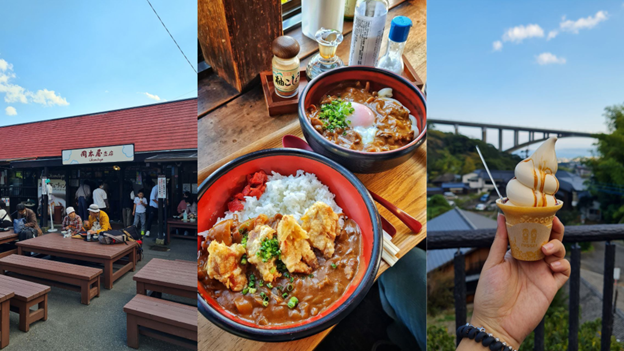 Either for a meal or a snack, Okamotoya offers a wide range of menus that can satisfy your hunger. For a meal, I would recommend their Toriten (Chicken Tempura) Curry Rice or curry udon. Not to forget, try their onsen-steamed egg which is egg boiled in hot spring water. The unique brown colour and flavour are something you would want to try at least once.

And as people always say, there is always room for dessert! Their original Jigoku-mushi pudding is worth trying. We also tried their Jigoku-Mushi parfait, Jigoku-Mushi ice, and Jigoku-Mushi soft serve. We really love the Jigoku-Mushi soft serve as it's the perfect combination of the sweetness of soft serve with a drizzle of caramel syrup.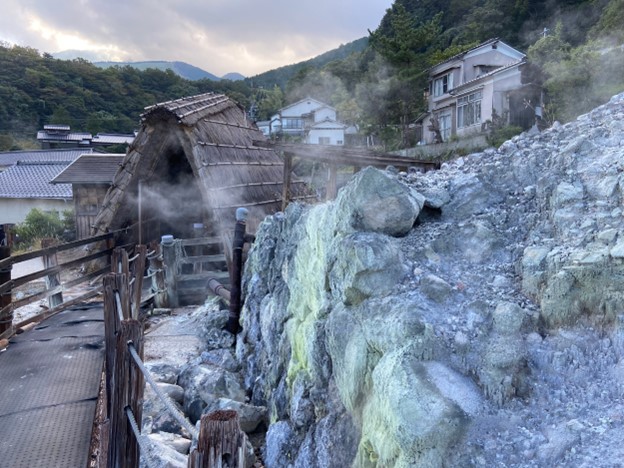 After having our meal, right across from the Okamotoya shop, there is Myoban Jigoku. It is a historical site where you can walk through Yunohana-goya straw-thatched roof huts. On the side, we can see steaming grey rocks with hints of green colors. Once you reach the top, get ready to be amazed by the view.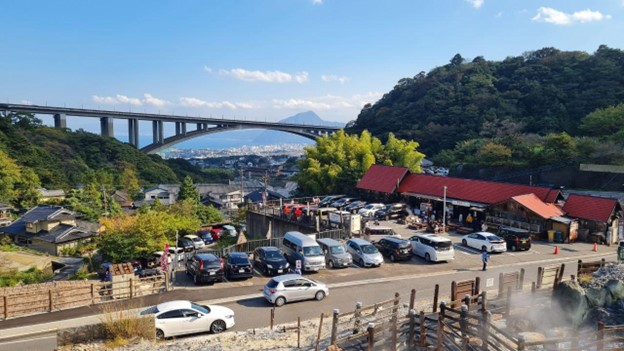 After walking around and enjoying the view, you can also dip your feet into the available foot hot spring bath located near the entrance of the Myoban Jigoku.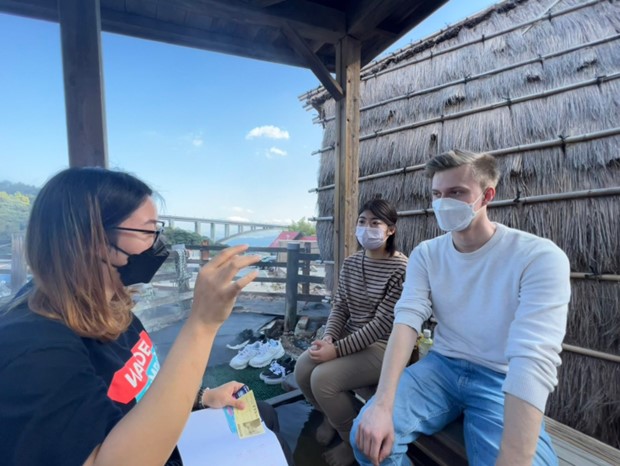 Kannawa: You'll always want to come back!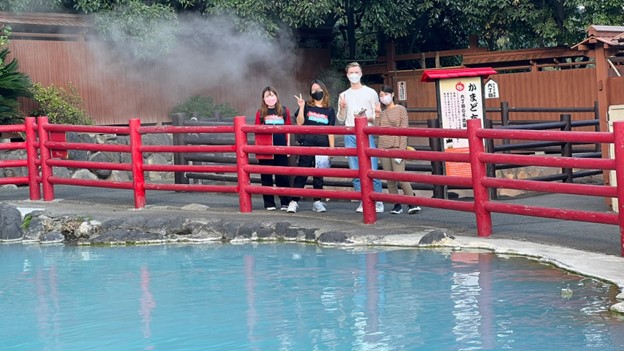 After exploring the Myoban area, we took off on a bus to go to the Kannawa area. In Kannawa, we visited Kamado Jigoku, or in English called "Cooking Pot Hell." In Kamado Jigoku, we get to see the amazing deep blue hot spring and had a chance to try drinking hot spring water. The taste was…unique! You should try it by yourself, there is no way to describe it with words!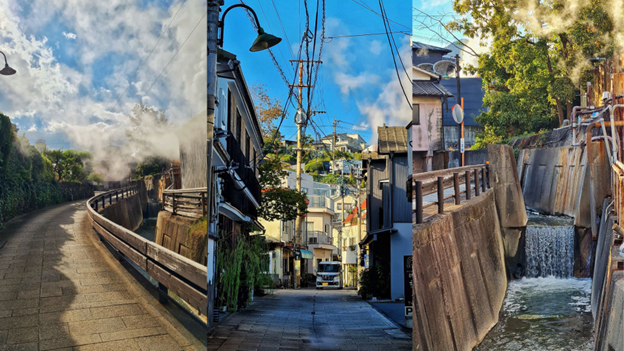 Kannawa is the perfect area to do an afternoon walk, especially in the fall season. The chilly weather on the outside is balanced out by the warm steam that is coming out from everywhere – the hot spring pipeline, chimney from people's houses, waterways underneath your feet. Every corner offers a different perspective, and the view is just mesmerizing. The contrast between the blue sky, white translucent steam, green leaves hanging around, wooden brown from a building nearby, and grey stoney ground makes this area looks like it came out straight from the painting.
To get a better view of the Kannawa area from a hill, we walked uphill to the Mirahashi Zaka Viewing Point where we can see the steam coming out of every roof in Kannawa. Although the tour ended there in the Kannawa area, Beppu still has so much to offer! In the future, I would love to explore and showcase more local's treasures.

Tsukahara Onsen: Every side of natural beauty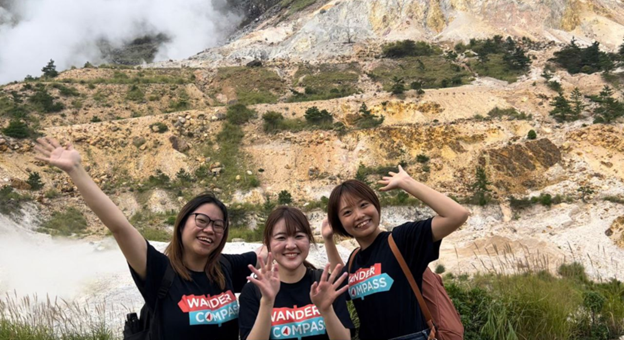 One of the best ways to spend the upcoming cold days is to dip yourself in a hot spring. And for this month, my recommended onsen is called Tsukahara Onsen.
Tsukahara Onsen is in the vicinity of the crater of Mt. Garan, an active volcano that still steams, and you can actually visit the crater. The location is a little isolated, but you can reach there by driving 40 minutes by car from Beppu station.

Once you arrive there, pay the entrance fee, and get ready to explore the natural beauty. Begin by climbing the mountain road, walk up through the gravel road, and you'll see the crater of an active volcano that spouts white steam to the sky.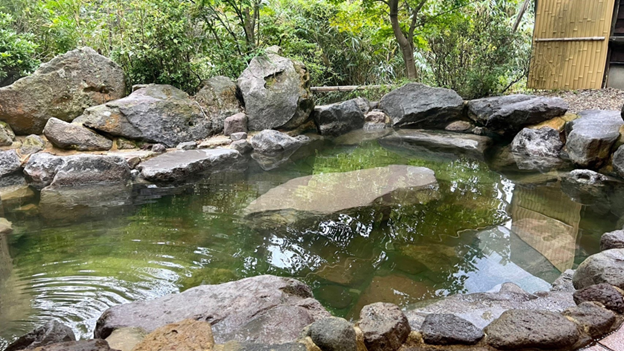 Tsukahara Onsen is famous for its strong ingredients because it has the highest iron content in Japan, and the second-highest aluminium content and acidity strength. This is what makes the unique yellow-green colour of the bathwater.
When you enter the hot onsen water, I recommend you close your eyes and try to hear the calming nature sound. The combination of birds chirping and the warm temperature of the water will carry all your tiredness away. It simply heals your soul. After you finish, don't forget to round up your experiences by eating a savoury smokey-flavored onsen egg steamed in the onsen water. Come and try it by yourself!
So, what's next?
My original model route is not finalized yet but the trip I had with Albin and Misato has given me an insight of their impression of Myoban and Kannawa area. For Albin, the view from Mirahashi Zaka Viewing Point was the winner. For Misato, she really enjoys the dining experience at the Okamotoya shop. I'll take these inputs and think further about my model route.

In the meantime, we do have a lot of recommendation of places for you who wanted to explore more of Beppu. Whenever you have a little time and is in Beppu station, make sure to visit us at Wander Compass!
EnjoyOnsen