Introduction
Hello everyone! Time surely passes by so fast. I can't believe this will be the last article I will write to talk about my experience interning for B-biz LINK and working at WANDER COMPASS BEPPU. For this article, I will focus on some of the highlights from November to February.
Guiding Tiphanie
Throughout my experiences talking with international travellers visiting Beppu, there seems to be a trend where travellers only visit Beppu for one or two days. For my model route, I am thinking a lot about how I should introduce the best of what Beppu has to offer in such a short amount of time.
I think much about what people or tourists would like to know about Beppu. But soon, it became clear that tourists are all very different in their travels. Some tourists love sightseeing, some love experiences, and some love interacting with locals.
In the midst of my confusion, I reflect back on myself. If I am a tourist, what kind of experiences do I want to get when travelling?

It narrows down my model route to focus on three parts: Food, Culture, and Experiences. With this in mind, I started to draft my model route, including Myoban and Kannawa areas. After testing and receiving feedback, let me present to you: "Explore the BEST OF BEPPU in One Day!"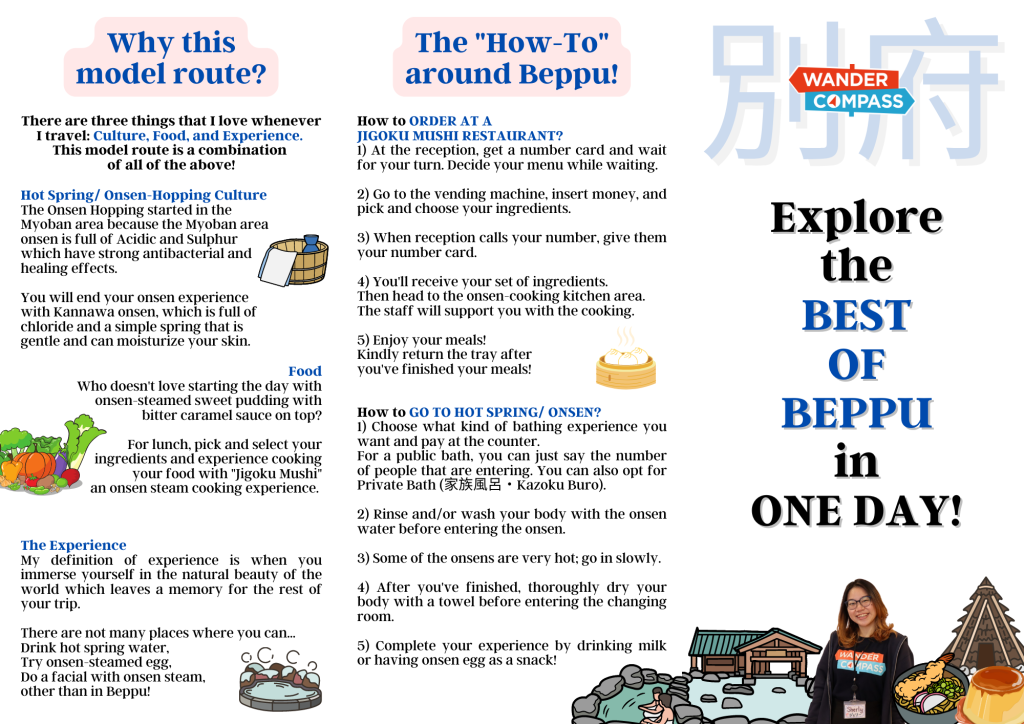 When I finished drafting the route, we wanted to try out the model route to see what international travellers think about the route that we have already created. Luckily, I found Tiphanie from France, who was travelling around Japan and had no plan for her 5-day stay in Beppu.
Off we go to try out my model route! In the beginning, I was hesitant because my model route covered a lot of activities and places, and I thought it would be hard to enjoy each of the places without rushing them.
However, we finished the model route without rushing it and really enjoyed it! We started our journey in the Myoban area, where we saw the Myoban Jigoku and ate the famous original pudding at Okamotoya. Although not included in my original plan, we also had a chance to visit the Yunohana goya huts, which are rows of huts with the straw-thatched roof that is used to harvest alum around the Myoban area. The view is simply mesmerizing!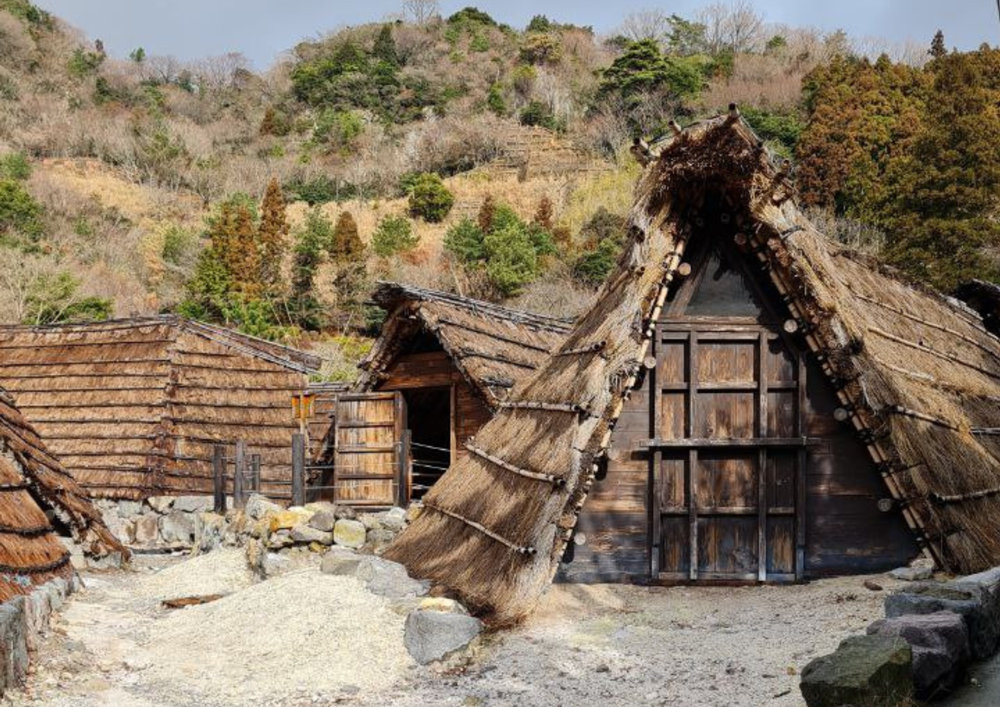 Do you know that there is actually a recommended route if you're interested in onsen-hopping in Beppu? It is best to start with onsen in the Myoban area as the sulphur ingredients in the Myoban hot spring can help with skin exfoliation. That's the reason why I included the Hoyoland Onsen in my model route! After all, there is no better way to start the day than with a dip in an open-air mud bath while looking at the beauty of nature around it!

After circling around the Myoban area, the next destination is the Kannawa area, my favorite area in Beppu. This area is literally perfect for those who love walking and gazing over the beauty of Beppu. Japan is famous for its aesthetics, and this area is a location where every side of it is aesthetically pleasing!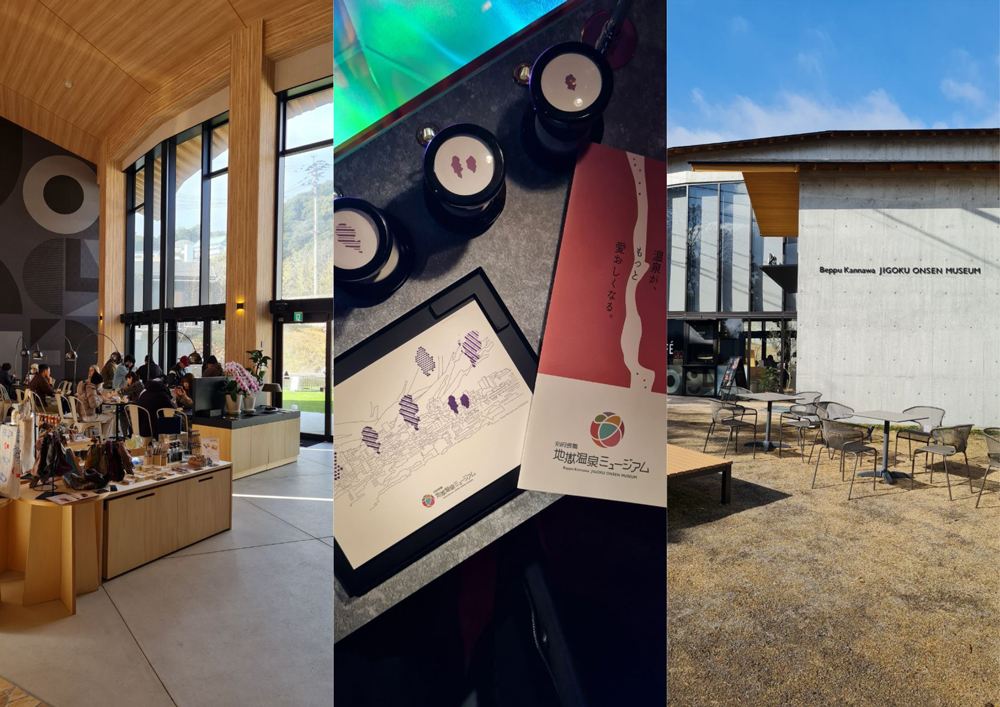 Another off-track route we took was visiting the newly open "Onsen Museum". Here, you can learn about the Kannawa area's history and Beppu's hot springs through immersive experiences. Upon entry, you will be given a postcard in which you will be able to walk around the museum and gather "steam" stamps of different colors. As you go through the museum, you can imagine the journey of how the onsen water today came to life starting from the rainwater from 50 years ago. You will be guided as if you were the hot spring water exploring the underground passage and receiving minerals from the soils around.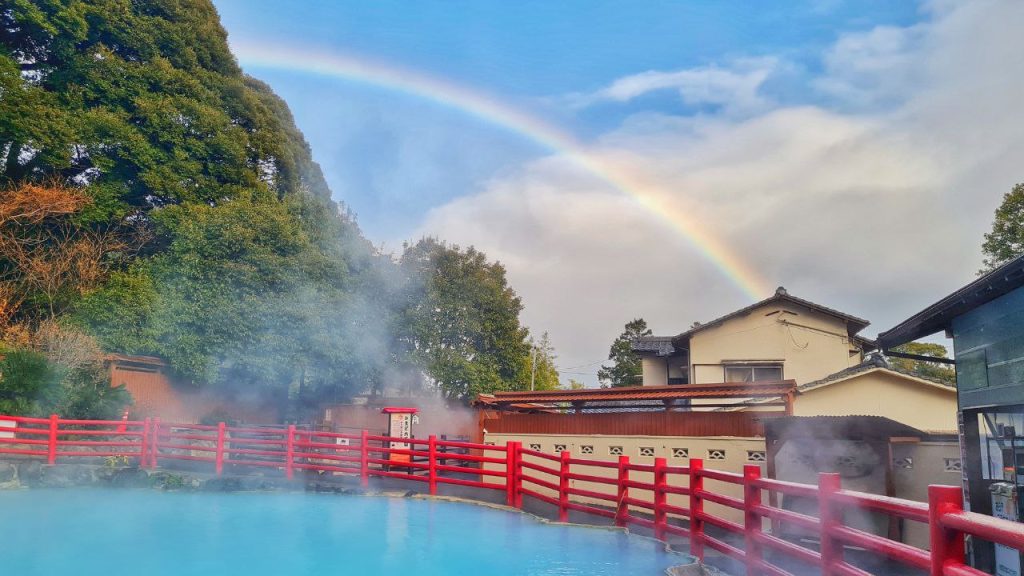 After the museum, we walked over to Kamado Jigoku and Umi Jigoku, where a beautiful rainbow greeted us. We ended our tour with another onsen trip which is the famous Hyotan onsen. A cold winter evening with an outdoor hot spring is a match made in Heaven! What's better is that the hot spring around the Kannawa area (where Hyotan onsen is located) is famous for its moisturizing effect.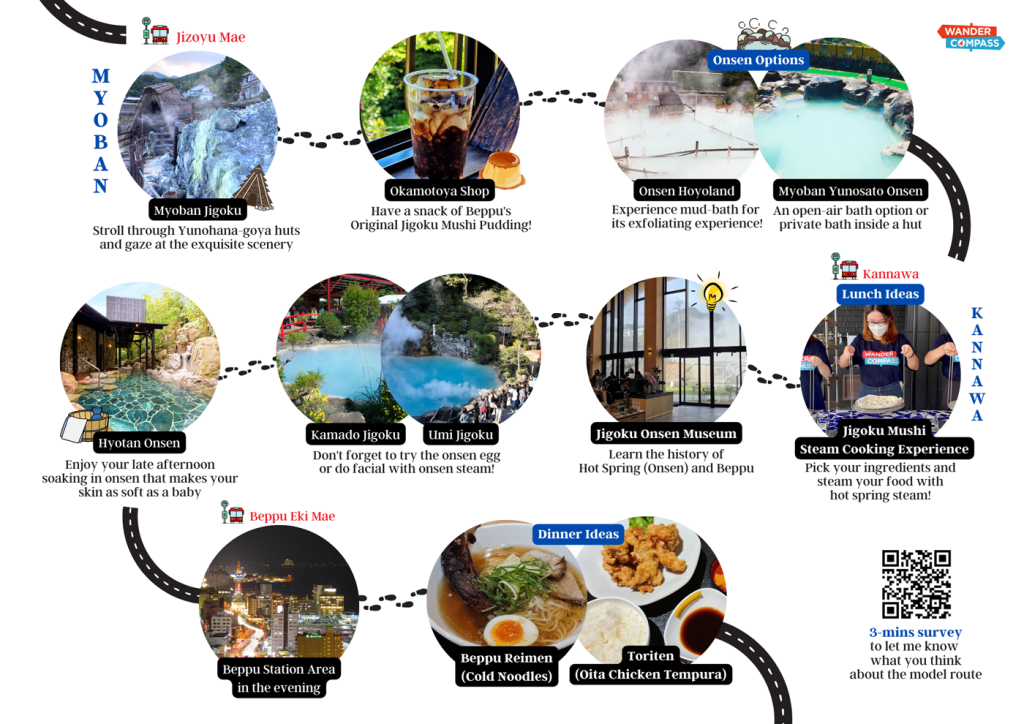 I personally had never tried my model route by myself. The time when I was guiding Tiphanie was my first time trying out my model route as well. All I can say is that we're both enjoying it! I personally love and enjoy every second of it!
It's Final Presentation Time!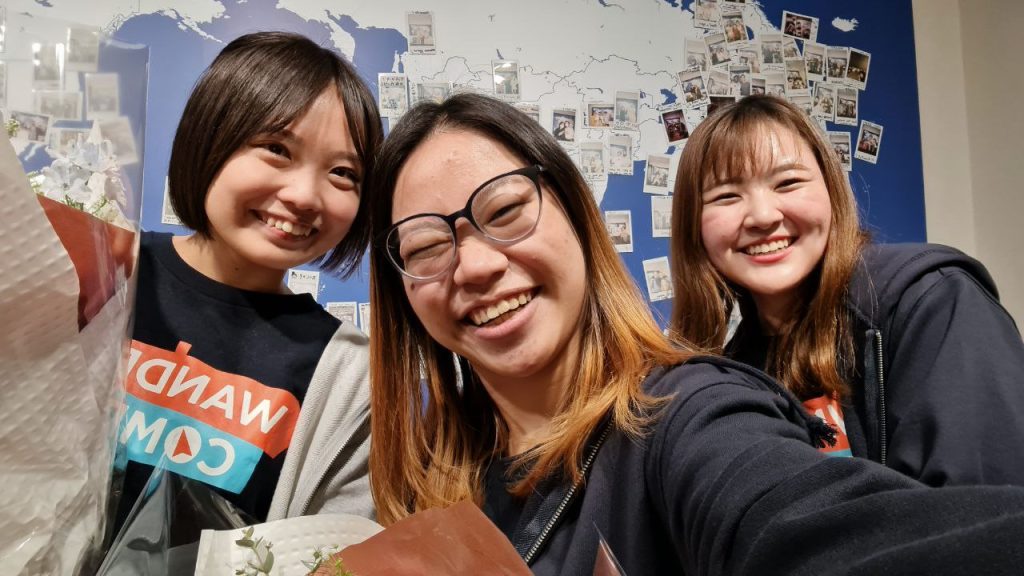 Time passes quickly, and it's time for us to do our final presentation on our journey as an intern. While preparing for the final presentation brought me a flashback to when I hesitated a lot to apply to the internship because I was not confident in my Japanese skill.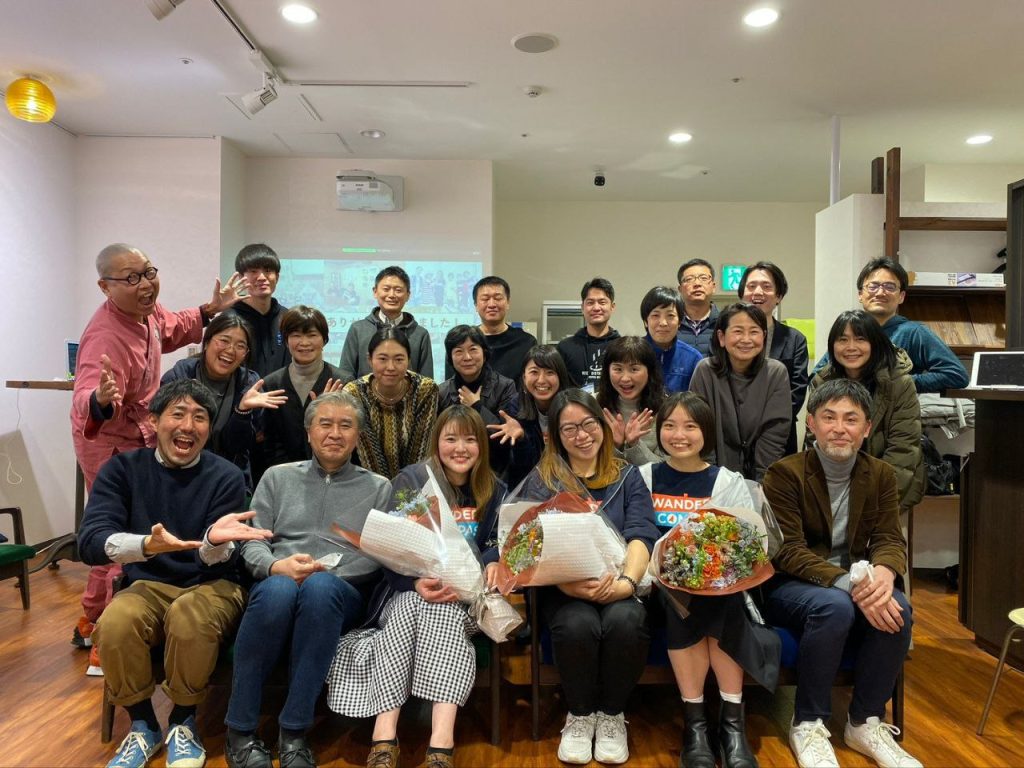 Fast forward six months later, and this internship experience has given me the knowledge, courage, and confidence to proceed further with my passion and career. Therefore, here's a tip for everyone who's reading this: "Be afraid and do it anyway!"

I remember reading this quote before, and I think this experience has taught me a lot about believing in yourself and that you can always figure things out along the way. Of course, all of these wouldn't have happened without the continuous support from Timo san (our manager), my lovely fellow interns Nayu and Zumi, all the wonderful people at Wander Compass Beppu, and the supportive Beppu community. To end this article, please find my love letter to Beppu.
A message about Beppu
Dear Beppu,

It hasn't been one year since I stepped on your land. I have gotten to know you more as a city these past six months. You are beautiful and breathtaking!
You are perfectly located in between the scenic mountains and crystal clear ocean waters.
You are small in size but never boring to explore.
You are the best that nature has to offer.
Your hot spring heals and warms the mind and soul.
Your locals' smiles and kind gestures show what hospitality truly means.
Your picturesque landscape is truly one-of-its-kind.

Even when my so-called 'home' was a thousand miles away, thank you for making me feel like I am at home!
Recommendations for Onsen – Hoyoland Onsen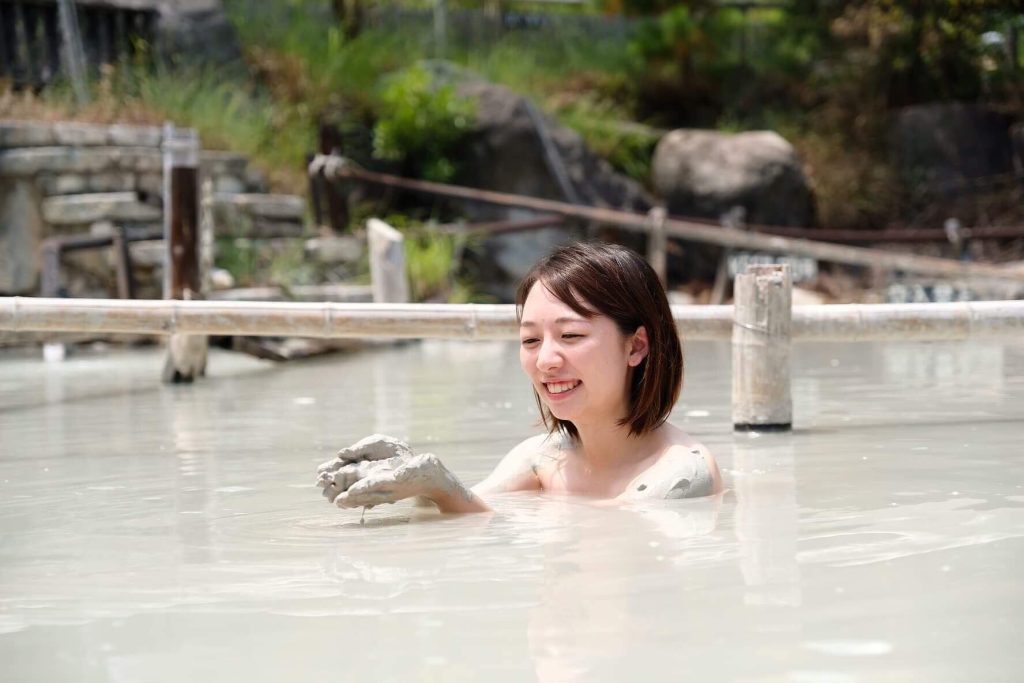 This article would be incomplete without the onsen recommendation for the month. In this last article, I'd like to introduce you to Beppu Hoyoland Onsen.
Located in the Myoban area, where the hot spring is famous for its exfoliating effect on the skin. Hoyoland offers an open-air mud-bath experience. It is a mixed gender, and you will have the chance to gaze at the beautiful green scenery while enjoying the warmth of the hot spring water. Not only that, reach down to the ground and scoop yourself some mud. Apply it to your skin and body, and you'll leave feeling refreshed and recharged!
EnjoyOnsen