Tomodachi Guide with People's Lab Part 2
Hello dear readers.
I'm Chu-Chu, your Beppu local guide.
This is the second half of our last artiche!
In this post, I'm going to share with you my trip as a local guide with three of my resident foreign guests, and their reactions!
For those of you who are planning a trip to Beppu after the pandemic I hope you will find the contents of this article useful in planning your own trip! So let's go!
About our guide style (Tomodachi guide)
Your trip with Tomodachi guide will be like visiting a faraway friend, and your tour guide is like that old friend. You'll make your most desired travel plans and experiences with your guide. Meeting up with the locals on your trip and experiencing the local culture and food in their most authentic  unique  form.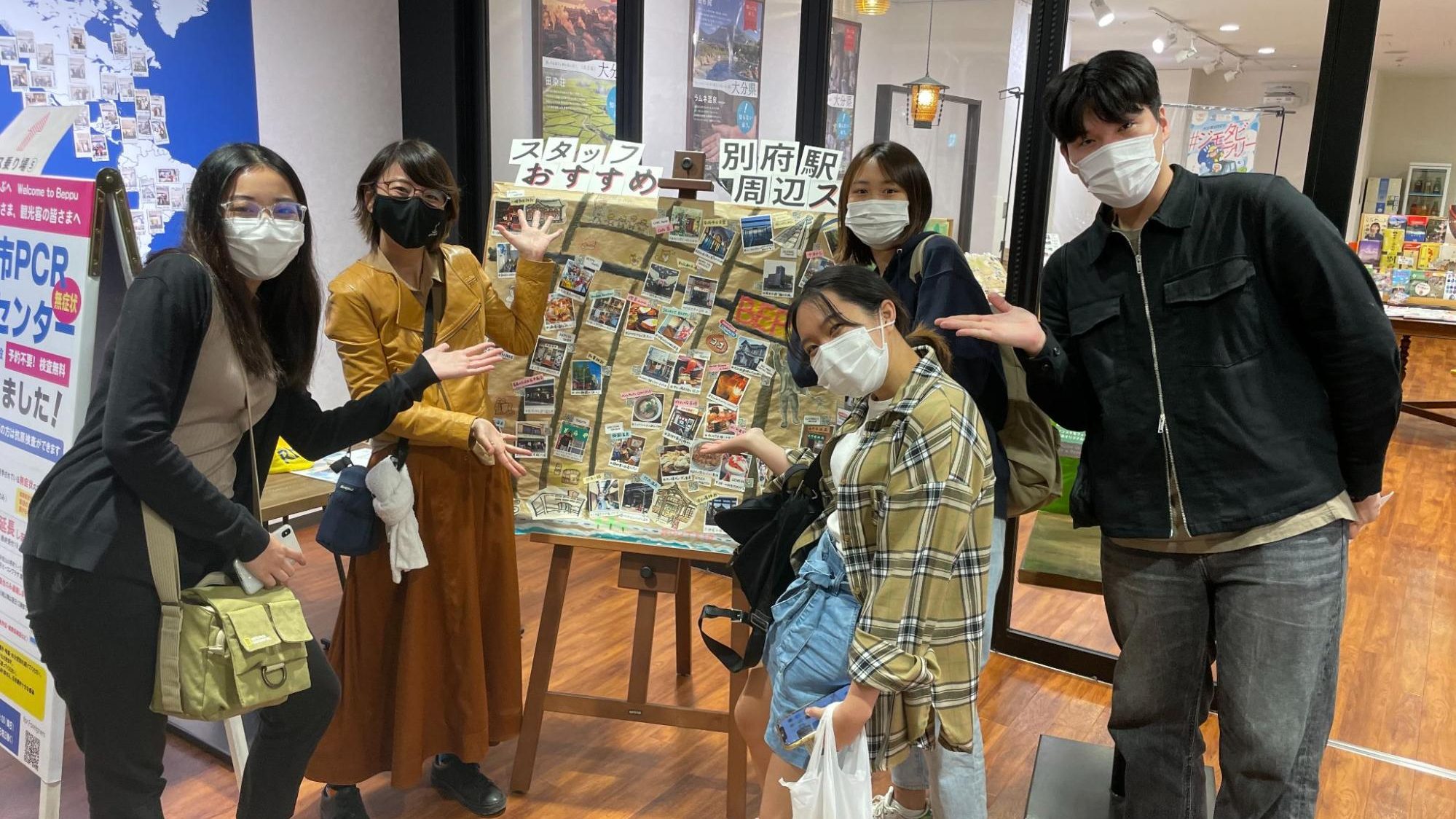 We'll be showing you the most famous areas of Beppu, the Myoban and Kanawa areas!
Beppu has two main attractions, the city as a hot spring resort and the blessed natural beauty, and the best season to enjoy the former is winter! When the air is clean, the hot springs are warm and the city is steeped in history!
Myoban area
When you smell the strong smell of sulphur and see a bridge that crosses two mountains, you are in the Myoban Hot Springs area. Myoban is also on the side of the hill, but unlike Yuyama, it is more commercialized. In this area, you can taste many famous local foods and buy local souvenirs and Sake.
Sulfur Spring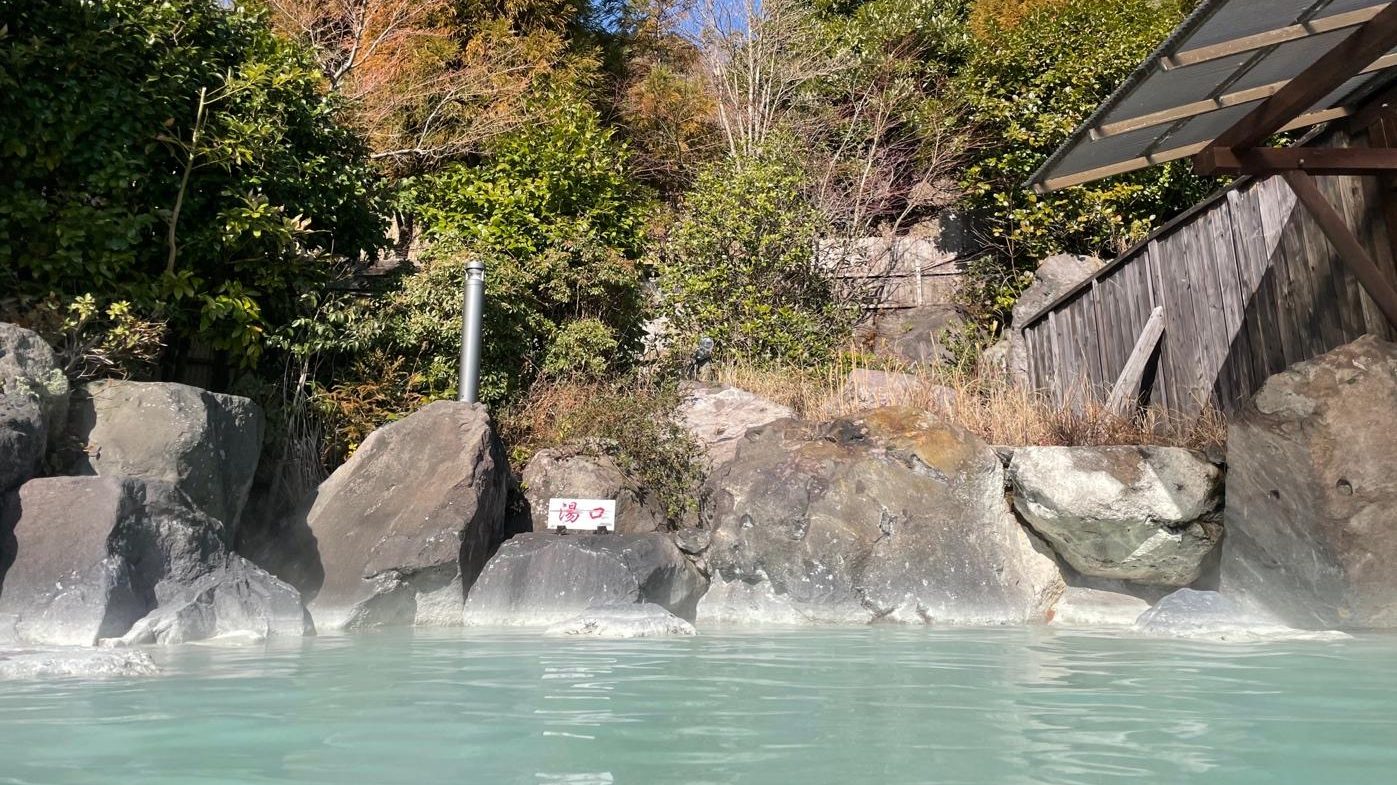 The hot springs here are famous for their slightly acidic, milky sulphur springs. The sulphur springs can be slightly irritating and help cleanse your skin. After soaking, you will feel relaxed, and your skin will become smoother. When you soak in the hot spring, you will be surrounded by the nature of the Japanese garden. And you can see Beppu Bay and the Beppu downtown area by the sea in the distance.
When you come to the Myoban area, I recommend you try the hell steamed pudding in
Okamotoya shop(https://jigoku-prin.com/en/index.html). And visit the Yunohanagoya(湯の花小屋, https://goo.gl/maps/6bU3b9HQW7qaGe149) where Yunohana (Myuban bath salts) is made.
The hell steamed pudding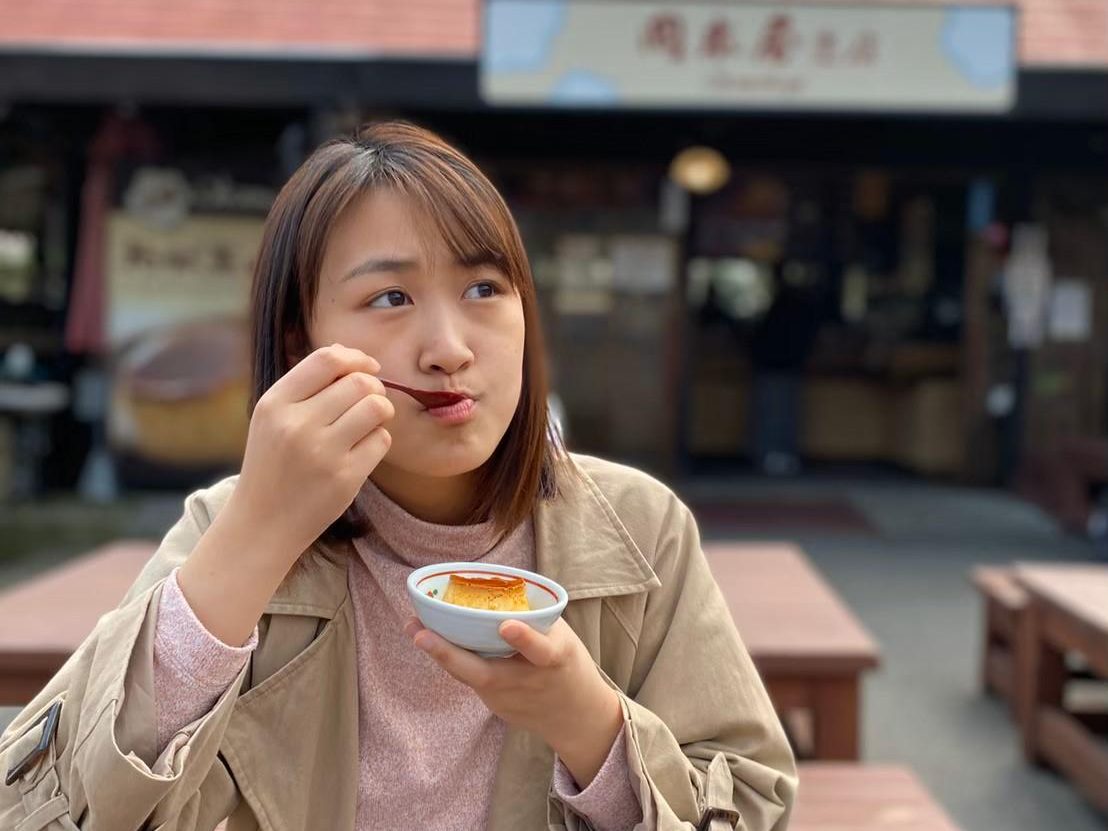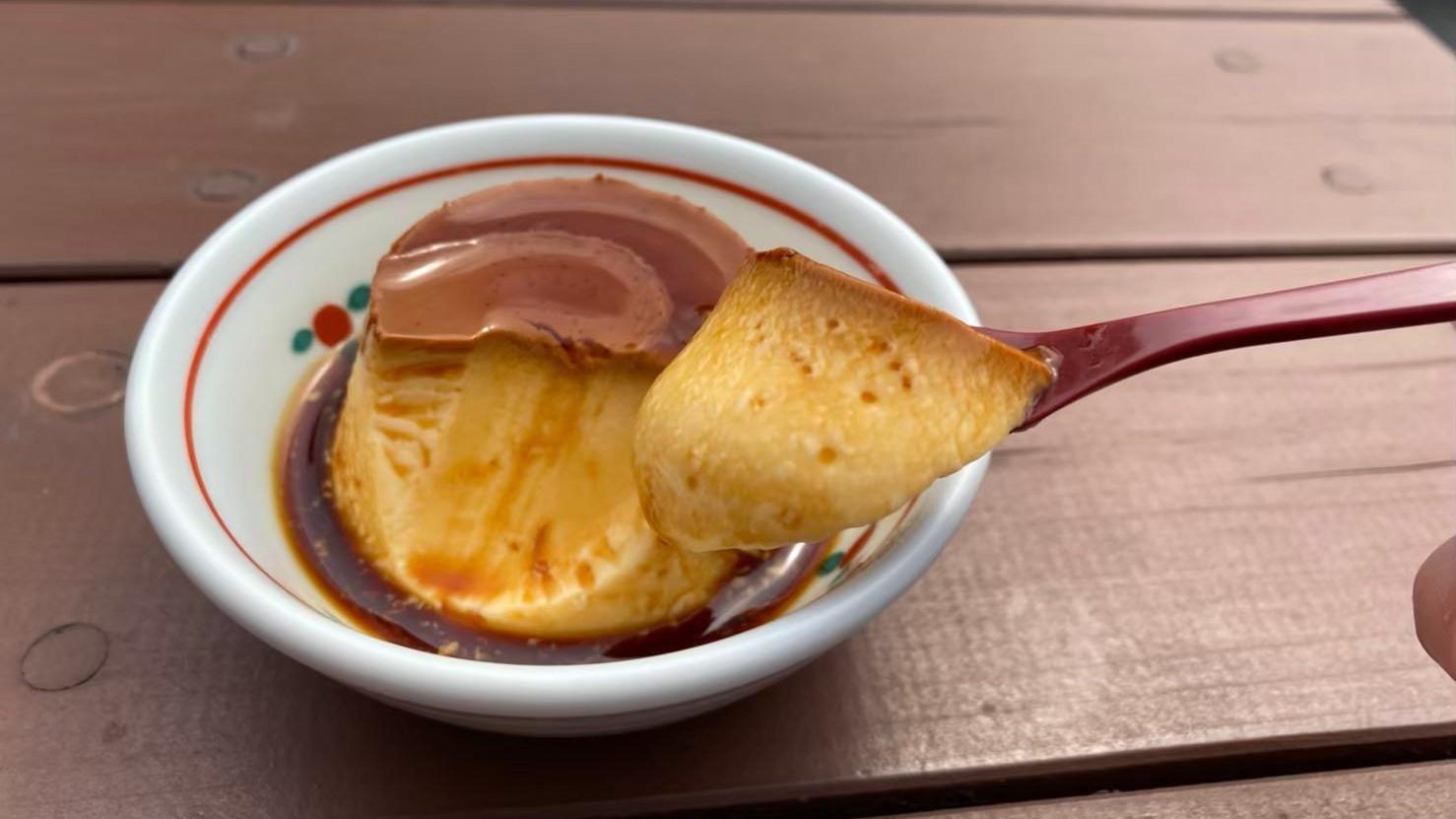 The pudding is steamed with hot spring water and sprinkled with bitter caramel, both bitter and sweet, creating a unique flavour.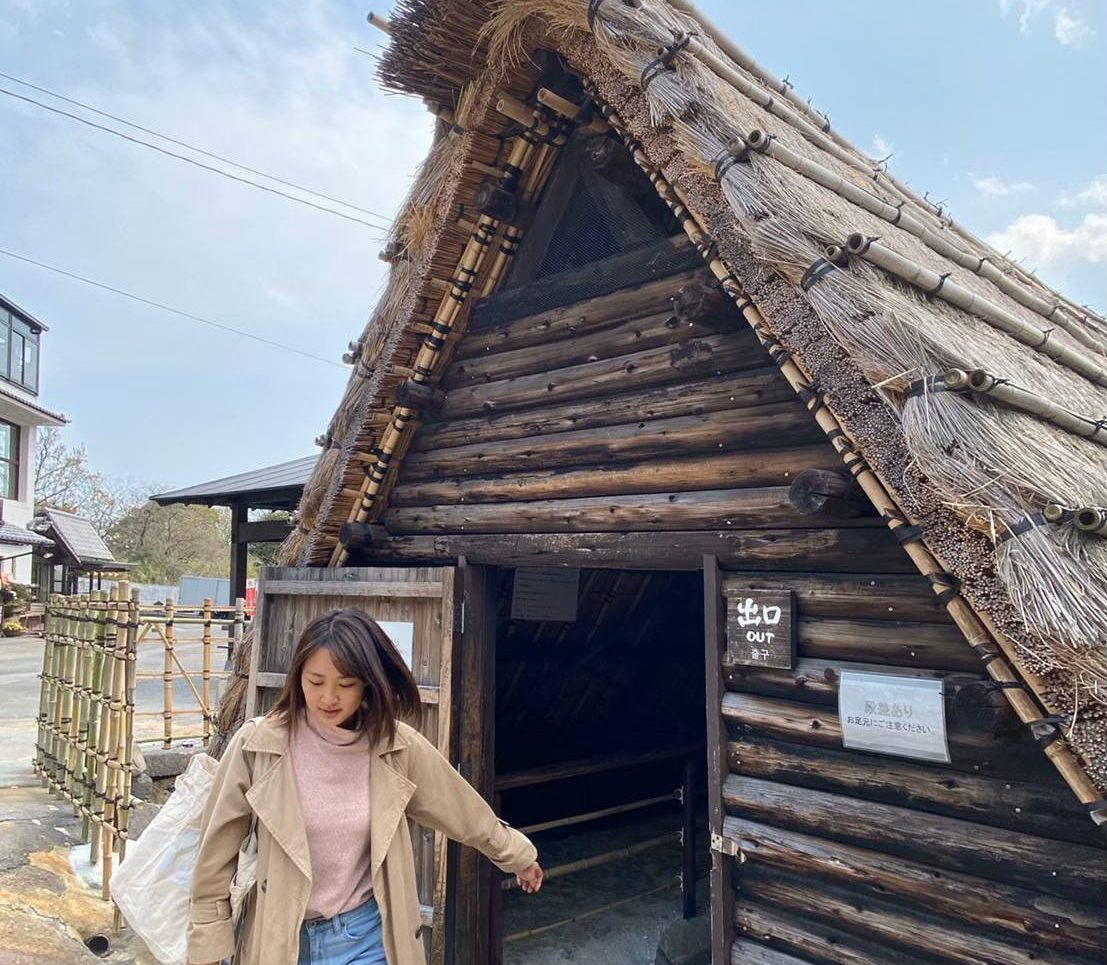 In the Yunohanagoya, you can go inside and see how Beppu hot springs are naturally diluted and made into bath salts. (Natural hot water flowers are gradually formed by laying blue clay on top of the hot spring water. Yellow crystals are formed all over the ground inside the hut.) You can also buy a box to take home and experience the authentic Beppu hot spring at home.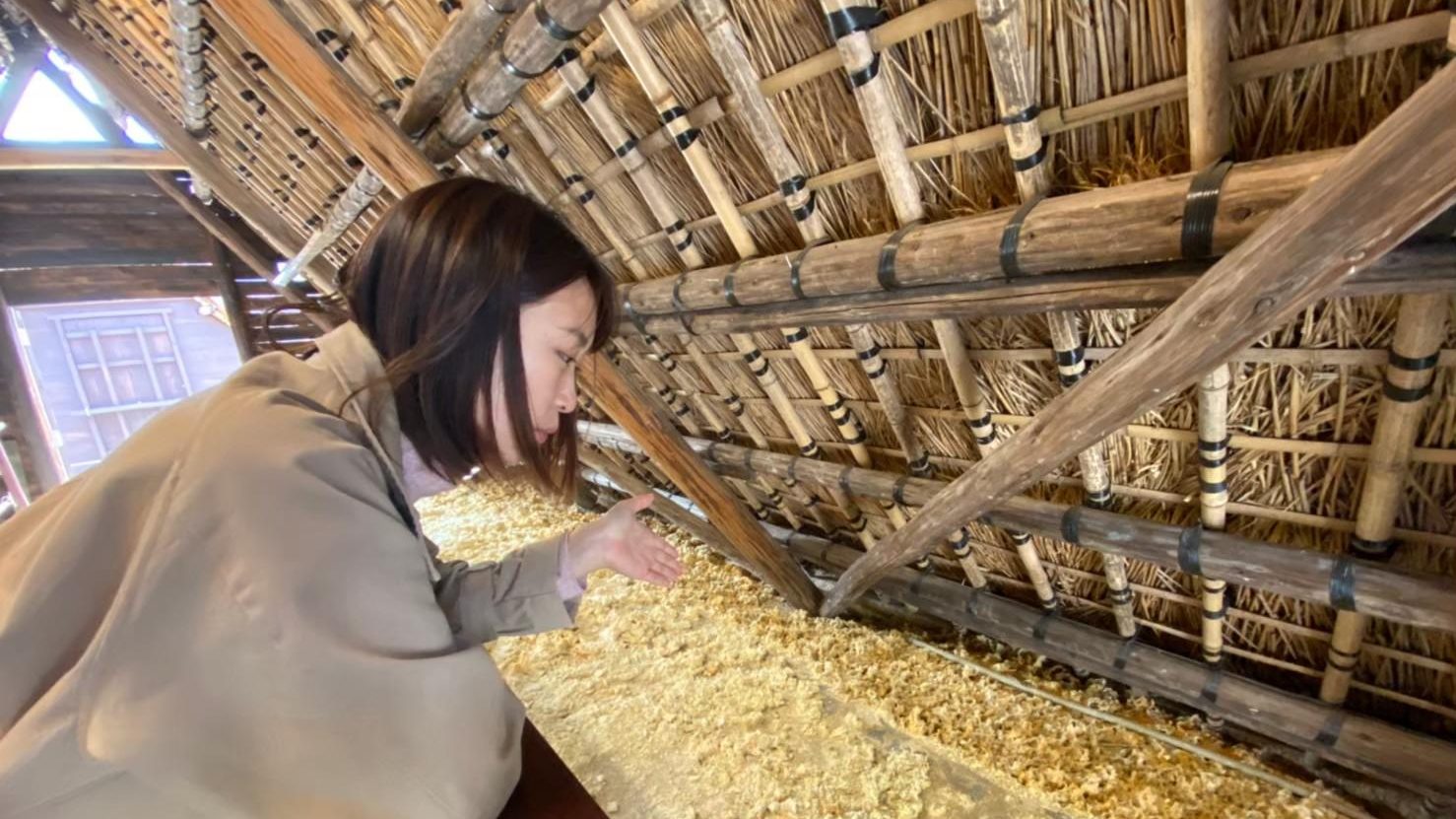 Although some people would say the Myoban area has a faint smell of rotten eggs. But for the locals, the smell is enough to know that they are going home. And, for those who have soaked in the alum hot springs, magically, the smell is pleasant.
Kannawa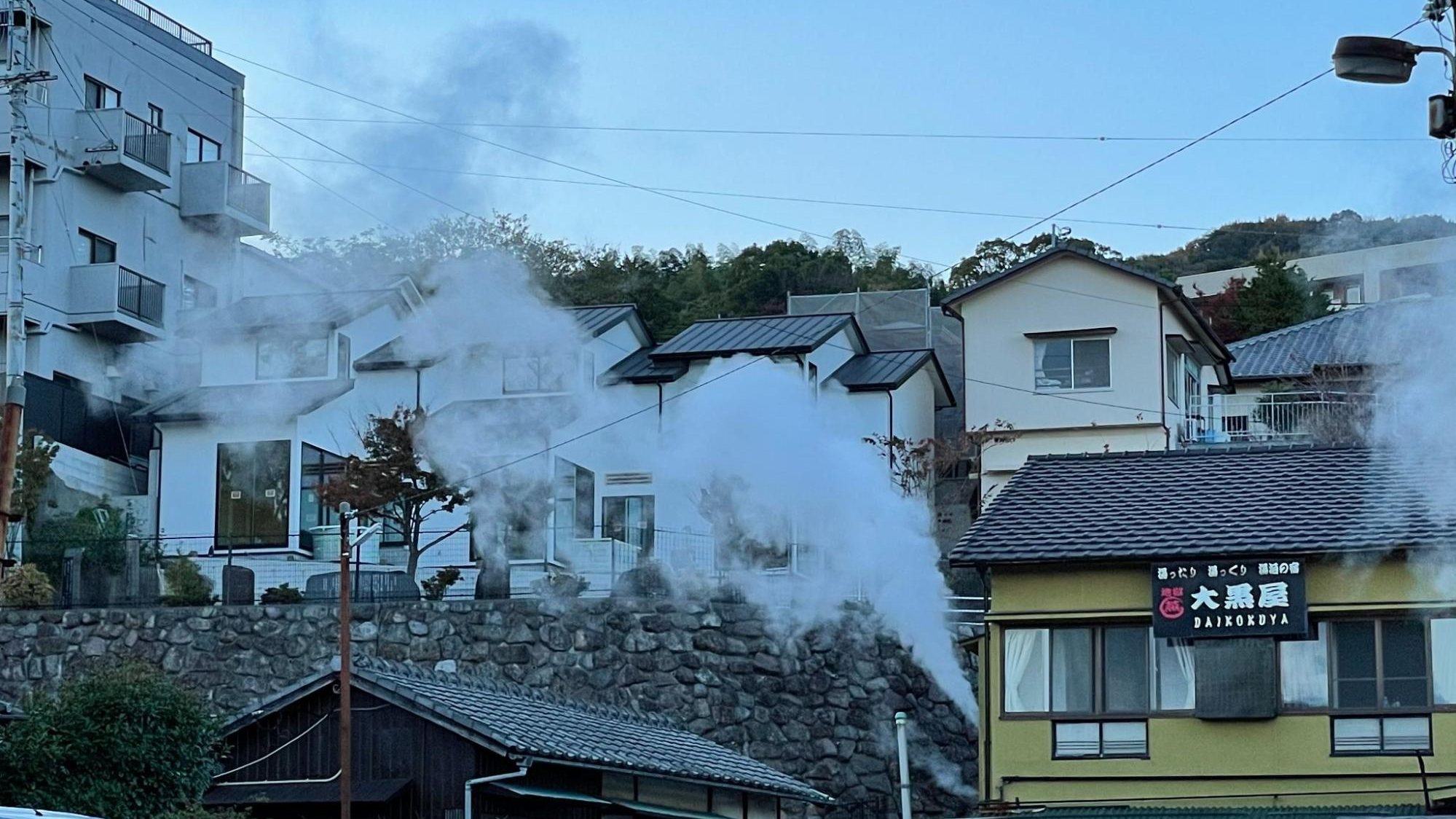 After that, we drove to the Kannawa area of Beppu.
Kannawa area is a hot spring town with a retro cityscape, surrounded by the hot spring steam. This old town has many unique coffee shops, delicious local food, and traditional Japanese guesthouses (ryokan).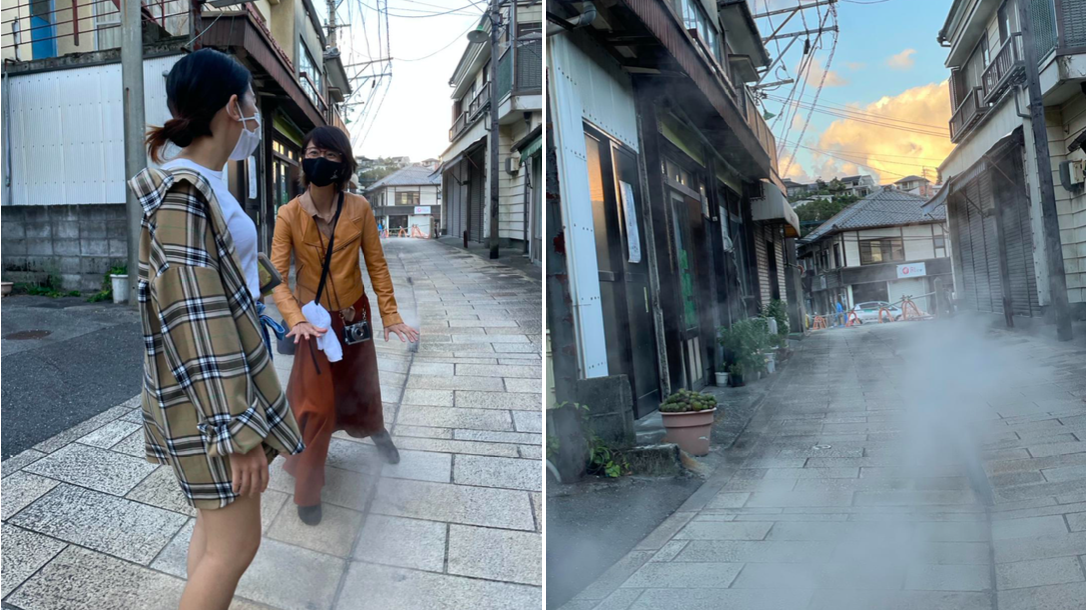 I highly recommend walking in the Kannawa area. You can see a lot of steam coming out from the ground, rivers, and roofs in Kannawa. This is the steam from the hot springs. So, the ground in Kannawa is very warm in winter, and many cats are living here.
You can also see a lot of hot spring cooling devices, the hot spring gushes out at 100 degrees, too hot. The locals build a big hut with bamboo and pour the hot spring water down from above. When they flow into the pools, it's only about 45 degrees.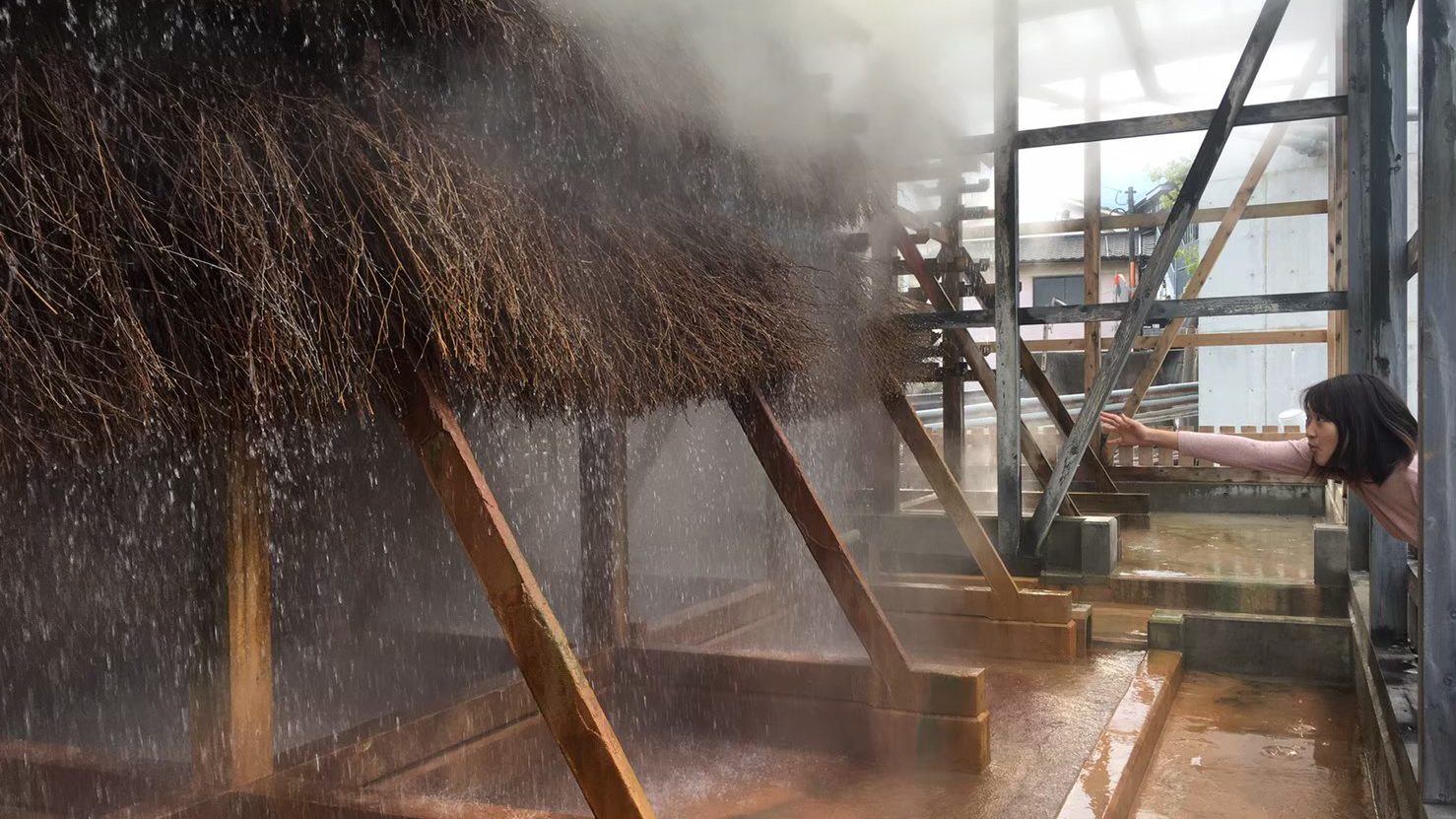 In Kannawa, many Cafe renovated from old houses, and you can enjoy the healing atmosphere and the hot spring water coffee!
This time we went to Fujiya Gallery (https://www.fujiya momo.jp), a café shop in a reformed old Japanese-style building with more than 100 years of history. You can experience the Meiji era Japanese atmosphere here.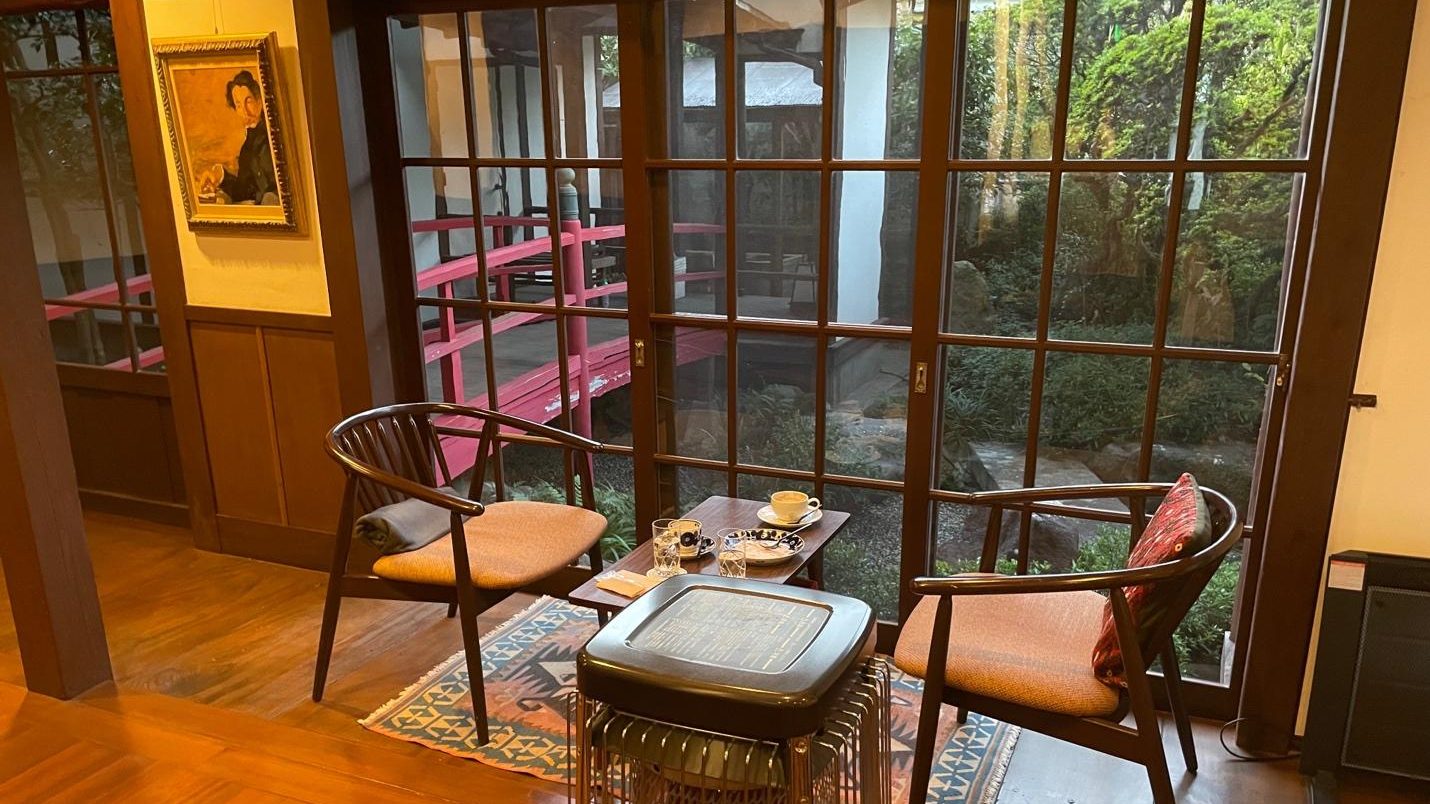 You can experience many kinds of hot springs in Kannawa, and this time we went to the free
foot steam bath. You can put your feet into this wooden tub and then cover the lid. You will feel your legs very warm, like in a sauna only for your feet.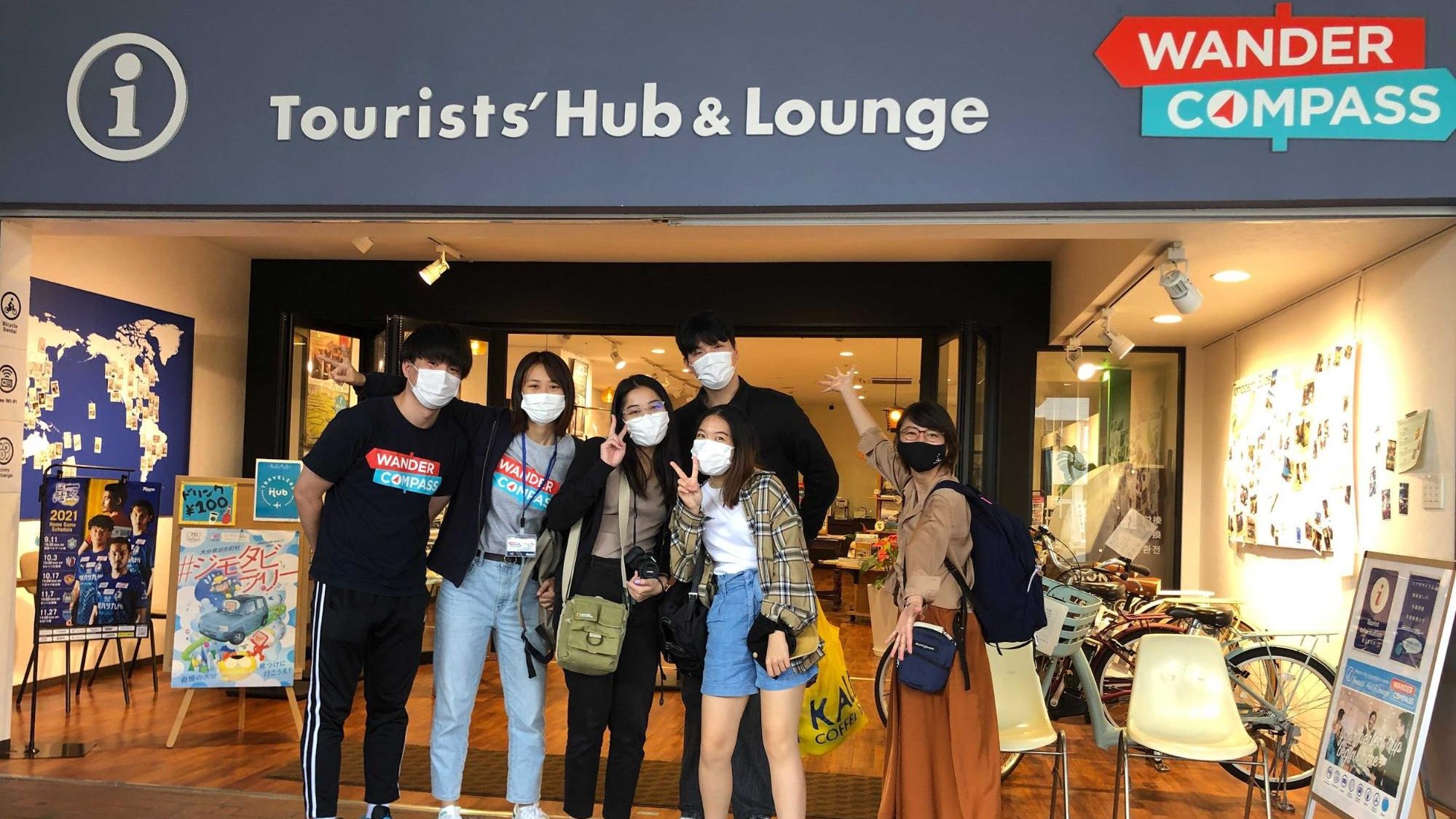 After the foot steam, we came back to the wander compass, and the town was getting dark! We really enjoyed this one-day trip and looking forward to travelling with Tomodaichi guide again.
What did you think of this experience article?
If you would like to make such a trip, please feel free to consult the tourist information centre "WANDER COMPASS" in front of the station. Our local specialists will be happy to help you design your perfect trip.
WANDER COMPASS BEPPU:

If you haven't seen part 1 yet, can be viewed here
EnjoyOnsen