*Please note that bathing in the onsen while wearing a bathing suit is not usually permitted.
Overlooking the calm scenery of Beppu Bay is Seikaiso, an onsen inn that will charm you with its tasteful rooms enriched by private hot springs, delectable meals serving local delicacies, and an abundance of spectacular views. With great access and premium service, it is the perfect accommodation for those wanting to immerse themselves in onsen and marine sights!
Enjoy an Onsen Inn by the Sea Offering Elegance and Convenience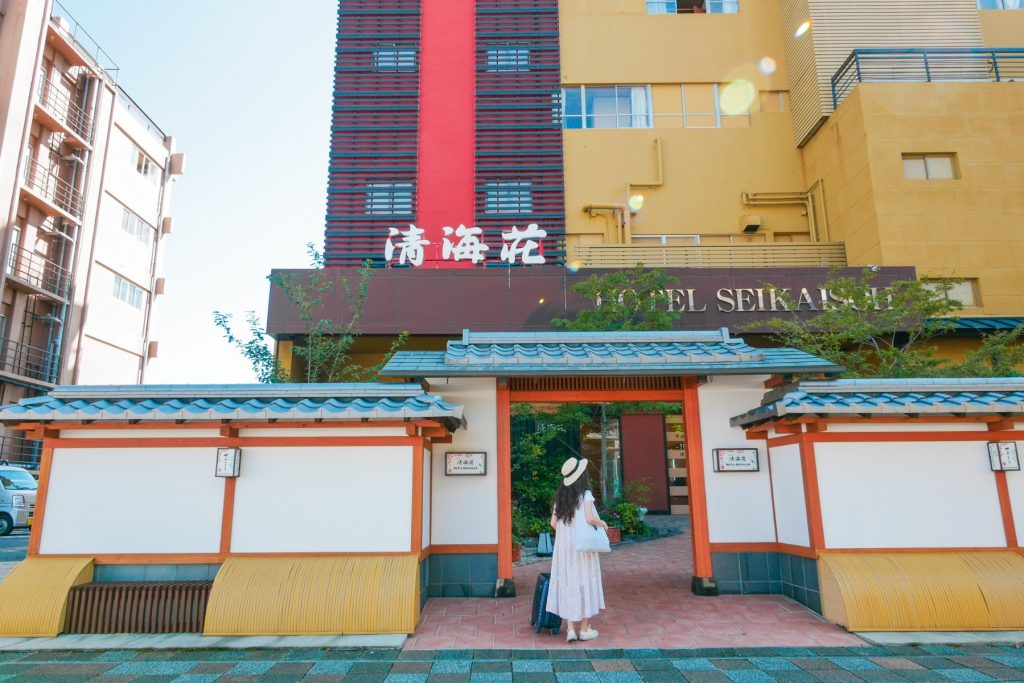 Seikaiso is only ten minutes away from Beppu Station and even closer to the Beppu Kitama Bus Center which are both directly connected to Oita Airport. Nearby is one of the city's landmarks, the Beppu Tower, as well as shopping streets and a plethora of restaurants and cafes. Despite its central location, the inn is situated away from busier roads along the charming Beppu Bay, ensuring all the peacefulness one would expect from an onsen retreat. The blue expanse of the sea and serene sky fill the inn with their calming presence, visible from the lounge, guest rooms, and even from the private dining rooms.
We were captured by its charms as soon as we stepped through its gates. Seikaiso's splendid entrance was renovated in 2019 and it's inspired by the buildings in Kyoto, presenting a traditional fencing made of bamboo and wood that is beautifully illuminated at night. There is also an elegant front garden where lush bamboo and "momiji" maple trees tinge the scenery with different colors throughout the seasons.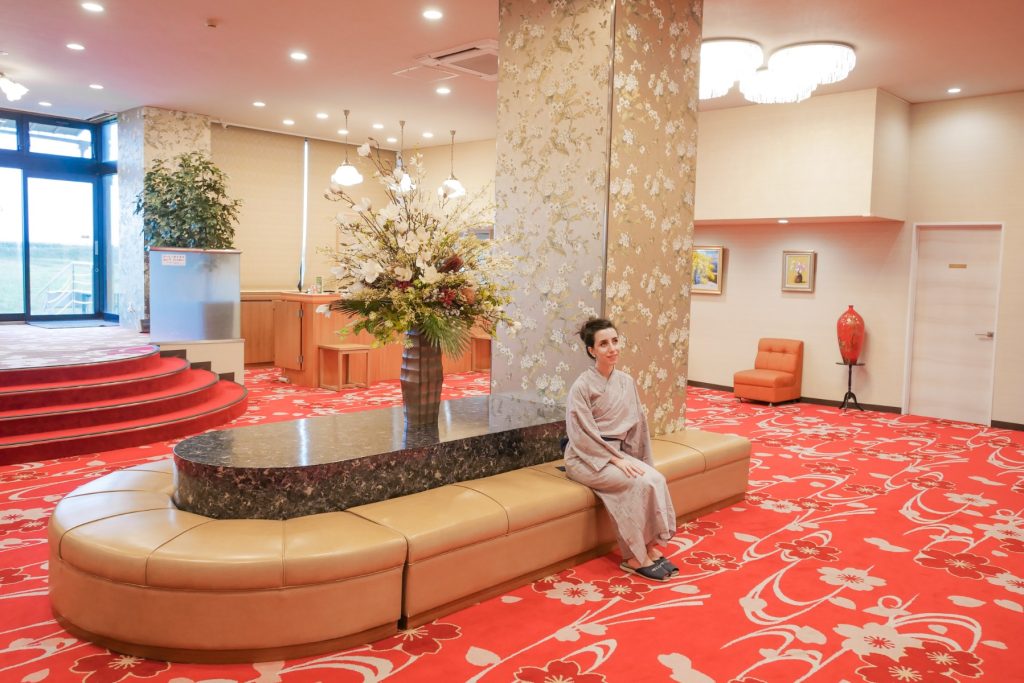 Inside, the lobby welcomed us, airy and beautifully decorated. It was elegantly embellished with flowers – lavish arrangements emitting their sweet fragrance into the air, carpeting with a design of "sakura" cherry blossoms, and refined golden flower wallpaper.
Next to the lobby is also a relaxation space with free drinks and a souvenir corner, so after checking in and changing into our "yukata" robes, we went there to chill on the sofas while sipping on some tea and admiring the comforting marine panorama outside. The relaxation area is also directly connected to a seafront promenade, so we just had to walk outside to enjoy brilliant sunshine and the sea from up close.
Soak in Hot Springs Embellished by Picture-Perfect Marine Panoramas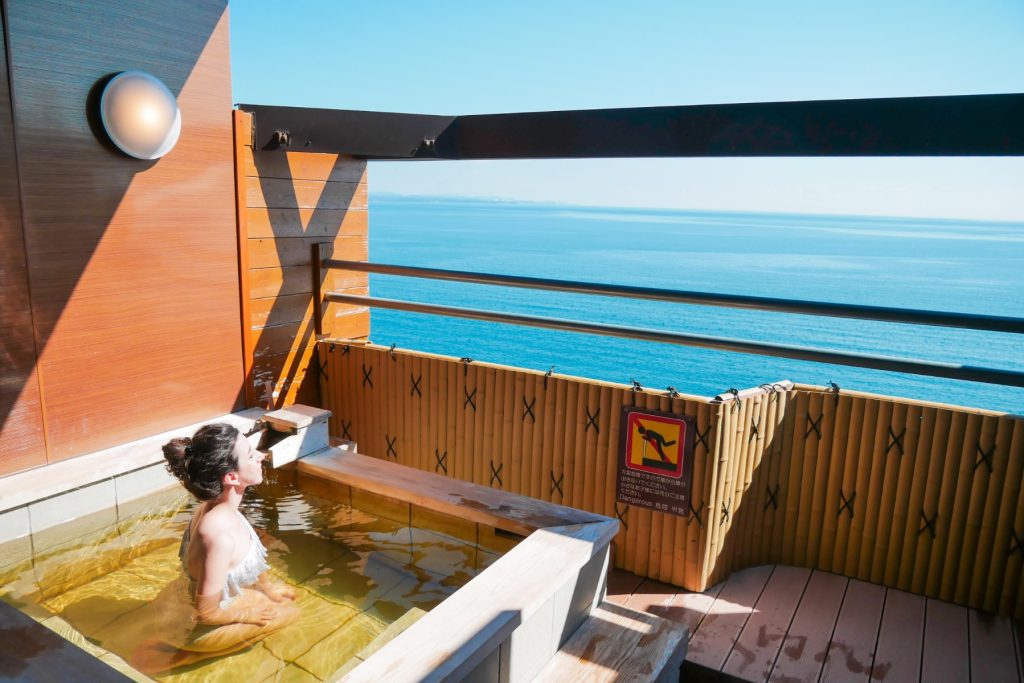 Seikaiso provides numerous onsen options, all overlooking the soothing scenery of Beppu Bay. We started out with the rooftop private hot springs, which were four panoramic baths that allow guests to enjoy superb views day and night. Renovated in 2021, the baths take their names from constellations, galaxies, and the marvels of the universe, highlighting with their dreamy names the sense of wonder we felt after immersing in their warm, relaxing waters.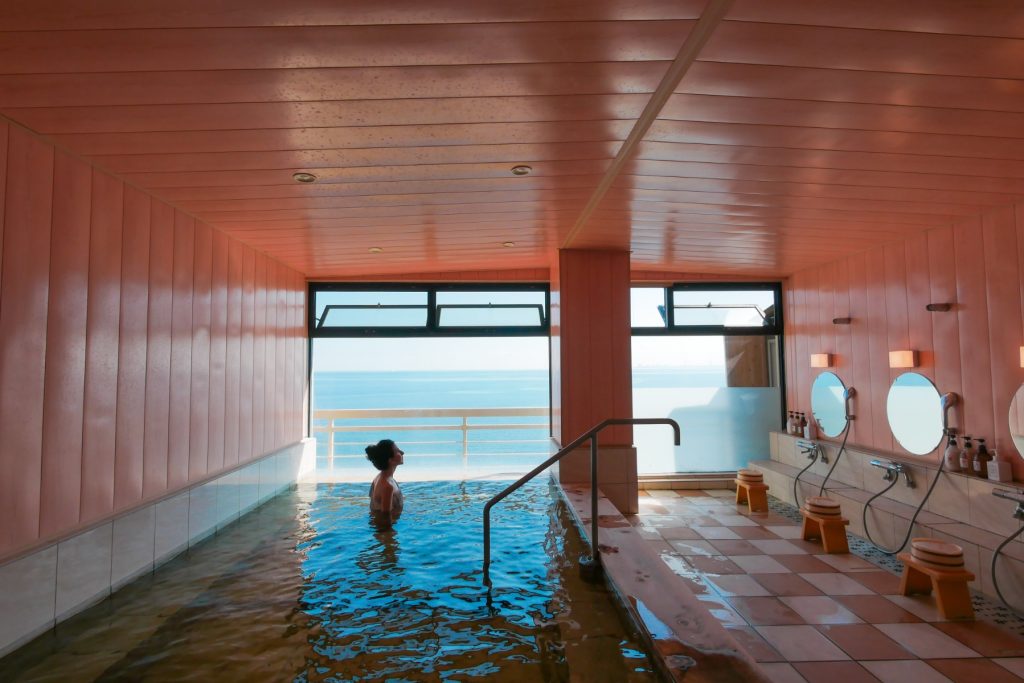 Marvelous sights of the sea and sky also awaited in the large communal indoor bath. Recently renovated in March 2022, it has gorgeous wooden and tile decor, as well as a bright ambience that is further adorned by the deep blue reflection of the panorama outside.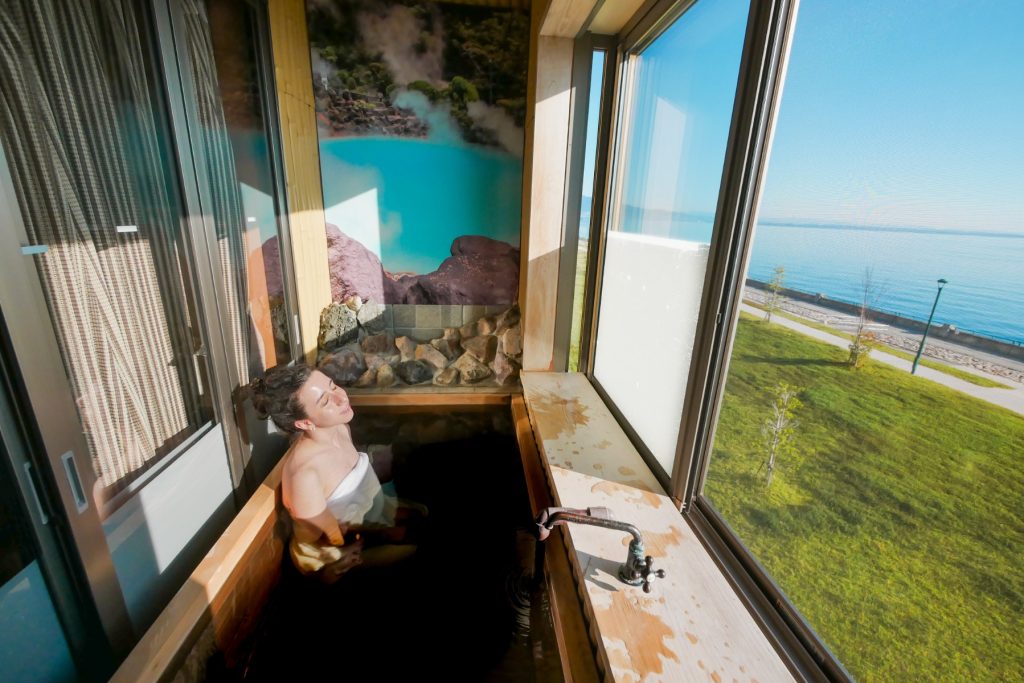 Seikaiso offers five different types of guest rooms, accommodating everyone's needs and ensuring that all guests can spend luxurious moments during their stay. Splendid panoramas are always ensured. On the city side, guests can choose from more reasonably priced Japanese-style rooms or Western-style rooms with refined furniture imported from Southeast Asia. The sea side of the inn provides Japanese-style rooms with cozy veranda spaces facing the bay or Japanese-style rooms with a private onsen space either in the form of private baths or footbaths.
The footbath was tempting, as it's something that is rarely seen as an in-room feature, but we went for a room with a private semi-open air bath so that we could enjoy Beppu's luxurious hot springs as much as and whenever we wanted.
Savor a Banquet Enriched by the Flavors of Local Gourmet Cuisine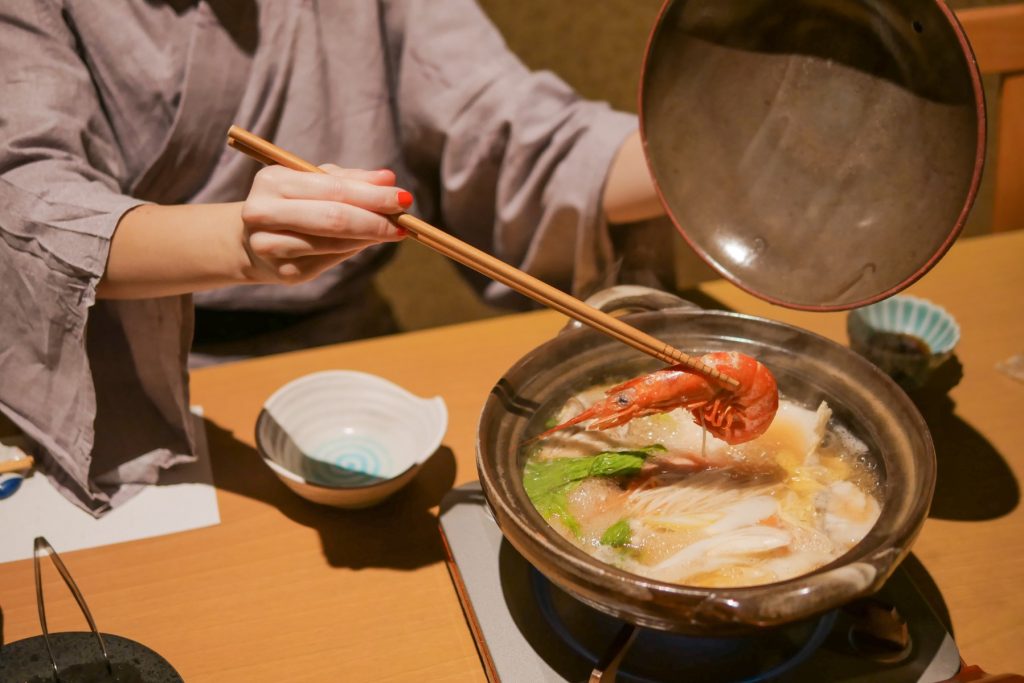 Another highlight of our stay at Seikaiso was the fabulous dinner we were served. Wrapped in the comfort of our yukata, we dined in one of the private rooms at the inn's restaurant Tenku Kaien, where our meal was flavored up with enchanting views of Beppu Bay.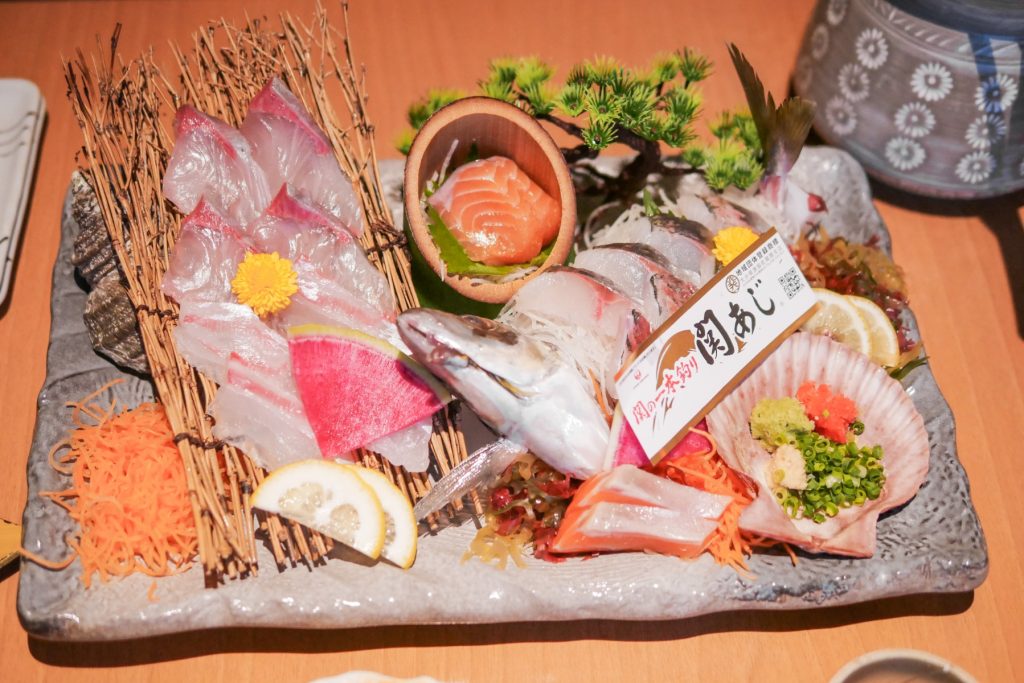 Dinner was a sequence of seasonal and fresh ingredients showcasing the gourmet cuisine of Oita Prefecture. The kaiseki course "Sora" that we were served presented premium "wagyu" Bungo beef that we could cook on the spot, an abundant plate of sashimi that included prized local Seki mackerel, and some of Oita Prefecture's specialties such as "toriten" fried chicken or "shiitake" mushrooms. The "nabe" hot pot with seafood and vegetables was another appreciated addition to our dinner. Hearty and delicate, it was perfect to warm our body and spirit up!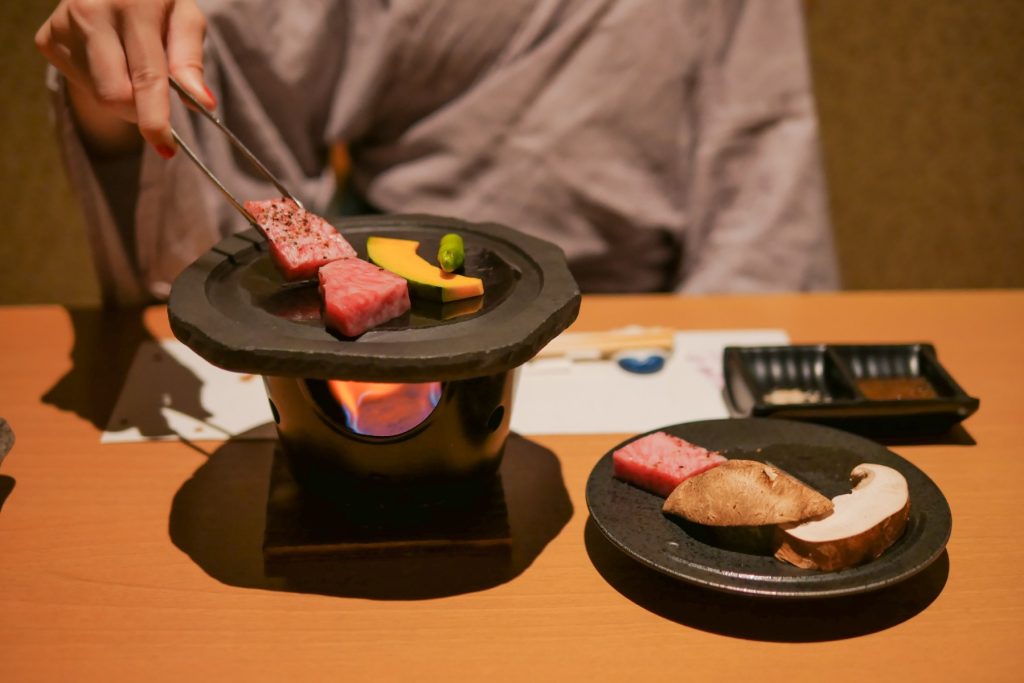 Other delicious courses are also available. The "sukiyaki" kaiseki course "Hana" for example complements usual kaiseki dishes such as sashimi or tempura with sukiyaki hot pot, where Bungo beef, vegetables grown in Oita Prefecture, and other ingredients are all simmered in sweet soy sauce. They even serve a more casual version of a kaiseki course called "Umi" for those wanting a lighter and quicker meal!
Enjoy Spectacular Hot Springs and Views at Beppu Seikaiso
Located right in the heart of Beppu City, Beppu Seikaiso stands along the seaside offering some of the best views of Beppu Bay. With the ocean splendidly spread out before your eyes and magnificent onsen baths, you are sure to have a blissful time!
Information
Name: Beppu Seikaiso
Opening hours:
・Rooftop private baths: 7:00 am – 8:30 am (guests only), 3:00 pm – 9:00 pm
・Communal bath: guests can use it all night, from check-in to 9:30 the next morning.
Price:
・Rooms: 7,700 yen – 22,000 yen (depending on the room and plan)
*for further information please check the official website
・Rooftop private baths:
Guests: 1,000 yen (45 minutes)
Day-use: 2,000 yen (45 minutes)
・Communal bath:
Free (guests only)
Website (Japanese): https://www.seikaiso.com/
Website (English): https://www.seikaiso.com/en/
tsunagu japan