Among the soaring hot spring steam of Beppu is Haruki, a luxury accommodation cocooned in nature where gorgeous greenery entwines with the refreshing colors of quintessentially-Japanese flowers and plants. With only six rooms and curated private hot springs, guests can immerse themselves in an exclusive experience while discovering the bliss of Japan's four seasons!
Experience Japan's Seasonal Charms and Beppu's Luxurious Hot Springs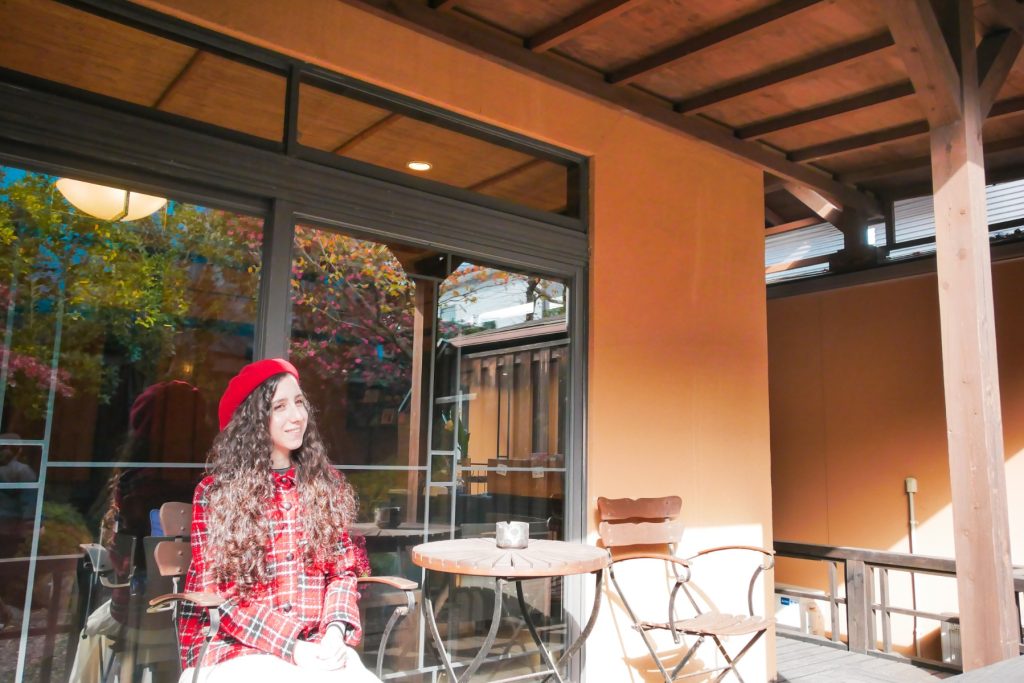 A quiet garden spreading into the most soothing of panoramas, communal spaces exuding elegance, and curated decor embellishing guest rooms with tasteful Japanese touches can all be found at Bettei Haruki, a quiet accommodation perfect for a premium stay in Beppu.
Located right next to the Haruki River, just out of central Beppu but still close enough to ensure easy access to all of the city's main attractions, Bettei Haruki is permeated by the bubbling sound of water flowing down into Beppu Bay to the sea. The nature-rich banks of the river are beautiful in every season, but are a spectacle not to be missed in spring when a myriad of gorgeous cherry trees are in bloom, offering marvelous sights of pink blossoms, pristine waters, and wooded mountains in the distance.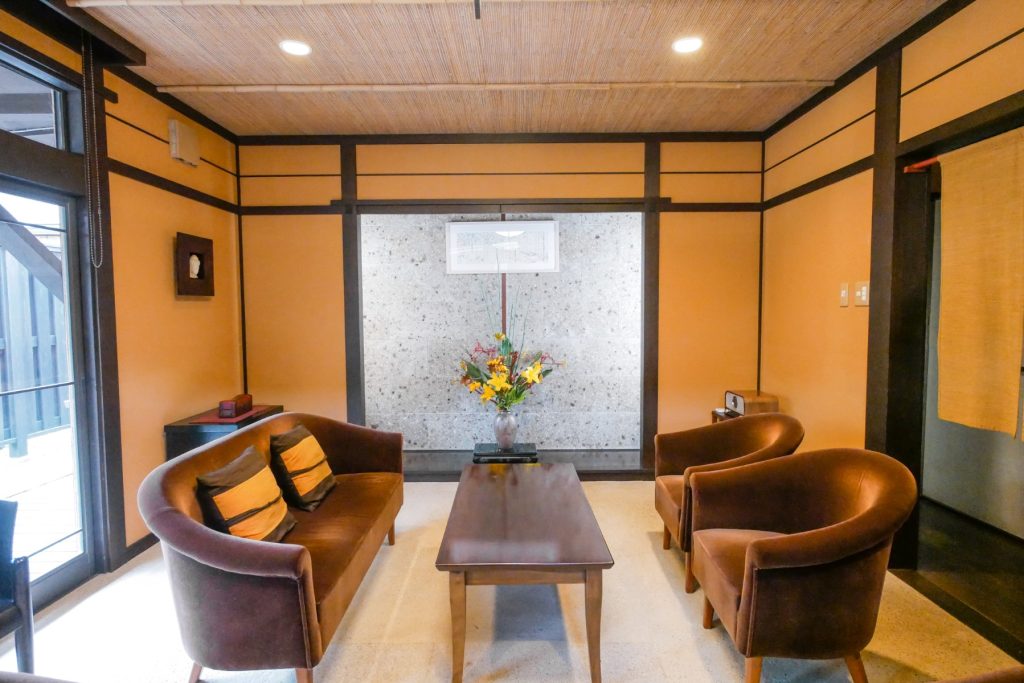 Amidst Haruki's flourishing nature, we could rejuvenate and immerse ourselves in the beauty of Japan's seasons and Beppu's sumptuous onsen.
Hidden behind the entrance and lounge is the heart of the facility, the garden where we sat on the terrace before starting our exploration of Haruki. As the gentle sunlight made the colorful greenery pop out even more, we relished the simple joy of the moment, taking in the calming sounds and scenes of nature. The garden was designed by architect Kei Matsuba as a healing space, with Japanese and Western elements tastefully balanced to provide superb views throughout the year.
Along with the terrace, the lounge offers equally exquisite glimpses of the garden to be admired while relaxing on the comfortable sofas or with a refreshing cup of the herbal tea or fruit-infused water available for free. Furniture is carefully selected among luxury pieces from Italy, Bali, and Japan!
Enjoy Glimpses of Nature in Sumptuous Rooms Named After Japan's 7 Traditional Herbs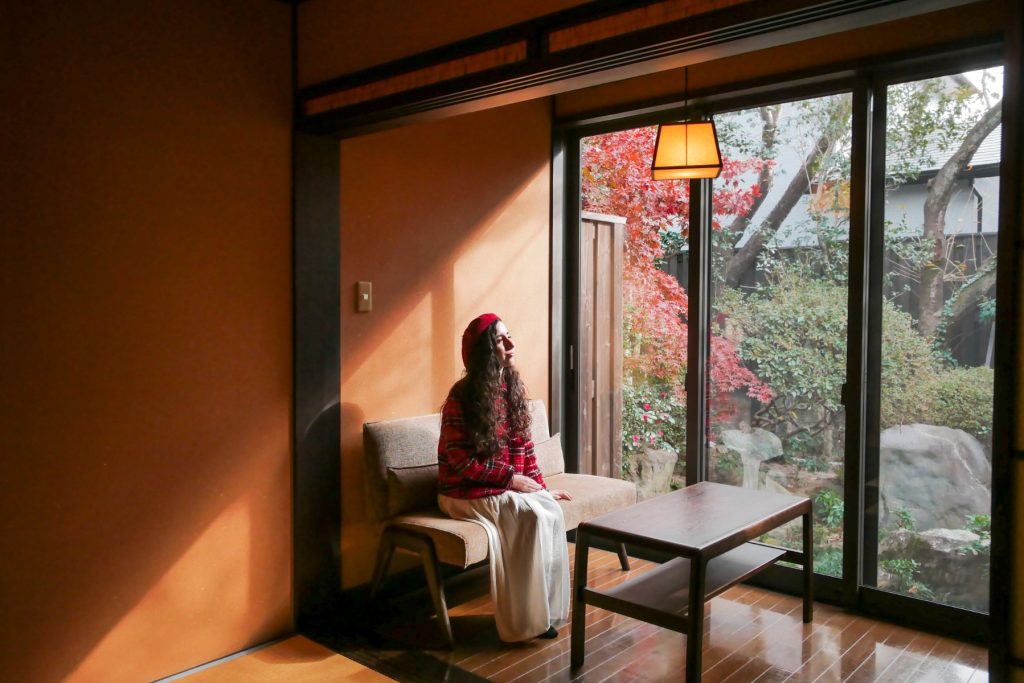 Hakobe – Room with semi-open-air bath
The same sophistication and attention to nature can be seen in Haruki's guest rooms, which were designed to overlook the surrounding vegetation. Blending the natural splendor outside with refined interiors, guests can truly appreciate the feeling of connection with nature and sense the subtle changing of the seasons.
The room's veranda is the place we loved the most, as the large windows let us take in the autumnal hues tingeing the garden at the time of our visit. Pops of red "momiji" Japanese maple created a beautiful contrast to the soft green of the rest of the garden! Haruki is also renowned for its splendid cherry blossoms that brighten up the scenery during spring. Other flowers and lush-green plants adorn the garden throughout the months, so guests always have something to look forward to regardless of the season!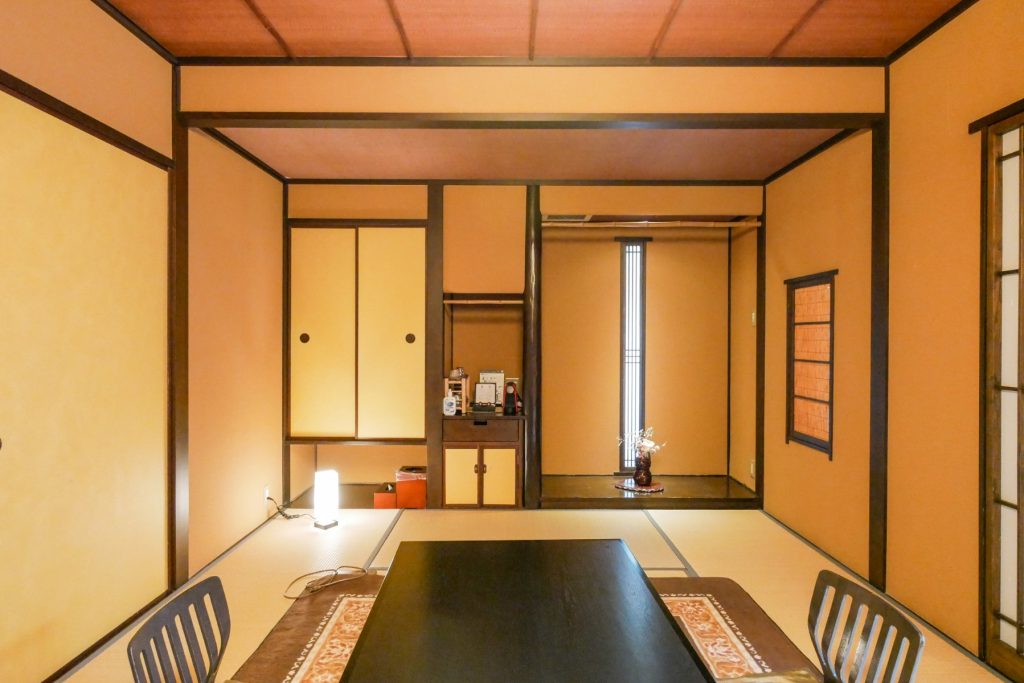 Gogyo – Room with semi-open-air bath
Even the rooms' names are a reference to the botanical world, as they are named after Japan's "nanakusa," which are seven herbs that are considered auspicious as they grow fresh and green even in the middle of winter. As they are thought to soothe specific ailments, they are usually eaten on January 7 in a porridge called "nanakusa-gayu" as a health dish after all the rich food of the festive season.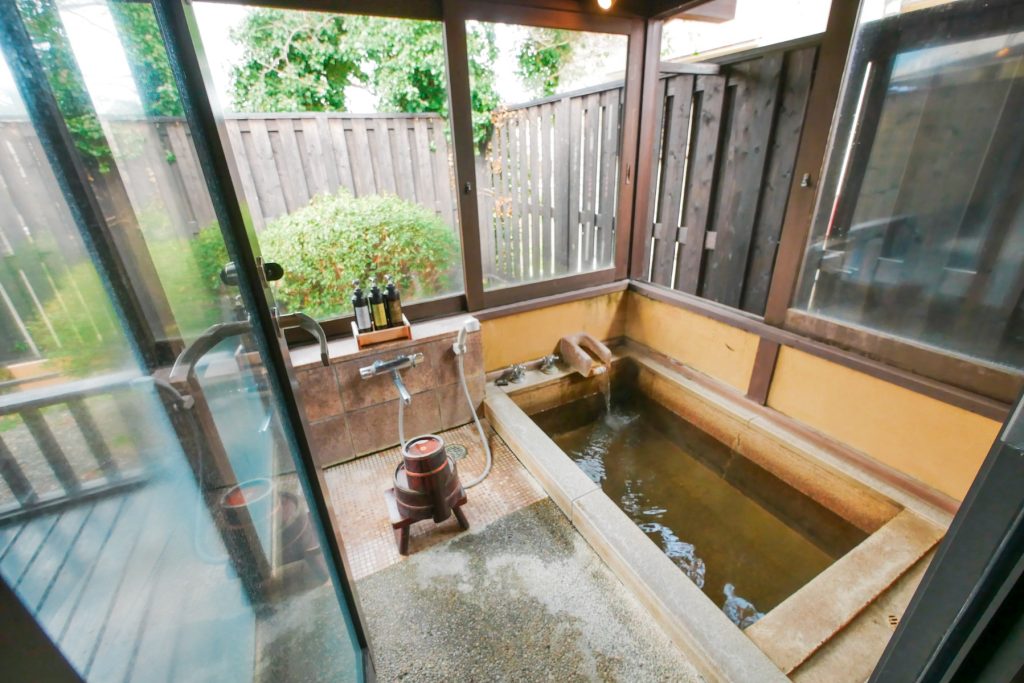 Nazuna's private semi-open-air hot spring
All rooms sport a modern Japanese design with "tatami" straw mats, flower arrangements, a bright ambience, as well as comfy sofas or armchairs, making Haruki a great hideaway in nature without renouncing the comforts of the city! Four of the rooms; "Seri" Japanese parsley, "Nazuna" shepherd's purse, "Gogyo" cudweed, and "Hakobe" chickweed even come with private semi-open-air baths, so guests can enjoy Beppu's onsen water to their heart's content while gazing at the beautiful garden!
"Hotoke no Za" Japanese Nipplewort and "Suzuna" Japanese turnip aren't accessorized with their own private semi-open-air bath, but guests can enjoy the inn's 3 private onsen instead. As these rooms are located on the second floor and have their own private veranda and balcony, they offer a different perspective over Haruki's splendid garden.
A Relaxing Time in Private Onsen Inspired by Japan's 7 Traditional Flowers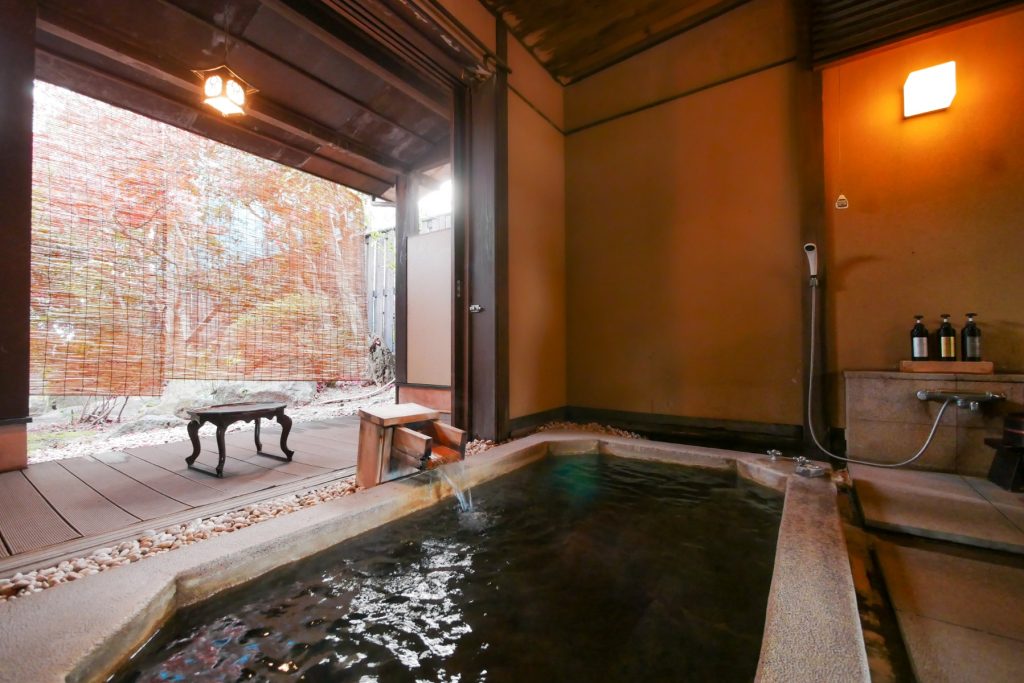 Nadeshiko – Private hot spring
Haruki's onsen are also inspired by Japanese nature. Totally private and with hot spring water flowing directly from the source, they grant a calming and luxurious space to enjoy with your loved ones without having to worry about other guests!
Touches of wood, bamboo, and stone contribute to the fine atmosphere and beauty of the natural scenery which can be appreciated from each bath!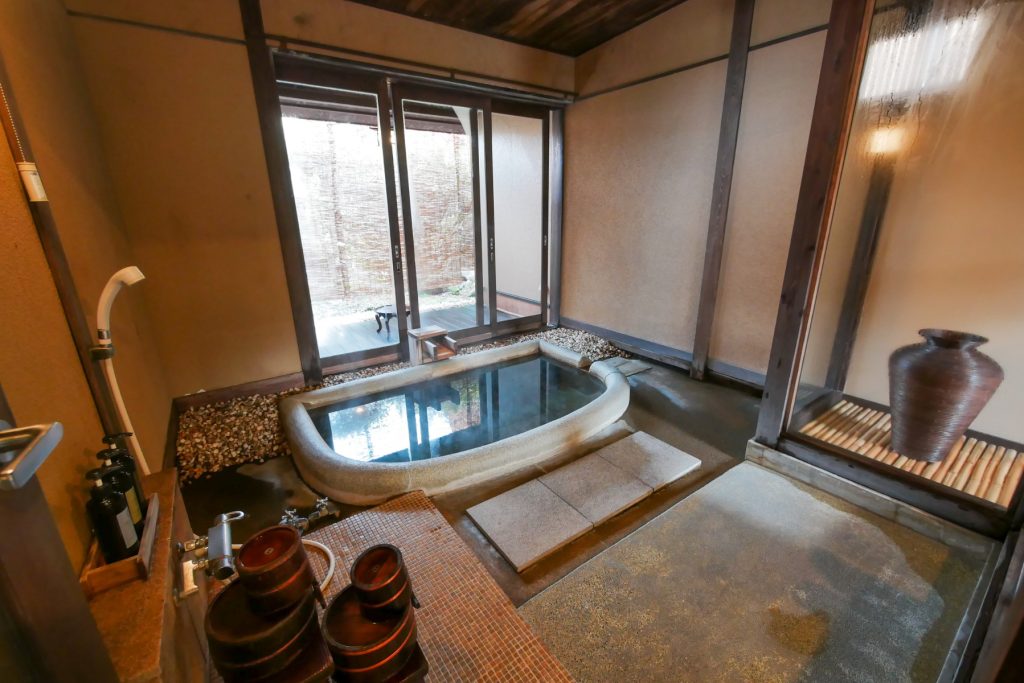 Kikyo – Private hot spring
The names of the baths also come from Japan's traditional flowers and herbs: the "nadeshiko" dianthus flower, the "kikyo" Chinese bellflower, and the "suzushiro" radish flower, which all evoke a connection to Japanese traditions. These flowers were chosen for their simplicity as they are dainty yet beautifully colored, providing a subtle enjoyment to those who admire them!
Elegant as the flowers that inspired their names, Haruki's hot springs are made of stone suffused with light from large windows and a spacious rest area reminiscent of a resort!
Enjoy the Elegance of Japanese Hot Springs and Nature at Bettei Haruki
With a spectacle of flowers blooming in spring, vibrant summer scenery, splendid autumn colors, and even snowy panoramas, the beauty of Japan's changing seasons is renowned worldwide. Here, at Bettei Haruki, not only can guests unwind in unparalleled refinement and comfort, they can also relish the pinnacle of Japan's seasonal charms while soaking in some of the country's most renowned onsen hot springs!
Information
Name: Bettei Haruki
Opening hours:
・Nadeshiko: until 11:00 pm (evening), 7:00 am – 10:00 am (morning)
・Kikyo: until 11:00 pm (evening), 7:00 am – 10:00 am (morning)
・Suzushiro: until midnight (evening), 6:30 am – 10:30 am (morning)
Price: Prices vary depending on the room and plan, please check the official website for further details.
Website (Japanese): https://e-haruki.jp/
Website (English): https://e-haruki.jp/en/
tsunagu japan