Daikokuya is a Japanese-style ryokan located in the Kannawa area. It was founded during the Showa era and continues to operate today. Takuya Yasunami is the fourth generation owner of this 80-year-old traditional inn. This unique accommodation includes a house made from Japanese wood, hot springs, and Jigoku Mushi (hot spring steamed food). The interior is furnished in a beautiful Japanese folk-style and in the courtyard you can experience the magic of the hotspring steam cooking method.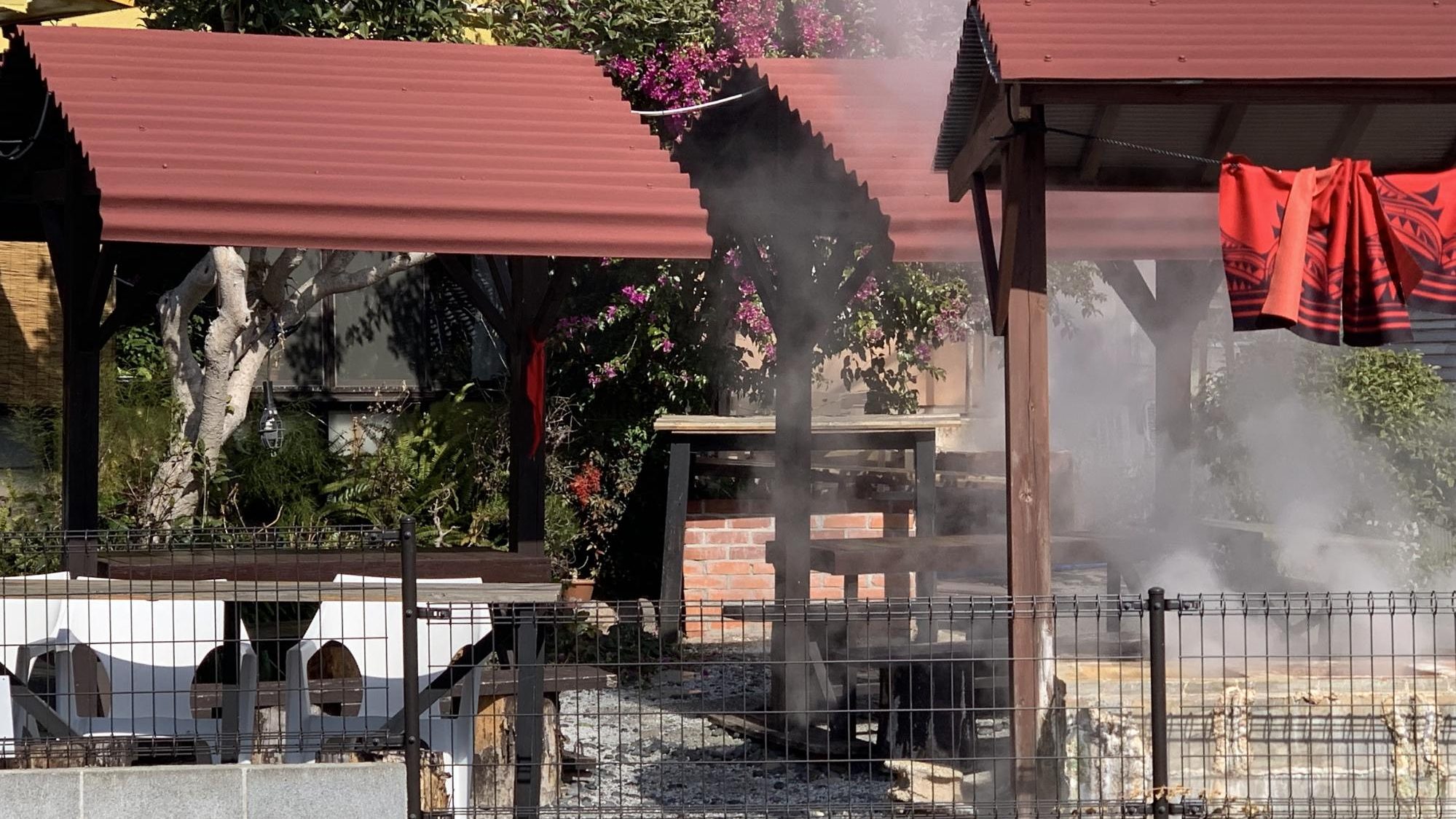 What is Toji?
You can experience one kind of traditional Japanese-style vacation at Daikokuya the practice of Toji (湯治).
Toji is using hot springs to heal the body. Before medicine had been properly developed, Japanese people relied on bathing in onsens and drinking its water to treat their illnesses.
However, to experience Toji is not just to simply enter a hot spring. In fact, Toji guests are encouraged to rest for an extended period of time at an inn, soak in an onsen everyday and prepare their own food. At first, only prominent members of society could afford to make these onsen excursions as travel was very limited in Japan and required government permission. Later on, during the Edo Period, more commoners were able to receive permission to travel for the purpose of Toji.
– Why Is Onsen Good For You? Ask The Onsen Girls.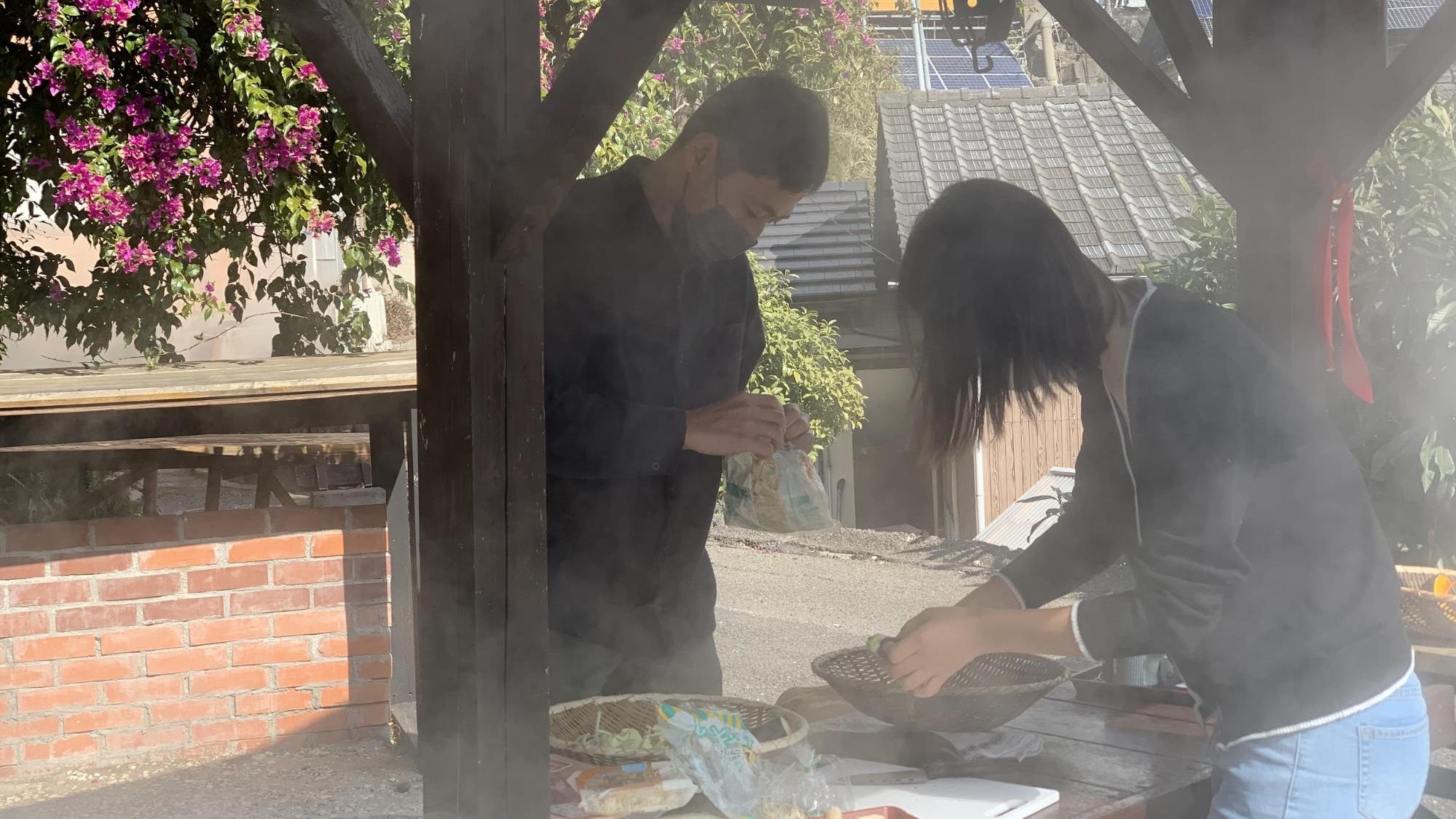 During their off-season, farmers and fishermen would come to Kannawa for one to two months for Toji vacation which included cooking their food and fish with the powerful hot spring steam.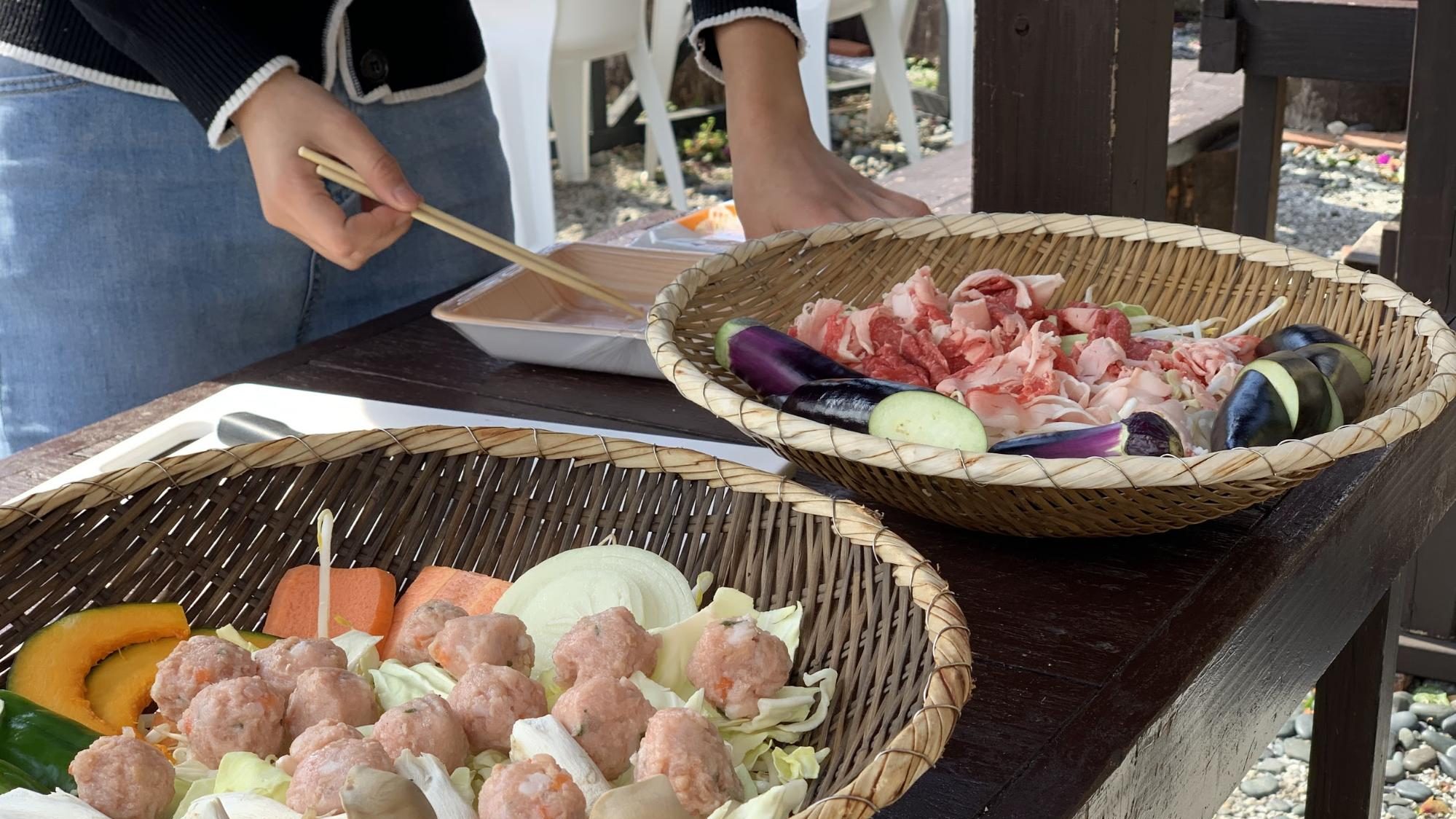 What is Jigoku Mushi?
Jigoku Mushi is a geothermal hot spring cooking method that uses the steam from the high-temperature hot spring. This traditional cooking technique has been practiced since the Edo period(1603-1867).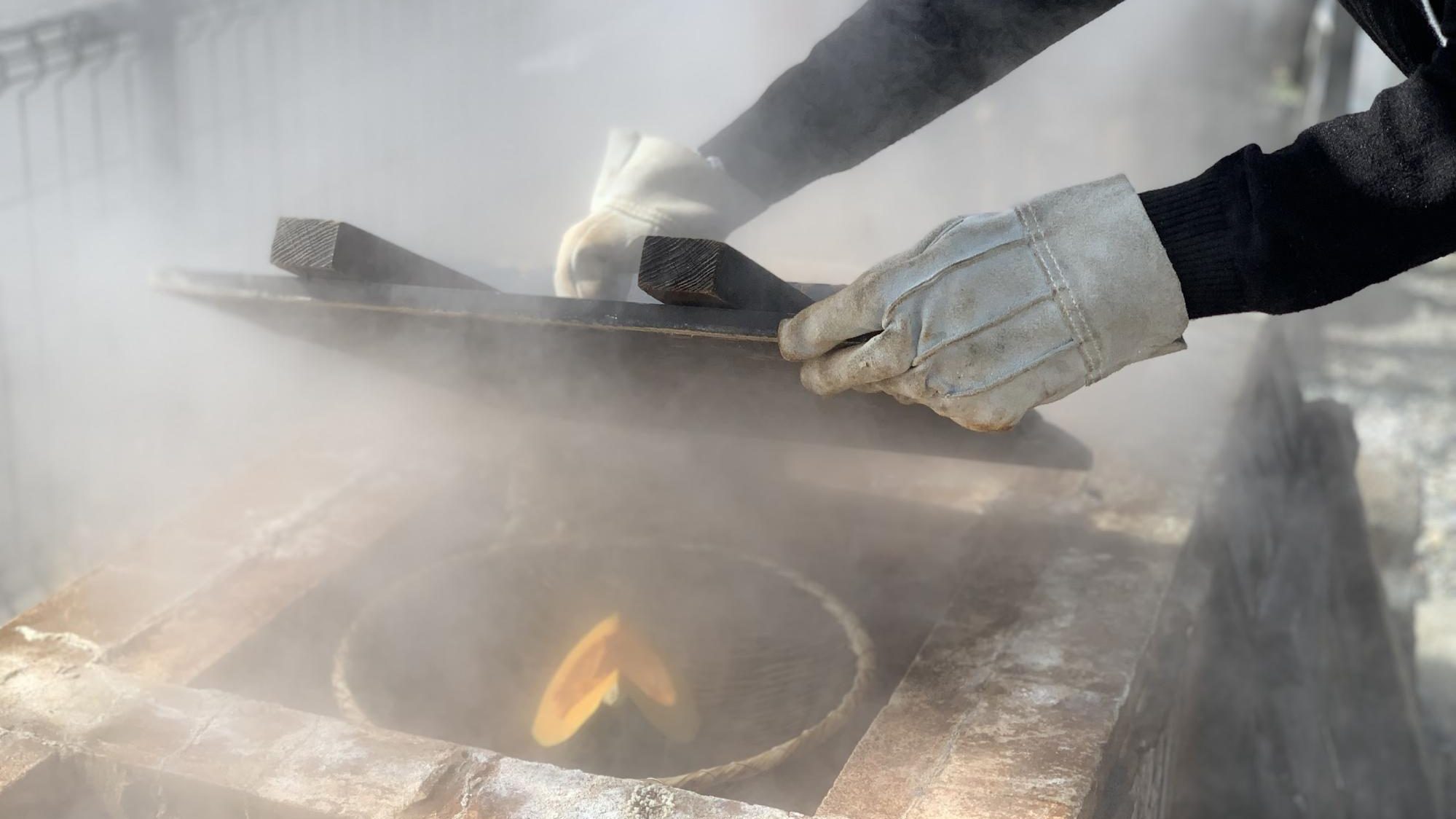 You can experience the "hell-steamed" cuisine in Daikokuya; they provide guests with steam cooking tools, cutlery and seasonings.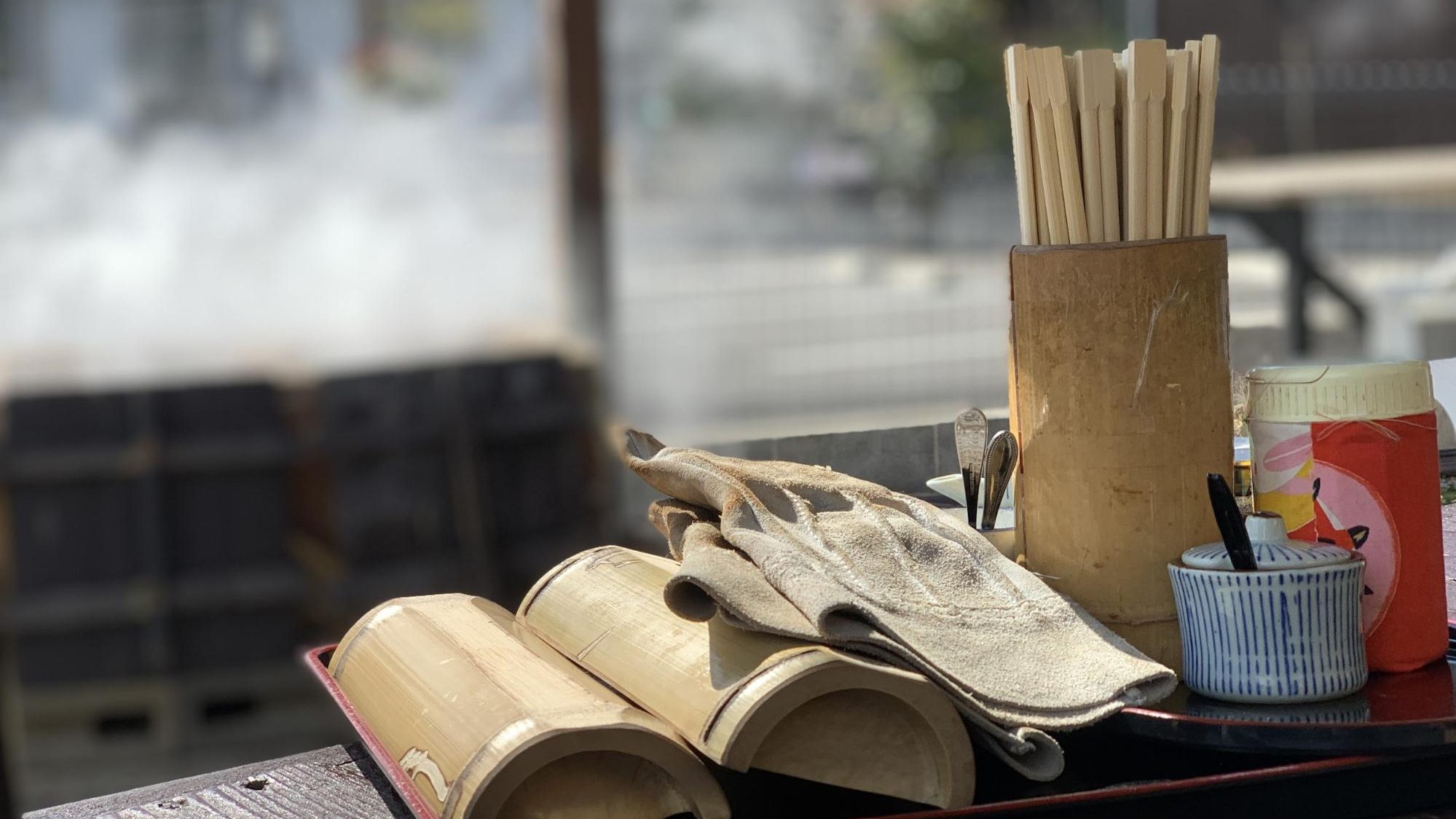 However, you will need to bring your own food from home or buy it at the supermarket. This time we bought ingredients from a nearby market. We recommend you buy seasonal vegetables, mushrooms and chicken meatballs. Cooking with hot steams adds natural salts to the food and makes it simply delicious!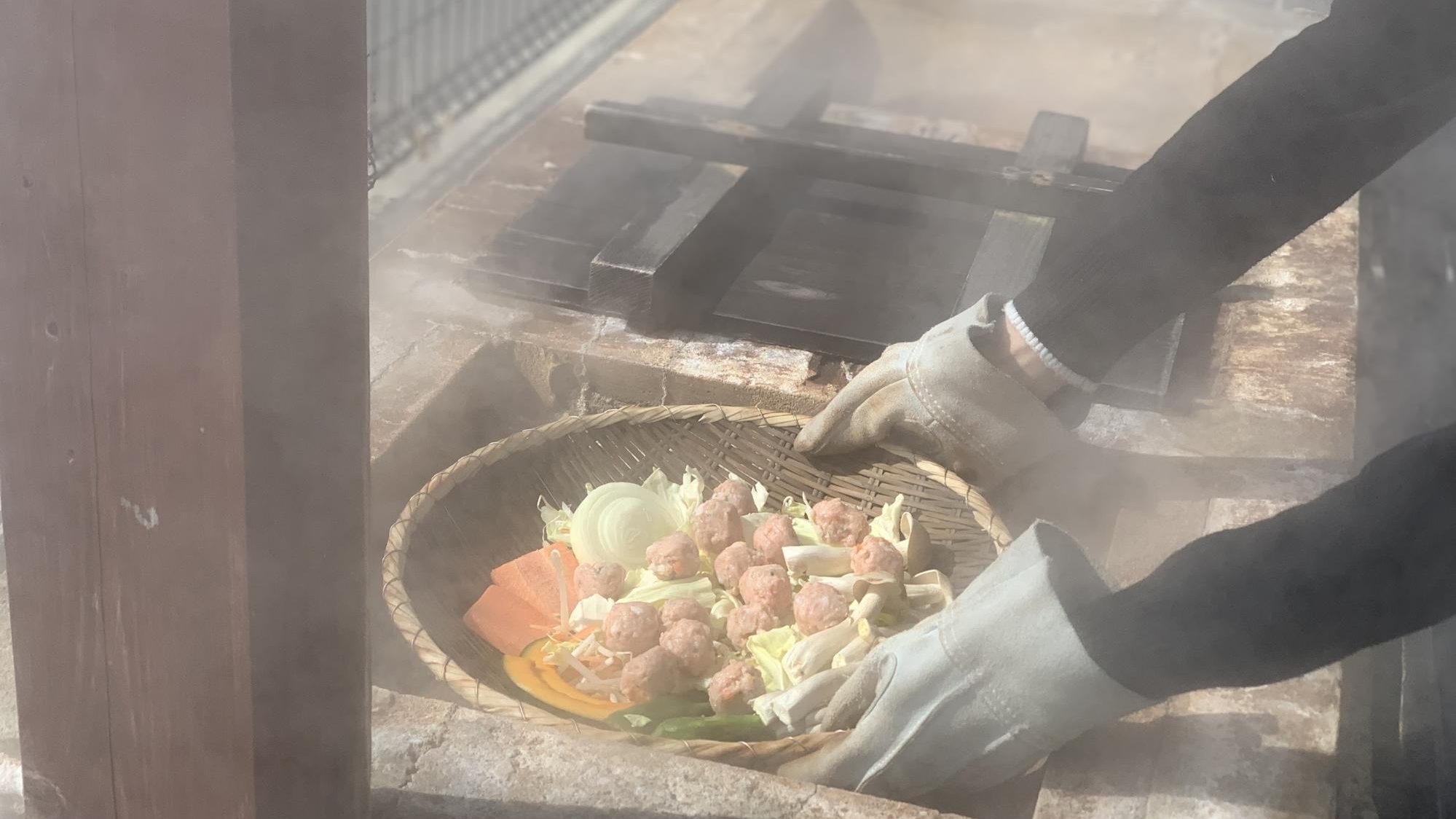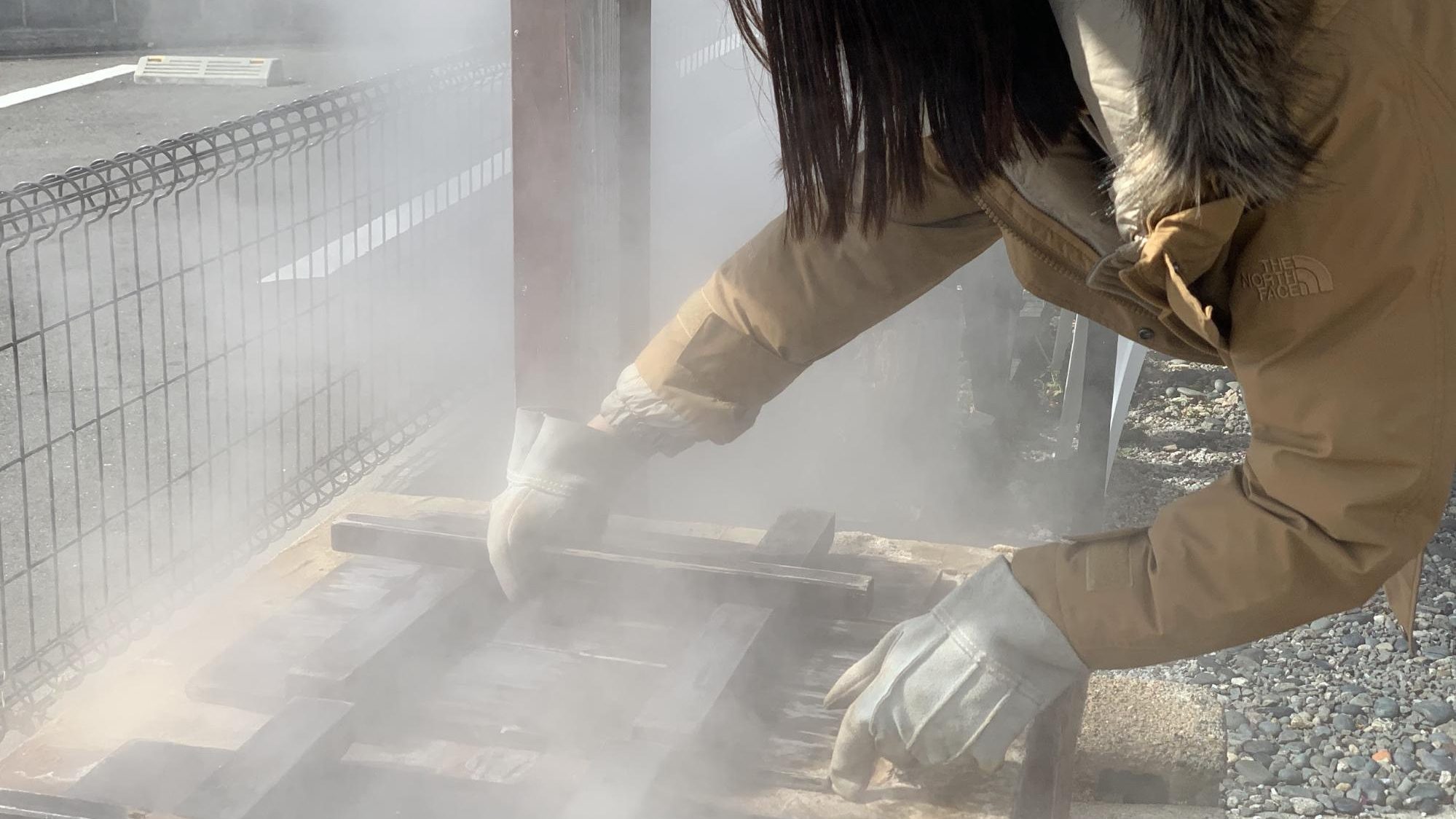 It usually only takes five to fifteen minutes to steam your food, and you only need a little soy sauce and salt to season it.
Daikokuya's homemade spicy oil also matches the steamed food well. You can eat your food in bamboo baskets as shown in the photo.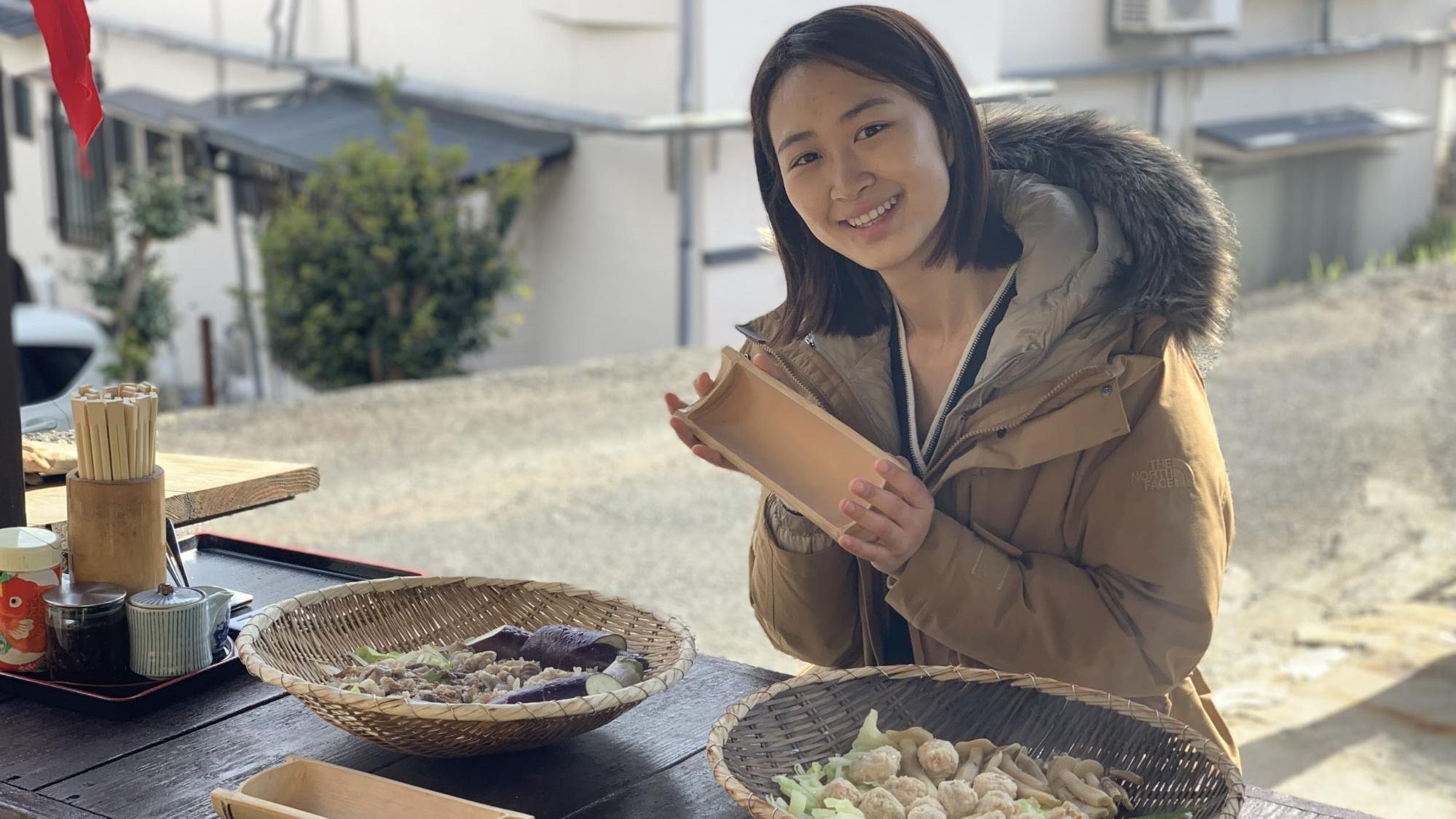 Onsen in Daikokuya:
After we experienced the steamed food, we went inside the ryokan and had a hot spring. The hot spring here is an indoor private hot spring on the first floor of the ryokan. You can enjoy the onsen with your friends and family without having to share it with others. Also, even if you have tattoos you can still take a bath. There are towels, a hairdryer, and a place to put your clothes. There are also showers and bathing lotions inside.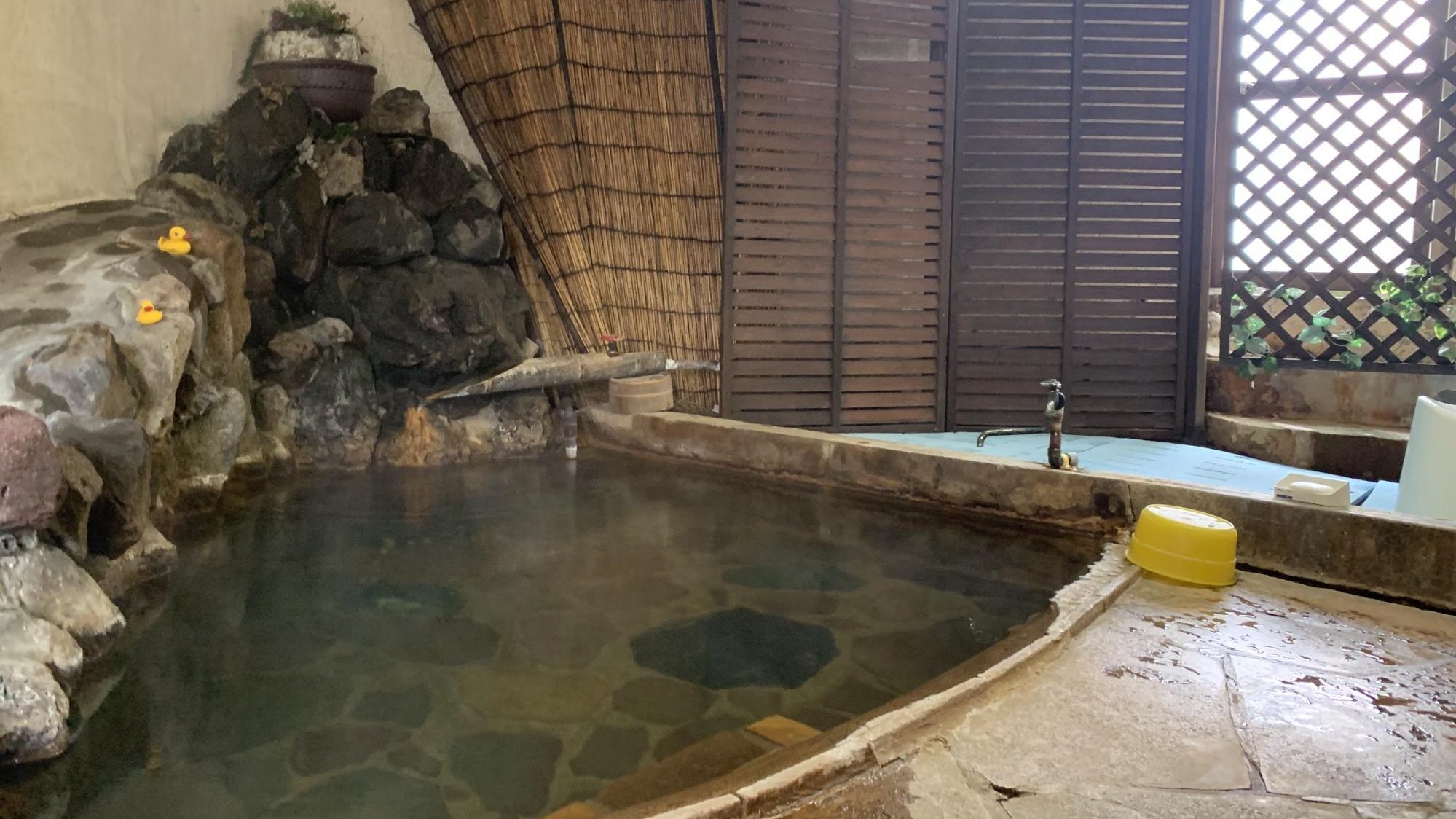 The spa is handmade stone with a historical feel and three small windows on the top to let the natural sunlight in. You will feel very calm and relaxed there. This hot spring is a mixture of an alkaline hot spring and a simple hot spring and it will make your skin smooth. The temperature stays nice and hot as freshly pumped spring water flows into this hot bath. The water on the surface is very hot, so you need to mix the hot spring as much as possible to lower the temperature before entering the bath. My friend and I spent 30 minutes in the hot spring, enjoying the natural light and chatting in the private bath on a cold winter day.
Workation
You can also come to Daikokuya for long-stay workation. A workation is a combination of "work" and "vacation" that allows people to visit new places while working remotely. Kannawa area is a good place to do remote work. You can experience a relaxing atmosphere for working, with its retro town scape and beautiful nature view. The rooms are Japanese-style tatami rooms with good internet and a work desk – you can stay here for a long time. The room has a unique hot spring heater, so it's very warm in the winter.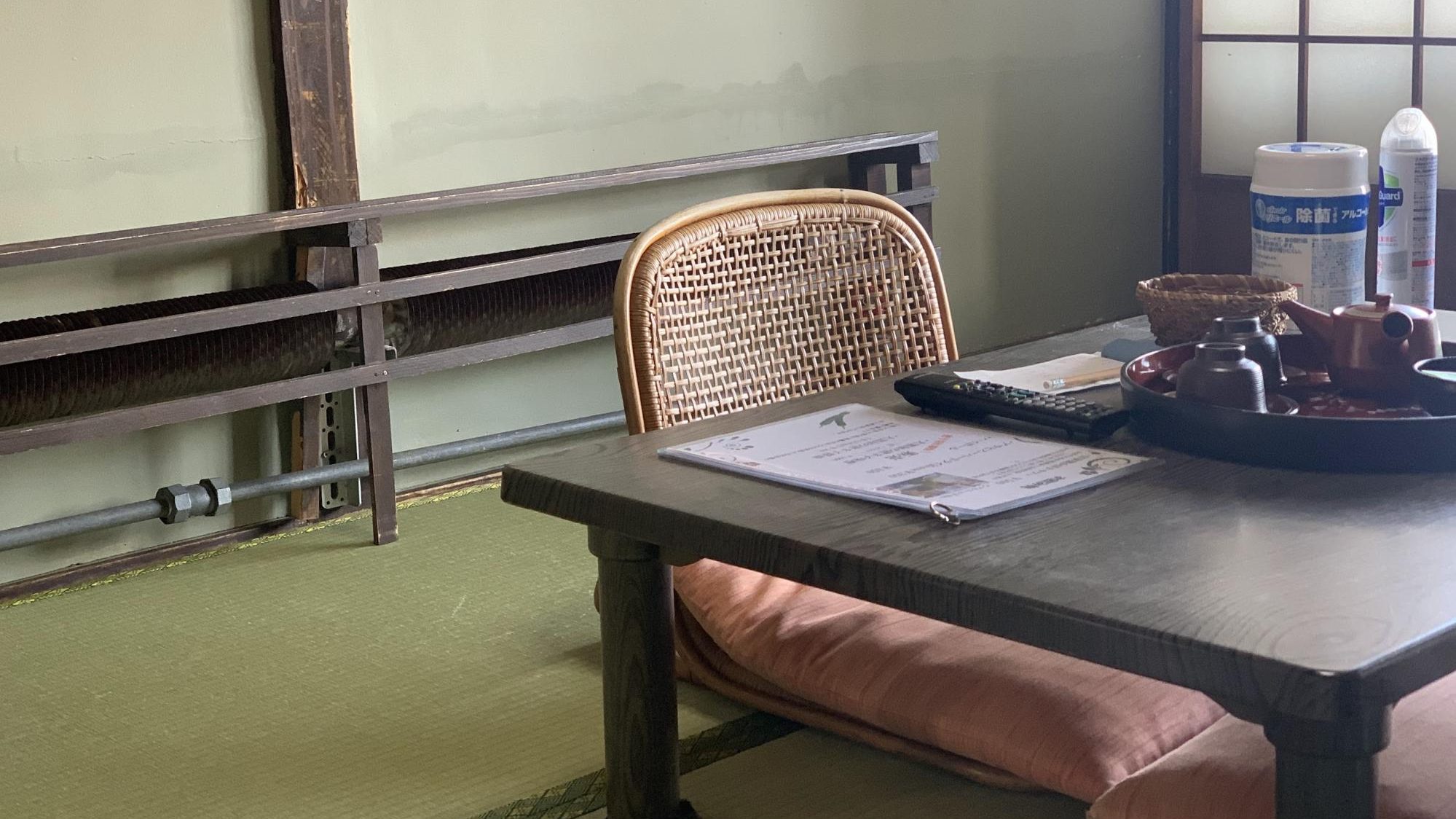 After work, you can soak in the hot springs and eat hot spring steamed food. You can also walk around the Kannawa area for coffee.
Daikokuya is also suitable for friends, couples and families to come together. You can experience the fun process of cooking and eating hot spring steamed food. If you want to come to enjoy Daikokuya, please visit Wander Compass Beppu located in the Beppu Station building next to LOTTERIA burger shop at Beppu station. The staff will share directions on how to get there. Why don't you treat yourself to an onsen trip to Daikokuya?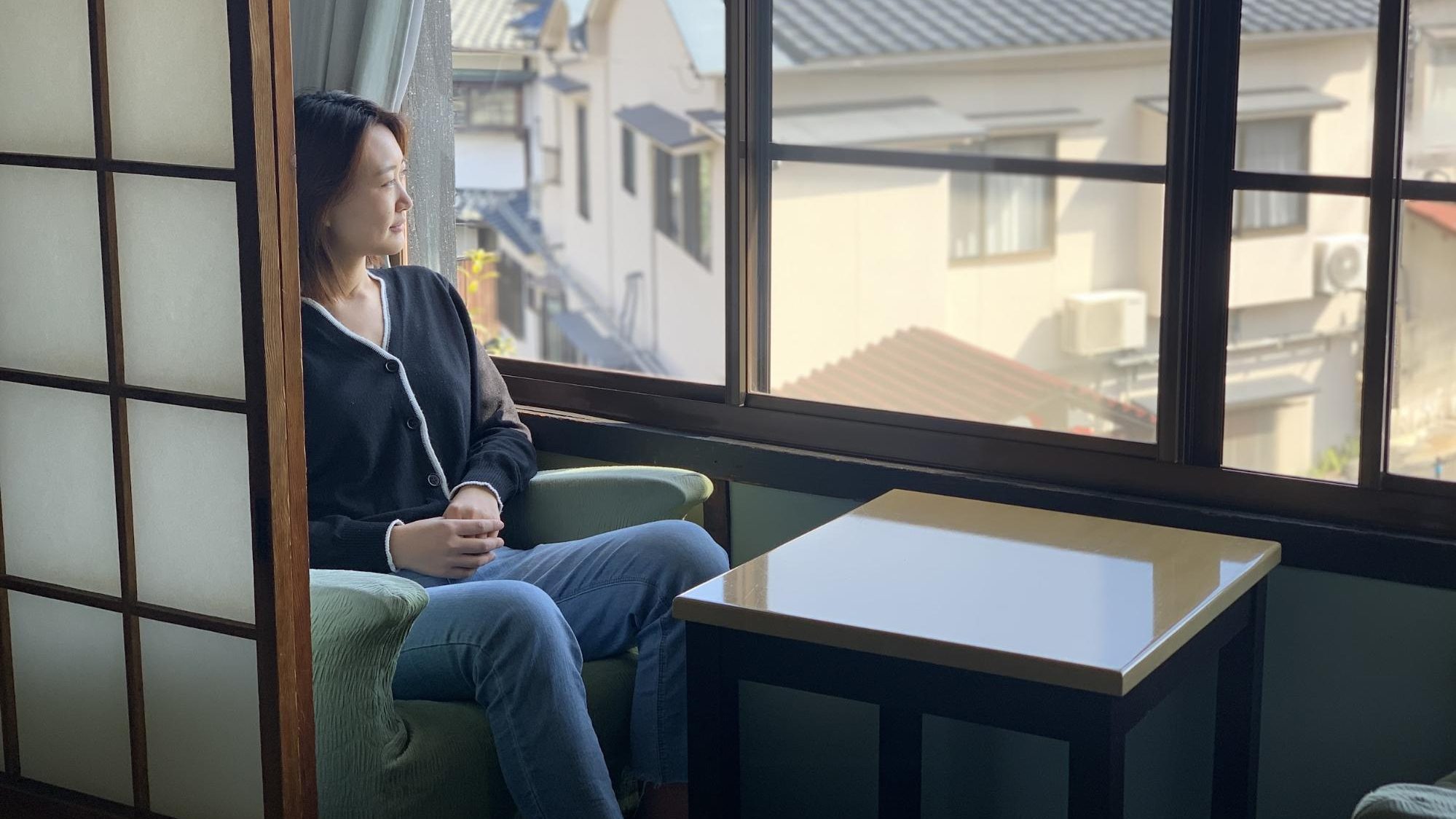 Basic Info For Using Steamer and Eating Place
OPEN : 11:00~15:00
FEE (90min) : 500 yen per person (eat outside) , 700 yen per person (eat inside)
Basic Info For Private Onsen
OPEN : 11:00~15:00
FEE : 300 yen per person
CAPACITY:approximately 4-5 people
*In the case of a private bath occupied by another group, you may need to wait for them to finish
EnjoyOnsen