Hello present and future Kyushu travelers!
As you might know, Kyushu is a beautiful southern island in Japan.. When you travel to Kyushu, be sure not to miss Beppu. Beppu is famous as the best hot spring city in the world. The ways to enjoy hot springs here are endless. In addition to soaking in the hot springs, you can also see hot springs of various colors, cook food with hot spring steam, drink fresh hot spring water, dye clothes and use the hot springs to produce geothermal energy.
This article is focused on Te-yu, a hot spring for hands ("Te" means "hand" in Japanese). Whether you are staying in Beppu for a while or have a short stay, please be sure to a look! I hope this helps you have an amazing trip.
Five Hand Onsens Within A -Minute Walking Distance
The following is a list of five hot springs (onsens) for hands within a three-minute walk from Beppu Station.
1. In front of the Beppu Station
2. At Beppu Station Hotel
3. At Ekimae Koto Onsen
4. At Iyo Bank
5. At Beppu Seawave Hotel

I'll introduce these hot springs to you one by one.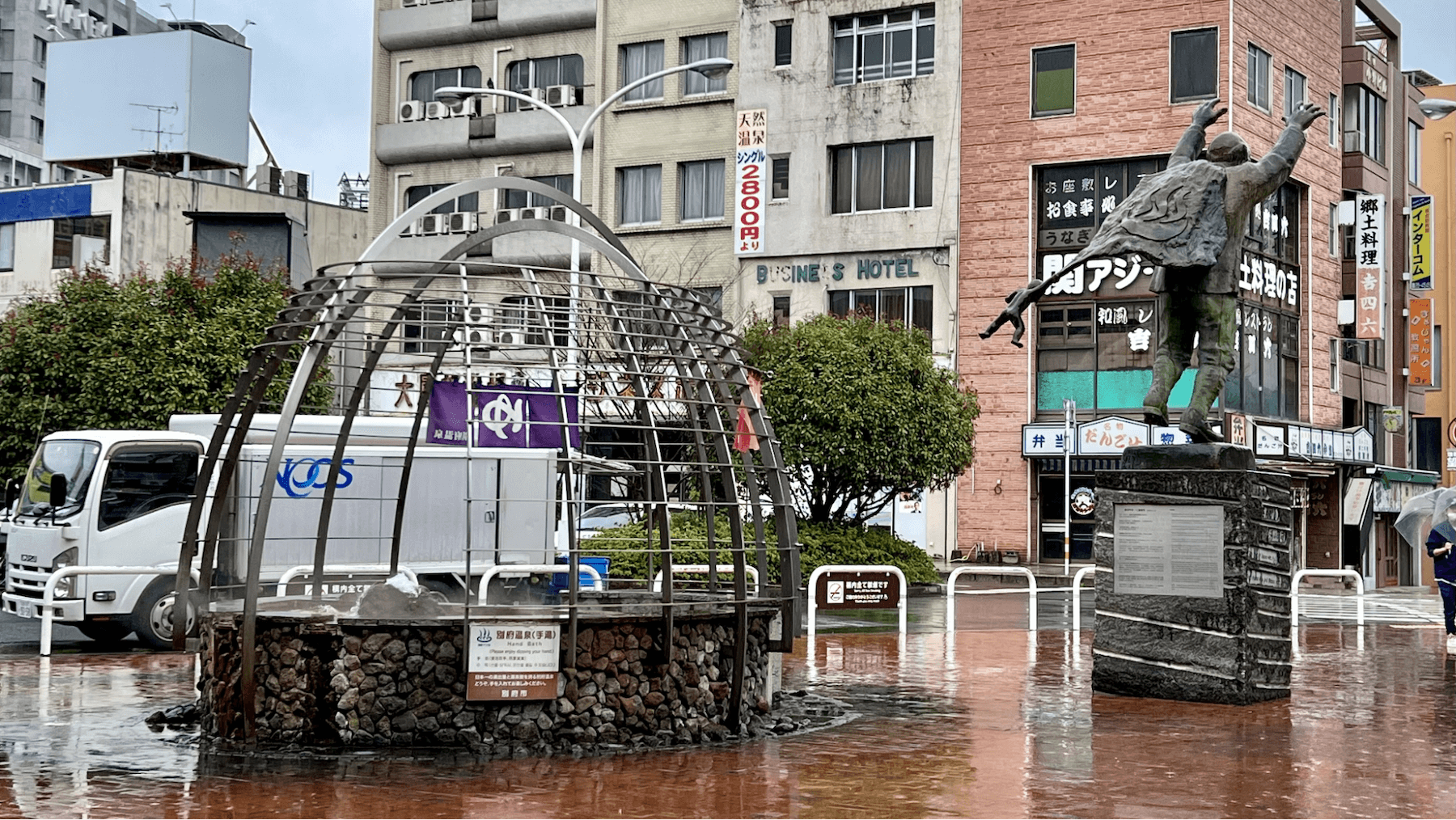 1. In Front Of the Beppu Station – 15 Steps To The Magic
Once you arrive at JR Beppu Station, you can head to Traveler's Hub & Lounge "Wander Compass Beppu" and ask locals for their Beppu recommendations. And on your way, why not dip your hands into the hot springs first? Just 15 steps from the Beppu Station east exit, you will see the hot spring. It is located in the dome archway next to the bronze statue. Just remember, when you leave the Beppu station ticket gate, on your right side is the east exit (ocean side) and on the left side is the west exit (mountain side).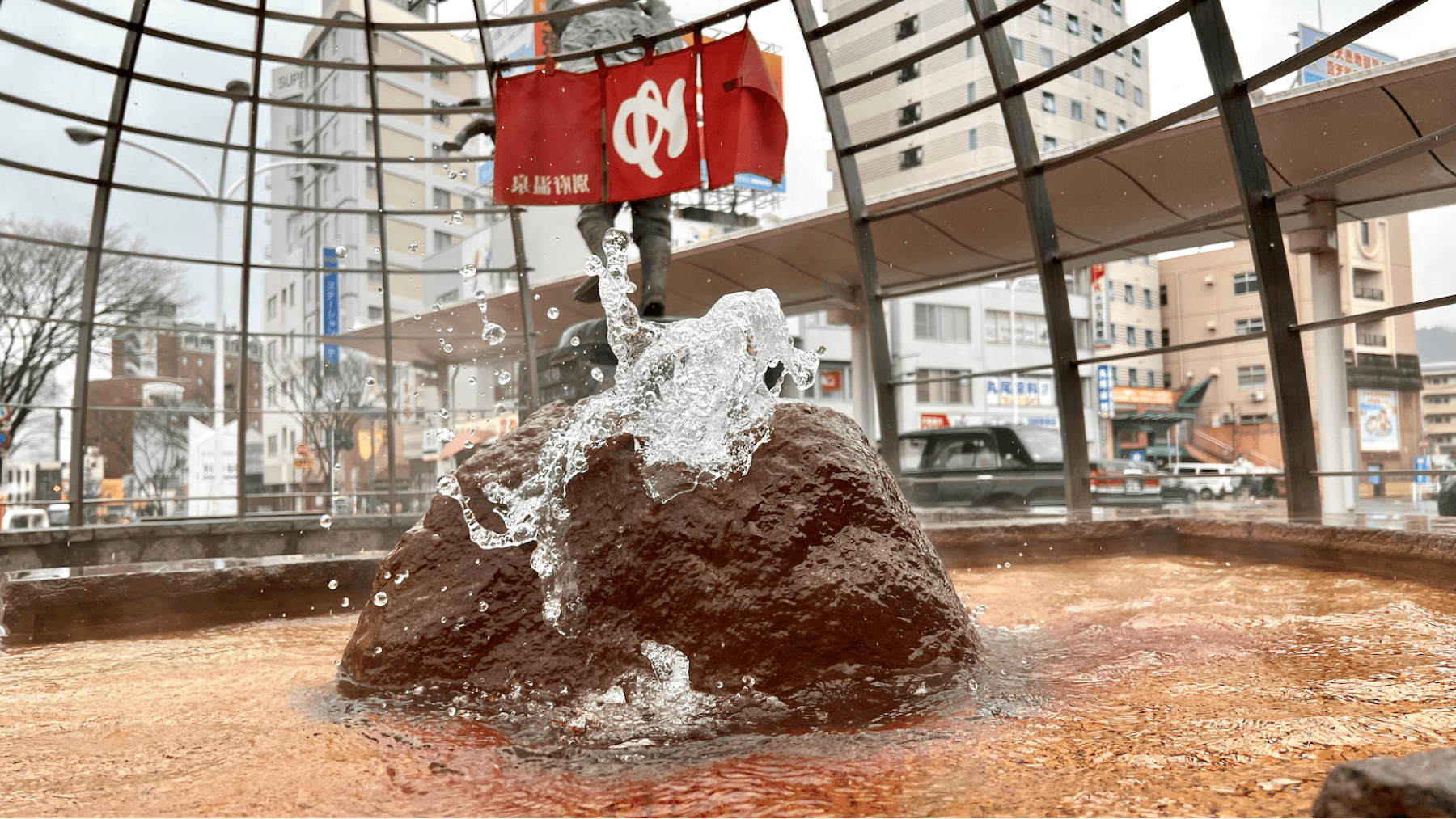 Do you think it's just hot water? It's not, it is the magic of natural hot springs. Roll up your sleeves, and soak your hands in the soothing water. In winter, the warmth of the hot spring water will gradually spread from your hands to your entire body. In summer, you will feel refreshed even though the water is hot. A few minutes after bathing is the best time to soak your hands in the hot spring water. There is magic waiting for you that will make you want to touch your hands repeatedly. The mineral components of the hot spring water, which you cannot feel in the water, makes your skin silky soft and smooth. How many travelers do you think have smiled in this hot spring?:)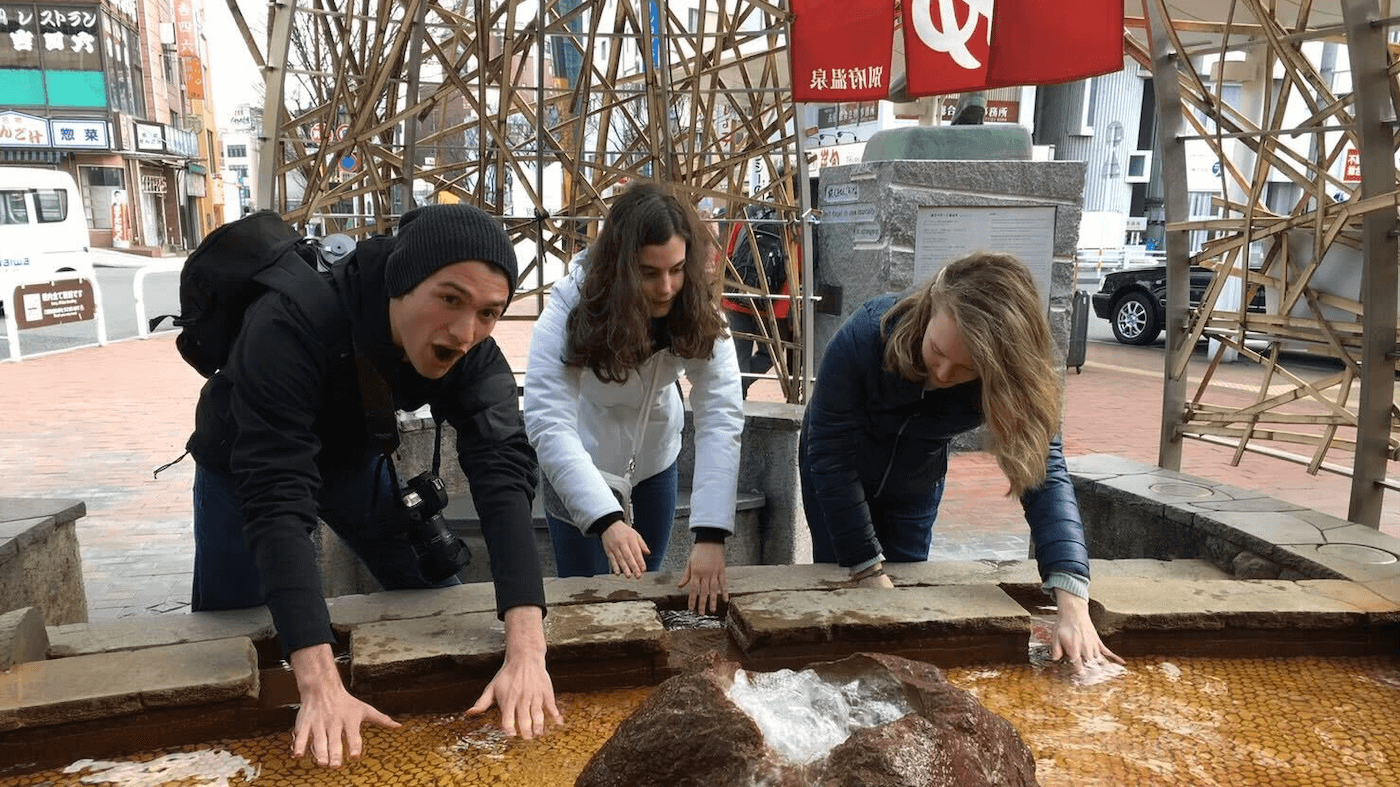 2. At Beppu Station Hotel – Green Hot Spring With Moss
This hand-bath is 80 steps in front of Beppu Station. Go straight down the main street in front of the station and you will find it at the entrance of Beppu Station Hotel on your right. The onsen is a dark green color with moss and almost black water.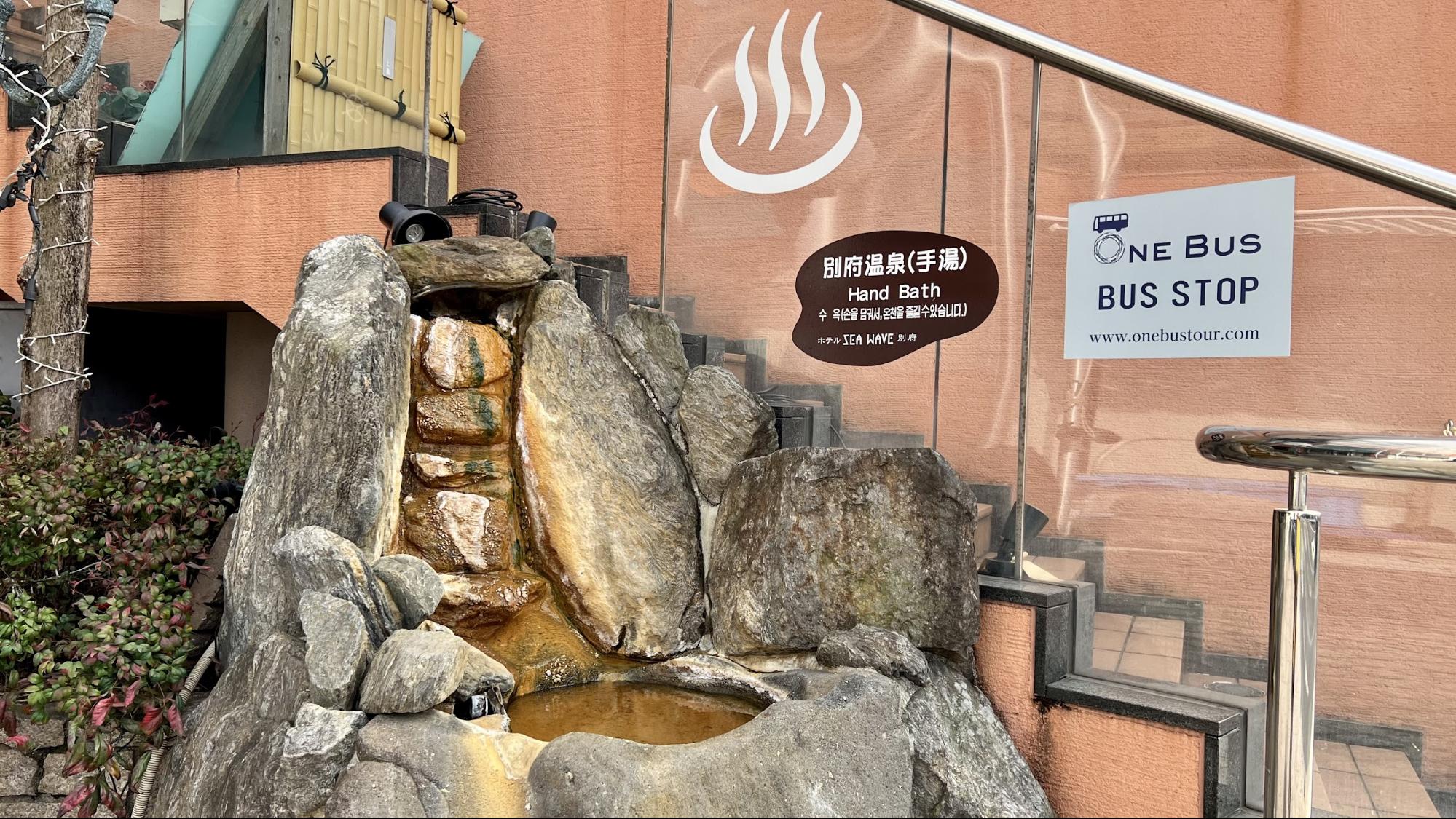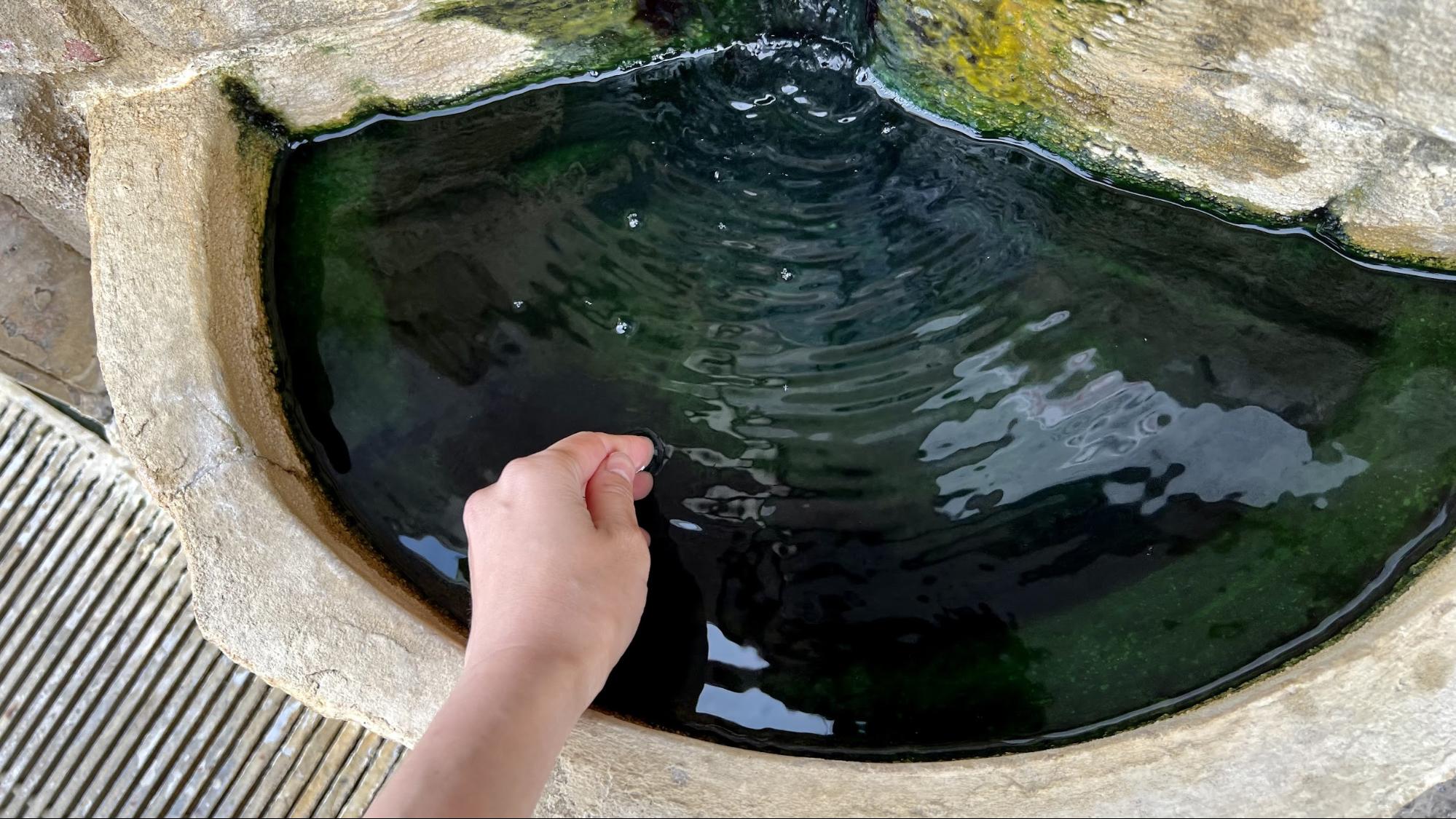 3. At Ekimae Koto Onsen – Hot? Or Lukewarm?
From Beppu Station Hotel, take another 80 steps down the street and you will see Ekimae Koto Onsen on your right. The entrance to this Ekimae Koto Onsen says in Japanese, "Atsuyu(あつ湯)" and "Nuruyu(ぬる湯)," so you have to choose which bathtub you want to soak in before entering. The hand bath is in the middle of the entrance.
Please check this article for more details.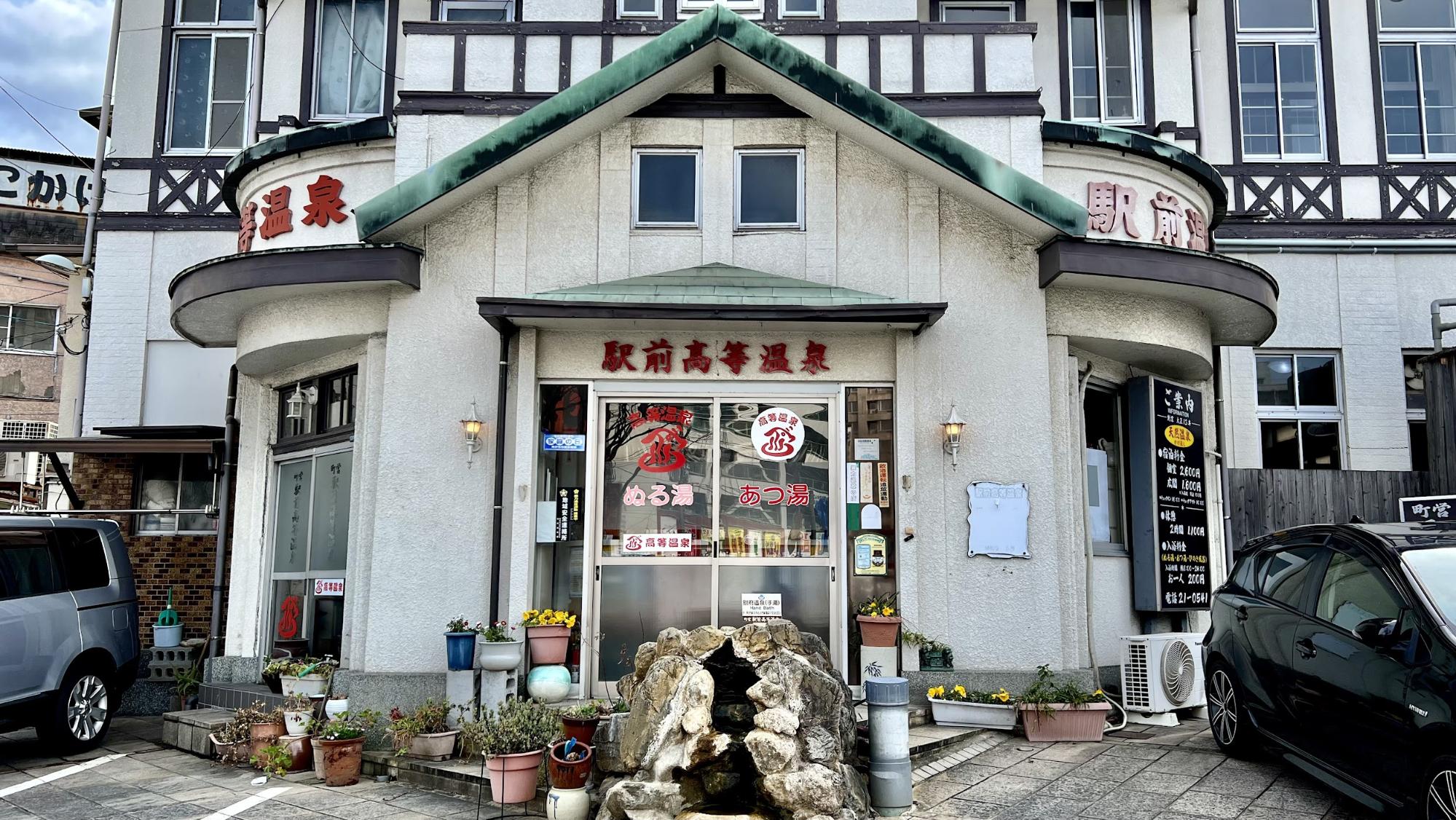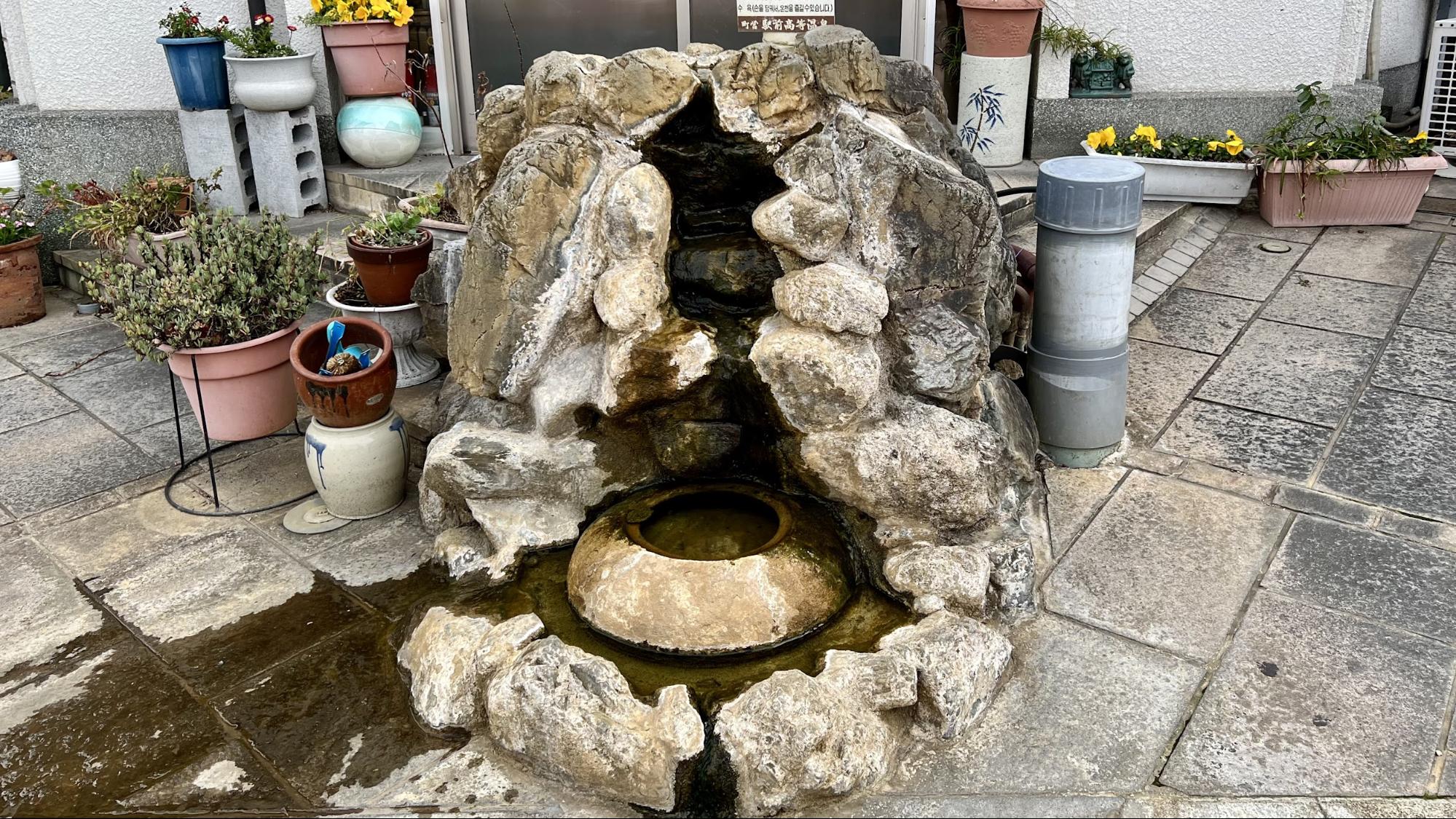 4. At Iyo Bank – Looks Like A Fountain But It's A Hot Spring
Another 50 steps from the Ekimae Koto Onsen, this Hand-bath is more of a fountain-style hot spring. It is located at the Iyo Bank. It is quite rare for a bank in Japan to have a hot spring. It flows from eight pipes in front of the bench at the corner of the intersection. The water temperature of this hot spring is about 30°C. To note, the definition of a hot spring is that the water temperature must be at least 25°C or contain a certain amount of hot spring minerals, and since the water temperature here is about 30°C, it is a legally hot spring. If you want to refresh your hands for a moment, this is definitely the place to go.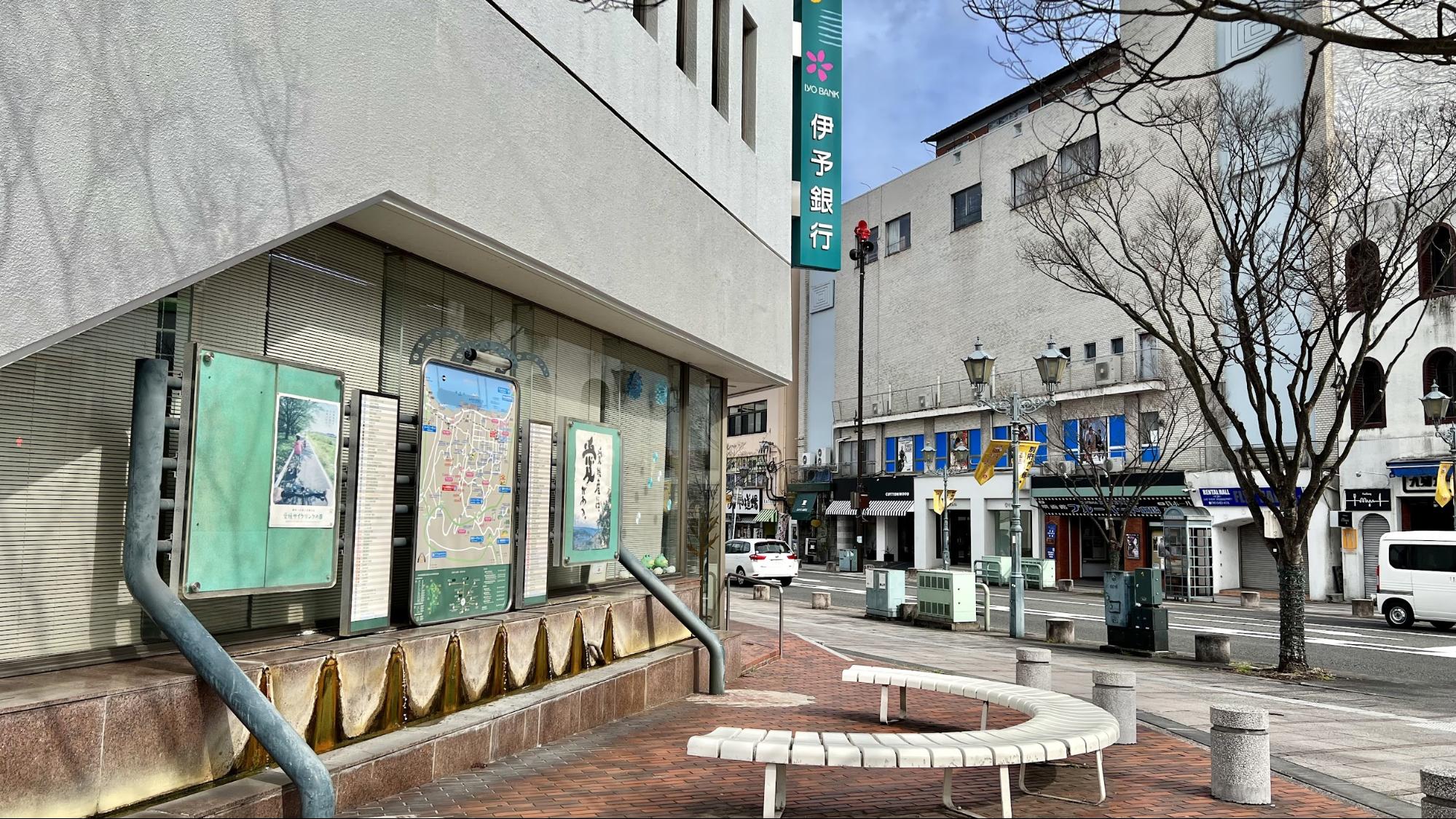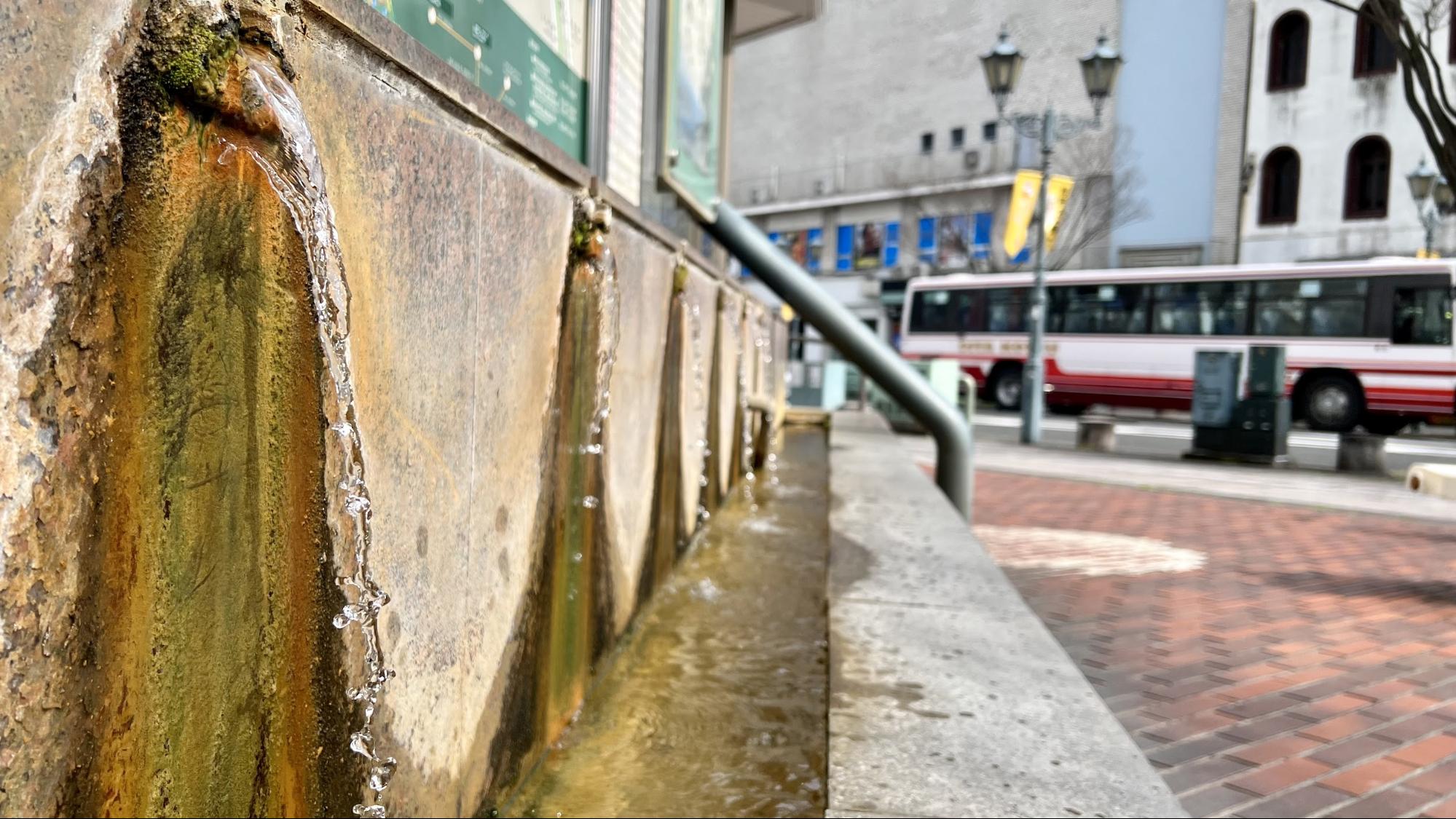 5. At Beppu Hotel Seawave – Hidden Hand Bath
Finally, back to the Beppu Station, this hand-bath is located near the entrance of the Beppu Hotel Seawave. It is a bit challenging to find this hand-bath, but it is worth the effort. The water temperature of hot springs will change depending on the weather. I visited by this hotel in March, and the temperature was lukewarm. When you spend time in Beppu, you can feel how the hand baths temperature changes during the day and week.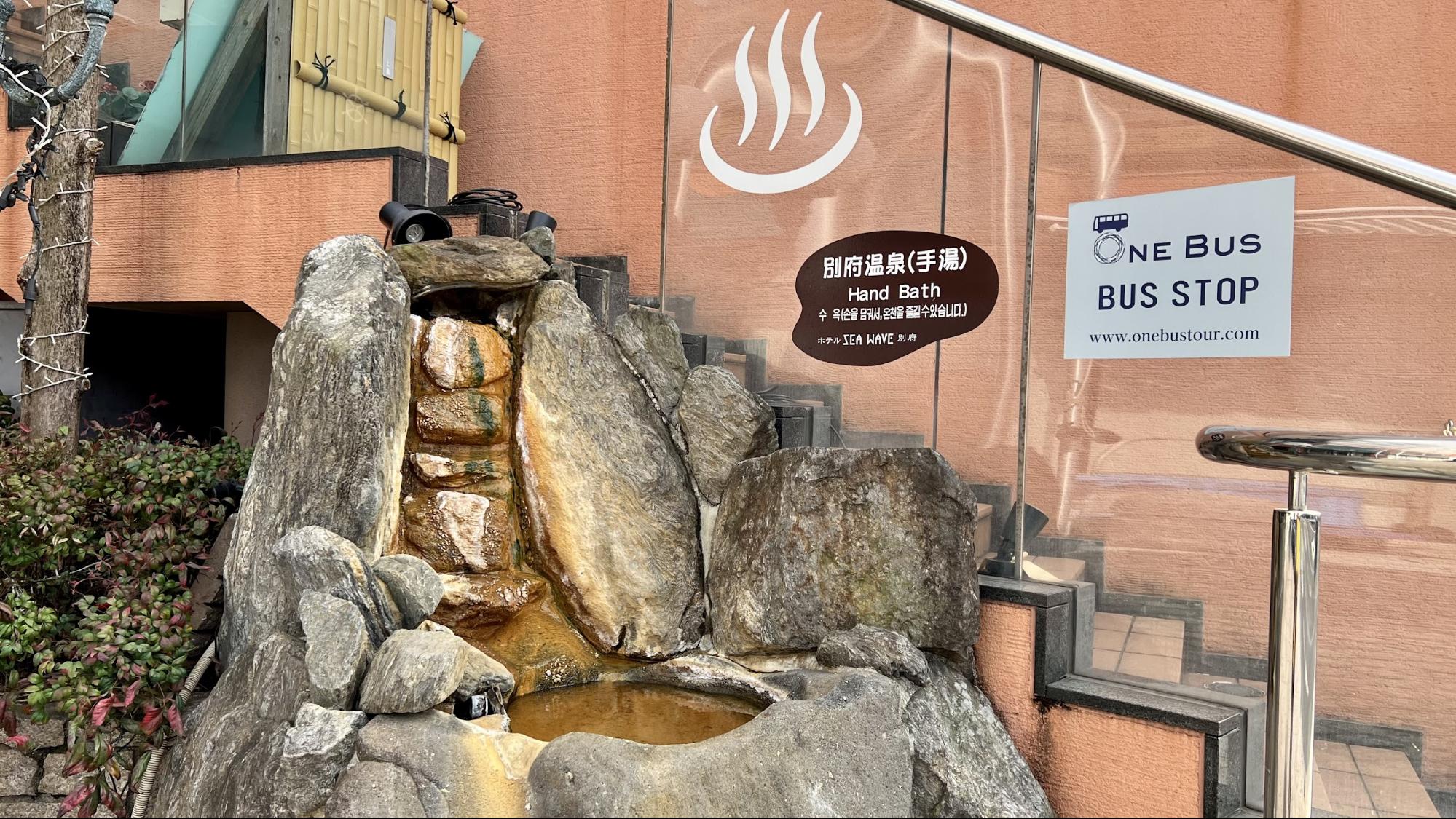 The Bronze Statue WithThe Ban-zai Pose
Finally, for those curious about the bronze statue raising his hands next to the hand bath in front of Beppu Station, he is Mr. Kumahachi who developed tourism in Beppu
. Please take your photo with him before you leave Beppu. You may be interested to read this article before you meet him.
Thank you for reading! Beppu city is ready for your visit and excited to show you all it has to offer.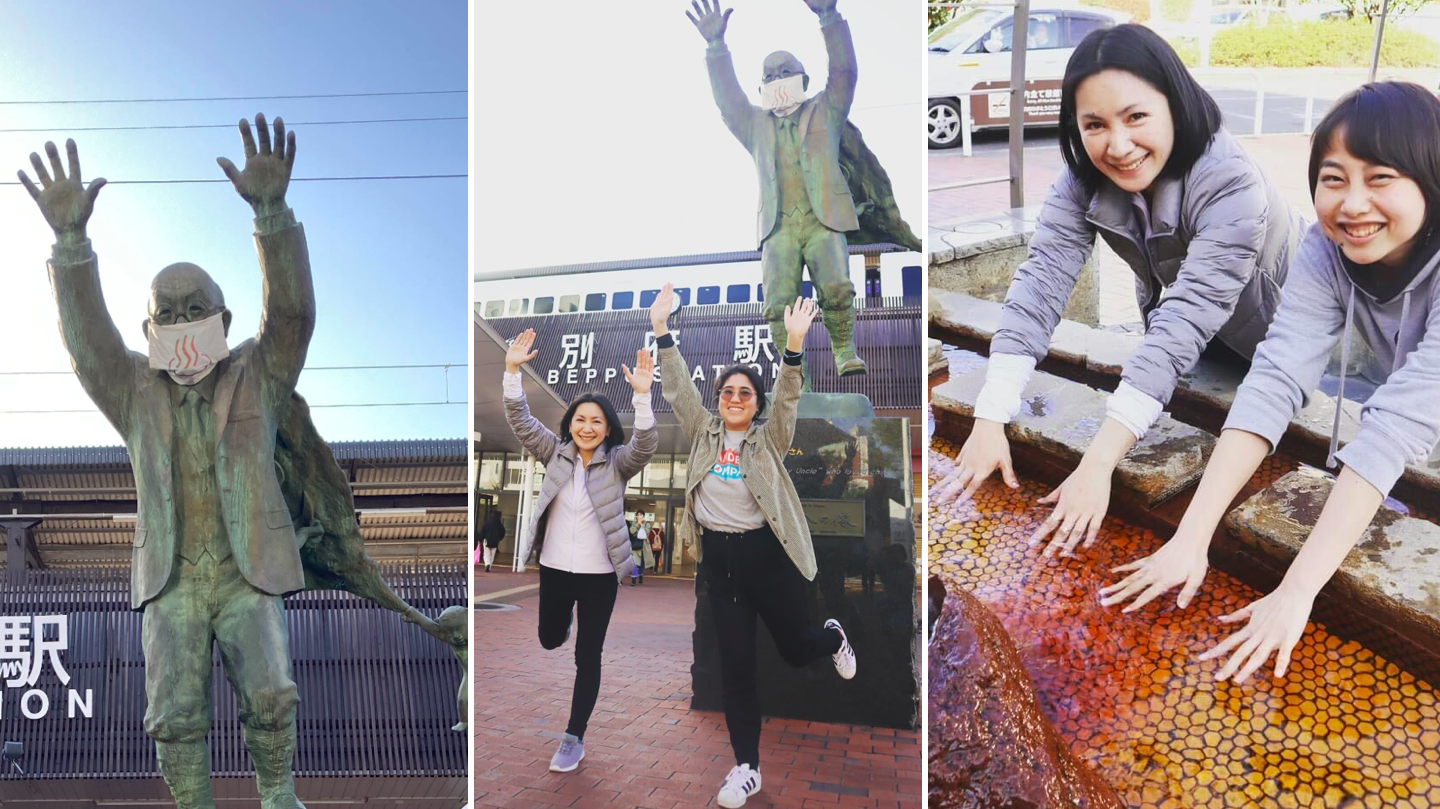 How to get to Beppu, where Hand bathes are located.
Recommended hot springs and other attractions can be found by clicking the buttons below, so please have a look!