*Please note that bathing in the onsen while wearing a bathing suit is not usually permitted.
Hotel Shiragiku is a marvelous hot spring accommodation with over half a century of experience in crafting the most memorable onsen stay for guests. Here, you can unwind and enjoy heartwarming hospitality, superb onsen boasting traditional Japanese architecture and elements from Japanese garden traditions, and refined cuisine that even earned the hotel's restaurant two Michelin stars.
Immerse in Refinement and Comfort Among Traditional Japanese Gardens and Splendid Gourmet Experiences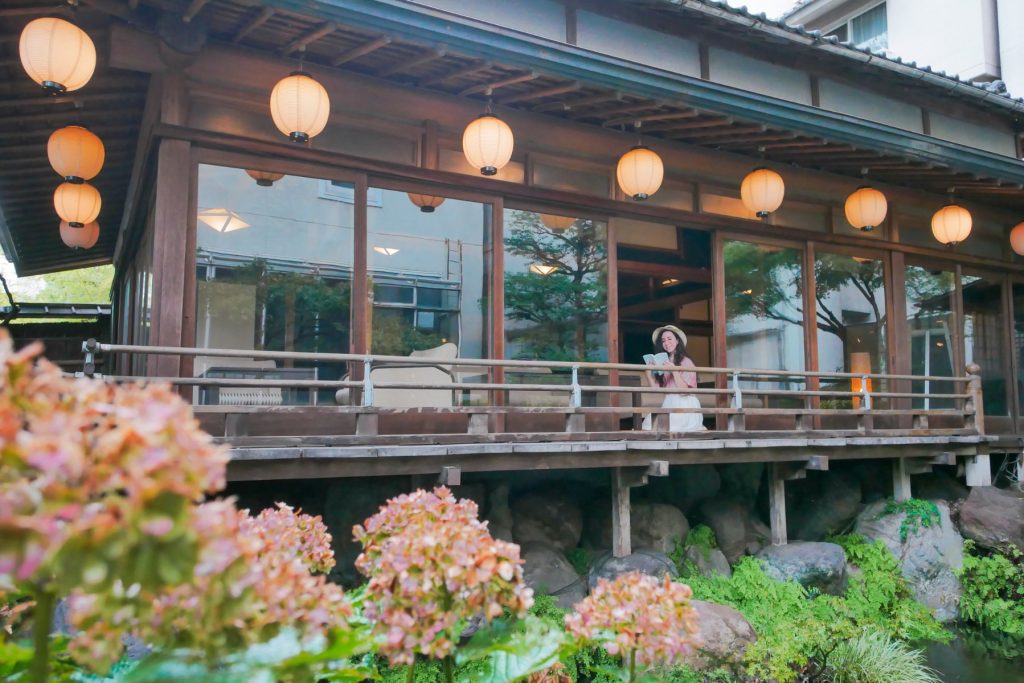 Kikunoma
When we arrived at Hotel Shiragiku, the staff were waiting in beautiful kimono by the entrance, welcoming guests with the gentlest of smiles: a hint for the blissful time we were about to spend there. Here, the finest level of hospitality has been cultivated for over half a century, becoming the pride of Hotel Shiragiku since its establishment in 1950.
Although being located within walking distance from Beppu Station, Hotel Shiragiku proved to be a space where we could get away from the hustle and bustle of everyday life and enjoy refinement and comfort. While slowly unwinding, we got to experience the extraordinary attentiveness poured into each and every detail.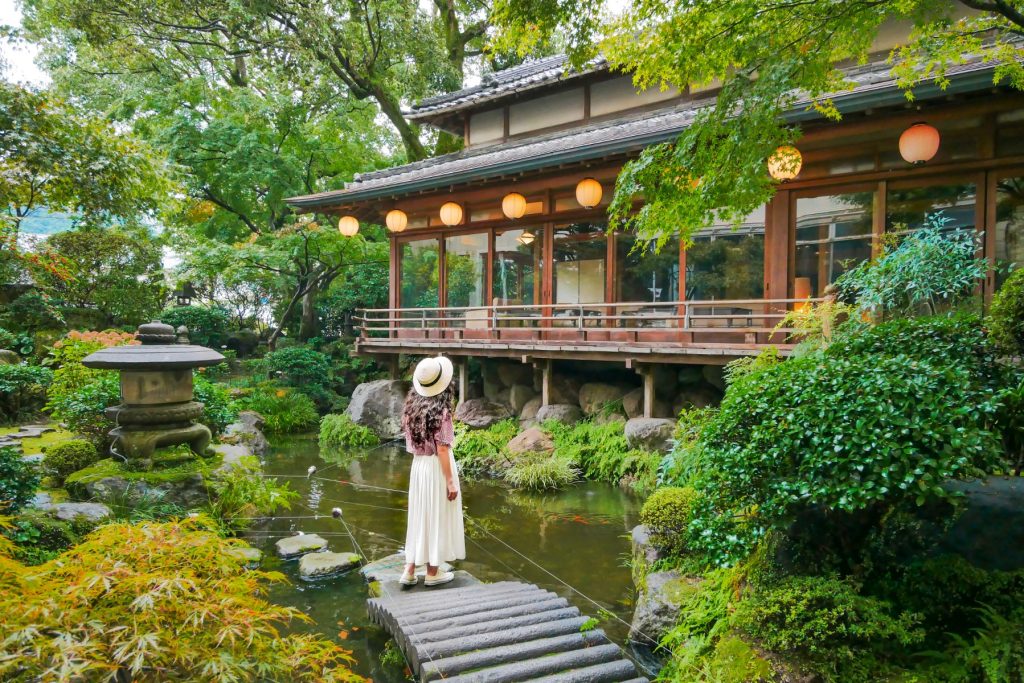 Behind the elegant entrance hall spreads Hotel Shiragiku's magnificent traditional Japanese garden, which has delighted guests since the hotel's foundation with its atmosphere reminiscent of old Japan. Guests are welcome to stroll around and enjoy the beauty of nature throughout the seasons as the garden is refreshingly green in summer, enriched by fiery hues in autumn, and tinged with the delicate colors of flowers changing depending on the period of the year.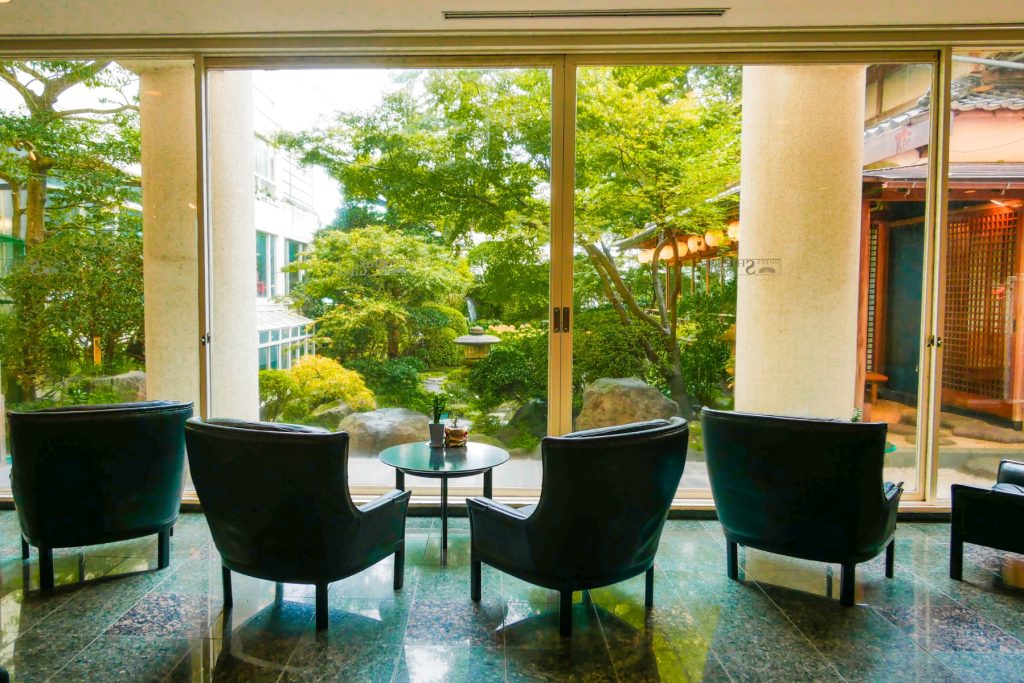 Yu Agari Dokoro Tsuru Lounge
On one side of the garden is one of the hotel's lounges, Yu Agari Dokoro Tsuru, where guests can leisurely spend time contemplating the healing view of 100-year-old camphor trees swaying in the wind and "koi" carps beautifully swimming in the pond while refreshing themselves with a selection of drinks available for free 24 hours a day.
Guests can also gaze at the garden from Kikunoma, a splendidly preserved Japanese wooden building from the hotel's early years that is also used as a lounge and can be freely accessed by anyone staying at Hotel Shiragiku.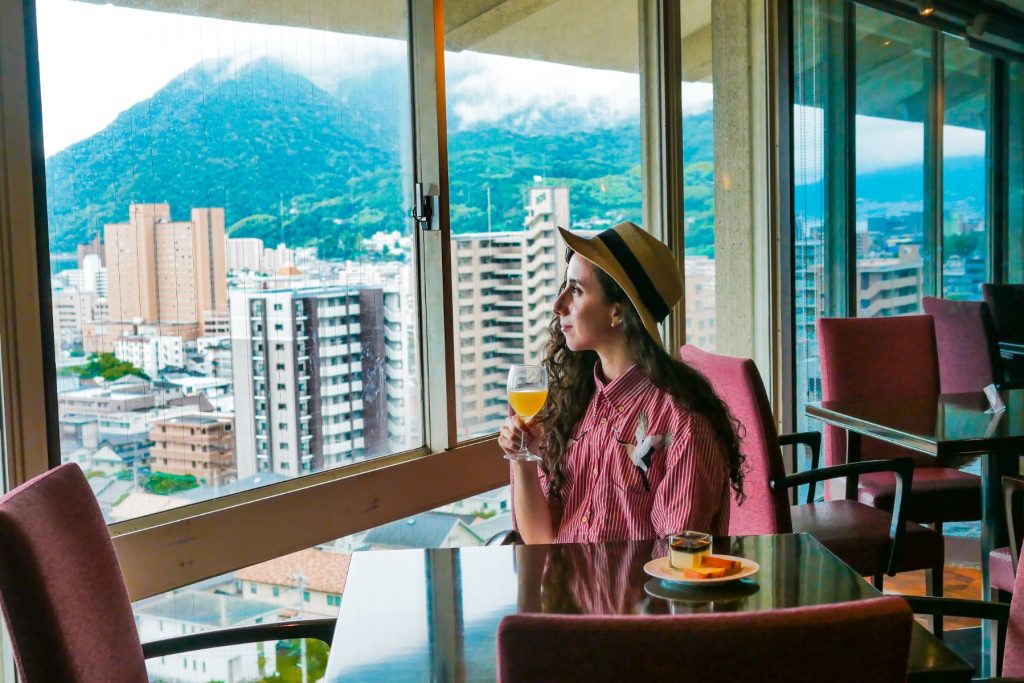 Sky Dining & Lounge Garland 12
On the top floor, Hotel Shiragiku also provides welcome afternoon tea and beverages at Sky Dining & Lounge Garland 12. After checking in, guests can relish panoramic views of Beppu City while savoring handmade sweets specially prepared by the hotel's patissier plus a variety of snacks and both non-alcoholic and alcoholic drinks, including local sake.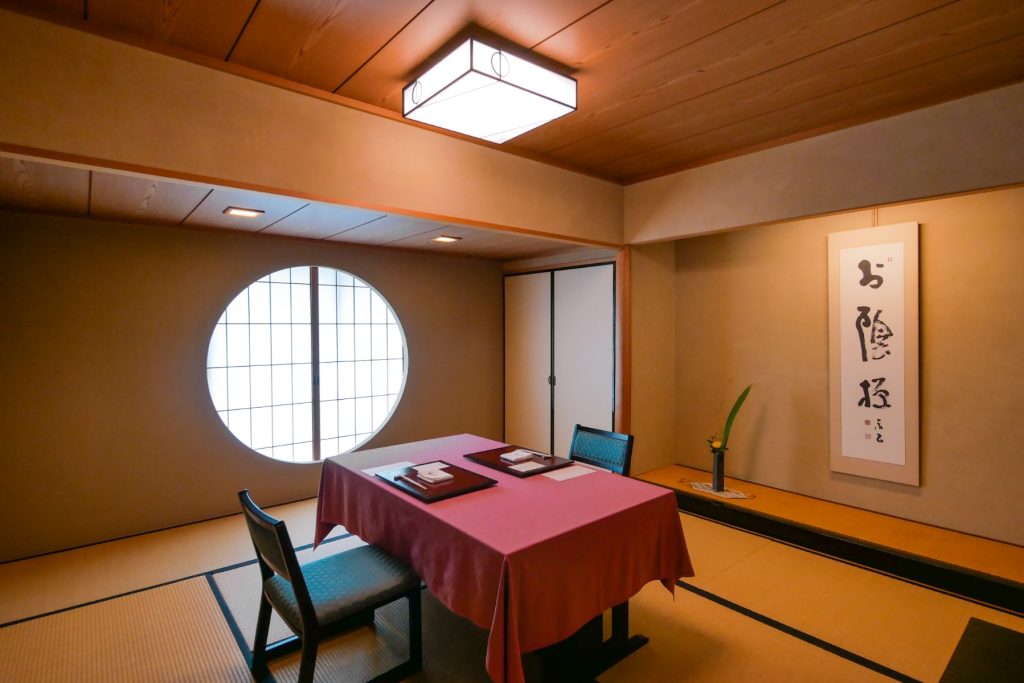 Kikusaiko
Hotel Shiragiku's gourmet experience extends to all dining styles available. Guests staying at the premium floor have access to the hotel's Michelin-starred restaurant, Kikusaiko. Boasting carefully selected ingredients from Oita Prefecture and Kyushu, its freshly handmade dishes capture the genuine flavors of each season and are complemented by sake and wine especially chosen by a sommelier and the tranquility of luxurious private rooms.
For those who prefer their own space, Hotel Shiragiku's in-room "kaiseki" multi-course is a great option as you can relish a creative seasonal banquet enriched with local ingredients such as fresh seafood and Japanese beef. The highlight of these gourmet meals is the hotel's signature dish: "shabu shabu" hot pot with the local prized Bungo beef characterized by its fine marbling and melt-in-your-mouth texture.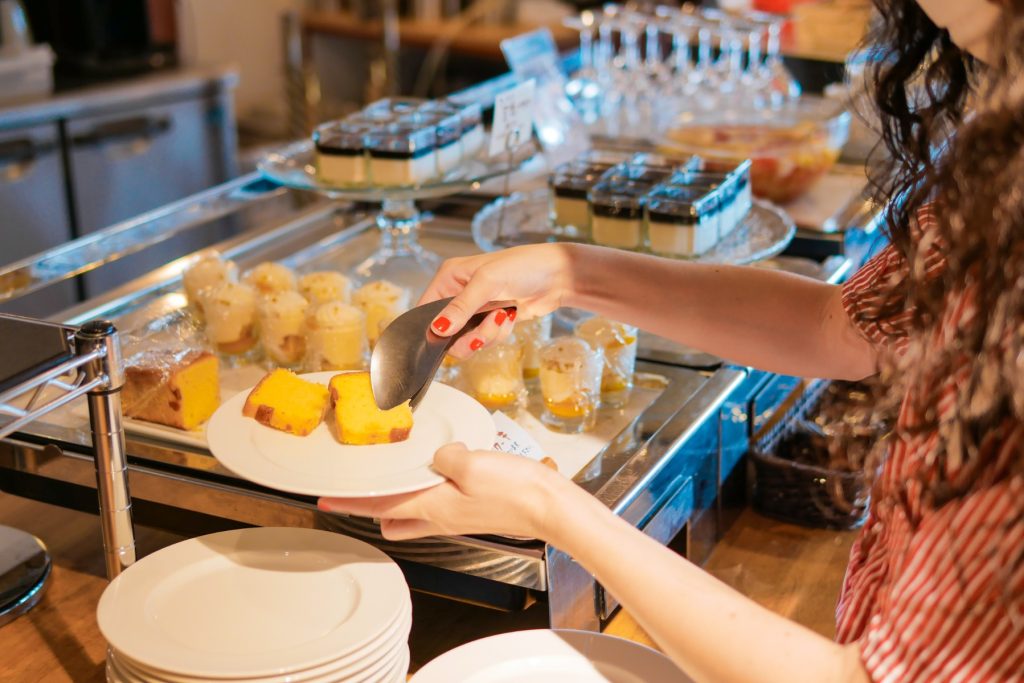 Hotel Shiragiku's welcome afternoon tea at Sky Dining & Lounge Garland 12
If you can't get enough of Beppu Bay's spectacular panorama, you can also opt for Sky Dining & Lounge Garland 12's modern Japanese kaiseki dining course. Incorporating elements of French and Italian cuisine, this course splendidly blends Japanese and Western dishes and allows guests to dine while overlooking the city and its sparkling skyline at night.
Particularly prized is also Hotel Shiragiku's breakfast buffet with 80 types of different Western and Japanese dishes, including some cooked on the spot in the open kitchen and a generous original sweets buffet. Breakfast is also accompanied by the beautiful view of Beppu Bay.
Unwind in Hot Springs That Boast Traditional Architecture and Elements From Japanese Gardens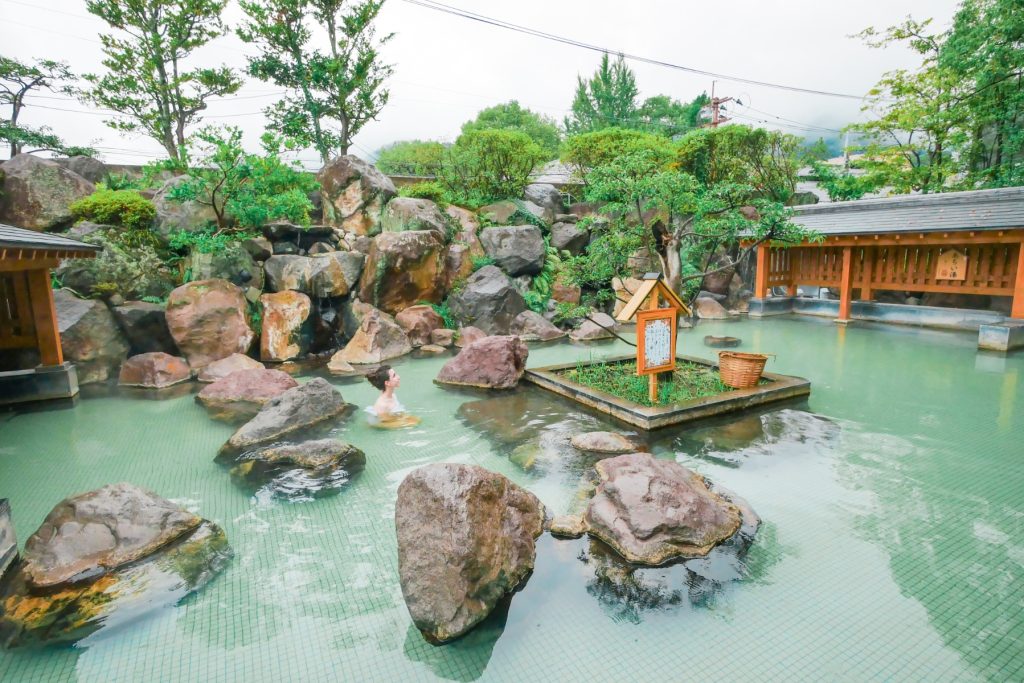 Kusuyudono
Shiragiku boasts a "bijin no yu," a type of hot spring water that has a moisturizing effect on the skin and that is used in the hotel's two onsen, Kusuyudono and Kikuyudono, both characterized by splendid architecture and sophisticated details.
In Kusuyudono, we got to immerse ourselves in one of the most spacious open-air hot springs we'd ever been to, unwinding amidst the splendor of a semi-submerged Japanese rock garden. Inside, we admired Beppu's largest piece of cypress latticework embellishing the indoor bath and arranged in the traditional style of a "gassho-zukuri" steep roof. The delicate fragrance of cypress diffused in the air added even more relaxation to our already fabulous onsen experience.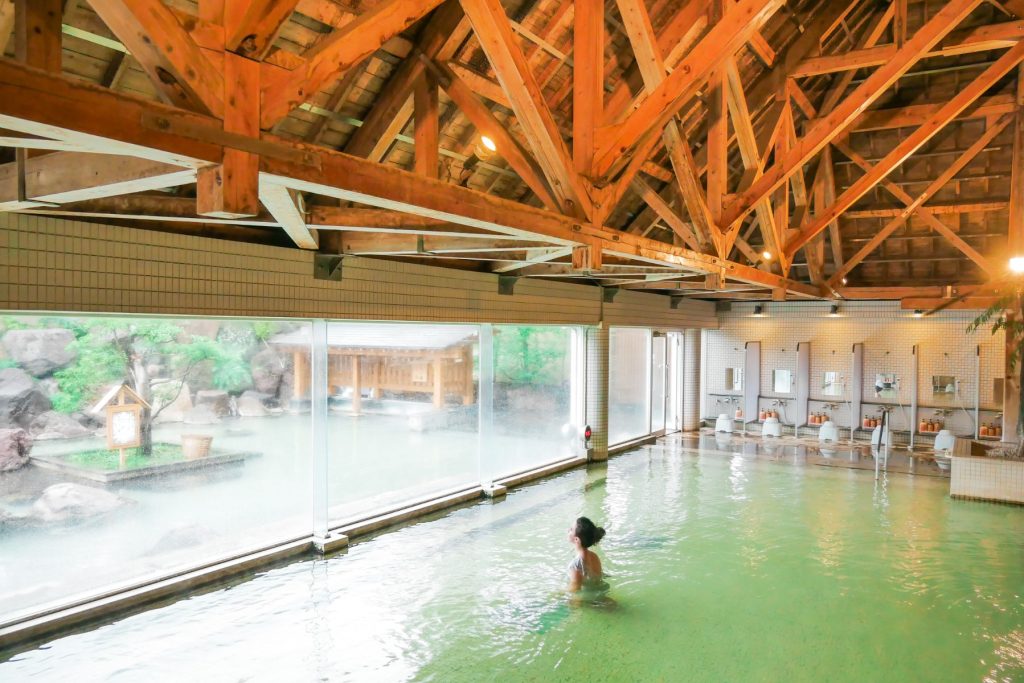 Kusuyudono
When soaking in Hotel Shiragiku's other magnificent hot spring "Kikuyudono," in addition to an open-air onsen situated in a smaller traditional garden adorned by a stone lantern, guests can enjoy a unique bubble and mist bath in the indoor onsen "Blue Cave."
Body soap, shampoo, and conditioner are all provided for free and we really appreciated that we could pick our favorites among a vast selection of renowned Japanese body care products on display by the entrance.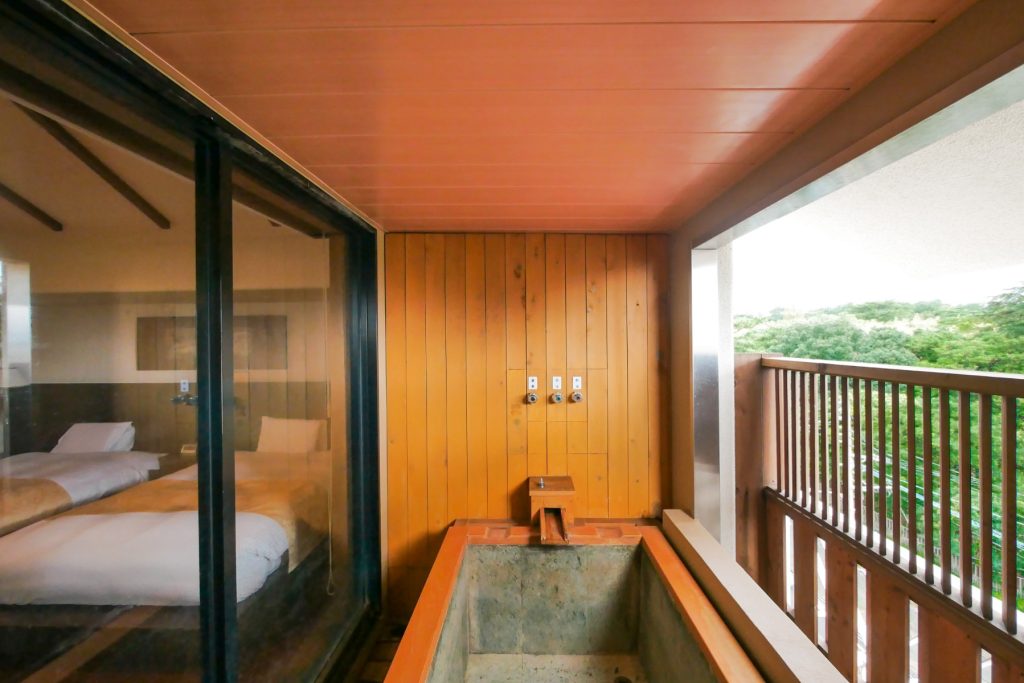 Kikumanyou – Japanese-Western room with semi-open-air onsen
For those wanting to enjoy Beppu's luxurious hot springs all day long without having to worry about other guests, Hotel Shiragiku also offers the "Kikumanyou" Spa Suite Rooms. Accessorized with their own private indoor or semi-open-air onsen, these elegant and spacious rooms gracefully blend Japanese and Western elements.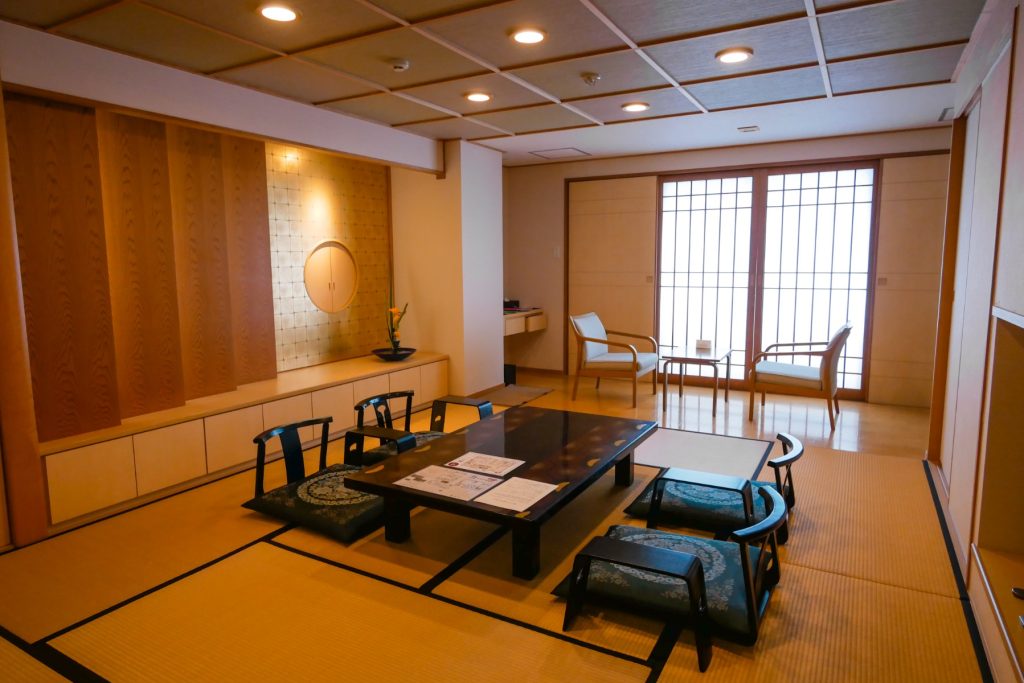 Kikumanyou – Japanese-Western room with private semi-open-air onsen
Sporting living rooms with "tatami" flooring and classic Japanese furniture and decor as well as comfortable Western-style bedrooms, these rooms offer the best of both worlds. We particularly appreciated spending time relishing the traditional ambience, surrounded by the pleasant scent of tatami.
Beppu's Fine Hospitality and Onsen Await at Hotel Shiragiku
With over half a century of service, Hotel Shiragiku is renowned for its refined hospitality, historic Japanese garden, and marvelous onsen rarely found elsewhere in Japan. Spend your onsen retreat amidst refinement and comfort by visiting Hotel Shiragiku while you are in Beppu.
Information
Name
Hotel Shiragiku
Bathing hours
3:00 pm – 1:00 am, 5:00 am – 10:00 am
Price
15,400 – 42,900 yen (depending on the room and plan)
Website (Japanese)
https://www.shiragiku.co.jp/
Website (English)
https://www.shiragiku.co.jp/en/
tsunagu japan