Kaimonji Onsen is a friendly hot spring located next to a small park. From Beppu Station, the center of Japan's famous onsen (hot spring) city, it takes 5 minutes on foot. Kaimonji Onsen is a local hot spring and it is the best place to start your hot spring experience. The Jizo (guardian god) called "Kaimonji Onsen Yukake Jizo" is standing at the entrance. He was made of stone (said to be Beppu Stone) which flew when a nearby mountain erupted long ago. To thank him, the guardian god, and wish for our health before entering a hot spring is a Japanese custom.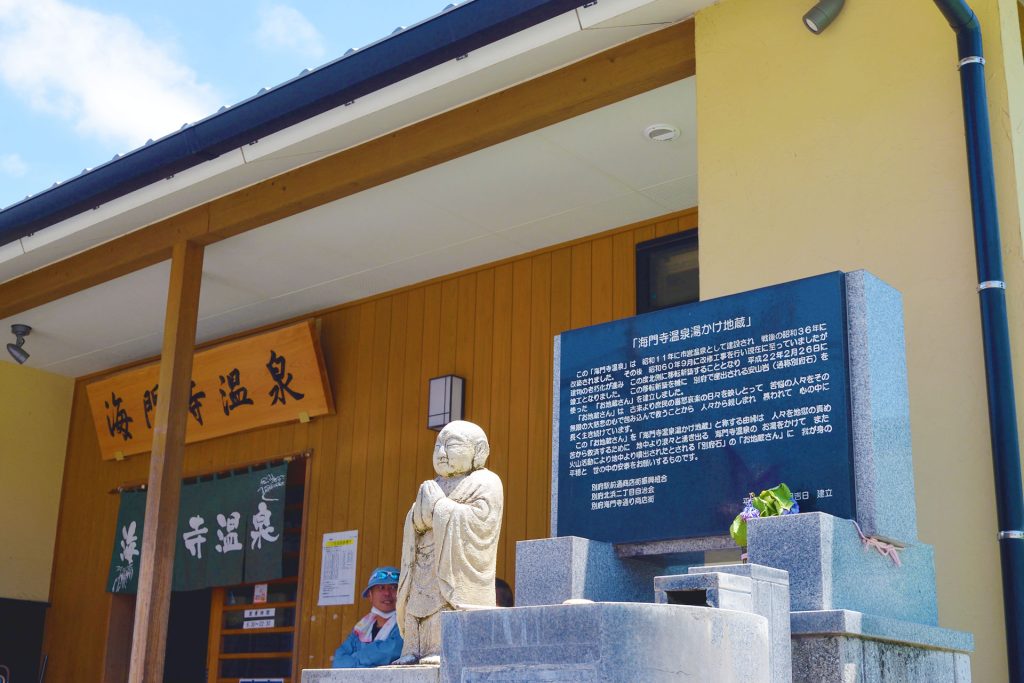 Kaimonji Onsen Is Traveler Friendly!
Kaiomonji Onsen was refurbished in 2010. It is a local hot spring used by many people as a daily bath, but travelers are also welcome to enter. The fee is 100 yen per person.
Usually, the local hot spring has only a hot spring bathtub and there is no shower, but Kaimonji Onsen has shower too. When going to a local hot spring, bring a towel and amenities (soap, shampoo, rinse etc.) in a basket called an "Onsen set." However, do not worry if you do not have it at Kaiomonji Onsen, because you can buy it if you did not bring it. This kindness means travelers can easily drop by. That's why we would like to introduce this onsen as a friendly onsen.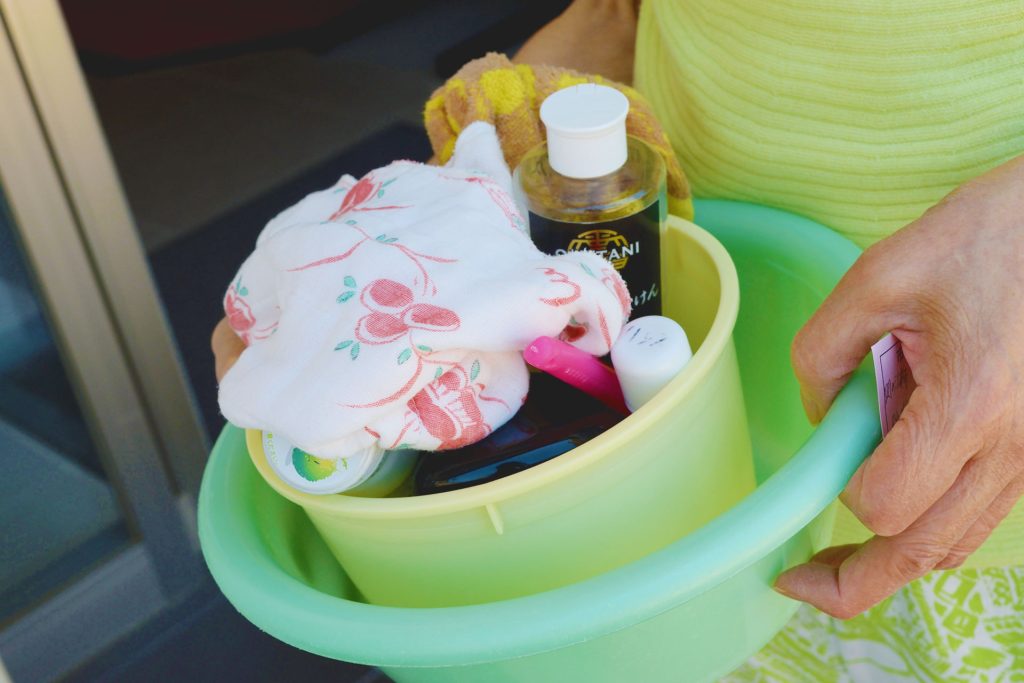 Friendly Atmosphere
Local people often socialize with neighbors after leaving the onsen sitting on either the inside bench or the outside bench. Cats sometimes join in the circle together. Of course, cats cannot enter hot springs, but maybe they are gathering in the warmth of the people at Kaiomonji Onsen?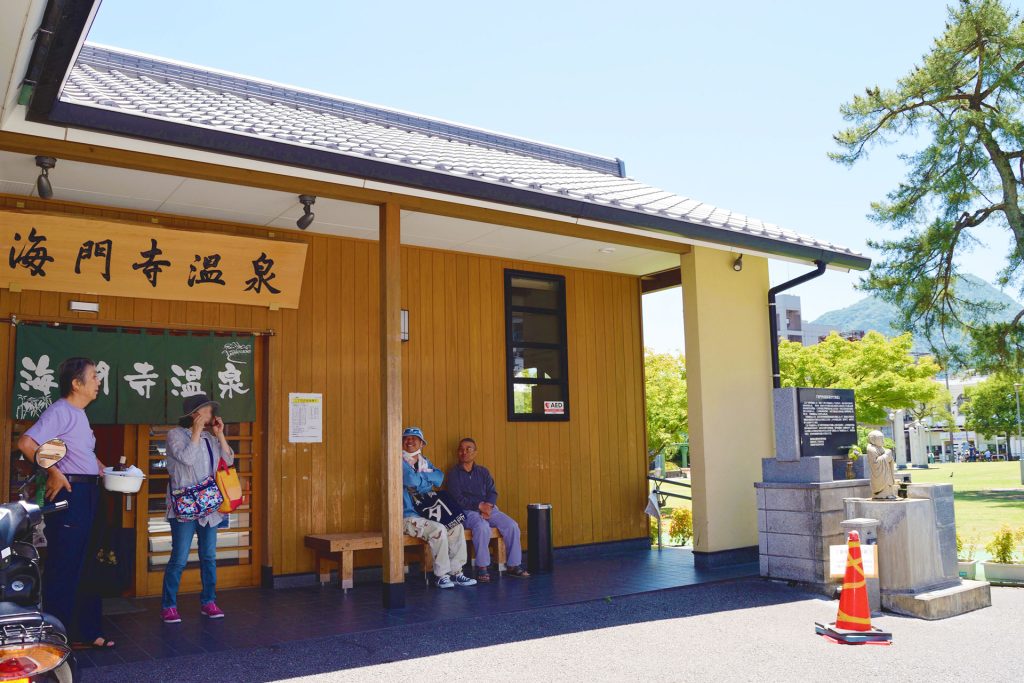 Kaimonji Has Variety!
Many people visit Kaimonji Onsen every day, including locals and travelers. There is both a high temperature and low temperature bathtub in Kaimonji Onsen, so you can choose the one which suits you.
Some locals enter twice, in the morning and the evening, every day. They often say that it will not feel like entering a hot spring if the hot spring temperature is not high enough. For onsen beginners, it is fun to try the high temperatures, but please do not force yourself. Also, if you are in onsen, why don't you ask the locals "Aren't you hot? (Atsuku nai desu ka?)"? The conversation will naturally start.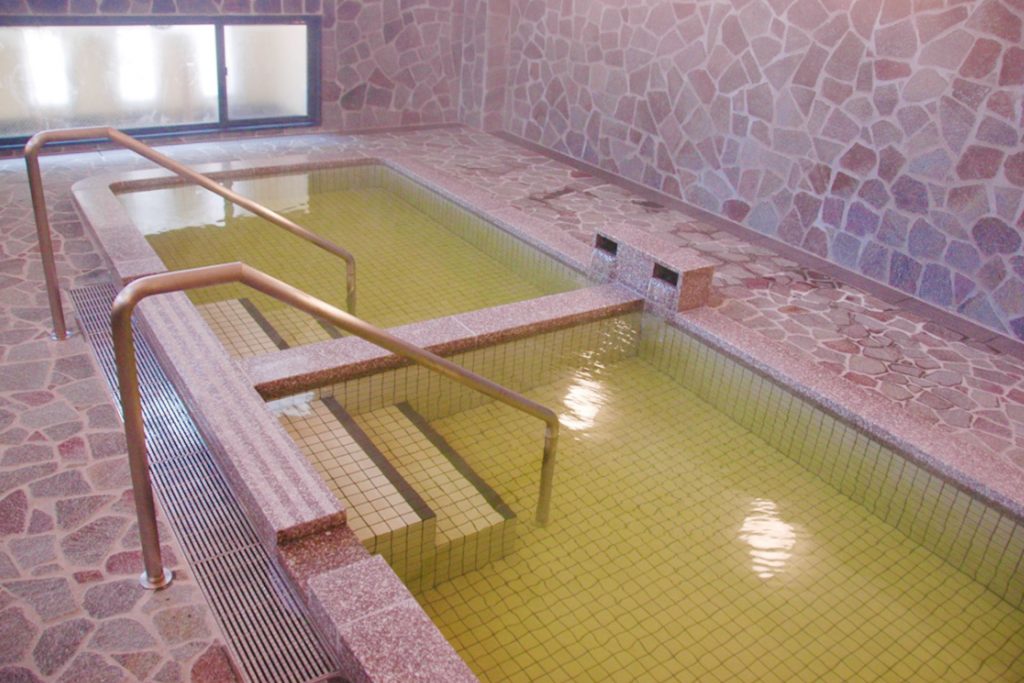 Basic Info
OPEN:6:30〜22:30
FEE:250 YEN
TATTOO:ALLOWED
How to get to Beppu, where Mugennosato Shunkashuutou is located
Recommended hot springs and other attractions can be found by clicking the buttons below, so please have a look!
EnjoyOnsen