You may have heard about "Beppu Jigoku Meguri (Jigoku Hell Tour)," especially those who are planning a trip to Kyushu or looking for something to do in the area. In this article, I will introduce the hot spring in Kamado Jigoku which is one of the Hells.
Actually, this hot spring is the chairman's private hot spring. Out of hospitality, he opens his own hot spring to the Kamado Jigoku visitors. He would like them to enjoy the most. Let's graciously enjoy a bath!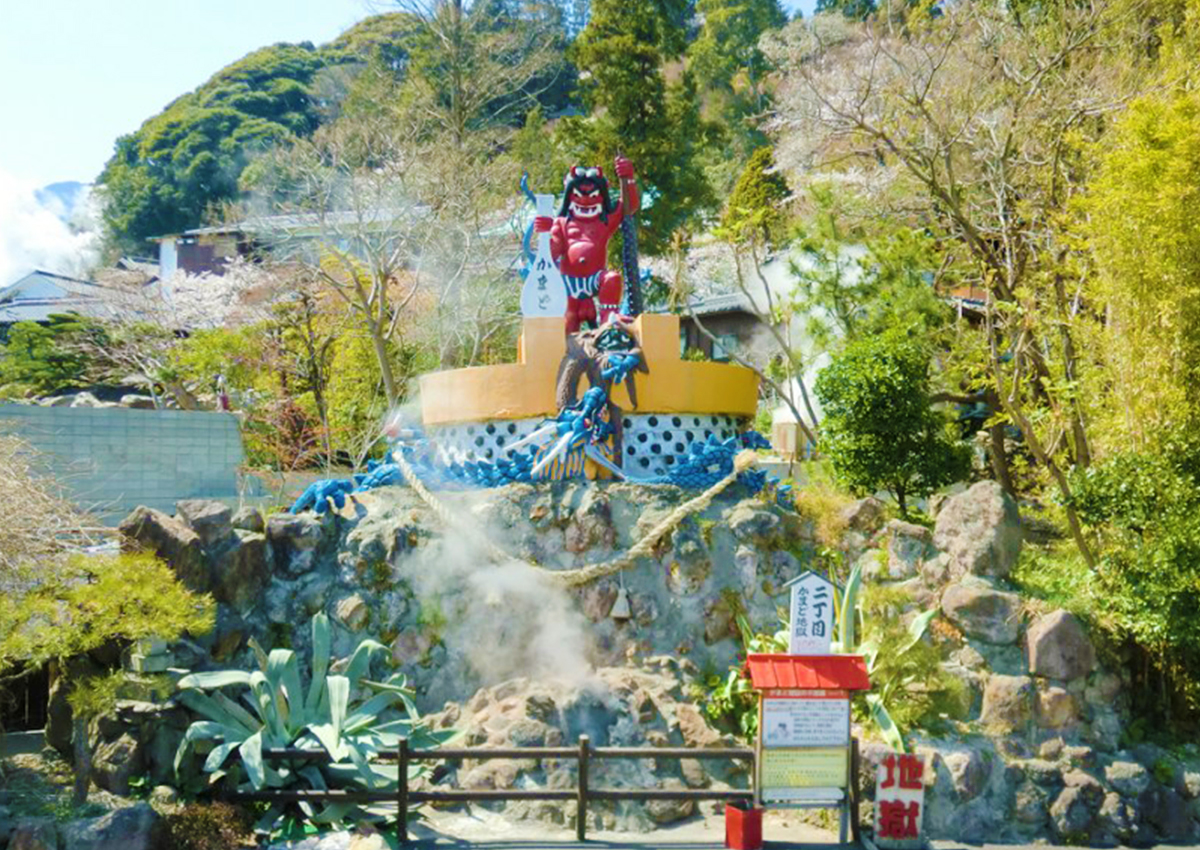 Light Blue Rock Bath
Have you ever seen this hot spring? The water that's immediately put into the bath from the spring's source is colorless and transparent. However, the effect of sunlight and air temperature combined with the passage of time changes it into a nice, thin blue. Then, after that blue color deepens, it becomes milky white. It's a really incredible hot spring.

Among hot spring enthusiasts, it's often said that the hot springs are living things. That's because the ingredients within the spring changes depending on the time and day. Out of the many, the natural, light blue hot spring is beautiful to look at as is. Therefore, you can enjoy the spring with both your eyes and entire body.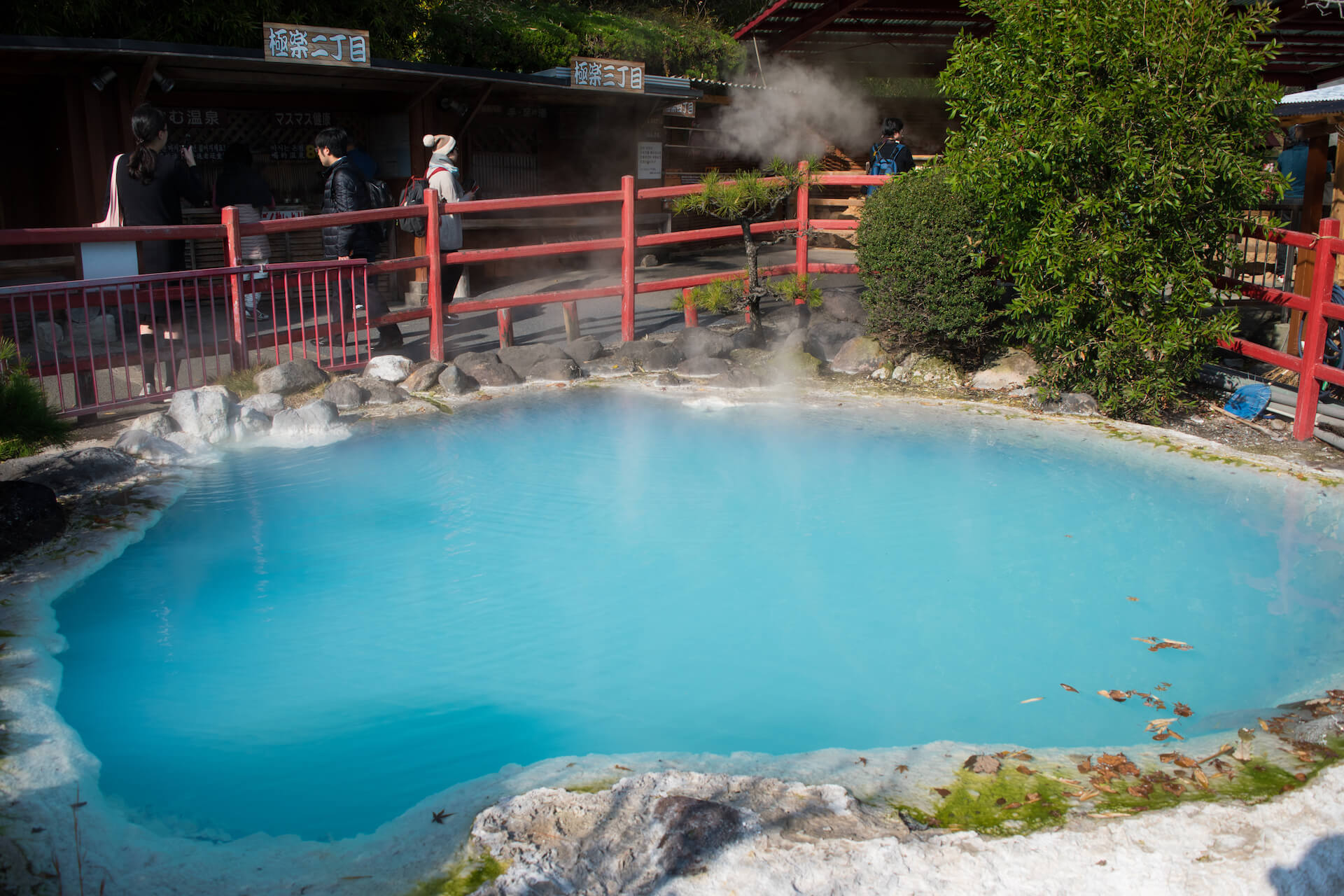 Isolated Hot Spring
If you don't know about this in advance, you'd definitely pass on by. It exists in a place you'd definitely overlook. Within the Kamado-Jigoku area, this is a known hot spring for those who know of its secrecy. If you happen to visit Kamado-Jigoku, definitely drop by!
How to get from Kamado-Jigoku from the main gate (east exit)
There are two entrances in Kamado-Jigoku: the south and east exit. Go to the east exit, where the main gate is.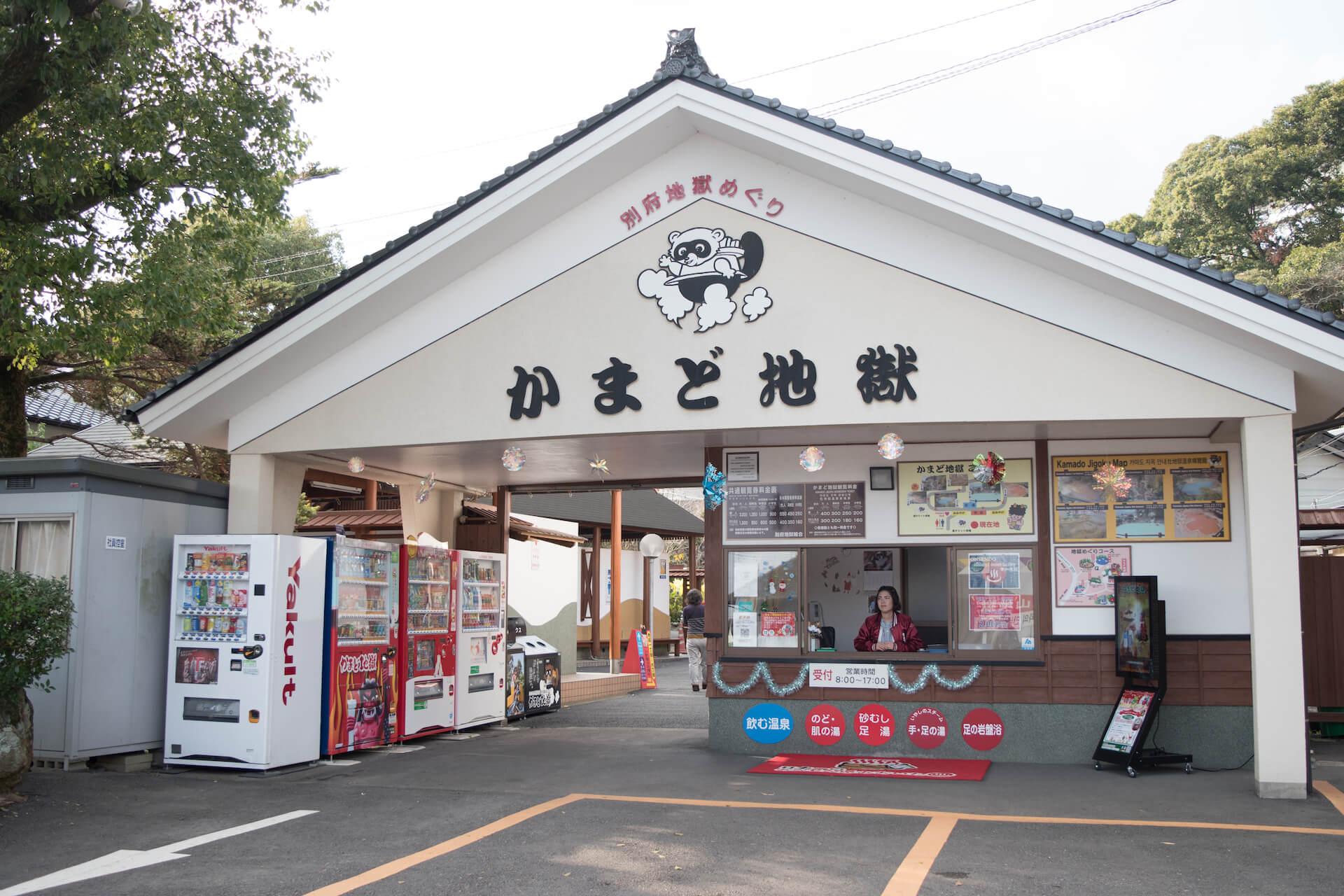 Let them know you want to take a bath in the "Kamado-Jigoku 3-chome hot spring." In Japanese you'd say, "Private Onsen, Kamado no Yu ni hairitai desu" (I want to go into a private hot spring, Kamado-yu).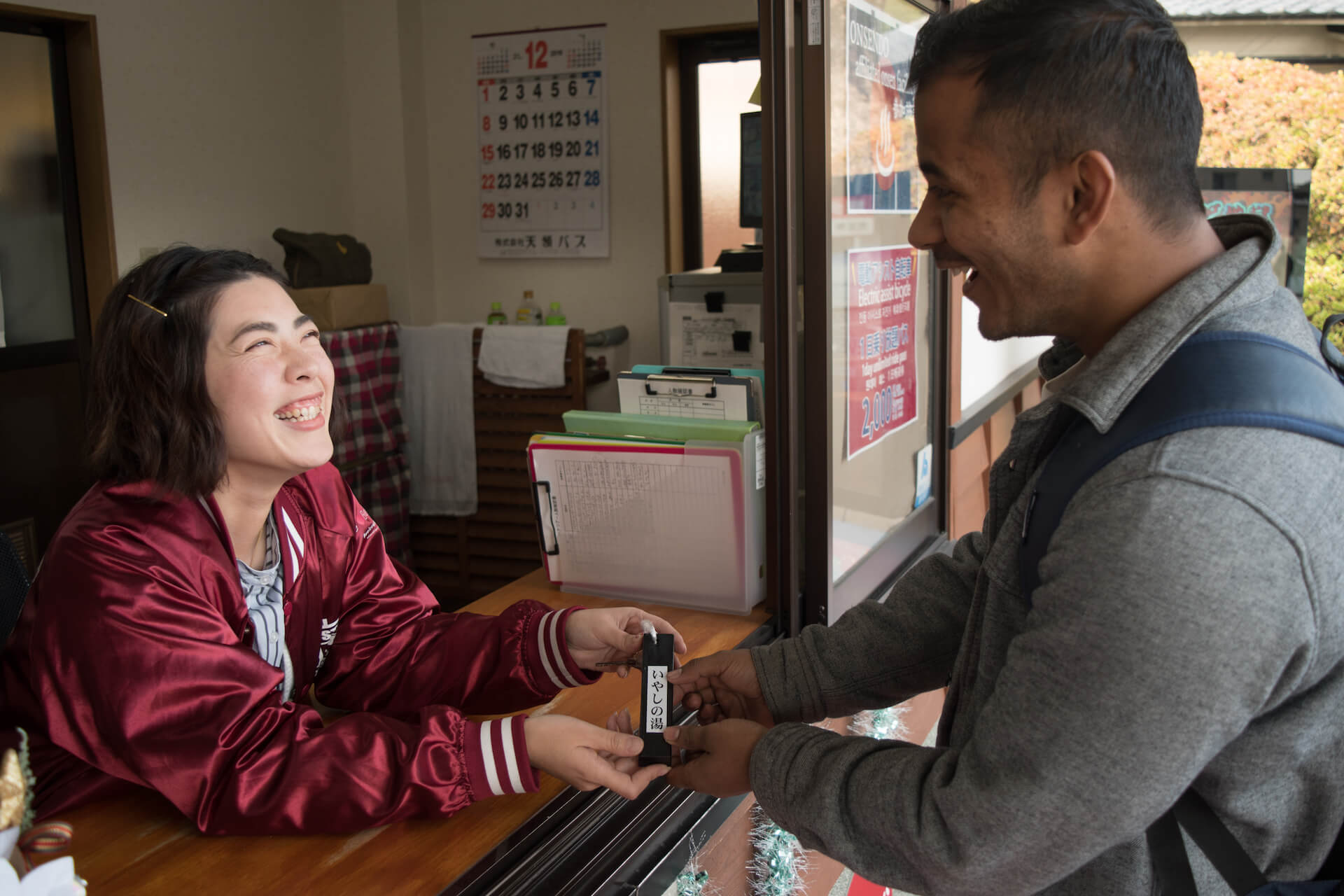 They'll then inform you of the place and give you a key.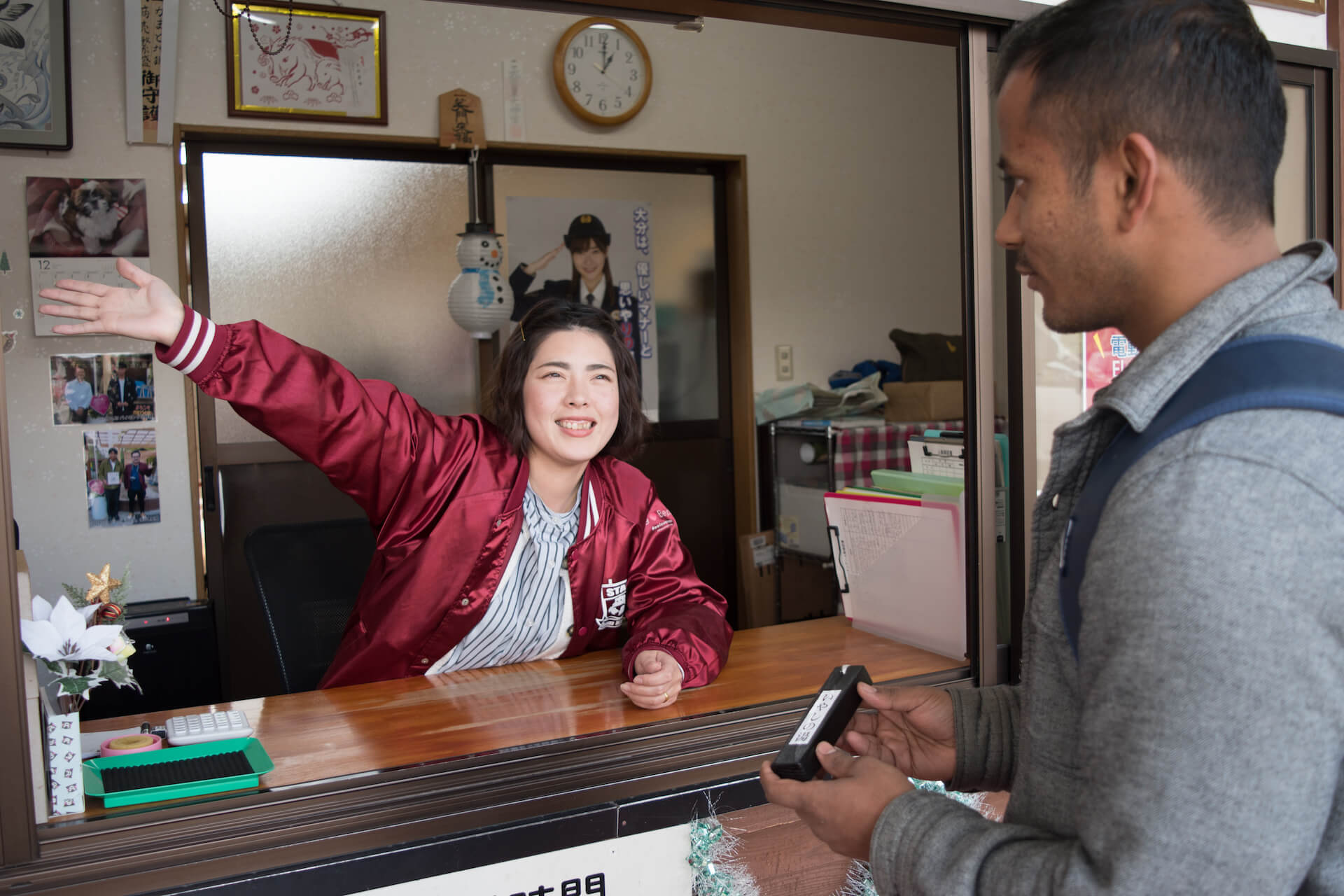 When you unlock it with the key and go in, you'll be met with a dressing room with a lived-in feel to it. Because it's private, lock it with the key.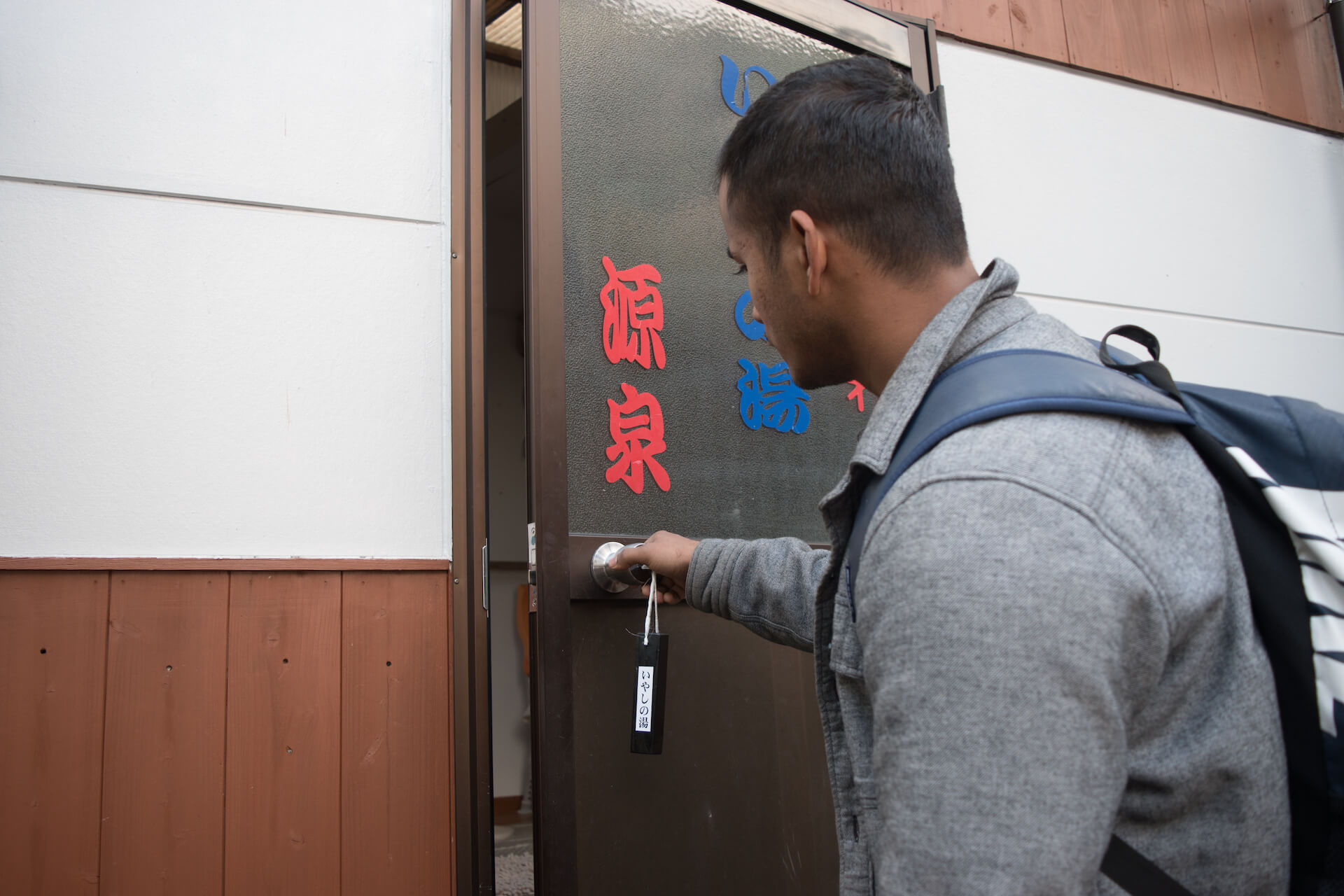 From the dressing room, when you open the door, you'll be faced with the compact "light blue rock bath."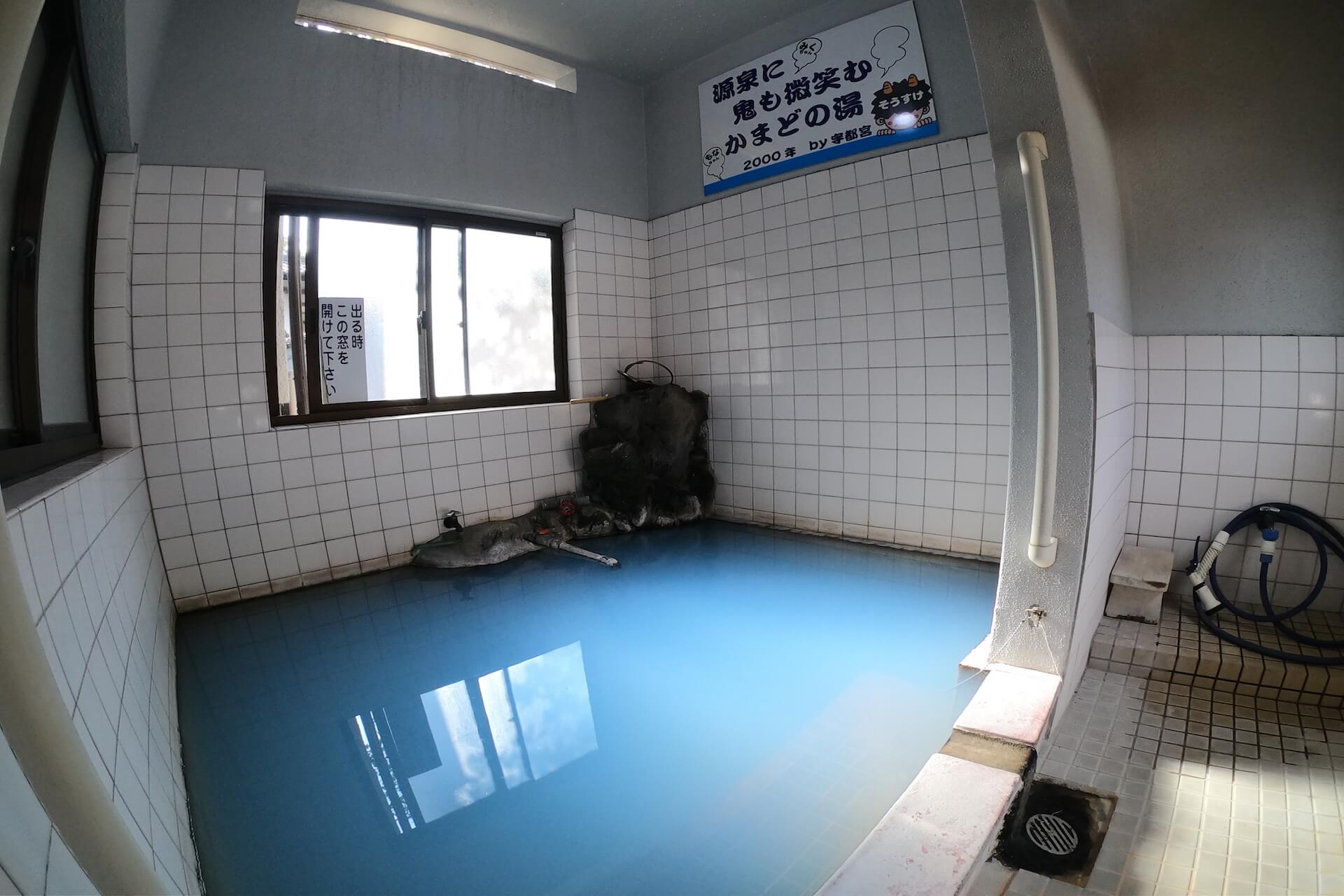 Red Demon Soft Serve
It's not just the hot spring eggs that can be found at the Kamado-Jigoku shop. Beer and drinking snacks are available alongside charcoal-grilled local chicken. There's even a foot bath at the front of the store. That is where "Akaoni Sofuto" (the Red Demon soft serve) conspicuously exists. This Red Demon Soft Serve combines soft cream and shichimi (a blend of several spices), a perfect blend of sweet and spicy. Since eating and drinking is prohibited at the foot bath, kindly enjoy it in the designated eating area.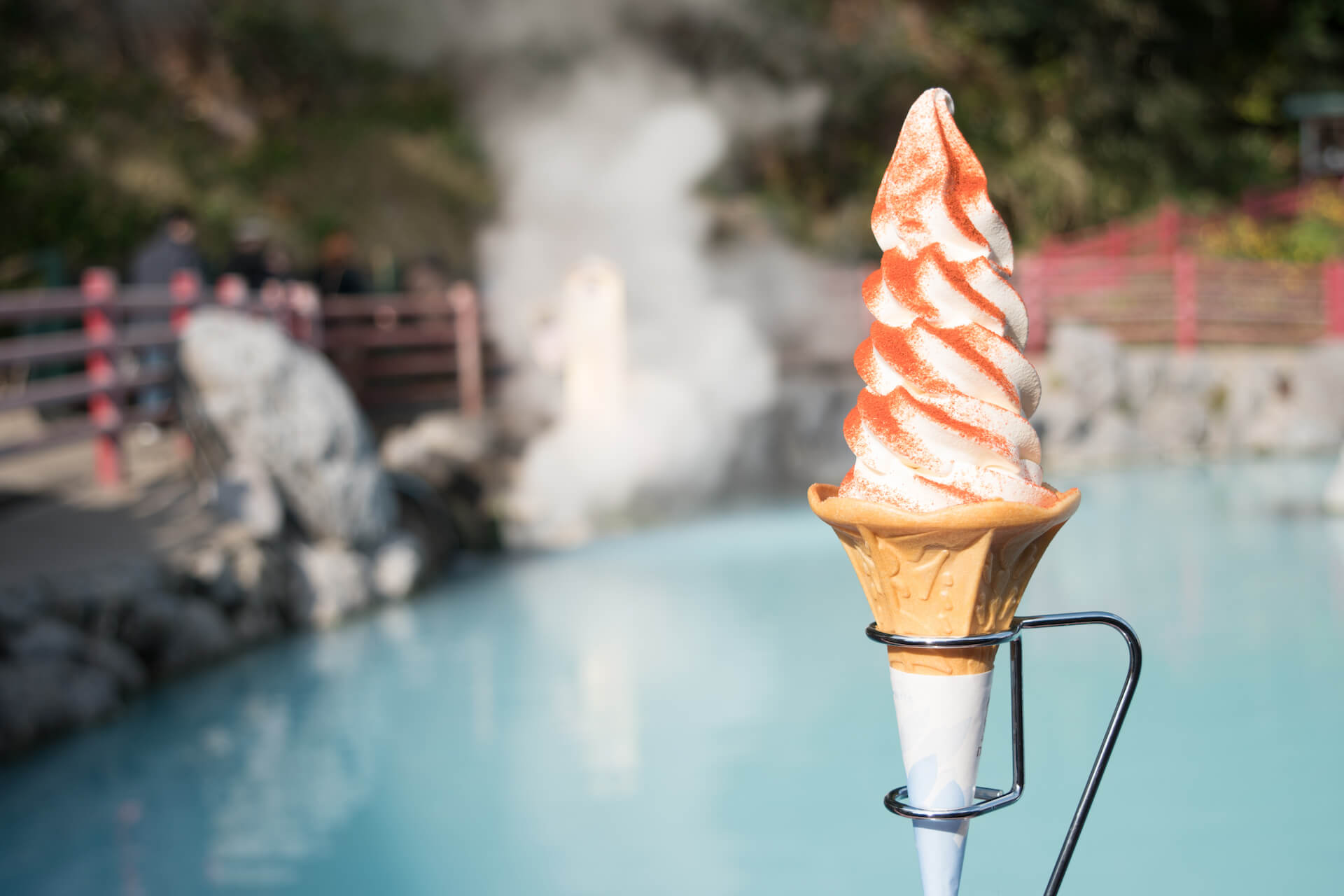 What is "Jigoku" (The Hells)
Normally, when I hear "jigoku" (hell), I think of paradise and hell. The volcanic hot spring "hell" is, explained plainly, where water vapor produced by magma and consisting of various components is vigorously spewed out. It was said that it resembled the "hell" from olden Japan and so it was called as such.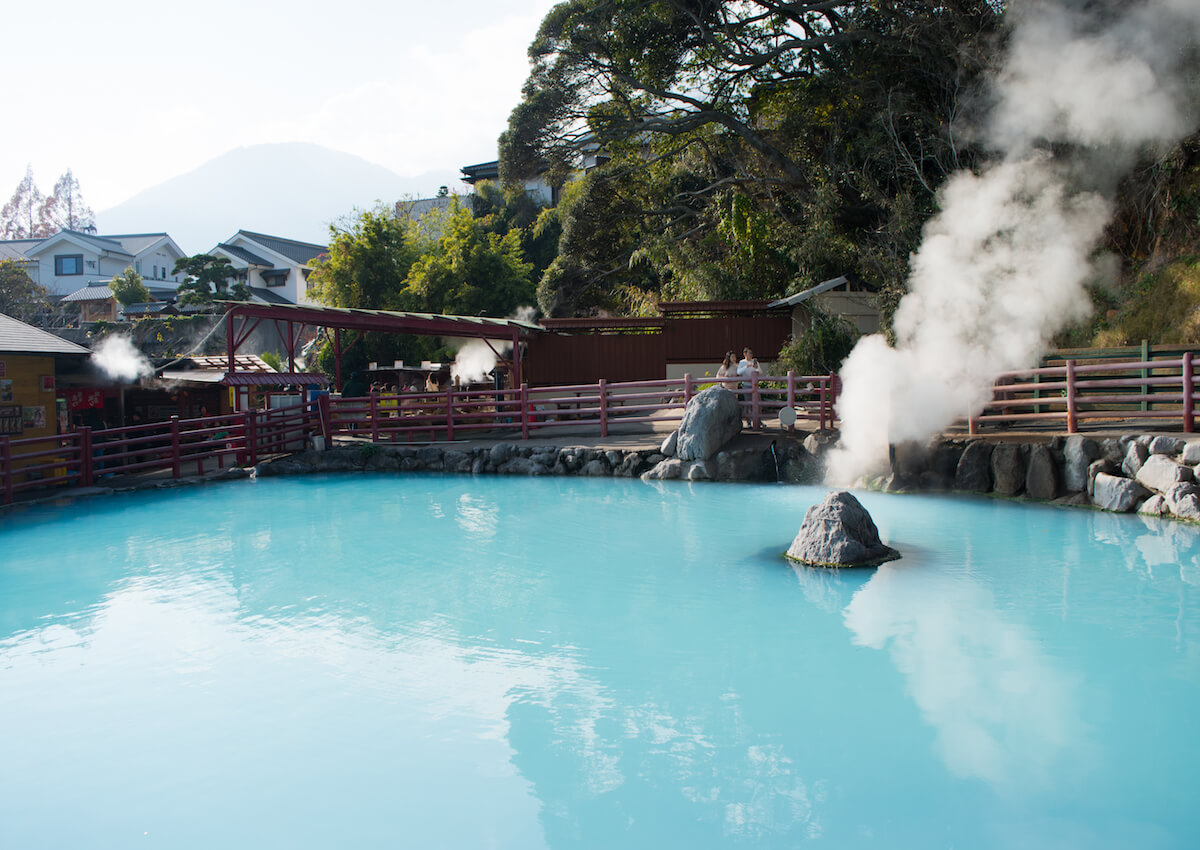 At Kamado-Jigoku, which has Kamado-no-Yu, besides steam, you can also see "hells" with colors that vary from white, brown, red, blue, etc. (transparent or emerald green on rainy days). Before and after you get in the hot springs, try going around Kamado-Jigoku as well!(the one in the photo is above 80ºC so you can't get in)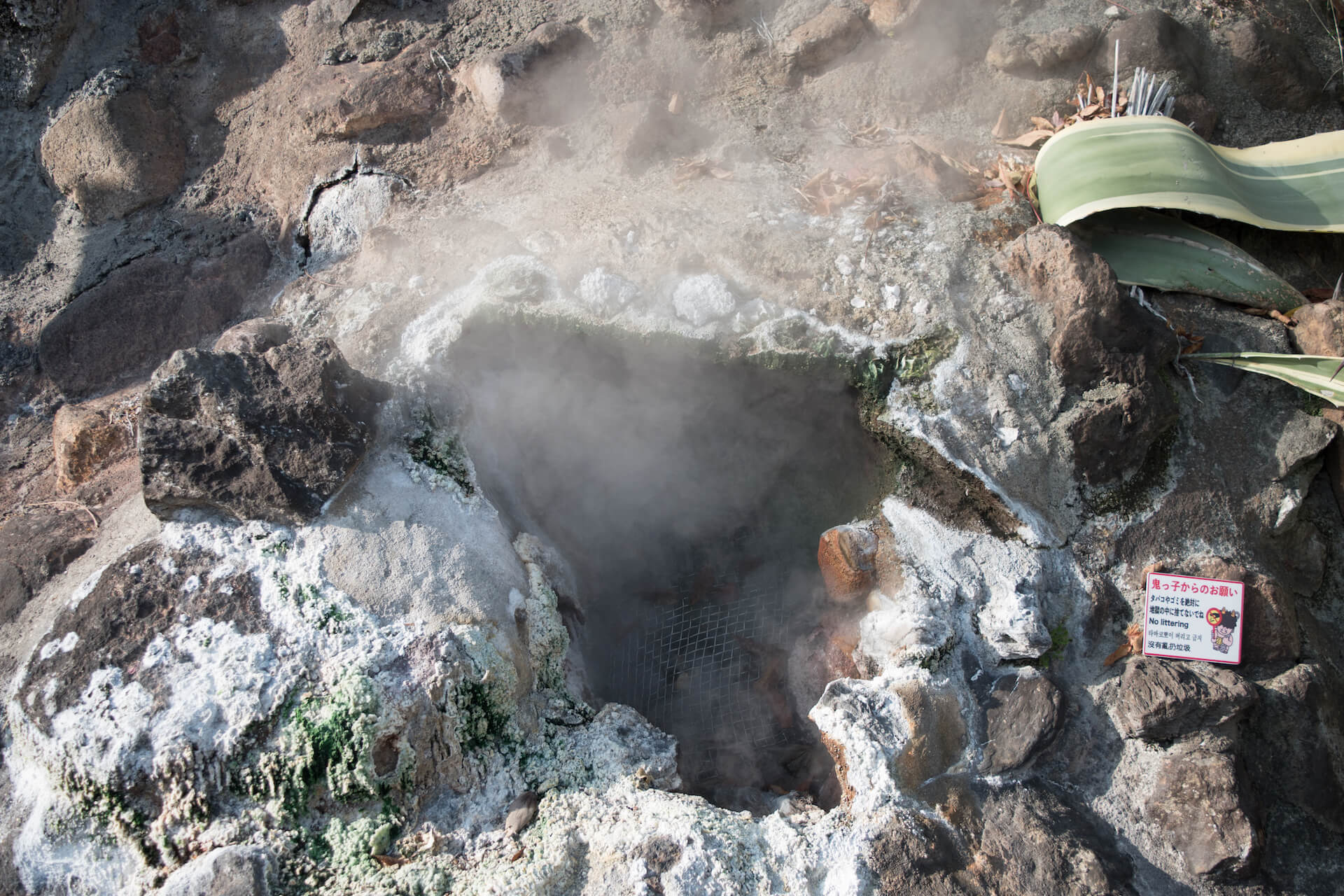 Hell Tour
In Beppu, the "Beppu Hell Tour" is the tourism standard in which you tour the seven hells in Kamado-Jigoku by bus or on foot. To know more about the seven hells "Kamado-Jigoku" (Cooking Pot Hell), "Umi-Jigoku" (Sea Hell), "Oniishibozu-Jigoku" (named after the mud bubbles that resemble a monk's head), "Shiraike-Jigoku" (White Pond Hell), "Oniyama-Jigoku" (Monster Mountain Hell), "Chinoike-Jigoku" (Blood Pond Hell), and "Tatsumaki-Jigoku" (Spout Hell), also take a look at this article. Aside from these seven, there are also "Yama-Jigoku" (Mountain Hell) and "Bozu-Jigoku" (Monk Hell).
Basic Info
OPEN: 8:00-17:00
FEE: 400YEN
TATOO: Allowed
EnjoyOnsen