*This onsen is permanently closed.
The moment I saw its appearance, I was puzzled
This onsen is in a small hut located in a shopping street in the Kamegawa area of Beppu, the leading hot spring town in the world. At first, you may think that your map has led you to the wrong place because unless you are used to it, then no one would expect that this hut surrounded by concrete blocks could be a hot spring. However, you will be surprised once you enter.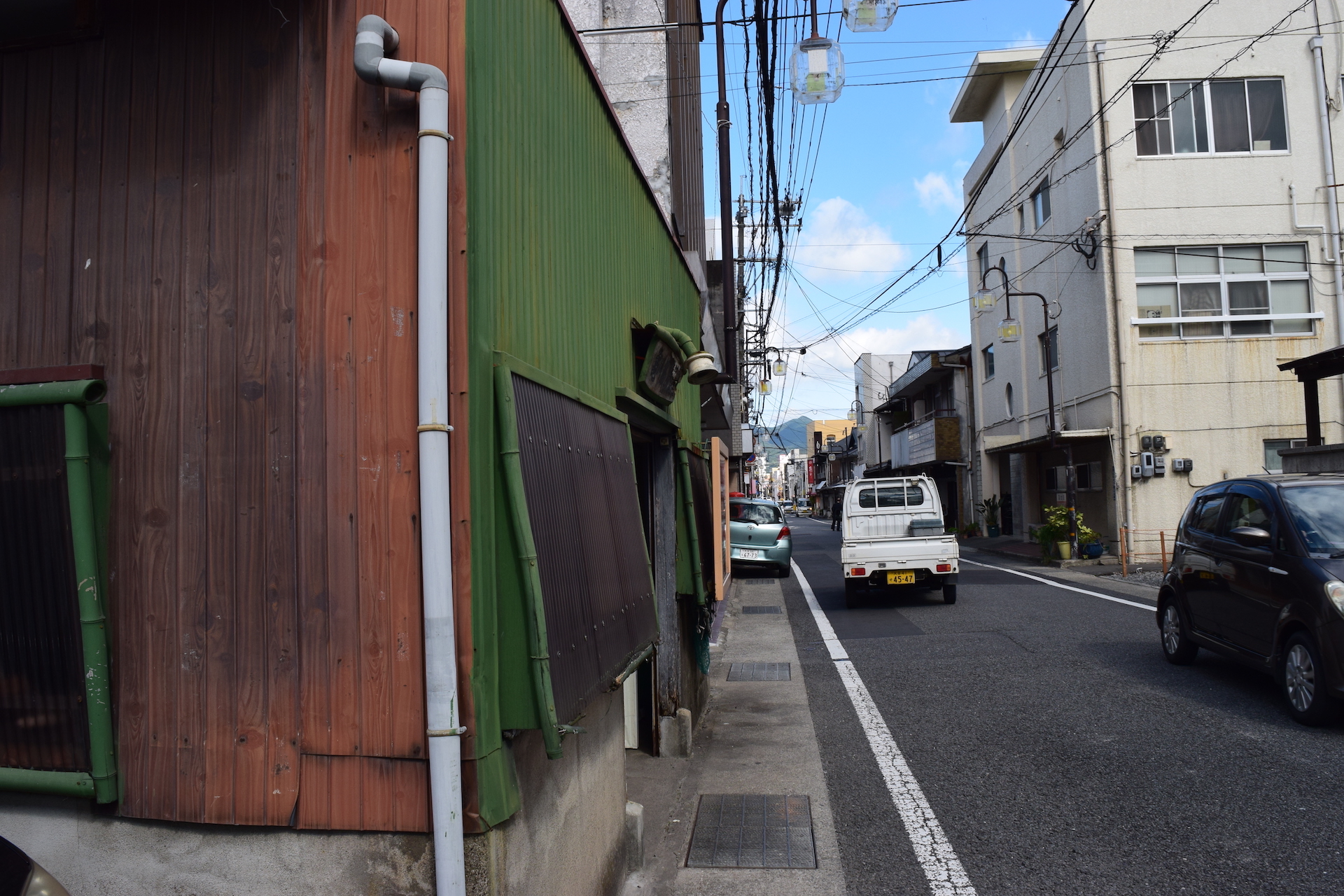 This onsen that we will introduce today is called Kamegawa Sujiyu. This onsen, surrounded by brown and grey buildings, stands out thanks to its red roof, green tin, and yellow walls that make it pop in a cute and unique way.
If you can hold out, it's heaven
Although you may be thrown off by its appearance, if you stop hesitating and go inside you will not be disappointed.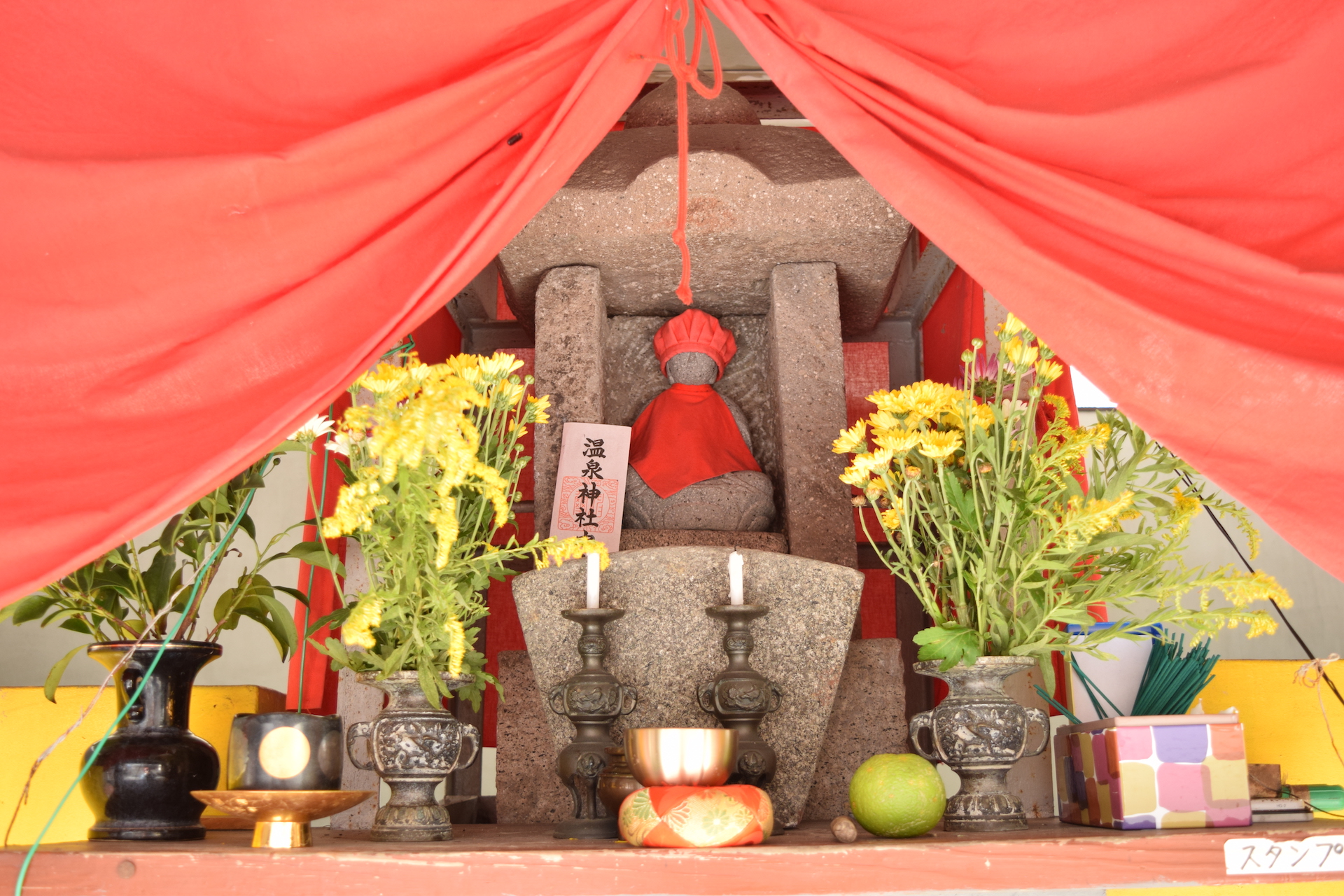 The price to enter is a money offering to the temple, which comes from your feelings. After greeting the Jizo, you may enter. Doesn't it look like the one at Kakujyusen?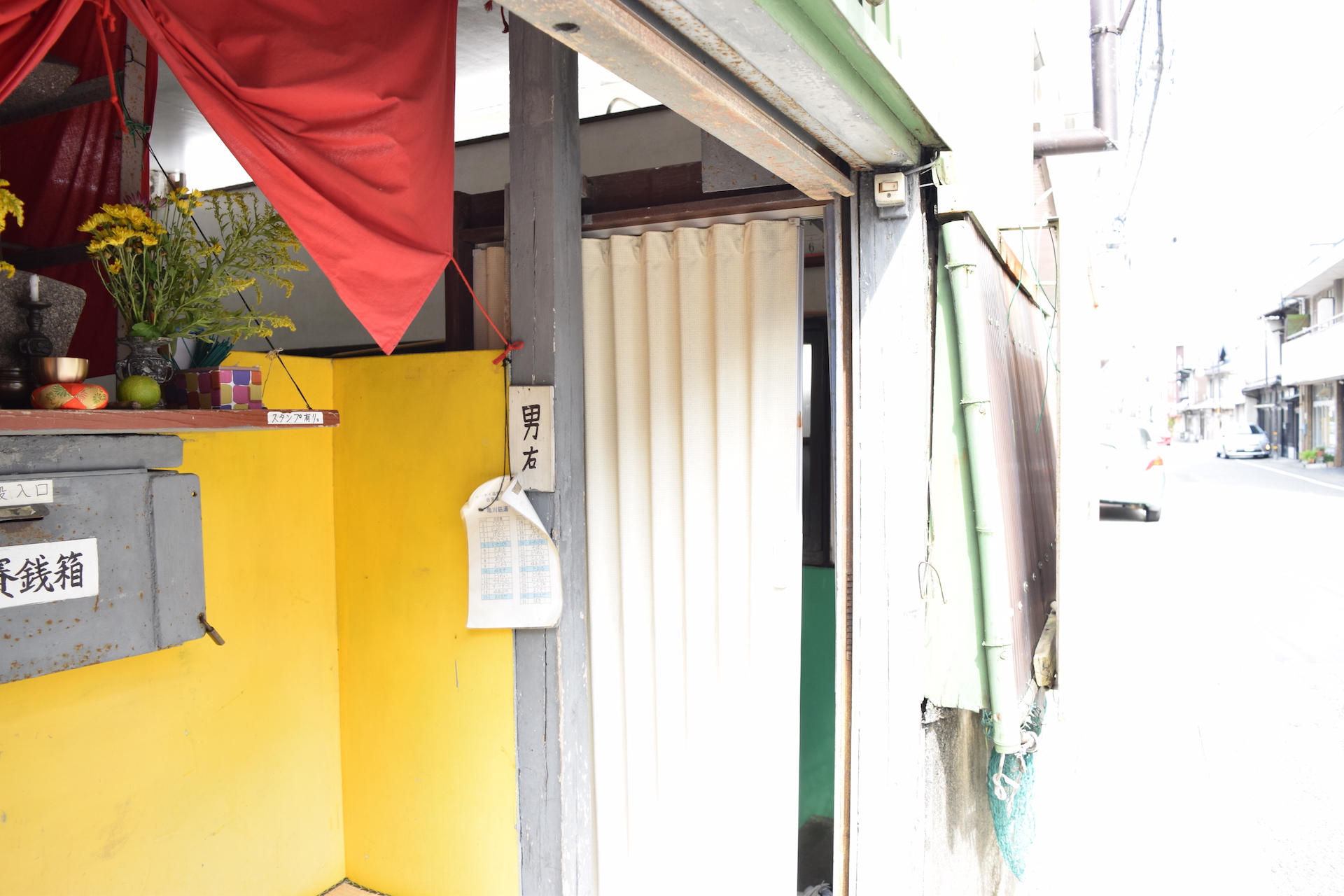 Once you enter, do not forget to close the entrance curtain, or your nakedness will be completely visible from the outside!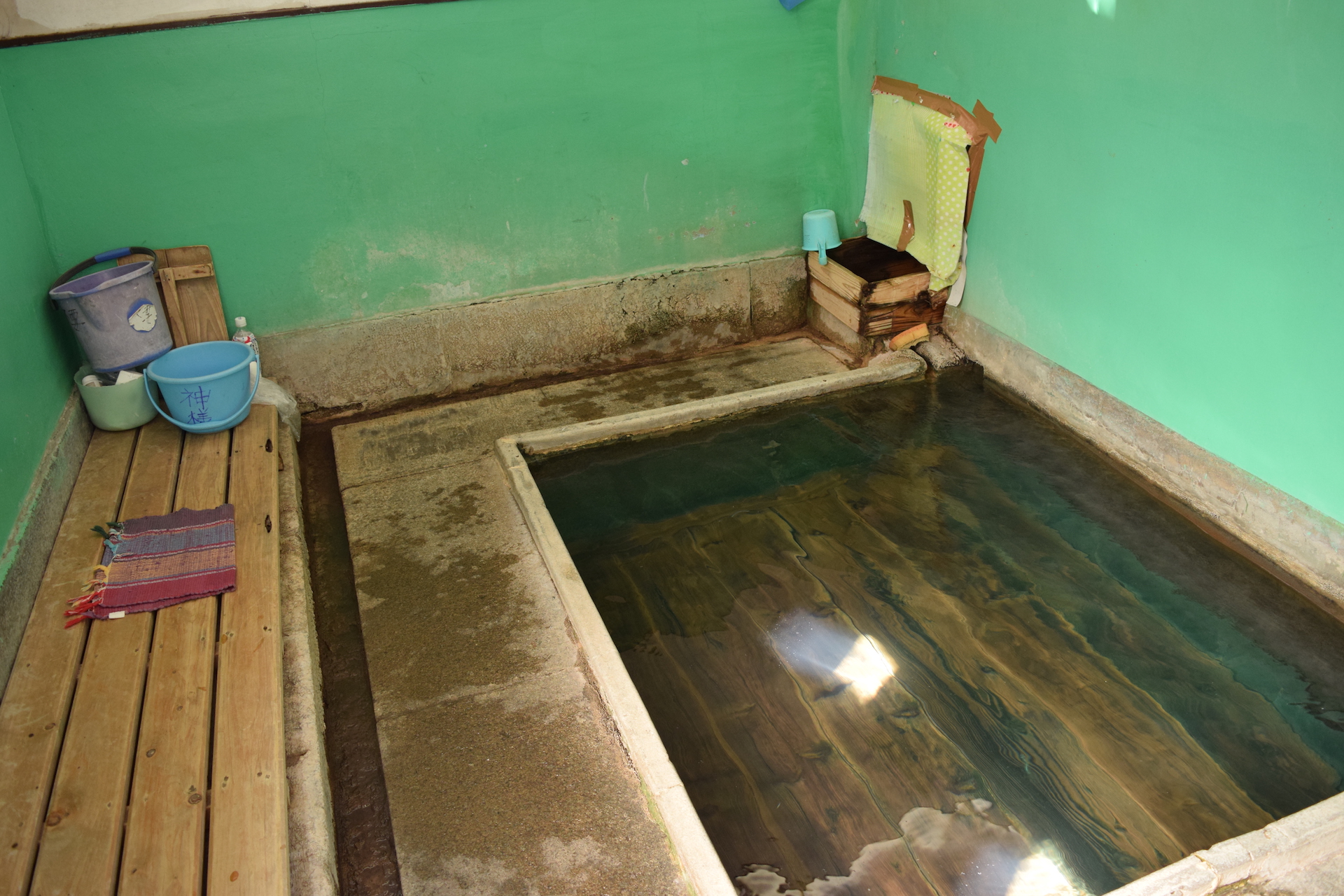 Because the bathhouse is narrow when you wash your body, be sure that the water does not hit the area where people change clothes. This water is very soft and will heal your body, allowing you to leave behind any tension you were holding. There is a wooden board at the bottom of the bath, and although it may rattle, it is evidence of the authentic charm of this onsen.
Recommended Season
There is no cold water supply in this onsen, so if the water is too hot you can not cool it down. This means that this onsen is 100% onsen water! However, if you are sensitive to heat, then you may want to go on a cooler day.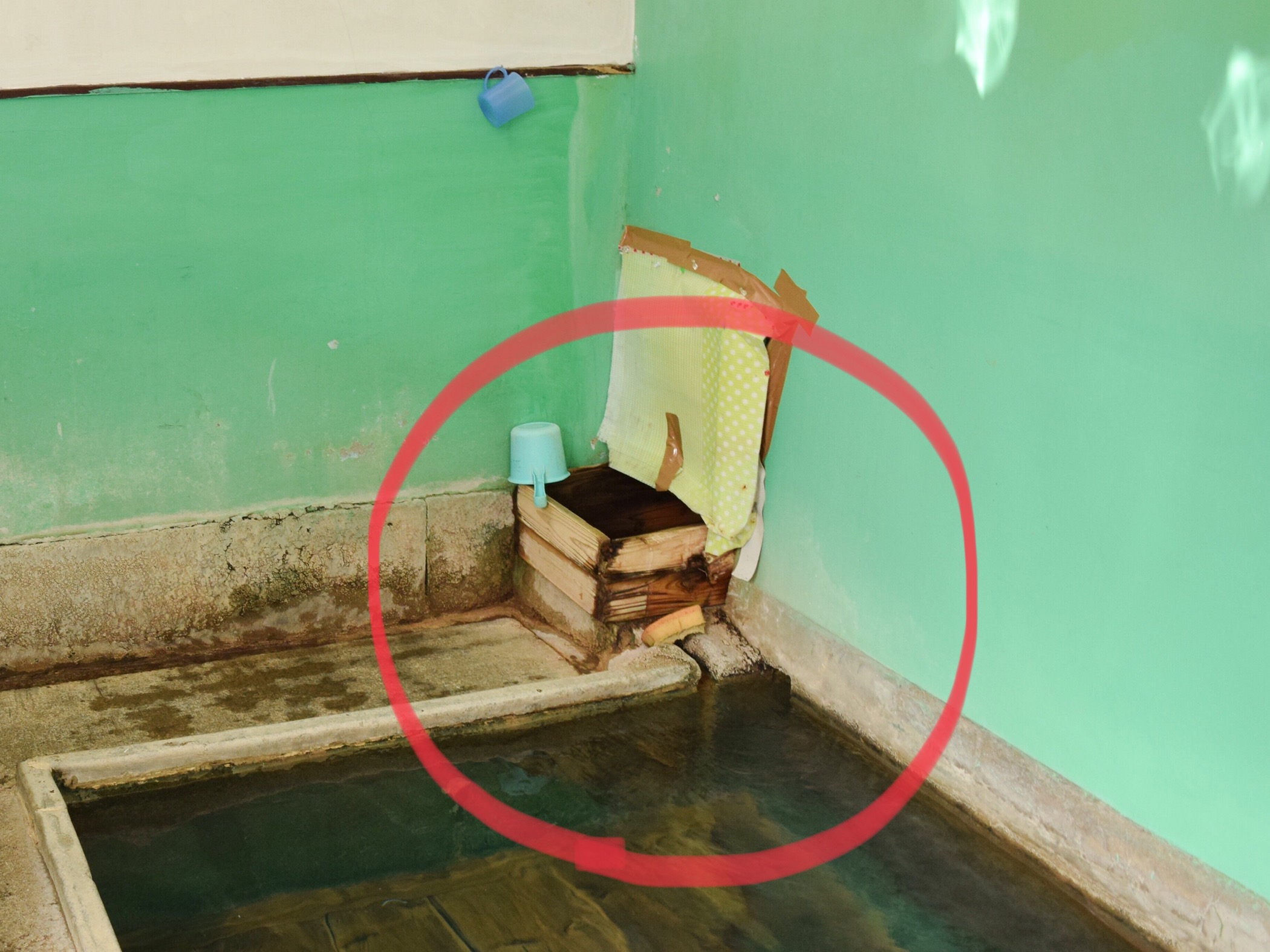 In the photo with the red circle is the hot spring source. If you feel hot, then you can enter the opposite side of the spring source. If it's still too hot for you, please come here in the winter or spring as the temperature of the water will be stabilizing.
Basic Info
*This onsen is permanently closed.
How to get to Beppu, where Kamegawa Sujiyu is located
We are now finished with our introduction of Kamegawa Sujiyu, but there are many similar hot springs in Beppu! It is certainly a good experience to come here and experience true hot springs in Japan!
EnjoyOnsen