Morihan Bettei is a facility dotted with healing spots such as hot springs, a river, and forests scattered on a vast site of approximately 13,000 square meters overlooking the Beppu Bay. Here, visitors can enjoy tea or coffee in a unique onsen tea room and coffee space surrounded by serenity. Nurtured by the love and passion of the owner and staff, Morihan Bettei's beautiful hot springs and nature have been treasured since the Edo period and provide a space where visitors can heal their body and soul.
Rejuvenate Yourself on the Grounds of a Former Edo-Period Onsen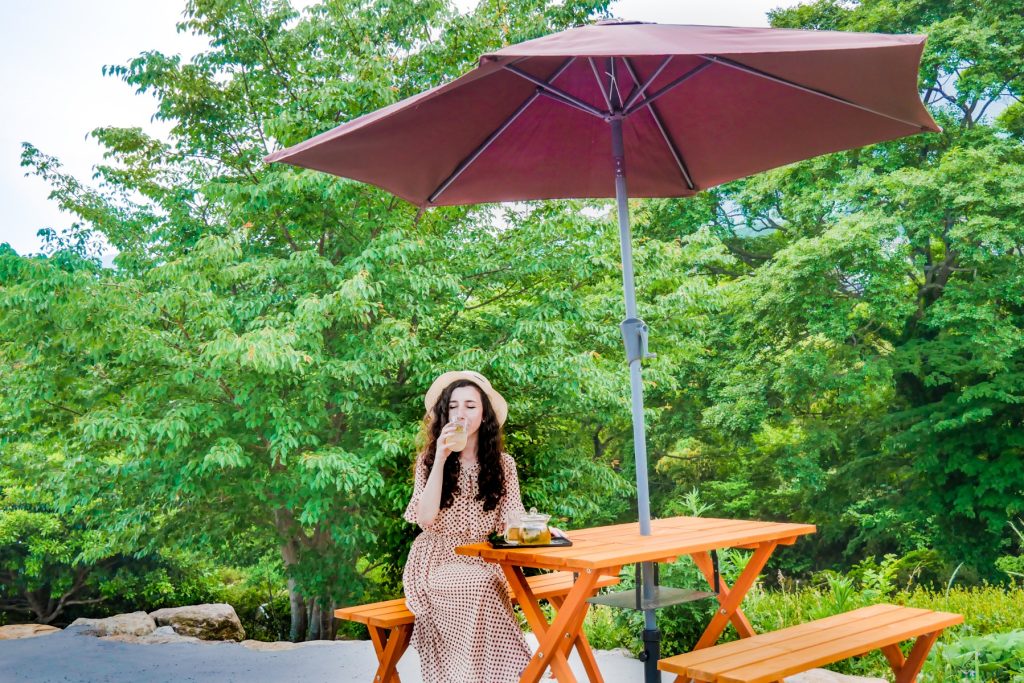 At the top of a mountain, amidst a forest so thick and luscious you'll feel like no one else is there, stands the tranquil Morihan Bettei.
Kurushima Michihiro, the feudal lord of the Mori Domain, had a hot spring facility called "Teruyu" built in this area as a place of healing, much to the delight of the local population. Appreciated for its extraordinary curative properties, this area has been extremely popular since the Edo period (1603-1867) as a therapeutic hot spring area.
In this exact same location full of invaluable history, but centuries later, we got to visit a tea room and coffee space that keeps alive this ancient practice of sustaining people's health and spirit through onsen.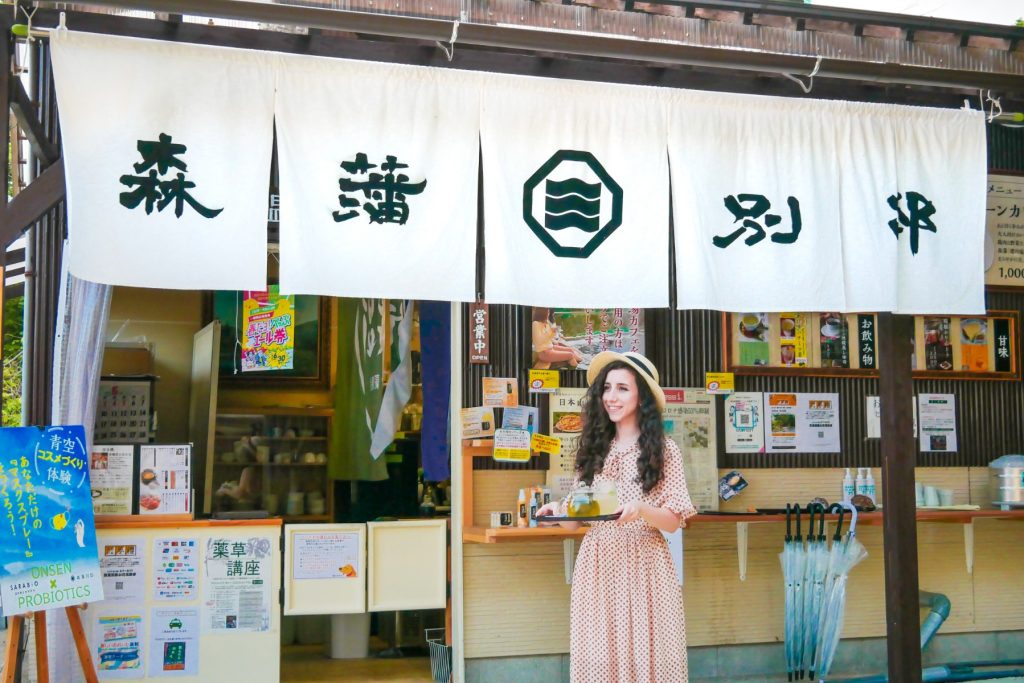 Our time at Morihan Bettei was dotted with incredible stories about the traditions lying beneath its quiet facade and narratives about the love and efforts poured into the creation of the facility. We learned and felt how everything, from its wooden buildings to the footbath space, was the result of the hard work and devotion of local craftspeople and staff who contributed to shaping an authentic environment as warm and gentle as a home.
By borrowing the geothermal power of the land and curative properties of hot springs, Morihan Bettei aims to provide a complete rejuvenating and healing experience.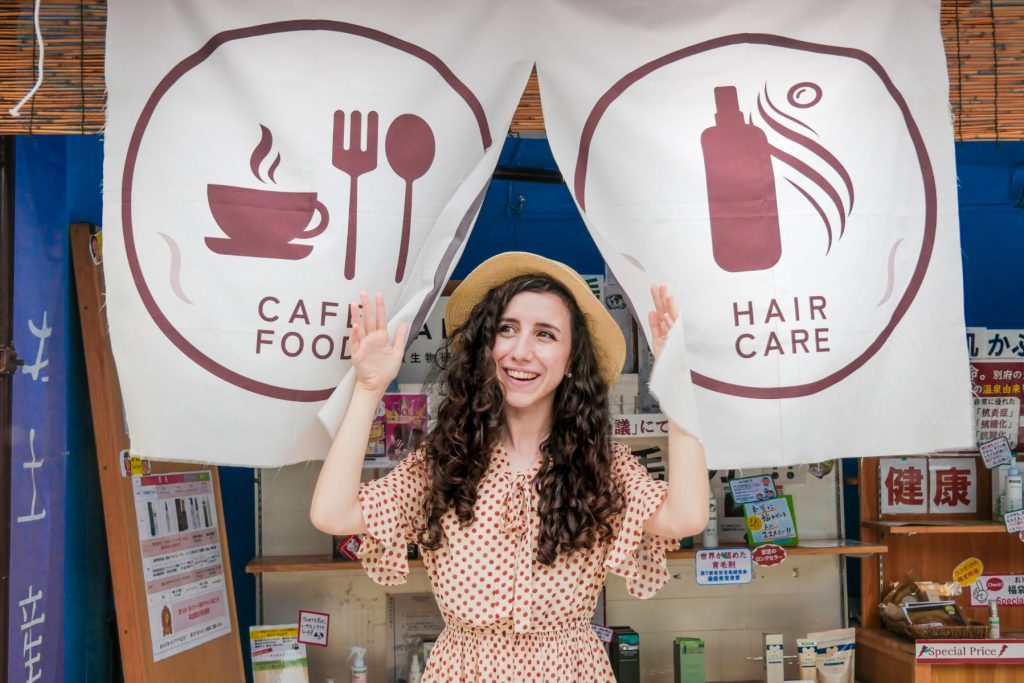 Modern-day Morihan Bettei stands on the premises of the Sarabio Hot Spring Microbiology Research Institute which applies the beneficial effects of the local onsen's microorganism not only to their skin care and hair care products, but also to improve the quality and condition of the soil of their approximately 13,000 square meters of farmland, where they strive to grow food as nutritious and safe as possible for visitors.
Visitors can partake in the process by creating skin care products specific to their skin problems or trying some of Morihan Bettei's original hot spring beauty treatments.
If you want to bring these self-care practices back home, you'll be excited to know that most of Sarabio's products are also available at Morihan Bettei's souvenir shop.
Soothe Your Mind and Body With the Power of Onsen While Relishing Nourishing Snacks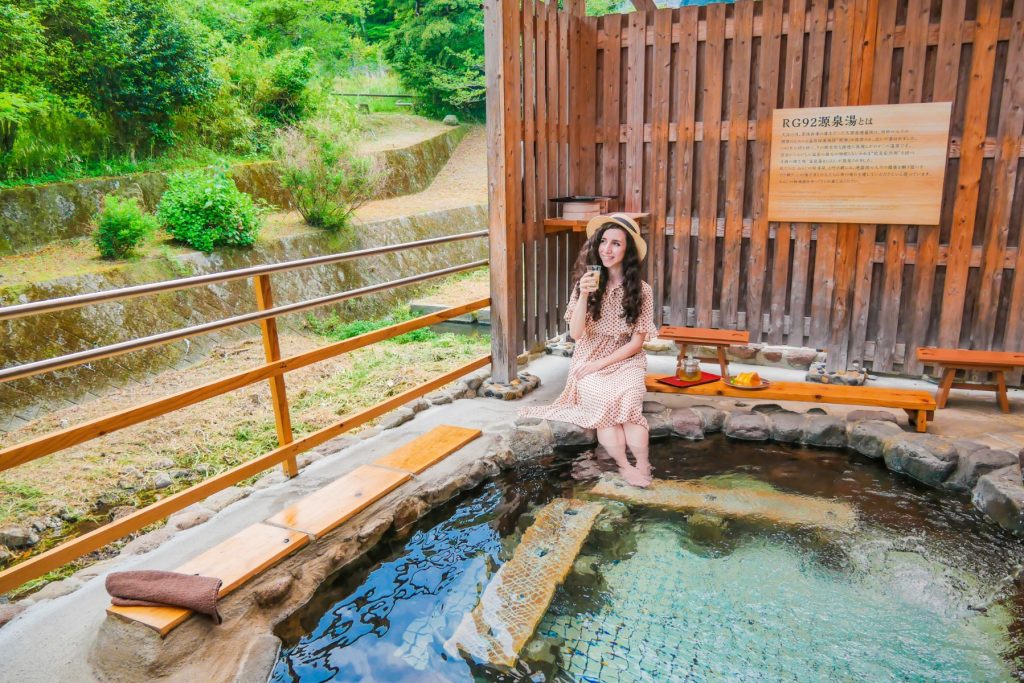 Morihan Bettei's attentive approach to soothing fatigue extends to their curative footbath coffee space, which is said to be particularly effective on improving blood circulation and reducing tiredness. Here, we could enjoy the locally sourced, hand-made dishes and beverages on offer while soaking our feet in hot spring water and listening to the calming sound of the nearby river. The surrounding forest and onsen steam completed the picture, creating the most tranquil of panoramas.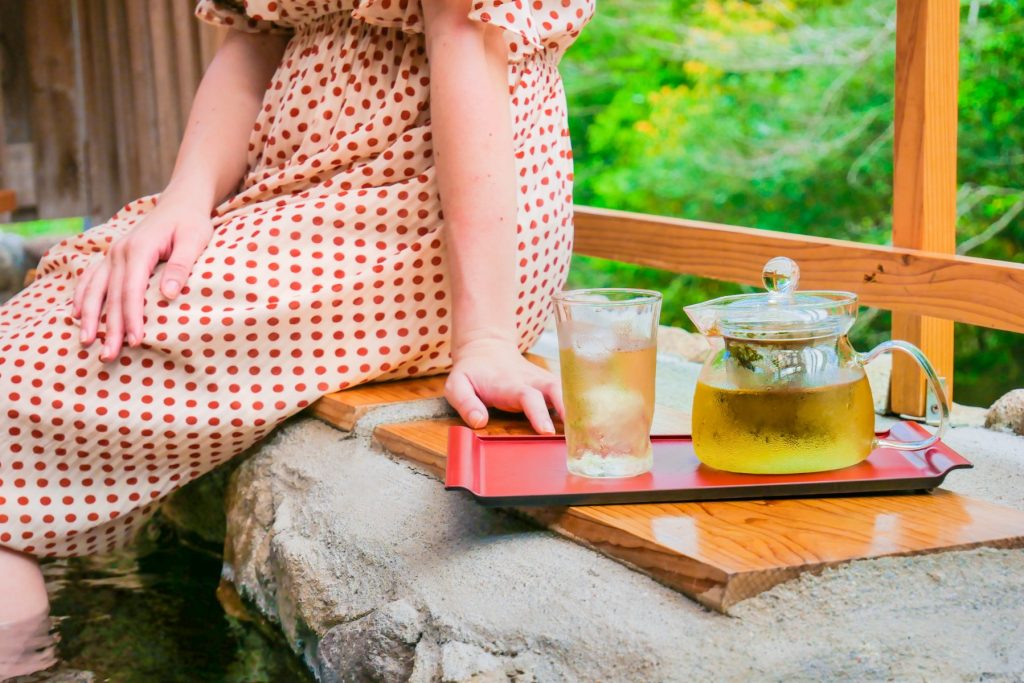 Standing by the belief that healing also comes through the consumption of delicious and nutritious food, Morihan Bettei's hand-made cuisine makes the most out of the positive effects of its hot spring. They pay particular attention to selecting healthy, flavorful ingredients from the sea, land, and forests of Beppu, complementing them with healthy cooking methods such as Beppu's traditional "jigokumushi" onsen steam cooking or "kanpo" traditional medicine.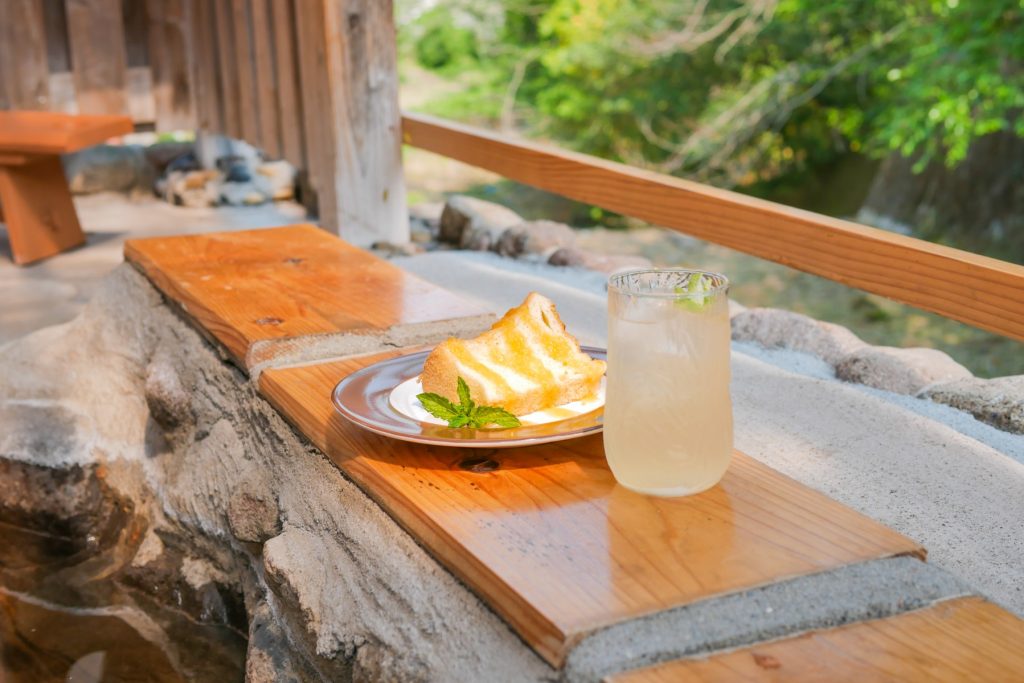 The dishes we ordered were no exception. The tea set included exquisite homemade chiffon cake topped with marmalade that softened the slightly pungent taste of the ninjincha herbal tea that came together with it. Made by steaming the leaves and stems of the Japanese mountain ginseng plant with hot spring steam, it is said to improve blood circulation and the immune system as well as relieve fatigue.
We also couldn't pass on trying one of the most unique items on the menu, a cup of drip jigokumushi coffee. Created by steaming the beans with hot spring steam before roasting them, this coffee boasts a distinctive mellow flavor that can't be found anywhere else.
Finally, we opted for the kabosu citrus tea. Infused with kabosu, a local specialty, and served cold, it was deliciously refreshing and the ideal drink to slake our thirst during that hot summer day.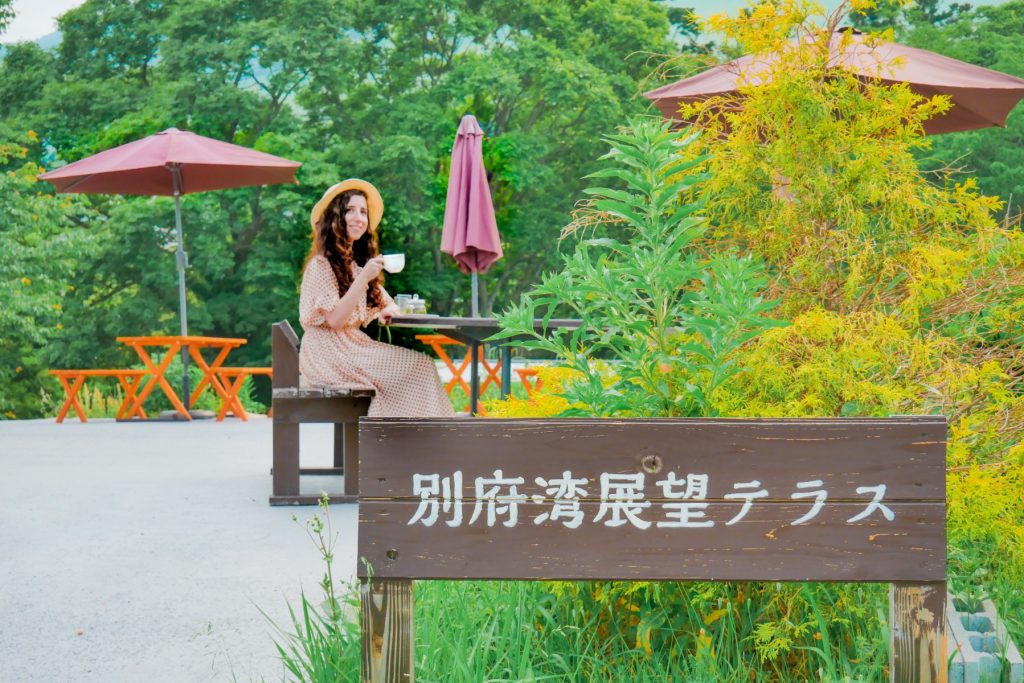 The onsen coffee space was not the only area where we could appreciate how revitalizing Morihan Bettei was. On the premises were also a Panoramic Terrace with spectacular views of the Beppu Bay and a River Plaza equipped with benches and patio umbrellas to enjoy the gentle sunshine and fresh breeze from the nearby river while sitting under a mantle of trees.
Experience the Benefits of Morihan Bettei's Healthy Food and Soothing Hot Springs
At Morihan Bettei, the serenity of a tea room and coffee space born from the love of the locals combines with the history and positive effects of an Edo-period onsen. Don't miss the opportunity to boost your health by snacking on delectable, healthy dishes and soaking in its surrounding nature and hot springs.
Information
Name: Morihan Bettei
Opening hours: 10:00 am – 5:00 pm
Closing days: opening hours and closing days are subject to change. Please check the news page for the latest information.
Price:
・tea set or coffee set: 700 yen (the set includes a sweet, e.g. chiffon cake)
・ninjincha ginseng tea: 500 yen
・jigokumushi onsen steamed coffee: 500 yen
Website (Japanese): https://www.saravio.jp/tourism/
tsunagu japan