Nestled among the mountains of Beppu is a unique group of traditional Japanese "yunohanagoya" thatched-roof huts and their hot springs known as Myoban Yunosato. Hiding milky blue waters of exceptional health benefits, the area offers large open-air baths with superb views, unique family baths, as well as shops selling original products and restaurants where you can enjoy local cuisine!
Discover Myoban's 300-Year-Old Production Of Yunohana, Hot Spring Mineral Powder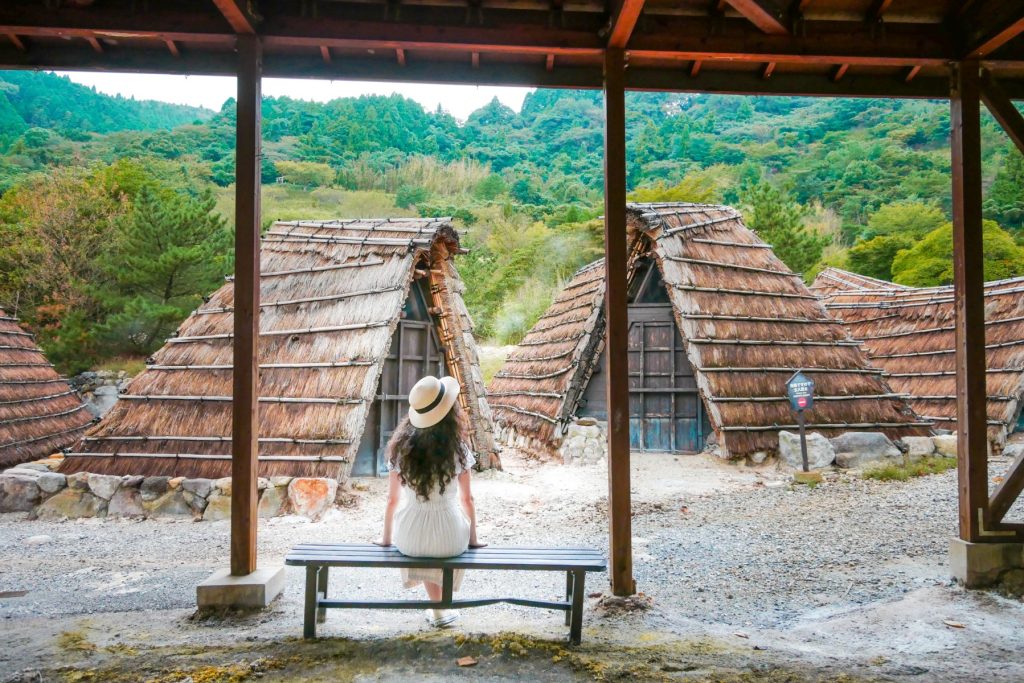 Founded in 1725, during the Edo period (1603 – 1867), Myoban Yunosato is dotted with the distinctive silhouettes of the "yunohanagoya." Surrounded by trails of hot spring steam gently wafting in the air, these huts distinguish themselves from any other traditional buildings we've ever seen in Japan with their triangular-shaped thatched roofs, the mysterious and magnificently old panorama completely charmed us!
Yunohanagoya huts are Myoban's symbol and not only exalt the natural beauty of the surroundings and have also been used to produce "yunohana" minerals made from natural onsen steam for 300 years, allowing us to immerse more into the local traditions.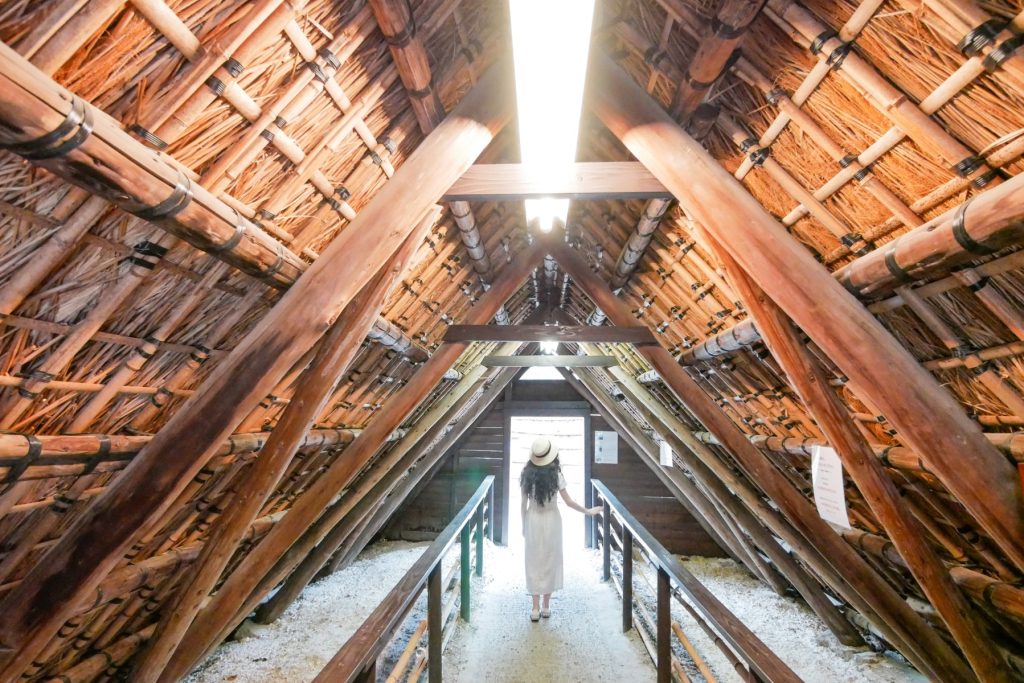 Myoban is the only place in the world where these structures can be found and visited, forming a culturally relevant landscape that was also designated a nationally Important Intangible Folk Cultural Asset in 2006 and a National Important Cultural Landscape in 2012.
Constructed since the Edo period, these huts are the result of local craftsmanship and wisdom that made use of the fumarole-rich terrain to manufacture yunohana minerals by paving the huts with cobblestone covered in blue cay. This combination lets hot spring steam flow evenly within the hut while the thatched roof keeps the temperature inside constant by absorbing the humidity and releasing it outside avoiding the reformation of water droplets that could dissolve the hot spring steam.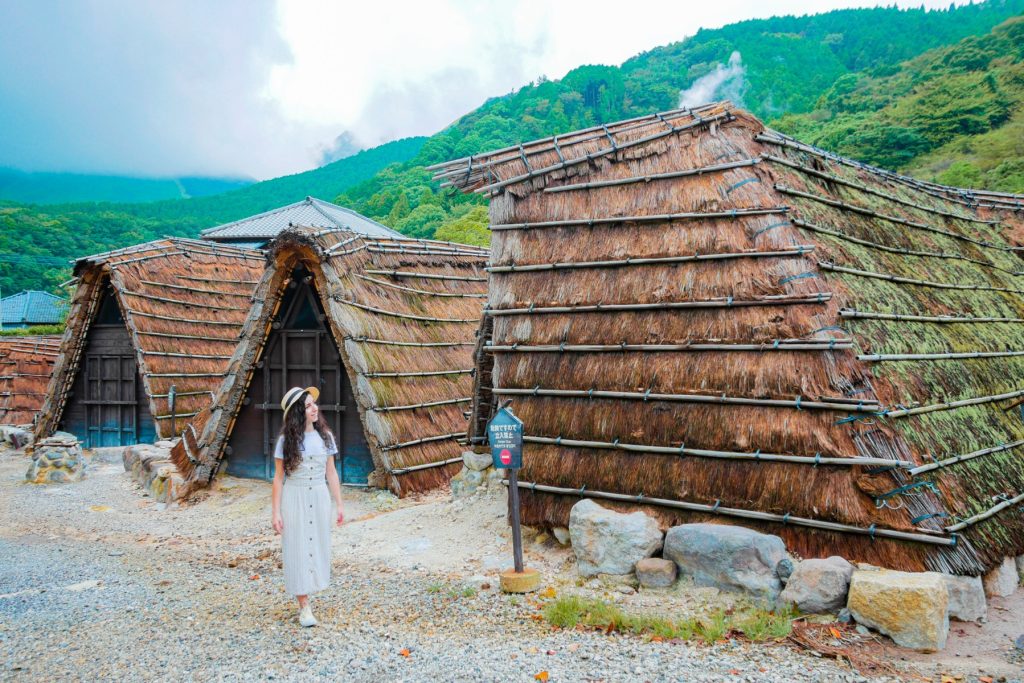 Preserved with these precautions, the mineral deposits inside the huts slowly grow about 1mm a day as the beneficial mineral components from Myoban's hot spring steam and blue clay are crystalized from the steam. It is then collected, purified, and dried over a period of 40 to 60 days before being used in a wide variety of body-care products such as bath salts and skin care products.
Myoban Yunosato Rotenburo: Immerse Yourself in Silky Waters and Sweeping Views in a Giant Open-Air Bath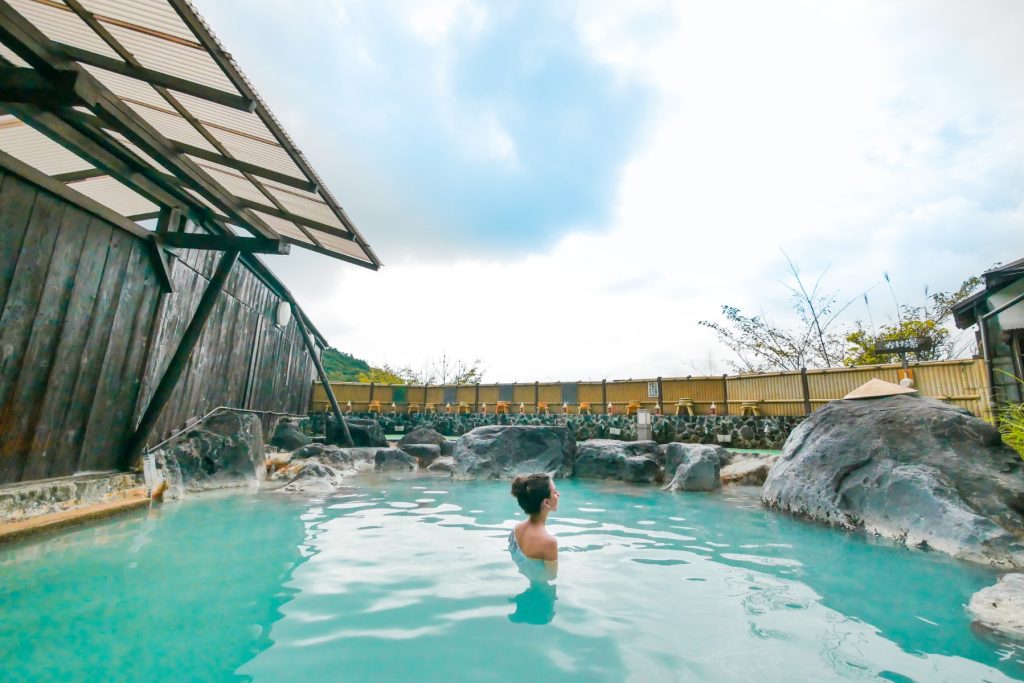 Please note that it is usually not allowed to wear a swimsuit when bathing in onsen
Myoban Yunosato not only is a place teeming with history but also houses incredible hot springs that are characterized by a silky texture, iridescent colors ranging from light blue to turquoise, and wonderful benefits for the skin as they are abundant in sulfur.
A short walk uphill led us from the huts exhibition area to Myoban Yunosato "Rotenburo" large open-air bath which hosts behind its simple facade a charming, spacious onsen. Located 350 meters above Beppu City, this panoramic bath granted us outstanding glimpses of the Beppu mountains.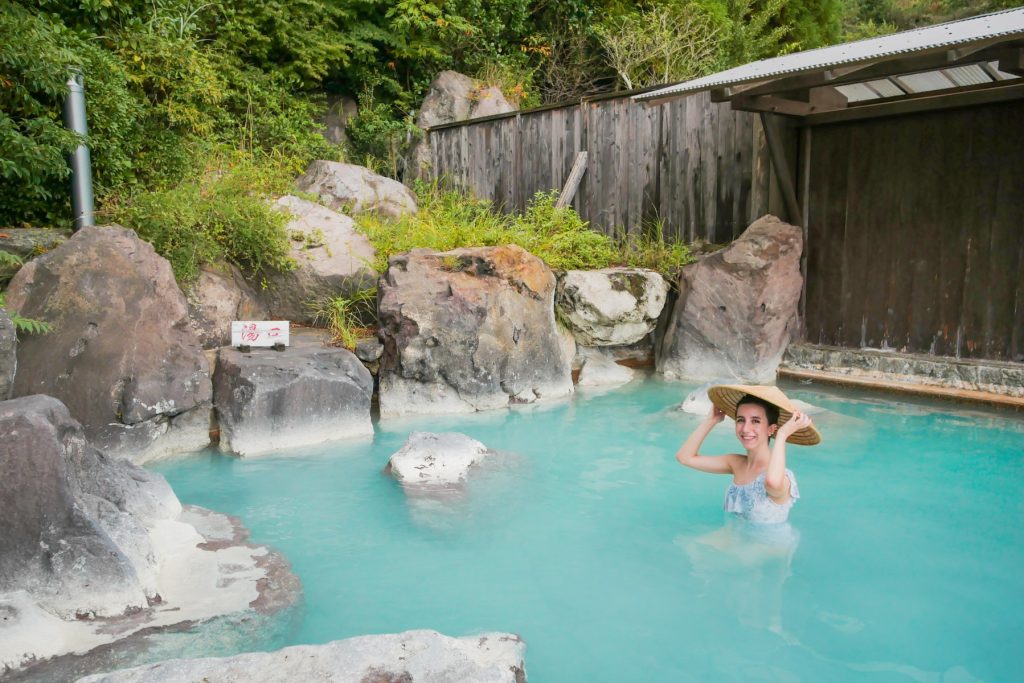 The large open-air hot spring is surrounded by lush greenery and rustic wooden structures, beautifully carved out from rough rocks, which all together evoke a sense of peace and untainted nature.
As soon as we stepped out from the changing room into the vast open space of the onsen, we were left speechless by the intensely turquoise expanse of water in front of our eyes. Hot springs can be found almost everywhere around Japan but waters with colors as surreal as those in Myoban are not the norm and we were delighted to take our time soaking in in such an awe-inspiring bath!
Myoban Yunosato Rotenburo is a great place to bathe regardless of the weather as it also has a picturesque indoor bath made of cypress wood and is equipped with traditional bamboo hats that you can wear in case of rain or snow when bathing outside.
Myoban Yunosato Kazokuyu: Enjoy Your Own Private Yunohanagoya Hut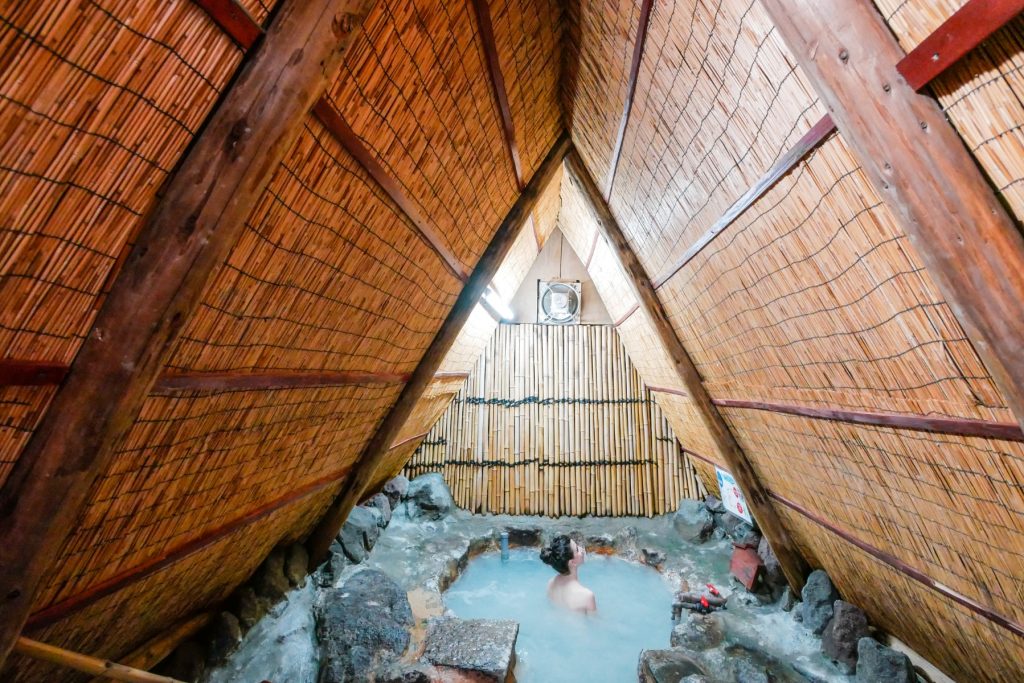 We also appreciated the same outstanding waters in Myoban Yunosato Kazokuyu private baths. Providing the most unique of Myoban's hot spring experiences, these 4 private baths have a structure reminiscent of yunohanagoya, complete with triangular thatched roofs, quaint walls made of bamboo or wood, and cozy-sized baths made of rock.
All private baths are perfect for enjoying some time with your loved ones without having to worry about other customers and also give you the ability to adjust the temperature of the water according to your preference!
Myoban Yunosato Shop: Stock Up on Local Souvenirs at This Shop Specialized in Yunohana and Local Treats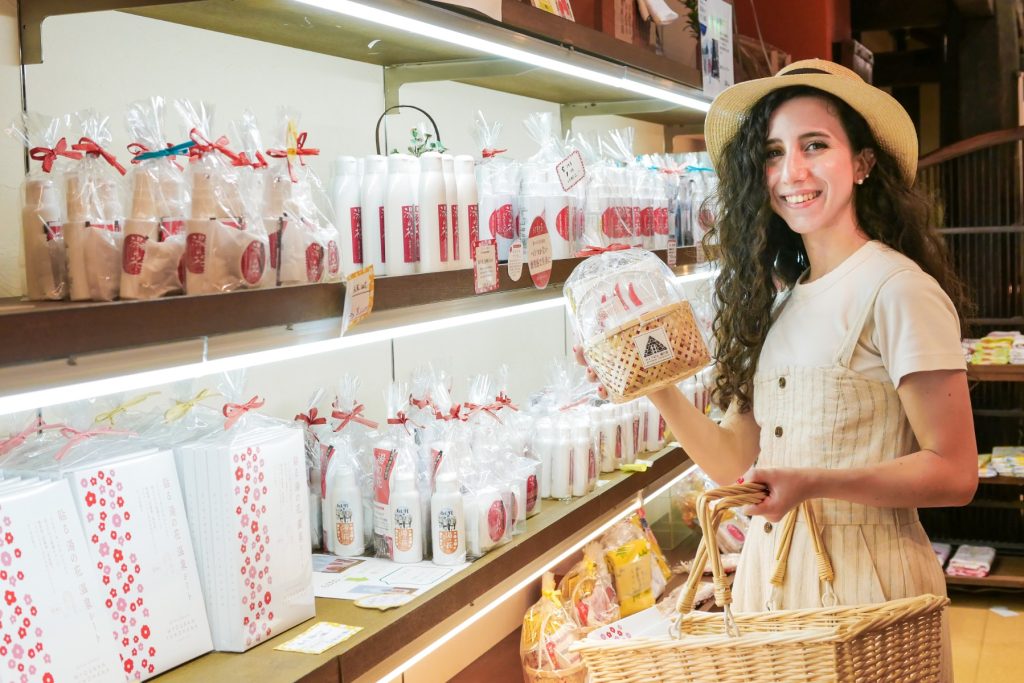 Myoban Yunosato also proved to be a great place for grabbing some unique souvenirs typical of hot spring areas, as Myoban Yunosato Shop, located right in front of the yunohanagoya huts, sells a wide variety of original products made from the local yunohana. These are not limited to bath salts but also include hydrating face masks, fragrant body scrubs, and a range of skin care products from face creams to mists. One cute option is the "yunohana skin-care set" which comes specially packaged in an adorable, small bamboo basket, as "take-zaiku" bamboo weaving is one of Beppu's most distinctive traditional crafts.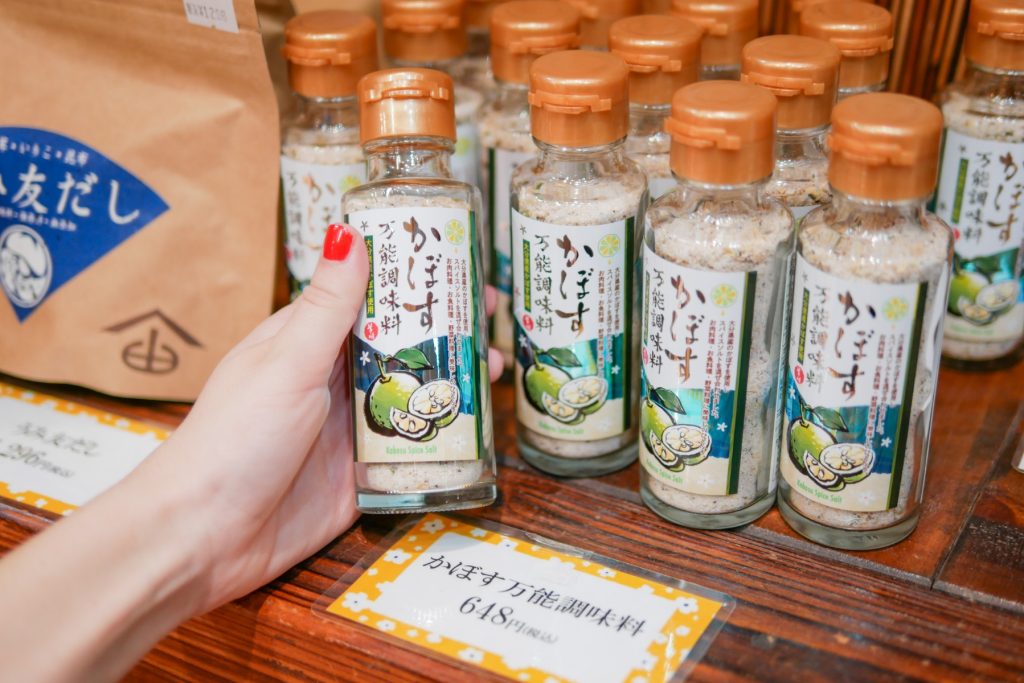 Myoban Yunosato Shop is also well stocked with a plethora of Oita specialty products. As the prefecture is renowned for its citrus fruit produce such as "kabosu," we particularly recommend the kabosu citrus salt which is perfect to flavor up anything from meat to fish with a touch of tangy freshness.
The facility also houses a panoramic restaurant and cafe on the third floor where you can enjoy local cuisine while gazing out at the misty scenery of Myoban.
Yuan: Relish Local Snacks Steamed in Onsen at This Picturesque Food Stand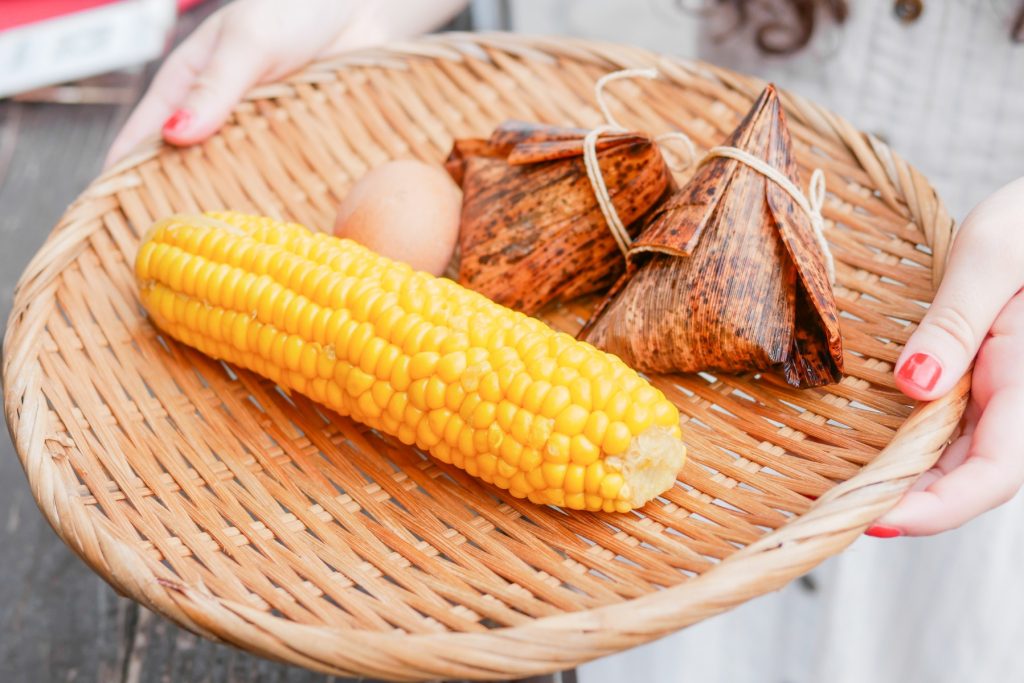 Bathing in the onsen and shopping for souvenirs made us a little hungry, so we stopped for some delicious snacks at the adjoining food stand, Yuan. The menu includes Beppu's specialty food, "jigokumushi ryori" (hell-steamed cuisine) which is said to have been practiced in Beppu since the Edo period (1603 – 1868) and consists of harnessing natural hot spring steam to cook ingredients in "jigokugama" (hell pot) steamers. Some of these are found on the grounds of Myoban Yunosato too, so we could witness the fascinating process of cooking food with onsen from up close!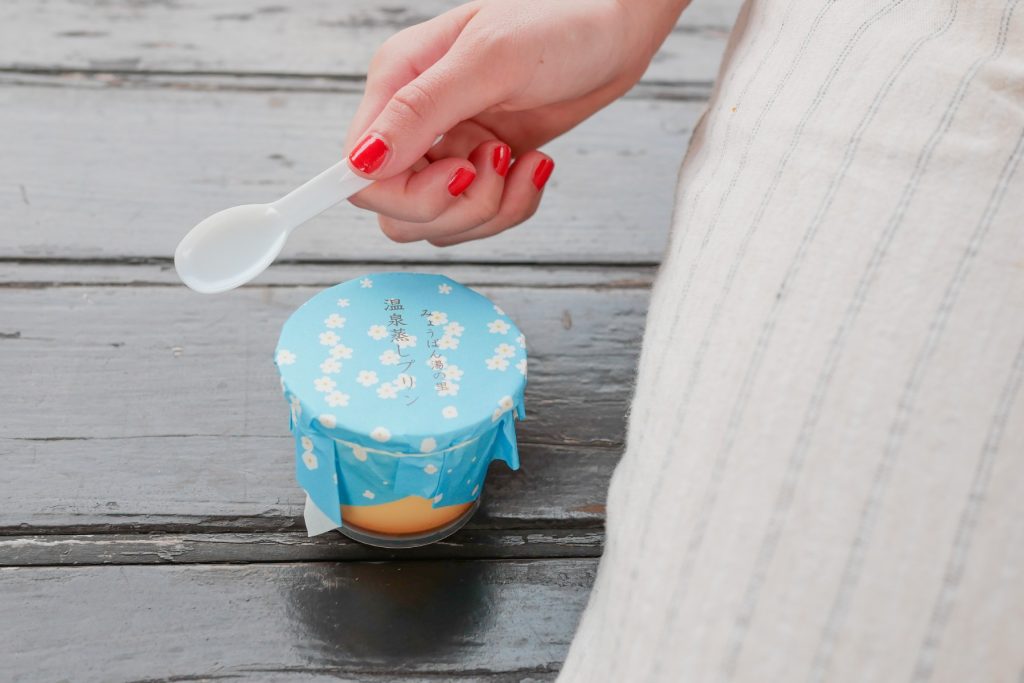 Full of minerals, the hot steam enriches the foods such as delectable "jigokumushi" hard-boiled eggs, sweet onsen steamed corn, andーour personal favorite-"chimaki" sticky rice steamed in bamboo leaves which combines savory rice, juicy pork meat, and crunchy vegetables all in one bite!
The jigokumushi cooking method is also perfect to obtain delicious desserts, with the jigokumushi pudding being the most famous among Beppu's sweets. The one we tried at Myoban Yunosato was firm yet deliciously soft at the same time, with a cream-like richness that made us love every spoonful!
Relish History, Incredible Onsen, and Delicious Local Food All in One Place at Myoban Yunosato
With its beautiful onsen facilities steeped in history and local traditions that date back to the Edo period, Myoban Yunosato is a day-use hot spring facility that allows visitors to enjoy the best that Japan's onsen culture has to offer. So, make sure to take your time and spend at least half a day discovering the beauty of the area!
Information
Name
Myoban Yunosato
Opening hours
・Myoban Yunosato Rotenburo Large Open-Air Bath: 10:00 am – 7:00 pm (Last entry: 6:00pm)
*It might vary depending on the weather and other factors
・Myoban Yunosato Kazokuyu Private Baths: 10:00 am – 7:00 pm (Last entry: 6:00pm)
*It might vary depending on the weather and other factors
・Myoban Yunosato Shop: 9:00 am – 6:00 pm
・Onsen Mushi Yuan: 9:00 am – 6:00 pm
Closing days
None
Price
・Myoban Yunosato Rotenburo Large Open-Air Bath:
・Myoban Yunosato Kazokuyu Private Baths:2,000 yen – 2,500 yen (depending on the bath)
Adults: 600 yen,
Children (4 years old to elementary school students) 300 yen
・Onsen Mushi Yuan:
Onsen steamed egg: 50 yen
Onsen steamed corn: 300 yen
Yunohana pudding: 230 yen
Chimaki Sticky Rice Steamed in Bamboo Leaf: 200 yen
Website (Japanese): http://yuno-hana.jp/
tsunagu japan