Conveniently located along Beppu's most popular onsen tour, the "Jigoku Meguri," is Onishi no Yu – a charming hot springs facility that promises moments of profound rest at an extremely inexpensive entry fee. Part of the Jigoku Meguri is Oniishibozu Jigoku, fed by hot springs that gush out into eerie bubbles of mud, as well as provide healing water to Oniishi no Yu and creates an otherworldly sight visible from the hot spring facility. So, take a break from your day of thrilling "hellish" visits and soak in hot springs overlooking soothing scenery!
Take a Break From Touring the Jigoku Hells at This Luxurious Onsen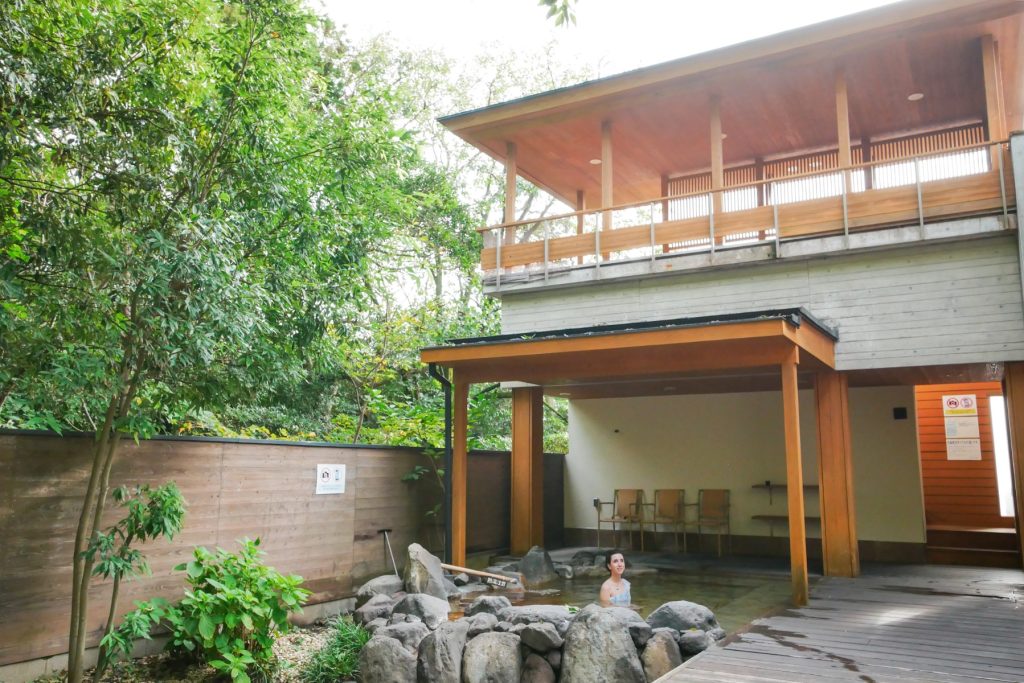 Oniishi no Yu's outdoor baths and panoramic onsen deck
As we were exploring the hot spring-rich Kannawa Area of Beppu, we found Oniishi no Yu, an onsen facility that distinguishes itself from the rest with its unique location, as it stands serene right next to the otherworldly spectacles of one of Beppu's "jigoku" hells. Kannawa not only produces the largest amount of hot spring water in Japan, but it is also renowned for a number of hot spring ponds tinged with surreal colors, powerful bubbling pools of mud, and even geysers known as "jigoku" (hells) because of their boiling temperatures that are not for bathing but for visiting only. Today, visitors can leisurely enjoy these spectacular sights without having to fear their power, but people in ancient times loathed the presence of steaming waters and gas gushing out from the land, hence the name "jigoku."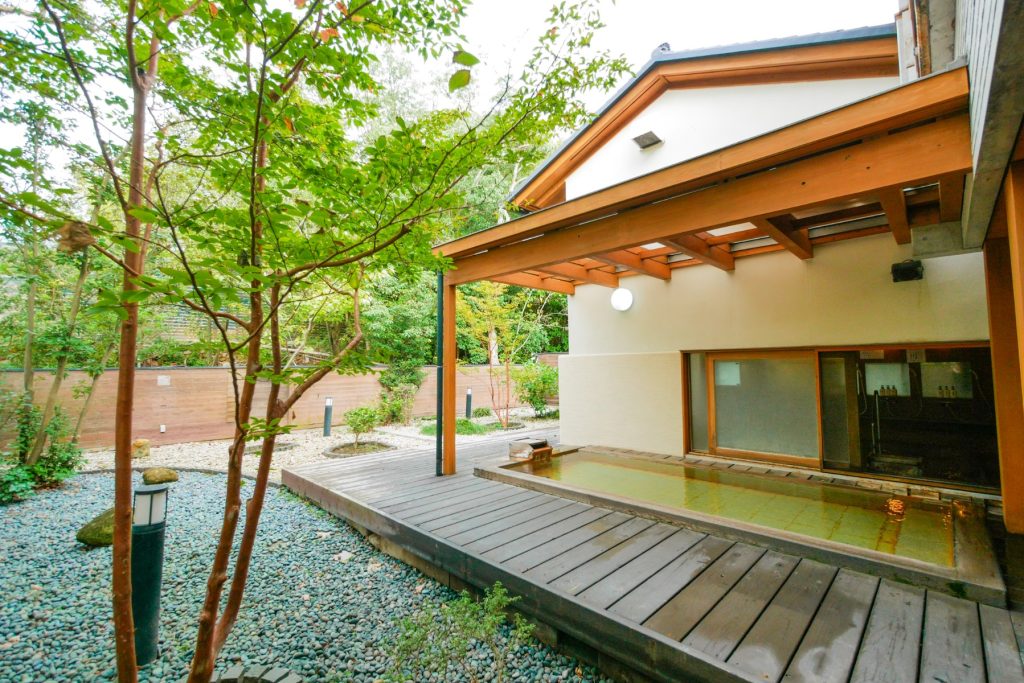 Oniishi no Yu's garden, wooden patio, and outdoor baths
The proximity to these attractions makes Oniishi no Yu the perfect stop in the midst of a day of exploration and a place where visitors are sure to enjoy relaxation, excitement, and the best of Beppu's hot springs.
The onsen is so close to Oniishibozu Jigoku that, upon entering the facility, we could hear the distinctive bubbling sound emitted by the mud pool, a sign of the energetic volcanic activity hidden underground that was an unusual yet truly pleasing music to listen to. As we walked along the vegetation-lined path that connects the entrance to the bath area, we were even offered glimpses of the pool itself, with bubbles of mud of all sizes rippling the silver surface. These bubbles are the reason behind the very unique name of the jigoku, which literally translates to "Demon Stone Monk Hell," as the color and shape of the bubbles are reminiscent of the shaven head of a monk.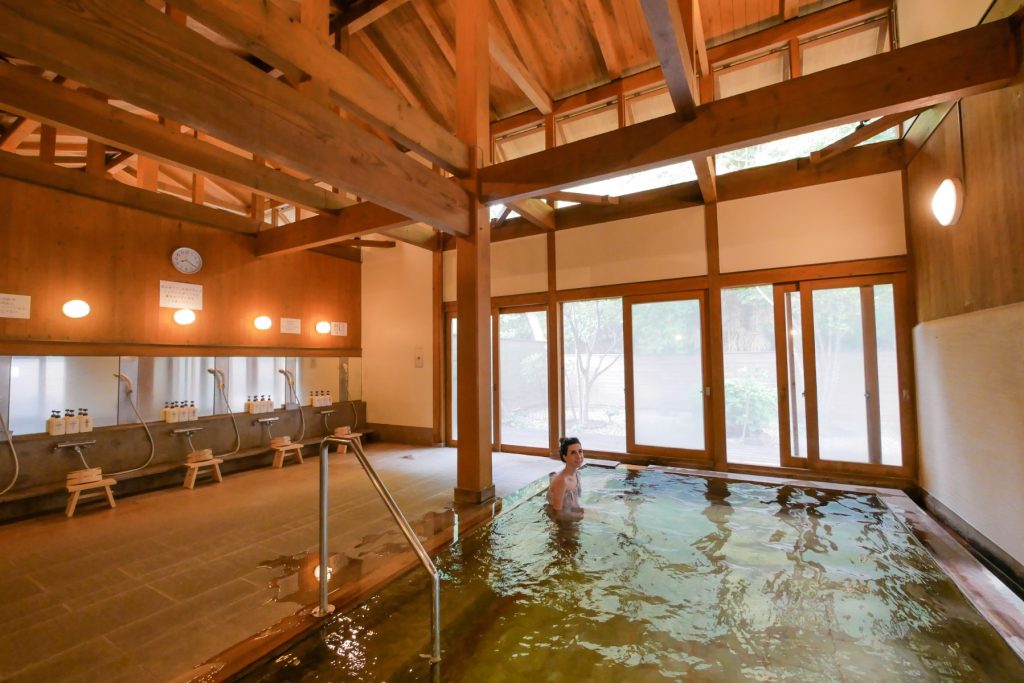 Oniishi no Yu's indoor bath
Oniishi no Yu's hot spring baths are hidden in greenery. The facility houses different types of baths, both indoor and outdoor, that exude an extreme sense of tranquility and are blessed with waters that boast excellent moisturizing effects. We first enjoyed some time in the indoor onsen – a spacious bath with high ceilings, warm touches of wood, and ample windows overlooking the garden. Infused with a sense of openness, we enjoyed soaking in the cozy bath while admiring the scenery outside.
The indoor bath is also conveniently connected to the garden's wooden patio and rest area, so it's easy to step outside and sit on the patio chairs to refresh oneself in the crisp air after bathing in warm water.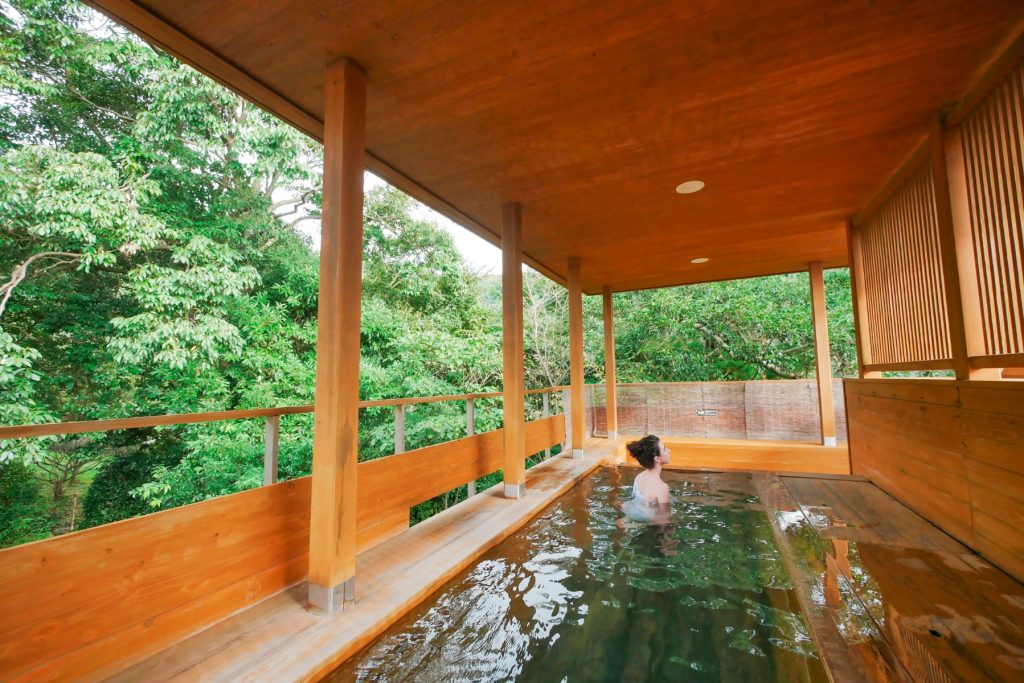 The outdoor baths are even more cocooned in vegetation. Gently embraced by curated hints of green and even embellished by delicate stalks of bamboo swaying in the breeze, they were our favorite part of Oniishi no Yu, where we could leisurely enjoy the beloved Japanese custom of "forest bathing." The greenery is so magnificently arranged around the baths that it even reflects on the still water surface, creating a splendid effect that made as feel as if we were submerged in nature!
At ground level, we relaxed in a bath among rustic rocks charmed by the soft sound of water flowing from a bamboo cane into the onsen. Then, just a set of stairs up, we discovered Oniishi no Yu's most surprising feature: a panoramic onsen deck that welcomes visitors with a one-of-a-kind bathing experience. This elevated wooden platform hosts an onsen pool and picturesque open views of the surroundings. So, once into the water, we could peacefully admire the swaying treetops from up close and benefit from the close proximity to nature even more!
Relish Beautiful Nature and Local Specialties Cooked With Beppu's Unique Hell Steaming Method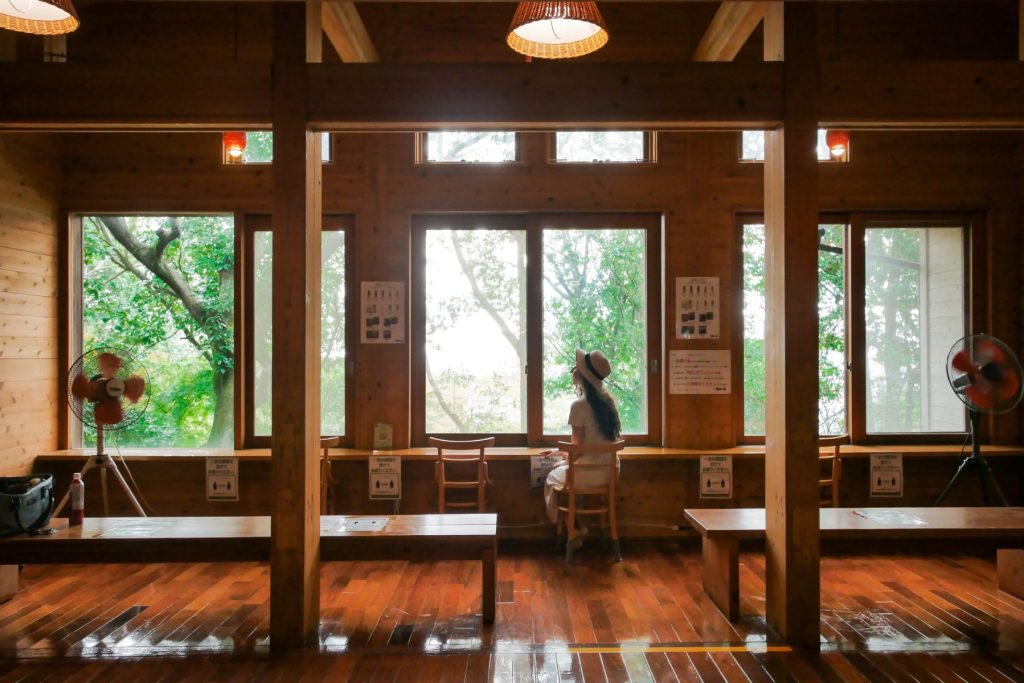 Oniishi no Yu also provides an ample lounge where visitors can relax after their time in the onsen. The space's tranquil ambience made us want to sit by the windows framing the charming panorama, letting us relish some last glimpses of Oniishibozu Jigoku with its steam and bubbles in the distance.
The lounge also serves as cafe space, so you can order refreshments or try one of Beppu's specialties: the jigokumushi "hell-steaming" pudding which is cooked with local hot spring steam to create an exquisite dessert loved by locals and travelers alike.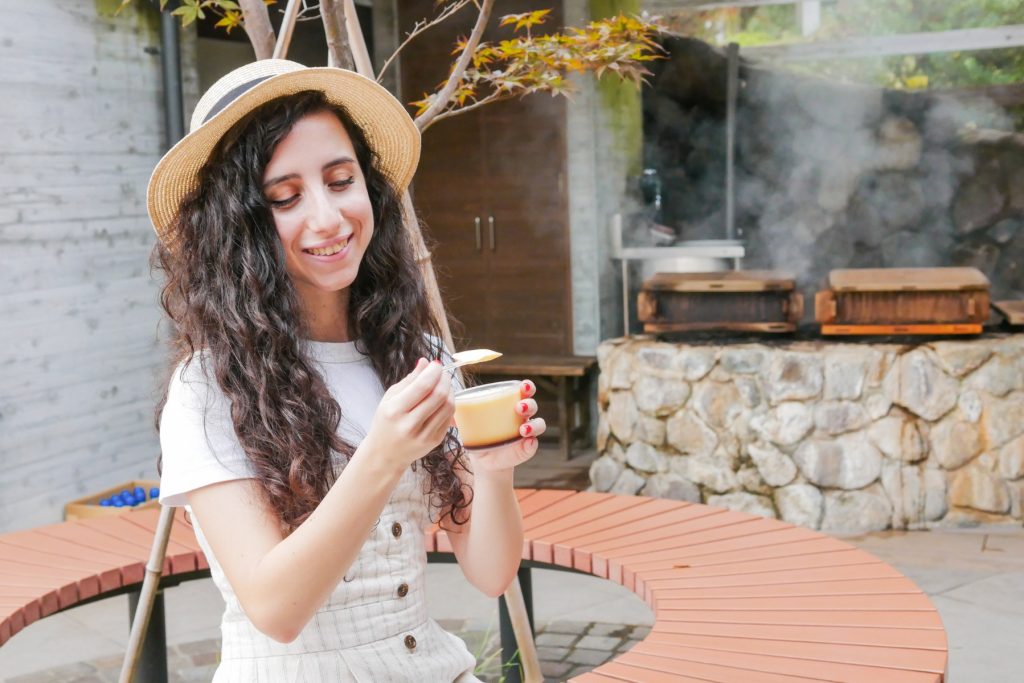 More of Beppu's delicacies can be tasted at Hitoyasumi Kobiri, just outside Oniishi no Yu. Here, we sat next to the "jigokugama" ("hell pots") steamers and could witness jigokumushi "hell-steaming" cuisine from up close. This cooking method is said to have been practiced in Beppu since the Edo period (1603 – 1868) and consists of harnessing natural hot spring steam to cook a wide range of ingredients that are enriched by natural minerals. Most of the shop's best sellers include dishes prepared this way, such as a deliciously soft jigokumushi pudding and bamboo baskets filled with an array of yummy dumplings and steamed buns.
Sooth Your Body in a Healing Onsen Close to Beppu's Jigoku "Hells"
Spend a day touring Beppu's surreal jigoku and then take a break at the charming Oniishi no Yu. So close to Oniishibozu Jigoku that you can hear the bubbling sounds of its mud pools, this onsen will transport you away from the crowds and gift you unparalleled moments of relaxation amidst nature!
Information
Name
Oniishi no Yu
Opening hours
10:00 am – 10:00 pm
(last entry for the communal baths: 9:30 pm, last entry for the private baths: 9:00 pm)
Closing days
First day of the month (it might be closed without prior notice)
*If the first day of the month falls on a Saturday, Sunday or national holiday, the facility will be closed the following weekday.
Price
・ Adults: 620 yen
・ Elementary school students: 300 yen
・ Infants: 200 yen
・ Private onsen baths: 2,000 yen (60minutes, up to 4 people)
*It is not possible to book the private baths in advance.
Website (Japanese)
https://oniishi.com/oniishi-no-yu/