Oniyama Hotel: Stunning even on a rainy day
You've come all this way for a trip, but the rain…
Oniyama Hotel is a great place to stay in Beppu when it rains.
Even if it's raining, you can still enjoy the atmospheric open-air baths!
Oniyama Hotel is conveniently located in Kannawa, the famous hot spring area of Beppu. The founder of Oniyama hotel participated in creating the geothermal park now known as Oniyama Jigoku back in 1928, which is now the source of the water used in the hotel's multiple hot springs. Renowned for its relaxing open-air baths using natural spring water; Oniyama Hotel makes the perfect destination for your next overnight stay in Beppu!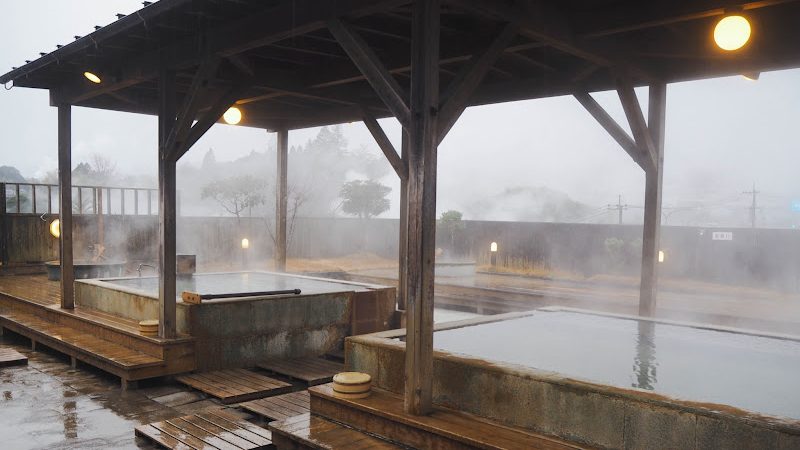 A rooftop view to behold
Oniyama hotel has as many as three different hot springs to visit during your stay; the most popular one being the rooftop bath, displaying a stunning view over Beppu city. The view is sure to impress as you will have a panoramic view over Mt. Ogi and Mt. Tsurumi on one side, and even as far as Beppu bay on the other.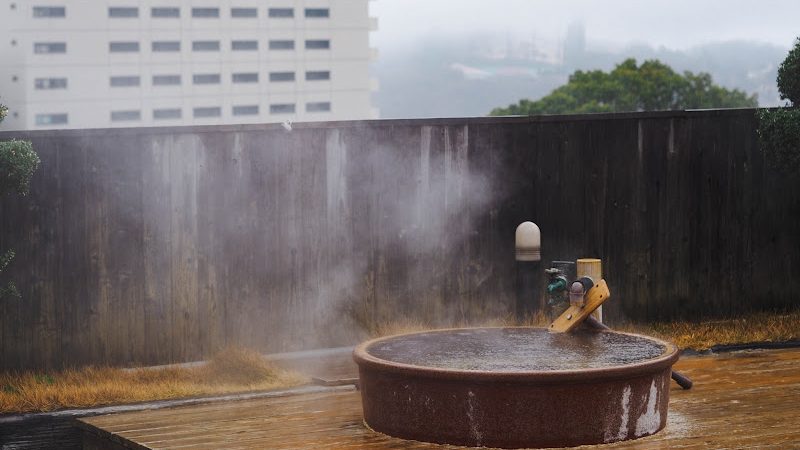 Here you can try out multiple types of baths and temperatures, with all hot springs being a little different from the next. Some of the baths you can find on the rooftop are a cyprus bath, ceramic bath, and iron bath, all with different healing and relaxing abilities. If you're looking to experience different types of hot springs while also enjoying Beppu from above, make sure to stop by the top floor. No matter day or night, the view from the rooftop is stunning all year round!
A tropical vibe
If you don't feel like staying outside, Oniyama hotel also has an inside onsen leading to yet  another stunning open air bath. The inside onsen is quite big, and will leave you with lots of space to relax by yourself even though it's a public bath. The water has a comfortable temperature, inviting you to stay inside the bath for a while. The hotel also provides all sorts of toiletry, so don't fret as all your needs and worries will be taken care of.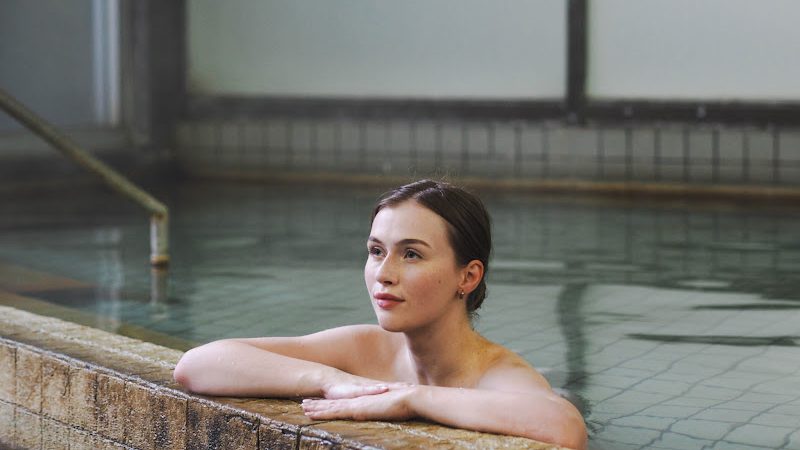 After soaking inside for a bit, you can head to the open air bath which has a tropical feel with palm trees decorating the facility. The trees, water and stones produce an enclosed getaway, making you question if you somehow landed on a far away tropical island. The open air bath uses spring water from Oniyama jigoku geothermal park, so the water is warm and comfortable. Even though the water can get quite hot, combined with the open air the onsen creates a relaxing, spa-like atmosphere.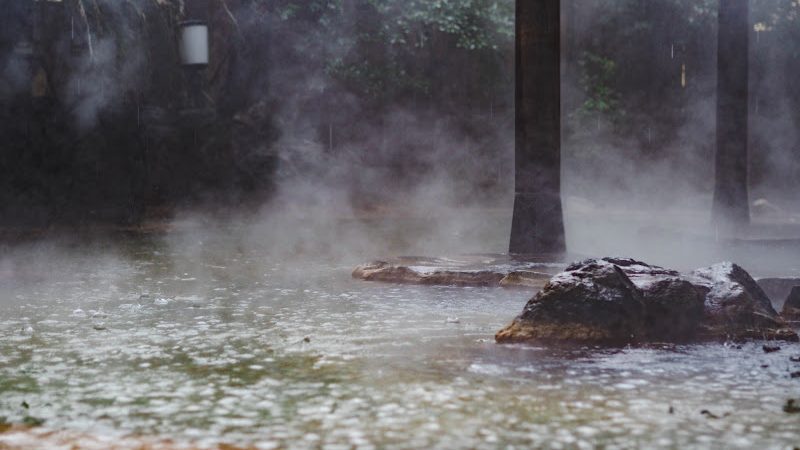 Relax alone
If the public baths are too out of your comfort zone, the hotels also have two family baths that will give you complete privacy. These rooms are free of charge for customers, so you don't have to worry about having to spend extra money for a little moment of peace. Both of the private baths are stone baths, with enough space to host around three to four people. You can use the private baths whenever you'd like; alone, with family or even with a couple of friends!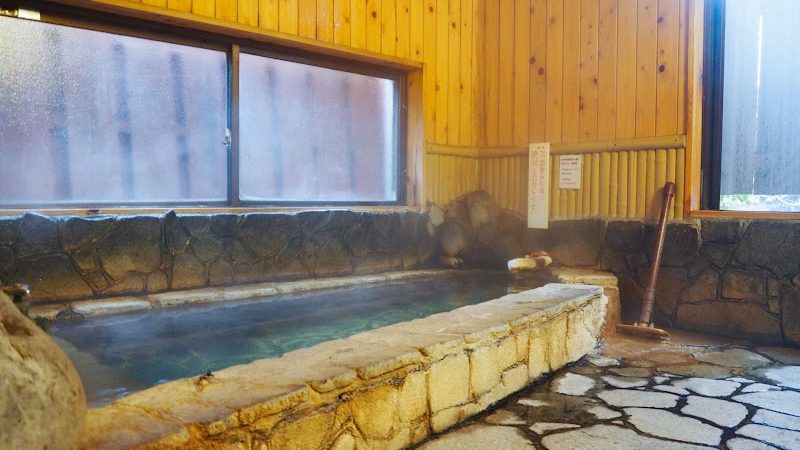 During your stay you also have the opportunity to lounge around in pretty yukatas; a service provided by the hotel. This loose-fitting garment, usually worn during summer, is perfect for strolling around and even sleeping in. Free from the bounds of busy life and uncomfortable working clothes, you're sure to leave Oniyama hotel relaxed and satisfied!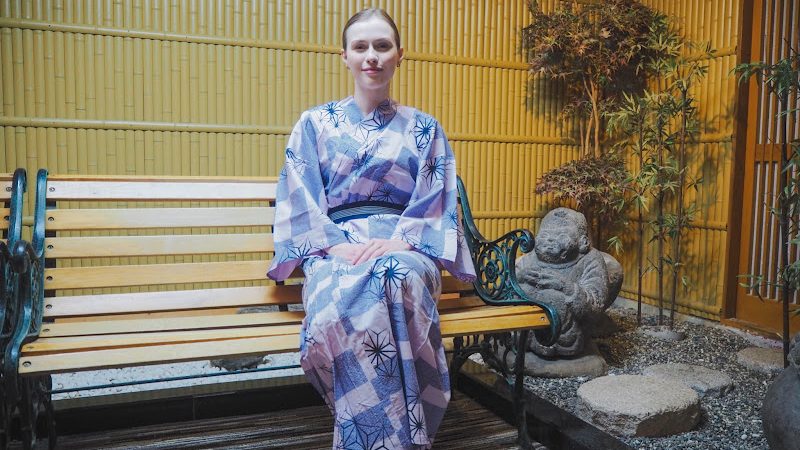 Stunning all year round
Including the hot springs, Oniyama hotel has many impressive facilities available to their customers, including a restaurant, tea lounge and a foot massage area. It's location also makes it perfect for exploring the Kannawa area, which has a lot of interesting and famous tourist spots like the 'Hells Onsens' where you can also try onsen steamed food.
The charming and traditional feel of the facility adds to the experience of staying at Oniyama hotel. I happened to catch the Oniyama hotel on a rainy day, but even then their facilities never stopped being impressive. Be it anytime of the year, Oniyama hotel and the open air onsens are beautiful in every season, so make sure to check it out!
EnjoyOnsen