Envision a carefully preserved traditional hot spring inn and cobblestone alleys filled with the fumes of onsen, wooden rooms where the floors are made of tatami, and the windows overlooking rustling greenery are veiled with Japanese paper. If you are looking for such a gentle and nostalgic escape, look no further than Sally Garden Inn Yanagiya, a Meiji-period (1868 – 1912) heirloom in the heart of old Beppu's Kannawa Area.
Feel Time Slow Down Among Walls and Streets Full of History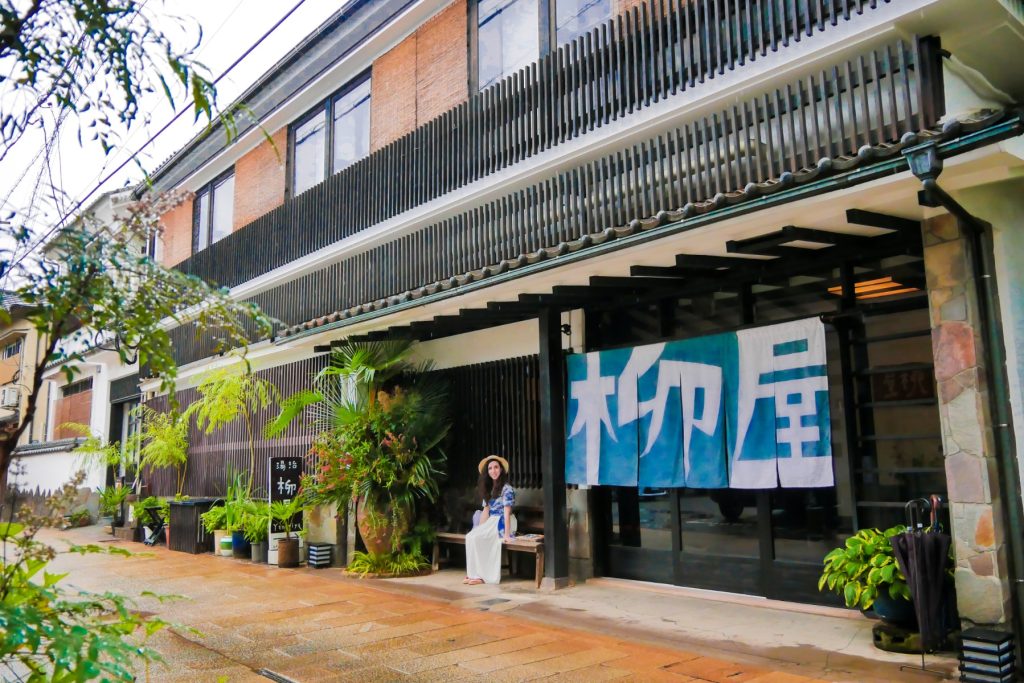 An ensemble of alleys extends its maze of cobblestones through traditional Kannawa, one of Beppu's most famed hot spring areas. It was while walking down one of these nostalgic stone-covered streets that we encountered the peaceful wooden figure of Yanagiya and its iconic blue "noren" curtain painted with giant "kanji" characters. Worn on its sober facade like a statement piece, it made for an eye-catching sight and a memorable first impression of the inn.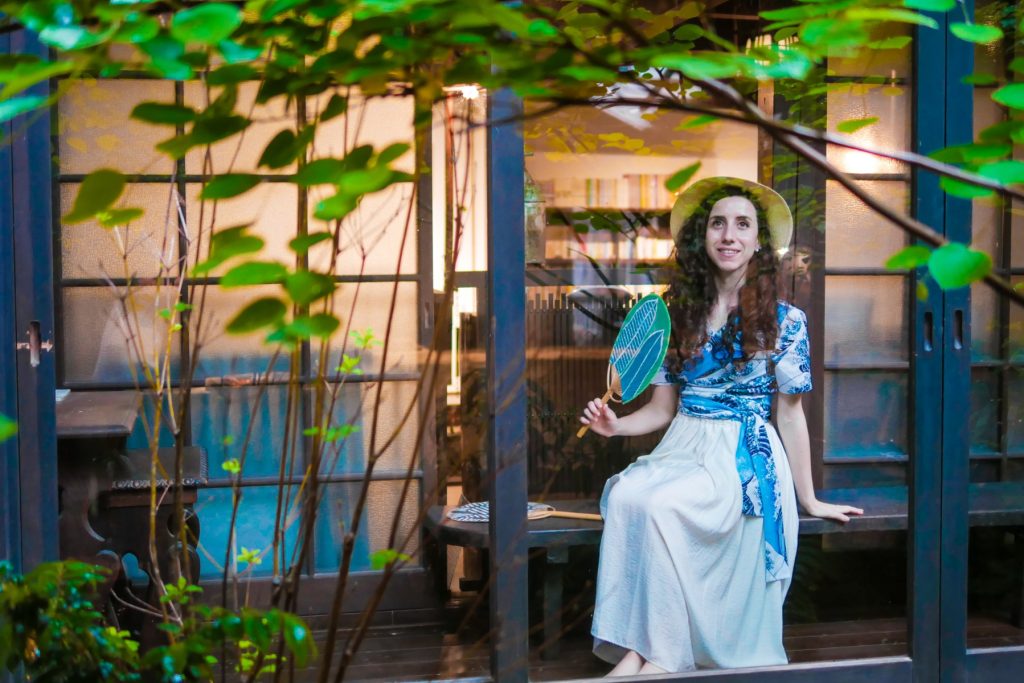 Yanagiya is endowed with ambience and character that gives glimpses into past Japan and its origins dating back to the Meiji period, having been passed down through generations of owners. Years of history and attentive care have accumulated in its interior, taking the form of antique furniture, elegant art pieces, retro fabrics, the rich luster of well-polished black wooden floors, and other precious remnants from past eras.
Inside, dignified corridors followed refined sets of stairs and tranquil lounges opened into mellow communal spaces with sitting areas, forming a layout that revolved around a central courtyard teeming with nature. Hidden from the outside world, the garden felt like a well-kept secret only guests were privy to, a prize for those who ventured up to Yanagiya's core. With no external disturbance allowed, secluded yet in the center of Beppu, Yanagiya seemed capable of making time sweeter and the weight of busy everyday life lighter.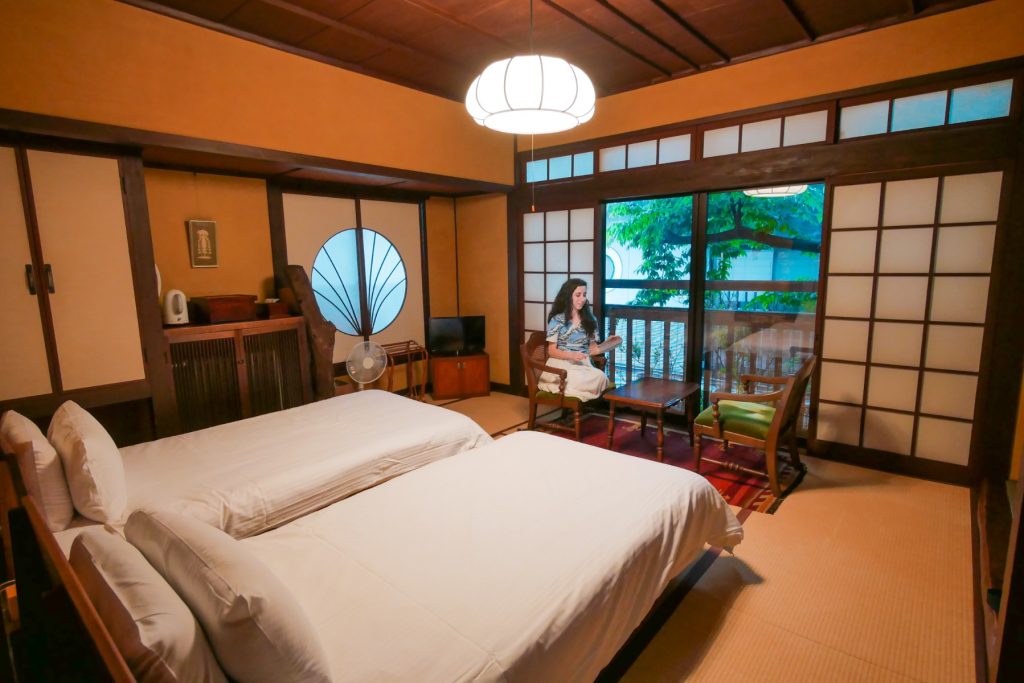 Sophistication and nostalgia were also profusely poured into each guest room. Comfortable and calming, Yanagiya's rooms entwined together treasures of Japanese tradition and slow-paced moments, allowing us to spend time reading or writing by washi paper-covered windows overlooking greenery, abandoning our bodies and thoughts to the restful surface and soft fragrance of the tatami.
Room choice is vast and includes options from both the Shinkan New Building, where guests can enjoy a luxurious and relaxing Japanese ambience with a modern flair, and the Honkan Old Building, which retains the charms of bygone eras. Also available are some more private options: Nest is recommended for workation stays as it comes with a study room and a mini kitchen. Couriel boasts a tranquil indoor onsen bath and separate room which make it perfect for longer trips and stays with your family. Finally, you can opt for the two-storey Nanakusa which is equipped with a kitchen, living room, and even a hot spring bath.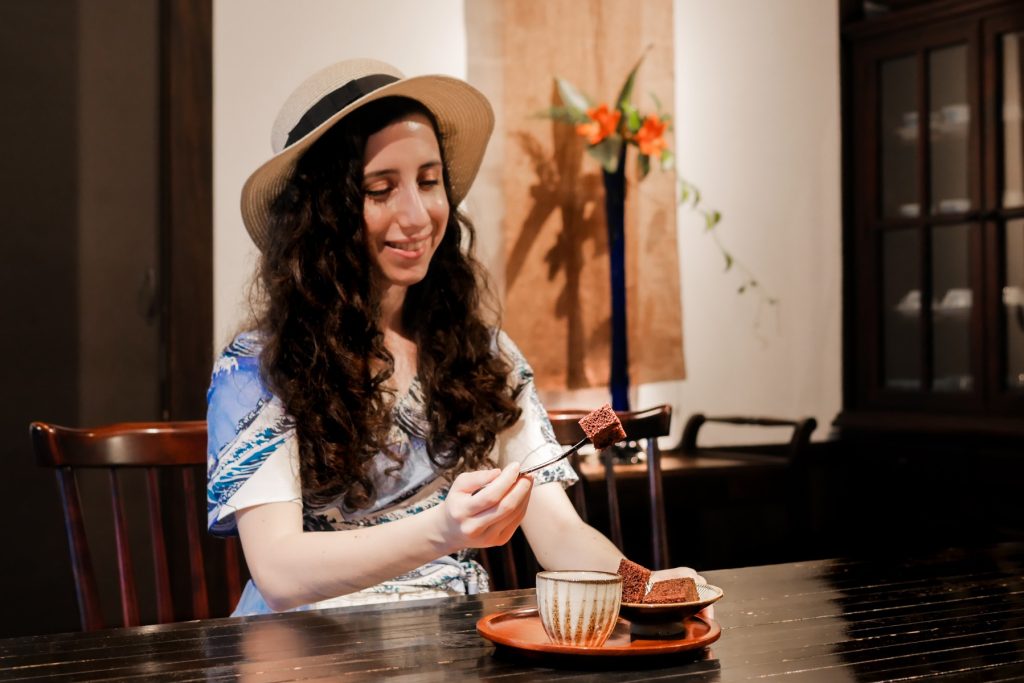 Once you've stepped inside, let the nostalgic tranquility guide you – Yanagiya's pleasant hospitality has to be savored slowly. Relaxation started upon arrival, when we were offered a welcome tea set with fluffy morsels of their original steamed chiffon cake, and continued throughout the afternoon in many ways, while we explored Yanagiya's Anteroom and Alteneue.
Anteroom is a coworking space where guests can help themselves to a selection of beverages. Ample windows overlooking Kannawa's peaceful alleys and cozy seats made it perfect for boosting creativity and just lingering over coffee and browsing through the book corner. It even had a table set up with flowers and vases that guests could arrange and bring back to their rooms.
Adjacent to Yanagiya is Alteneue, a cafe and art gallery where, surrounded by antiques and art pieces, we stopped for another portion of delicious chiffon cake and souvenirs.
Eat Like a Local With Beppu's Most Traditional Cooking Method, Jigokumushi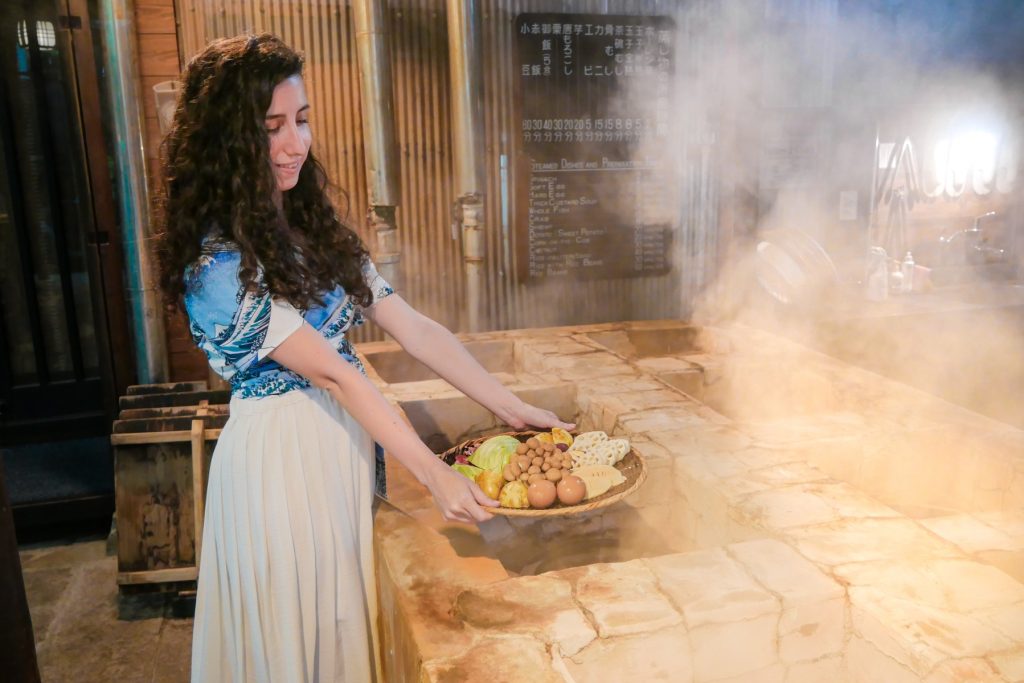 *We recommend you wear the specific heat-resistant kitchen gloves when utilizing the jigokugama.
In the courtyard, concealed among hot spring fumes, is another of the facility's traditional marvels: a "jigokugama" cooking spot. The name literally means "hell pots," and jigokugama are Beppu's own stone steamers which use steam piped from an onsen source underground to cook a local type of specialty cuisine called "jigokumushi" ("hell-steaming").
Simple yet impactful, "hell-steaming" dates back to the Edo period (1603 – 1867) and has been long-appreciated as a healthy cooking method capable of drawing out the true flavors of the food thanks to the mineral-rich steam.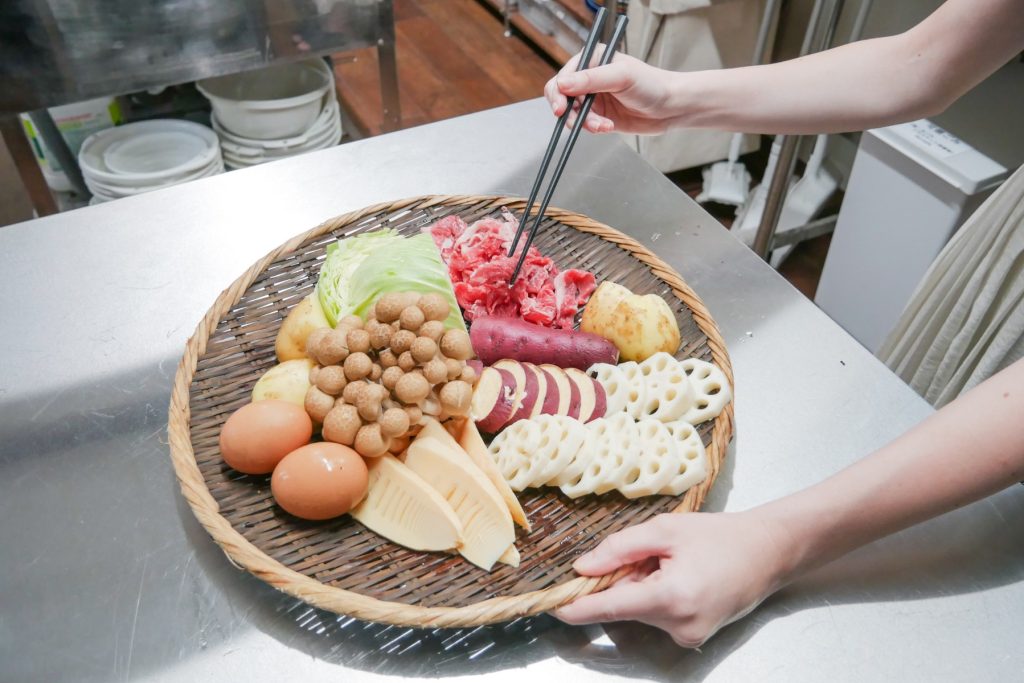 Guests can choose between different meal plans and savor dishes made by professional chefs with locally-sourced ingredients at Yanagiya's restaurant "Otto e Sette Oita," or go for a hands-on jigokumushi experience. We opted for the latter, excited to dip our toes into the world of hell-steaming cuisine.
Food is said to bring people together, and Yanagiya does its best to give guests a chance to connect with the local community and explore the joys of grocery shopping like a true Kannawa resident. The staff suggested we try the nearby corner shop and even gave us a free drink coupon to use. Brimming with retro ambience and showcasing a small but tempting selection of local vegetables, eggs, beef, and more, the tiny shop and its sweet, elderly owner made us feel like part of the neighborhood.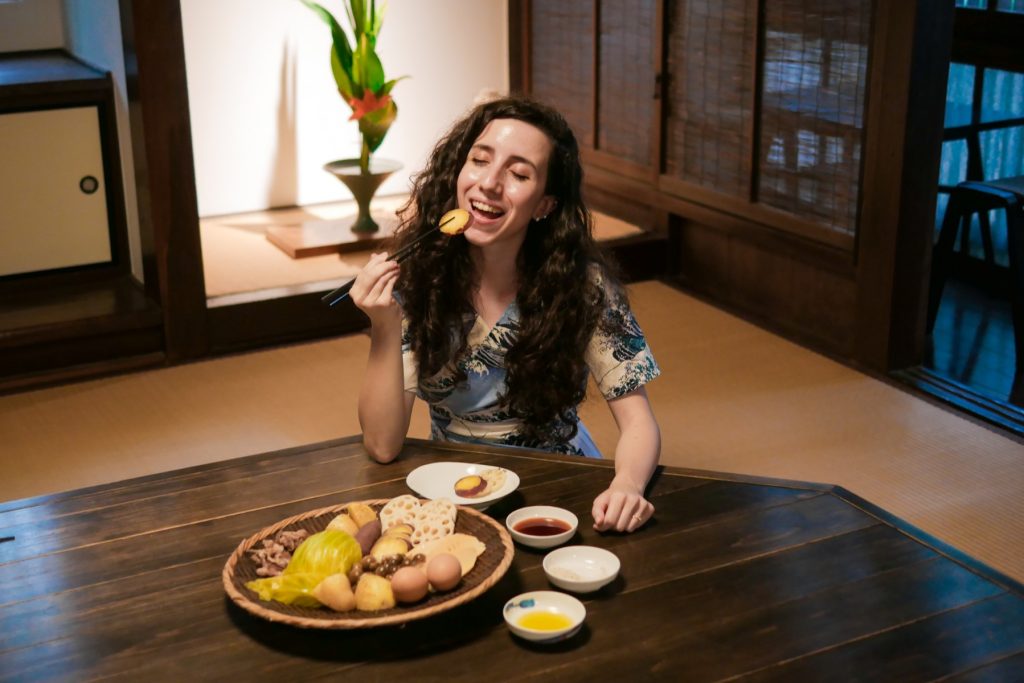 We returned to Yanagiya with our arms full of delicacies and ready to enjoy some time in the kitchen. The inn's fully-equipped cooking space came with every kitchen utensil and piece of tableware we might have needed, including the bamboo trays utilized for jigokumushi. Having also been able to pick among a wide variety of condiments, some of which we've never seen before in Tokyo, we discovered our favorite pairing in that of steamed food and the local "kabosu" citrus salt.
After the staff explained to us how to use the steamers and where all the utensils were, jigokumushi was simple and quick enough that even beginners like us could cook some delicious, nutrient-laden dishes. For ingredients like ours – an assortment of cabbage, sweet potatoes, bamboo shoots, lotus roots, mushrooms, eggs, and beef – you won't even need 15 minutes, but when in doubt, we suggest you refer to the panels hung in the courtyard, which illustrate the required cooking times for different types of food, and steam your favorites.
To make your jigokumushi cooking experience even more memorable, don't miss the chance to eat in Yanagiya's traditional communal lounge. There, we could savor our freshly-made dinner sitting by the inn's hearth, enjoying – between mouthfuls of tasty vegetables and beef – the mellow atmosphere of the room and the steam-filled view of the courtyard.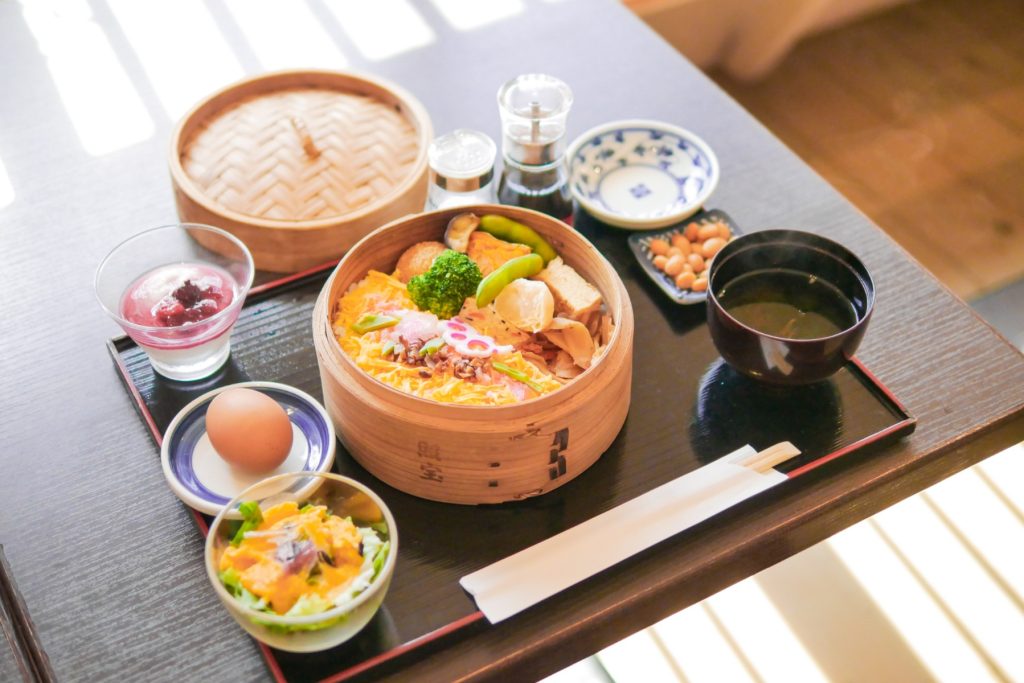 Mouth-watering trays and baskets of steamed food can also be prepared by Yanagiya's staff, if booked in advance. We particularly appreciated their jigokumushi "seiro" breakfast which presented sushi rice topped with a mix of vegetables and other healthy ingredients, beautifully arranged in a traditional bamboo steamer.
Get the Most Out of Yanagiya's Curated Onsen Time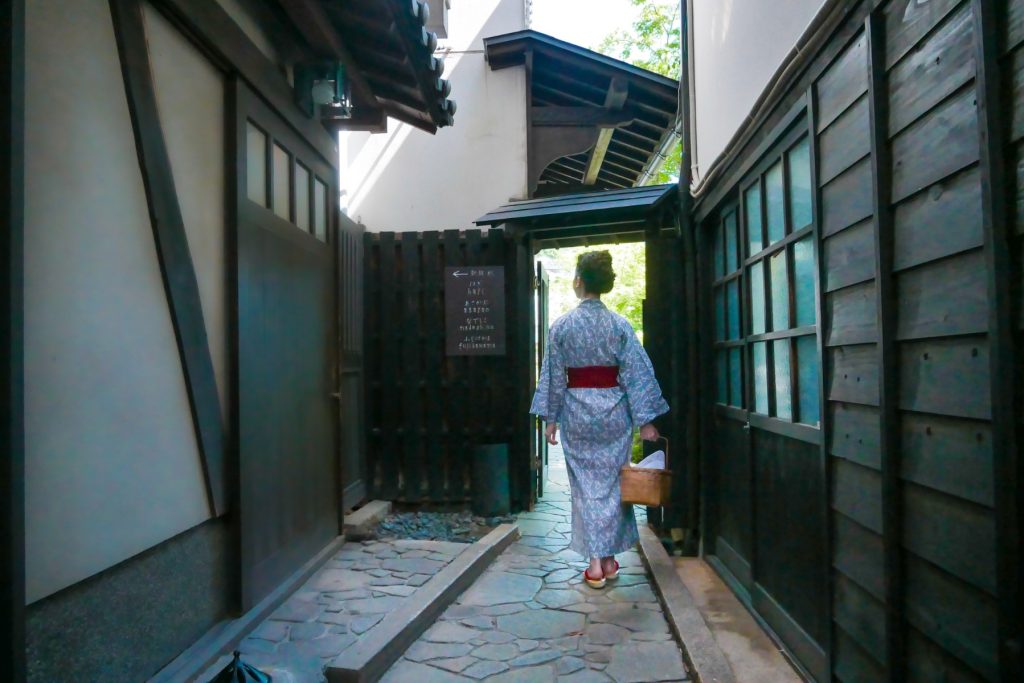 Sally Garden Inn Yanagiya's original yukata robe
Being located right in the center of the Kannawa Area, Yanagiya also gave us the opportunity to explore this charming neighborhood. The onsen-filled Kannawa is a treasure trove for hot spring lovers, hosting many hole-in-the-wall gems and unique onsen spots. Luckily, we had the staff's insider tips on our side. Thanks to their advice, we could pay a timely visit to the popular herbal steam bath at Mushiyu right on the day when they changed the bed of medicinal herbs with a fragrant, new one.
As most attractions in Kannawa are within walking distance, we still had plenty of time after the steam bath to further immerse ourselves in the peaceful atmosphere of its alleyways and walk around in our yukata robes. By day, Kannawa is a spectacle of traditional nooks, chimney-like pipes jetting out hot steam in the bright, blue sky, and mysterious contraptions crusted over with minerals, with streams of hot spring water running under the surface of its streets. We could really feel how hot springs are part of everyday life here.
At night, Kannawa transforms into a world of ethereal panoramas where onsen steam lit up by street lights floats on the cobblestone alleys. If you decide to venture out to tour that fascinating scenery, keep an eye out for local cats. You'll surely be amused by the sight of them taking advantage of the warmth radiated by the onsen drains to take cozy naps.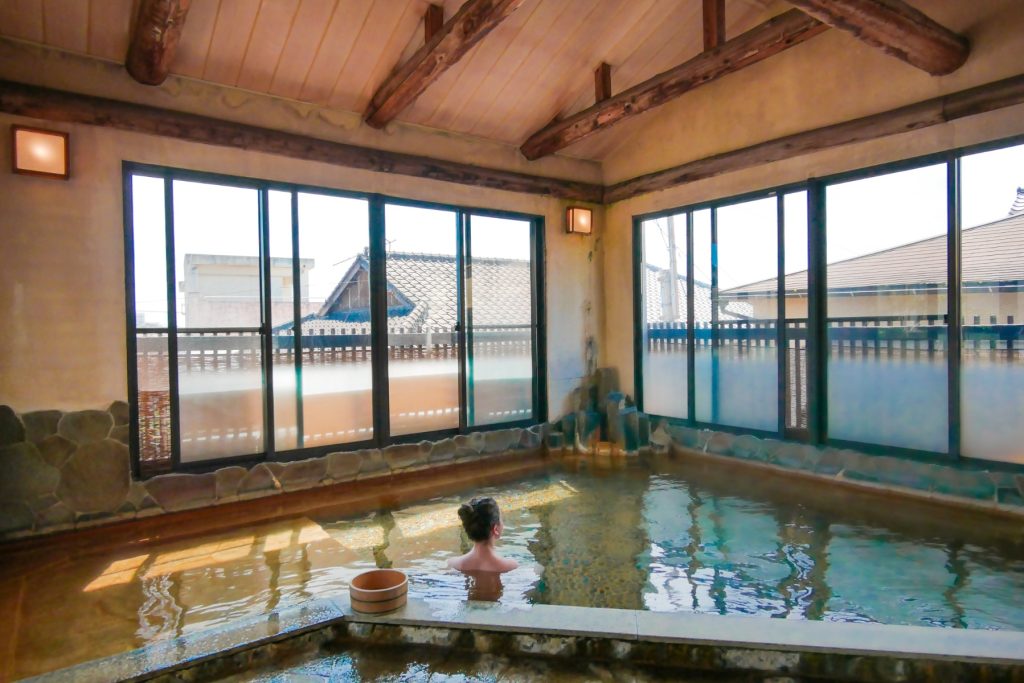 Sally Garden Inn Yanagiya's indoor onsen
Our memorable stay at Yanagiya concluded with one last dip in the onsen. Yanagiya's hot spring water has a silky touch to it and is referred to as "Beppin no Yu" ("water of beauty") as it is said to have moisturizing effects on the skin. Guests can try these beautifying properties both in the indoor and outdoor baths.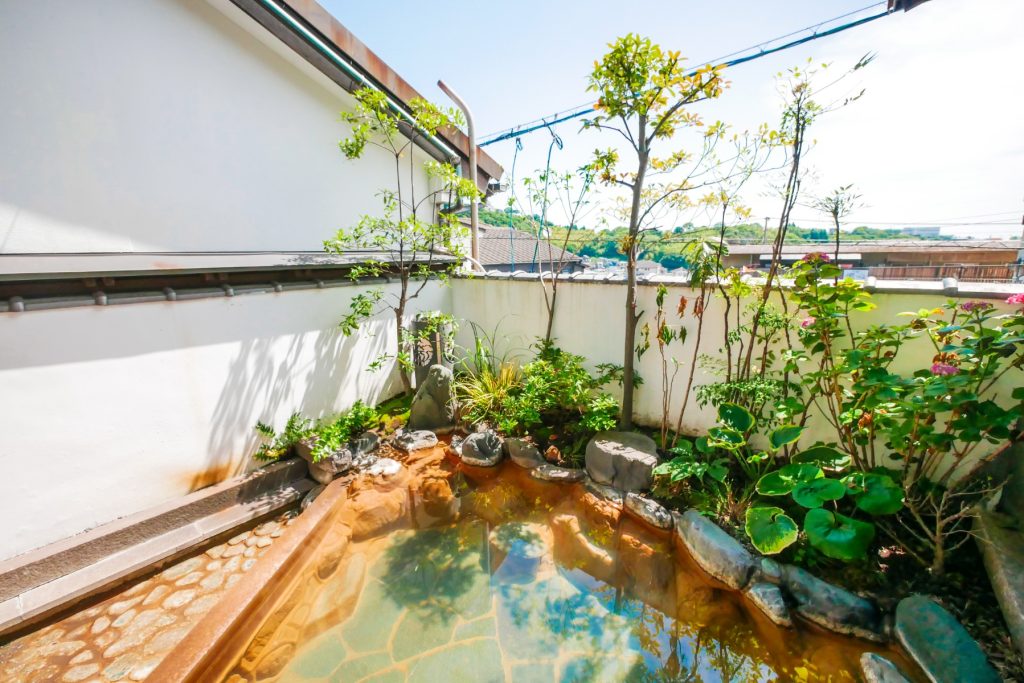 Sally Garden Inn Yanagiya's outdoor onsen
The indoor hot spring bath was spacious and cozy, so we could really take our time and relax. But we especially appreciated the outdoor bath, as it was surrounded by lovely greenery, and we could enjoy the nice weather and one last view of Kannawa's spectacular trails of steam floating in the air.
Stay in a Sophisticated Onsen Inn Dating Back Centuries Ago
With its elegant guest rooms and retro spaces, Sally Garden Inn Yanagiya allows you to experience the nostalgia and refinement of a bygone era. Both the inn and the Kannawa Area ensure a memorable stay filled with history and tradition.
Information
Name: Sally Garden Inn Yanagiya
Opening hours:
・Guests: 2:00 pm – 10:00 am
(11:00 pm – 11:30 pm: simple cleaning and switch of the men's and women's baths)
Closing days: irregular
(the facility might close due to maintenance)
Price:
Free (for guests)
Website (Japanese): https://beppu-yanagiya.jp/
Website (English): https://beppu-yanagiya.jp/en/
How to get to Beppu, where Sally Garden Inn Yanagiya is located.
tsunagu japan