Konichiwa!!
Today it's me, Hinata, who greeted you in Japanese. "Konichiwa" is an indispensable Japanese word when it comes to entering hot springs in Beppu, so let's commit it to memory.
Aside from that, do you all know about Beppu? Surely those looking up "onsen Japan" found places things like site, but when you speak of "onsen Japan," you can't forget about Beppu. That's because….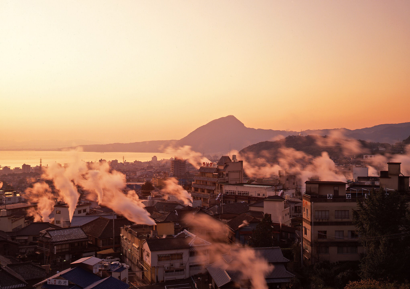 Beppu accounts for one-tenth of all of Japan's hot springs!! Moreover, within this tiny town, there are eight hot spring areas and an abundant variety of hot springs – including red, white, blue, sand, and mud. The sheer variety is the best in Japan. It's too amazing!!!!
Today, we'll be introducing Kamegawa Onsen, one of the eight hot spring locations in this onsen heaven called Beppu. Kamegawa Onsen is a bit far from Beppu Station and tourist attractions, (we say that, but honestly, because Beppu is a tiny town, you can still go pretty quickly) but it's got a ton of wonderful hot springs. Hot springs like the aforementioned Kamegawa-Sujiyu are really unique, and are thought to be the best in Japan.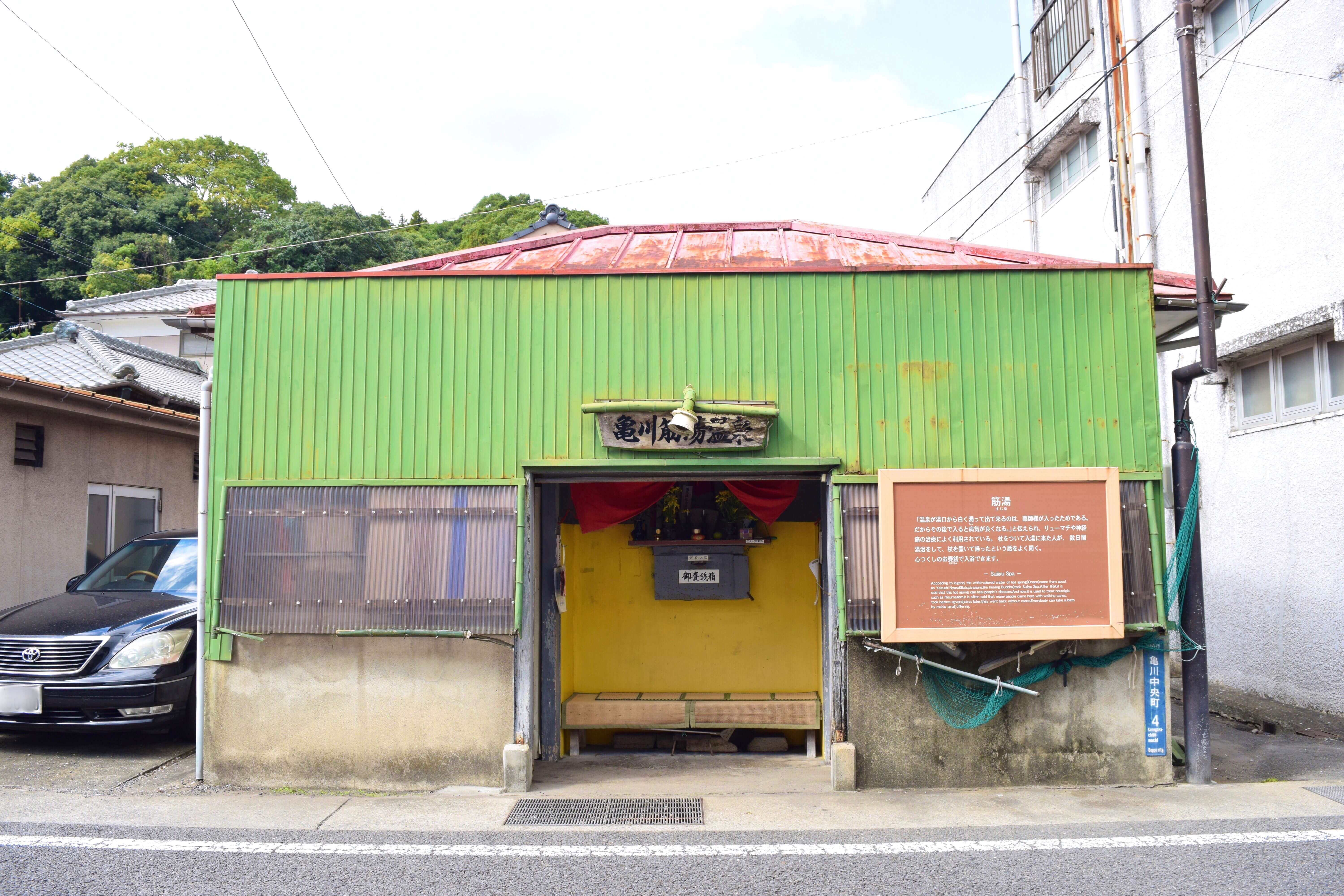 For the sake of people saying things like, "Ah… but Kamegawa-Sujiyu is too strong…" we're going to introduce hot springs in Kamegawa that are easy to get in. Personally, I think it's worthy of being in Beppu's Top 5.
Kamegawa is kind of far from tourist attractions, but I feel like, for that reason, it's a great peek into the life of Beppu's people. When you escape the retro shopping district and leisurely take a walk through the residential area, a small park will come into view. If you look reaaaally well, you'll see there's a small building in the park.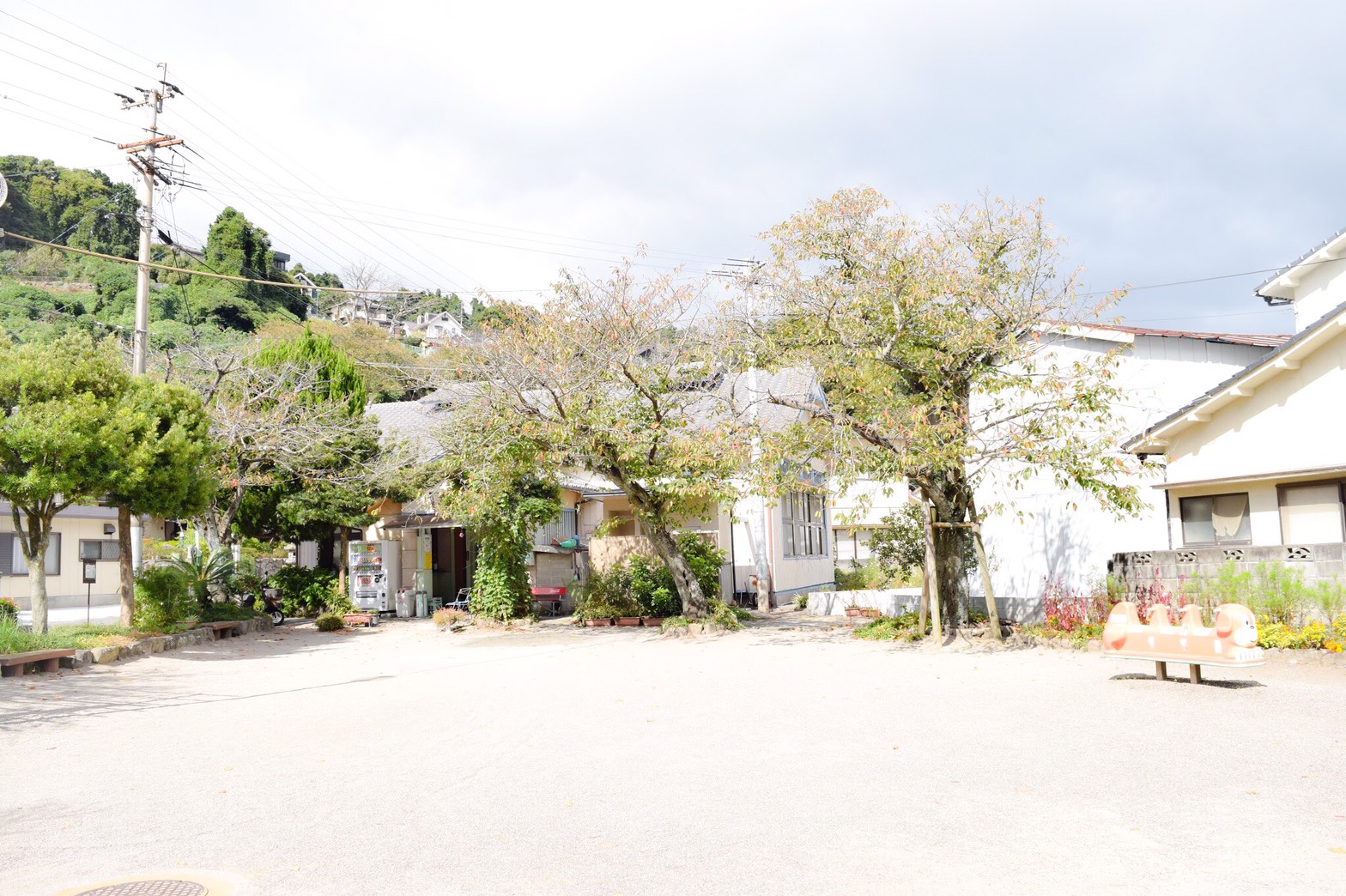 That's right. This is the hot spring we'll be introducing.
Statues are enshrined at the entrance.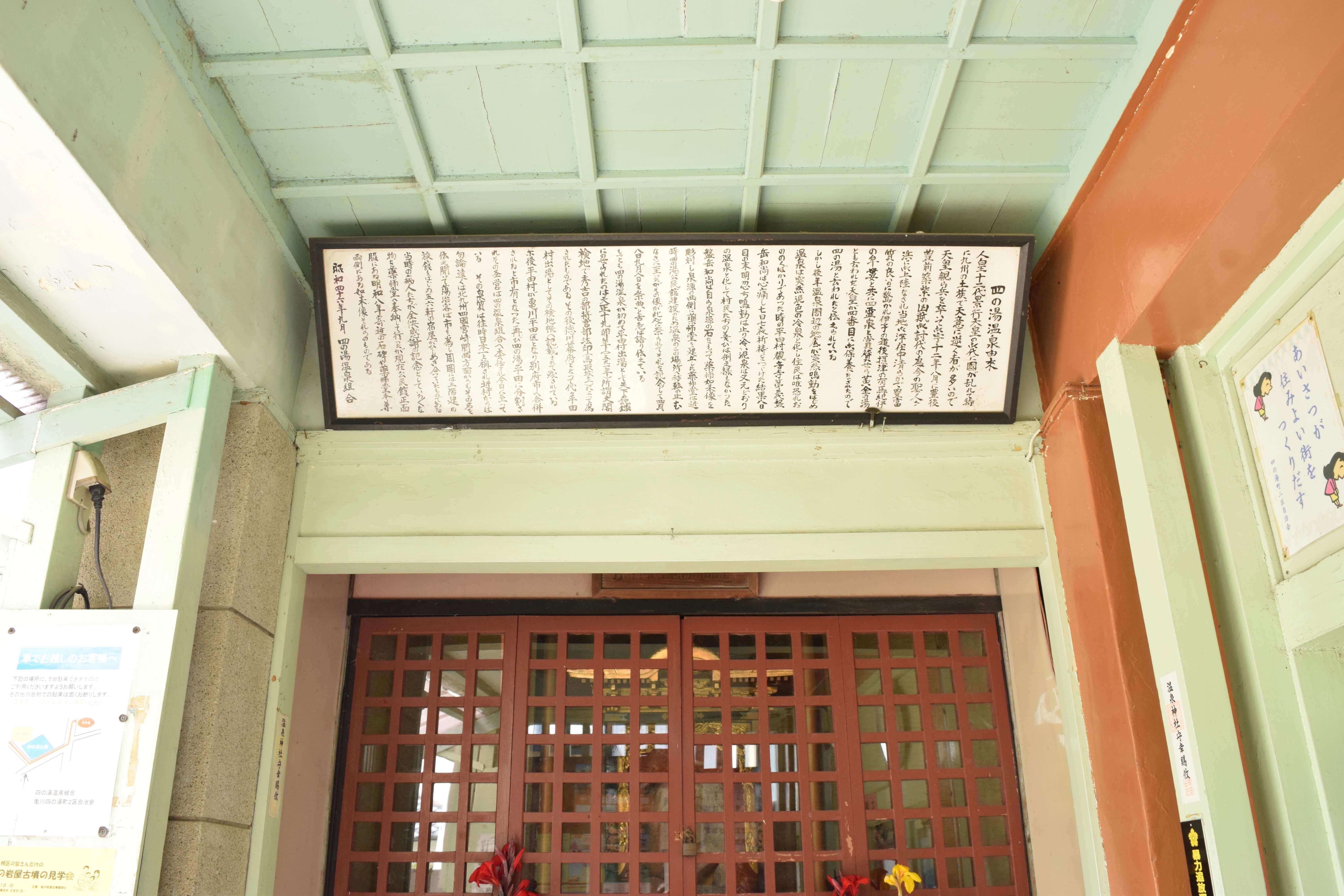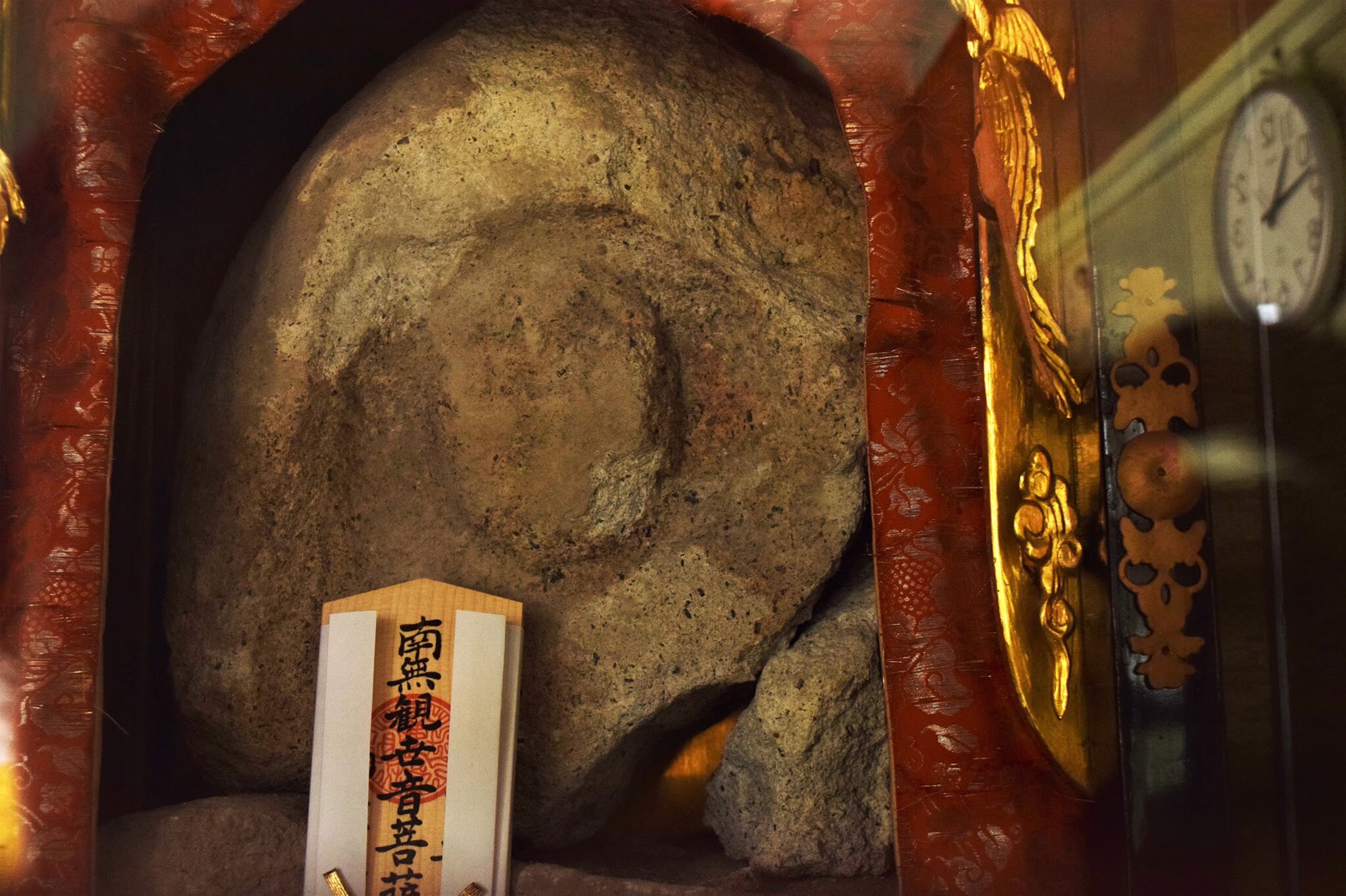 If you look at the written explanation above, you'll see the history of Shino-yu is written there. According to it, a long, long time ago (the era of Japanese mythology, around 1 BC or 1 AC), when Emperor Keiko came along, Shino-yu got its name from being the fourth most wonderful hot spring in all of Japan. That's how it's written. By the way, Shino-yu's "shi" comes from the number four.
On a day hundreds of years after that, it seems the hot spring had been reduced to mere muddy water due to an earthquake. At that time, a great priest created a statue of Kannon and recited a sutra, and the hot spring was restored. So it seems that it's the Kannon statue that is enshrined here.
These stories are legendary to a fault、 but history is circulated over a long period of time. At the very least, it seems to be an old hot spring recorded in literature from the Edo Period (1603-1867). The local people place offerings in front of Kannon's statue, and there was someone offering a persimmon when I went in autumn.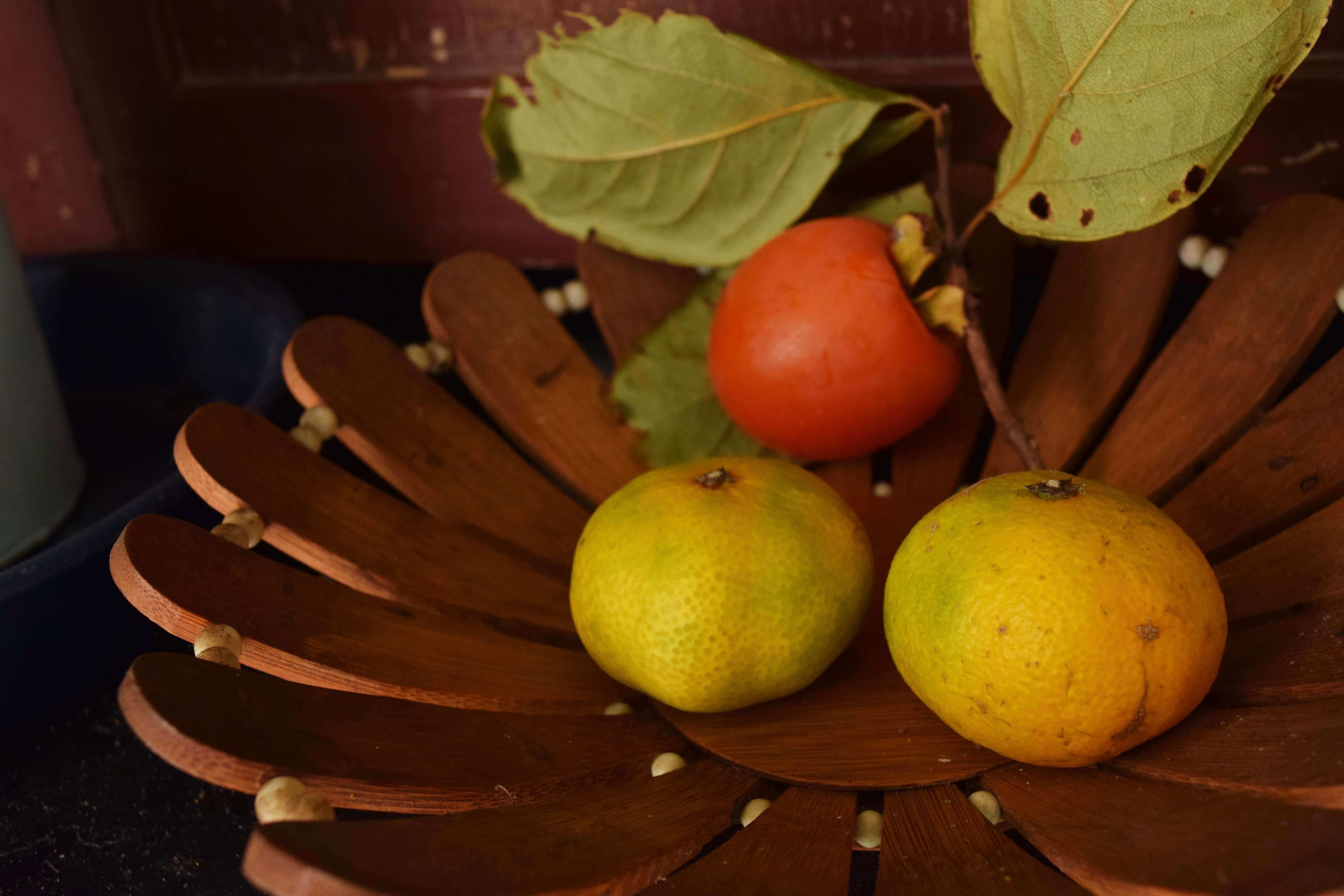 This is THE Beppu Communal Hot Spring
Shino-yu、 being historical, it's interior is obviously vintage – a semi-underground bathroom (the remnants of an era without pumps?), a bathroom with a dressing room, high ceilings and windows to release steam. These are the typical communal hot spring styles of Beppu, which have now become less common.
There are no showers or wash basins in this hot spring. People who need it have to ask the front desk for one. The walls are a lime green color, giving it a refreshing feel. A sort of atmosphere is created with a large mirror and a dated sign hung up where you go down the stairs to the semi-underground area.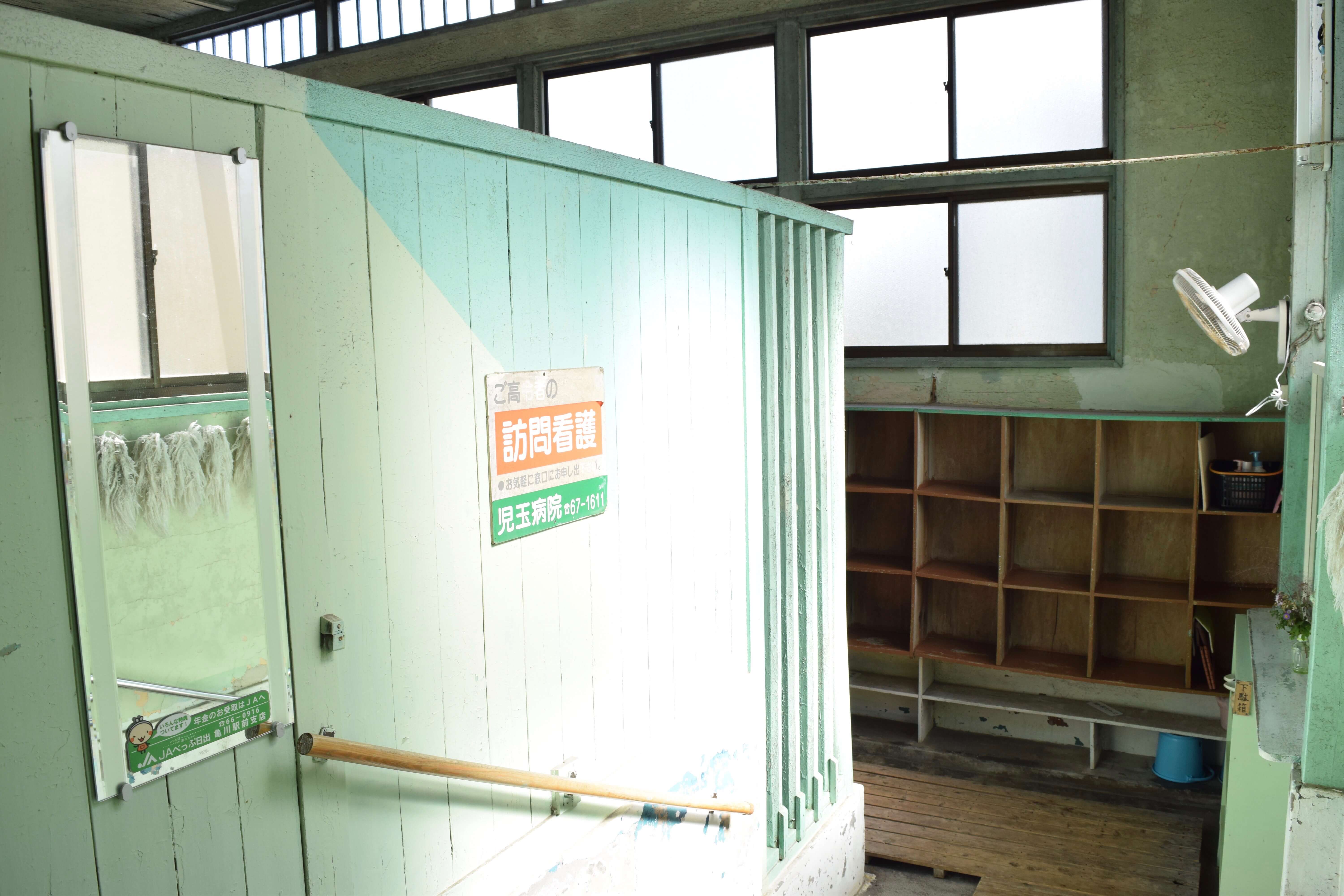 The bathroom is very spacious. The building is retro and a little old, but it is very comfortable because it's clean.
With the dressing room and bathroom integrated, you can always see your own luggage and feel at ease.
Because the bathtub is divided into hot and lukewarm water, it's easy to enter even if you aren't accustomed to hot springs.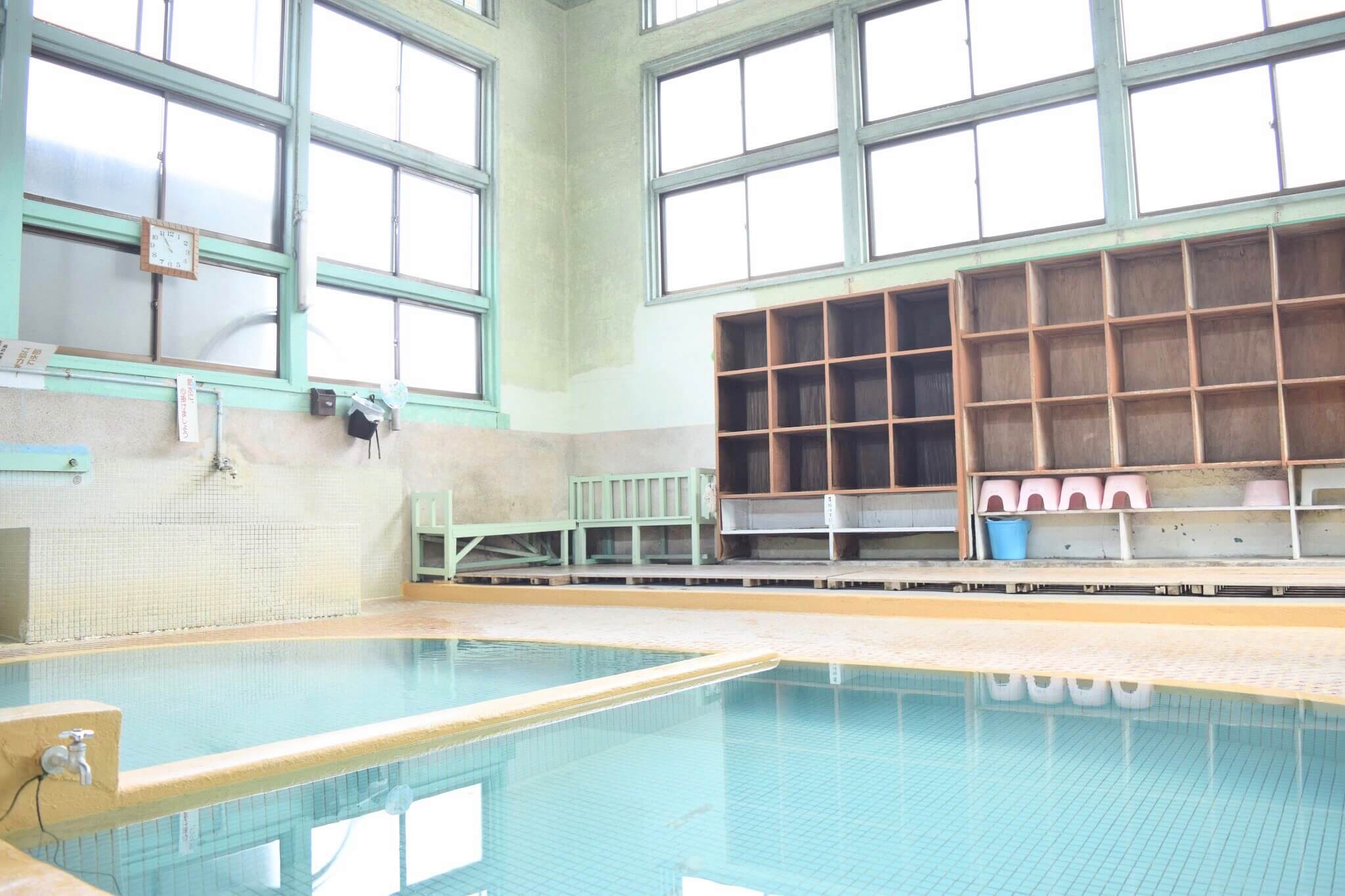 There are instructions plastered to the wall separating the men and women, but it's obviously old. If you look at the installation date, it's Showa Year 28… an item from 1953.
(Instruction Photo)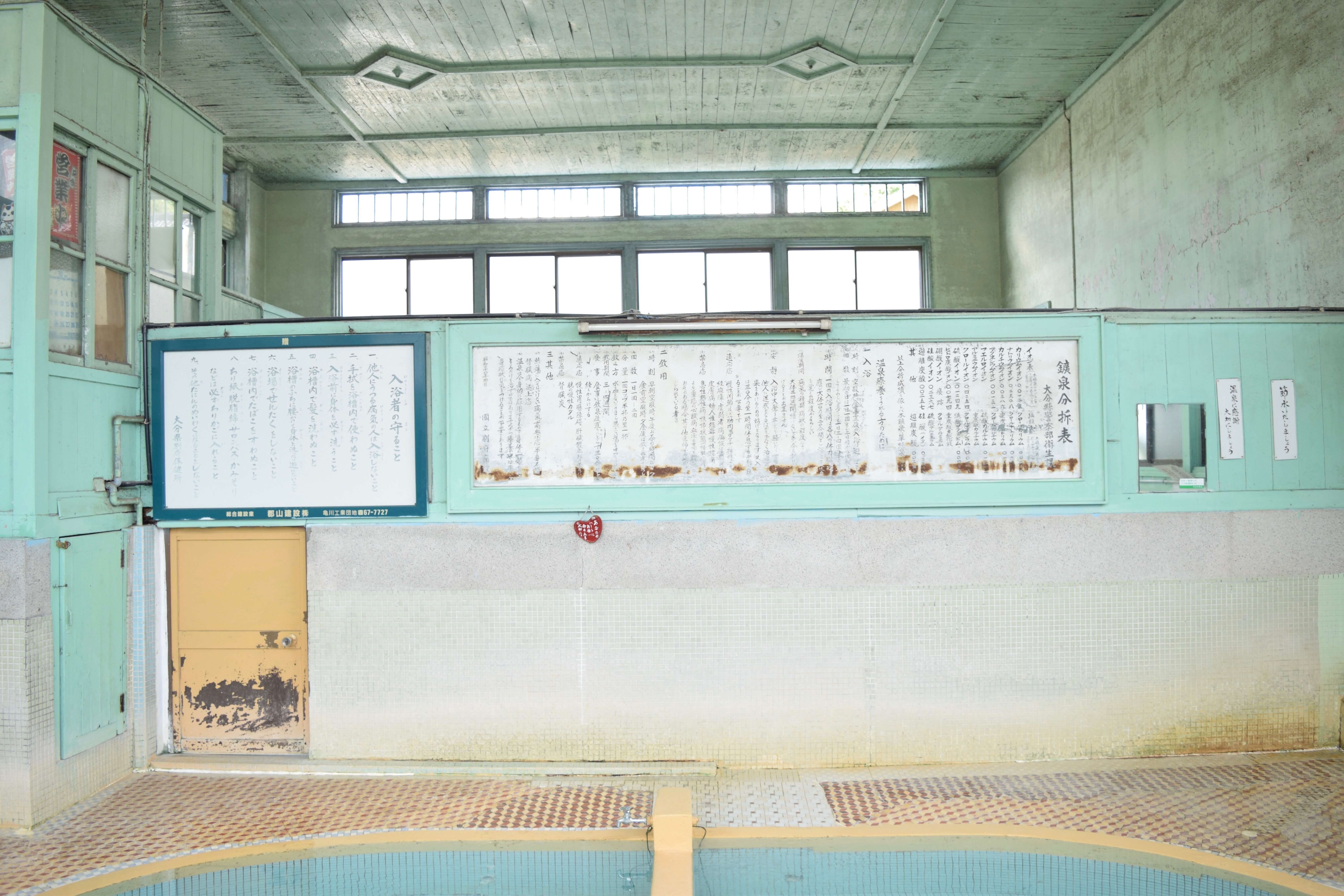 The colorless and transparent but soft water feels so good, and it seems like you could stay there forever. I put my head on the edge of the bathtub and looked up at the high ceiling.
The blue sky which I can see from the ceiling window is also refreshing and, aaaahhhh, it feels so nice.
Blue skies with blue baths, wrapped in bright sunshine –
My recommendation is to go during the day rather than at night!!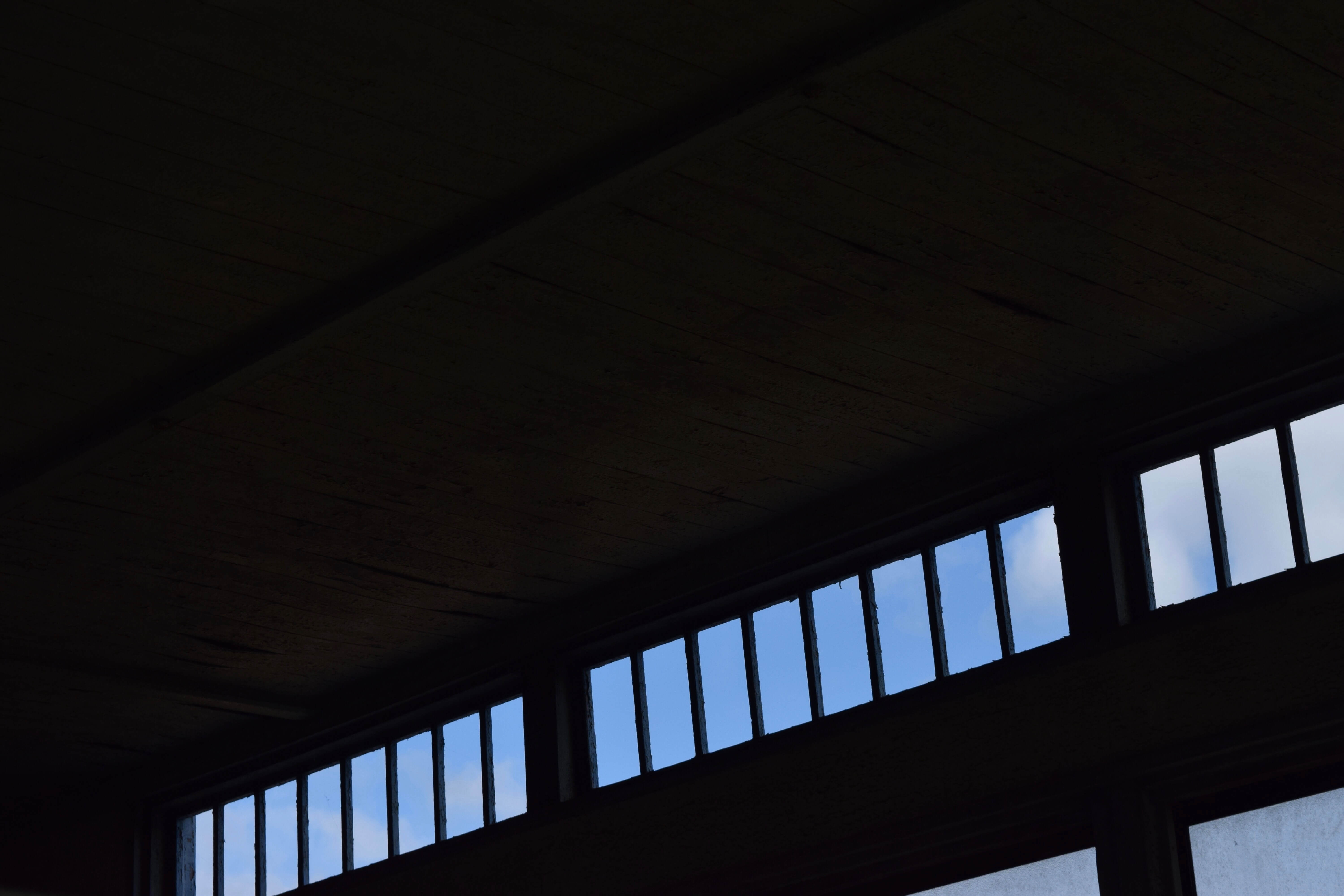 Now, when you lower your line of sight, a colorful cup is dangling.
That's right! It's a drinking spring! I tried to drink immediately.
There's no peculiarity and it's really easy to drink.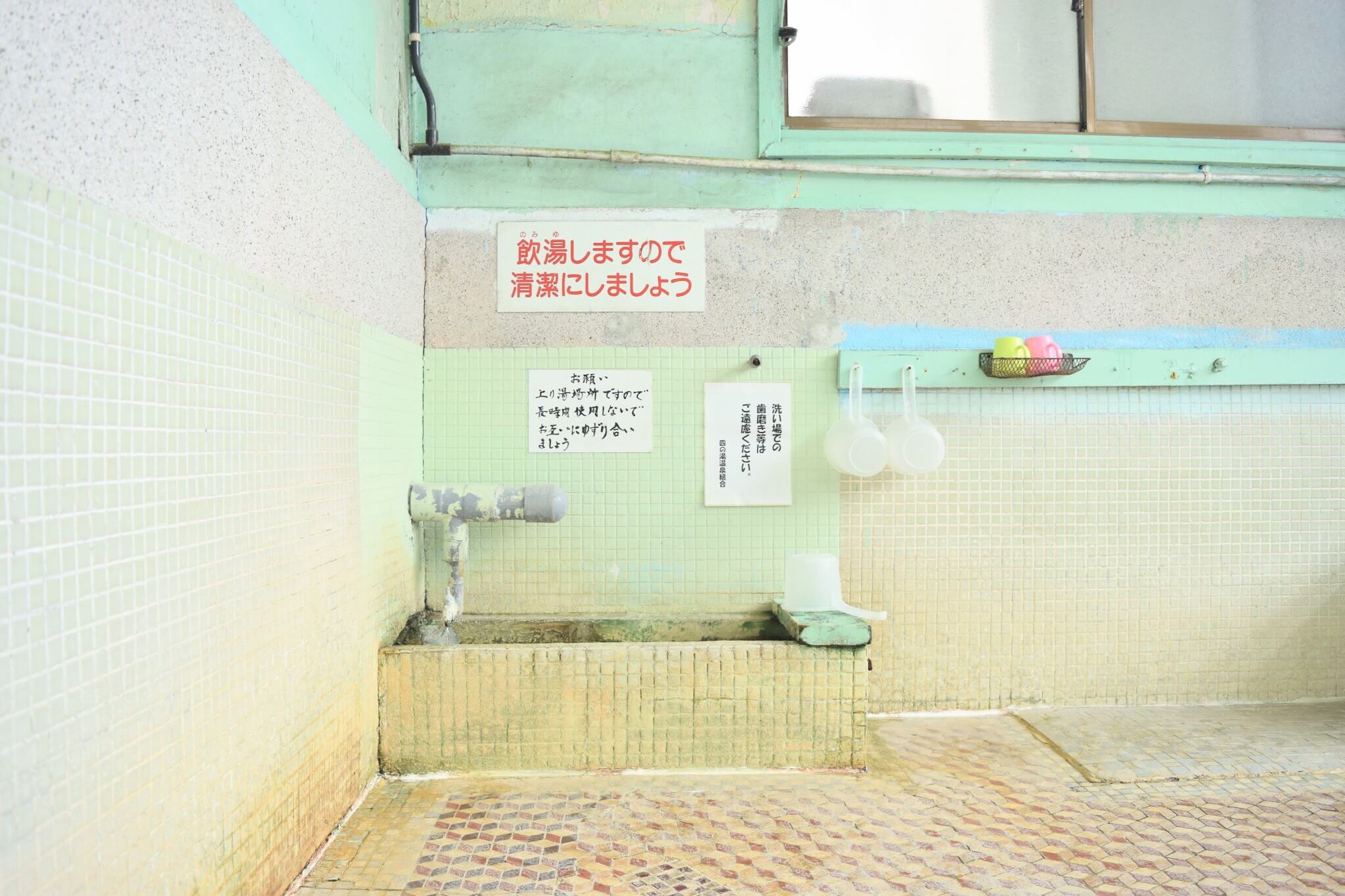 If you look down even further to the floor, you'll notice the wonderful tiles that really show their age. Patched together, the mixing of various colors is also quite the sight.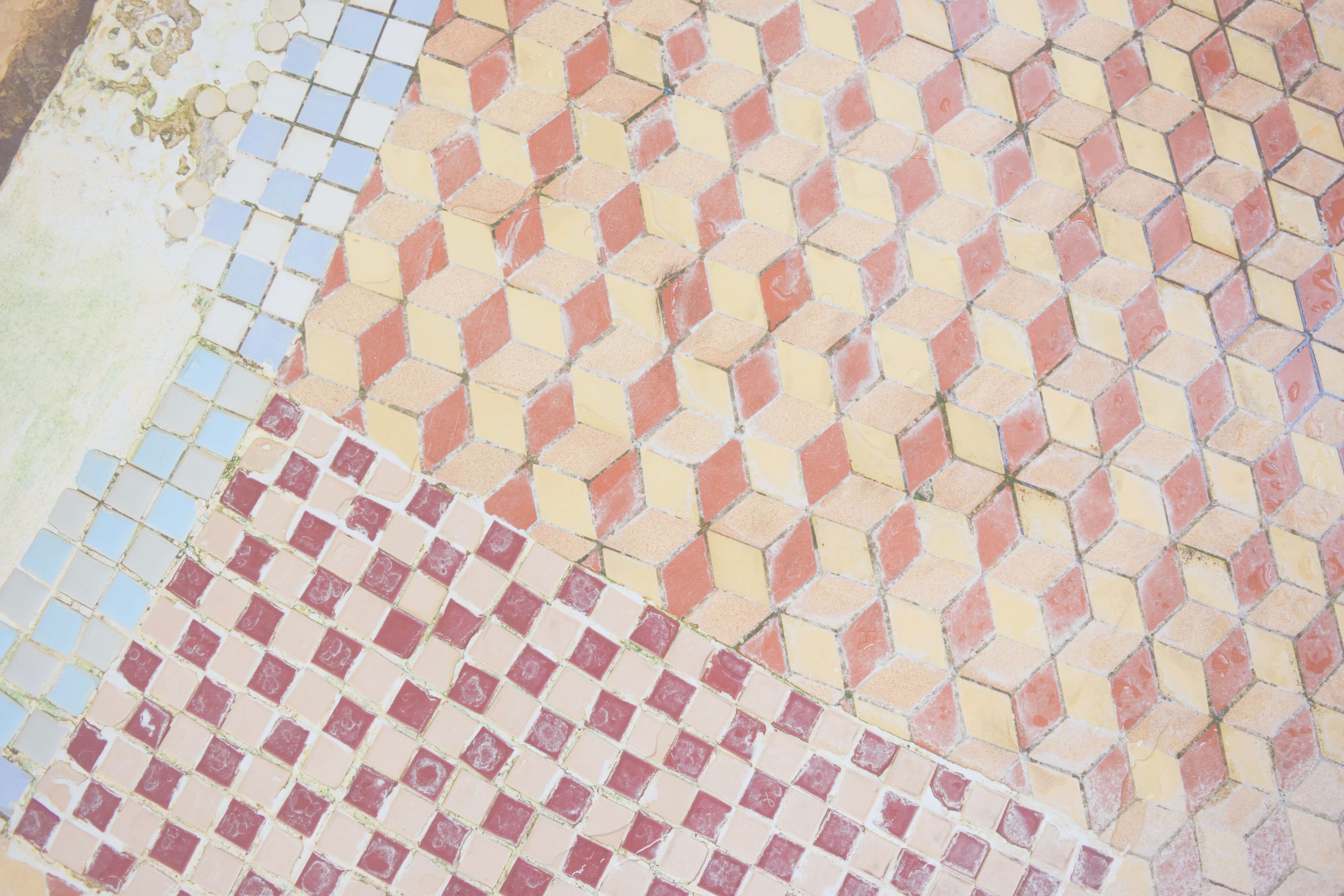 When you're fresh out of the bath, go for a swing in the park before you to cool off. In the spring, the blooming cherry blossoms are really amazing.
Today's feature was Shino-yu in Kamegawa. If you've got the time, want to get a taste of the local atmosphere, and pass the time in relaxation, I totally recommend Shino-yu.
If you come to the onsen heaven called Beppu, you have to enjoy various hot springs like this! But there are way too many options. So you should take the hot spring diagnosis and receive recommendations for hot springs that suit you!
Click the button below if you're interested!
Basic Info
OPEN Hour:6:30-11:00. 2pm-10pm. October: 7:00~
Closed on the 6th, 16th, and 26th
Fee: 100 yen
EnjoyOnsen