Hello! It's me again, the onsen-loving, college student writer, Hinata!
Today I'll be introducing a hot spring I've been suuuuuper interested in – Hotel Shiragiku's "bathe without staying" hot spring, which is walking distance from Beppu Station.
I can finally introduce it to you today!
The conclusion is that I reeaaaally like it!
I'll try to convey its charm to you.
Feel like a feudal lord in this splendid "Yudono" (bathroom)
Hotel Shiragiku is one of Beppu's most famous and well-established hotels. They have very luxurious rooms, provide 2 star Michelin Japanese cuisine, and the front itself is very attractive.
If you want to stay in the Royal Suite and have the finest meals, you have to work hard and save money, but if you are a student just looking for a great hot spring, you can feel free to enter.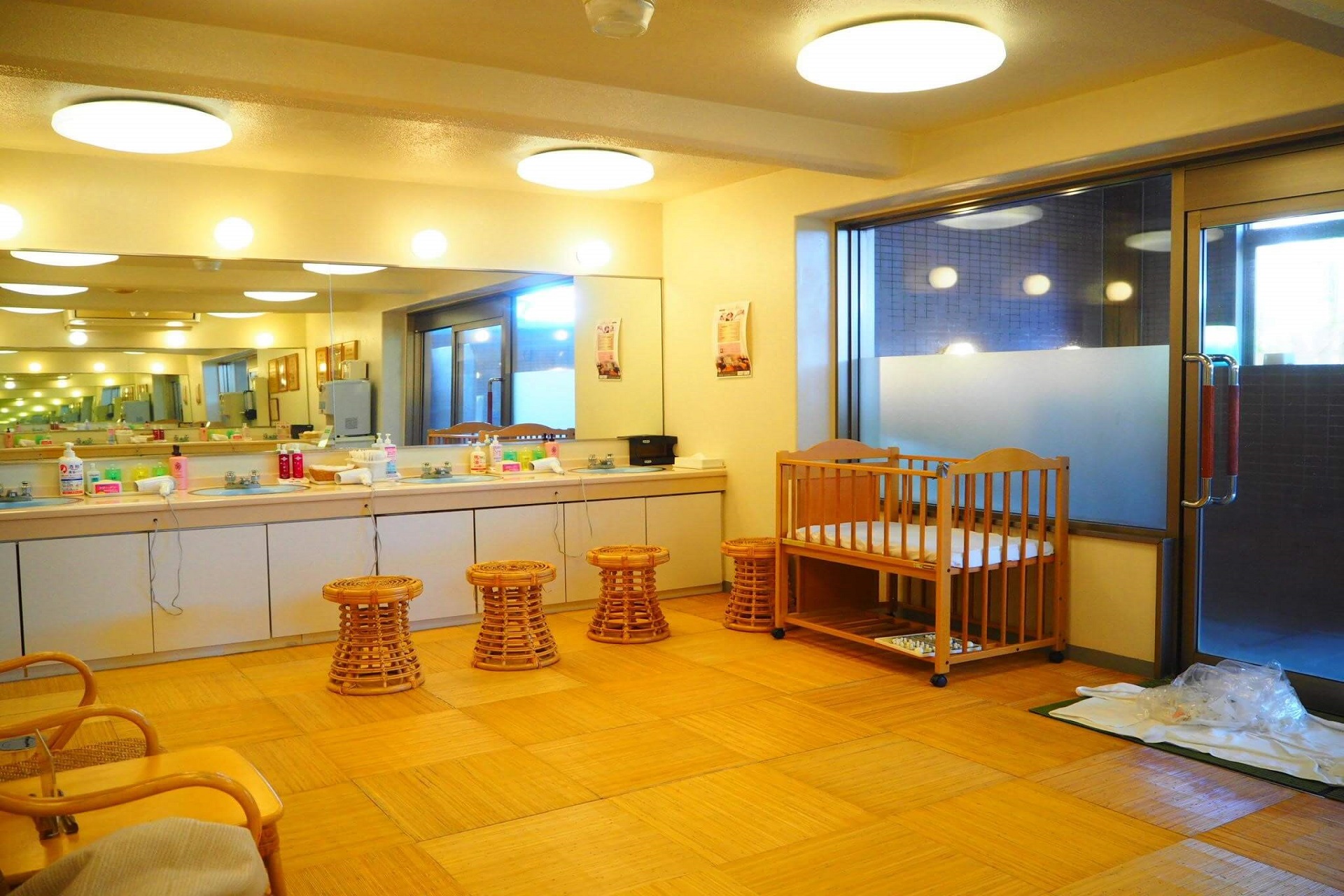 I paid a bath fee in the lobby of a large atrium, and was guided to the hot spring. However, the hot spring was separate from the hotel main building, and men and women had their own buildings for the hot spring!
The excitement doesn't stop there!
That's because the communal hot springs you normally go to have a men and women's hot spring in the same building!
There are two kinds of large public baths in Shiragiku – "Kiku-Yudono" (Chrysanthemum bathhouse) and "Kusunoki-Yudono" (Camphor Tree bathhouse). "Yudono" is a classic Japanese word meaning bathhouse. Because there is an image used in places like castles and palaces and it is labelled as "Yudono," it somehow creates a luxurious feeling.
"Kiku-Yudono" and "Kusunoki-Yudono" alternate between men and women daily but, on the day that I went, it was "Kusunoki-Yudono."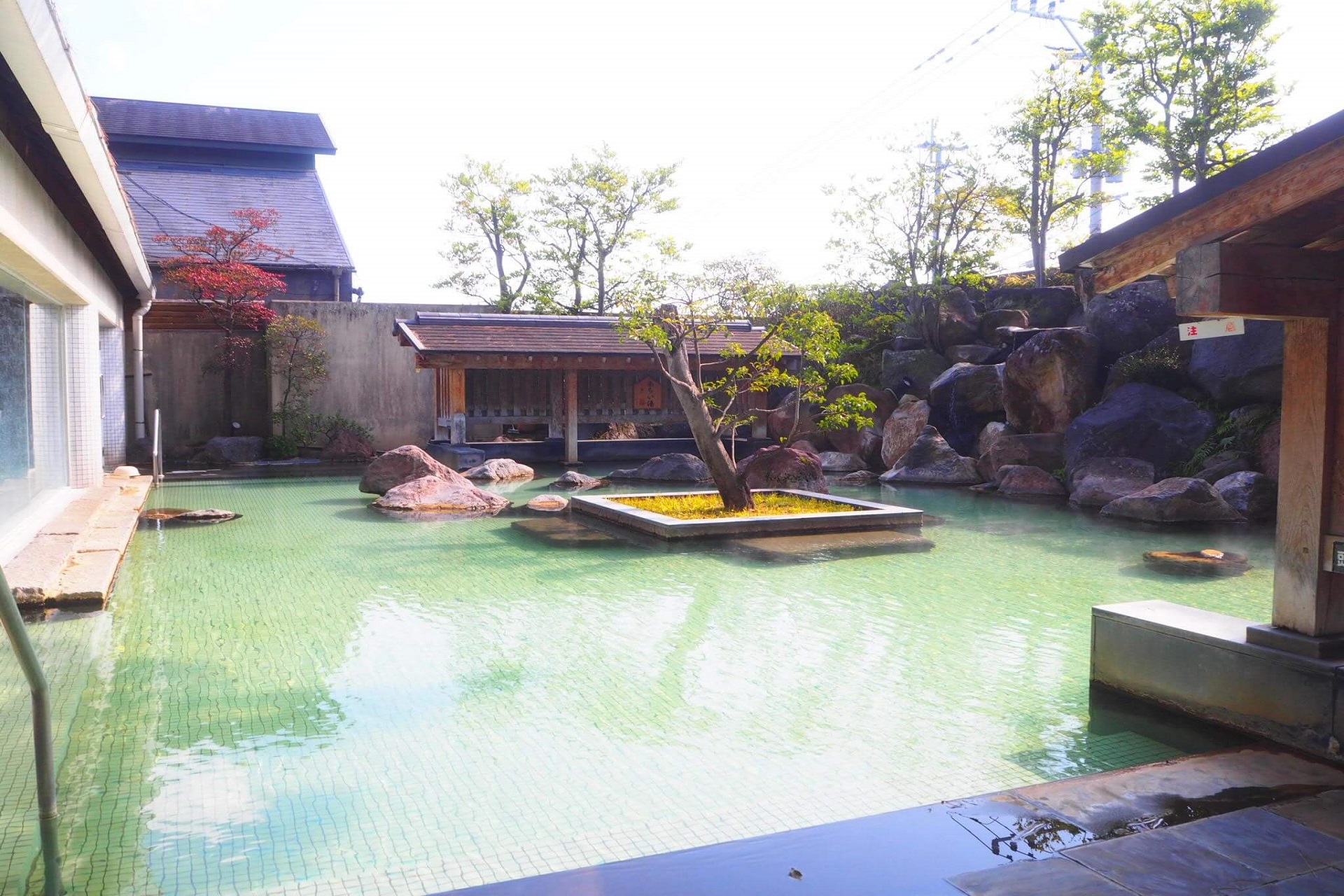 In the open-air bath's garden, there is a large camphor tree, which is the origin of its name.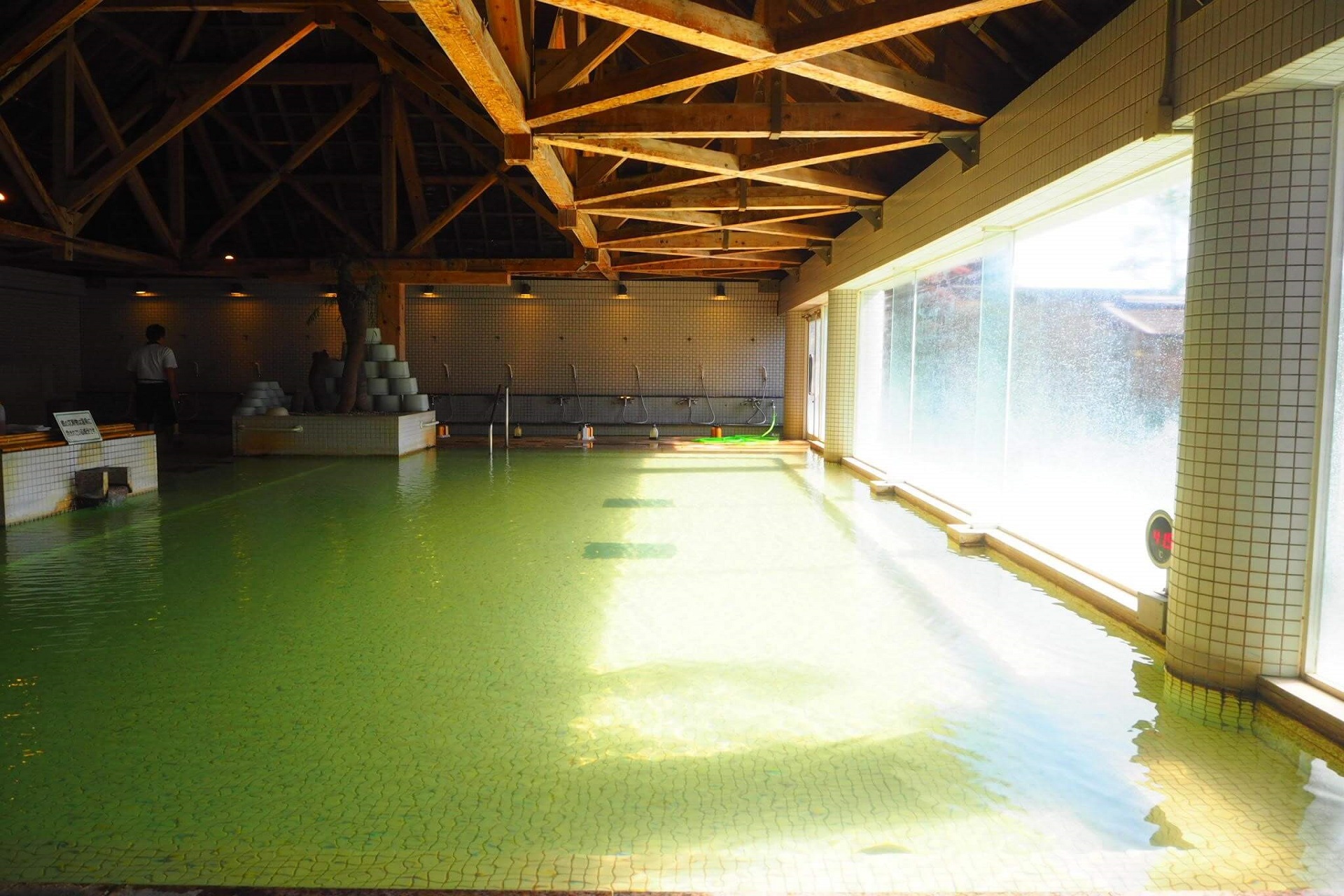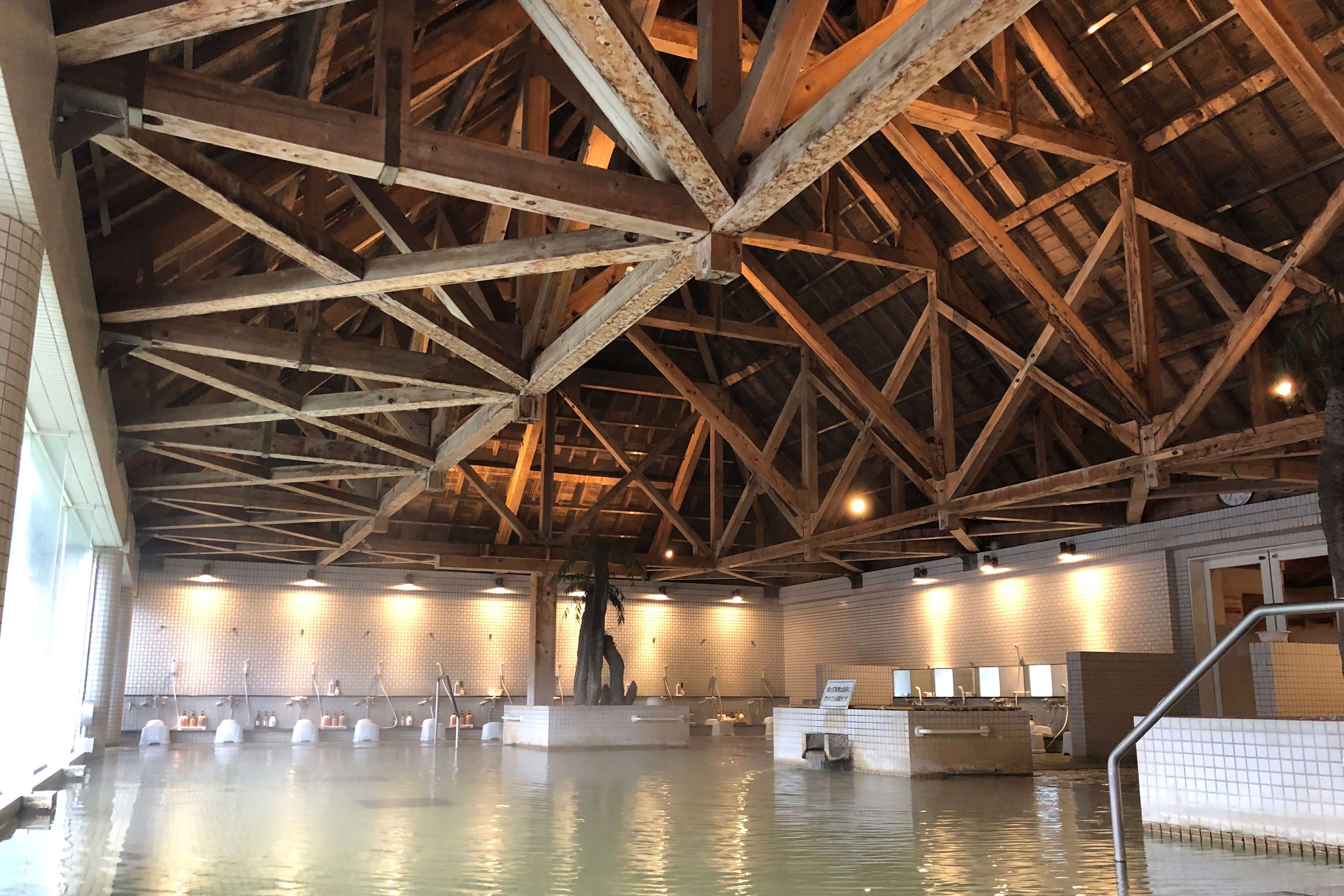 The Yudono is a very luxurious building built entirely of Japanese cypress. The high ceiling provides a great view of its fine beams, and you really feel the Japanese tradition and it's as if you yourself have become a feudal lord.
The sun peeks through the huge window in the large bathroom, and the light reflecting on the high ceiling from the hot water makes it shine.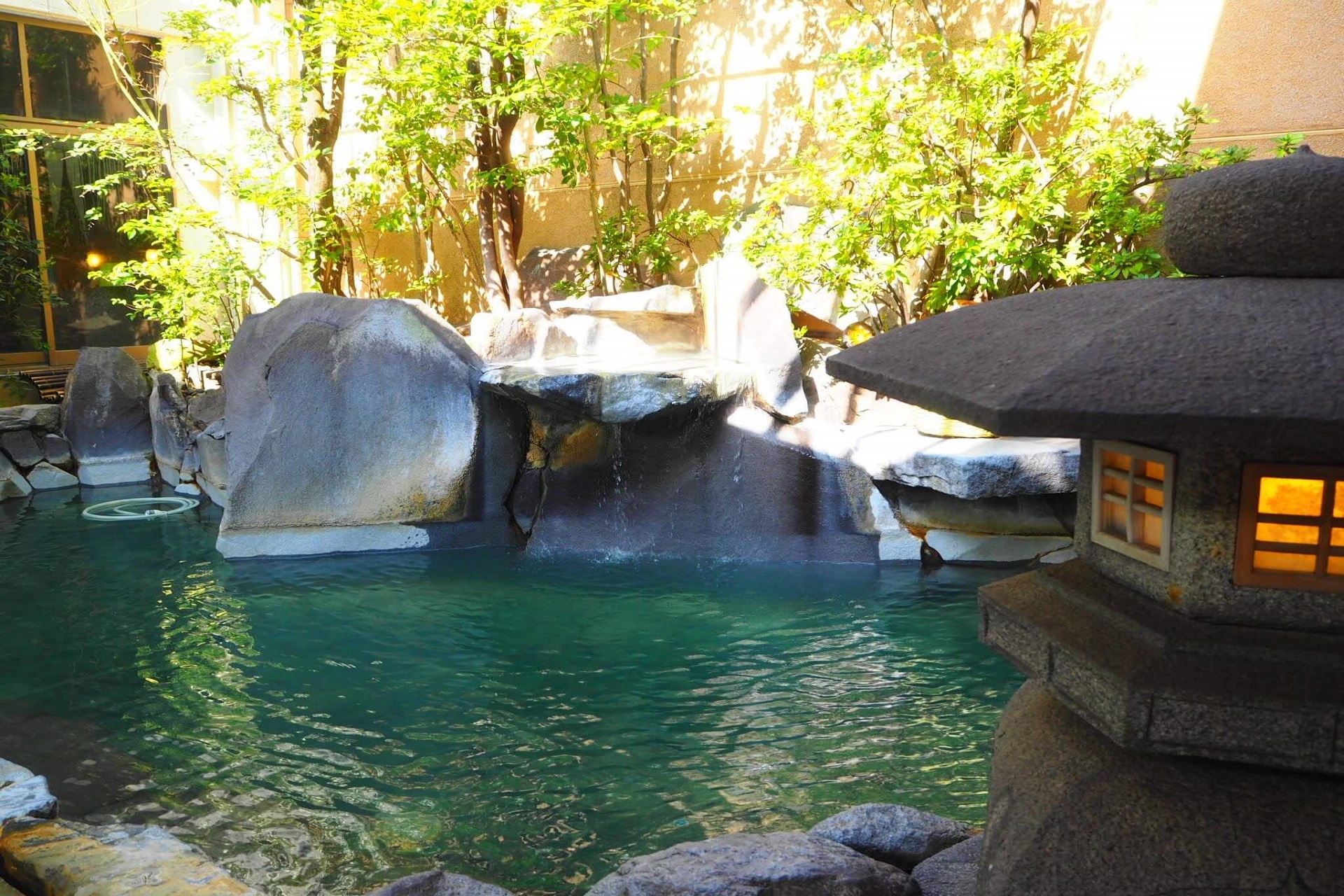 The open-air bath is also a Japanese garden bath made of stone, which is extremely open. Since the hot bath is closer to the source of the hot spring and the lukewarm is pretty far, you can pick whichever suits your tastes and enjoy the hot spring in comfort.
Additionally, because there aren't many people during the time slot for people going into the bath without staying in the hotel, it felt like the place was reserved for myself when I went! That feeling of spaciousness was really the best.
Well, that isn't to say "Kiku-Yudono" has lost in comparison!
The indoor bath and the outdoor bath also have a rock bath. There's also a mist bath where mist constantly rains down from the ceiling beams, and even a jacuzzi.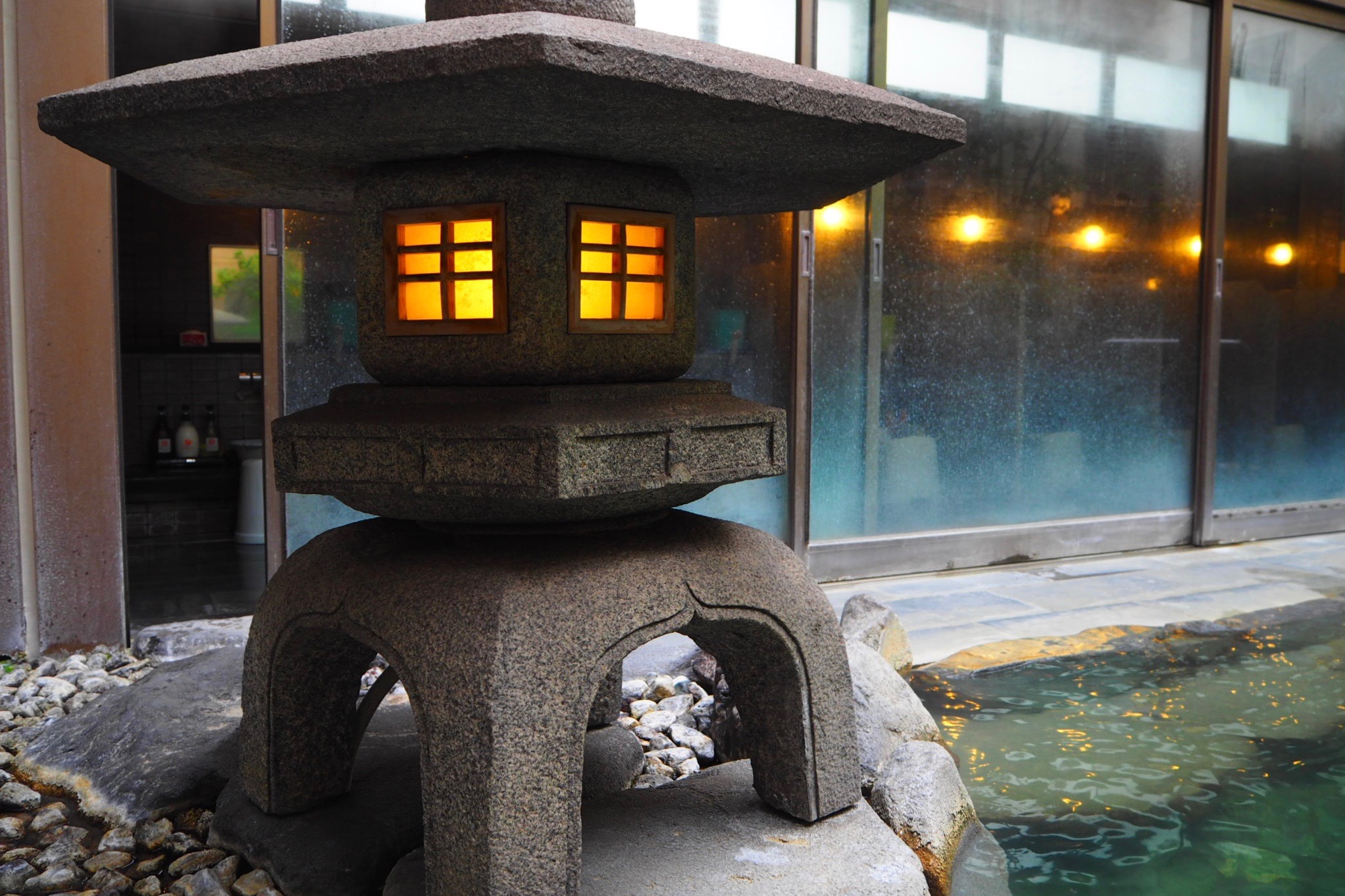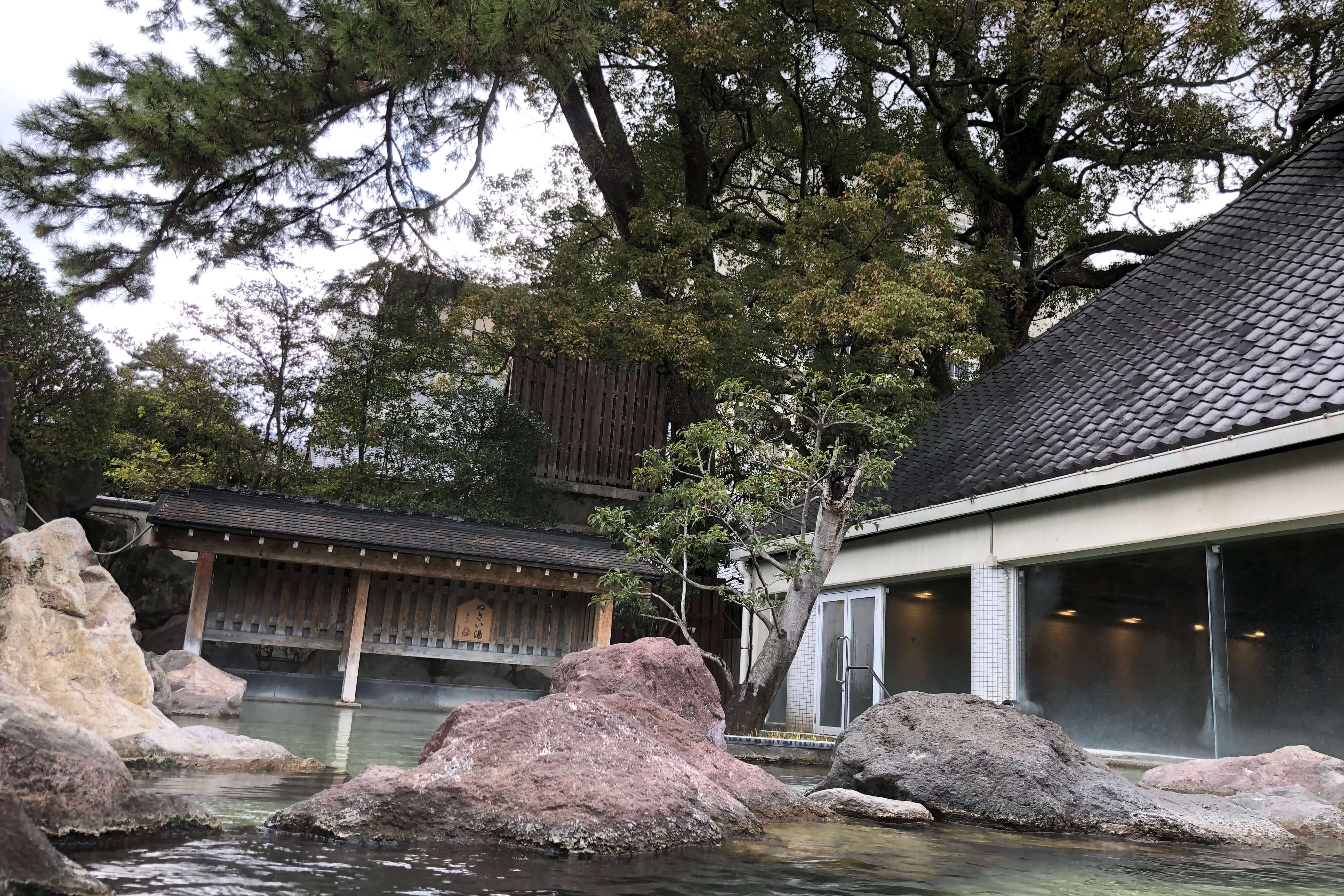 The stone lanterns in the open-air are designed to produce a very Japanese vibe.
For those wanting to get in either one, go twice or stay there!
Shiragiku is a "bicarbonate hot spring" which is good for beautiful skin (see here for detailed reference). Your skin becomes supple and smooth as if you've been reborn when you rise from the bath. For those who pursue beauty, I am happy enough with this, but the attention of a long-established ryokan goes beyond expectation.
A Shampoo Bar in the onsen
First off, there's a "shampoo bar" at the entrance where you can choose from several types of shampoo and rinses that suit your taste. Of course, shampoo is provided in the bathroom like the popular horse oil shampoo and another two kinds.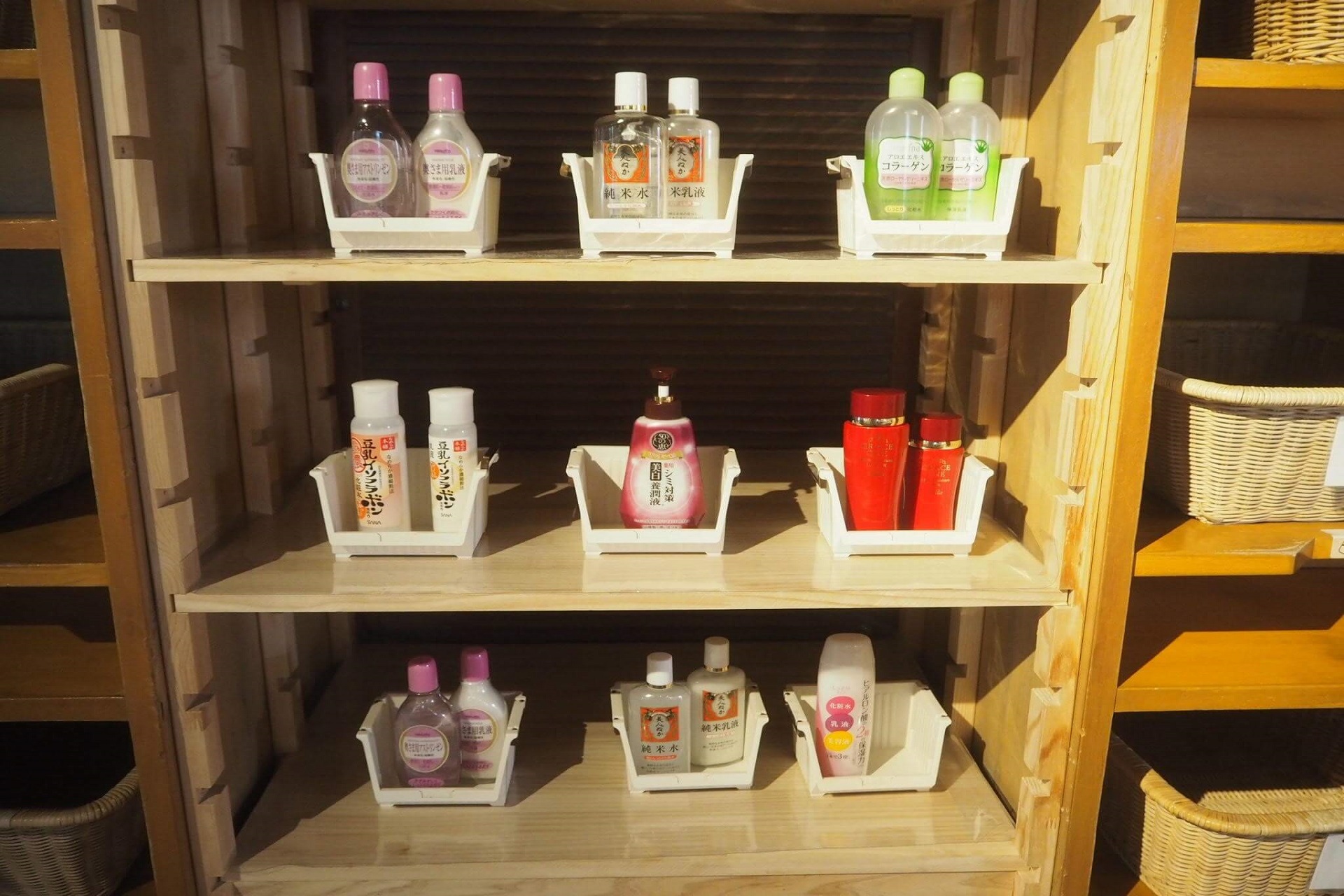 When you exit from the bath, there's facial lotion and milky lotion provided, so you can choose your favorite between the two! When I went, there was a lotion for scalp care! Also, there's drinking water and tea that's good for your body provided. They certainly leave nothing to be desired.
Beauty Treatment? Lunch? Discount? Day Trip Bath You Can Enjoy Economically.
At Shiragiku, there is an economical day trip plan that can be enjoyed alongside bathing in the hot spring. If you just plan on doing the day trip bath, you only have to pay the bathing fee of 800 yen and a towel fee of 200 yen, the total being 1000 yen. However, if you decide to add on beauty treatment and lunch, there is a 4800 yen day trip bathing plan. You can choose the beauty treatment time frame and the contents of your lunch, the price changing accordingly, but it's an extremely budget-friendly plan. In the instance you should want to make use of it, a reservation is necessary so please be careful! Moreover!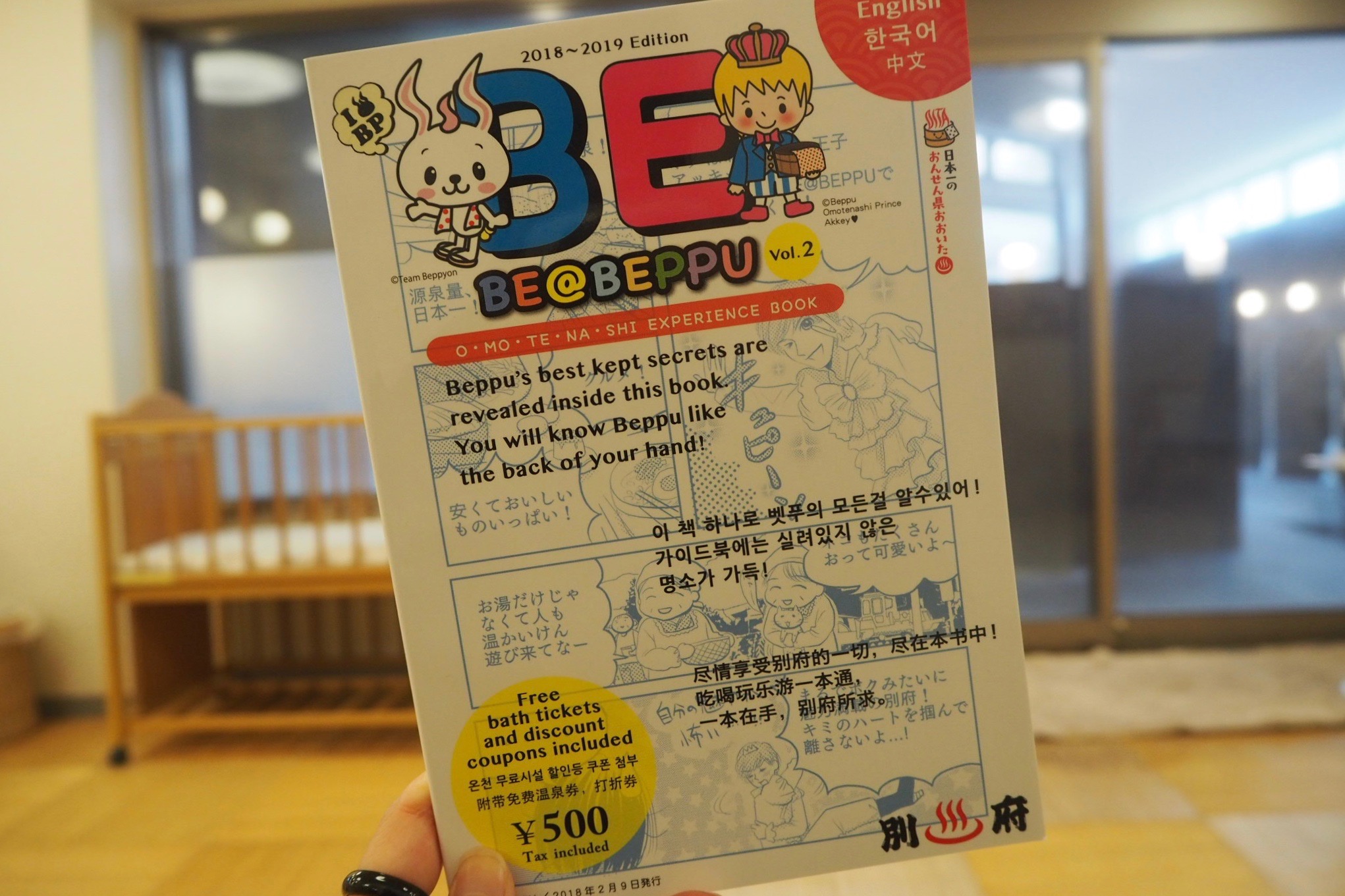 Because I used this this time, I was able to enter the hot spring with a towel fee of 200 yen! BeBeppu contains other varieties of coupons, so it is recommended for those who want to thoroughly tour Beppu!
Hotel Shiragiku, which was introduced this time, is located about a 10-minute walk away from Beppu Station, and is easily accessible while sightseeing.
If you want to spend a luxurious time in a hot spring, by all means, stop by.
Basic Info
Hotel Shiragiku
OPEN 14:00〜20:00
FEE:1000 yen for adults
500 yen for children
TATTOO:Allowed(Need to comfirm to the office before you enter the onsen)
EnjoyOnsen