*This onsen is permanently closed.
When you come to Beppu, there is a lot of steam creating the ambiance of a true hot spring area. In this town, named number one in terms of hot springs worldwide, even residential areas are littered with these spas.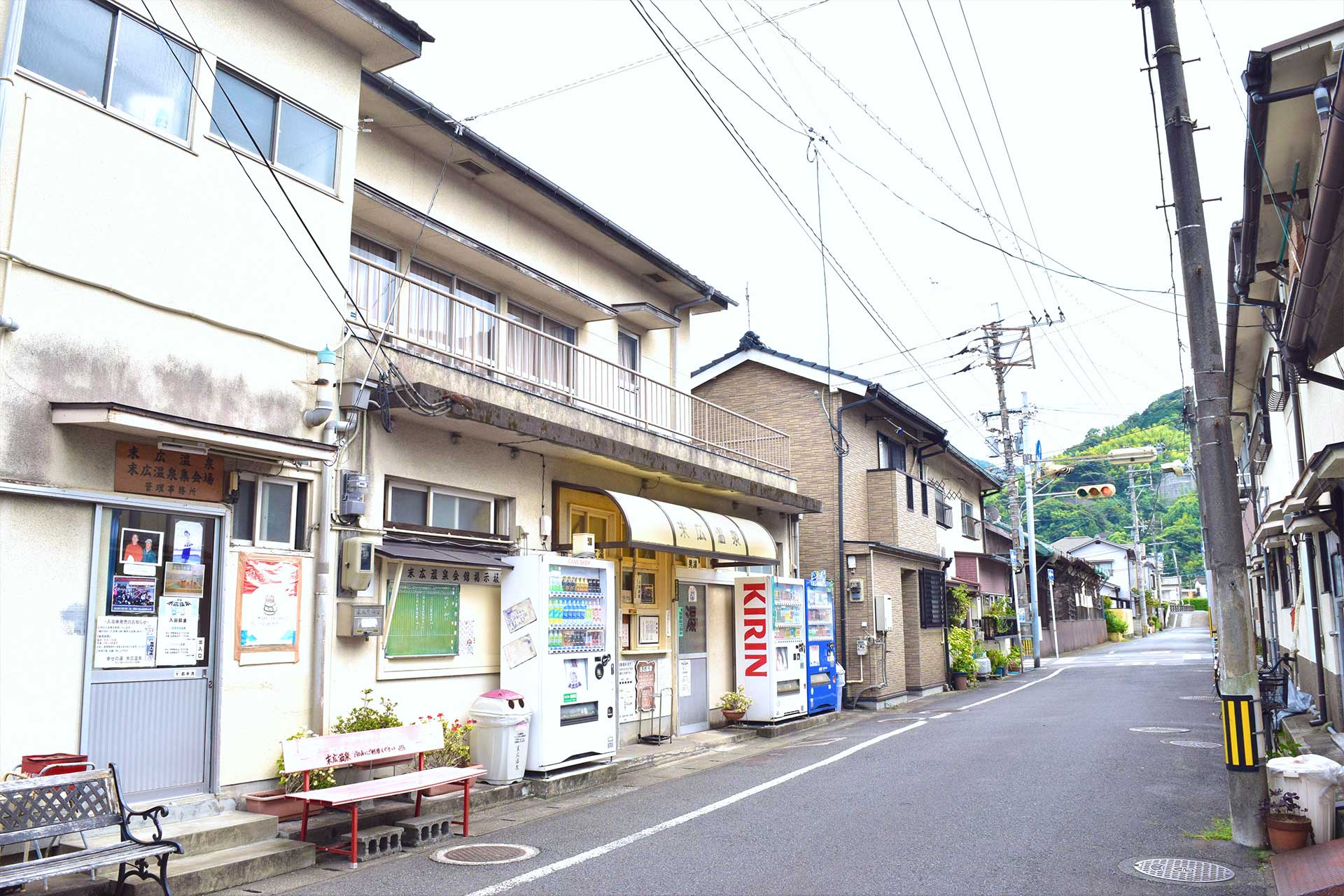 This time, we will introduce communal hot springs or "kyoudou onsen," which is a part of Beppu residents' everyday lives. Near Beppu Station in the Beppu Hamawaki area, many of these communal hot springs exist. Suehiro Onsen, which we are introducing this time, is one of them.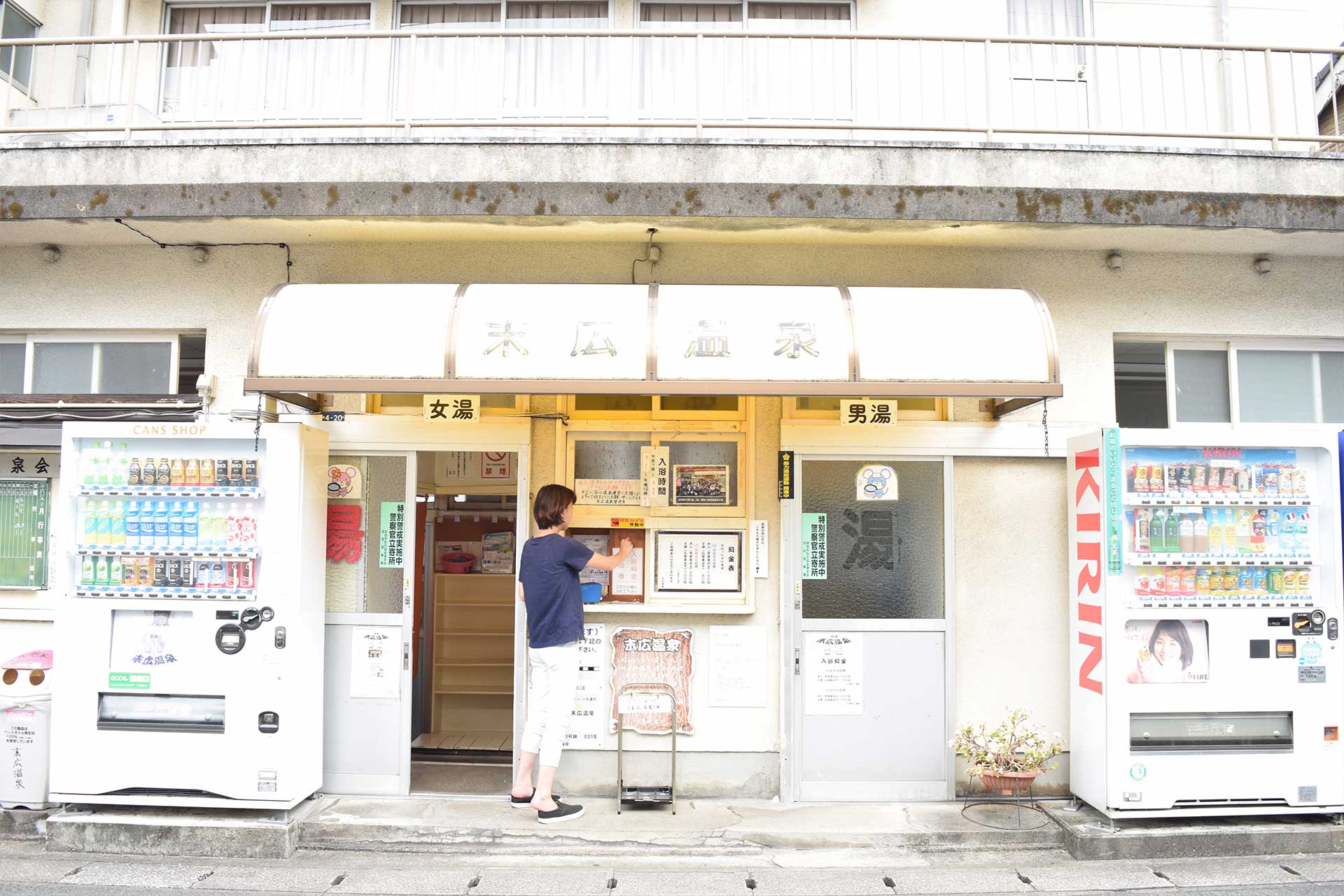 A Slightly Different Entrance
Suehiro Onsen, like many hot spring reception desks, has its own attendant's booth. However, these are unmanned. Let's not forget to pay the bath fee and insert 200 yen into the slot on the box provided! (Right Side of the following photo)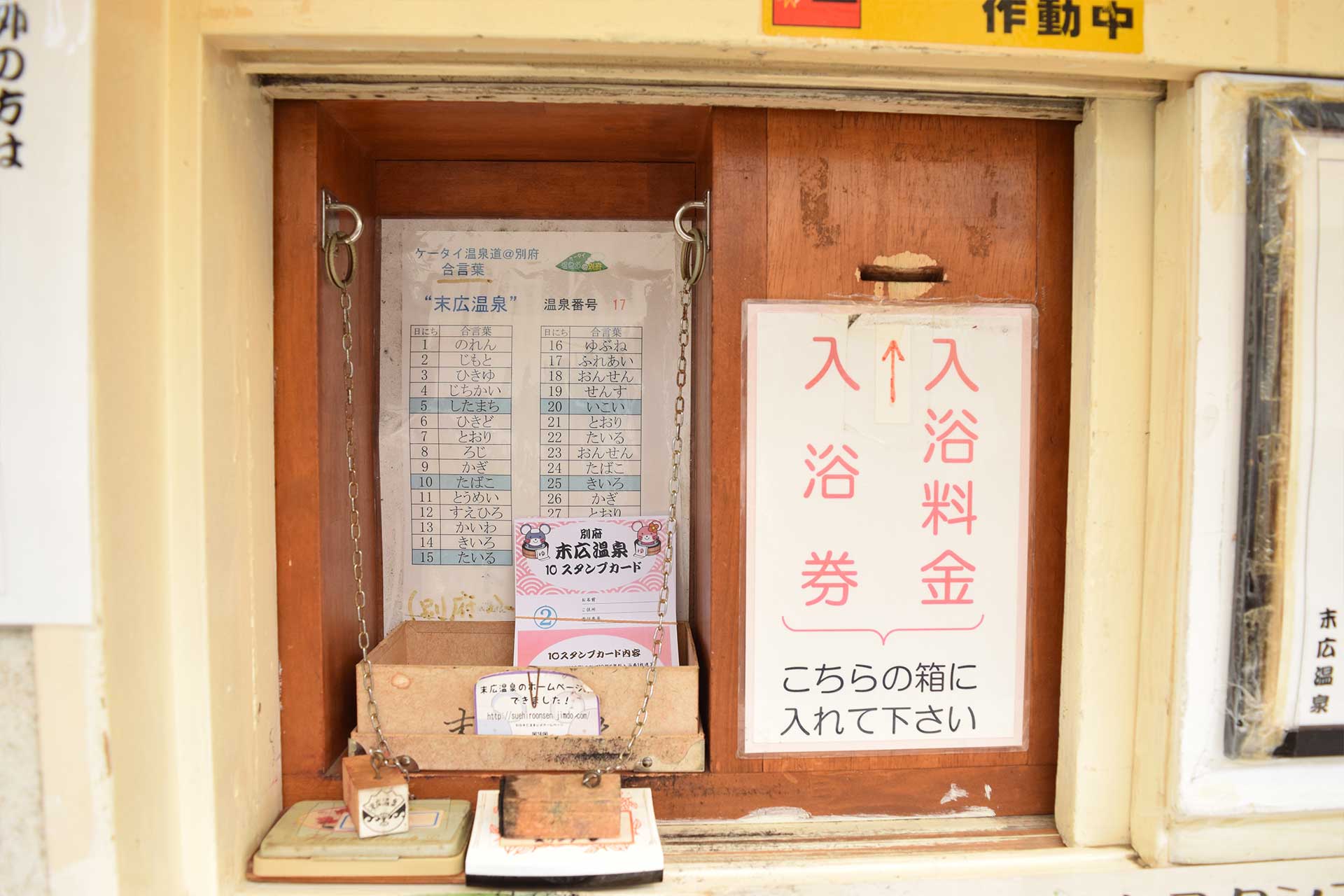 Hanging on the side of the entrance is a key connected to a chain with which you can use to let yourself in.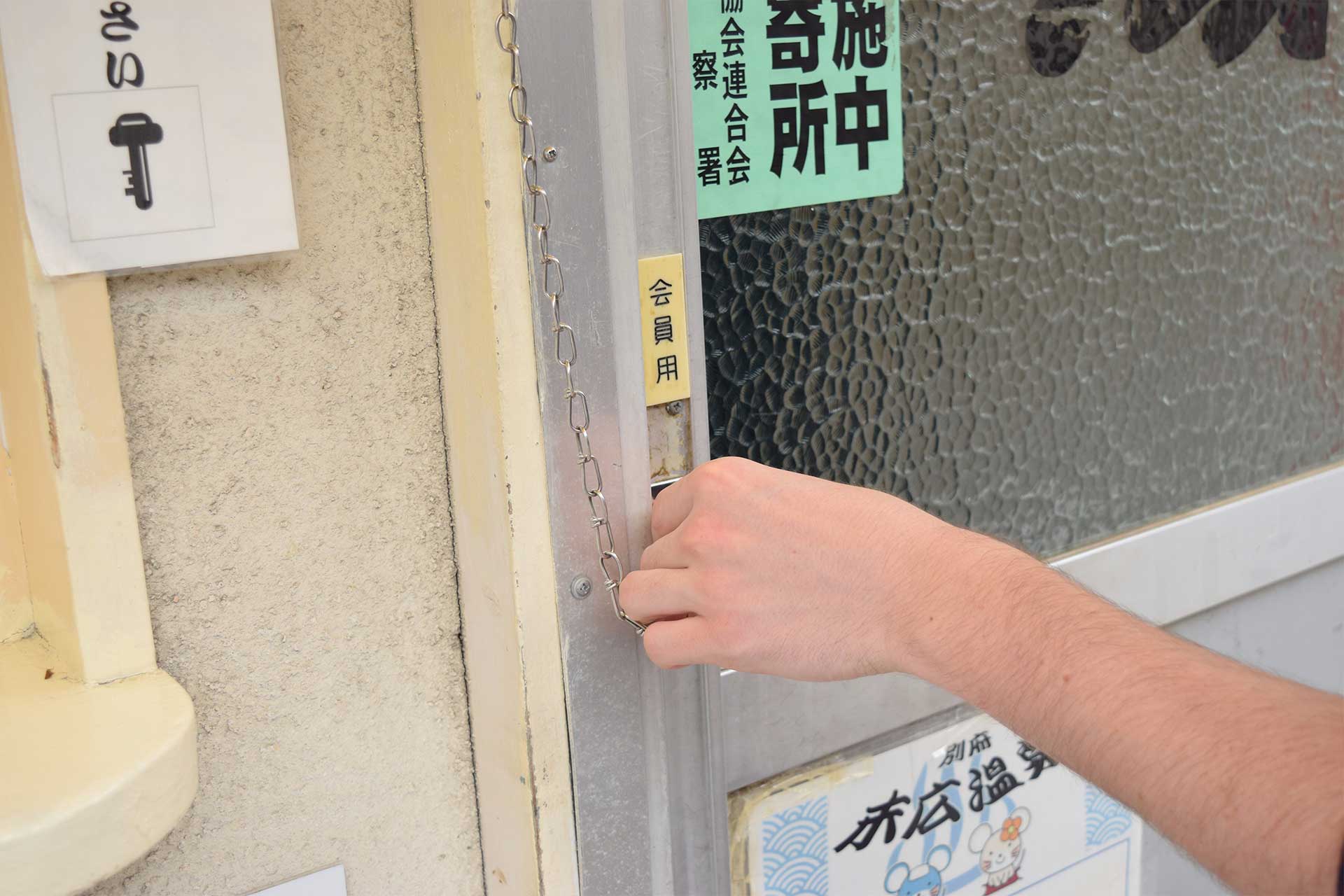 Does it even make sense that a key is hanging at the entrance?! You may want to delve deeper into the matter, but let's just follow this unusual local rule. It may be a unique feature of Japan's "safe" image.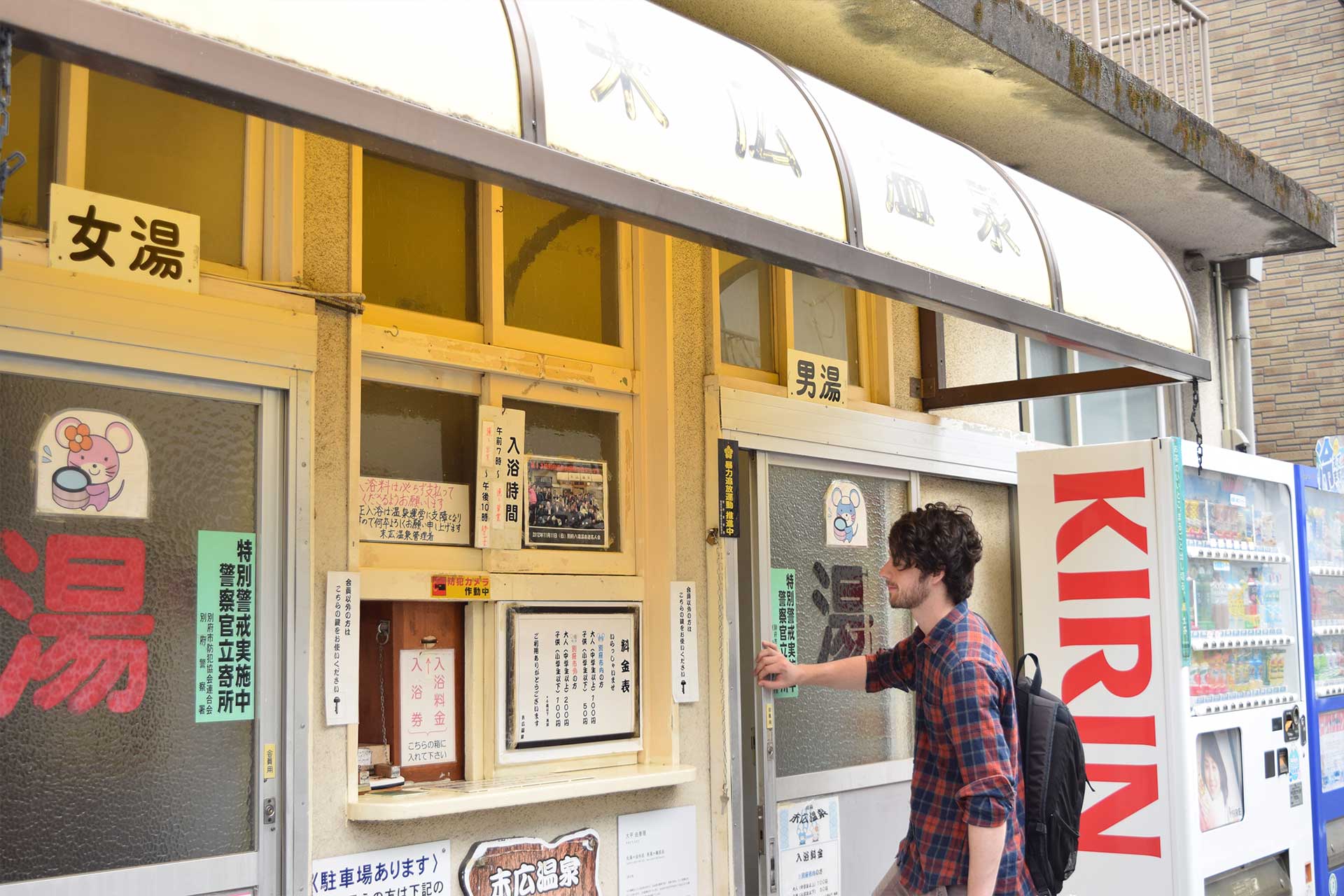 Communal Hot Spring Exchanges begin with a "Hello!"
Now then, as previously mentioned, Suehiro Onsen is a communal hot spring. It is an extremely local hot spring where the people of the neighborhood visit relatively more often than their own baths at home. There must be people who are nervous when it comes to visiting these local hot springs, but don't worry! If you say the password, the local people will welcome you warmly. No one knows who decided for it to be this way, but in the communal hot springs, you begin with "Konnichiwa" (Hello) in order to go and soak in the baths, and – as an unspoken understanding – you part ways with "Sayounara" (Goodbye). Bathhouse exchanges are born from these words, so why not join the ranks of locals in their greetings? If you want to know more about hot springs communication, this article (Honoring the Japanese "Onsen Communication") is also interesting!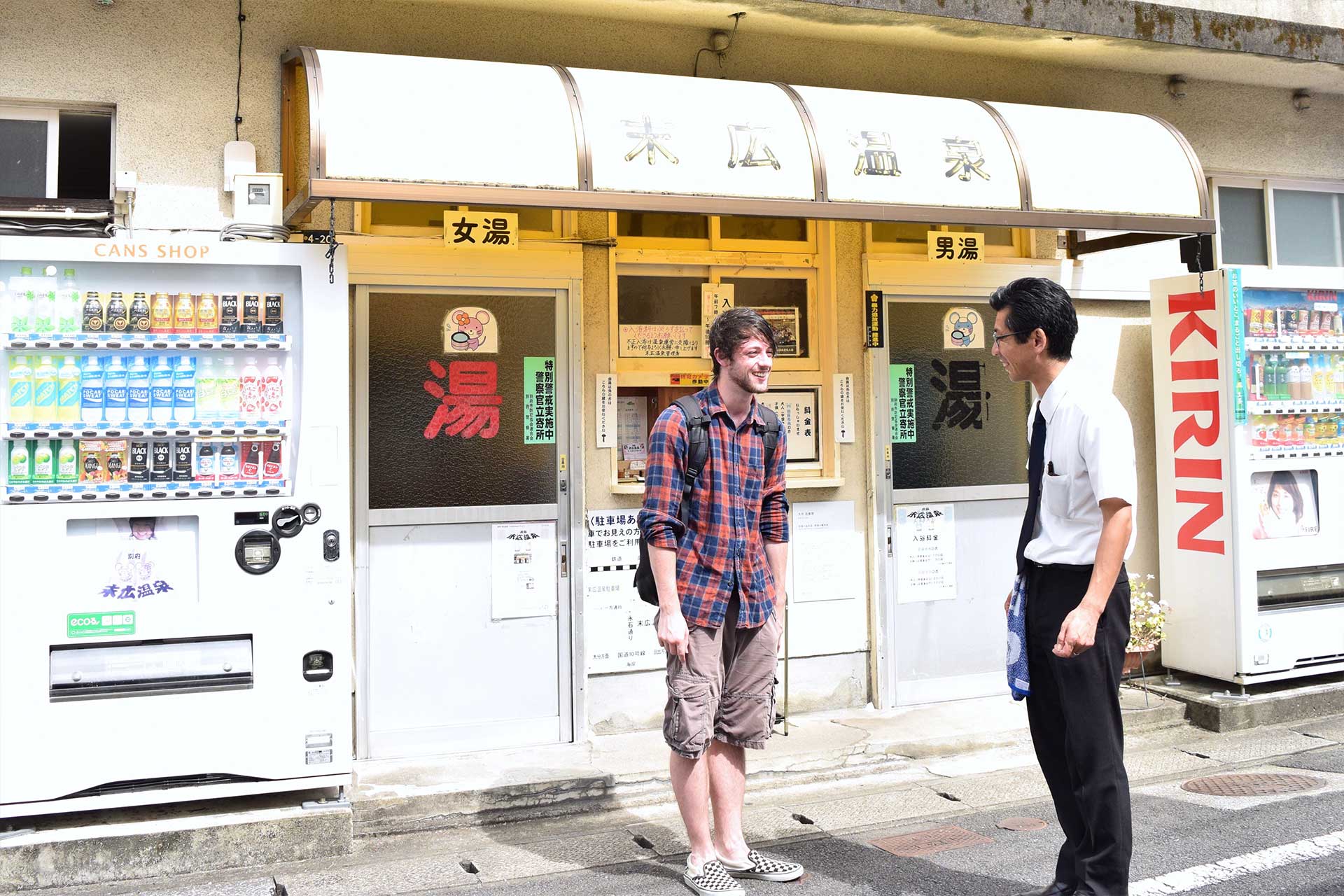 Enjoyable Hot Spring Art?
Suehiro Onsen's number one feature is a beautiful piece of art painted on the wall of the bathroom, adding charm to the place. Using the color pink to represent Oita, Mount Yufu is vibrantly drawn in women's bath, while, in the men's bath, Mount Tsurumi and Takasaki are depicted with great strength in blue.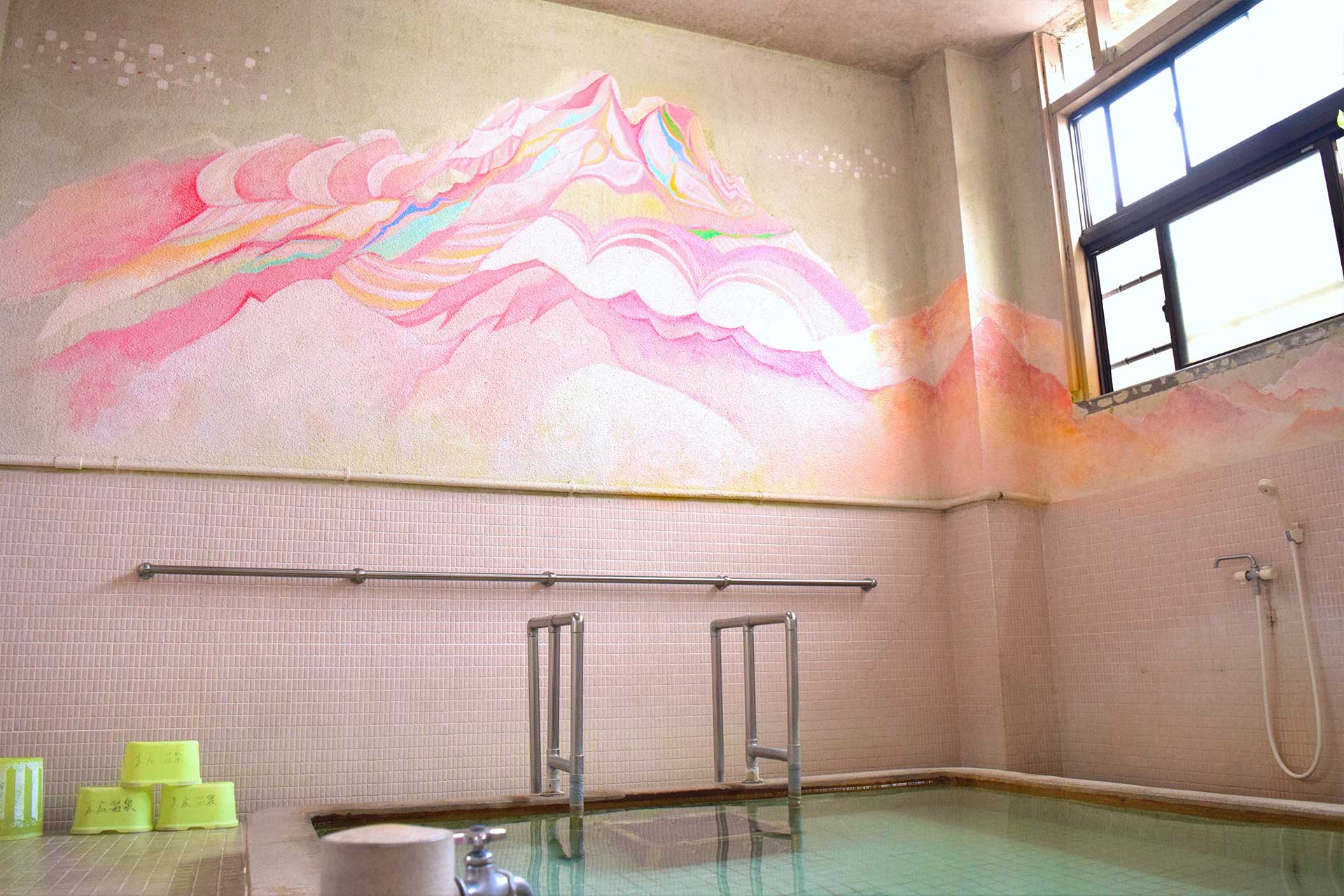 In Beppu, there is a studio/apartment where artists gather called Seishima Apartment, and these beautiful pictures were painted by Japanese artists who lived there at the time. Let's be careful not to become too infatuated with these lovely pieces of art!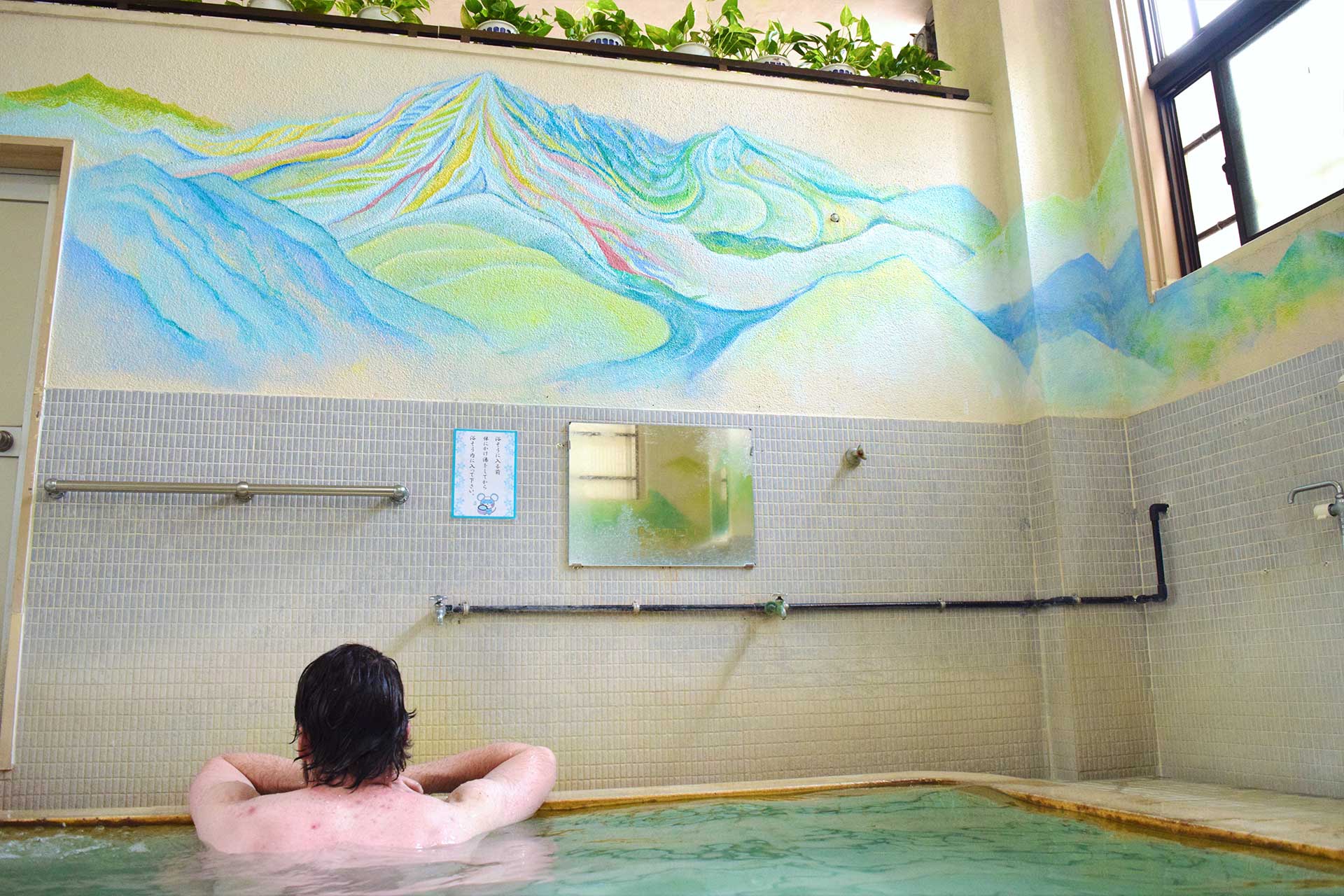 What about souvenirs?
Sueiro Onsen promotes and sells many rare and original goods!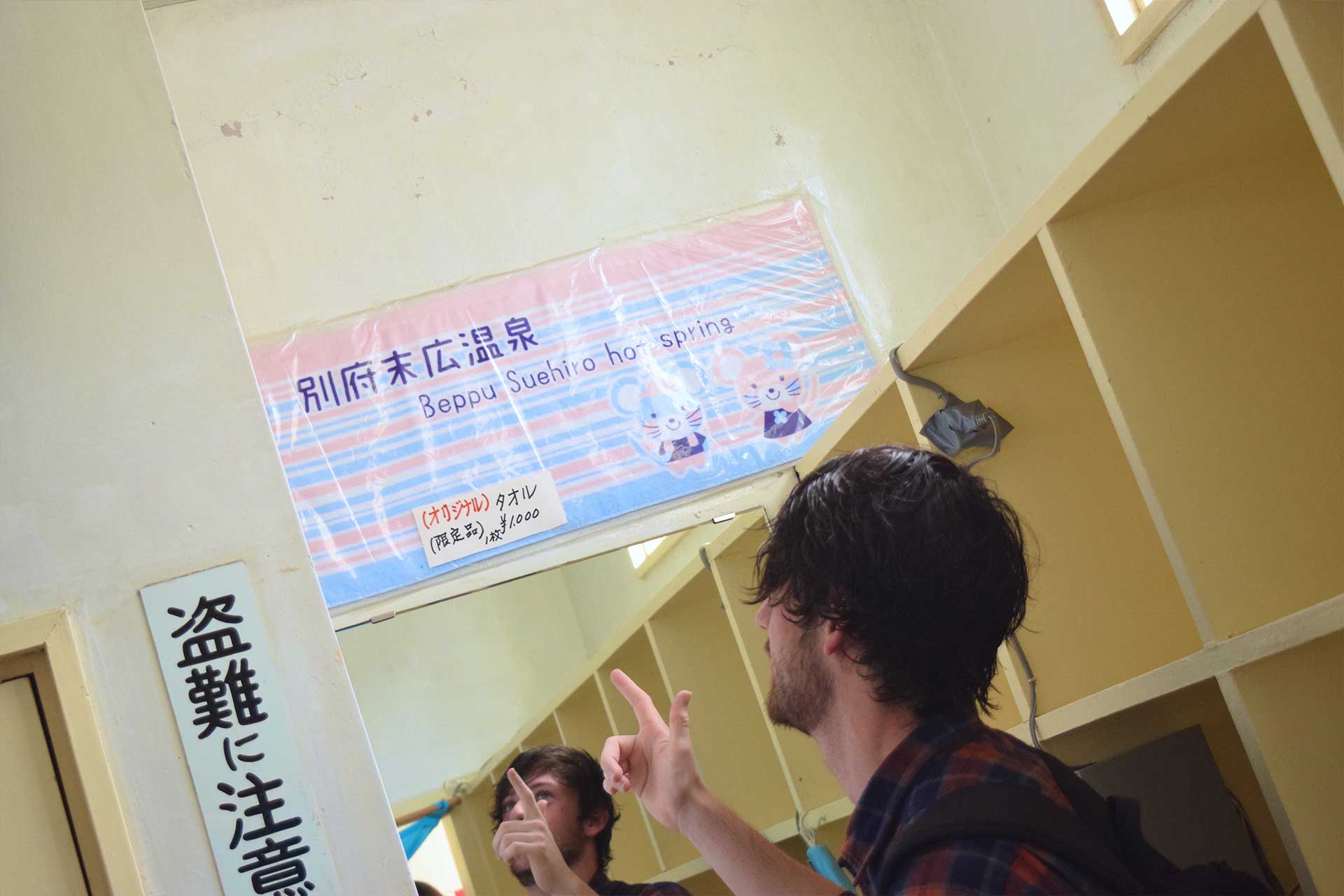 The souvenir shops in tourist areas are wonderful if you are looking to bring back unique goods you cannot buy anywhere else! (Suehiro Onsen's original towel 1000 yen each.)
What about some original Suehiro stamps to commemorate your trip?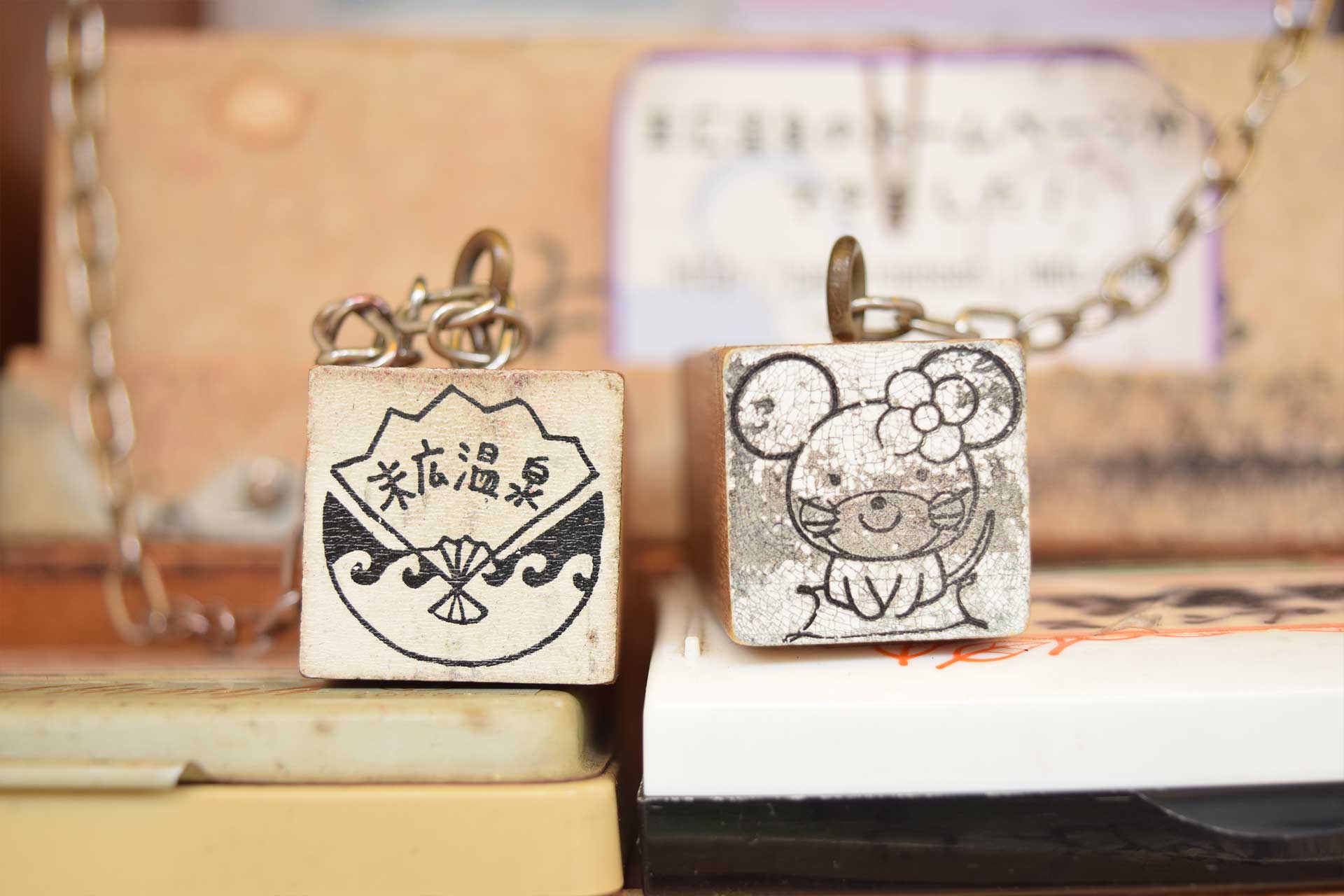 Basic Info
OPEN: 7:00~11:00 / 14:00~22:00 (closed on the 15th of every month)
FEE: 200 YEN
TATOO: Not allowed
How to get to Beppu, where Suehiro Onsen is located
Recommended hot springs and other attractions can be found by clicking the buttons below, so please have a look!
EnjoyOnsen