Takegawara Onsen has stood for over a century and still remains one of Beppu's most treasured hot springs. Its beautifully crafted building allows you to feel the tradition of Japan, conjuring images of the temples and inns of old. That is perhaps why it has become the symbol of Beppu. In fact, the Japanese government registered it as a Tangible Cultural Property of Japan (a place or object of high artistic or historical value) and charms visitors with a facade reminiscent of Hayao Miyazaki's "Spirited Away."


In this article, we will take a look at how Takegawara Onsen came to be and why visitors still visit to this day.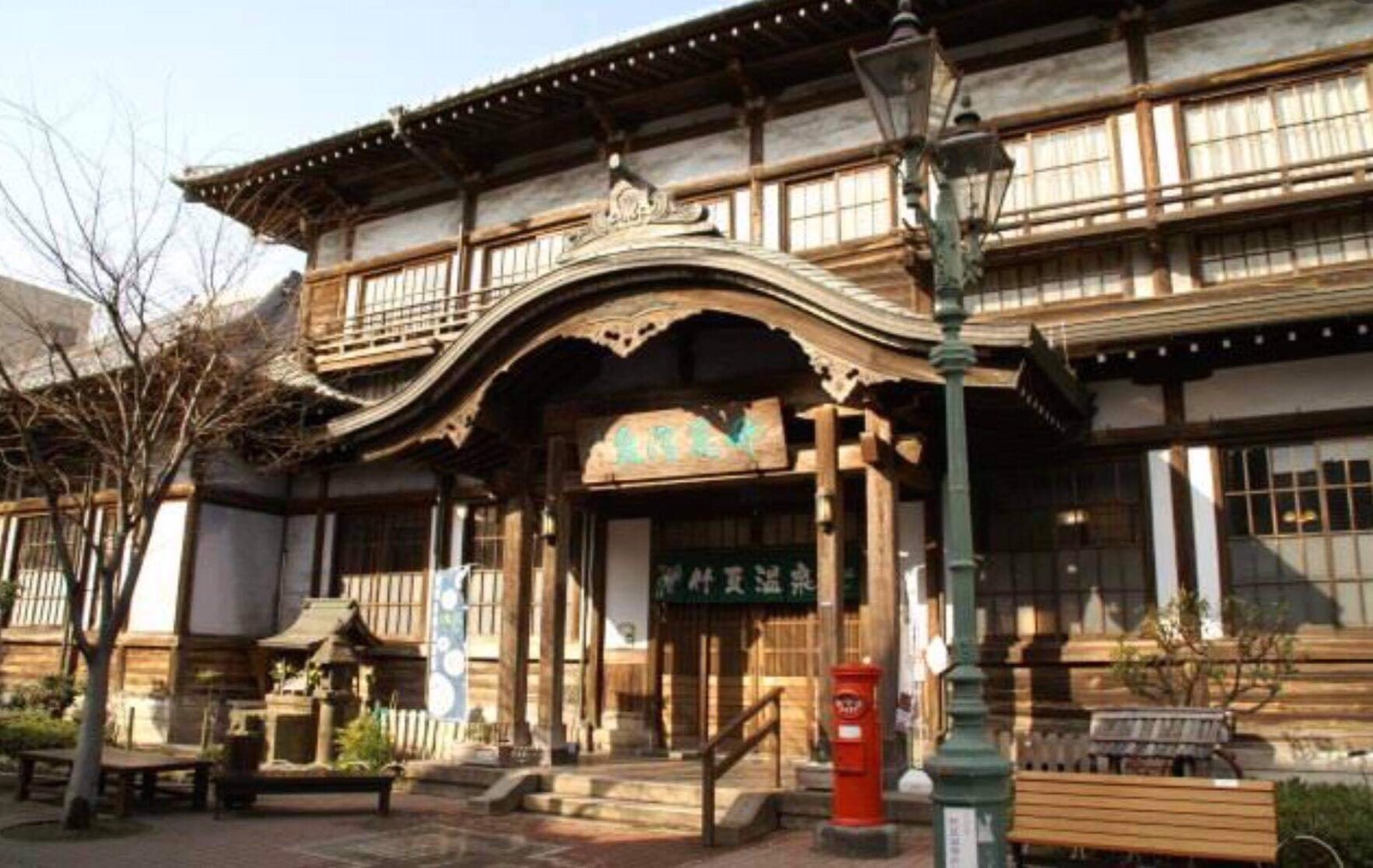 Takegawara's Building
More than anything else, Takegawara is famous for its traditional architecture, making it one of the few onsen in Japan that remains as it was long ago.

Before the practice of digging to create onsen, people gathered where water sprang forth naturally. Around these hot spring pools, they stood wooden boards and created tubs of stone. Such was the birth of Takegawara Onsen.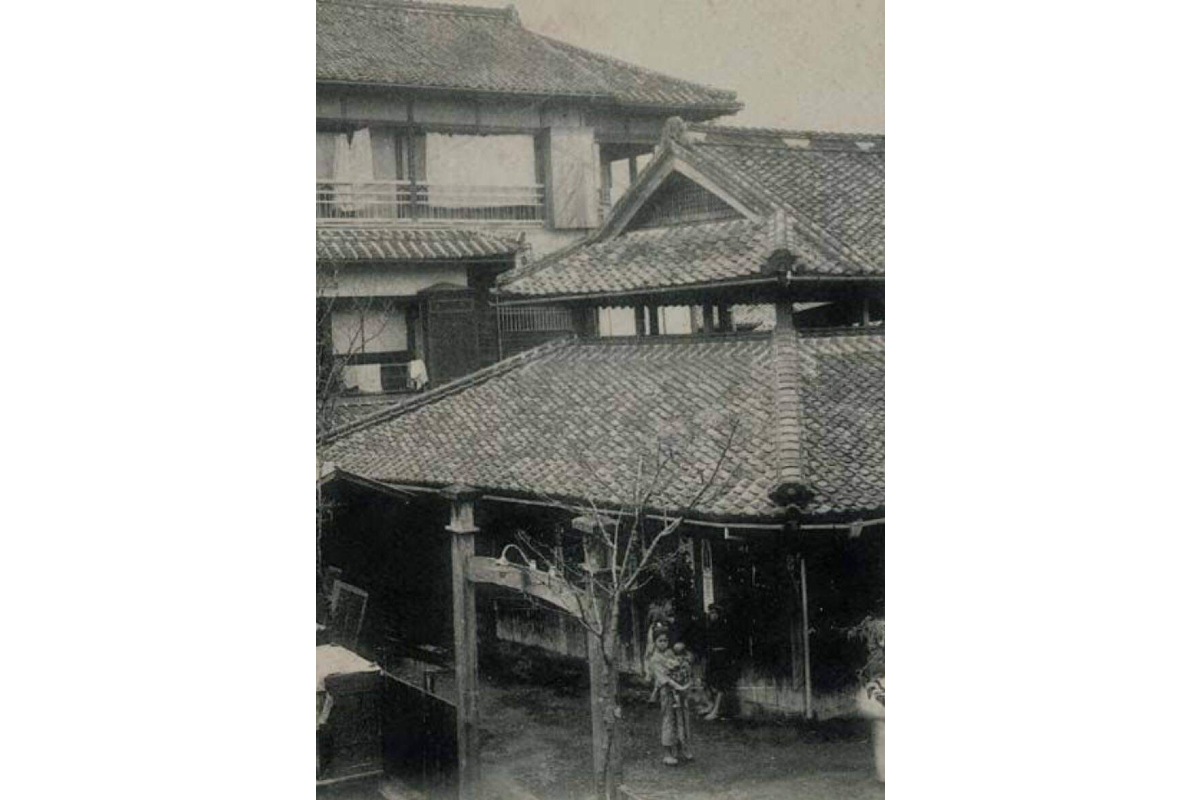 Officially founded in 1879 and named for its then crude bamboo roof, Takegawara provided healing waters for locals. It was reconstructed in 1902 into a wooden building with tile roofing and then again in 1922 into a two-story building.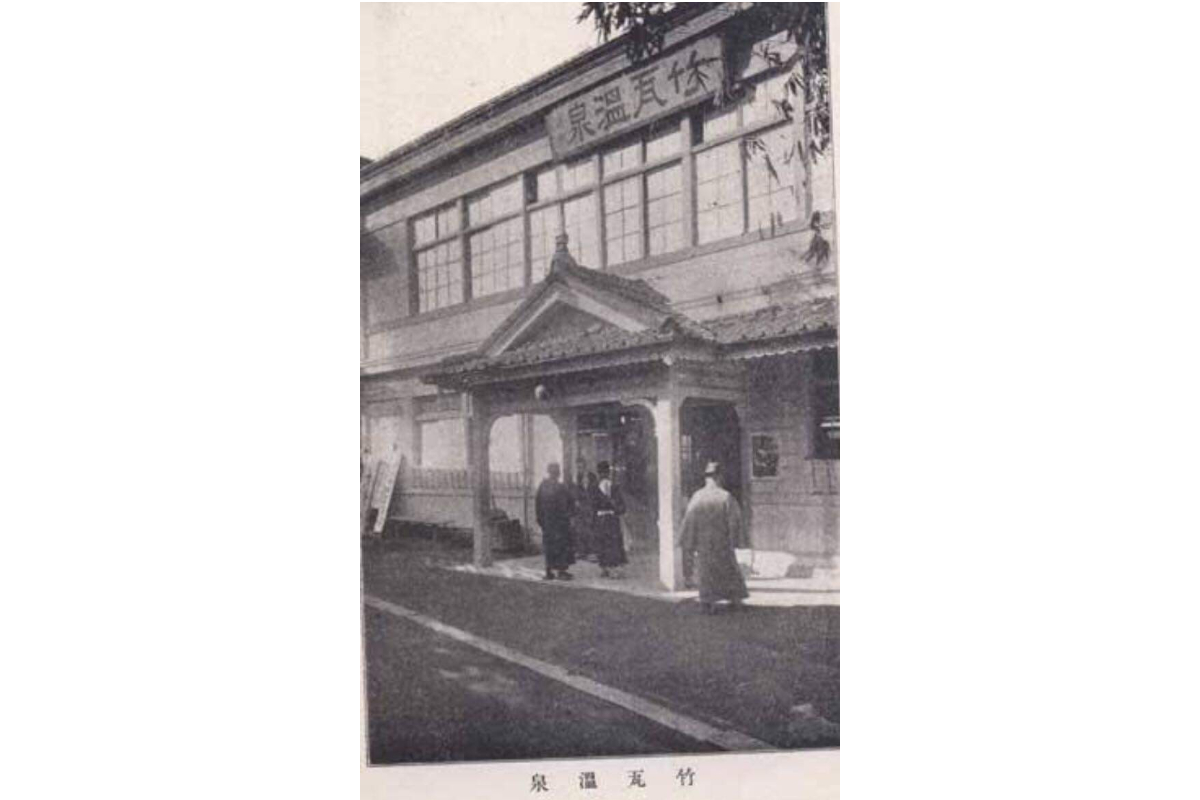 Finally in 1938 it was once again renovated to incorporate the shrine-like facade it maintains today.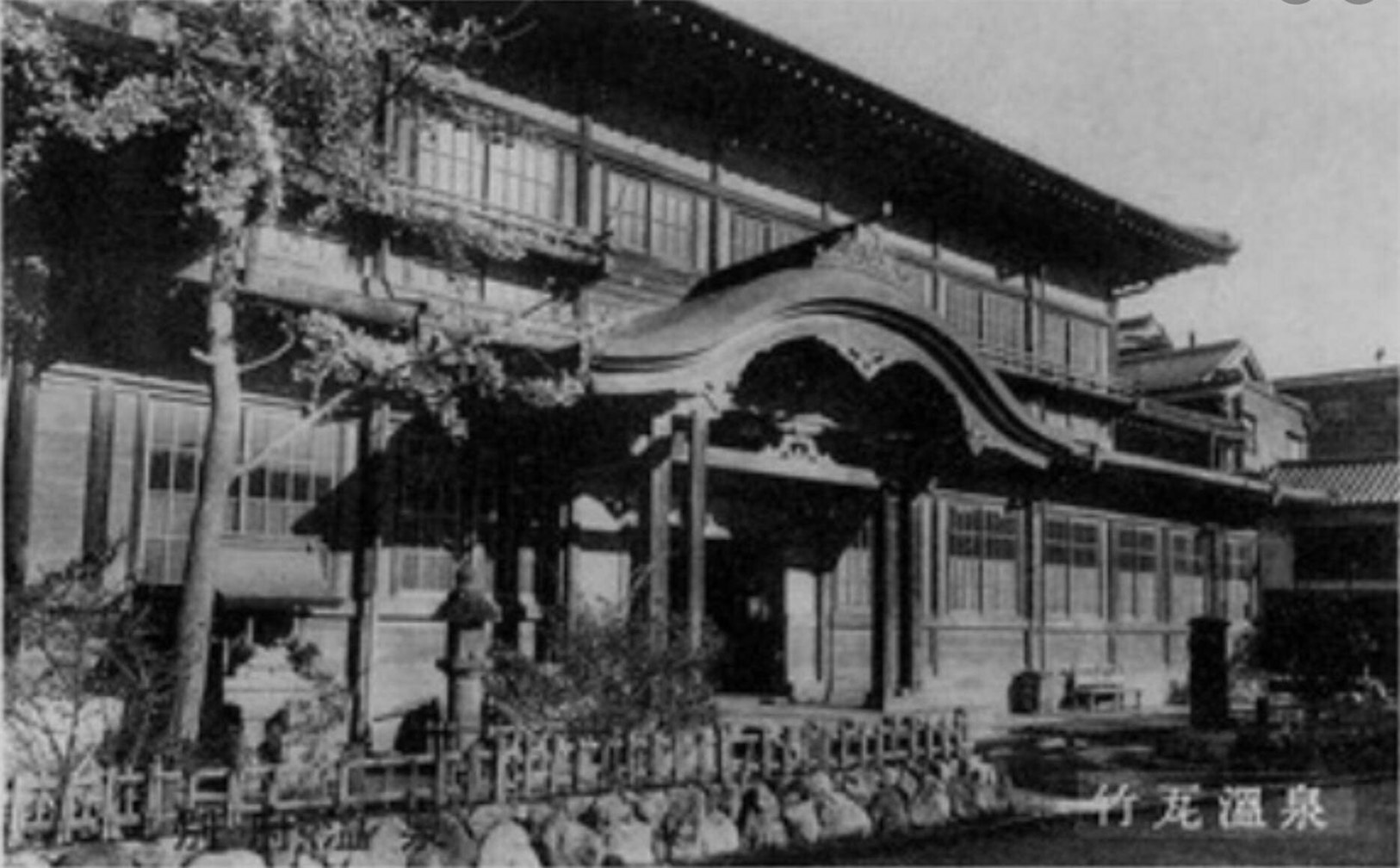 This unique facade incorporates what is called a "karahafu," which is a gable roof peculiar to Japan. Thus more visitors began to come not only for bathing, but to witness the beauty of the building. Many visitors today would say that the building evokes a "Sprited Away" vibe. (Dogo Onsen, which is well-known for inspiring "Spirited Away," also incorporates karahafu in its structure.)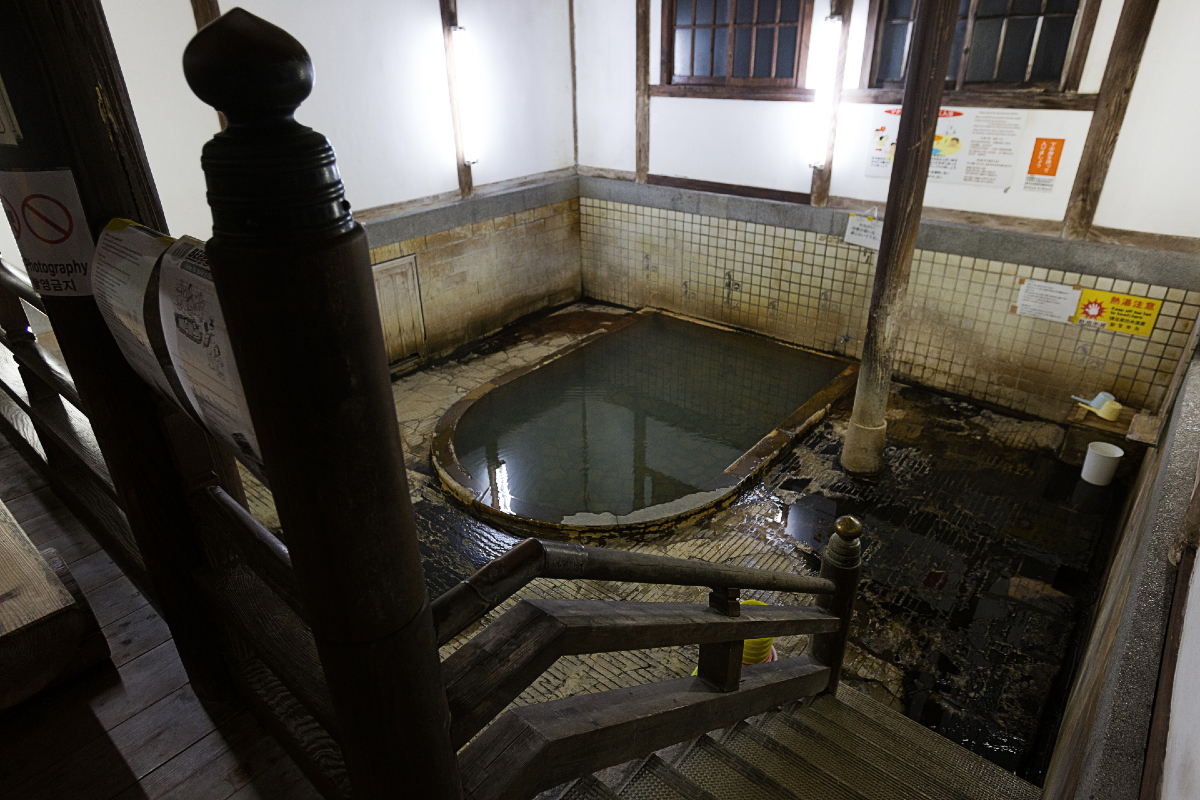 The first floor is divided into men`s and women`s baths as well as the sand bath in which men and women may enjoy together wearing yukata. The second floor was once used as a place for performances and tea service so that guests seeking onsen healing could take their time and relax. (It now serves as a community center.)

The fact that Takegawara Onsen retains its traditional structure, which is reminiscent of a shrine, makes it a rarity in Japan. Whereas many traditional buildings were destroyed during World War 2, Beppu's onsen were left untouched. This was because Beppu was well-known as a tourist area and thus, escaped becoming a target for bombings.
Takegawara and Its History of Onsen Healing
This historical site also has a strong connection to Beppu's roots as a place of onsen healing which is called "toji" in Japanese (You can read more about toji here). Visitors seeking to relax for extended periods of time enjoying hot springs would arrive from Osaka to Beppu's port. From there, they would then enter the wooden arcade (which still stands as the oldest existing wooden arcade, by the way) to Takegawara Onsen.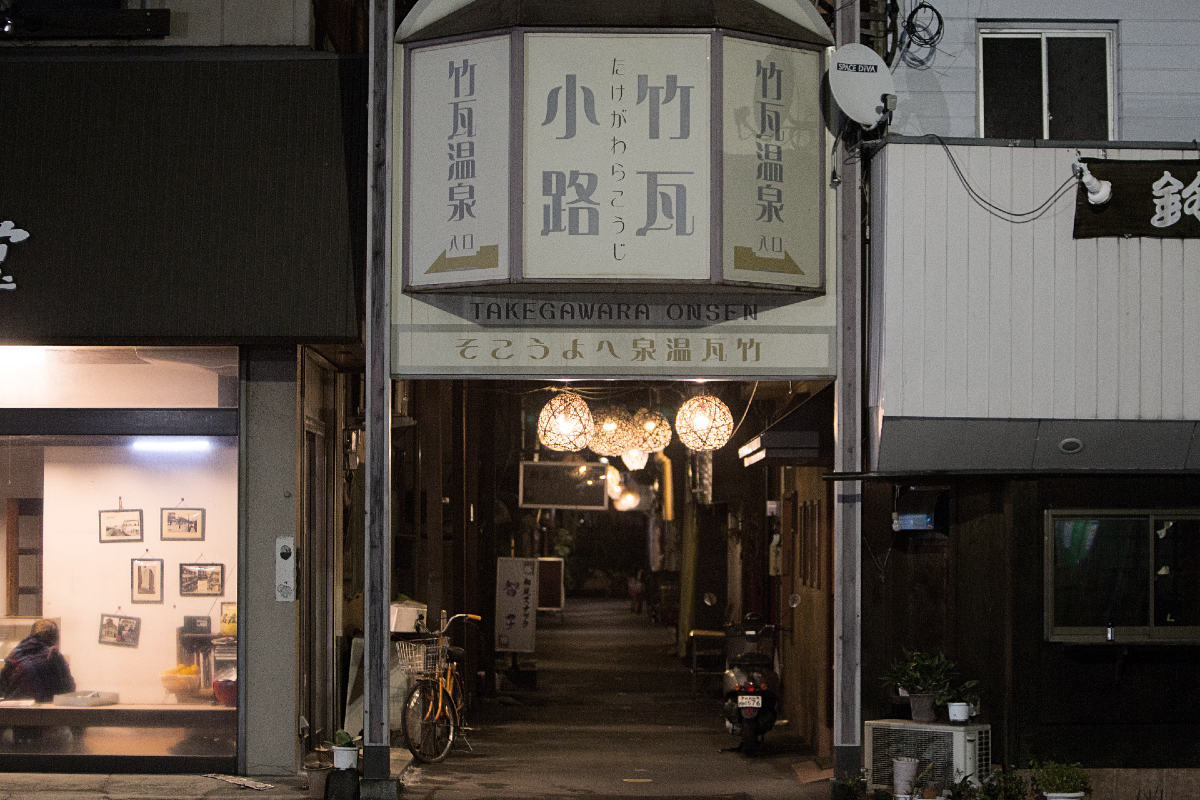 When the building was renovated during the Taisho Era, there was placed a healing Buddha outside of Takegawara. At the time neuralgia and rheumatism were prevalent among the population and many came to Takegawara for onsen healing. It was said these patients left a mountain of crutches in front of the statue as they no longer needed them after bathing in the onsen.

In fact in 1933 one of these patients, Shosuke Kishida a, who was brewing sake in Atsusa-gun, Yamaguchi Prefecture, was so thankful that his treatment at Takegawara Onsen worked, he dedicated a stone lantern as a thank-you. This lantern stands til this day.
Takegawara Onsen Is A Most Traditional Hot Spring
Takegawara Onsen is he kind of traditional hot spring where many people come together and enjoy talking while bathing. It follows that, the attraction of Takegawara Onsen is not just the traditional building, but the ability to catch a glimpse into the lives of the Japanese people who frequent its hot spring.

When your humble American writer visited, the older Beppu ladies in the bath instructed me how to wash before bathing. They even taught me how to pour cold water into the wash bin so the water would not feel as hot. I then, in turn, taught another first-timer how to enter properly. It's that kind of place.

As for the onsen water itself, it tends to be on the hot side so be advised!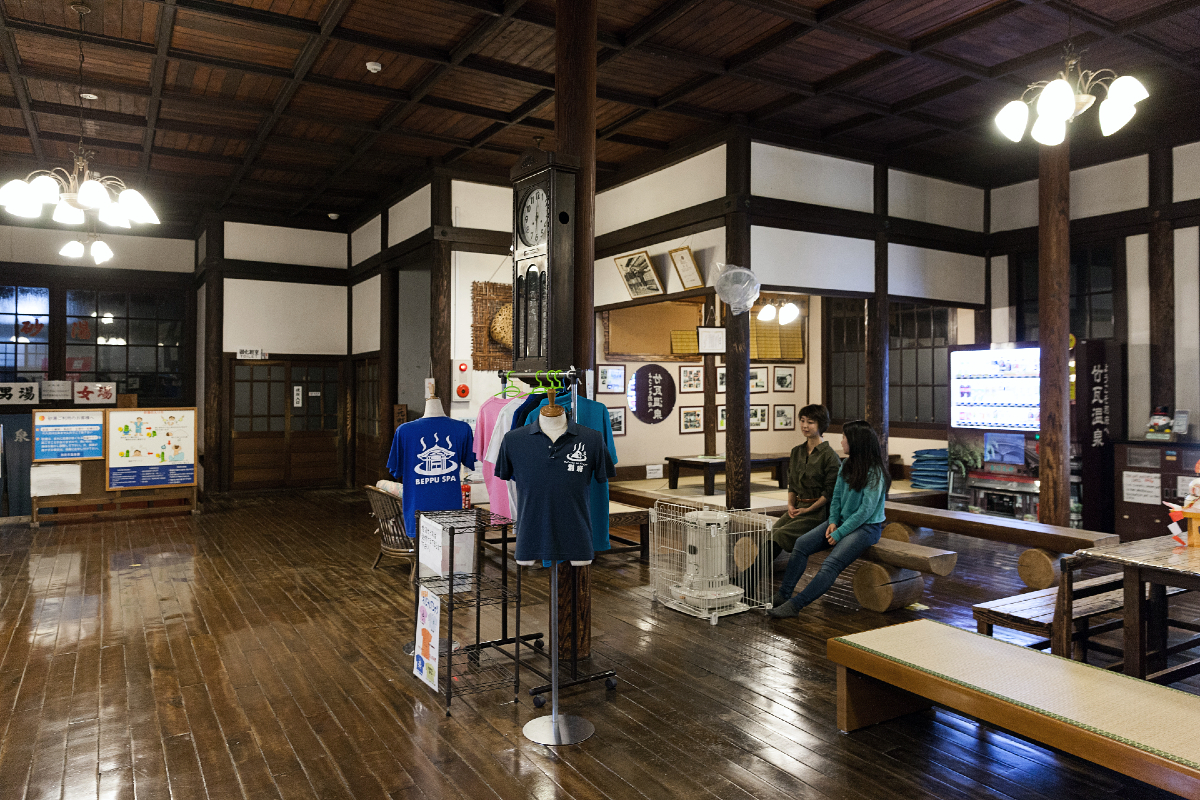 When you are done bathing, you can rest in the high ceilinged lobby. The room is spacious and has some tatami mats to rest on as well, so take your time.

Tip: Look out for Ojii! He is one of the friendliest Beppu natives we know and he often will be working as bandai (receptionist). Give him a "hello!"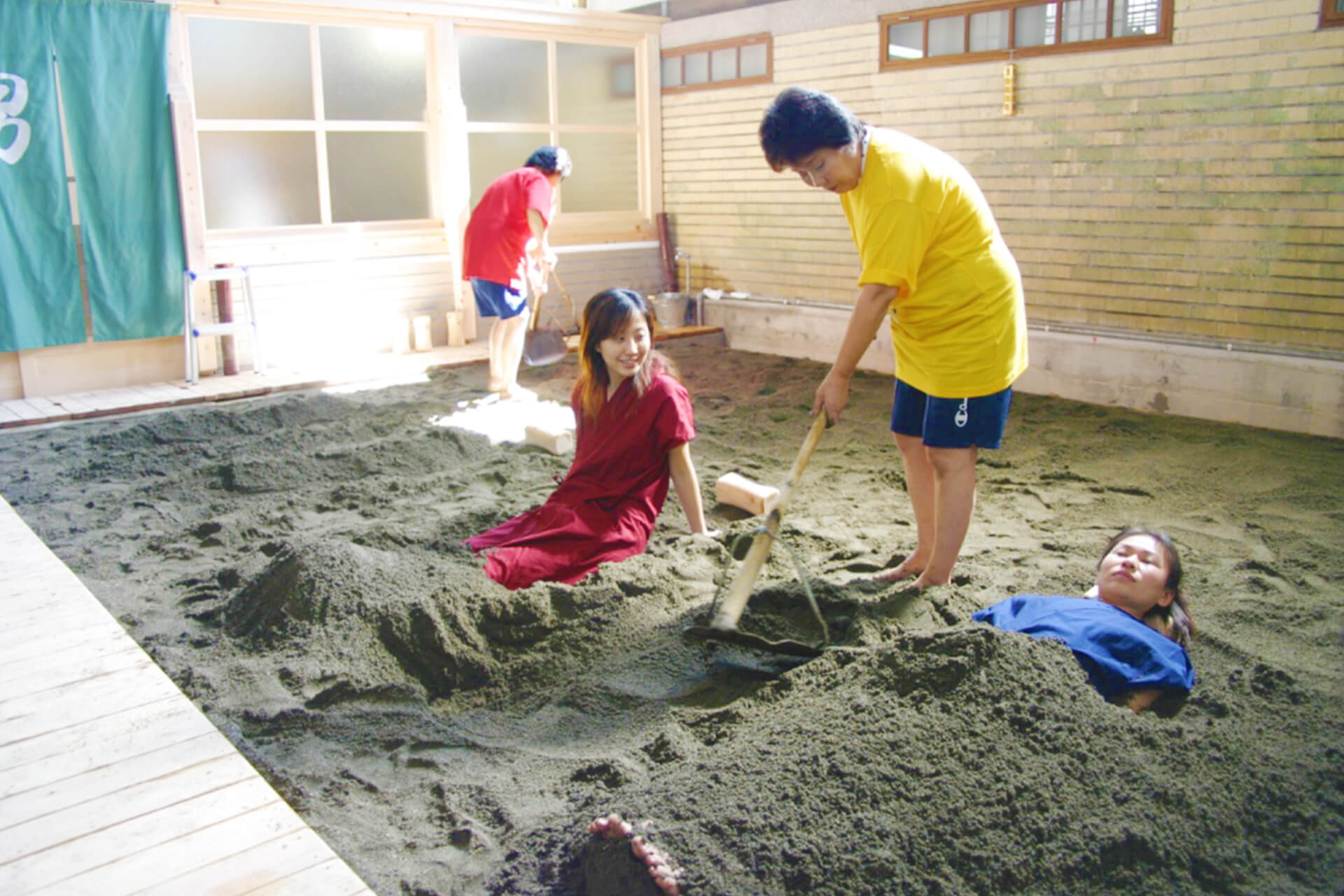 Takegawara Sand Bath!
Apart from bathing in the hot spring, you can also enjoy the "sunayu" or sand bath heated by onsen water. You will be completely covered in sand which has taken on the moisture and minerals of the hot spring water. Sunayu are rare even amongst Japanese onsen, and you can sweat the toxins and impurities out of your skin through this unique kind of hot spring.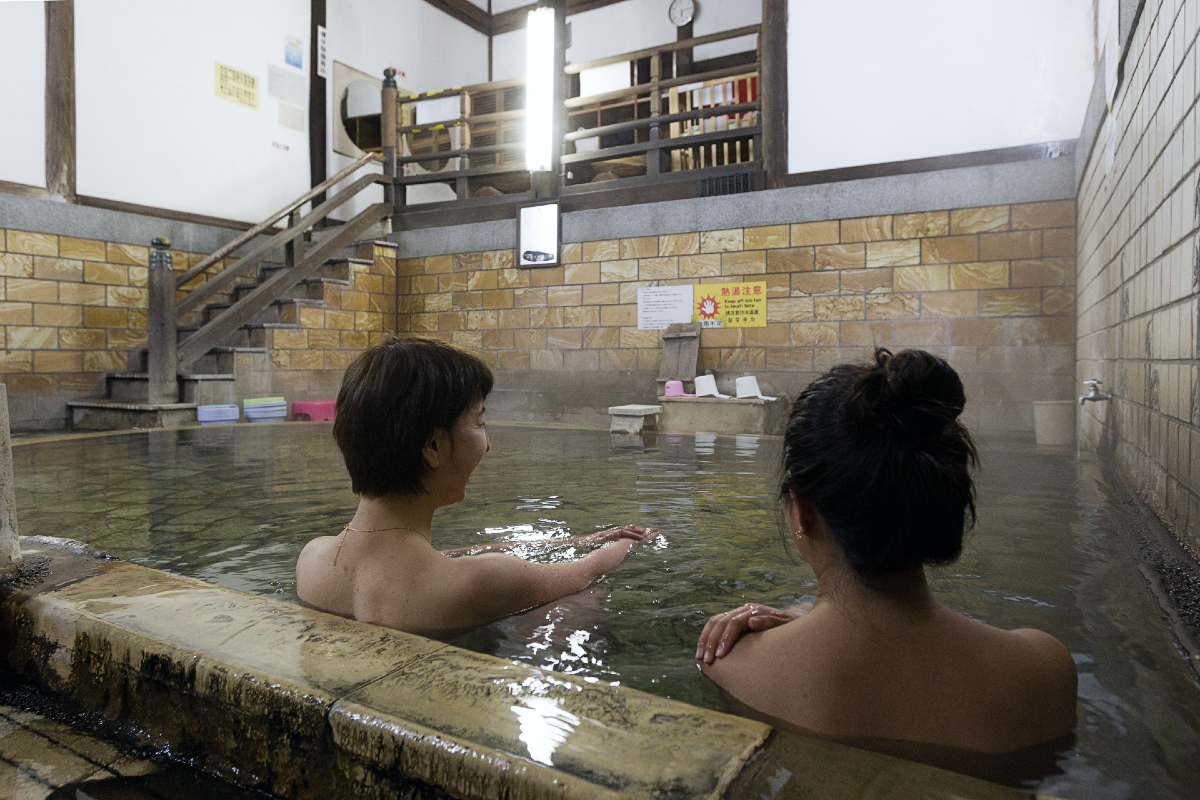 Rules Of Takegawara Onsen
Takegawara Onsen is frequented by many locals, so there are some cultural protocols which must be observed.
There are no difficult rules, so it's quick and easy to learn before entering the hot spring!

You don't cover yourself with a towel in the hot spring. Be prepared to get naked!
You should clean yourself thoroughly by using the washbowl
Please take care not to sit at the edge of the bathtub

OPEN: Onsen (6:30-22:30), Sand Bath(8:00-22:30(Last reception: 21:30))
FEE: Onsen (300 YEN), Sand Bath (1,500 YEN)
HOLIDAYS: Only for Sand Bath: The Third Wednesday every month
TATTOO: Allowed
EnjoyOnsen