Enjoy everything Beppu's marvelous hot spring scene has to offer at Yamanami no Yu. From elegant private onsen to gorgeous communal outdoor baths framed by soothing waterfalls, and even a wide range of saunas embellished by art like you've never seen before, this spacious onsen facility has it all to ensure a full day of fun and relaxation!
A One-Of-A-Kind Hot Spring Time With Beppu's Three Hot Spring Monkeys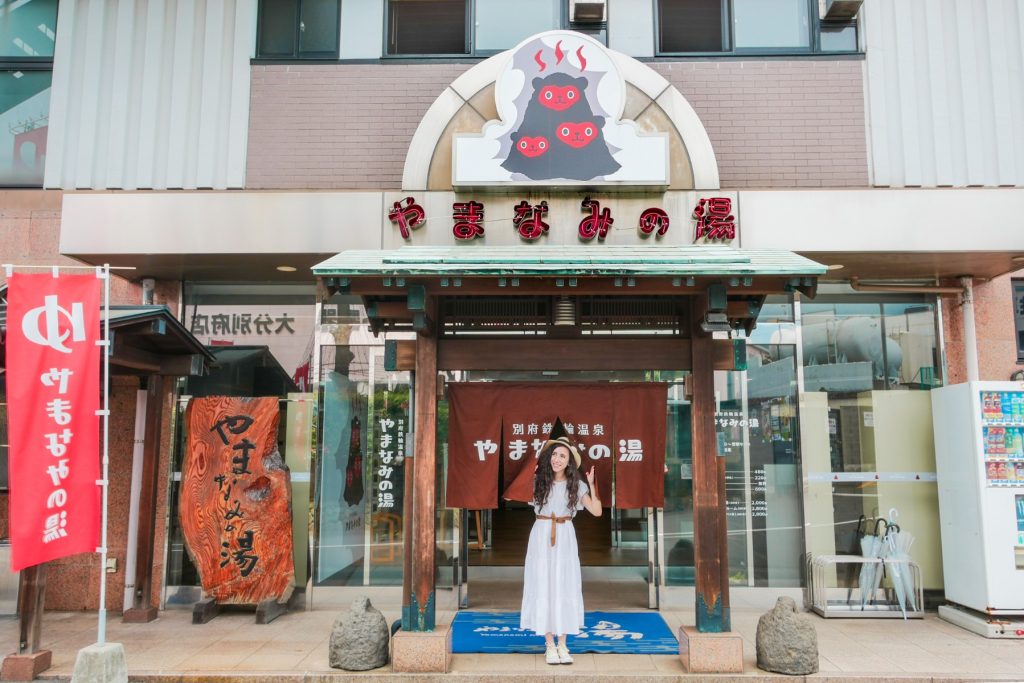 Located in Beppu's hot steam wonderlandーthe historical area of Kannawaーis Yamanami no Yu, an onsen facility that stands out for its staggering variety of hot spring baths and out-of-the-ordinary saunas. Among the multitude of onsen in the area, Yamanami no Yu distinguishes itself right from the facade with an unmistakable logo of unparalleled cuteness: the three hot spring monkeys. Watching over the entrance, these monkeys point the way to moments of healing and amusement.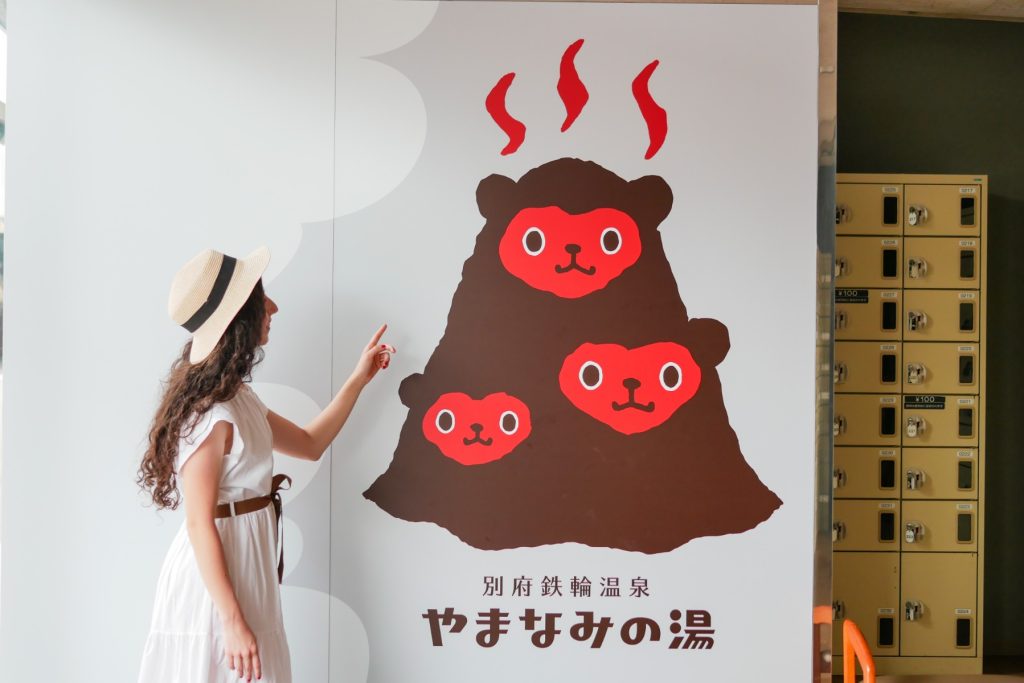 Japanese monkeys leisurely bathing in hot onsen water is a sight unique to Japan, in front of which travelers can't help but be amazed and moved. The staff told us that the original plan was to have Beppu's traditional "oni" demons on their logo, but, in the end, they opted for the three friendly monkeys to convey the spirit of Yamanami no Yu to guests. They were indeed a welcoming presence that got a smile out of us as soon as we stepped in.
These amiable onsen ambassadors are also found embroidered on Yamanami no Yu's original goods and souvenirs, such as adorable sauna hats and mats, on sale in the lounge. This ample space also offers vending machines to stock up on drinks, snacks, and anything you might need for an enjoyable day at the hot springs.
Let Your Mind Wander in These Elaborately Designed Onsen Baths With Hot Spring Waterfalls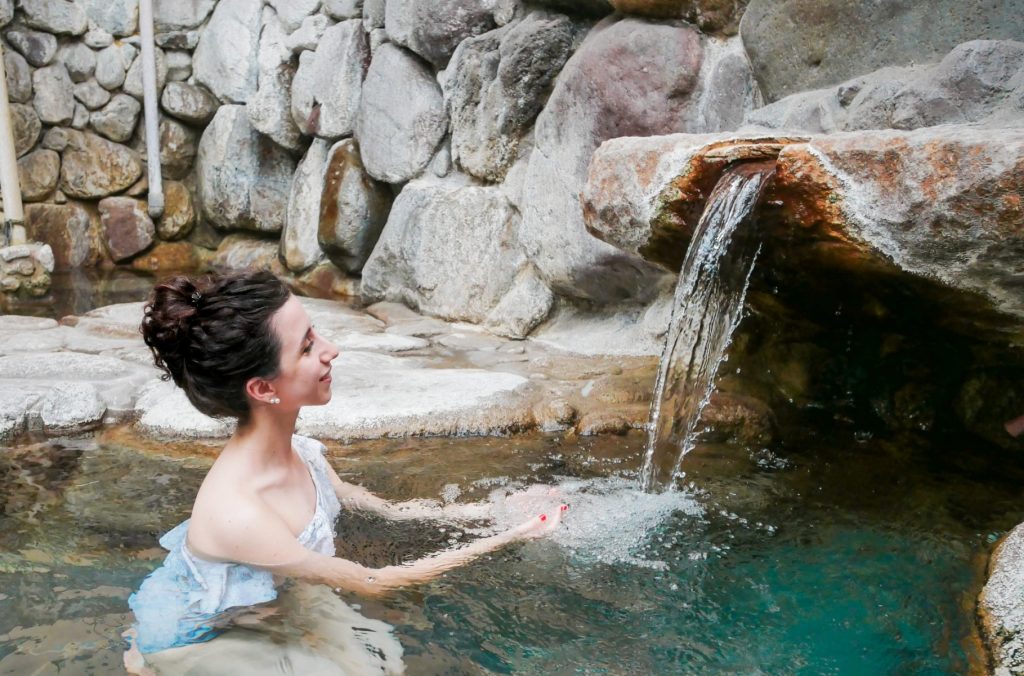 Yamanami no Yu boasts eleven private onsen baths and two Onecommunal onsen areas: "Yama no Yu" (Mountain Hot Spring) and "Umi no Yu" (Sea Hot Spring), which are used in rotation as a women's bath and men's bath and change every few days. Divided into an indoor space and an outdoor space, both areas expand into a series of hot spring options consisting of large public baths, jet baths, cascading baths, and even electric baths. Almost symmetrical in their layout, they also have similar but not identical saunas bound to make you come back for more relaxation.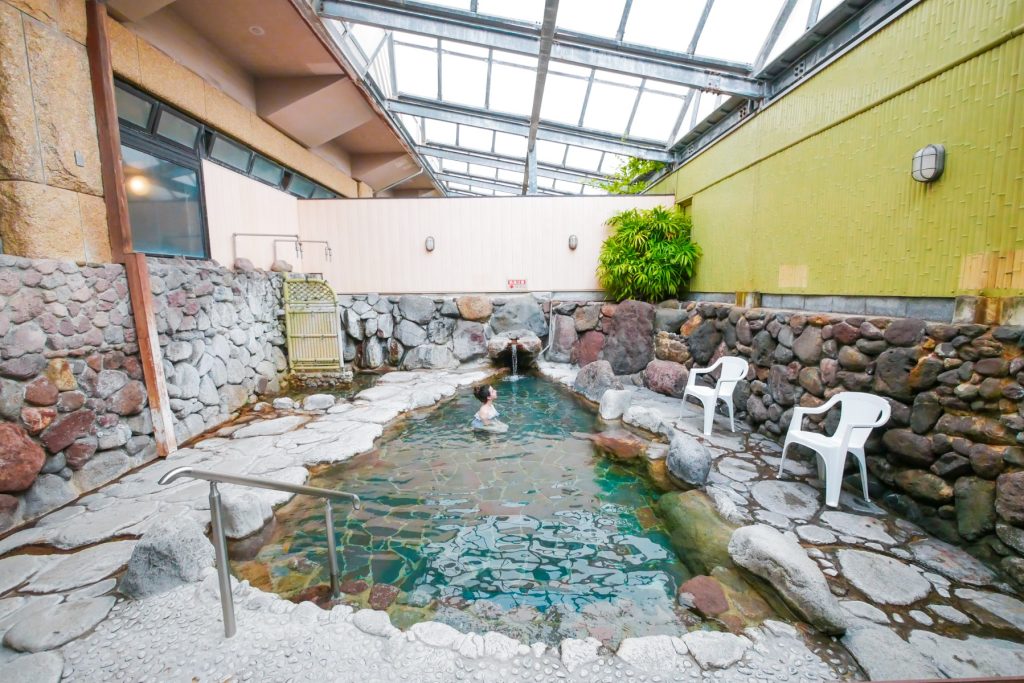 Carefully designed to tackle every need, Yamanami no Yu's array of onsen facilities are extremely diversified, leaving us excited to tour them all.
We started our invigorating onsen hopping tour from Yama no Yu's airy and bright large open-air bath. Enclosed by the simplicity of the natural elements, it's a space meant for peace and healing that has a calming effect on the soul. Rocks wrap the bath with a roughness pleasant to the touch, while accents of greenery and bamboo soothe the eyes.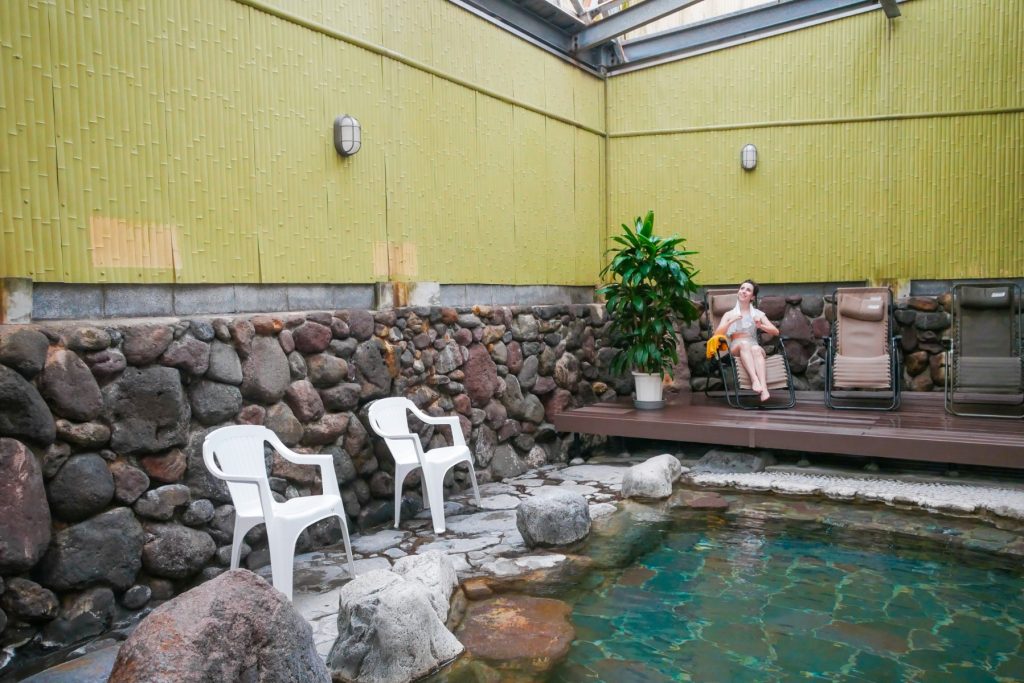 On one side, the bath is framed by a babbling hot spring waterfall gushing out of the rocks, which we found to be the ideal place to relish a moment of silence enhanced by the comforting aquatic melody.On the other side, the bath makes way for the "gaikiyoku", an open-air deck with comfortable deck chairs where we rested and admired the peaceful scenery.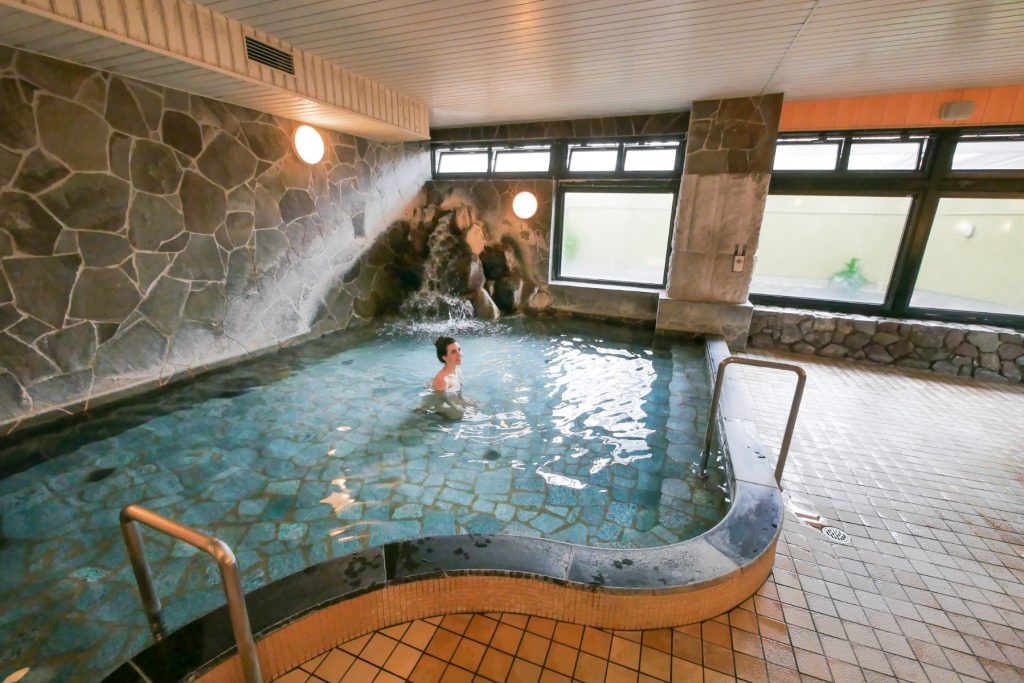 Impressive waterfall features are not limited to the outdoor space and adorn the large indoor baths as well. Curated in every detail, Yamanami no Yu's indoor hot spring baths are comfortably large and no less bright than the exteriors, with ample windows allowing you to enjoy the natural light and views of the gorgeous outdoor space.
Sooth Your Body With an Astounding Variety of Artistic Saunas at Beppu's Top Sauna Spot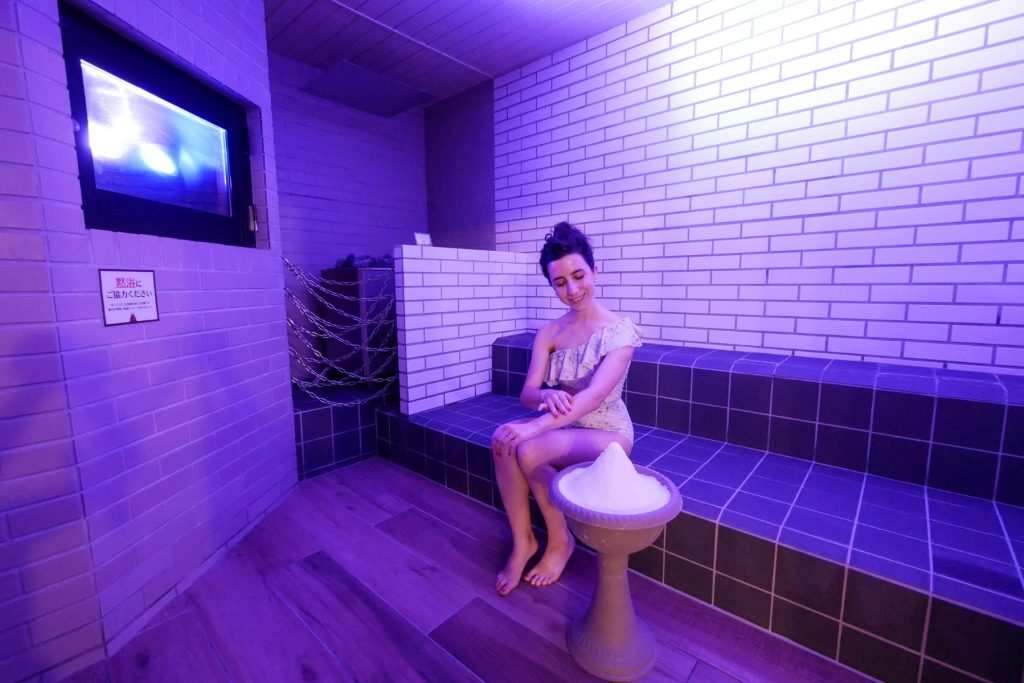 Despite being an onsen facility, Yamanami no Yu takes great pride in its offer of saunas, housing six different types incorporating various artistic and healing elements into their design and use. Having become a hotspot for sauna lovers in Beppu, we couldn't wait to try some!
Inside Yama no Yu, we appreciated the benefits of the "Mugen Jigoku Sauna", a salt sauna where bewitching colorful illuminations tinged the walls and floor in a sequence of relaxing patterns, transporting us far away from the outside world.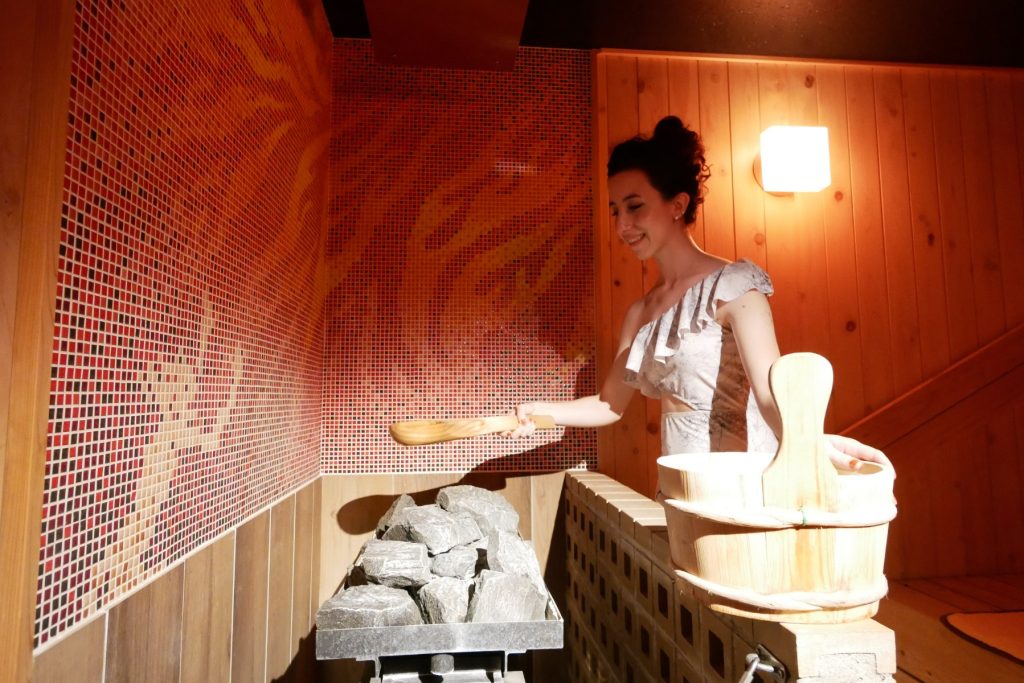 Umi no Yu presents one of Yamanami no Yu's most distinctive saunas: "Ennetsu Jigoku". Inspired by the heat of a blazing fire, the sauna is embellished with tile art depicting dynamic flames on the wall. Being a loyly sauna, Ennetsu Jigoku allowed us to freely pour water over the stone stove, which meant we had some control over the temperature and humidity and could slowly soak in the artwork while sitting peacefully inside.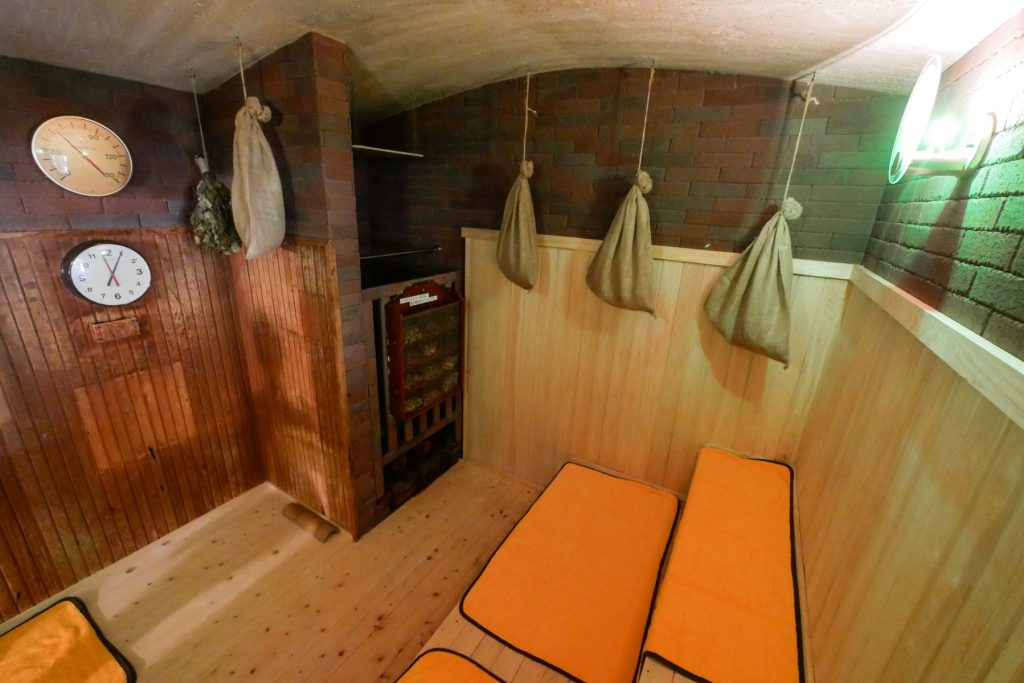 Both Yama no Yu and Umi no Yu also gave us the chance to unwind in saunas focused on the concept of "kanpo" traditional medicine and aromatherapy. "Kanpo no Mori Sauna" and "Jusan Kanpo Sauna" are imbued with the healing power of aromatic herbs and spices releasing their sweet scent into the room, lifting our spirits and reminding us of the fragrance of freshly baked cookies and cakes at Christmas.
Yamanami no Yu's saunas also create a space that encourages guests to take time for themselves and indulge in moments of self reflection. The staff particularly recommend alternating between the embracing warmth of the saunas and energizing cold baths with breaks on the open-air deck. This cycle puts a powerful, refreshing experience in motion, allowing you to reach a harmonious and balanced state of body and mind.
Tour Extraordinary Onsen and Saunas All Conveniently Located in One Facility
Add the benefits of sauna to your onsen experience! At Yamanami no Yu, you can try an incredible variety of hot spring baths and saunas, each coming with its own unique style and beneficial properties!
Information
Name
Yamanami no Yu Beppu Branch
Opening hours
12:00 pm – 8:40 am the next day
(Twice a month on Monday: 3:00 pm – 8:40 am the next day)
(Weekends and holidays: 24 hours open)
Closing Days
None
Price
・Entry ticket: 480 yen
・Private onsen bath: 2,000 yen (1 hour)
・Private bath with private sauna: 2,800 yen (1 hour)
Website (Japanese)
http://diamondgroup.co.jp/yamanaminoyu/beppu/
tsunagu japan