Usagi no Yu
*Please note that bathing in the onsen while wearing a bathing suit is not usually permitted.
Located in Kannawa, Beppu's historical onsen neighborhood, the beautiful hot spring inn Yunosato Hayama boasts moonlit baths, hot springs shaded by lush greenery and guarded by mysterious creatures from Japanese folklore, as well as a lavishly nostalgic ambience and sumptuous rooms. With a plethora of room options and charming details decorating every corner, guests can lose themselves in what feels like another world at Yunosato Hayama.
A Luxurious Stay Where Guests Can Appreciate Nature and Retro Touches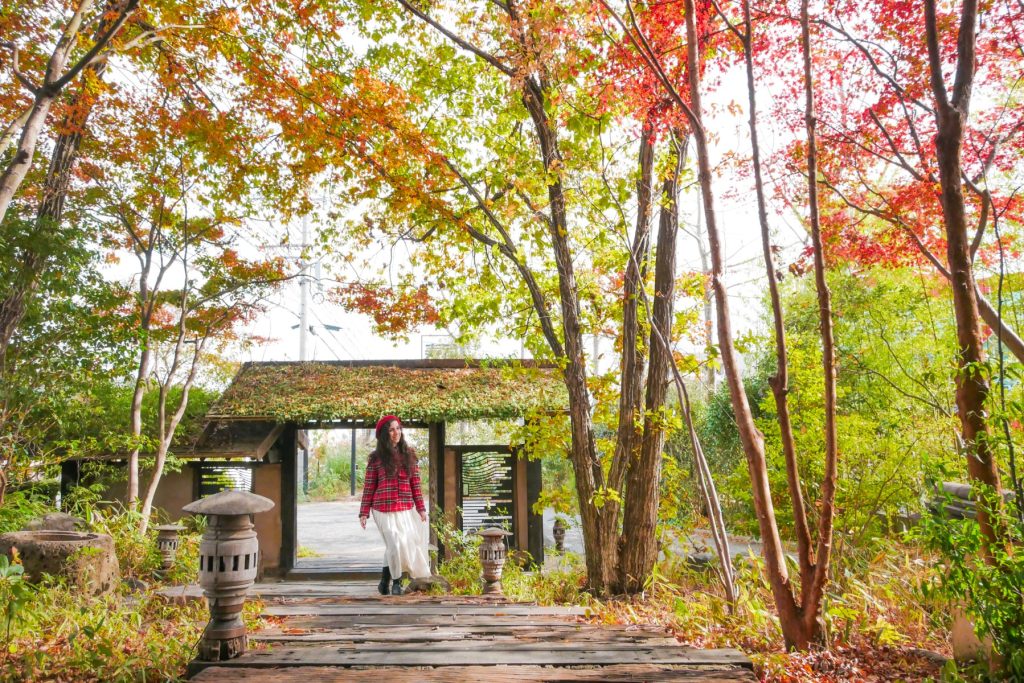 A moss-covered traditional gate stands at the entrance of Yunosato Hayama, acting as an extraordinarily eye-catching detail amidst the more modern surroundings of the inn. Extending into an arch of flourishing vegetation, the pathway to the inn almost seems like the entrance to another era where time flows slowly and calming nature cocoons everything. Savoring the quiet atmosphere, we proceeded to the inn and felt as if we were miles away from the city.
Infused with surreal tranquility, Yunosato Hayama is located in Kannawa, one of Beppu's most iconic hot spring neighborhoods. The historical Kannawa boasts cobblestone streets, ancient inns, and is not only renowned for its salubrious onsen water but also for the scenery created by its abundance, with trails of hot steam floating up into the sky from the myriad of hot spring facilities dotting the area. The convenient location also ensures that guests can easily access some of Beppu's best attractions such as the "Jigoku" Hells, which are scorching hot onsen naturally blessed with otherworldly-colored ponds!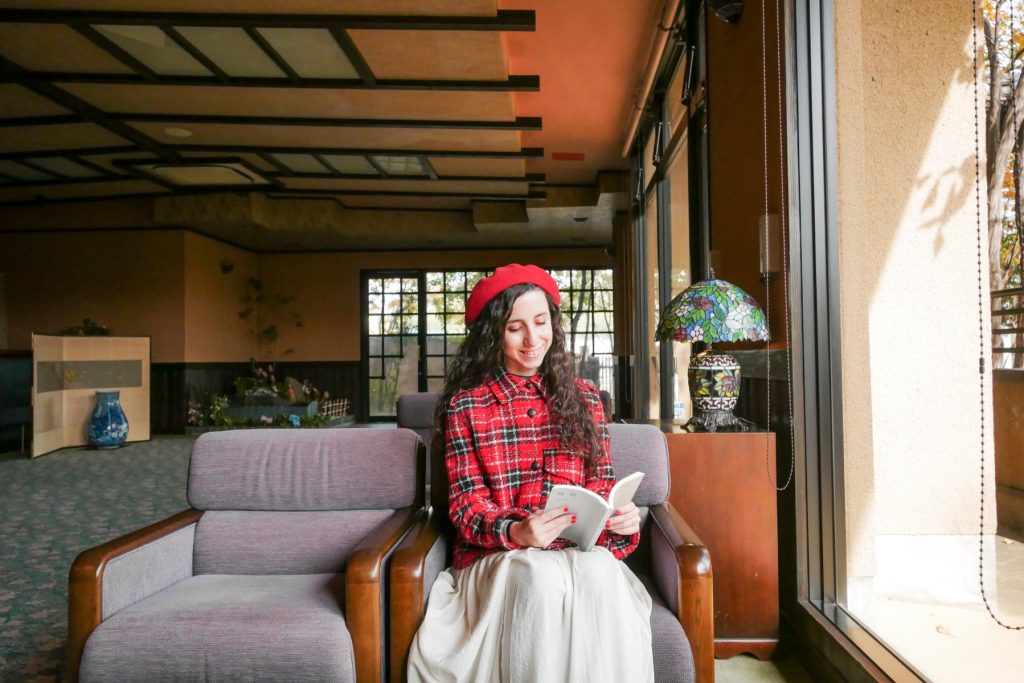 Before venturing into the calm of Yunosato Hayama's hot springs and rooms, we enjoyed some time in the lounge. As Japanese and Western elements are tastefully blended together, the space reminded us of a style commonly seen during Japan's Taisho period (1912 – 1926) when it was popular to mix the two, accentuating that first impression of having stepped back in time. The spacious lounge is furnished with tables and comfortable armchairs, so we decided to unwind by sitting by one of the large windows, picking a book from the available selection, and relaxing while gazing at the greenery outside.
The window framed a large portion of the vegetation with lovely sunshine sparkling through the trees. As the foliage was starting to change color right at the time of our visit, it offered enchanting scenes of the changing season!
17 Types of Guest Rooms for the Onsen Stay of Your Dreams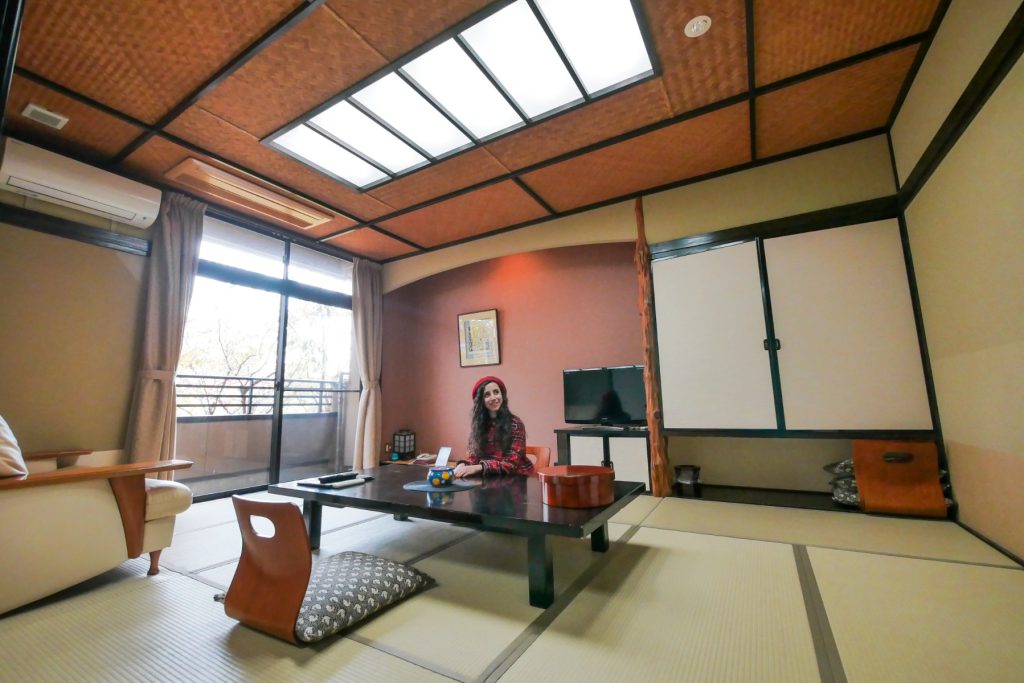 Guests can choose from as many as seventeen types of sumptuous guest rooms which makes it easy to plan the stay of your dreams in Beppu. Yunosato Hayama has both Japanese-style rooms and Japanese-Western-style rooms, each of which are equipped with either a private hot spring, private shower, or massage chair. Spacious and comfortable, rooms also feature gorgeous views of the surrounding flora, with some even offering panoramas spreading out as far as Beppu Bay, letting guests enjoy the splendid blue expanse of the sea in the distance from the comfort of their room!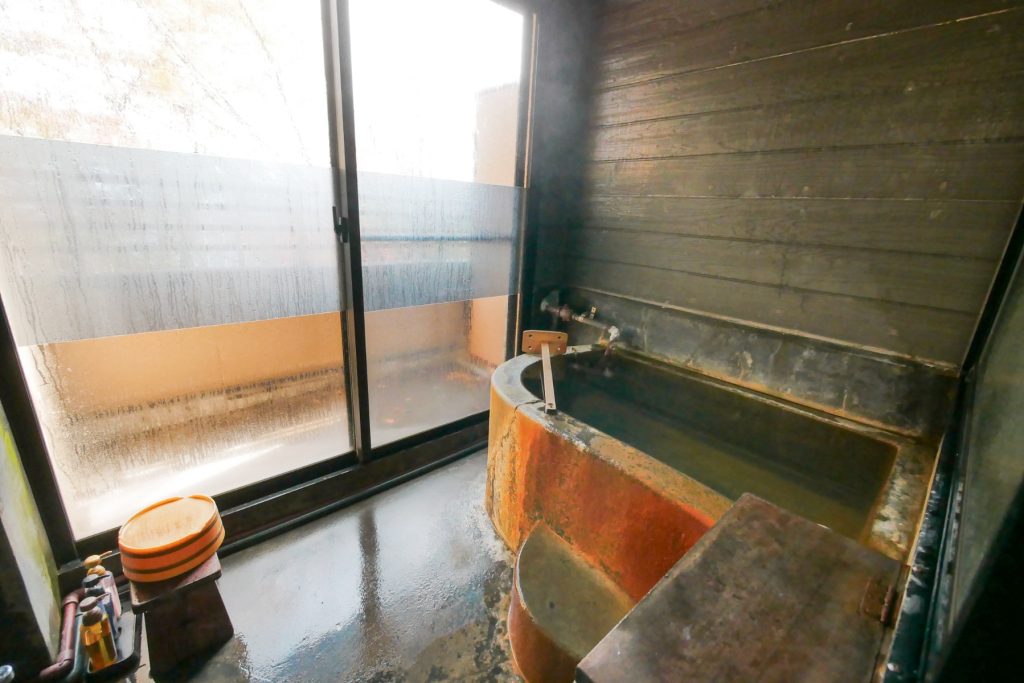 Private hot spring of a Japanese-style room
The Japanese-style room we relaxed in proved to be the perfect tranquil retreat, as we loved sitting on the "tatami" straw mats, drinking green tea, and just enjoying the traditional Japanese atmosphere of the room. Bamboo and wooden details made the space feel even warmer and cozier.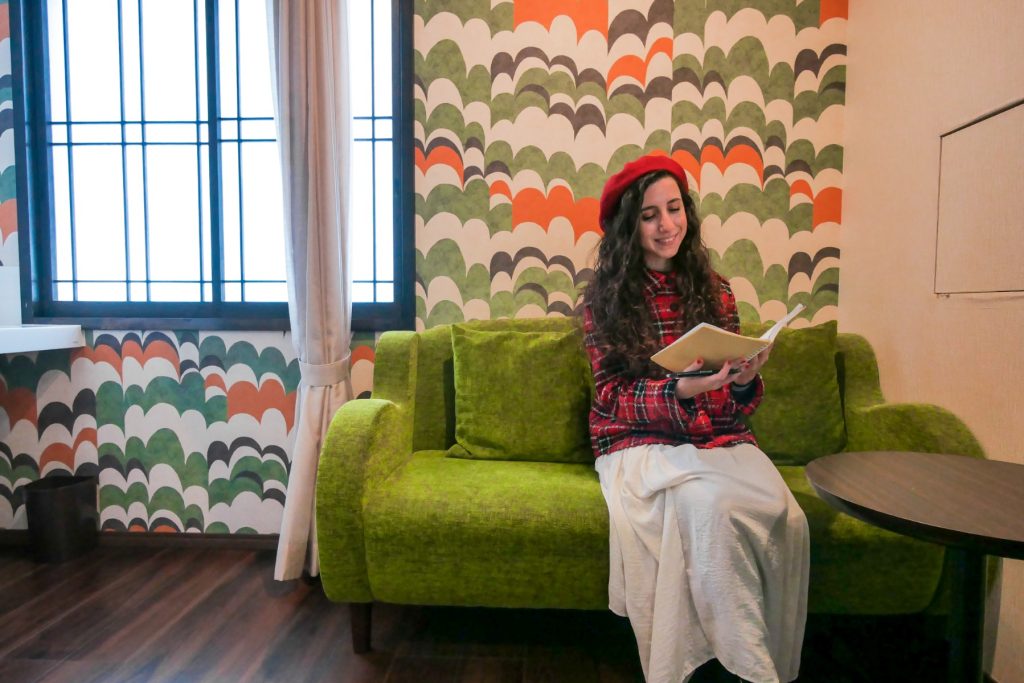 We also particularly liked the style of the Japanese-Western-style guest rooms, which have both an entrance/living room as well as a bedroom. As both the furniture and wallpaper enrich them with fun pops of color, they look so refreshingly modern that we could have easily spent the whole day in the small yet comfortable living room!
Japanese Folktales and Flowers For a Blissful Time at the Onsen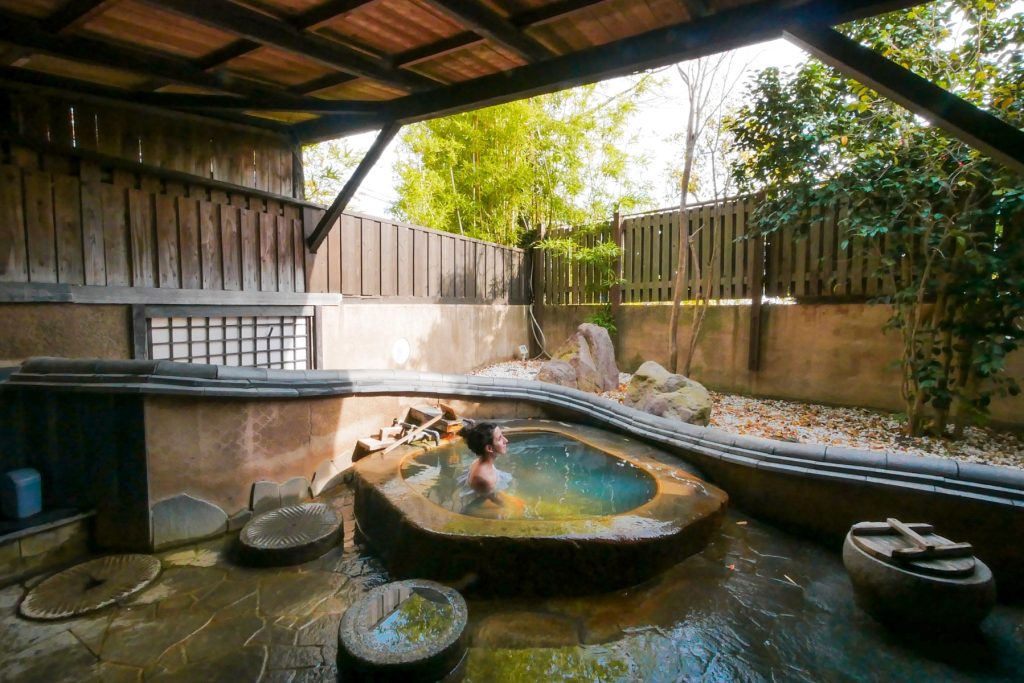 After a relaxing afternoon spent lounging around the inn, it was time for us to unwind in the onsen. Yunosato Hayama's hot springs are served by Kannawa's healing water that flows directly from the hot spring source.
First, we headed to "Sakura no Yu," the "cherry blossom hot spring," from where guests can view a wide variety of plants and trees blooming and changing colors throughout the seasons. Usually, large "rotenburo" open-air hot springs like this one tend to be communal, but Yunosato Hayama's Sakura no Yu is totally private, so we could completely immerse ourselves in its beauty without having to share it with other guests. The actual bath is irregularly shaped and carved from rock, giving a rustic feel to the onsen that beautifully complements the vegetation around it. Take in the soothing effects of nature, but also keep an eye out for fine details such as the splendid decor of Japanese tiles running along the edge of the wall.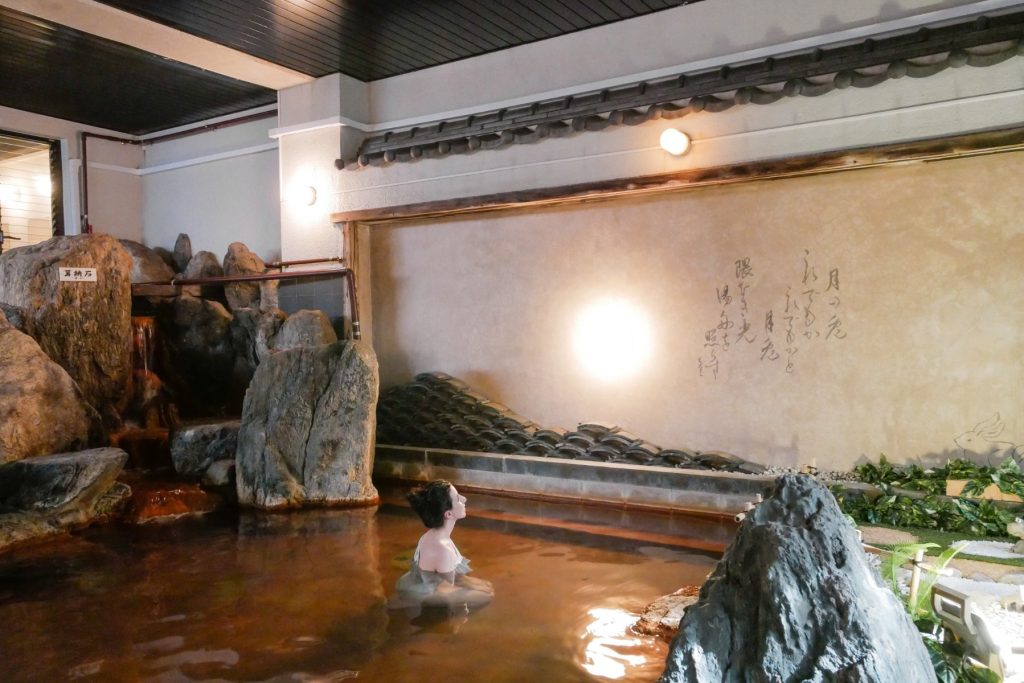 Usagi no Yu
A splendid open corridor surrounded by trees leads to the other onsen area of the inn, where two other private baths and the large communal baths are. Exquisite tile decorations, touches of greenery, and rough rocks can be found in both communal hot springs along with a lantern installed in the wall that instantly reminded us of the moon. Reminiscent of a full moon over a roof, the lantern emanates its gentle light and is reflected by the still onsen water.
"Kappa no Yu" is dedicated to "kappa," water creatures with magical powers found in Japanese folklore, while "Usagi no Yu" is a rabbit-themed onsen. A rabbit and the moon are the main themes of a very famous Japanese folktale, "Tsuki no Usagi" which tells a story about a virtuous rabbit that was rewarded by a deity who drew the likeness of the rabbit on the moon for all to see!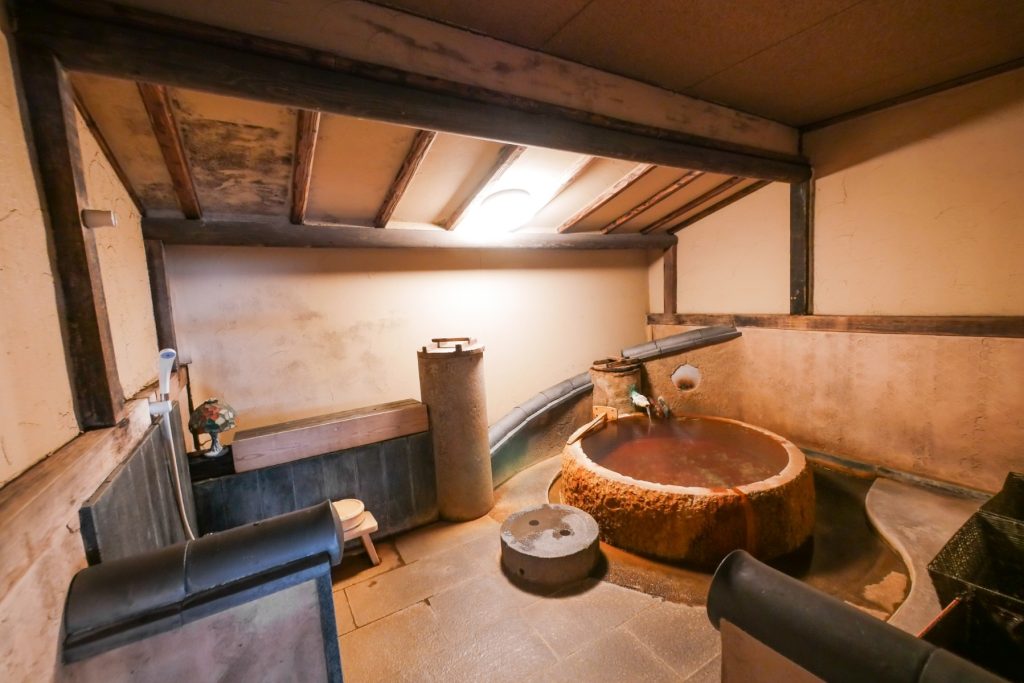 Tsubaki no Yu
In addition to the private rotenburo, Yunosato Hayama also has two smaller private indoor hot springs where guests can slowly soak in rejuvenating hot water. "Tsubaki no Yu," which is named after Japanese camellias, features a round bath of rough stone in a room decorated with wooden and tile details that are sure to infuse you with a sense of peacefulness. The other private hot spring is called "Tenshi no Yu," which means "hot spring of the angels" in Japanese. Here, guests are welcomed by the statue of an angel pouring water into the bath and latticework embellishing the windows.
Appreciate Japanese Nature and Folktales at Yunosato Hayama
Forget about daily life at this hot spring inn infused with the beauty of Japan's nature and folktales. Here, you can experience luxurious moments in beautiful Japanese rooms and splendid hot springs while taking in valuable bits of Japanese traditions.
Information
Name: Yunosato Hayama
Opening hours: Check-in 3:00 pm – 6:30 pm, Check-out 10:00 am
*Onsen can be used at any time during the stay.
Price: price vary depending on the room and plan, please check the official website for further details
Website (Japanese): https://yunosato-hayama.co.jp/index.html
tsunagu japan