*Please note that bathing in the onsen while wearing a bathing suit is not usually permitted.
Relax and have fun at a hot spring hotel that beautifully blends the charms of modern and traditional Japan. Embellishing its spaces with Japanese classic elements such as exquisite kimono and carved bamboo lamps without renouncing modern comforts, Yutorelo welcomes guests in search of marvelous onsen and wanting to visit Beppu's most popular sightseeing spot, the "Jigoku" Hell Hot Springs. Just a few steps from these one-of-a-kind attractions, Yutorelo is the perfect accommodation for immersing in Beppu's onsen traditions!
Immerse in Japan's Traditions and Modernity at Yutorelo Beppu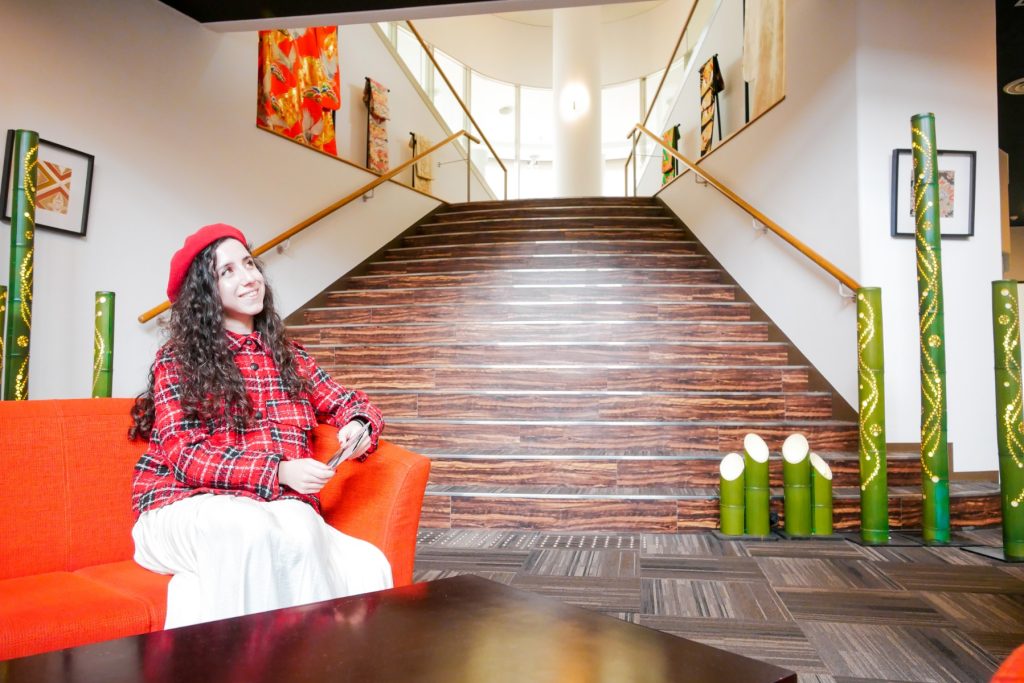 As the doors of Yutorelo Beppu opened, our eyes wandered through the lobby. Modern yet enriched with quintessentially Japanese touches, the room well represented the spirit of this hotel. Lamps carved from bamboo projected intricate patterns of light around and formal kimono and "obi" belts draped the set of wooden stairs to the second floor with their rich colors, beautifully blending modernity and tradition in one single space. A corner of the lobby was even completely dedicated to "yukata" robes! The vast selection comes in all kinds of gorgeous patterns from which guests can choose their favorite to wear during their stay and feel even more immersed in Japan's onsen culture!
As we lounged around Yutorelo Beppu's lobby surrounded by such marvelous examples of Japan's traditions, we felt as if we had just embarked on a journey to discover the country's many charms.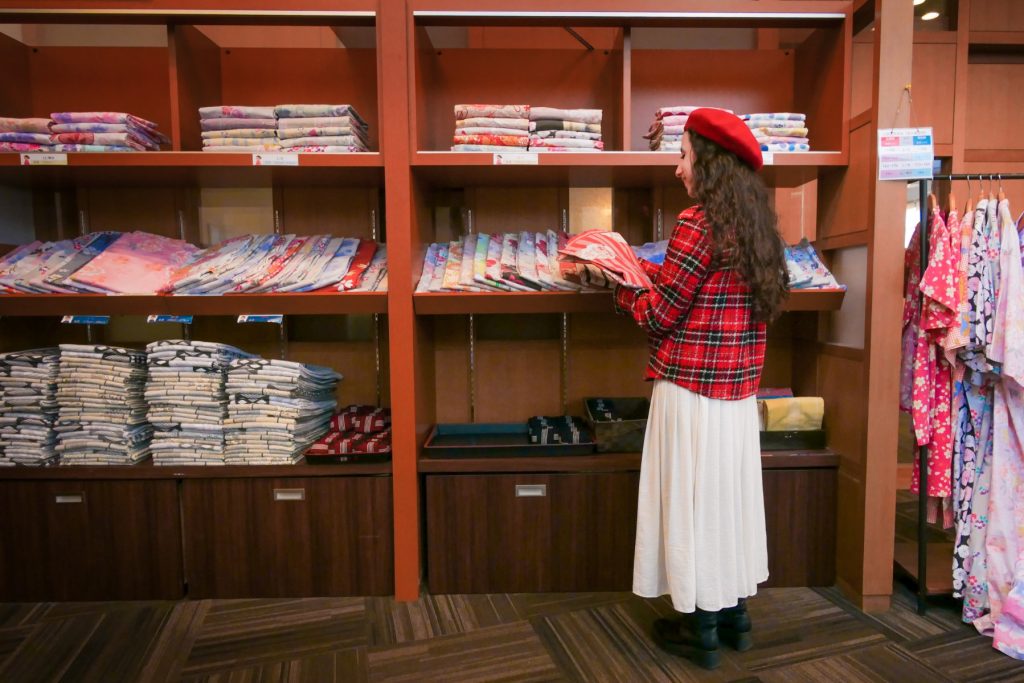 Yutorelo Beppu is a modern Japanese-style hot spring hotel where you can enjoy hot-spring water flowing directly from the source. The concept behind the nationwide Yutorelo brand is to travel throughout Japan and discover the wonders of hot springs and the surrounding areas. The name Yutorelo itself comes from the combination of the Japanese "yu" (hot springs) and the English "relocation" which conveys the importance of traveling to new and different places.
Yutorelo Beppu is located in Kamegawa Onsen, one of Beppu's eight historical onsen areas, blessed with gorgeous onsen water and not far from two of Beppu's renowned "Jigoku" Hells, a group of seven hot springs with otherworldly colors and temperatures reaching 100 degrees Celsius. Chinoike Jigoku or "Blood Pond Hell" is one of the most photogenic of the group and is only seven minutes away from Yutorelo Beppu. Standing out because of its crimson waters rich in iron and magnesium, it's a natural spectacle not to be missed. Also easily reachable from Yutorelo Beppu is Tatsumaki Jigoku which means "Tornado Hell" as its highlight is a scorching hot and powerful geyser erupting about every thirty minutes for six to ten minutes.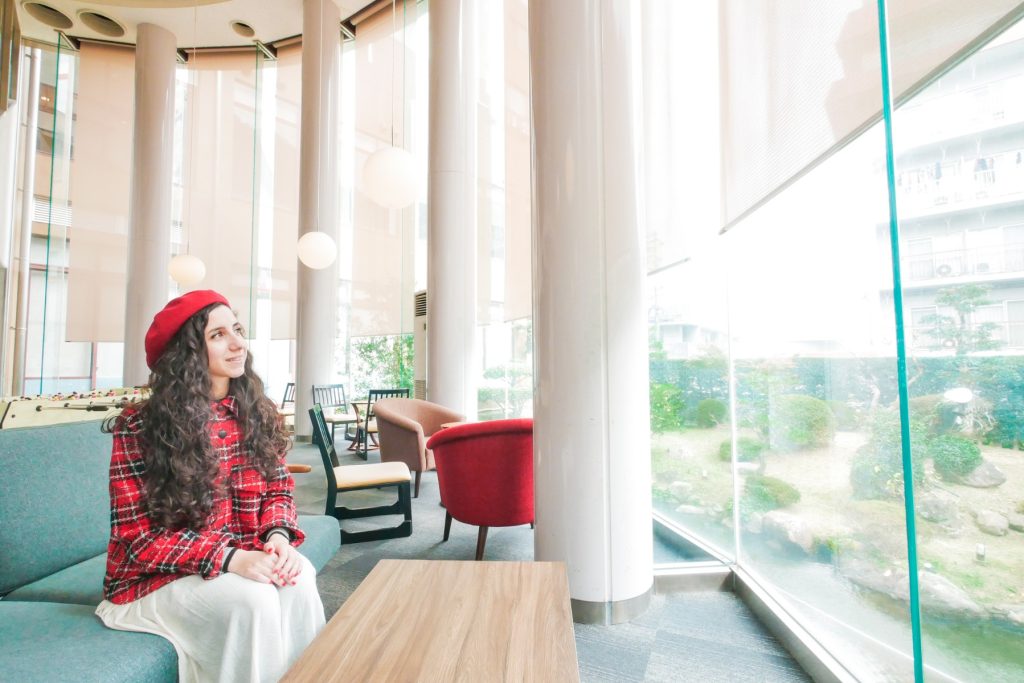 Kaon
More moments of tranquility followed when we moved from the lobby to the light-filled lounge Kaon. With ceiling-to-floor windows, it's an airy space that lets plenty of natural light seep in while letting guests enjoy the hotel's marvelous Japanese garden. We sat on one of the comfy couches and then tried one of the armchairs, searching for the perfect view of the pond and the "koi" carps elegantly swimming in it.
The lounge is open from 3:00 pm to 10:00 pm and is equipped with nostalgic board and card games to spend an enjoyable time together with family and friends. It also has a free drink bar, so you can easily relish a drink while gazing at the soothing panorama outside.
Feel the Rustic Charms of Rock-Carved Onsen and Private Baths Overlooking Nature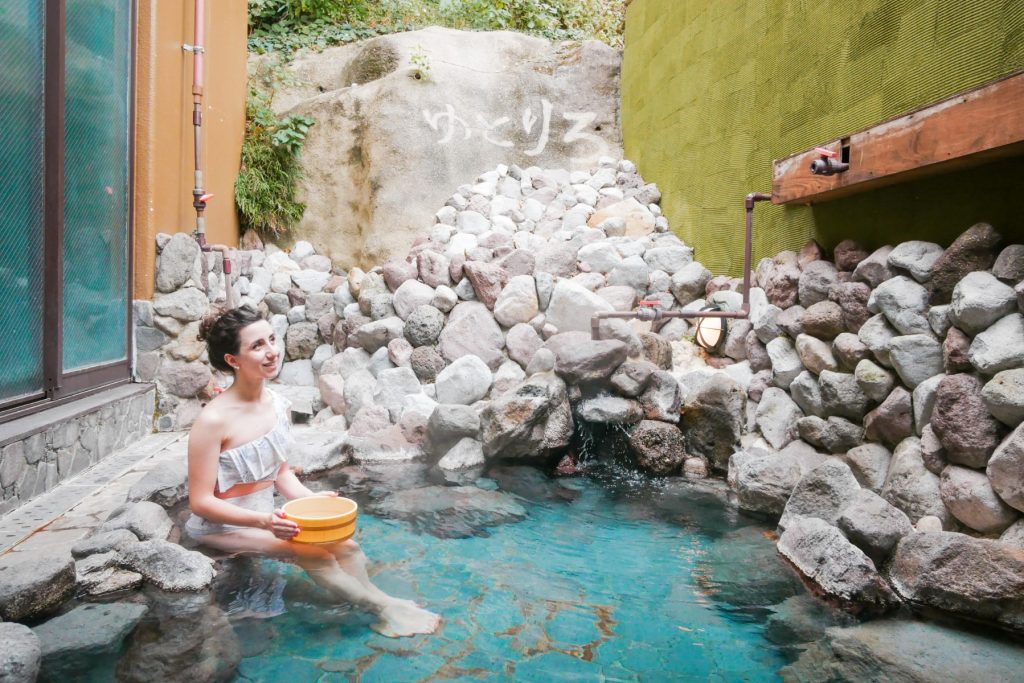 Long-appreciated for its beneficial effects, Kamegawa Onsen's hot spring water is rich in sodium chloride and sulfate which make it highly moisturizing. For this reason, immersing in Yutorelo Beppu's baths will make your skin feel smooth and moist!
At Yutorelo Beppu, both men's and women's baths feature indoor and outdoor onsen as well as saunas, so guests can enjoy a complete hot spring experience and try different ways to benefit from Kamegawa's premium water.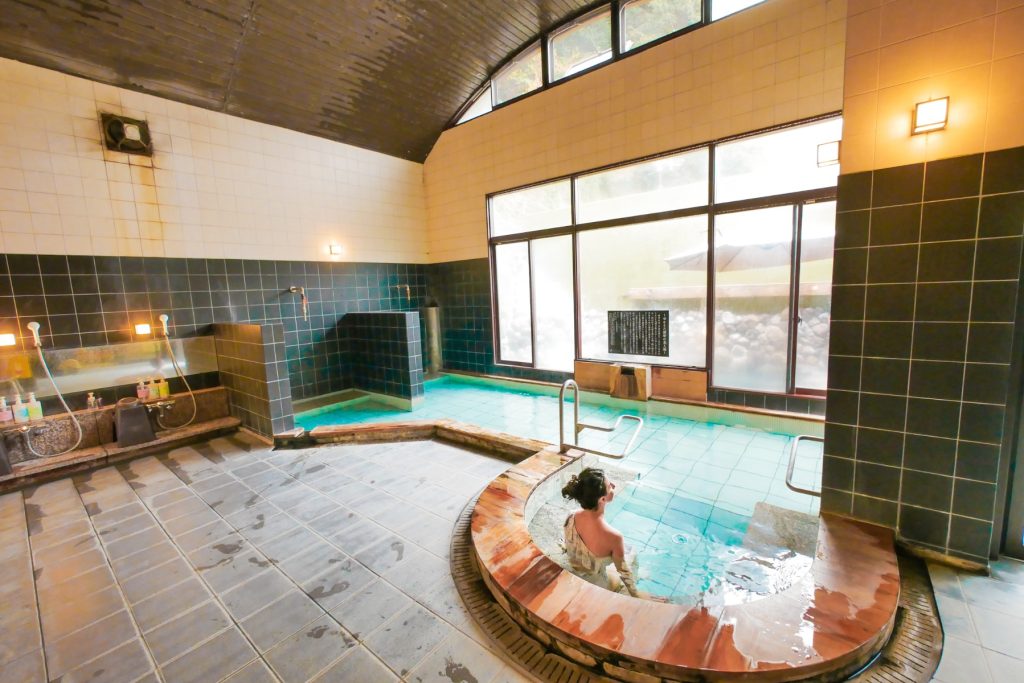 The indoor hot spring is spacious and bright, ideal for unwinding while admiring the entirety of the intricate pattern of rocks decorating the outdoor onsen. The latter looks completely one with nature as it has emerged from those unpolished rocks without much human intervention. Once inside, we could admire that spectacle from up close, with the rocks cascading down into the bath and a small waterfall gently flowing through and following the same path down into the onsen.
Guests wanting to enjoy bathing with family, friends, and loved ones without having to worry about other people can also opt for Yutorelo Beppu's private bath which overlooks a small yet soothing garden embellished with a Japanese stone lantern.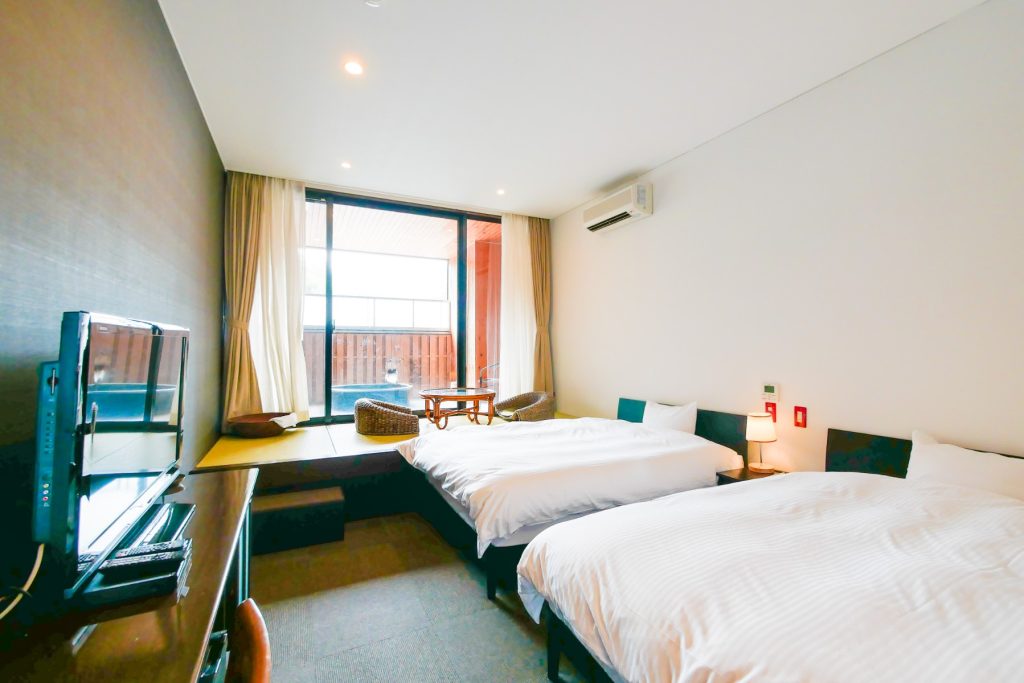 Deluxe twin with open-air bath
From rooms with open-air hot springs where you can enjoy bathing whenever you like, to Japanese-Western style rooms and Japanese-style rooms, Yutorelo Beppu offers 8 different types of accommodation options, each imbued with exquisite elegance and comfort. Our favorite was the deluxe twin with a private bath which has a cozy tatami space infused with both Japanese and Western elements. Situated right in front of the window, we could enjoy moments of relaxation while gazing at the greenery outside and then access the terrace and private onsen for even more relaxation.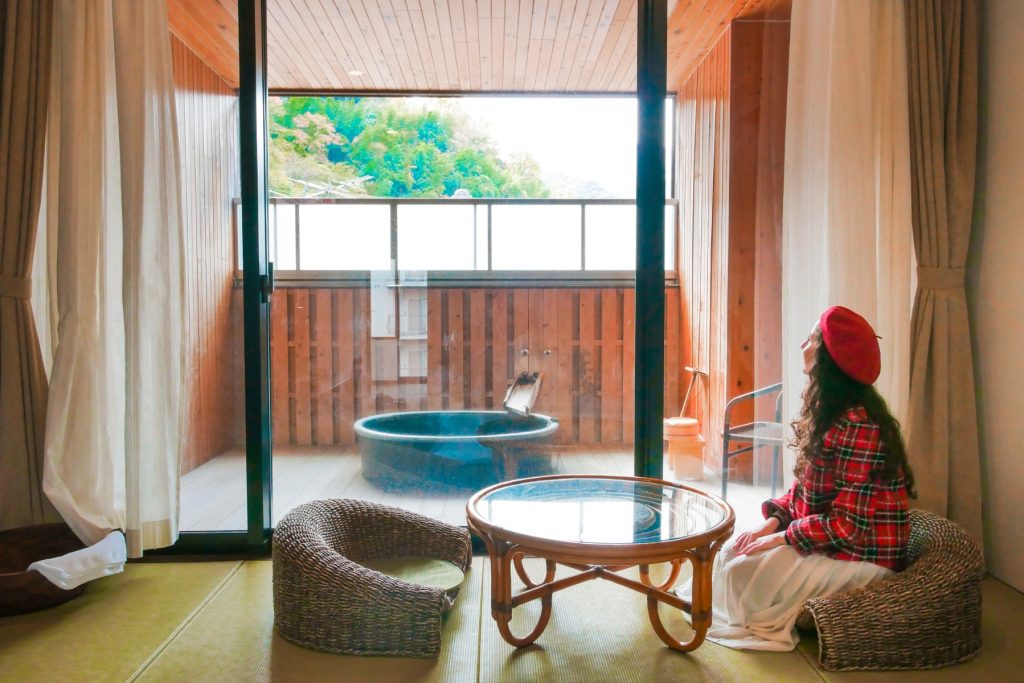 Deluxe twin with open-air bath
The room's private bath was a turquoise-tinged metal one that reminded us of traditional "kamado" pot-shaped onsen. Cocooned in wood and gorgeous panoramas of nature, it is sure to grant a superb onsen experience. Guests can leisurely soak in hot water and, depending on the season, find a completely different scenery awaiting, with autumn probably offering the most spectacular sights!
Have a Fabulous Onsen Stay While Touring Beppu's Magnificent Kamegawa Area and the Nearby Jigoku
Explore the beauty of Beppu starting from the Kamegawa area. Here, you'll find some of the city's most spectacular Jigoku and the magnificent relaxation and cultural immersion offered by Yutorelo Beppu!
Information
Name
Yutorelo Beppu
Opening hours
・Large public bath: 3:00 pm – 12:00 am, 6:00 am – 9:00 am
・Open air bath: 3:00 pm – 12:00 am, 6:00 am – 9:00 am
・Private bath: 3:00 pm – 10:00 pm (50 minutes, 1,100 yen)
・Reservations for the private bath are accepted at the front desk on a first-come, first-served basis on the same day.
Price
15,400 – 50,600 yen (depending on the room and type of plan)
Website (Japanese)
https://www.yutorelo-beppu.com/
tsunagu japan