Picturesque views of Beppu seen from above await at Zekkei no Yado Sakuratei, a refined traditional Japanese inn located on top of a hill in the historical area of Kannawa. Overlooking the city and the sea from this privileged location, Sakuratei unites the marvels of private onsen baths with its unique Japanese atmosphere to craft a pleasant traditional stay.
Abandon Yourself to Interiors Brimming With Japanese Aesthetics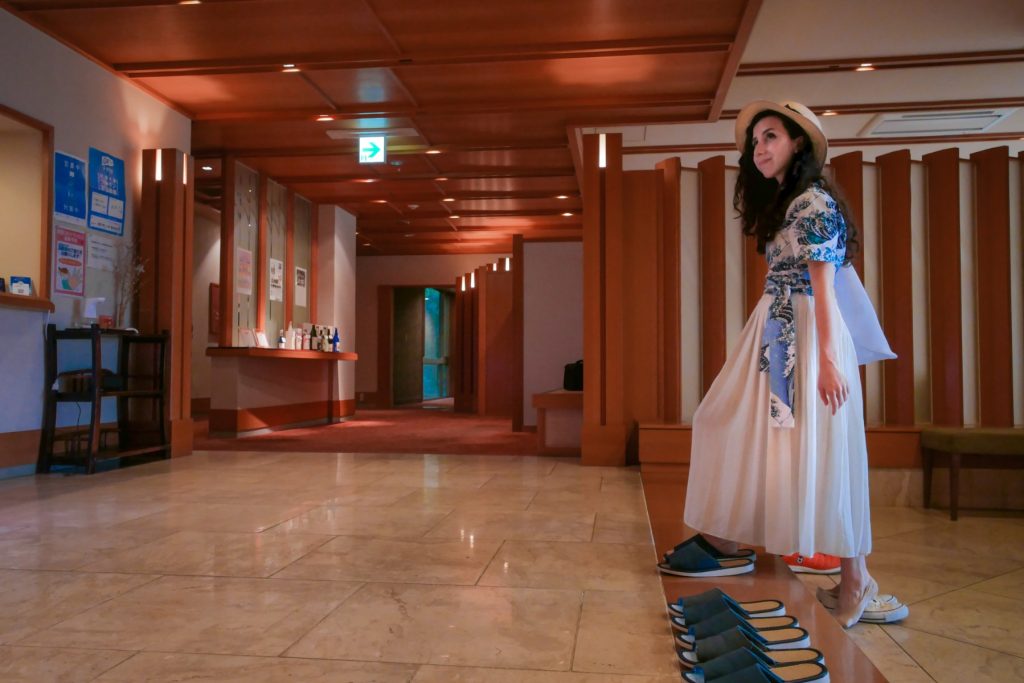 The taxi we boarded had to venture over a series of steep bends before we could spot our destination. On the summit of a hill in the historical area of Kannawa, one of the highest points in Beppu's city center, the elegant buildings of Zekkei no Yado Sakuratei were waiting for us.
With such an incredible location that grants guests awe-inspiring panoramas, Sakuratei immediately revealed the meaning behind its name: an inn imbued with unparalleled views.
An appealing part of those sights is the area of Kannawa itself, one of the city's major hot spring districts dating back to the Kamakura period (1185–1333) and presenting a fascinating maze of alleys covered with thick clouds of white steam rising into the sky.
Befitting such historical surroundings, Sakuratei is a traditional inn full of classic Japanese beauty. As you would typically do in a Japanese inn, we left our shoes at the entrance and wandered through its halls and corridors wearing some comfortable slippers.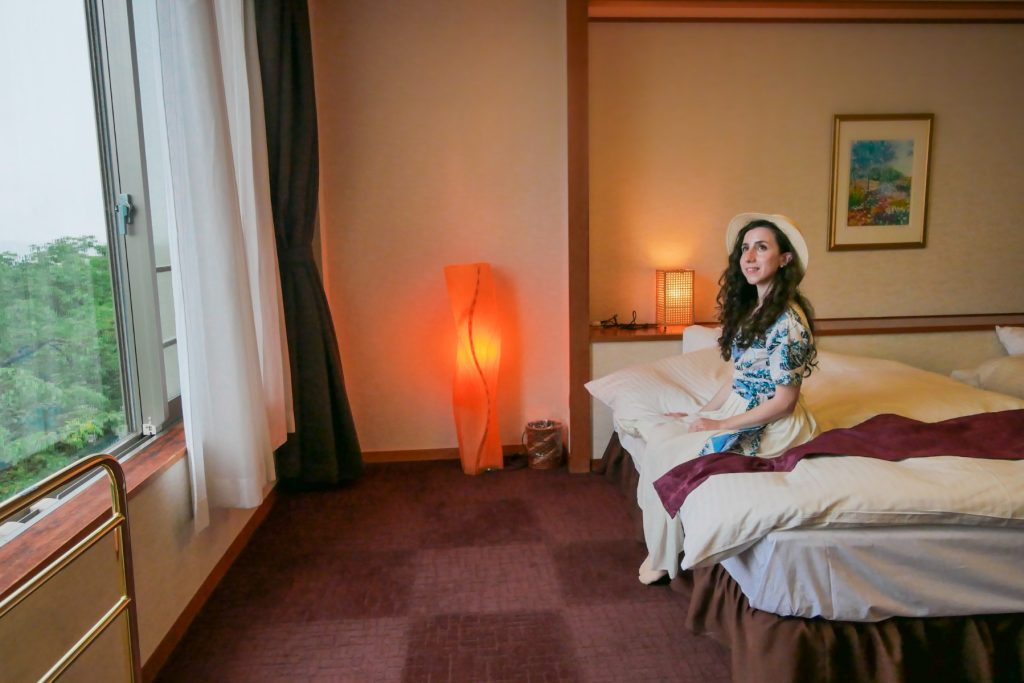 The end point of our journey was one of the inn's special rooms called "Beppu" in honor of the city itself. Sakuratei offers both Japanese-style rooms and rooms that mix Japanese and Western elements. With spacious twin beds and ample tatami space embellished by traditional decorations, Beppu is one of the latter. The room is a tranquil retreat ideal for families and couples and even has an indoor bath made of lavish marble.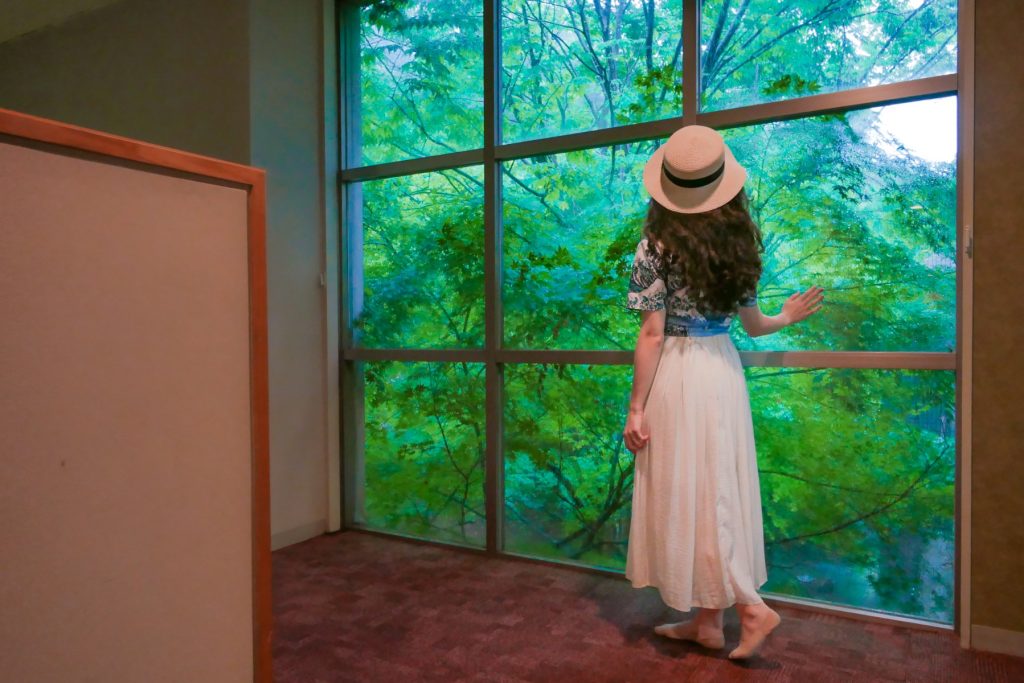 Most of Sakuratei's rooms and corridors overlook splendid greenery. The inn is renowned for its sakura cherry blossoms which wrap its figure in pink clouds every spring. The grounds also house numerous Japanese maple trees that provide a refreshing sight of bright green hues during summer and turn to a spectacle of blazing red shades in autumn. The thought of the scenery changing throughout the year made us want to visit over and over again.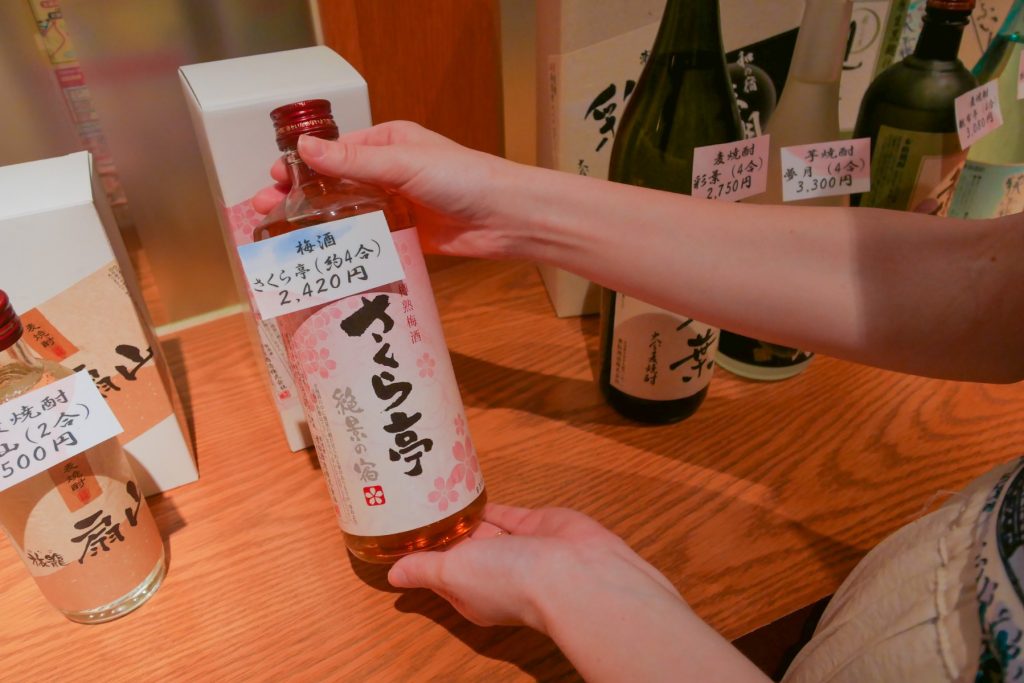 During our exploration, we were attracted by the curated souvenir corner in the lobby. An exquisite selection of sake was on sale, including some original brews branded with the inn's name. We thought the umeshu plum liquor, which sported a sakura-themed bottle, would make for a great souvenir to bring back home.
Be Captivated by the Charms of 5 Different Rooftop Private Onsen Baths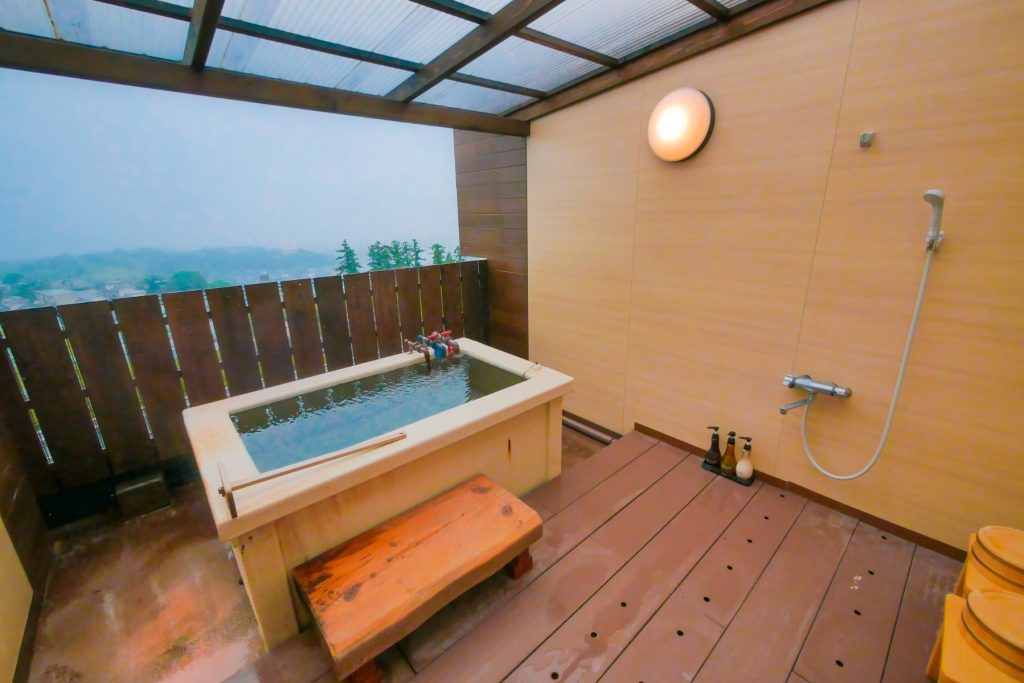 Tsubaki
Spectacular views of the surroundings are not limited to Sakuratei's rooms but also extend to its hot springs. From an indoor panoramic public bath with a sauna to six different private onsen baths located on the rooftop, guests can tour a great variety of baths and admire the different panoramas offered.
Each bath is supplied with Sakuratei's "bihada no yu" which is hot spring water said to improve your skin texture.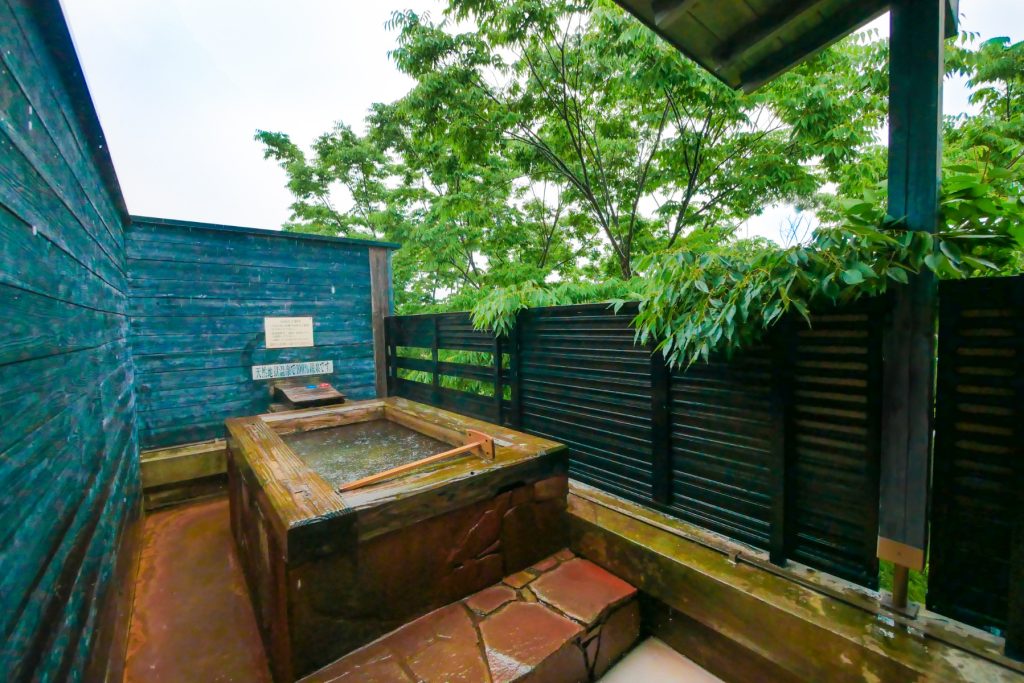 Tenku no Yu
In the left area of the rooftop, we encountered Tenku no Yu. These two open-air baths draw the inspiration for their name from the sky as they boast some of the inn's most popular views. On the right, we found four distinguished onsen baths named after prized Japanese flowers and plants: Tsubaki (camellia), Sakura (cherry blossoms), Kaede (maple tree), and Ume (plum blossoms). They are panoramic open-air baths where guests can easily capture magnificent dawns, views of Beppu at night, and scenes of the Kannawa area expanding at the foot of the hill.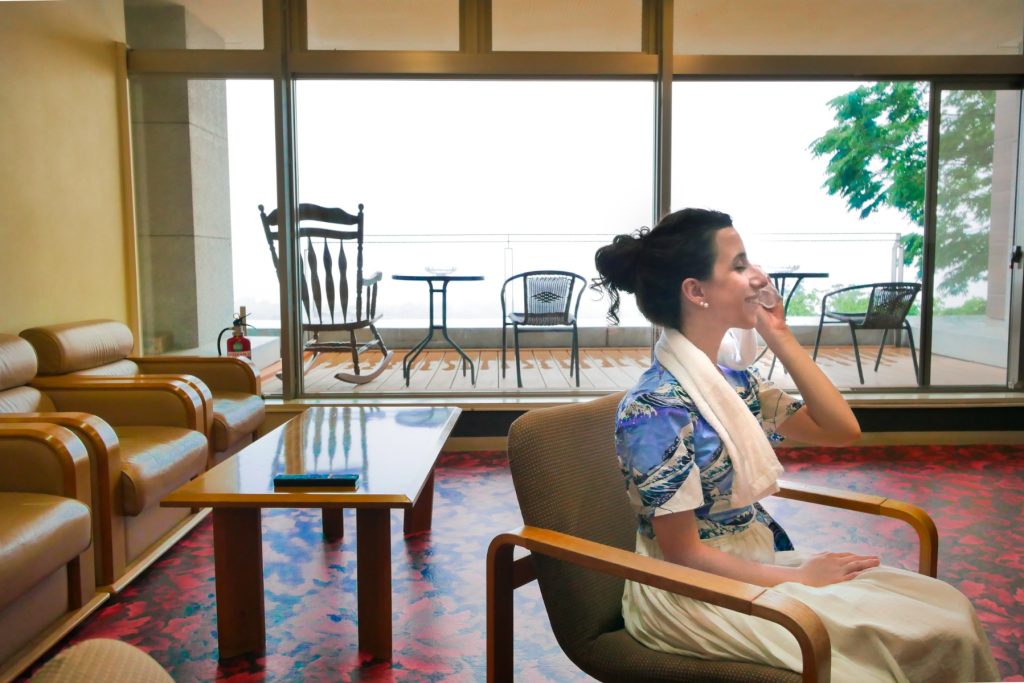 There are many other ways to enjoy onsen at Sakuratei. The majority of the rooms, for example, come with their own private onsen bath. So, you can easily enjoy the hot springs at your own pace by immersing in elegant baths of cypress or stone.
Another way of having fun with the onsen water at this inn is by trying a local specialty, the "jigokumushi" onsen steamed cuisine. You can test your cooking skills with Sakuratei's jigokumushi kama cauldron, which uses steam heat emanating from the hot springs at Sakuratei, by steaming your favorite food with it or you can order the inn's fabulous jigokumushi kaiseki course meal. This colorful and creative meal focuses on local delicacies and seasonal ingredients and mixes the flavors of jigokumushi food with the ancient traditions of kaiseki cuisine.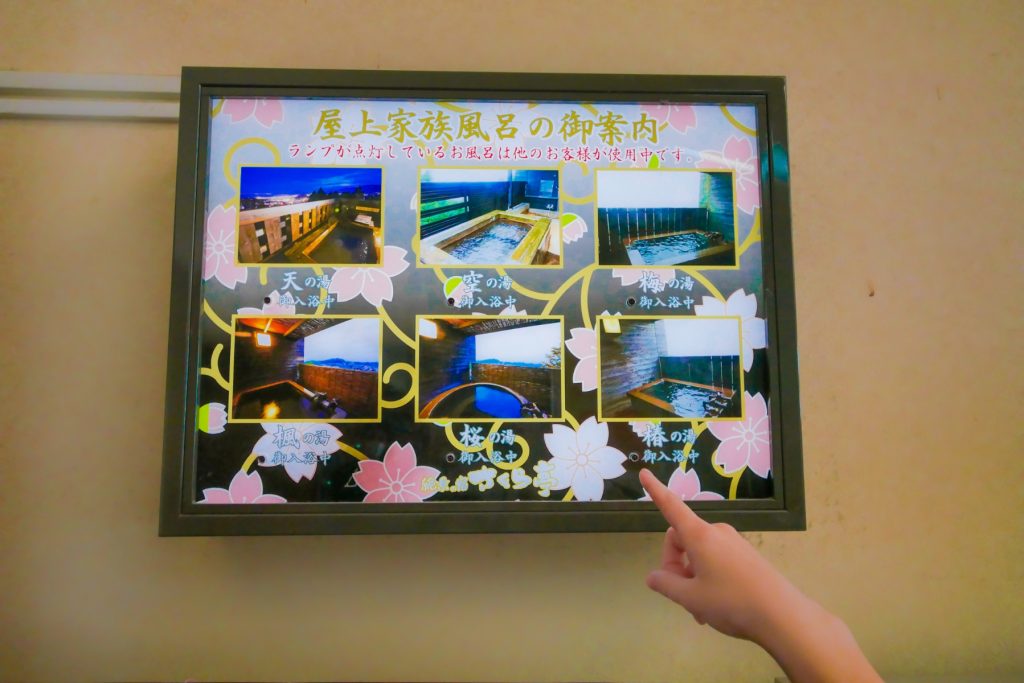 After a tour among the wonders of Sakuratei, we ended up taking a break at the panoramic relaxation area on the second floor. There, we noticed an ingenious system to check which of the private onsen baths on the rooftop are free. As there is no reservation system, guests can take a look at the screen installed in the room to check the availability before heading to the rooftop. In case the desired onsen is occupied, they can leisurely spend some time unwinding indoors or on the panoramic terrace.
Relax Among Beautiful Views and a Lovely Traditional Japanese Atmosphere
Try local specialties and a traditional stay at Zekkei no Yado Sakuratei. At this gorgeous inn full of awe-inspiring panoramas, guests can enjoy Beppu's beauty and its onsen from above.
Information
Name: Zekkei no Yado Sakuratei
Opening hours:
・Hotel guests: always open
・Visitors: 10:00 am – 4:00 pm
Closing days: Irregular (facilities might be closed for maintenance)
Price:
・Hotel guests: free
・Visitors:
500 yen (public onsen)
2,000 yen (private onsen, 1 hour)
Website (Japanese): http://beppu-sakuratei.com/
Website (English): http://beppu-sakuratei.com/en/
How to get to Beppu, where Zekkei no Yado Sakuratei is located.
tsunagu japan