Beppu, a small resort town on Kyushu Island, is nationally acclaimed for its abundance of hot springs. Just how many onsen are in Beppu, you ask? Beppu is home to over 2000 onsen and the most famous among them are the Hells of Beppu.

How to get to Beppu where the Beppu Hells are located.

The Beppu Hells Tour or Jigoku Meguri is without a doubt the most popular attraction in Beppu. In this article, we will describe what you can see at each Hell, our recommendations, the most popular souvenirs and how to get to these Beppu Hells .
What is Jigoku? The Origins of Beppu's Hells
The region called Kannawa, where the Jigoku Meguri lies, was described centuries ago as a cursed land of gas explosions, bubbling mud and steaming waters. These places were referred to as "jigoku" or the Japanese word for "hell" and residents of long ago were afraid to approach them. According to legend, a Buddhist monk by the name of Ippen Shonin calmed these hells through prayer and allowed the people to enjoy the thermal waters of Beppu.

The Kannawa of today is dotted with hot springs as well as the several Jigoku. The Hells are Designated Places of Scenic Beauty of Japan and are visited for their unique appearance. Just remember that these are onsen for seeing, not for entering!

(The Beppu Hells map can be found here!)
Umi Jigoku The Sea Hell
Before you arrive at the onsen itself, you will come across an expansive lake. In the warmer months, tropical flowers bloom on its surface. Why? It is actually heated with onsen water! The plants, called Onibasu (prickly water lily), grow from 1.5 to 2 meters, large enough for a child to stand on during festivals.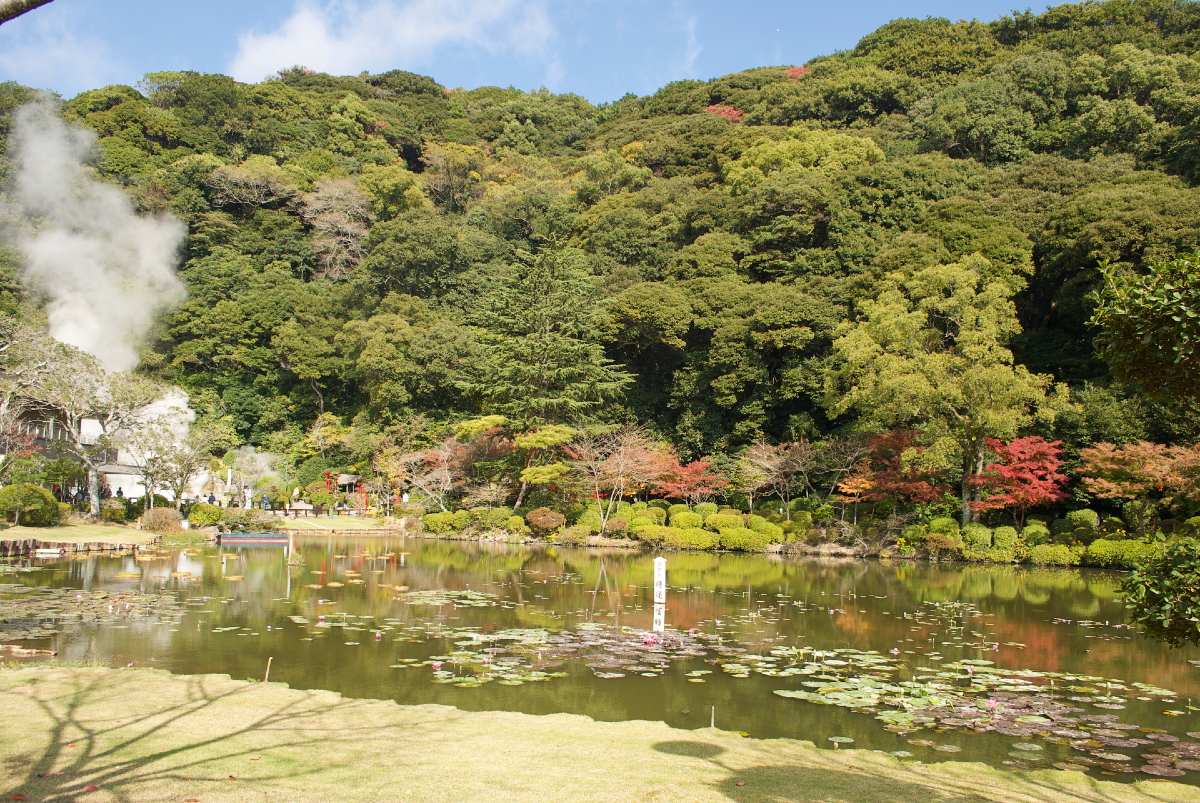 You will then approach a large modern building. On the first floor there are souvenirs . Boiled eggs is one of Umi Jigoku's specialties. They boil the eggs in the same waters as Umi Jigoku, as opposed to many other places in Beppu which use onsen steam to steam the egg. On the 2nd floor there is a gallery where you can check out pictures from when the Emperor made a visit!

On your way out, don't forget to pick up the souvenir which can only be found at Umi Jigoku: Enmannoyu! This unique, blue bath salts are only found here because they contain the same minerals as the boiling waters of Umi Jigoku: iron sulfate.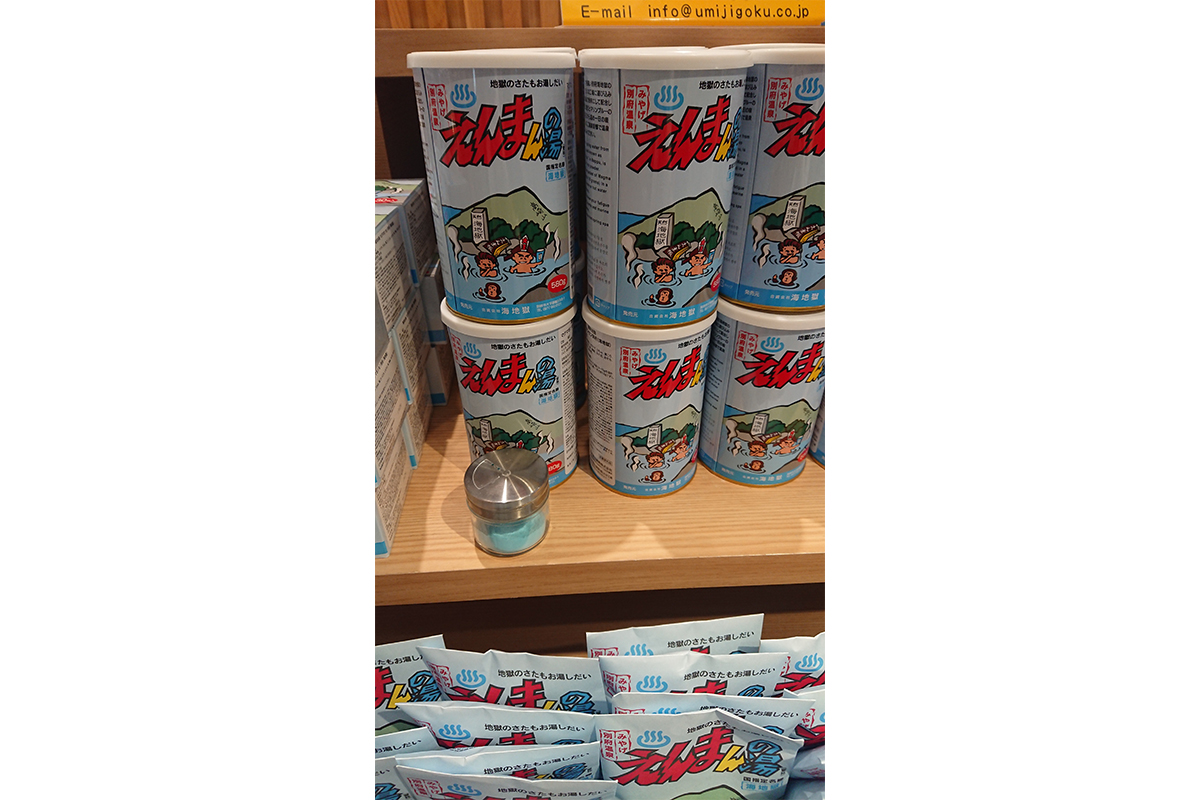 Once you pass through the building, you will be astounded by the amount of steam rising from the roaring pool. The hell itself is a vivid blue color. This ocean blue appearance is a result of the sun's rays hitting the particles in the water. If you were to actually scoop the water out, it would appear transparent.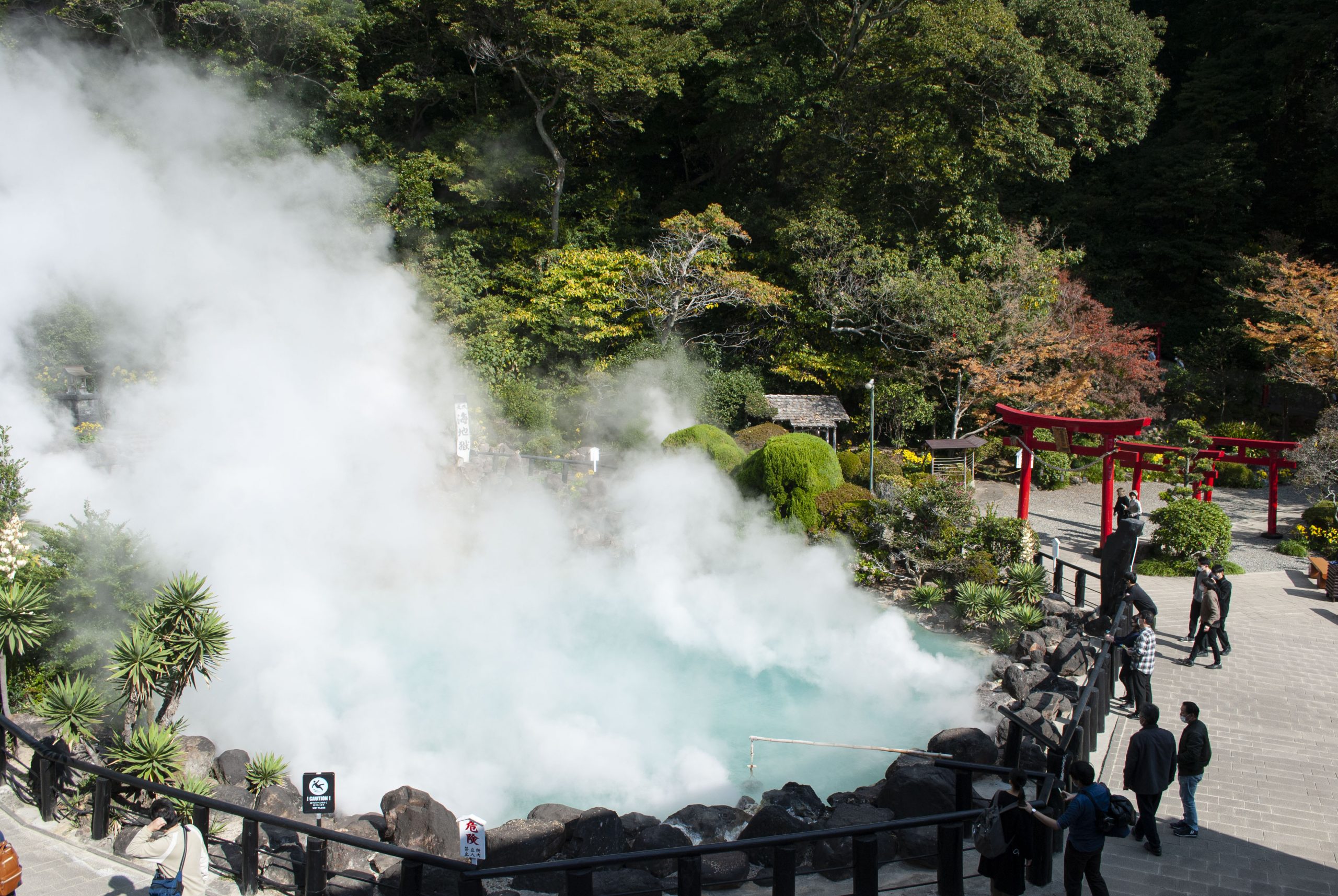 Besides the lake, souvenir shop, and the Hell, itself, you can also enjoy tropical flowers in the greenhouse, a small red hell and some other tropical plants scattered around the gardens. For those who love onsen, there is a foot bath as well!
Oniishibouzu Jigoki
This Hell's name translates as "Oniishi Bald Monk Hell." This Hell is so called because the pale mud baths bubble up in such a way that it appears as a hairless scalp!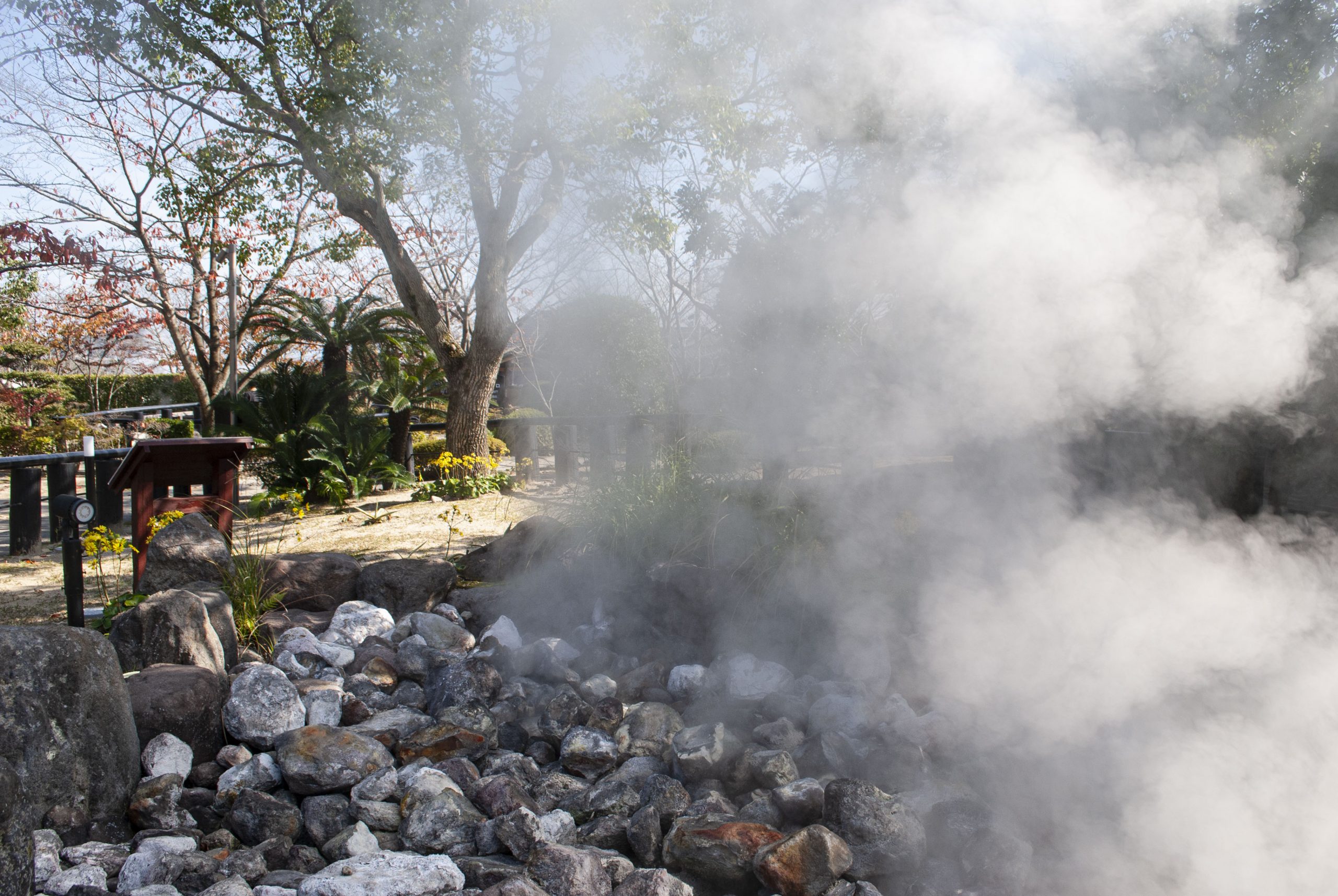 This mountain of steaming rocks is called Onitakaibiki. Its 100 degree heat sounds like the snoring of a demon!

Unlike Umijigoku there are four small lakes to be seen here. Before 2002, it used to be one giant one, but the owner thought it would be easier to see close up if it were broken up into smaller pools. That means the pathways you walk along are built over the boiling pool and consequently, are warm.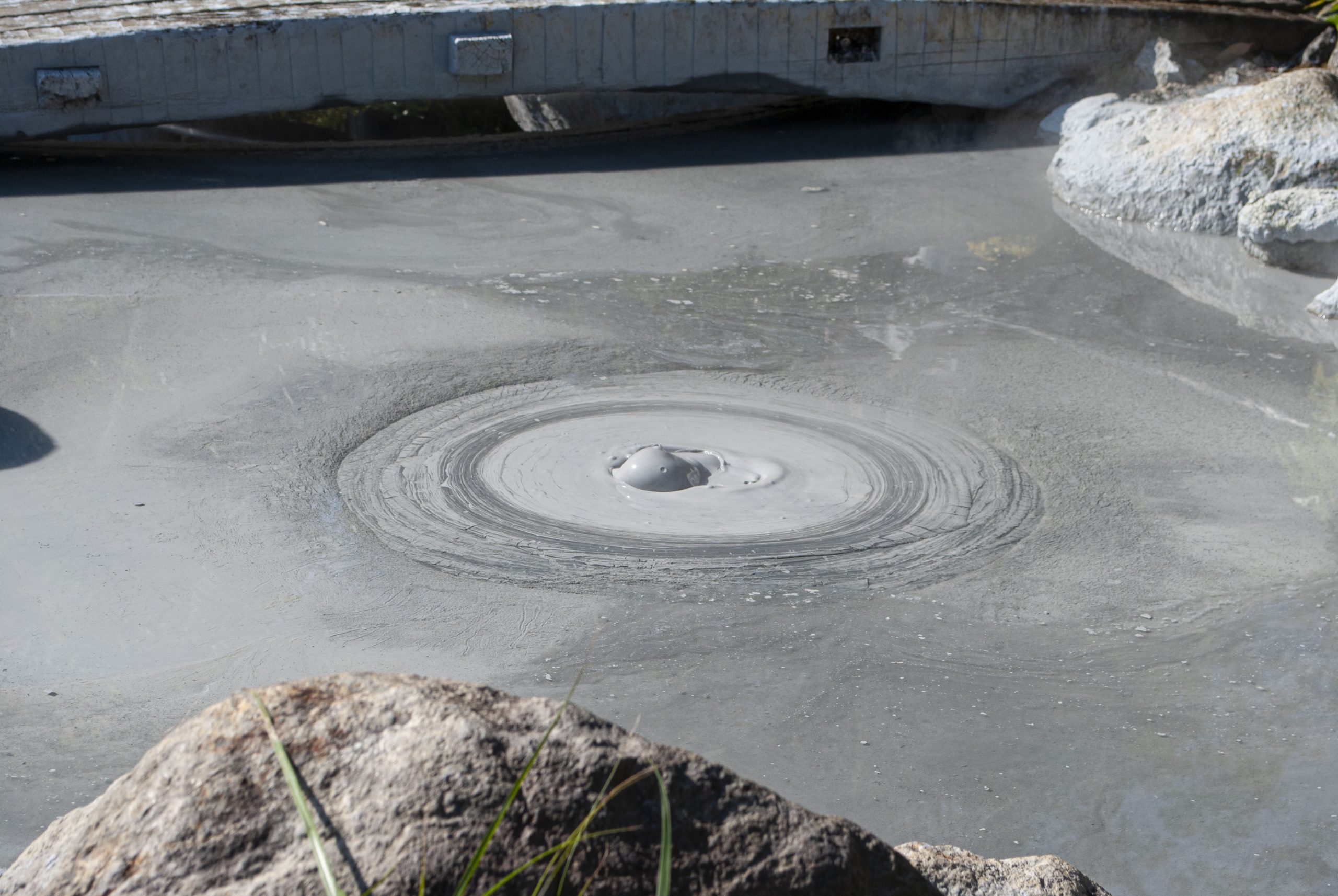 The pools are a mixture of mud and water with the same minerals as Umi Jigoku

There is also a foot bath to enjoy here as well. Or if you prefer a full bath, you can take a rest at Oniishi No Yu, the beautiful hot spring located right next door.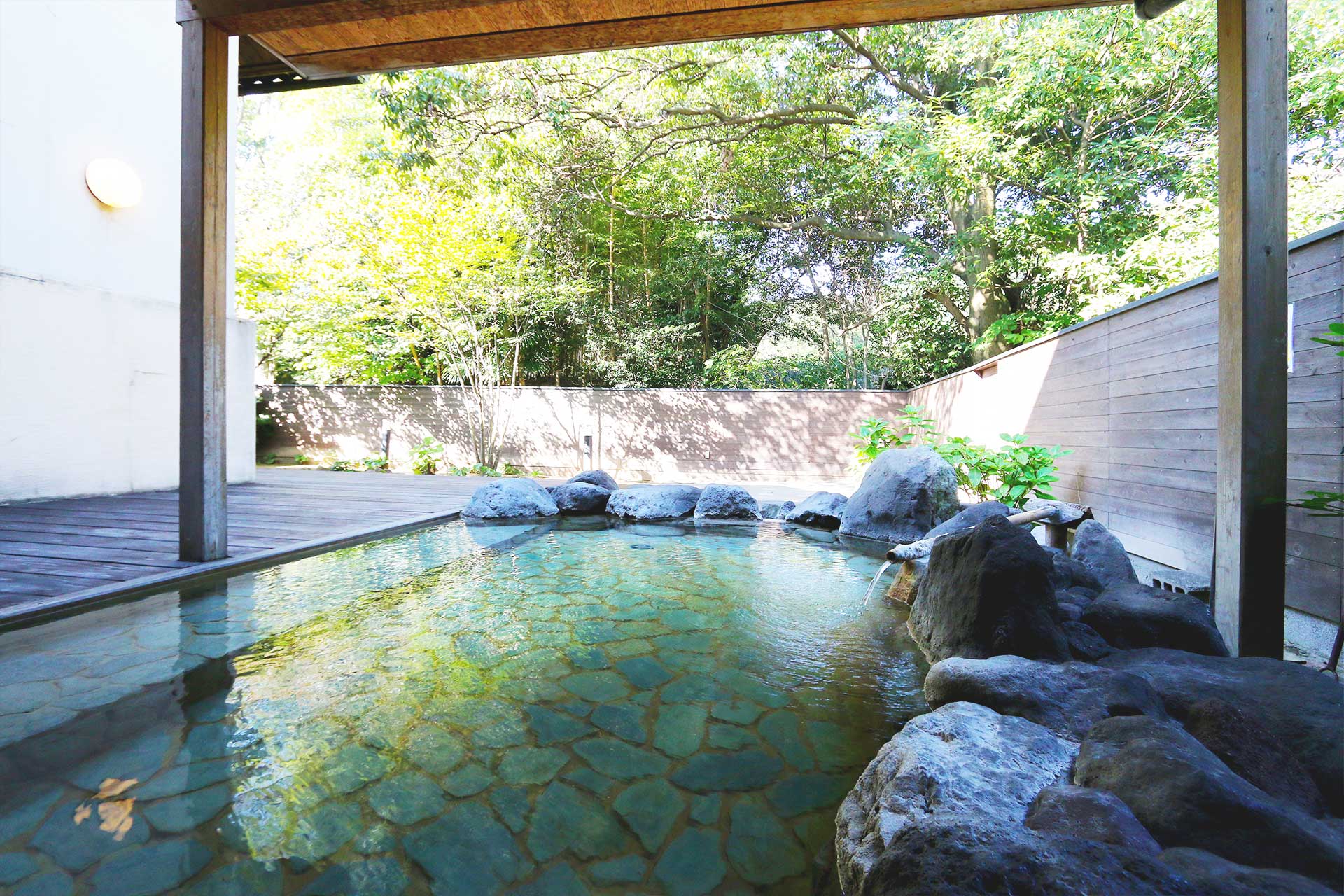 Kamado Jigoku
This Hell is named after the "kamado" which is a traditional Japanese wood or charcoal-fueled cook stove​. According to legend, the residents used to cook with the steam from this hell and offer it to the god of the nearby Kamado Shrine, explaining the namesake.
This Hell is unique in that there are 6 types of hot springs to be found here.

Mud hell of 90 degrees. It bubbles up similarly to the previous hell and has a distinct earthy smell.

Oni statue
A large statue stands over this Jigoku. You can read more about the statue's origins here. You can clearly see the onsen's minerals cling to the rocks here.

This blue hell of 85 degrees looks similar to Umi Jigoku, but its blue color is actually due to the quantities of silica it contains.

The staff at Kamado Jigoku will perform some tricks using this muddy onsen. The invisible particles in the onsen steam become visible when interacting with smoke particles.

This onsen changes color from blue to green depending on weather conditions. Another smoke trick is performed here.

This red hell is similar in appearance to Chinoike Jigoku. The XXX of the soil makes the water this blood red color.
In addition to the hells, here you can also enjoy a few types of onsen experiences here.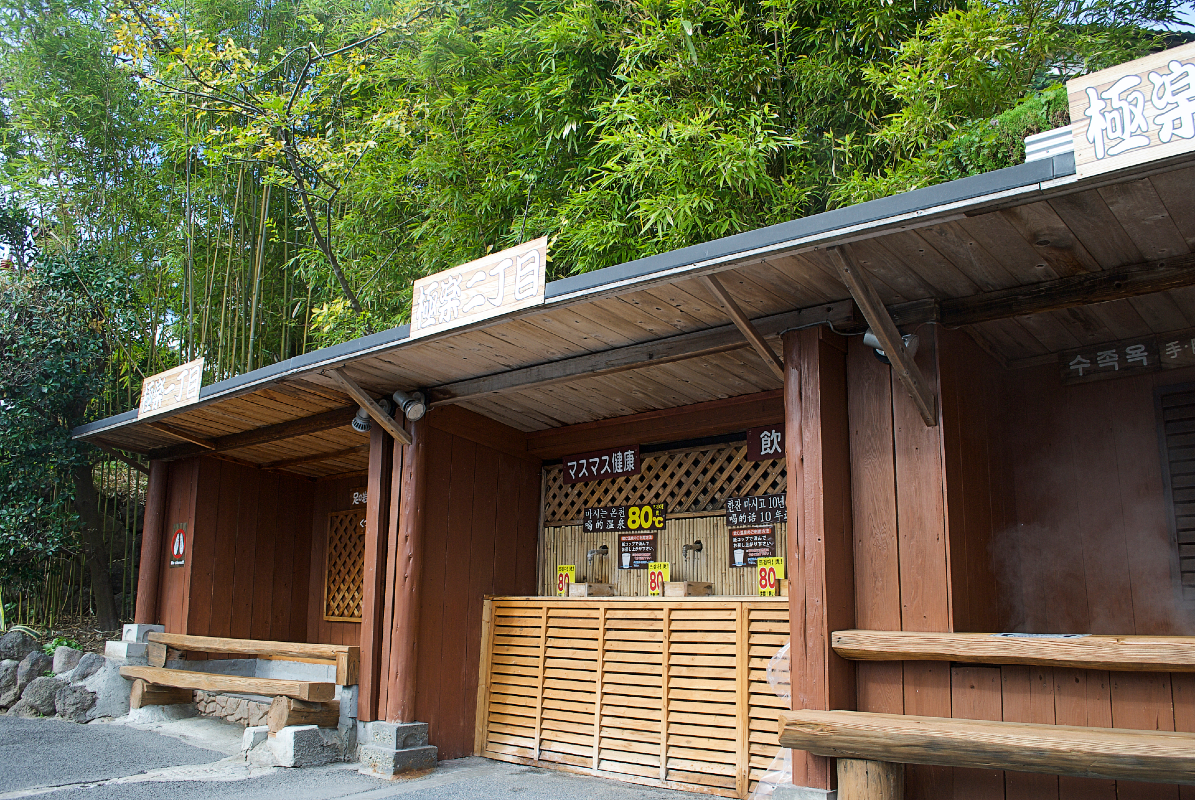 Oniyama Jigoku
This may be the most surprising Hell. It is home to 80 crocodiles!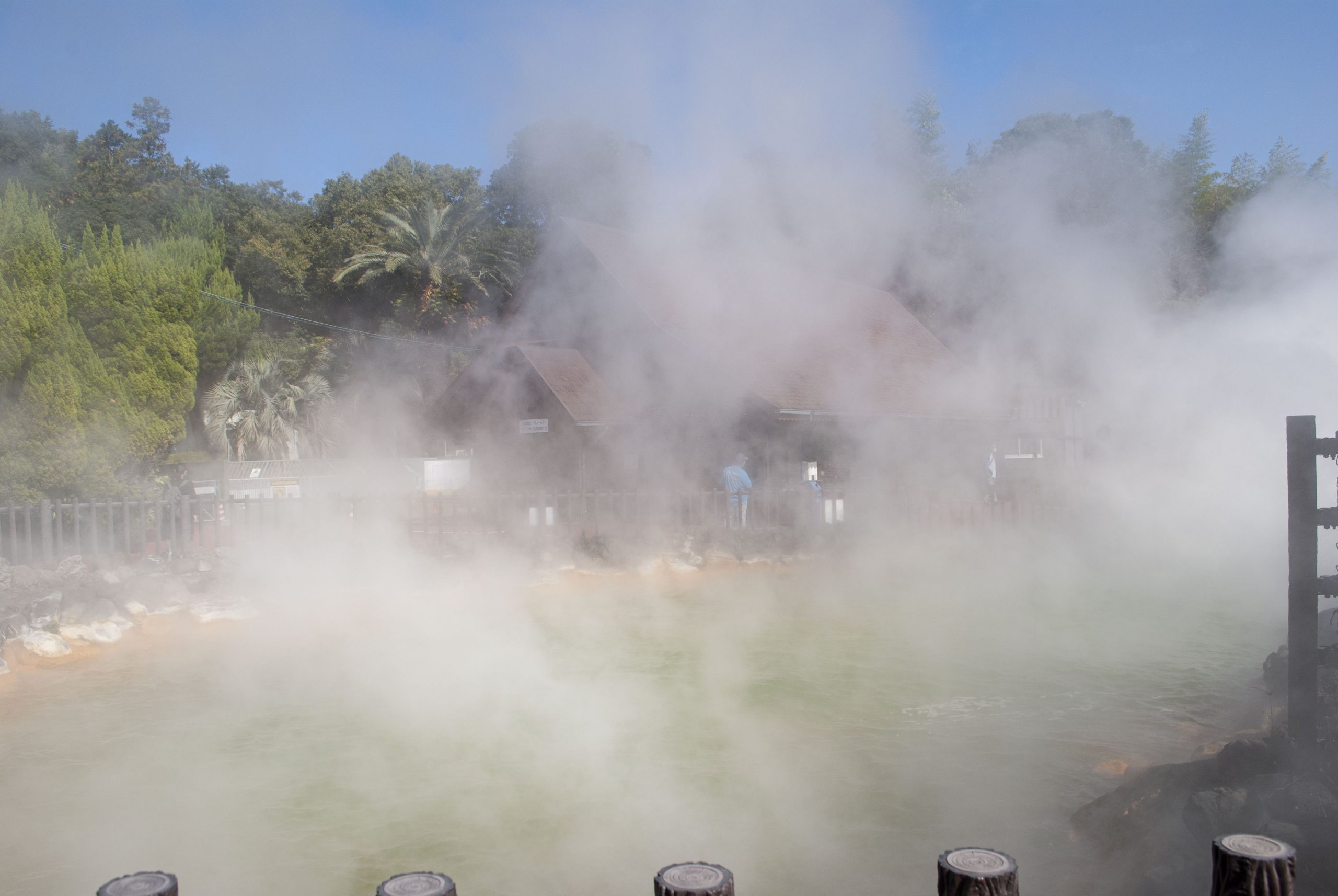 When you enter there is a fuming onsen of 99.1 degrees that billows with steam.

They accomplish this by mixing onsen and regular water. That's right! These are onsen-raised crocodiles!
Because crocodiles are nocturnal, they are quite still during the day. However, there are feeding shows on Monday, Wednesday and Saturday in which you can see them jump into action!
Shiraike Jigoku
This 95 degree hot spring is named for its blue-white color. The color appears whiter as the temperature and atmospheric pressure declines. However, the algae that grows here adds a greenish tint as well.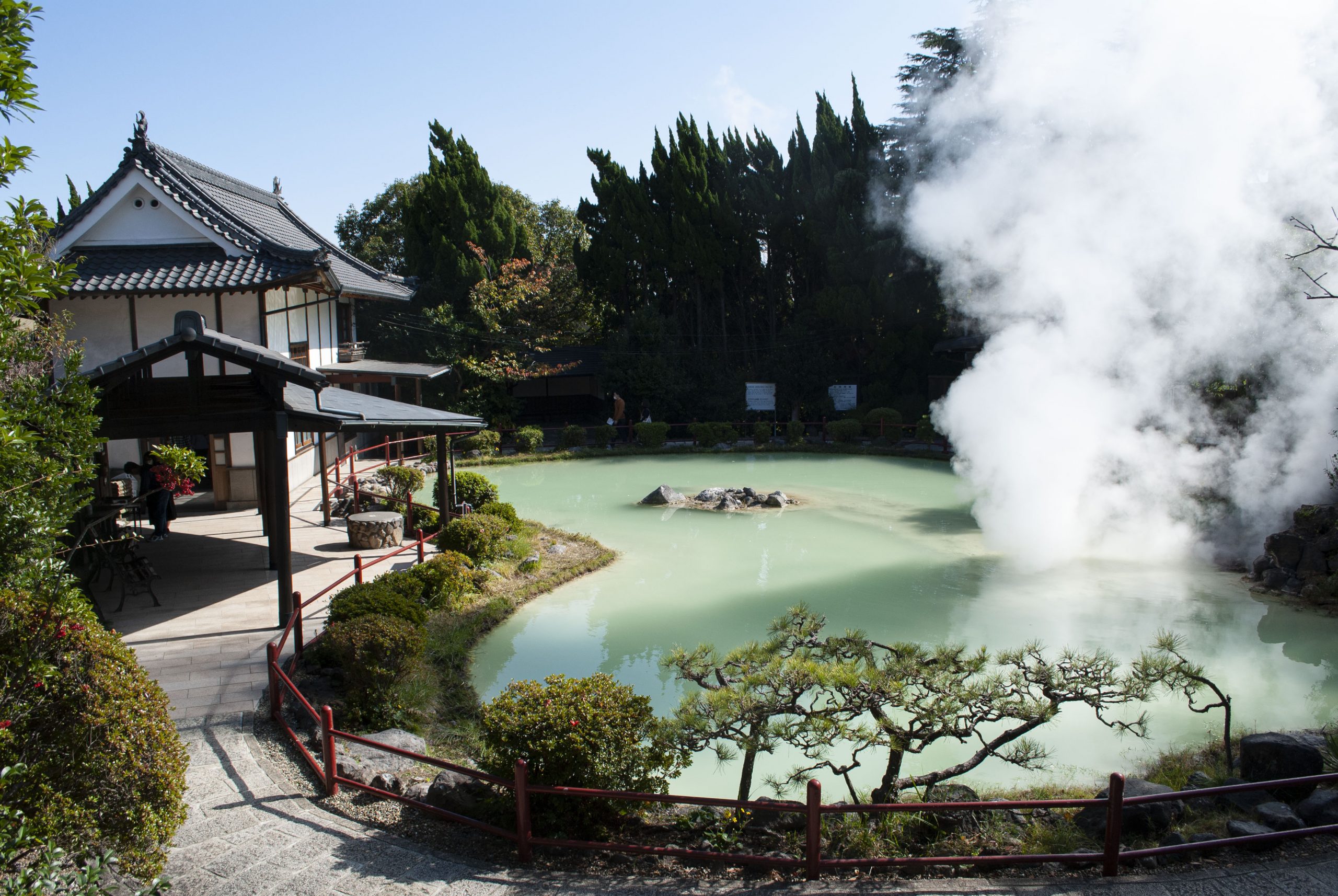 There is an observation deck where you can see the heart shape of the pool. It's very Instagrammable so be sure to stop there!

Also, They recently renovated their aquarium where you can see an assortment of tropical fish raised in waters warmed by onsen!.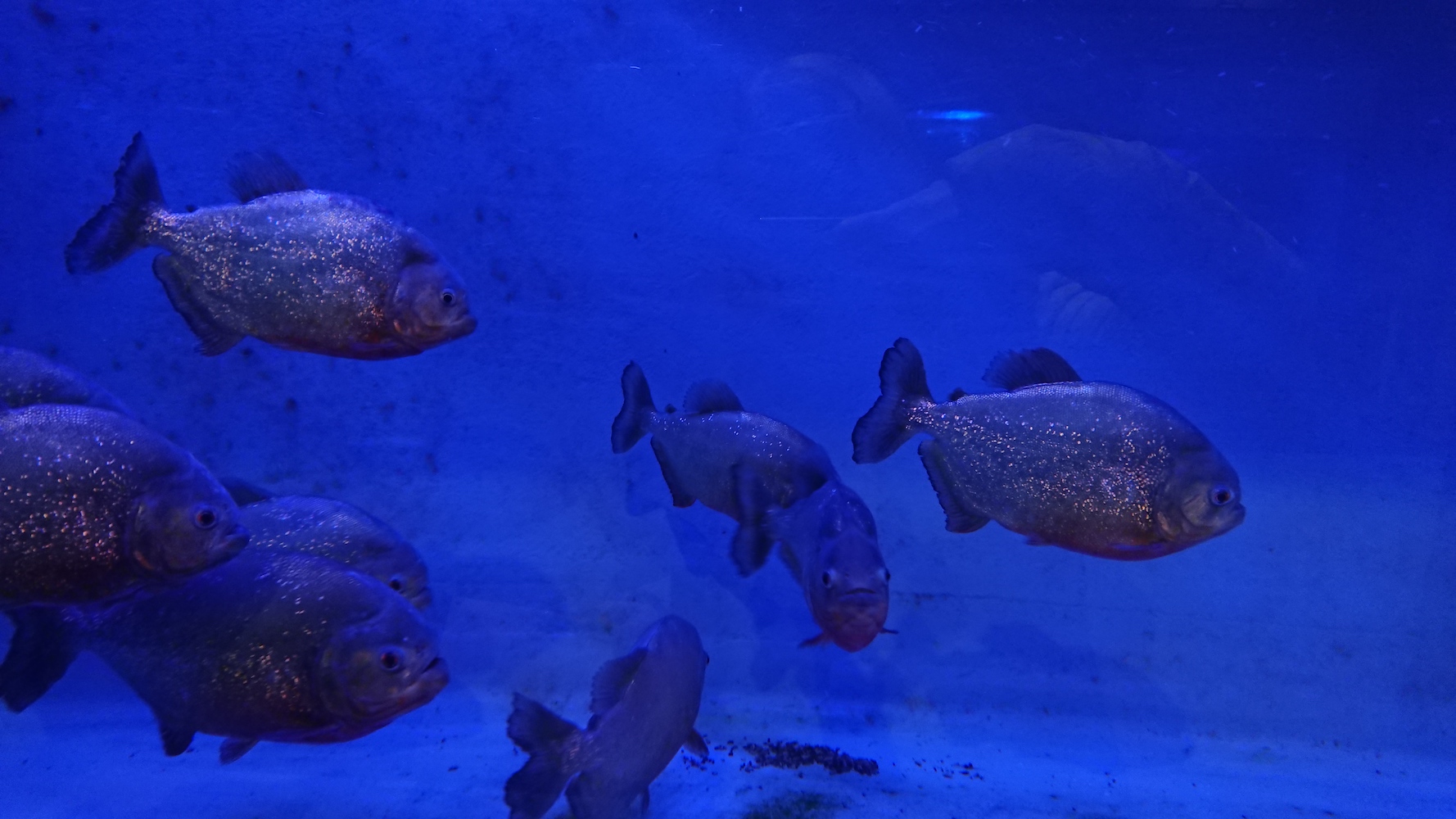 Tatsumaki Jigoku
Geyser of 105 degree hot spring water.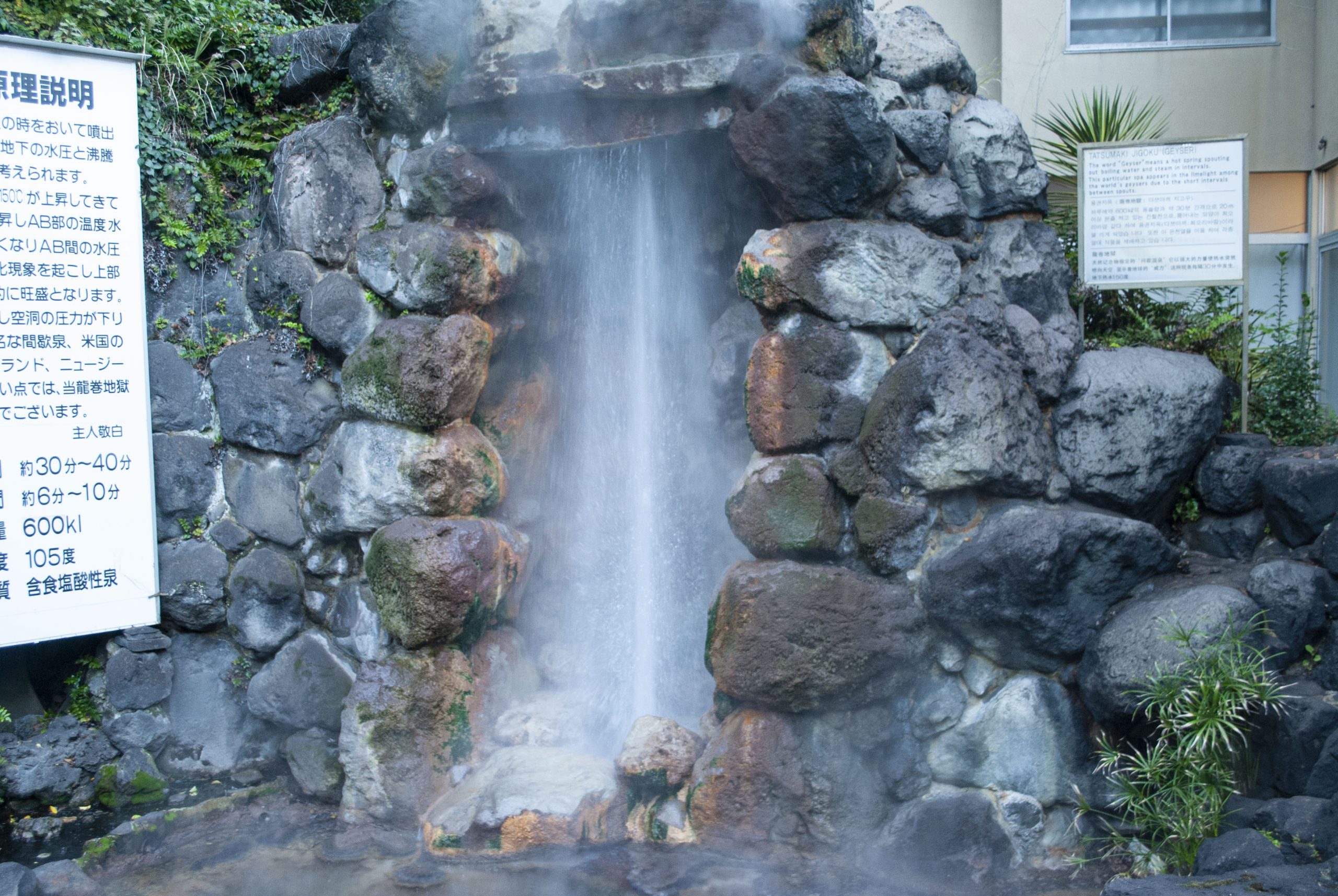 The roof was built at its current height because the builders at the time of construction could not predict the eruptions, making a higher roof dangerous to complete. If it were not for the roof, the spring would shoot up between 20 and 30 meters!



By the way, we recommend you pick up a drink while you wait for the eruption. The food stand nearby sells flavorful gelato and drinks made from famous fruits or Oita Prefecture, such as kabosu (a lime fruit particular to Oita).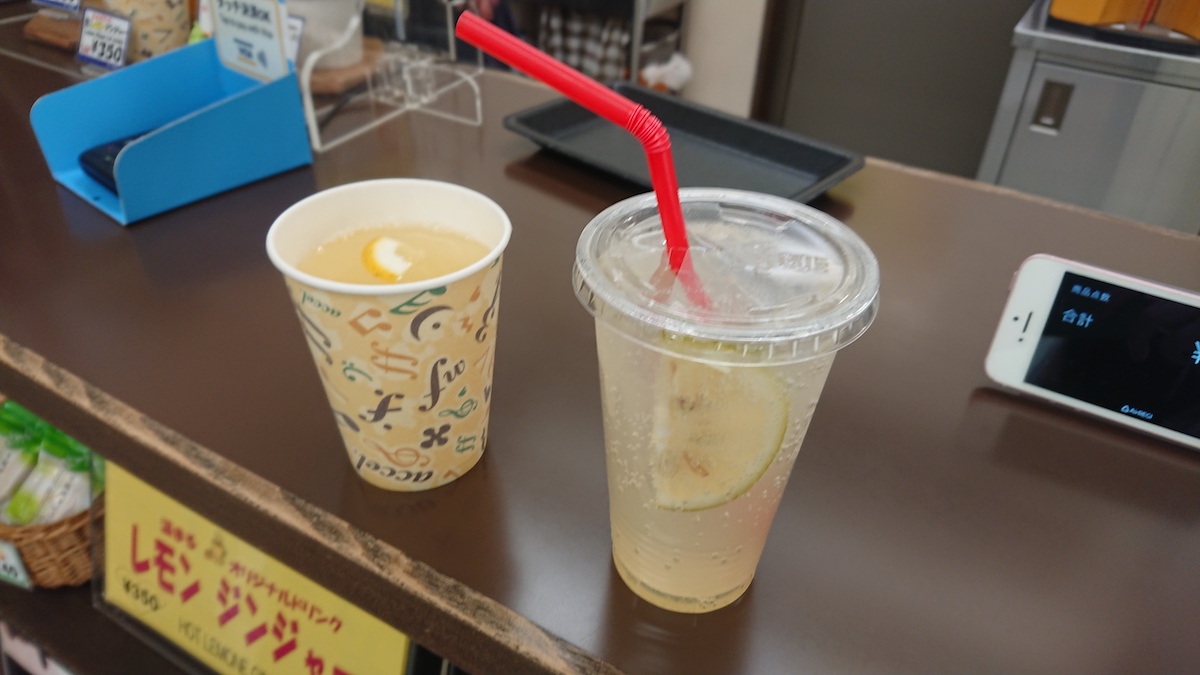 On the left is a ginger drink and on the right, kabosu soda!
Chinoike Jigoku
This is Beppu's infamous Red Hell. Chinoike literally translates to pond of blood and you will understand why as soon as you approach. The vivid red color is due to its content of iron oxide and magnesium oxide.

There is also an observation deck where you can get a different perspective of this view.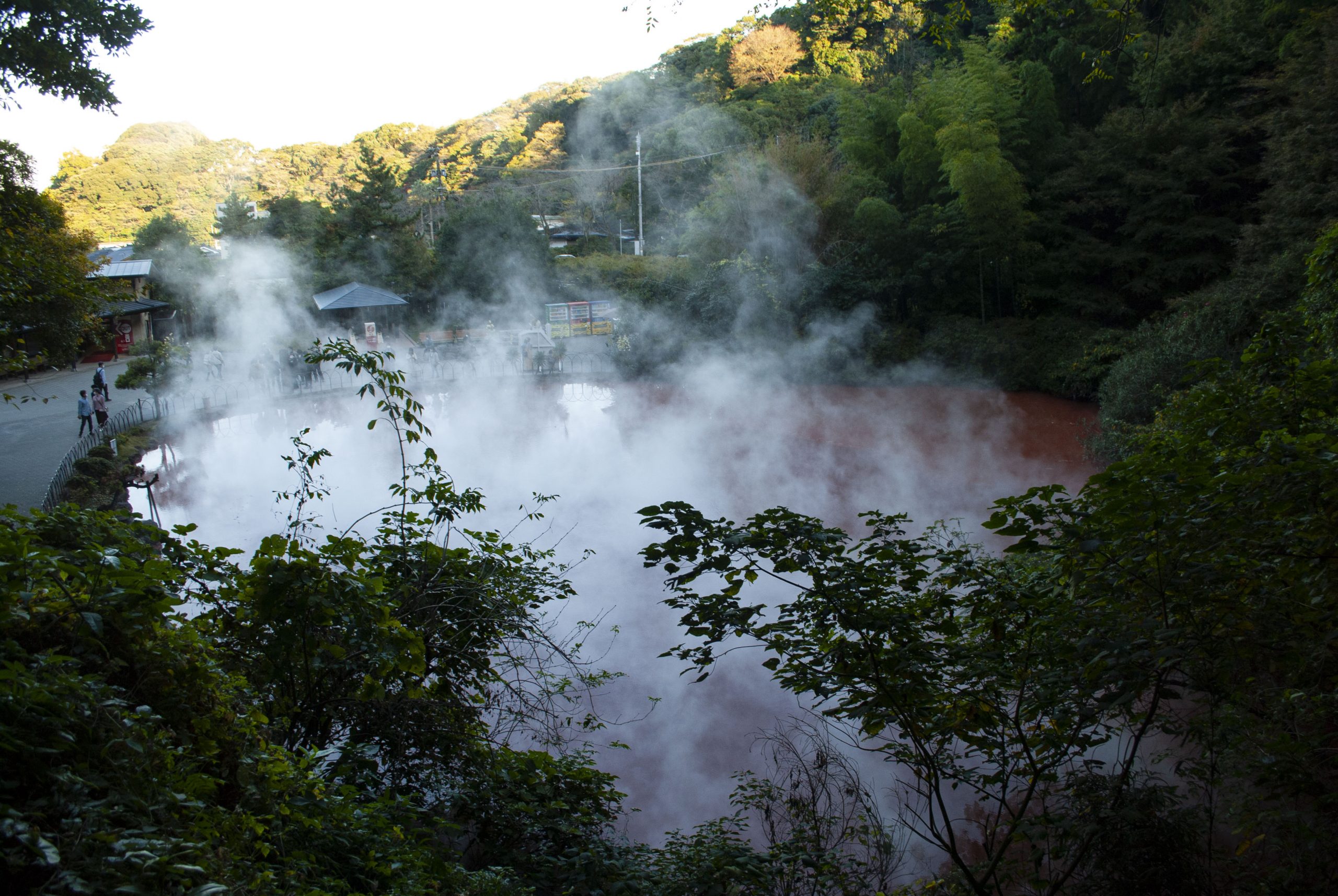 Long ago, the water of Chinoike Jigoku was used to create various medicines. And you can buy ointment today! It is said to be good for treating wounds, burns, and insect bites.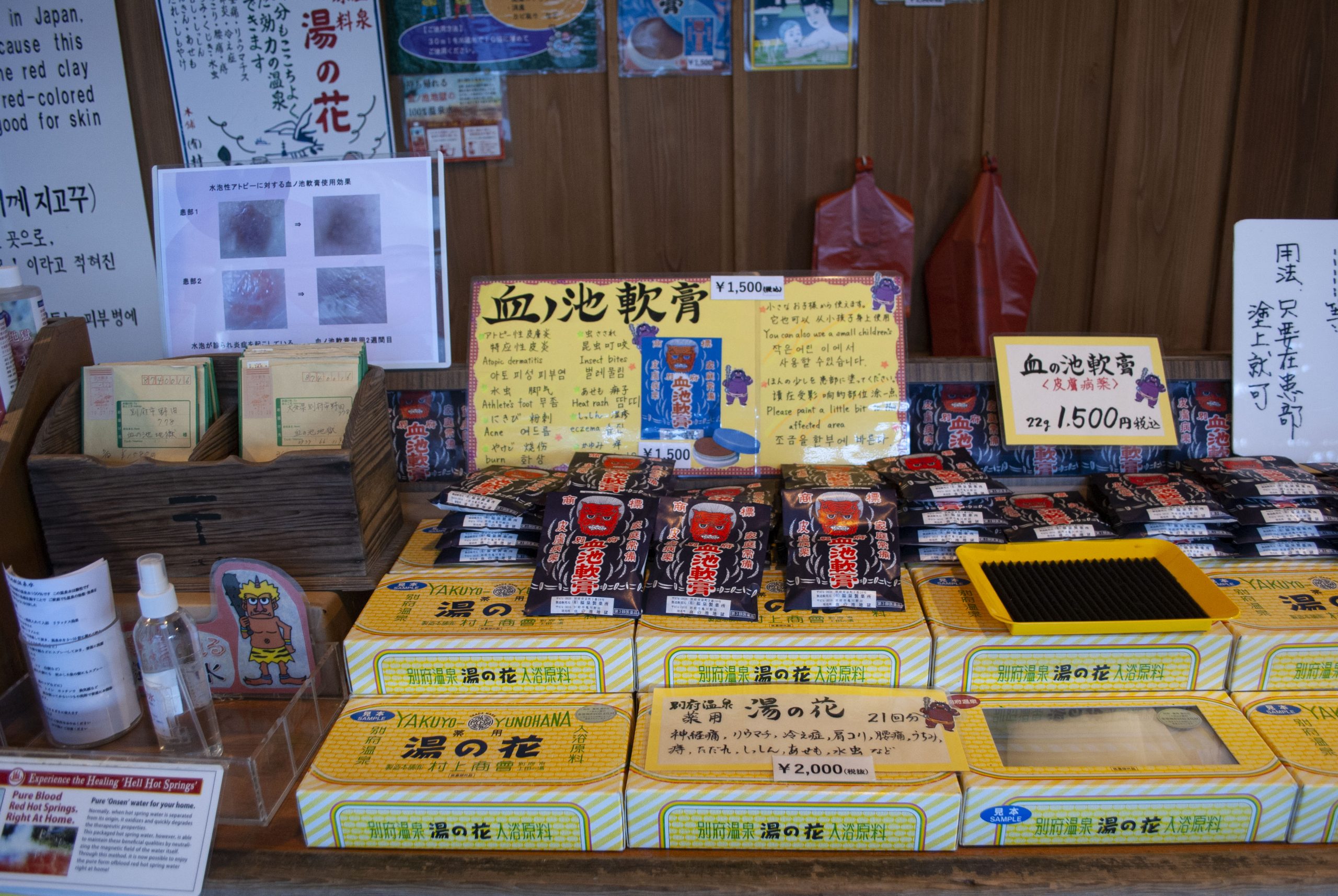 Other popular souvenirs include the 「毎日が地獄です」or "Everyday Is Hell" T-shirts.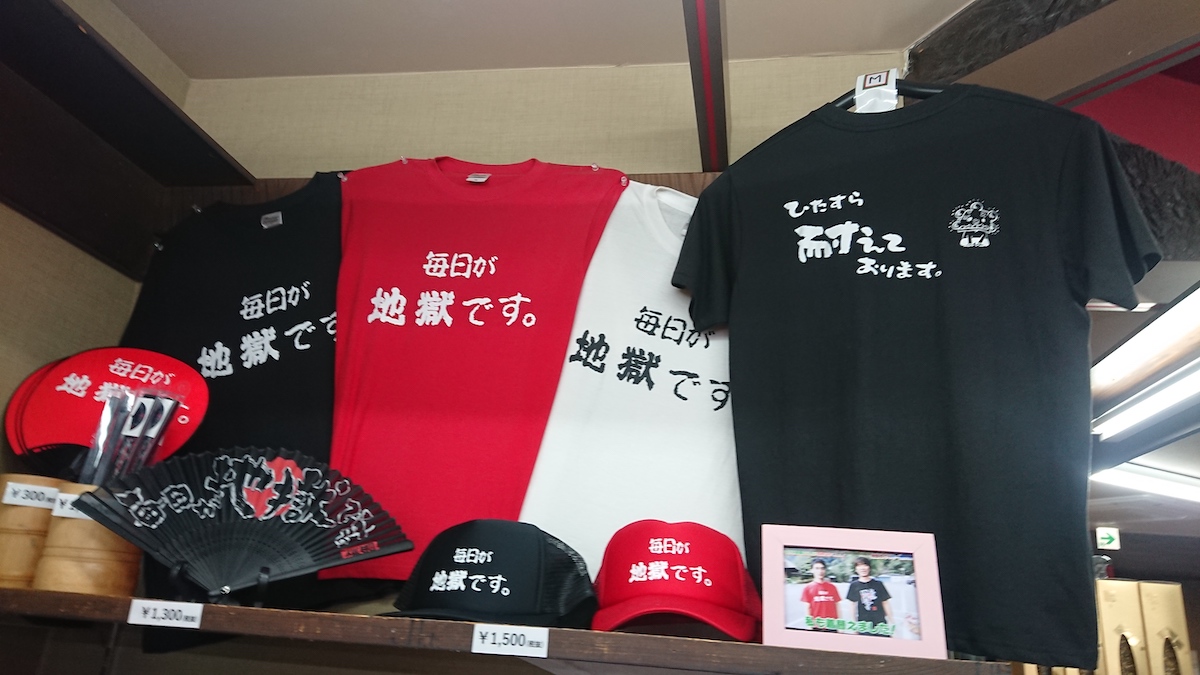 You may also purchase Oita Prefecture's regional cuisine: dangojiru and yaseiuma.
Access and Fees
So, how do you get to Beppu Hells? You have two options.
All Day Bus Pass
One option is to take the buses from Beppu Station to Kannawa and walk by yourself.

The Beppu Hells entrance fee is 400 yen for each venue. However, if you want to see all 7, at Wander Compass you can purchase a Beppu Hells discount ticket. It is 1800 yen for entrance to all 7 Hells!

Before you leave, you will want to pick up a Beppu bus pass; you can ride the bus as many times as you like anywhere in Beppu and will save you money if you plan on seeing the entire Beppu Hells circuit.
The Demon Bus
Another option is the Beppu Hells bus tour. It is 3,900 for transportation, entrance to all 7 Hells and a guided tour of each location.

The tour, provided by Kamenoi Bus, is the first guided tour in Japan. As of now, tours are conducted all in Japanese.

The bus departs from Beppu Station twice a day with 9:20 am and 2 pm departures. Seats fill up quickly, so please reserve your tickets beforehand.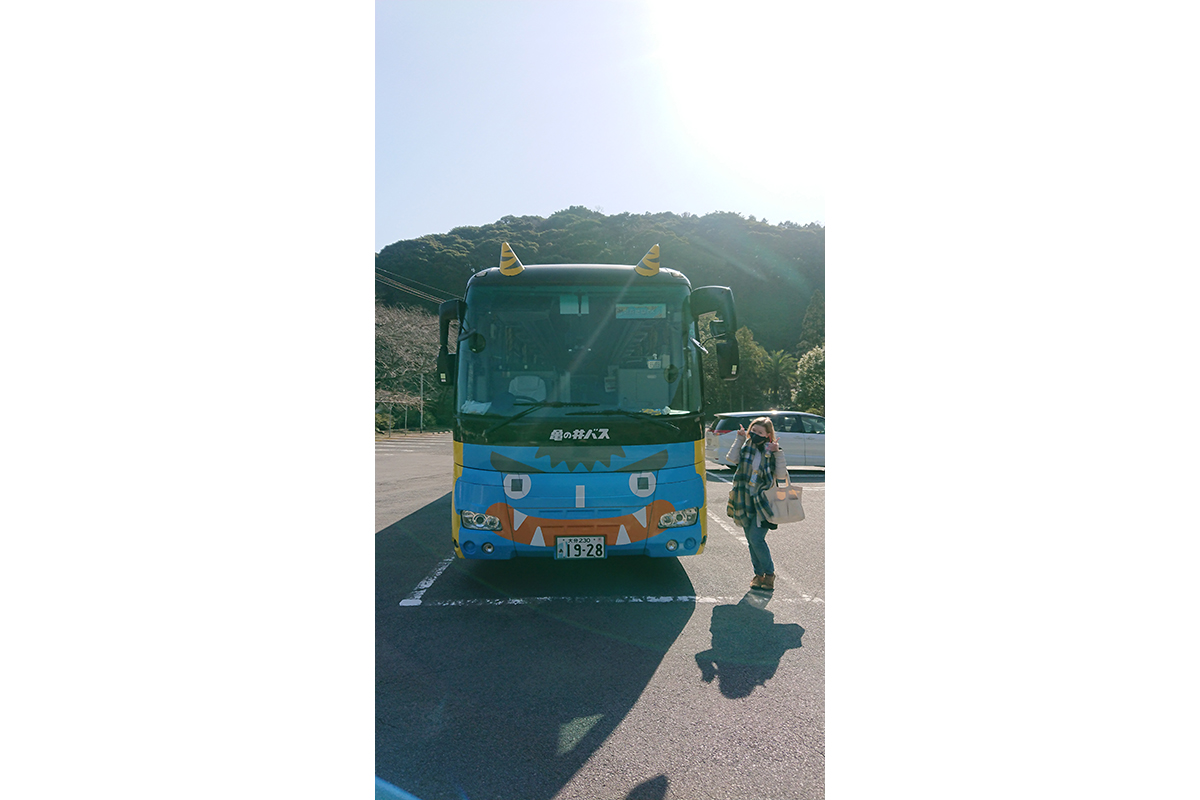 These beppu hell hot springs are not the only Beppu Onsen we recommend! When you are done with the hells, you may relax by taking a bath or having a stroll through Kannawa's steamy streets . Enjoy Beppu hot springs!

How to get to Beppu where the Beppu Hells are located.

EnjoyOnsen