What is there to do in Beppu at night?
A lot of people would probably answer, "Mingling with the local people and spending time drinking and eating," or even, "We're going to a hot spring!"

That's nice, but it's a waste not to go to the Beppu Kannawa area during the event I'll be introducing to you today. This "Jigoku" (hell) started as a night business!
For those of you still asking what "Jigoku" is, you may want to use this article as lesson prep.

You must have thought, "A night business? What's so special about opening at night?" You mustn't underestimate the people of Beppu. Jigoku at night is even more hyped than during the day. For someone like me – who has gone to Jigoku countless times – to say this, there's no room for doubt.

I got to thinking that it'd be lonely going alone, but I happened to come across Adi and Mari from Indonesia. They, too, have an interest in the same nighttime Jigoku! They said it was their first time going to the "hell" itself so, happy local guide, Timo, accompanied us and we all headed there together.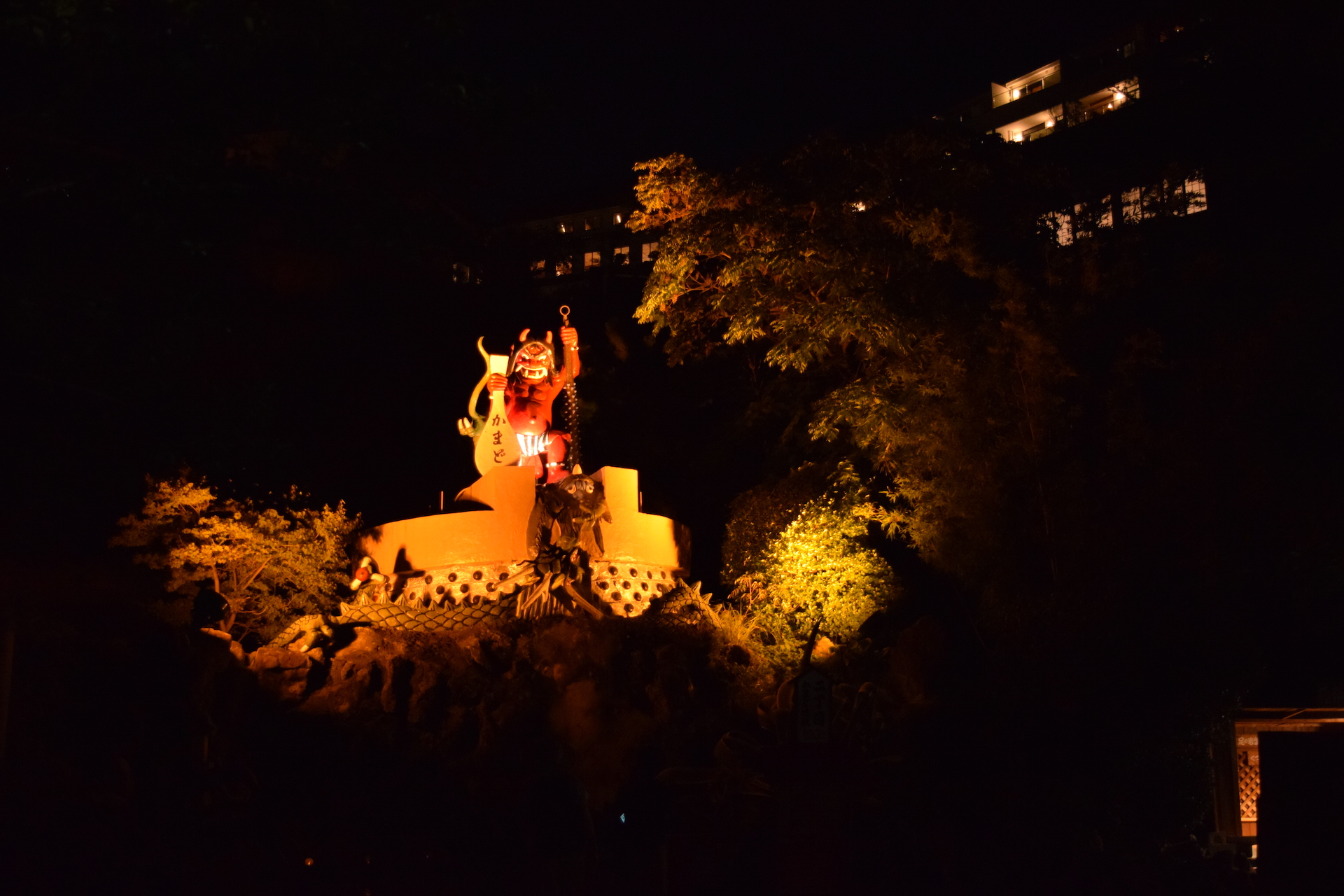 Hot Spring Theme Park: Kamado Jigoku
We took the shuttle bus from the station and headed to Kamado Jigoku first.
Unlike the daytime, the lighting illuminates your steps. There's no need to worry about ramming into the bushes by mistake. It's beautiful.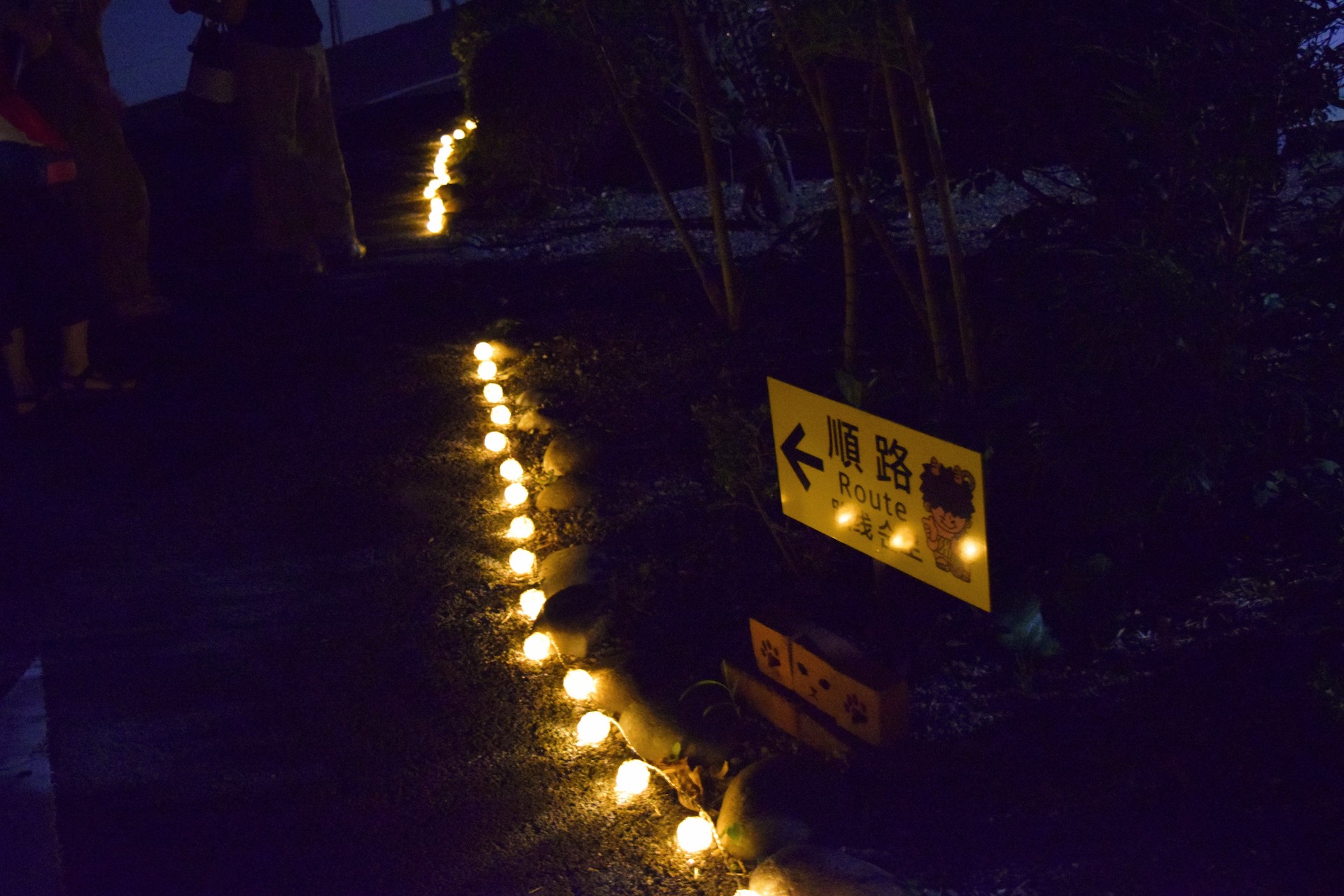 Continuing down that route, a bubbling sound can be heard. It's a "hell" where red soil, together with the hot spring, well up. It almost feels like finding the fountain of a witch.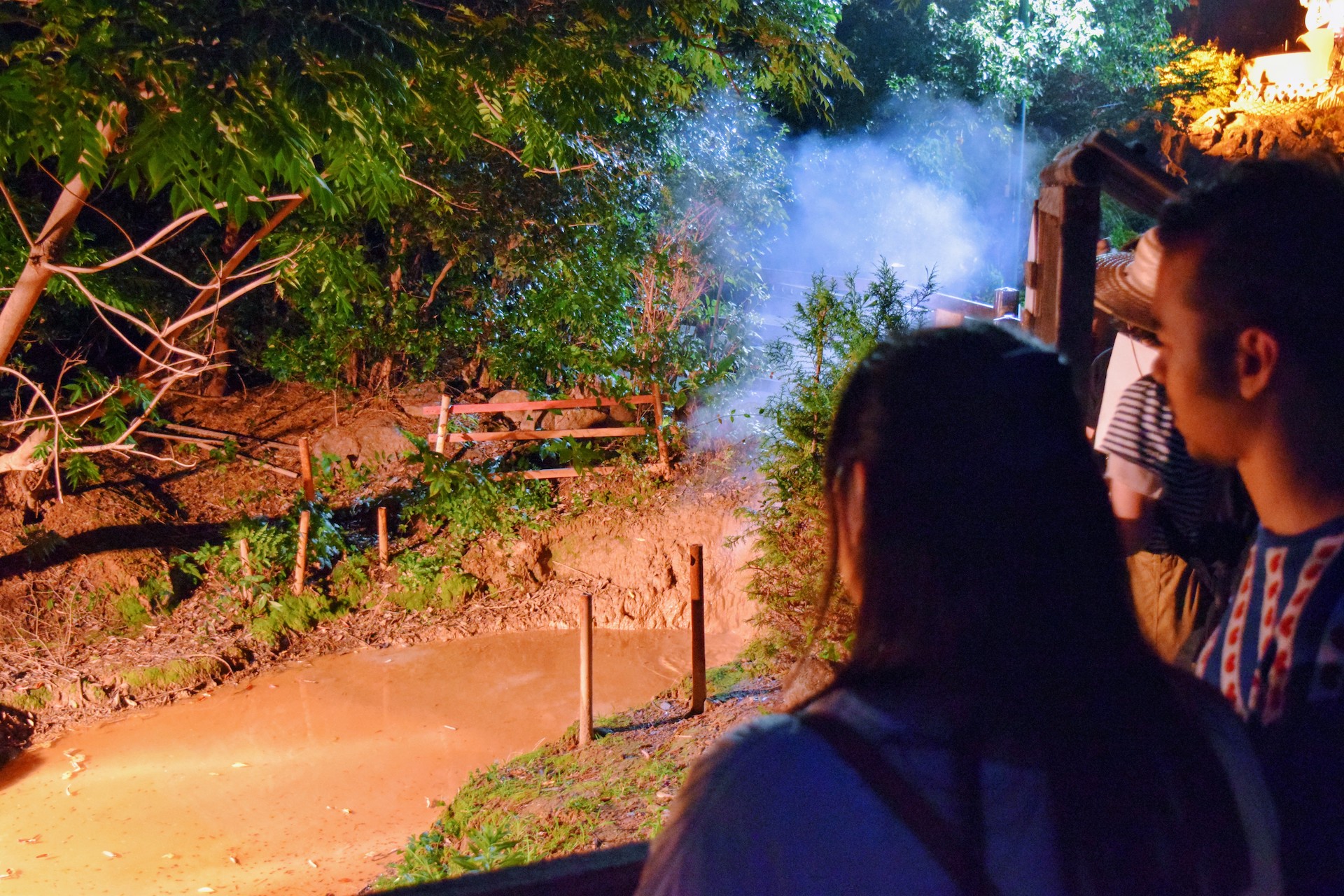 Unlike the day, where the light illuminates the steam, the darkness accentuates it. At the same time as it is beautiful, the sinister atmosphere is emphasized and the hellish scene materializes. Adi reflexively holds out his hand.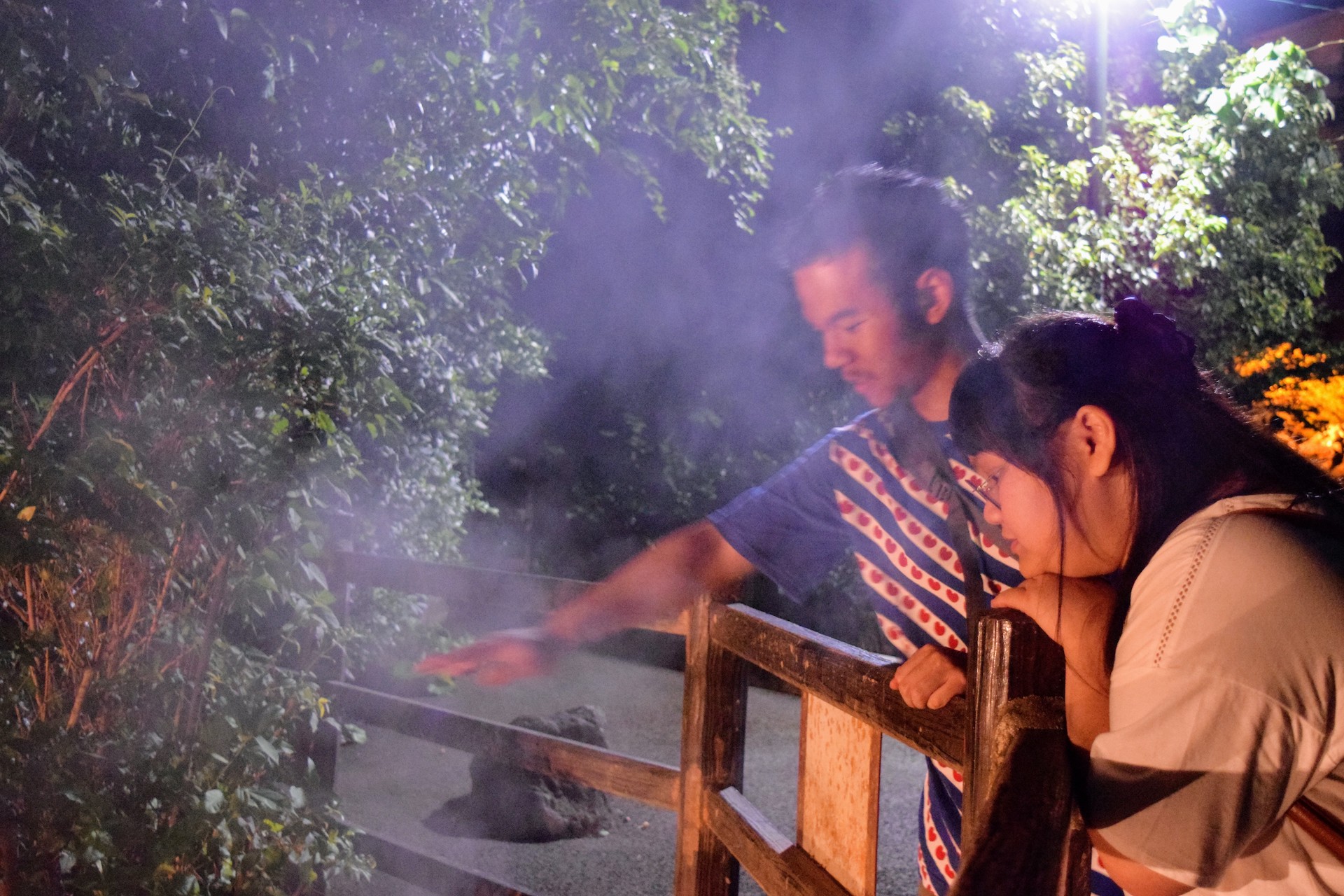 As you go to the back, some of the rugged stones are on display in a glass case. The two wondered what could it be, and Timo explained it's the crystallization of the spring's components.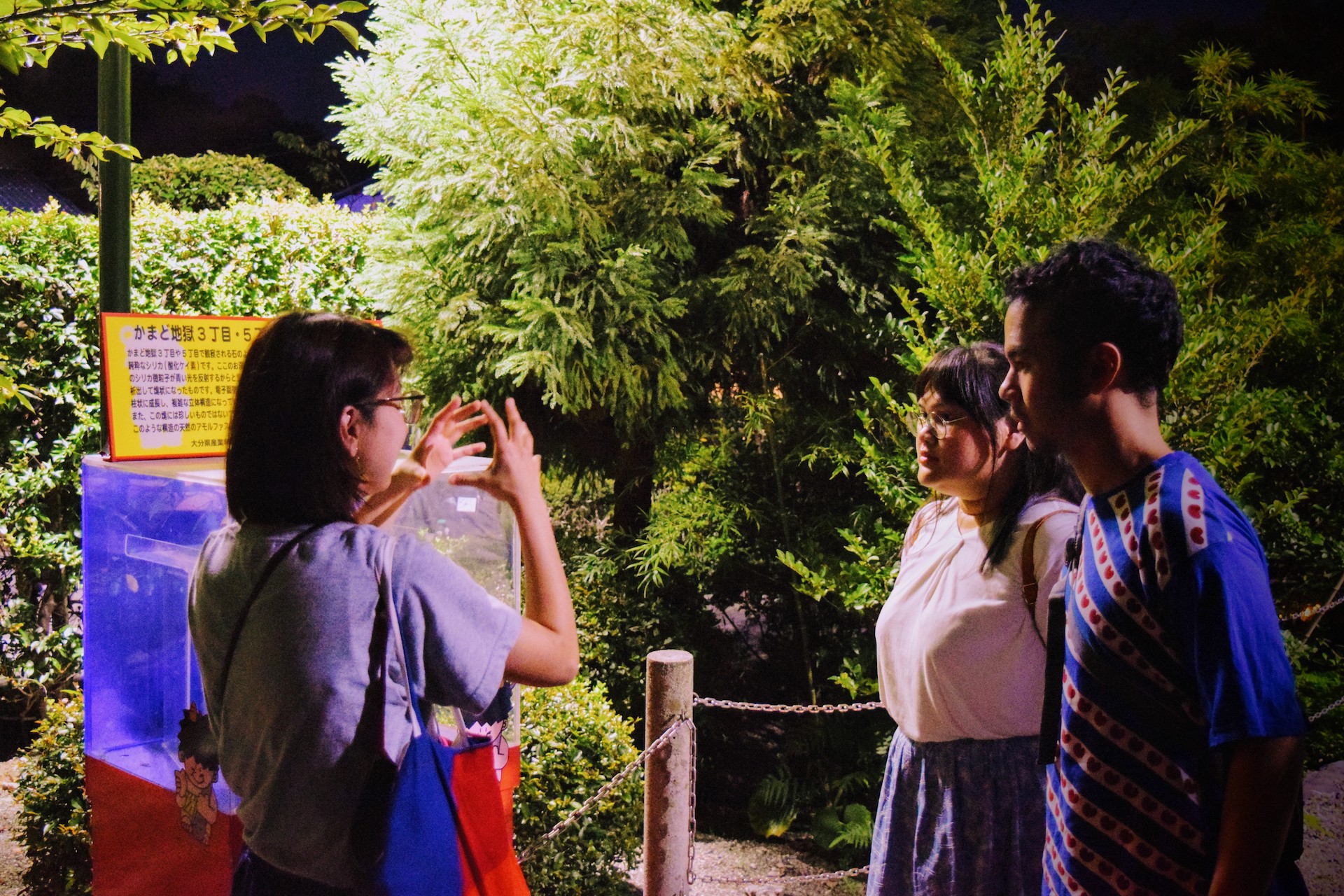 At Kamado Jigoku, there is also a "blue hell" that seems to contain ample amounts of a substance called "silica." It's the same as the sweet, "Silica gel," that's put into candy bags. It seems to have the ability to keep moisture in the skin and retain water. This is a hot spring that contains this same "silica."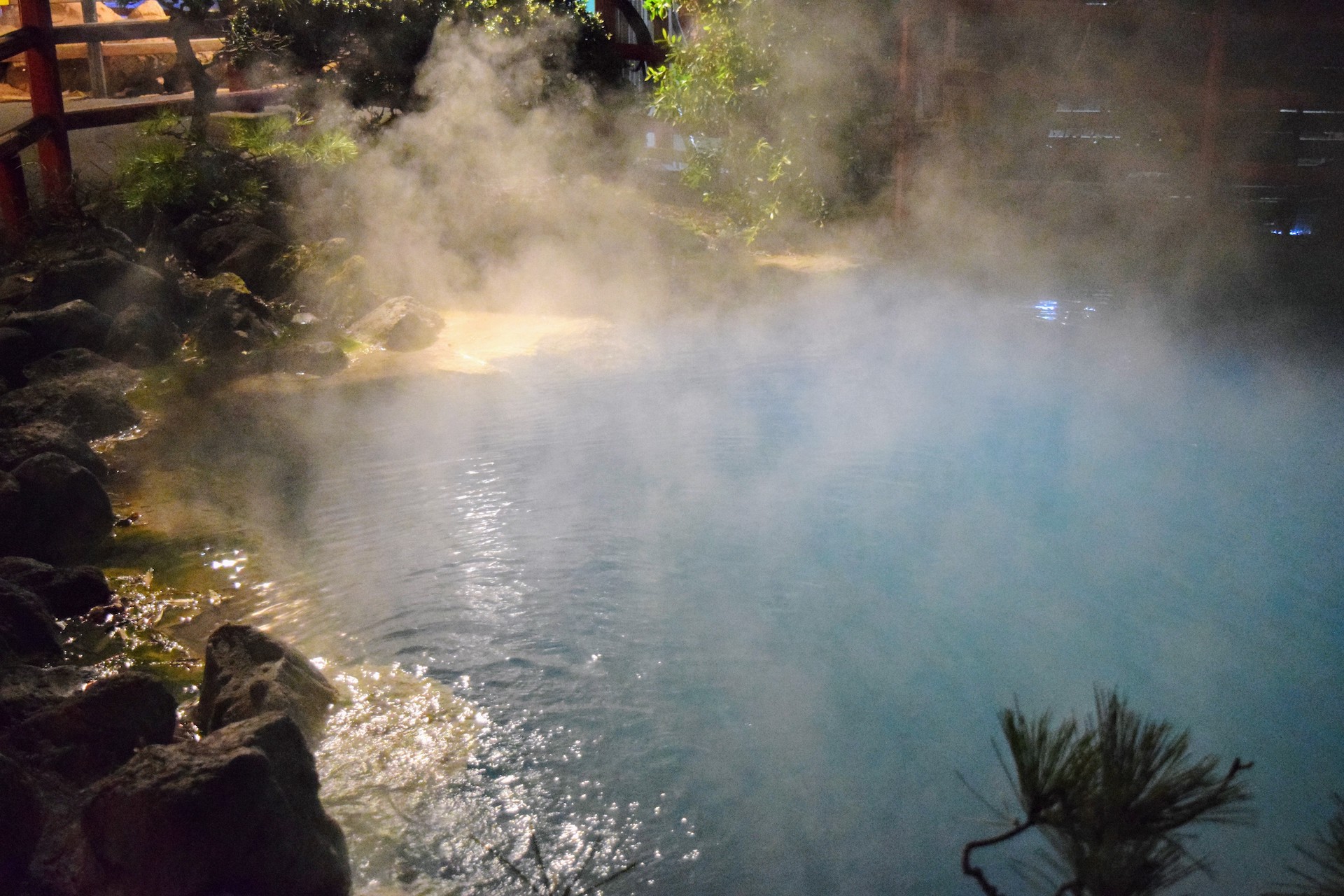 Adding bath salts gives it a vibrant yet transparent blue, but this color is all natural. Without thinking, Mari asked if people don't bathe in it, but this is "HELL." You'd get completely boiled if you got in!!

Following that was the the "Health Zone" First, we started with the "ganbanyoku zone" (stone sauna) "I wonder if it's hot…" Pondered the two as they fearfully placed their feet over the heating stone. "Ah, it feels so great~" For a moment, it was heaven.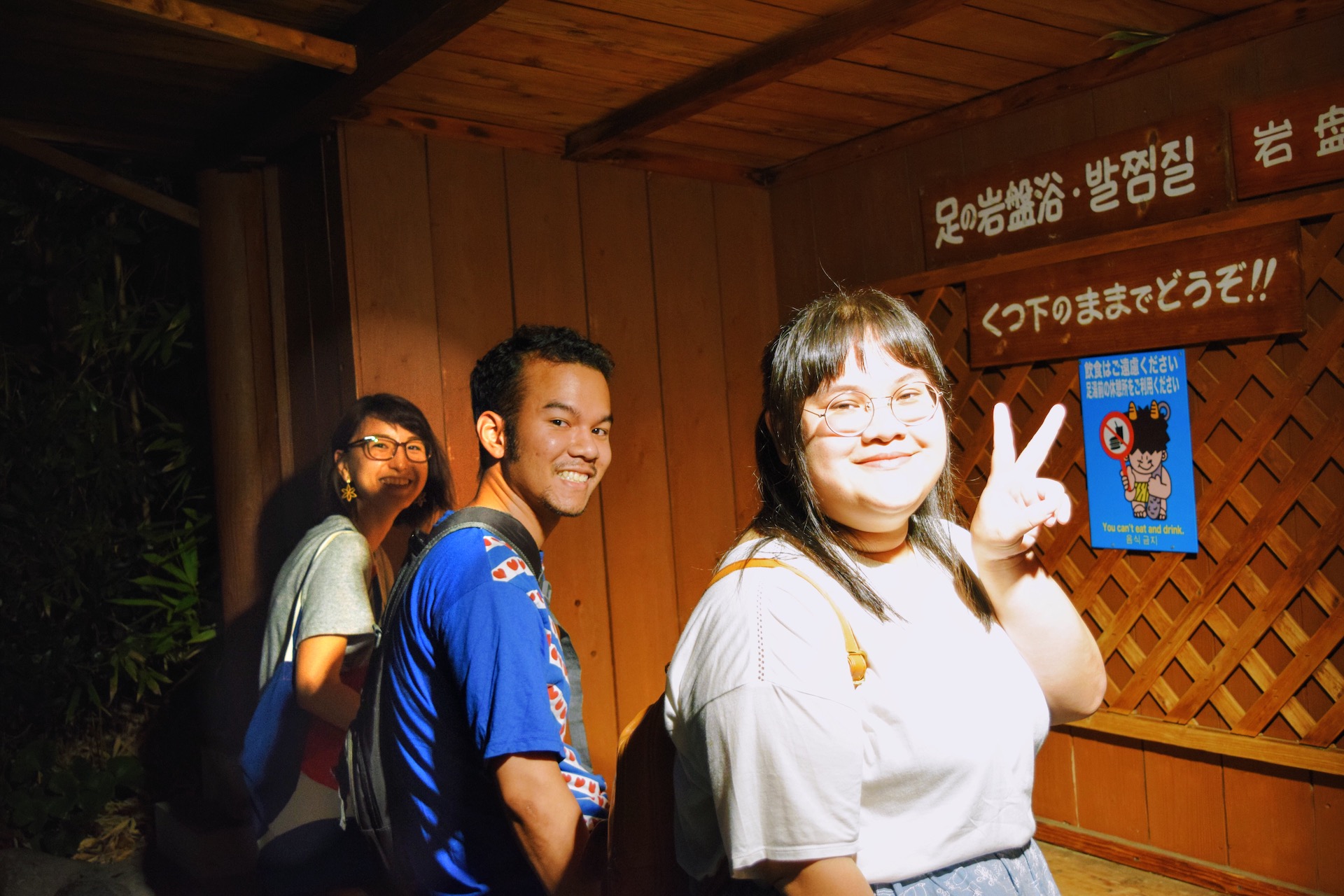 Next, came the spring drinking corner. "Huh?! Drinking the hot spring?" and "I wonder if it's hot…" were voiced in their confusion.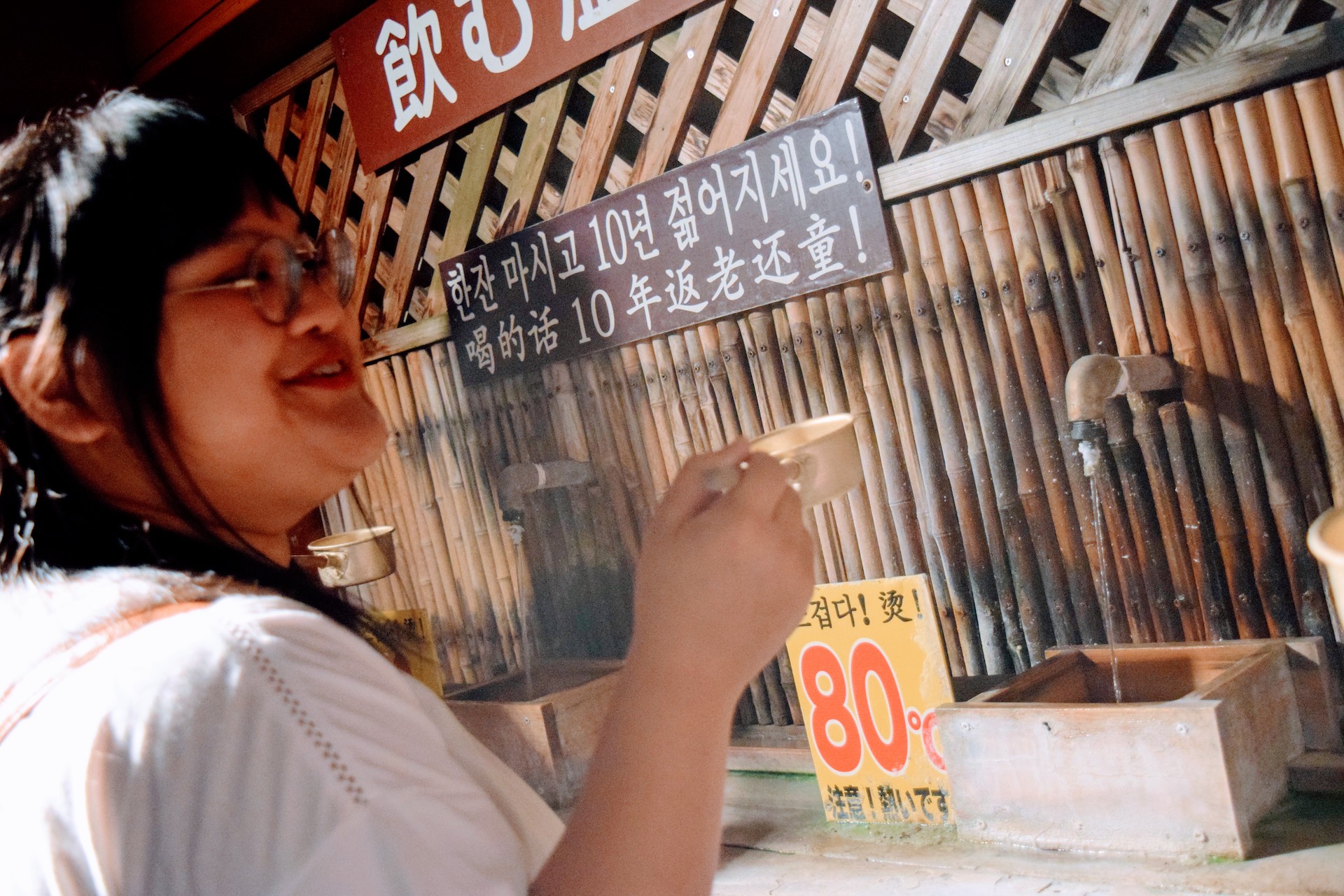 "It's kinda salty!" It's not just water, it's proof that it contains hot spring ingredients.

Next was the sauna for hands and feet. You put your feet and hands in the opening where the steam of the hot spring rises. The temperature changes according to the state of that time, so let's enjoy it after checking its temperature.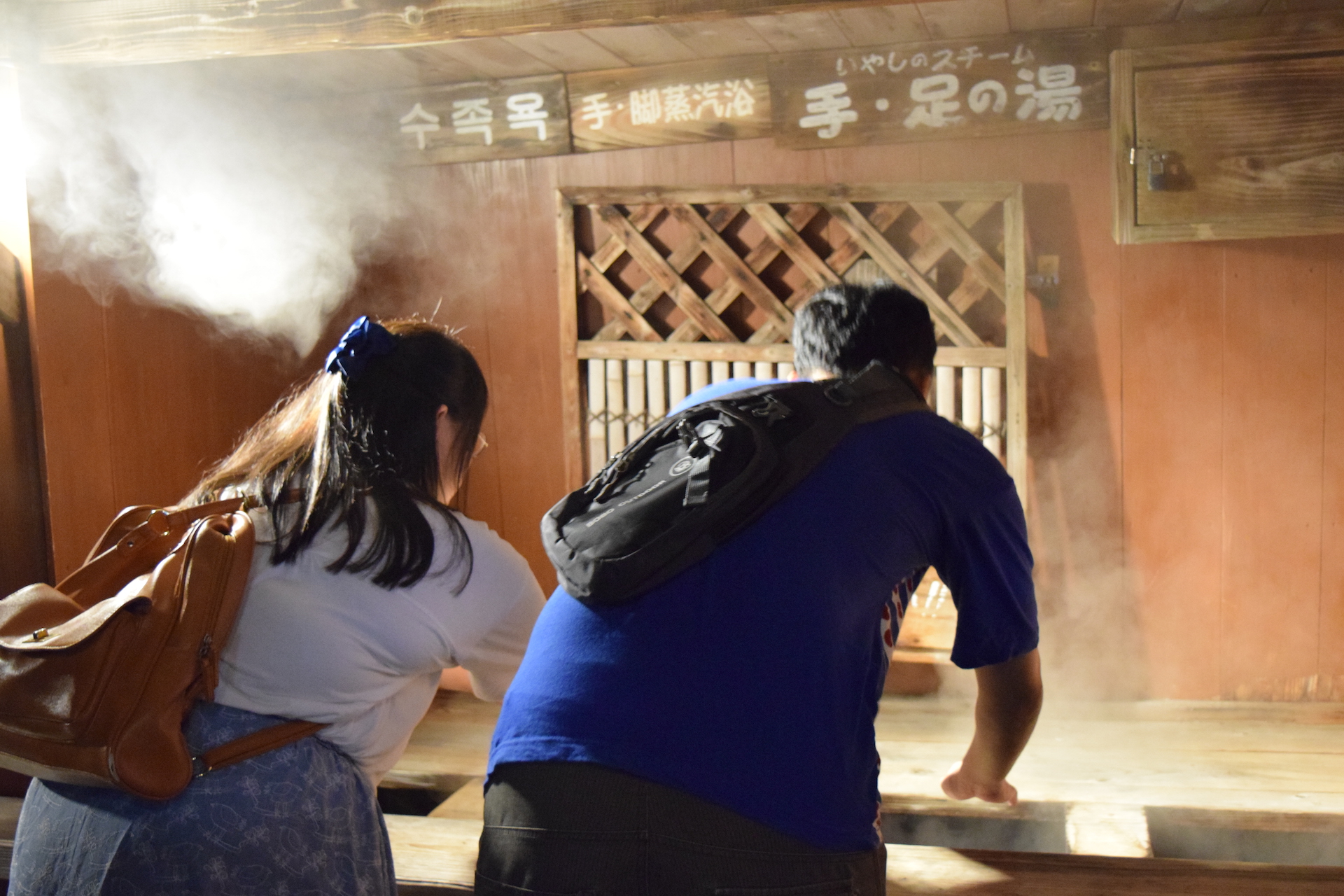 Last was the hot bath for the throat and skin. The steam moisturizes your throat and skin.
"Ooooh, it feels so good~"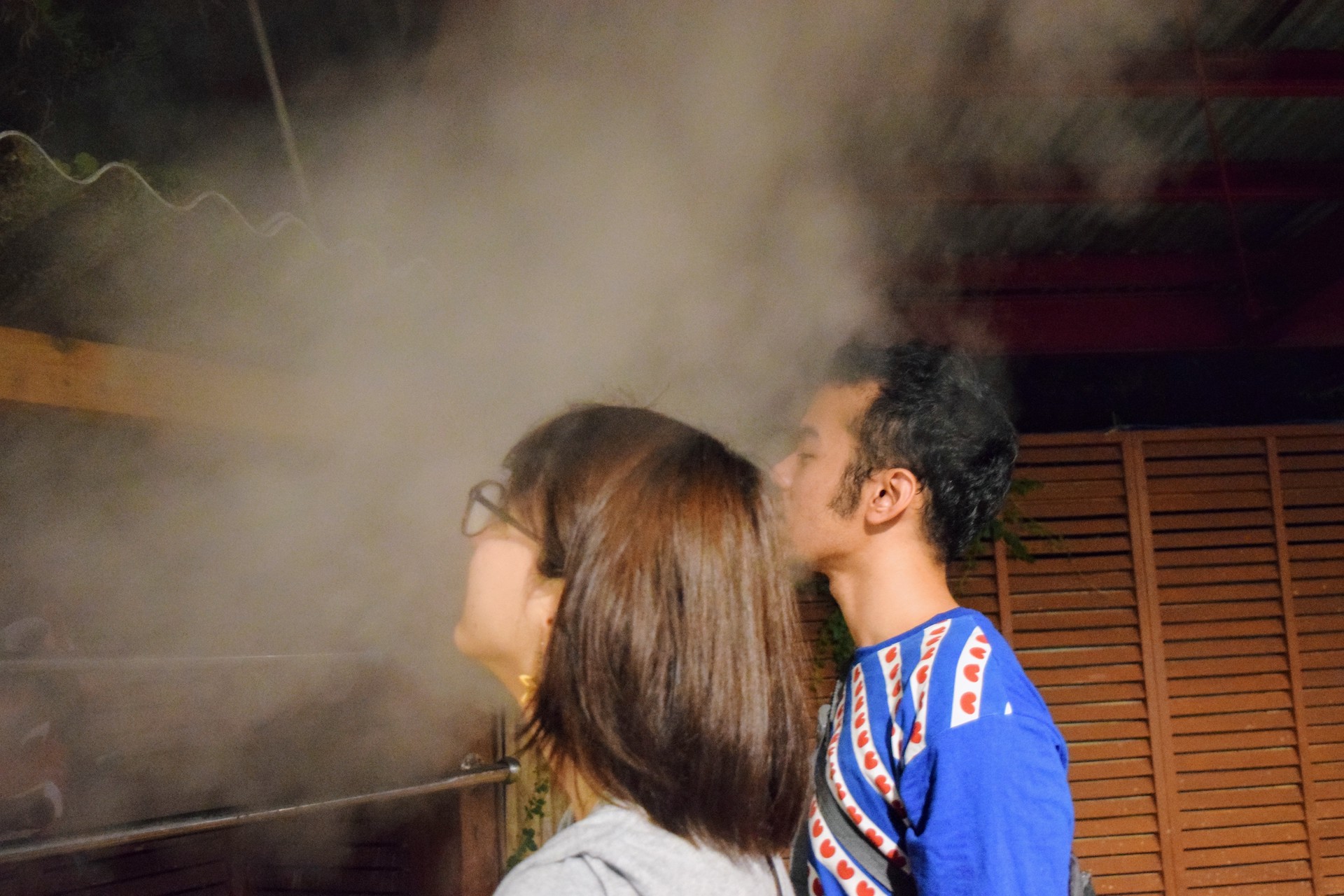 Timo and Mari's glasses fogged up completely white.
As I walked through the health corner, a "hell" appeared, this time with brown mud boiling. Then, one of the men on staff appeared on the scene and declared "I'm going to give you a small performance~!"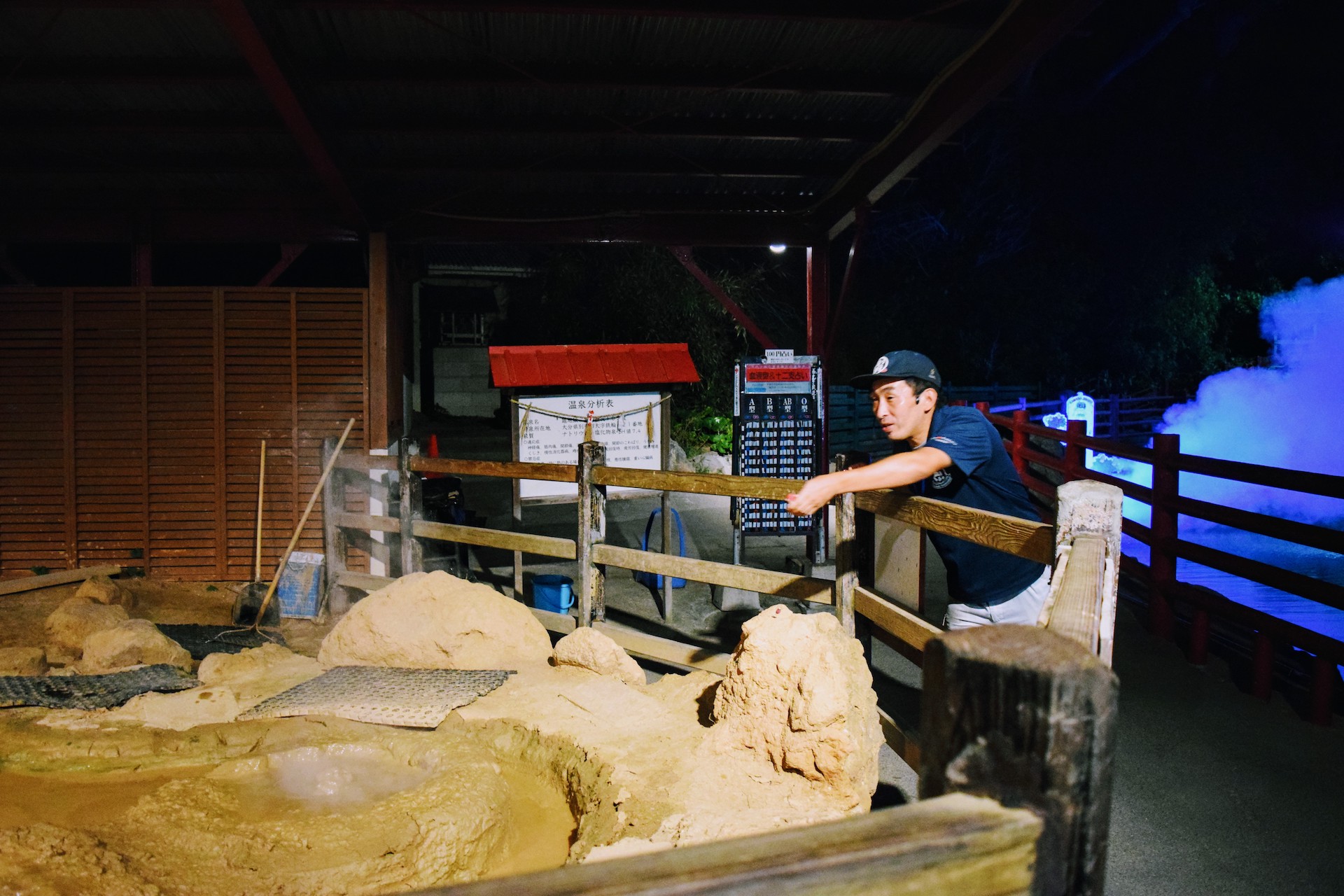 "Right now, the steam doesn't really stand out but, if you blow on the incense smoke here, in just one breath, the steam becomes visible!!" As he said this, he blew on the incense smoke.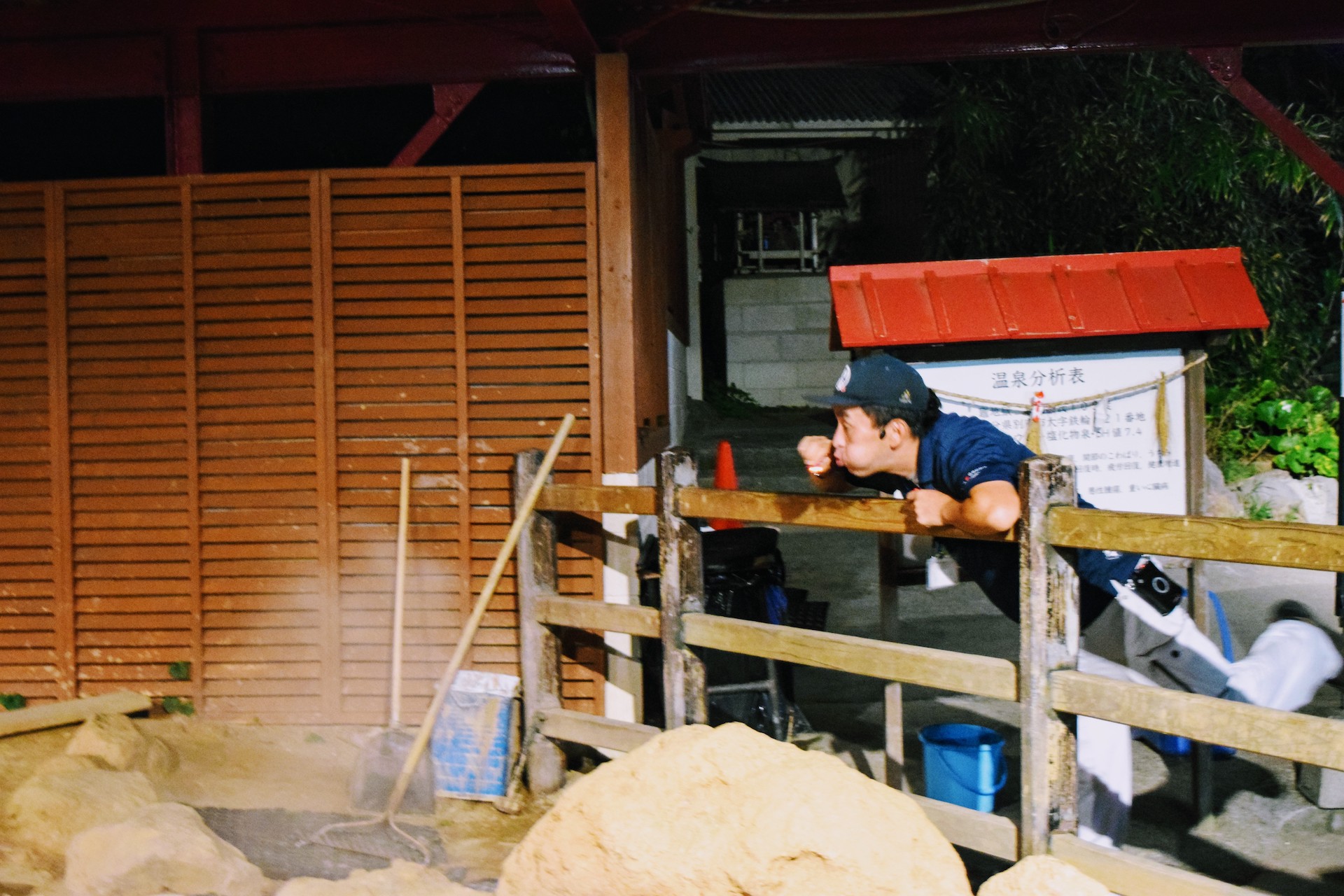 And then…
It began billowing up!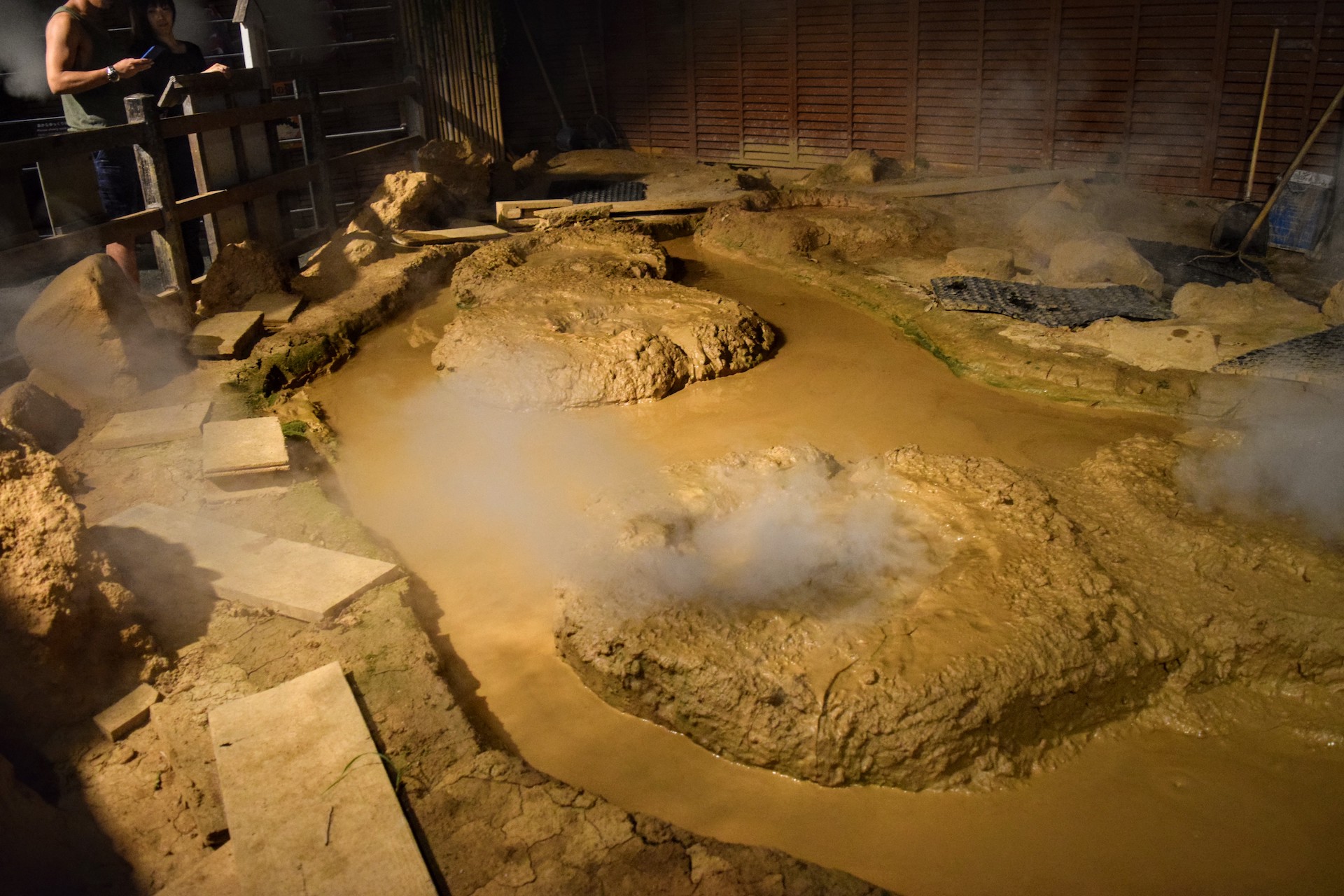 "WHOA!!!!!"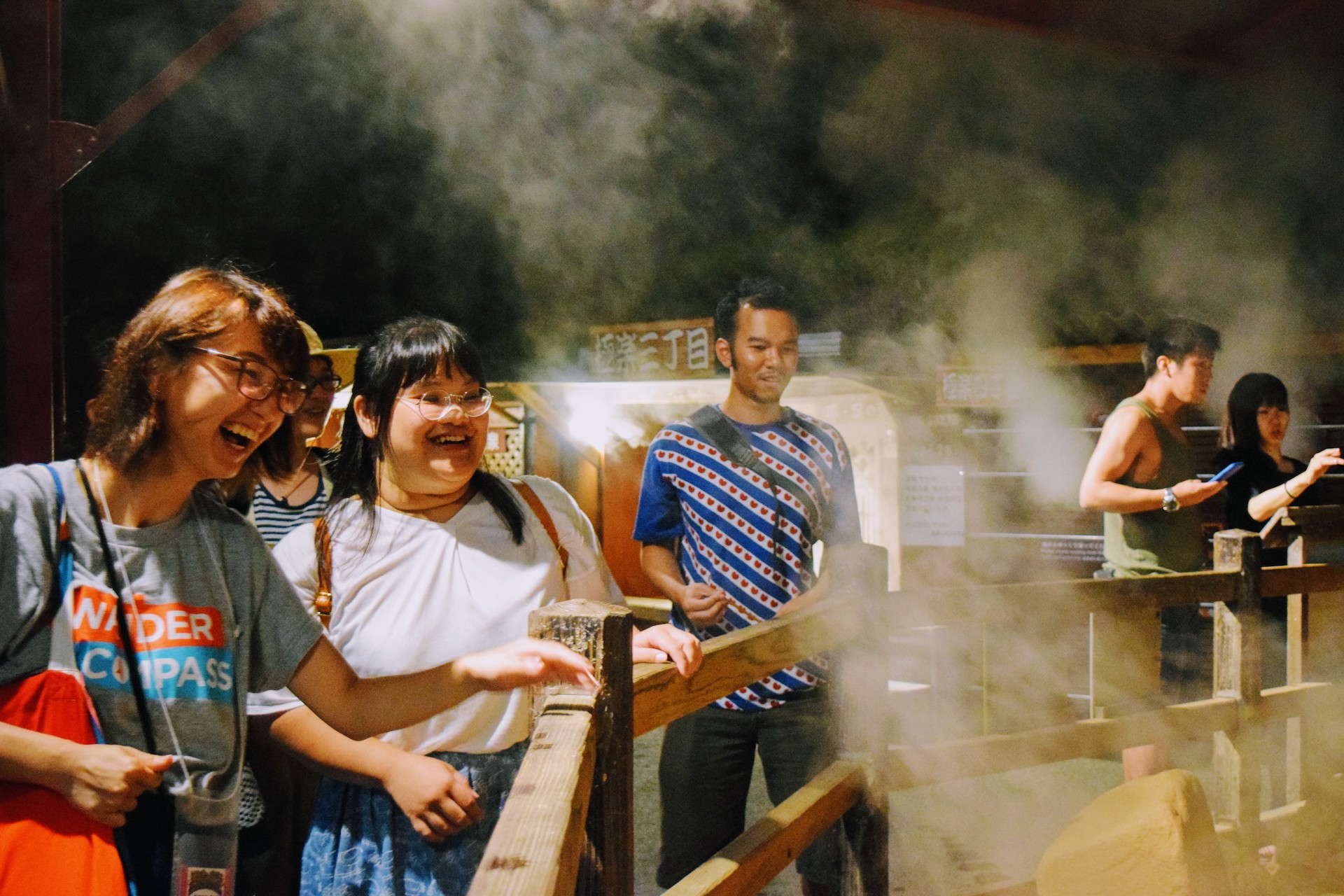 That's not the end of it. "Now then, on to the next!" said the man as he headed over to the most loved hell in Kamado Jigoku. The hot water's spray blows out from the source and a huge plume of steam billows up!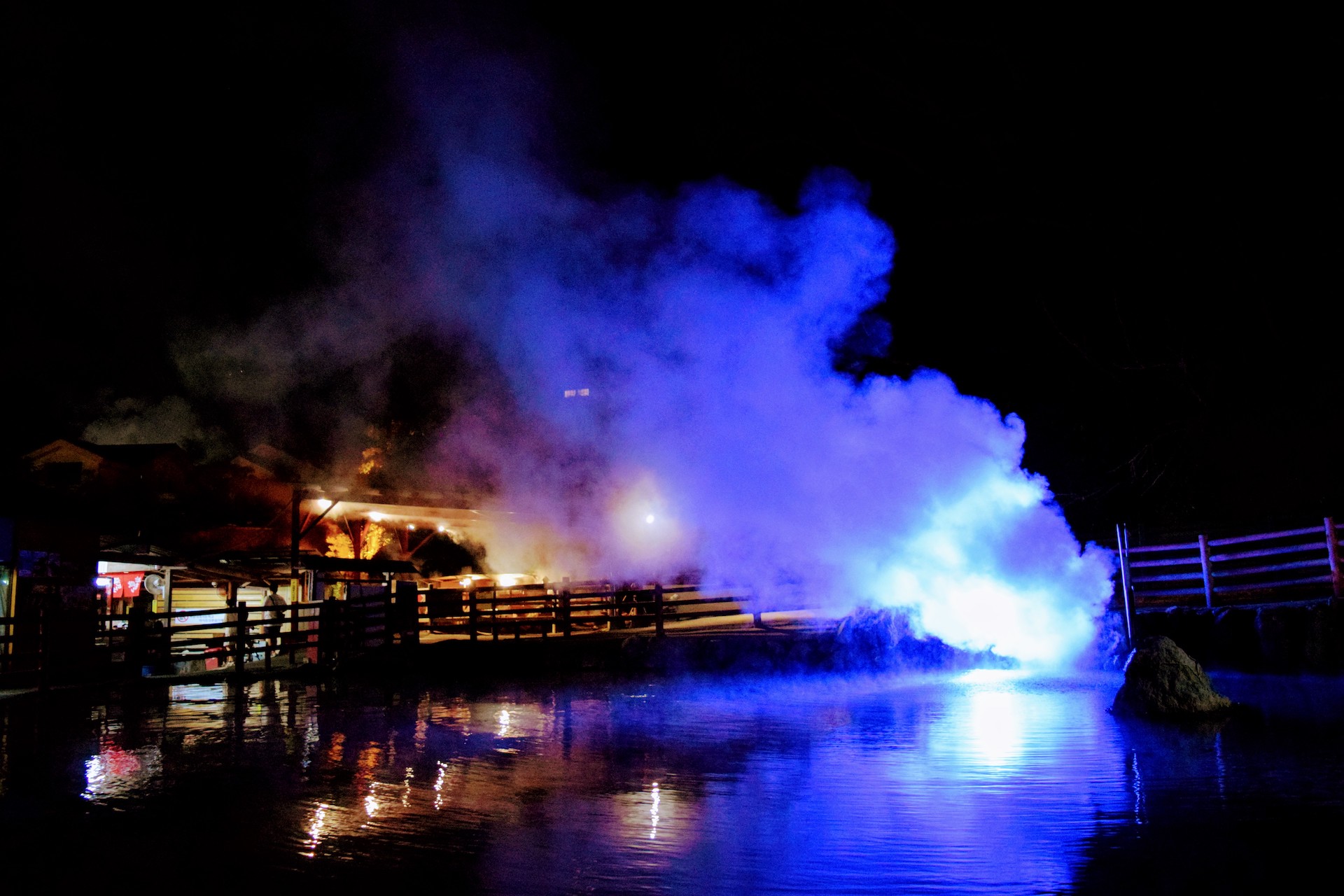 As he explains, he moves into the vicinity of the source. It looked so hot! "Usually, the hot water here is a whitish blue but, after a typhoon, it becomes green." The color changes according to the day. It's so strange! Again, he blows on it and an even bigger plume of steam rises.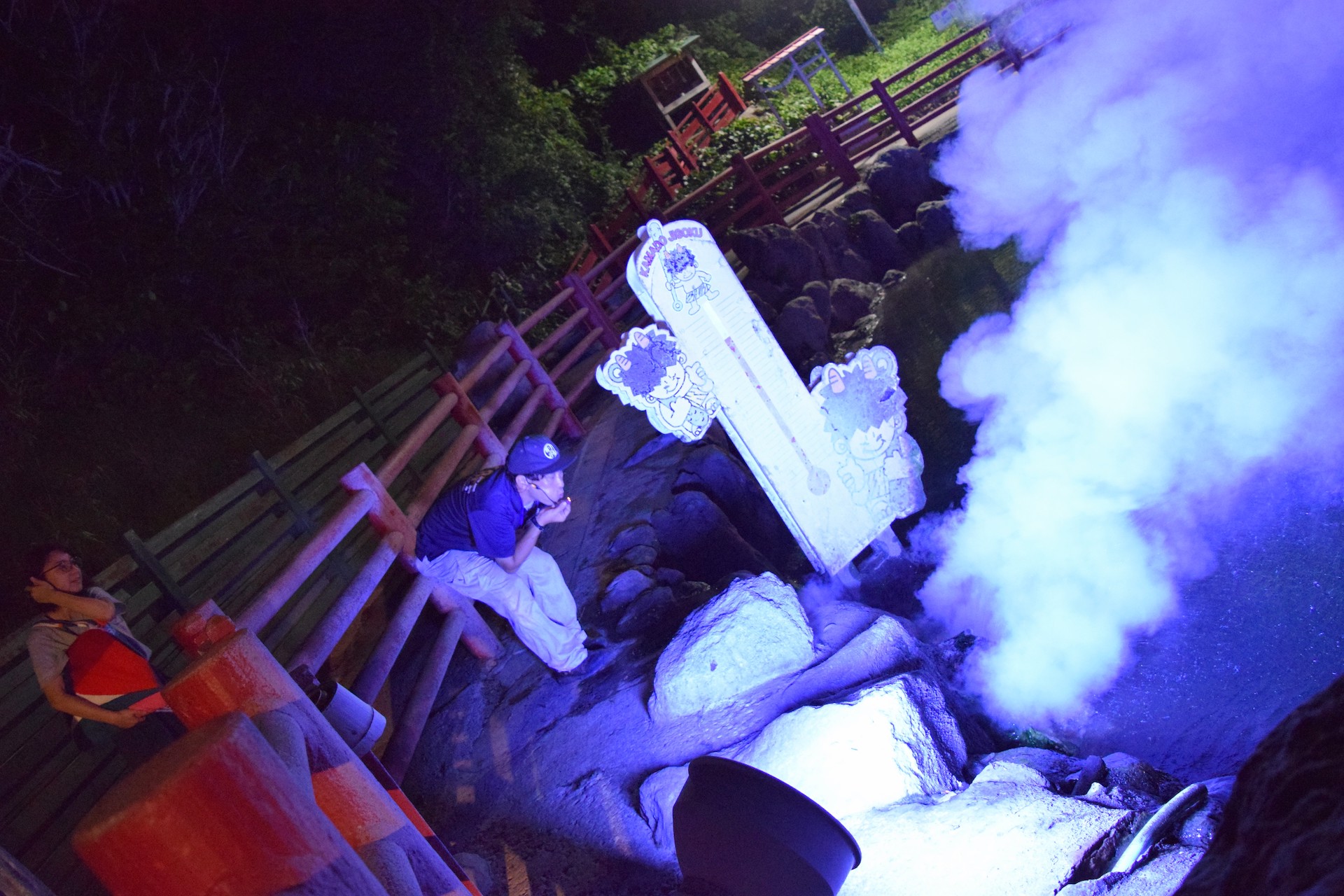 Last, he also did a performance at another hell where the red mud is rolled up. Those curious about why the steam got bigger should go and ask him in person!

Although this is the end of what can be seen on this single street, that isn't the last of Kamado Jigoku's charm. There's a shop and a foot bath! Timo and I's recommendation is the egg steamed using the vapors!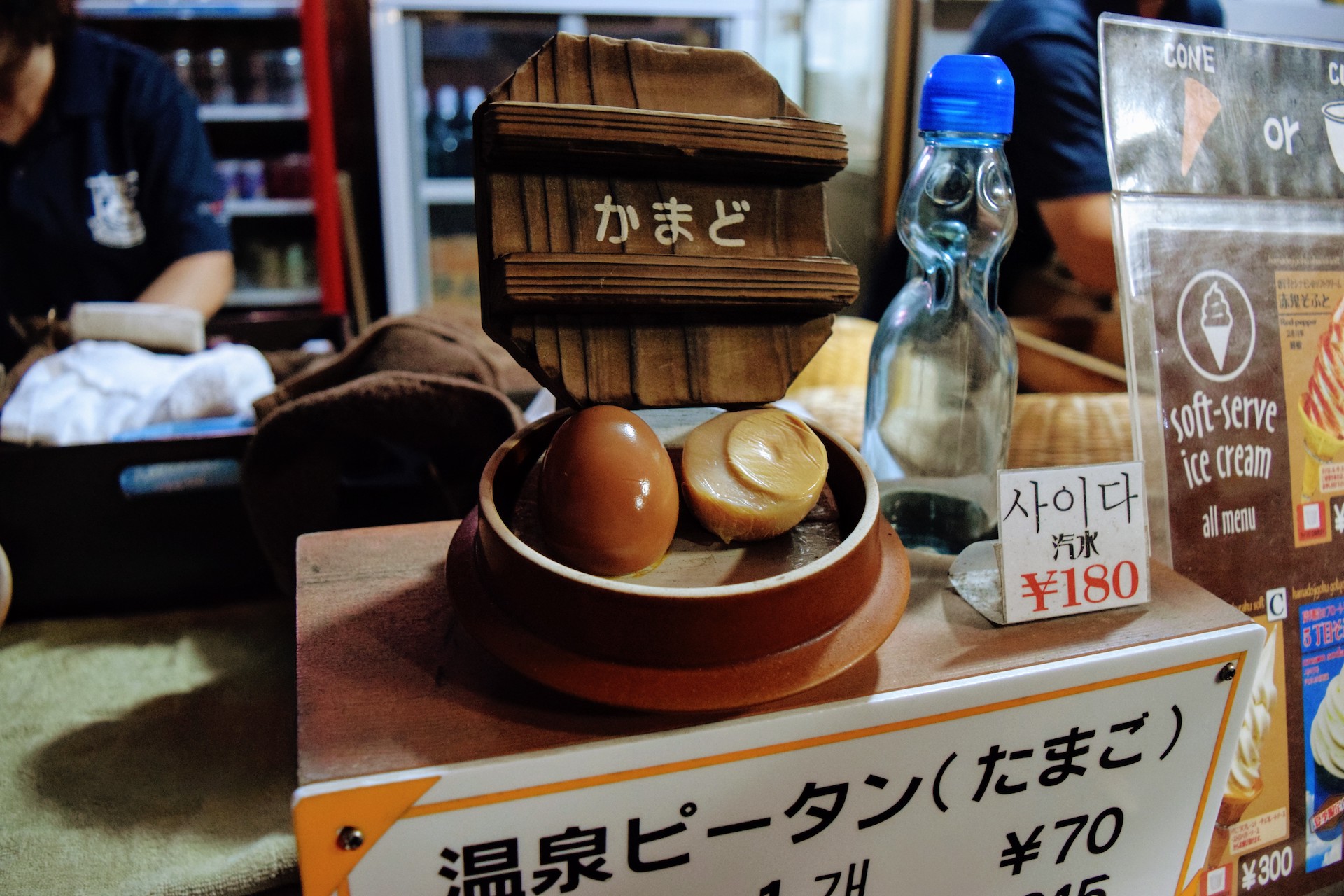 The egg, through which the onsen components have penetrated over time, become slightly brown and take on a smokey flavor. Egg shelling master, Timo, instructs us in her art.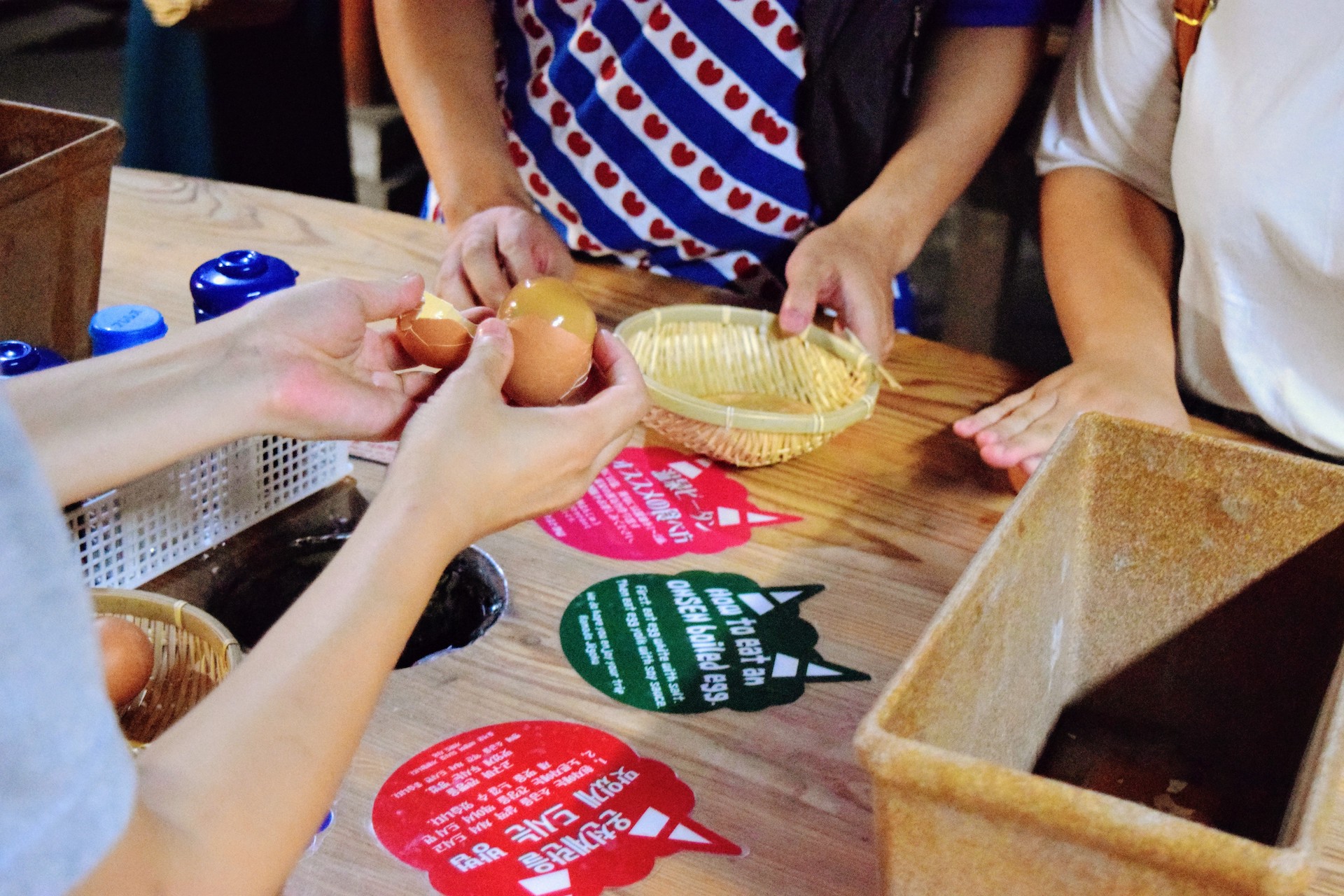 The foot bath utilizes the source of Kamado Jigoku 100%. Since the temperature is lowered, you can get in worry-free. There's also towels you can borrow!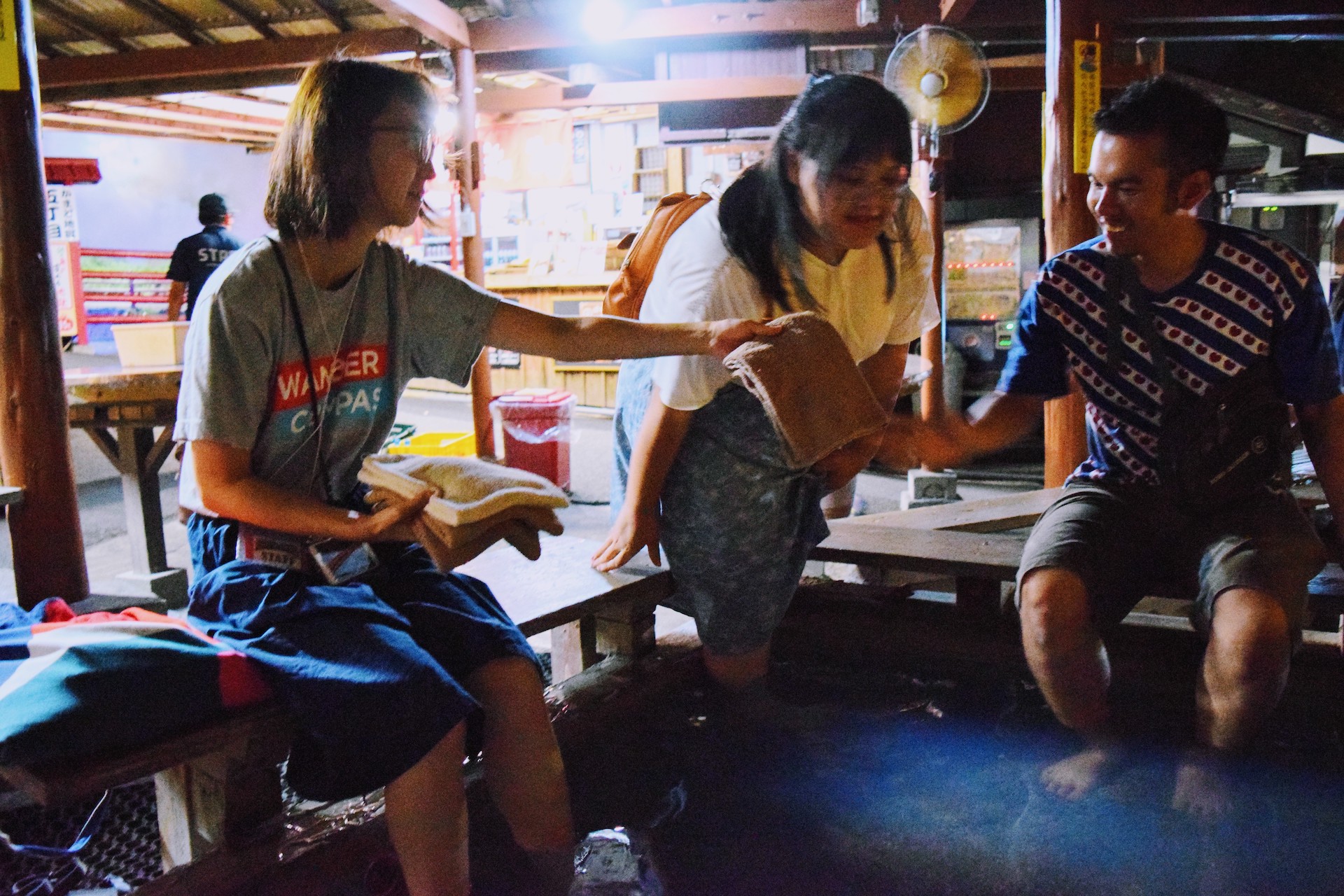 The lighting around it creates a more relaxing atmosphere.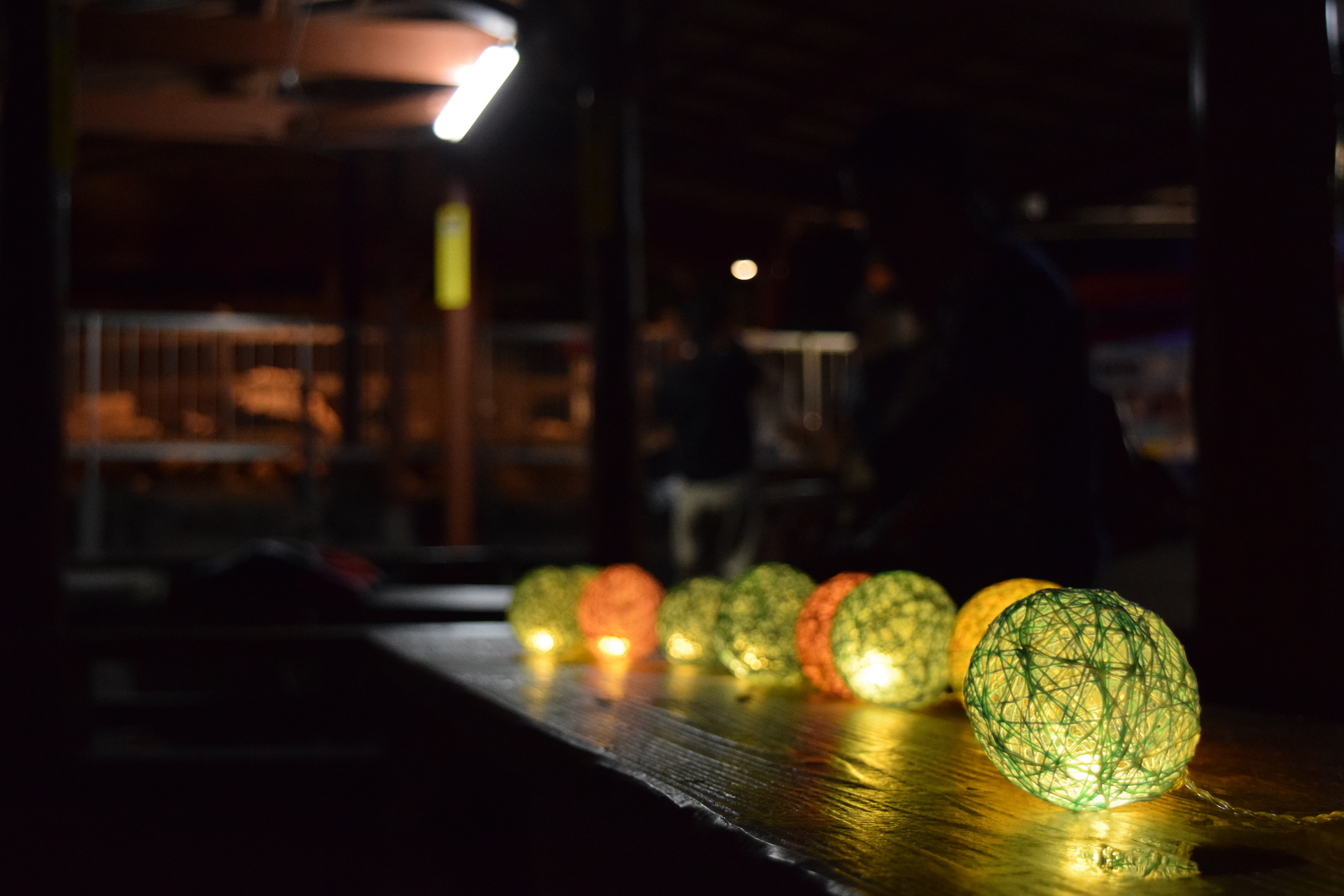 With the body and heart satisfied by the egg and foot bath, they head over to the next "hell" in the lineup, Shiraike Jigoku.
The gap between day and night is insane!! Shiraike Jigoku
There are also stalls in front of Shiraike Jigoku, so if you're hungry, you might want to buy something here. There are many popular shops in Beppu, so check it out.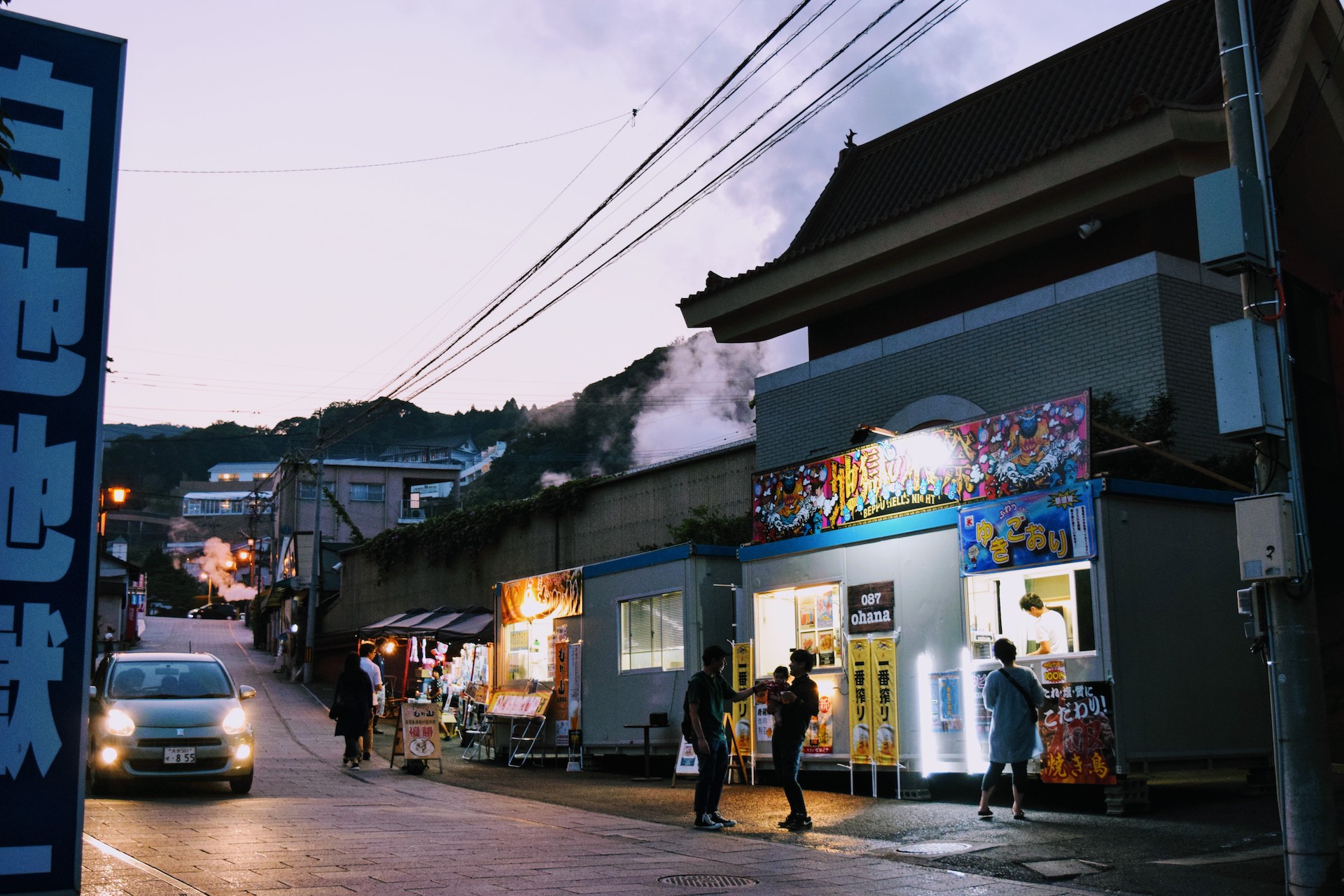 When you come through the entrance, you will see an even more colorful light-up than Kamado Jigoku. Mari took pictures of the trees lit up by the lights, exclaiming "They look like cherry blossoms!" It really does look like cherry blossoms.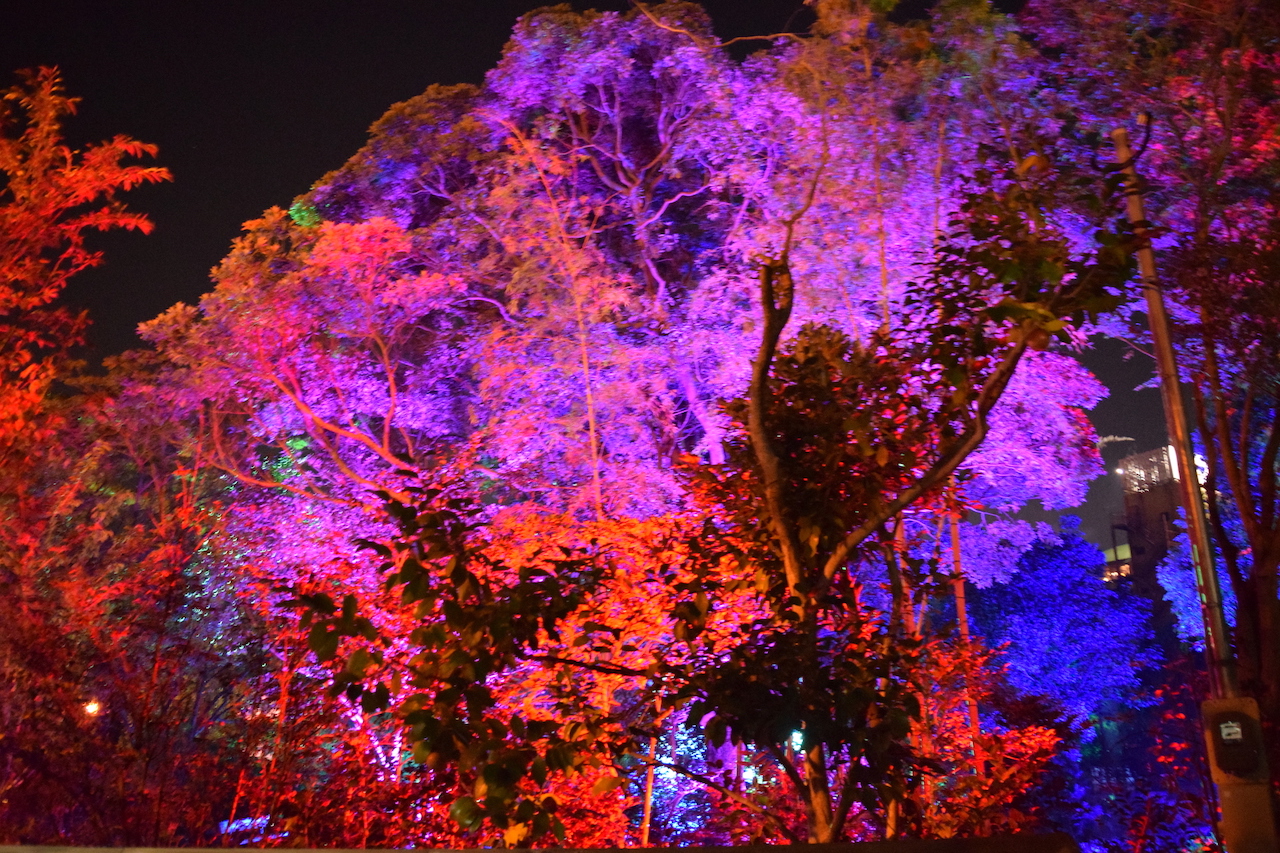 In the daytime, the Japanese garden is beautiful, and Shiraike Jigoku has a peaceful atmosphere, but this may be a way to enjoy it exclusive to the nighttime.

The group heads on into the building. At Shiraike Jigoku, tropical fish are bred and exhibited using the hot spring heat. You can not only see, but also touch their scales and teeth.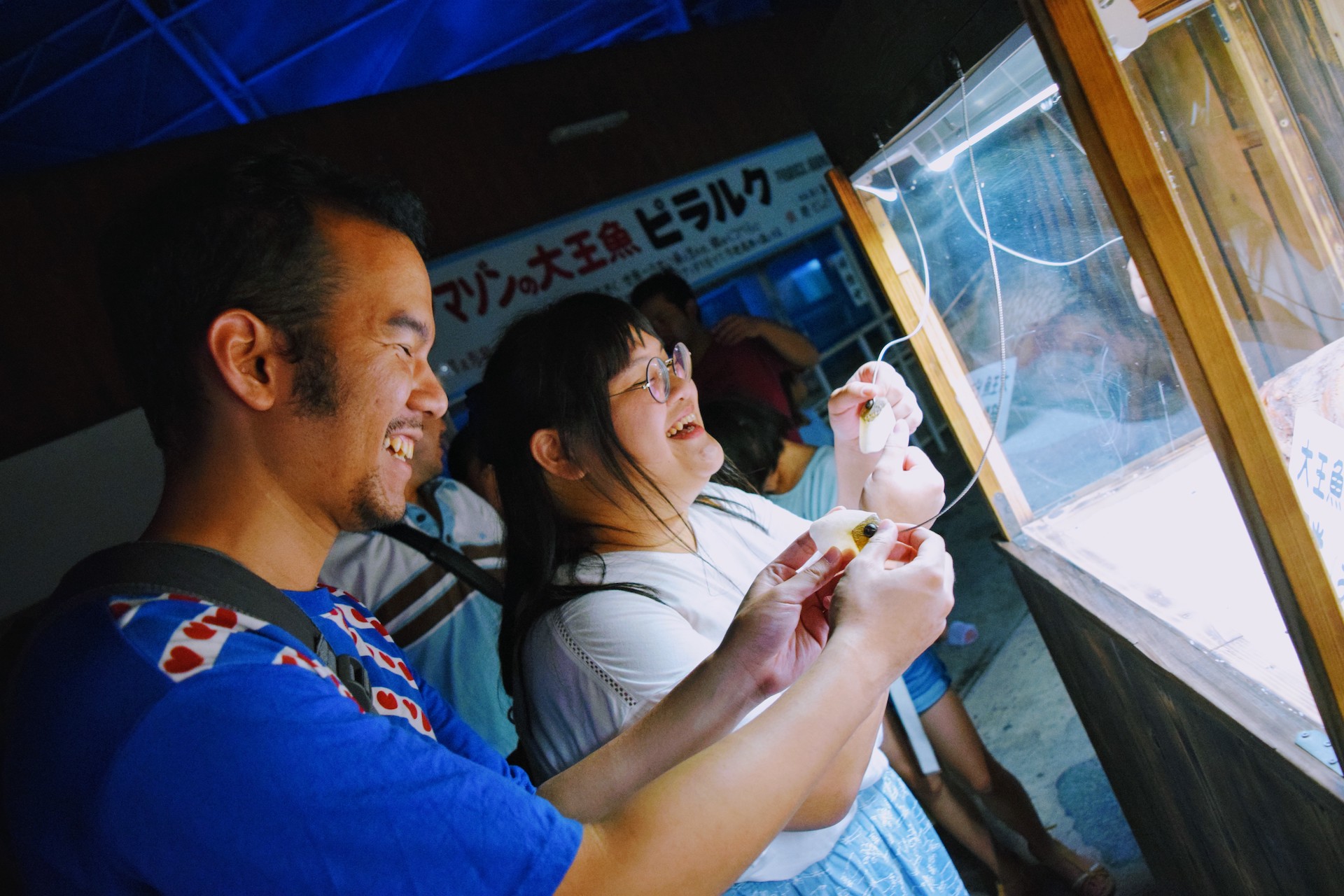 Tropical fish are rare, but there are more rare creatures on display at night. "The exhibits we're going to see are quite strange and scary. Are you mentally prepared?" asks Timo. They looked at the flyers and knew what was going on. Even while their hearts were pounding, they laughed with easygoing expressions. They ascended the dimly lit stairs, passed through the black curtains and… "Wow…!" The exhibition was above their expectations. Scorpions and gigantic cockroaches, and worms as big as tires – these critters were gathered together from all over the world. For people who don't like it, it's just hell. I thought I'd publish a bunch of pictures but, since there are people who may not be ale to handle it, I've settled for just one.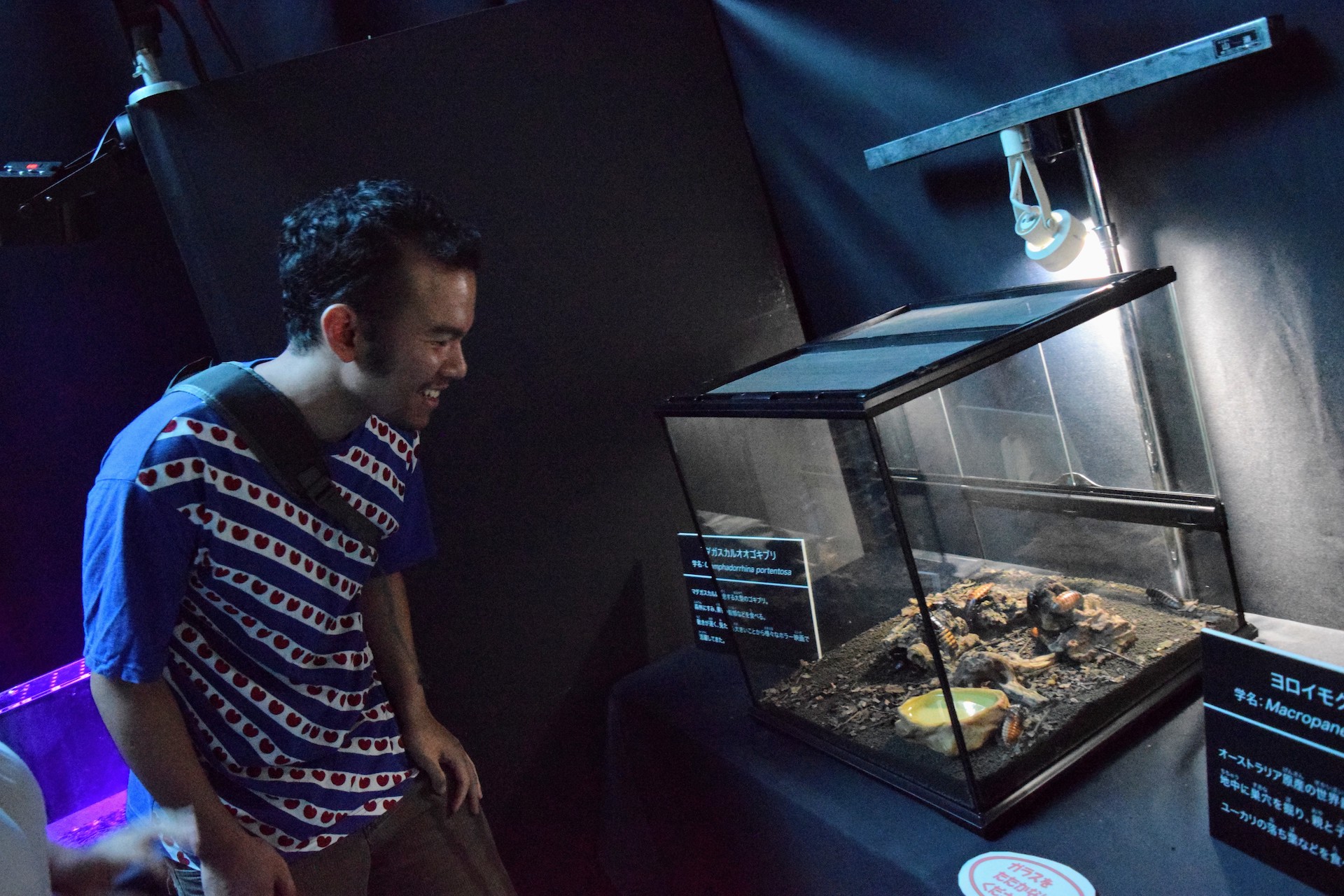 Adi was shocked at first, but he seemed to be interested in the creatures he doesn't normally see.

At first glance, it may be uncomfortable to look at, but a lot of thought was put into this exhibition. In Japan, hell is a very scary place, and it has been said that if you do bad things, you will fall into hell after death. Killing is one of them. It is said that it is not good to kill even a small ant. We humans cannot live without killing. However, it is important to understand that human life is not the only thing that is precious. The appearance of these creatures that can be seen in Shiraike Jigoku may be thought of as strange. Despite that, to survive in the environment they are placed in, this form is valuable. Each of them plays an influential role in the environment they live in. It may seem like a distant concept from our perspective, but it is a life which inhabits the same earth, and is connected. The thought put into this living thing exhibition is the desire that we think about such life.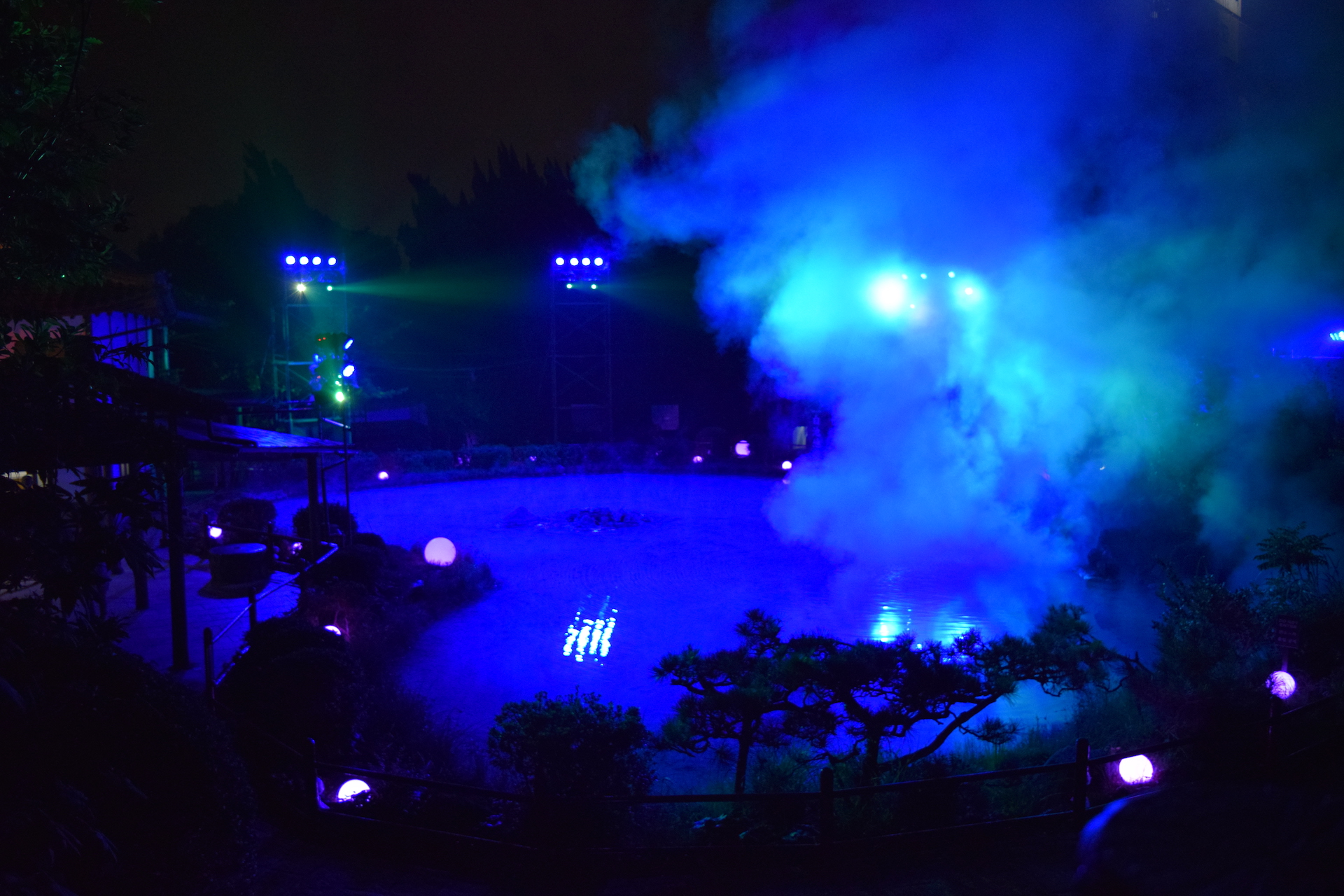 When you come out of the exhibition room, before you lies the lit up Shiraike Jigoku! The music, together with the lights with change colors and shapes, the reflection on the water's surface is like something out of a fairytale.

It was a short time, but we were able to enjoy hell and heaven in one night, with the hot water of hell rising as steam in the darkness, strange creatures, the blessings of warm and pleasant hot springs, and delicious food.

If you meet "Beppu Hell's Night Monster", you are lucky! She is always changing her style (she was colourful demon in the photo).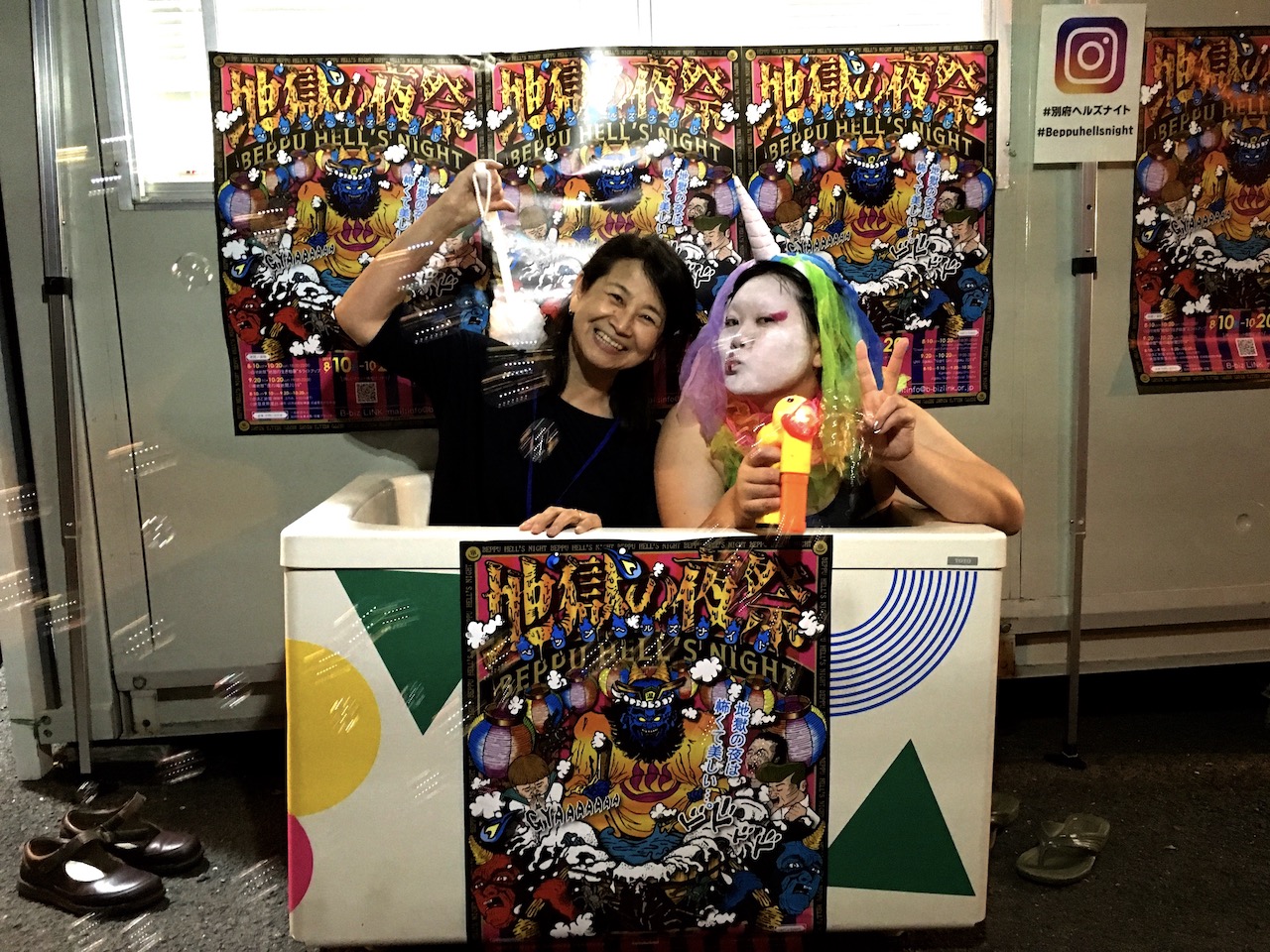 This time, I was able to write about one part of Jigoku but, theres so much more to be enjoyed in the Kannawa area at night, like taking a nighttime stroll or going to hot springs. If you happen to get the chance to go to Beppu, you can't let this opportunity slip away! This is our recommendation.