Deliciously fluffy pudding made with local ingredients and cooked with Beppu's hot springs' steam, handmade chiffon cakes, icy cold glasses of local citrus tea, and savory soups with mouthwatering chewy dango noodles; these are just some of the delicacies Beppu has to offer! Blessed with abundant hot springs to the point that their presence is clear in its geography, architecture, and even culinary culture, Beppu has specialty dishes and cooking methods so unique that they can be hardly found anywhere else in Japan. So, prepare your stomach and palate for a feast when visiting Beppu!
Okamotoya Shop – Onsen-Steamed Delicacies and Beppu's Most Iconic Dessert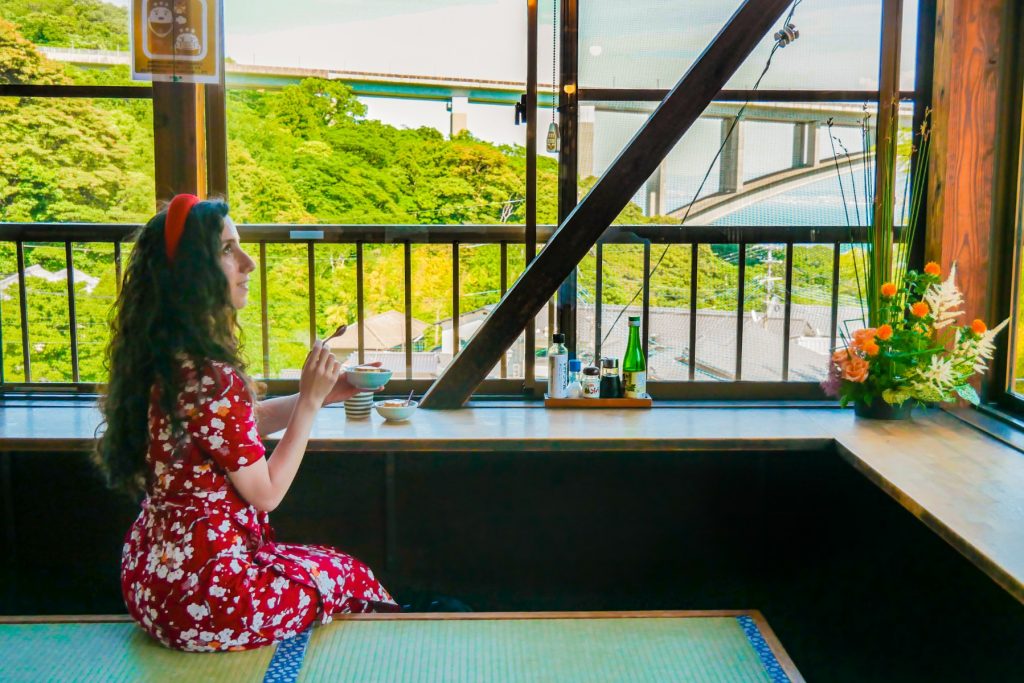 Head to Beppu's magnificent mountainside to find Okamotoya Shop, one of the city's most renowned restaurants. Tucked away amidst wooded slopes and perched along the entrance to the valley, the restaurant is a must-visit for anyone wanting to relish Beppu's most iconic cuisine, the "jigokumushi" (hell-steaming).
Appreciated for centuries as a healthy way of cooking, jigokumushi takes advantage of Beppu's beneficial "onsen" (hot spring) steam to power "jigokugama" (hell pots) stone steamers and cook a wide variety of ingredients. There's no limit to the delicious dishes that can be prepared with this method and any flavors, from vegetables to desserts, seem to be enhanced once supplemented by Beppu's enriching onsen minerals.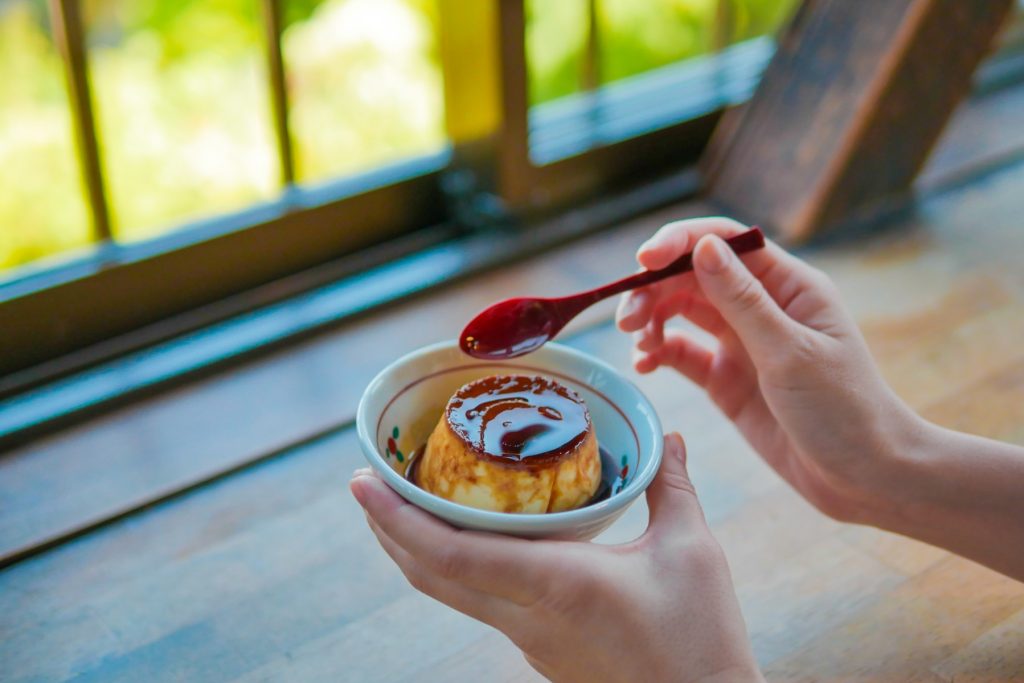 Among Okamotoya Shop's delicacies, the undisputed bestseller is its jigokumushi pudding. A sweet treat that is so irresistible, many come to this more remote area of the city solely to buy and eat this dish. The iconic pudding has maintained the original recipe since it was first introduced to the menu in 1988, and over the years, it has gained a devoted group of fans among locals and visitors alike! Despite its simple ingredients, the eggs, milk, and cream that are used are so high quality that, when prepared as jigokumushi, they result in a lavish bowl of glossy custard and caramel that will instantly make your mouth water.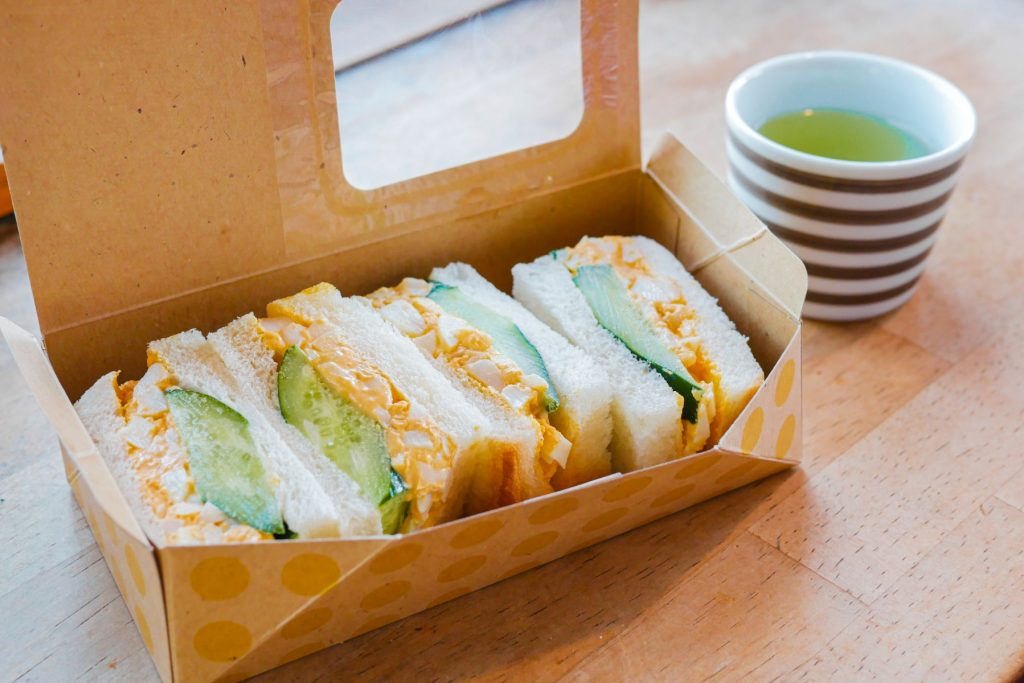 Other customer favorites include dishes also featuring eggs and the jigokumushi cooking method. The "jigokumushi egg sandwiches," for example, combine the creaminess of the hell-steamed eggs and the freshness of cucumbers. Also used as filling for the "jigoku onigiri" (hell rice balls), jigokumushi eggs complement the rice with their buttery yolks. Meanwhile, the "ontama udon" pairs Okamotoya Shop's prized luscious eggs with delectable "udon" noodles from Japan's land of udon, Kagawa Prefecture.
Whether it be sweet or savory, grab your preferred dishes and secure a seat by the windows to savor Okamotoya Shop's specialties in grandeur while gazing upon the majestic panorama below. The restaurant offers panoramic views over the city, from the nearby Myoban Bridge to the vast, blue expanse of the sea in the distance!
Morihan Bettei – An Onsen Tea Room for Your One-Of-A-Kind Tea Time in Beppu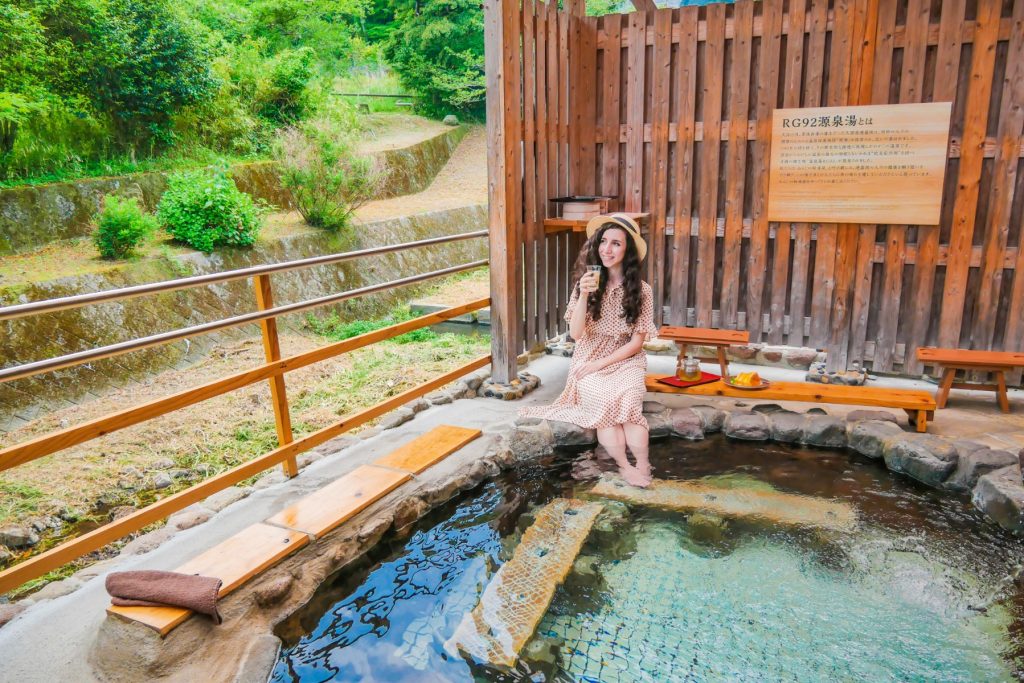 Another unique cafe that visitors can enjoy in Beppu is Morihan Bettei, an onsen tea room and coffee space surrounded by greenery. Located at the top of a mountain along a soothing stream, this cafe incorporates the best of the city's hot springs and food culture while ensuring moments of relaxation immersed in nature.
Morihan Bettei's premises are also imbued with history as the facility stands on the grounds of a former Edo-period (1603 – 1868) onsen built by the local feudal lord for the townspeople and renowned centuries ago for its extraordinary curative properties. Although the onsen is not there anymore, Morihan Bettei uses its space to keep this ancient practice of sustaining people's health and spirit through onsen alive.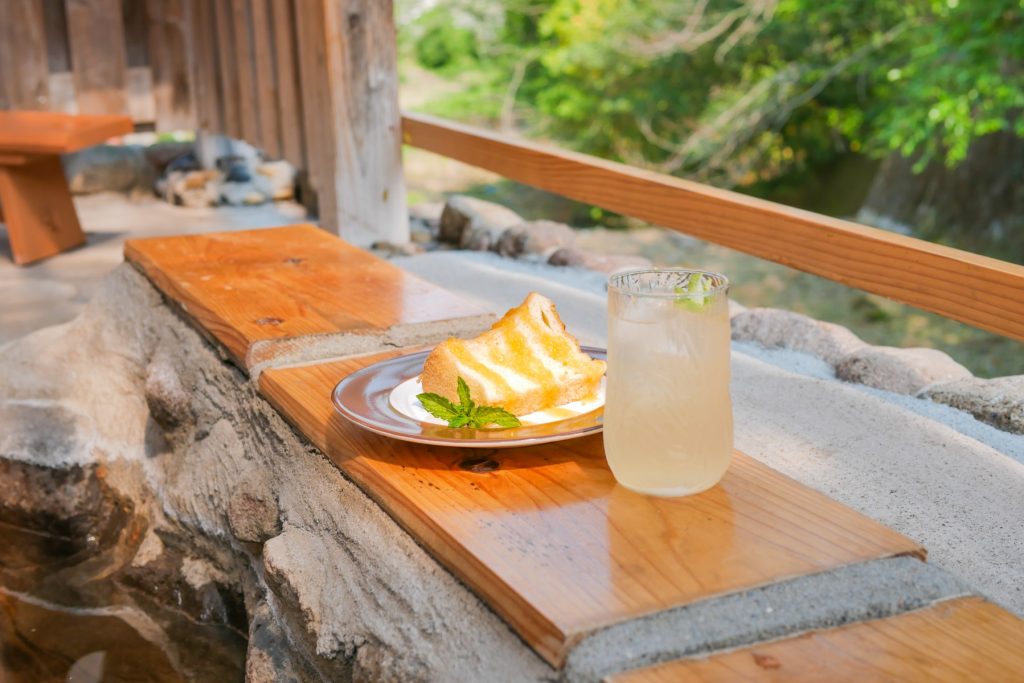 As Morihan Bettei is located on the grounds of the Sarabio Hot Spring Microbiology Research Institute, they apply the beneficial effects of the local onsen's microorganisms to the soil to improve its condition and grow nutritious food for visitors. Guests of Morihan Bettei can also create skin care products specific to their skin problems; try some of Morihan Bettei's original hot spring beauty treatments or buy some of the already available products at the souvenir shop.
The revitalizing experience extends to the curative footbath coffee space where you can enjoy locally-sourced handmade food while soaking your feet in hot spring water. The menu features a curated selection of healthy ingredients from the sea, land, and forests of Beppu and cooking methods beneficial to the body such as Beppu's traditional "jigokumushi" onsen steam cooking or "kanpo" traditional medicine.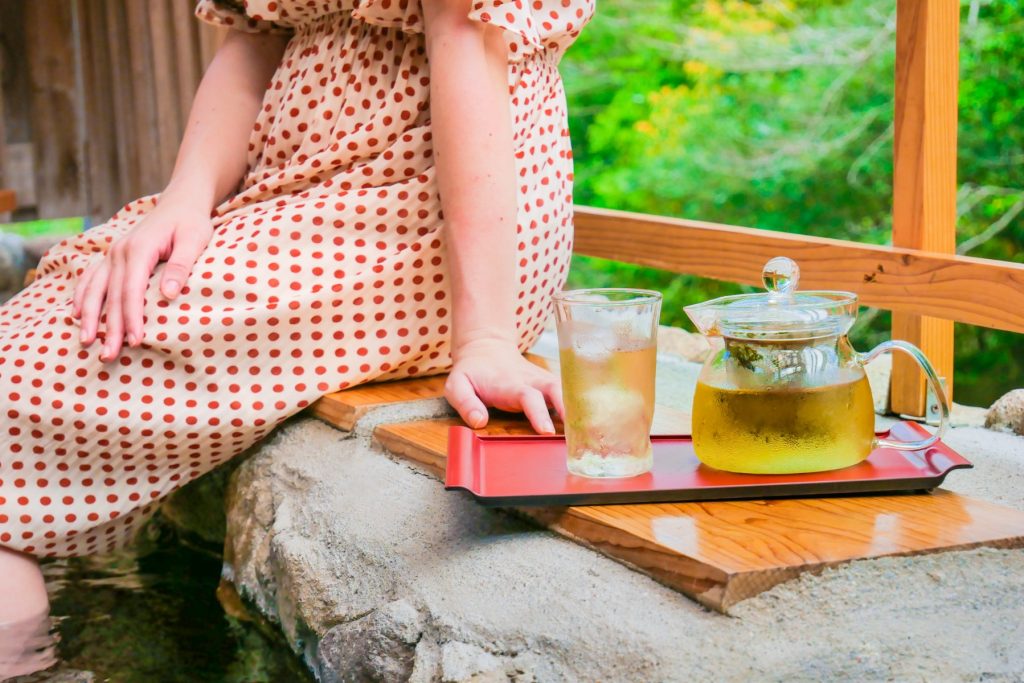 Highly recommended is the tea set, which comes with a slice of homemade chiffon cake topped with marmalade and an entire teapot of a special type of herbal tea called "nihonyama ninjincha." Made by steaming the leaves and stems of the Japanese mountain ginseng plant with hot spring steam, it is said to improve blood circulation and the immune system as well as relieve fatigue.
By applying the jigokumushi method to the art of coffee making, delicious cups of the beverage are also prepared. As the beans are steamed with the local hot spring steam before roasting them, this coffee boasts a distinctive mellow flavor that can't be found anywhere else. Finally, a must-try beverage is the kabosu citrus tea which is infused with "kabosu," a famous local produce, and served cold. Appreciated by many for its irresistibly refreshing taste, it's neither too sweet nor too tangy.
Beppu Amami Chaya – Local Oita Prefecture Specialties in a Tranquil Traditional Setting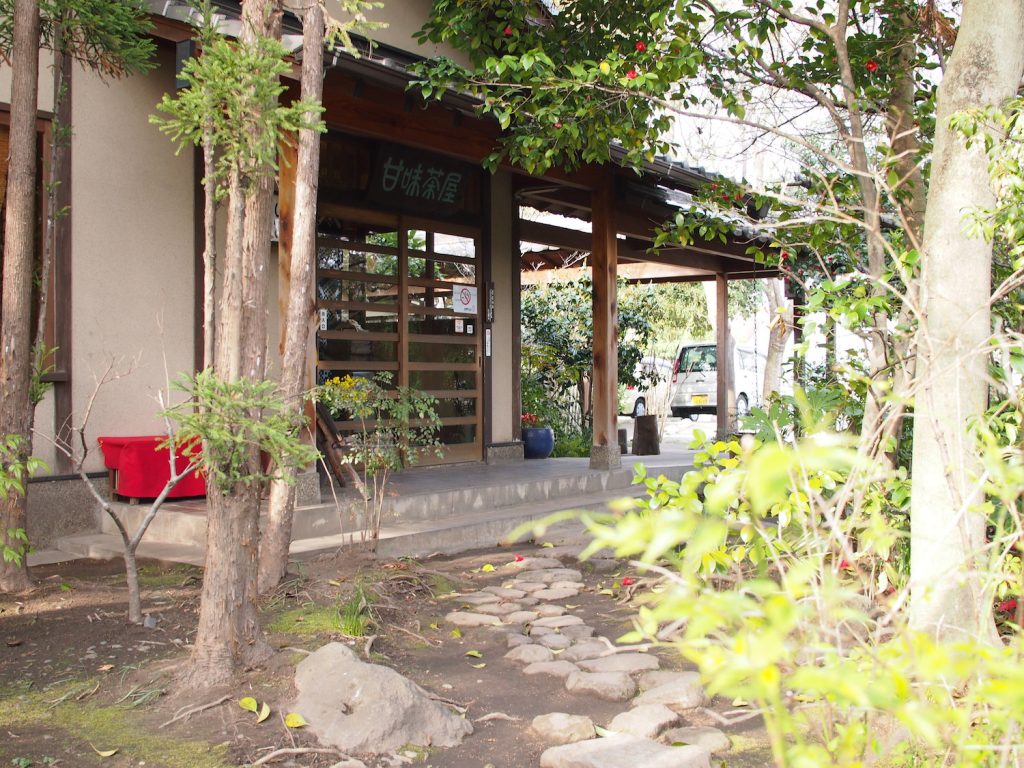 A green mantle embraces the building of Amami Chaya, with layers of vegetation that soften both the sunlight coming through the windows and sounds from the city outside. Although close to the heart of Beppu, the tea house is a calming space for a meal steeped in food traditions of Oita Prefecture, where Beppu is located. Inside, the ambience is so welcoming that it could almost be mistaken for a Japanese house, featuring wood and bamboo details that set the mood for a lovely break. Especially beautiful are the seats by the windows where visitors can enjoy the sight of the greenery together with their meal.
The homey touch of the restaurant extends to its menu which showcases the flavors of Oita's home cooking. The majority of the dishes served at Amami Chaya are representative of Oita's local cuisine, which has been passed down in the region since ancient times, and is a popular restaurant loved both by local customers and travelers.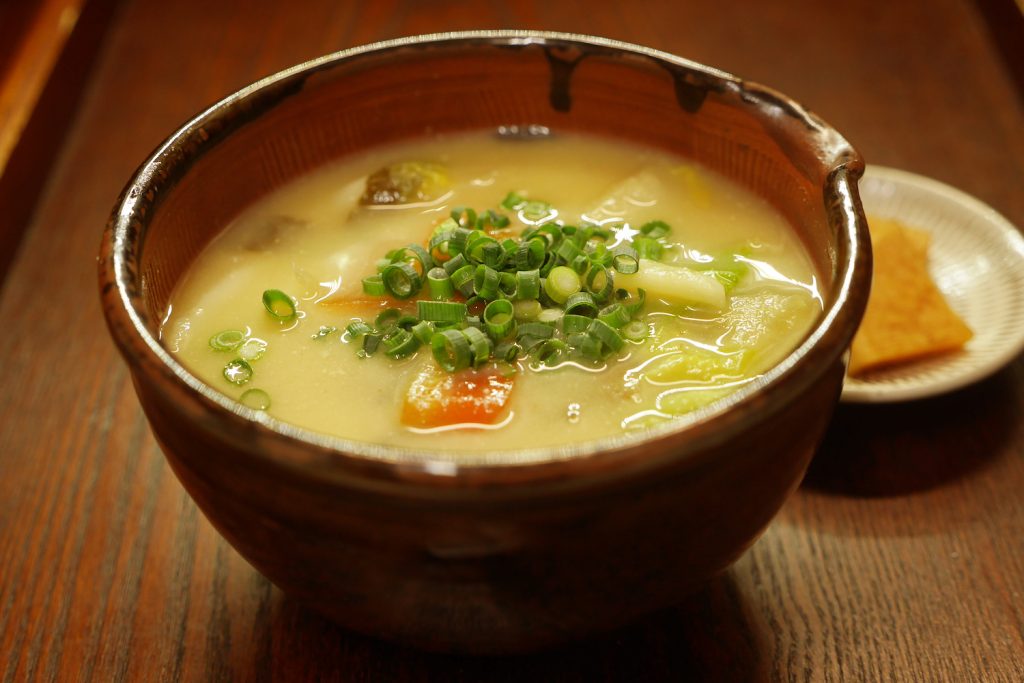 Synonymous with the prefecture is "dangojiru" or "dango soup," a miso soup with vegetables, thinly sliced pork, and "dango" thick wheat noodles. Amami Chaya's dango are completely handmade and hand-pulled. As they're also cooked to order, the noodles maintain their perfectly chewy texture and delightfully mix with the soup and vegetables. The owner is particular about the miso too, so Amami Chaya's dangojiru boasts a distinctively savory yet gentle taste.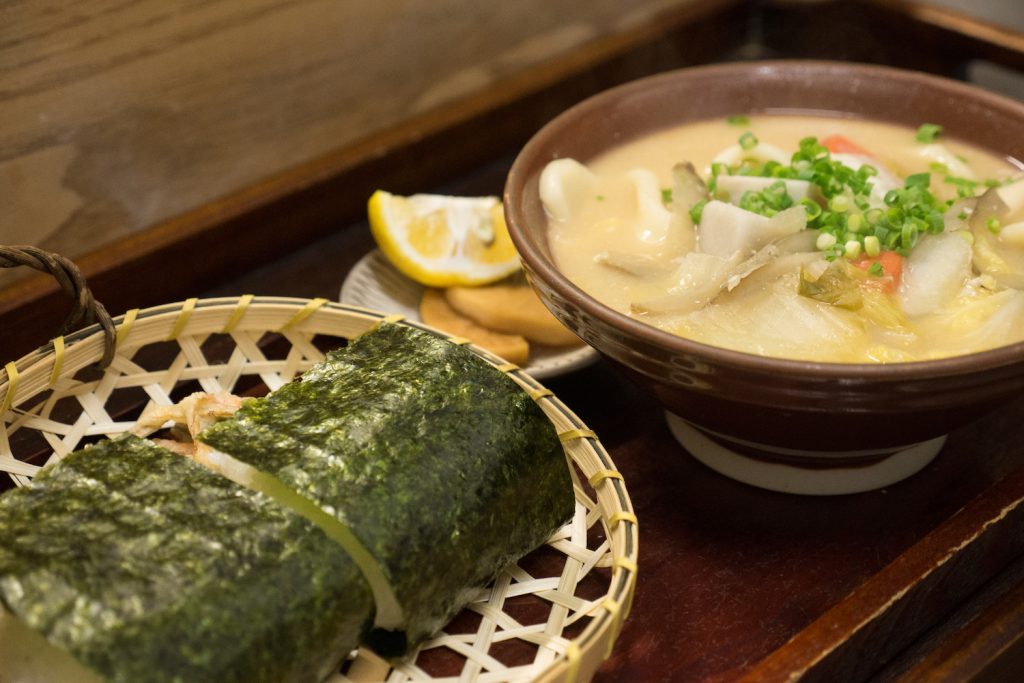 Visitors can also savor the prefecture's other signature dishes such as "tenmusubi" (rice balls wrapped in seaweed and garnished with tempura shrimp) or "toriten" (golden bites of chicken tempura).
As a tea house, of course it also serves sweets, including a selection of "mochi" rice cakes and the must-try "yaseuma." Yaseuma are hand-pulled dumplings covered with "kinako" soybean flour and are a local beloved snack. If you are too busy touring the city, note that take-out service for some of the sweets is also available!
Enjoy Beppu's Delicious Food Culture
Not only a city of spectacular hot springs, Beppu offers incredible adventures for foodies as well. Dive deep into the city's culinary scene at these unique cafes and tea rooms and relish local dishes that will make your trip all the more special!
tsunagu japan