Have you ever seen a red pond? Does this sound scary to you? In Beppu, which is located in the southern part of Kyushu island in Japan, there is a red hot spring pond called Chinoike Jigoku. Chinoike means "bloody pond" in Japanese. Let me introduce you to "Chinoike Jigoku ("Blood Pond Hell" or "Red Hell").
What is the Chinoike Jigoku?
Chinoike Jigoku (Blood Pond Hell) is the oldest natural hell in Japan and is best described as "a pool of red-hot mud". Since ancient times, this red hot mud has been used in a variety of ways including making medicine for skin diseases,dyeing clothes, and building house pillars
Its brilliantcolor comes from the red hot mud coming from the underground. The mud, which contains iron oxide and magnesium oxide, is produced by a natural chemical reaction between high water temperatures and the underground pressure. The hot spring water itself is clear, but the bottom of the spring makes the entire pond turn a deep red. You can enjoy watching this spectacular sight, but you won't be soaking it since it is a blistering 78 °C.
At the Chinoike Jigoku entrance , there is a hot spring for your hands called Te-yu("Hand bath" in Japanese). Here, you can dip your hands in the hot water and enjoy the warmth. There is also a little demon at the back that you can sit and take pictures with.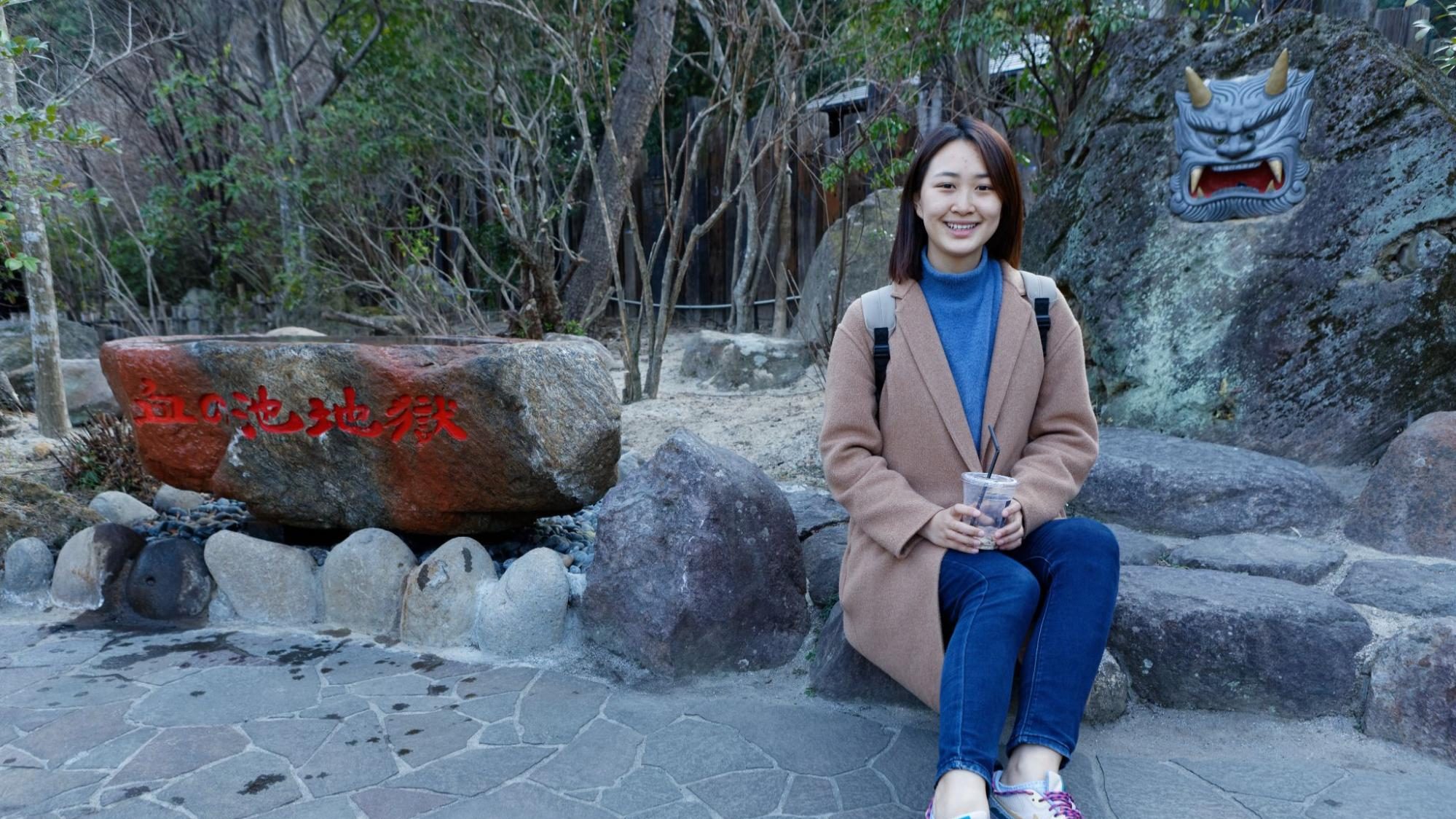 Blood Pond Ointment
At Chinoike Jigoku, there is a special product made from the clay of the Chinoike Jigoku; it is a special ointment for skin diseases. Blood Pond Ointment has a long history, with records dating back to the Meiji era (1868-1912). At that time, the ointment was stored and sold in shells. You can also find photos of people from a hundred years ago using this ointment to treat injuries and illnesses.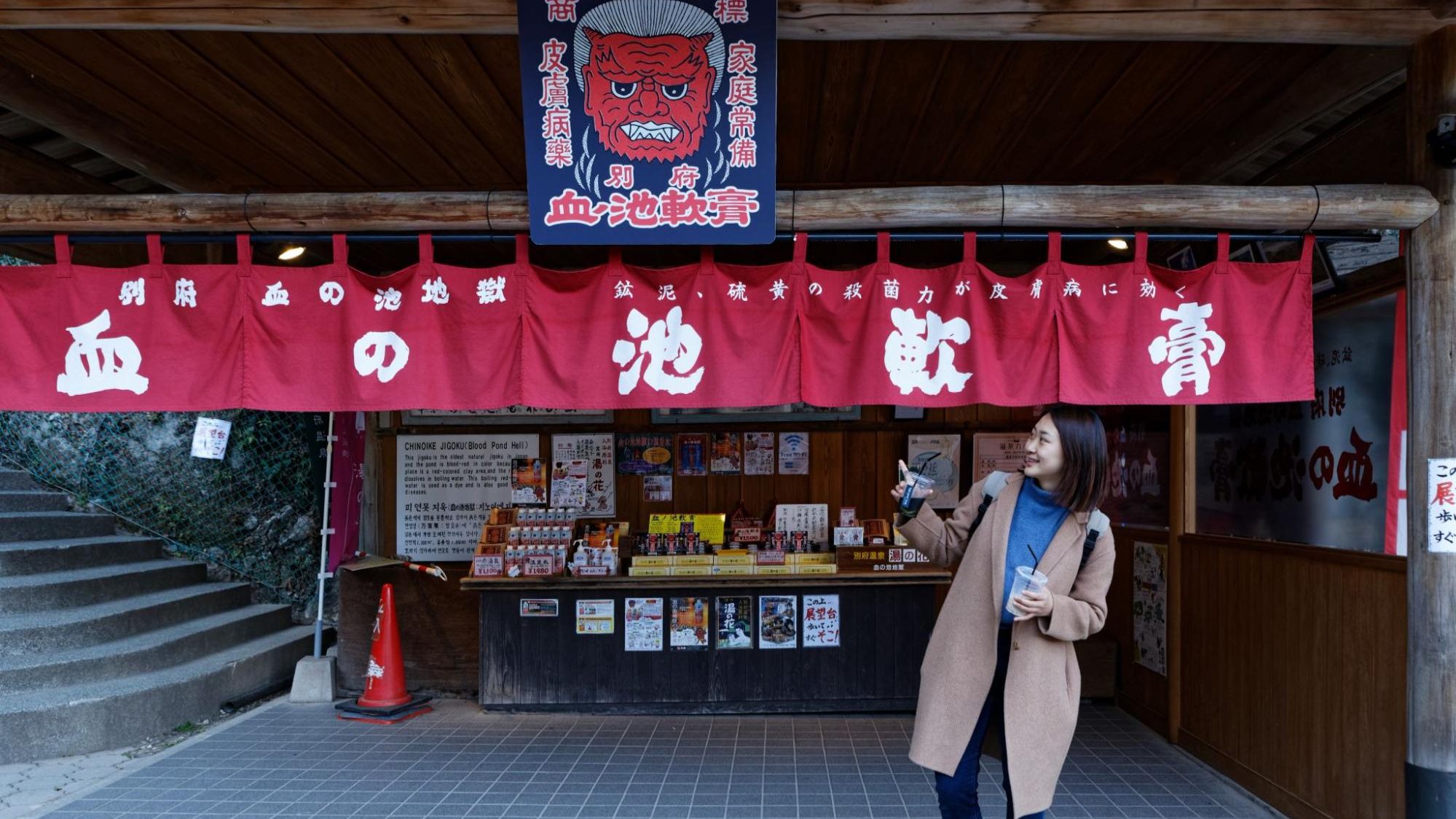 This unique product is only sold at Chinoike Jigoku. This ointment is the best-selling product and has many repeat customers. You can buy this product on the right-hand side of the blood pond hell. They also sell products related to the Red Hell such as hot spring water for taking baths at home.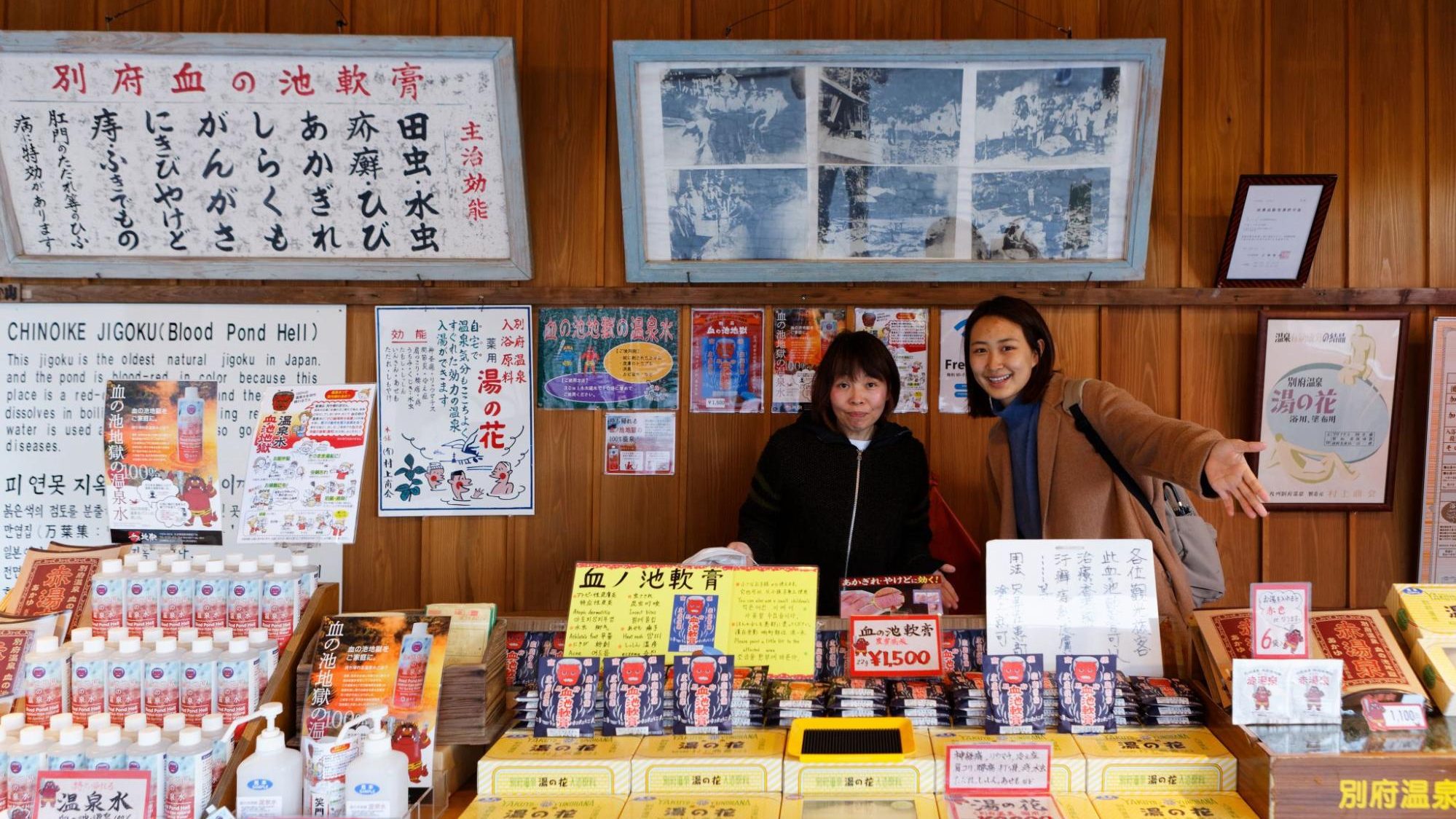 Enjoy the blood pond from different angles
If you climb the stairs to the left of the shoparea, you can go higher and enjoy the panoramic view of the blood pond hell. The lush green plants surrounding the deep red pond provides a gorgeous contrast; you can take some great photos here.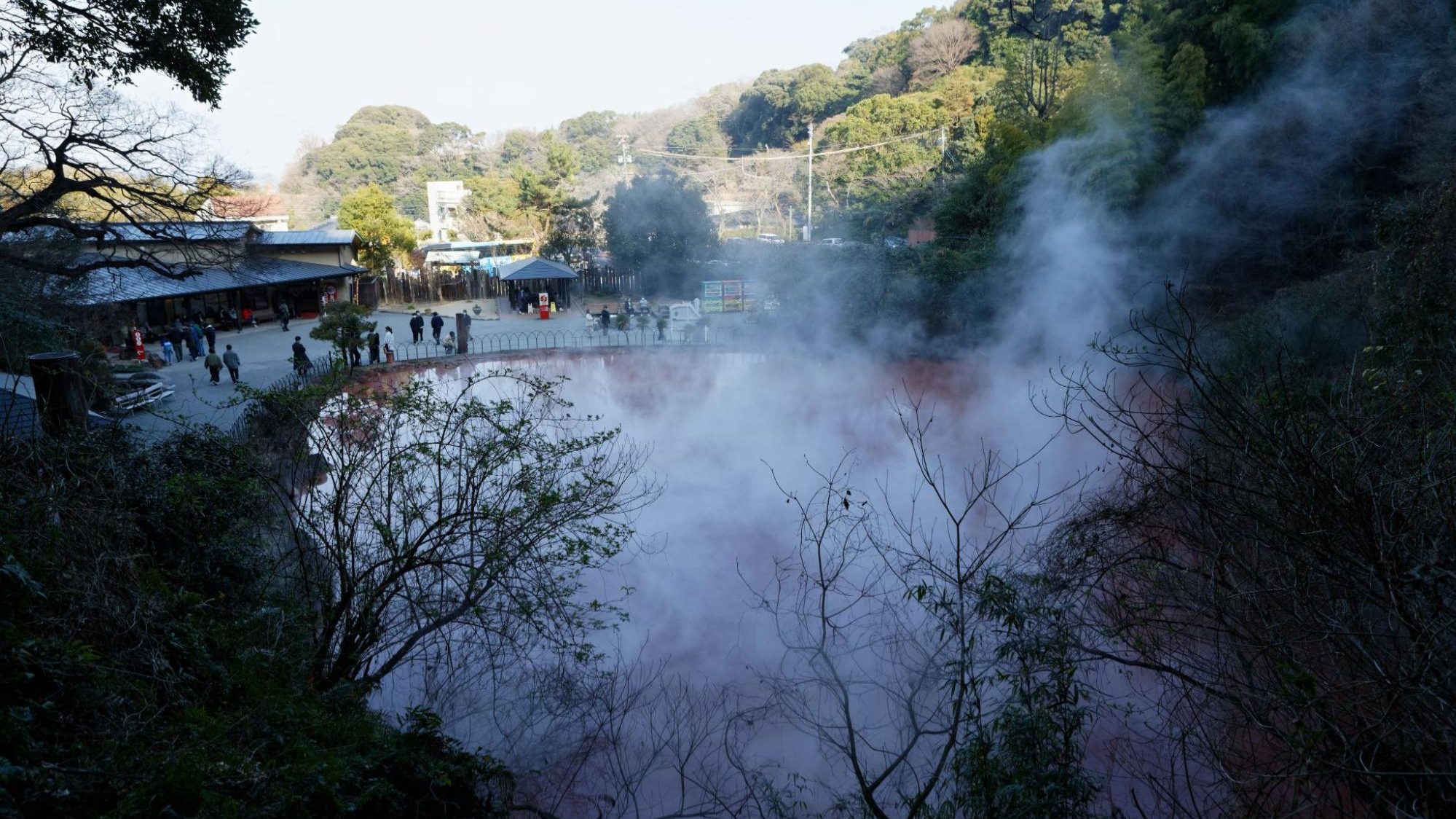 In the courtyard of the Chinoike Jigoku, there are tables and chairs with the face of the devil on them. Here you can enjoy a moment of relaxation and take photos.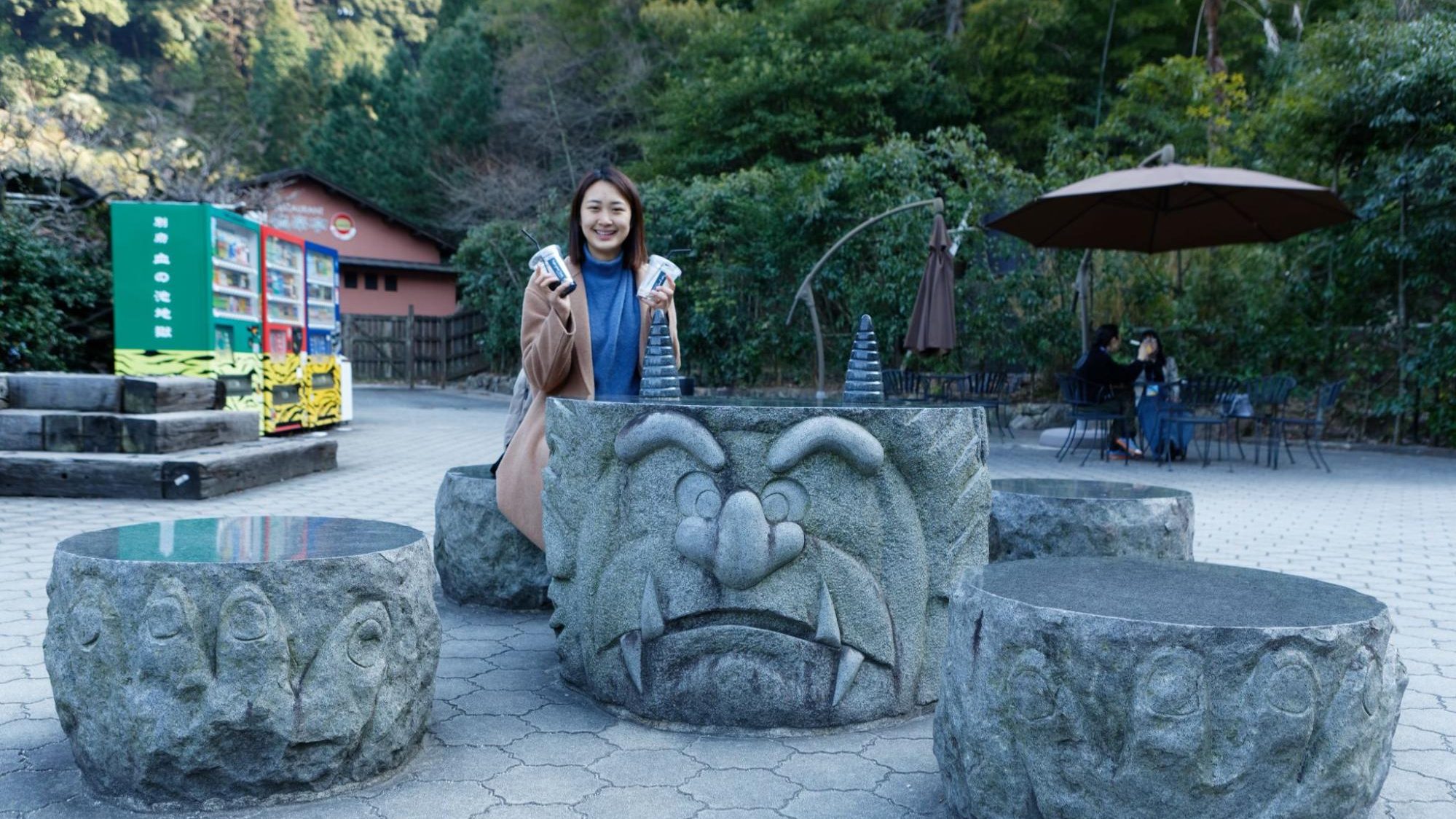 The souvenir shop:
The shop, which covers an area of roughly 330 square meters, has a wide range of Oita and Beppu specialties and original products. You can find Oita's famous shochu (a Japanese liquor). You can also find a variety of Oita snacks, such as curry made from local beef and the original Beppu ramen. You can also find the super-spicy rice crackers that represent"the taste of hell". You can buy some as souvenirs for all your friends who love spicy food.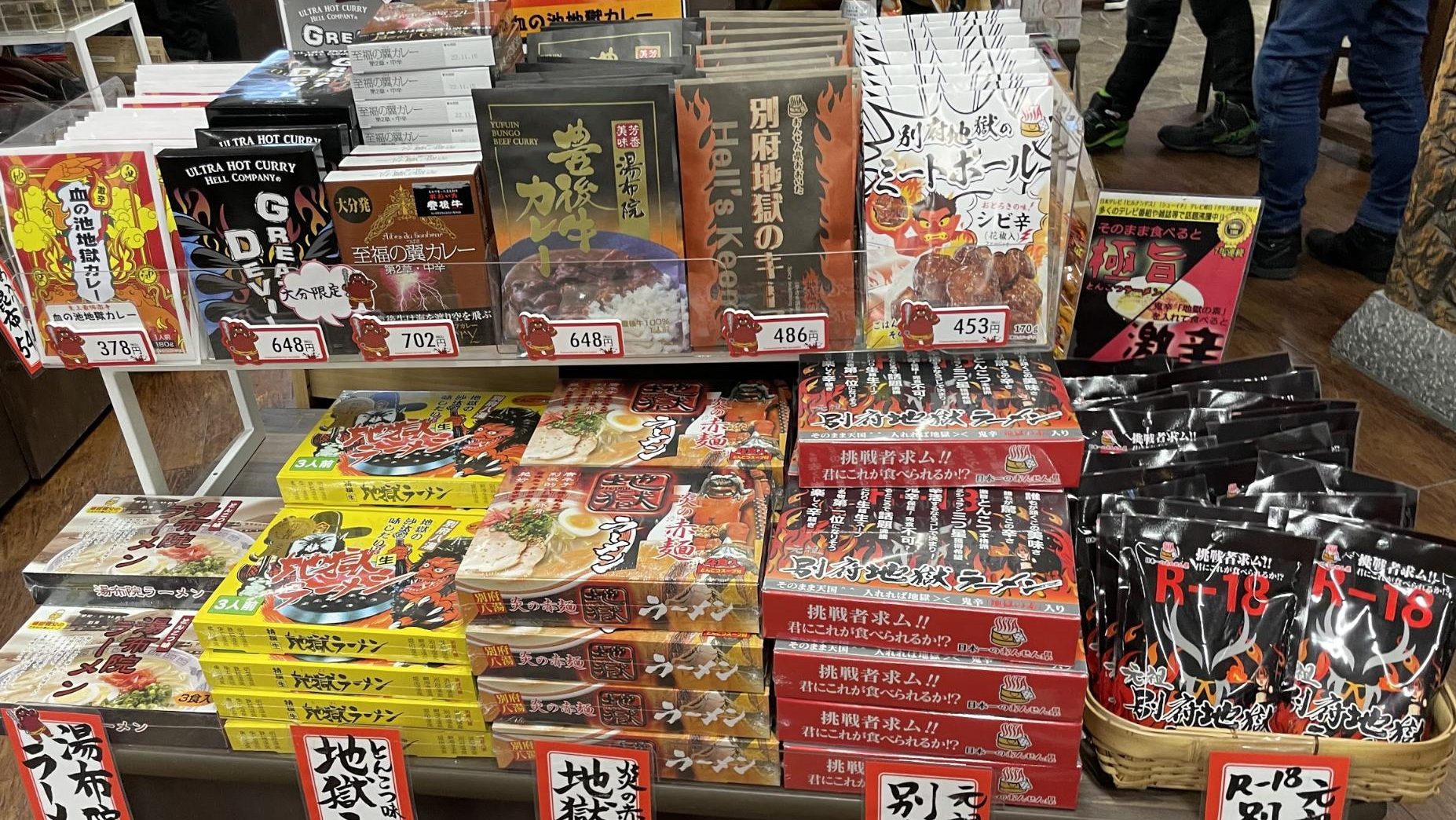 In addition, you can also find some tsukemono (pickled things), which are Japanese preserved vegetables; it is a traditional taste of Japan.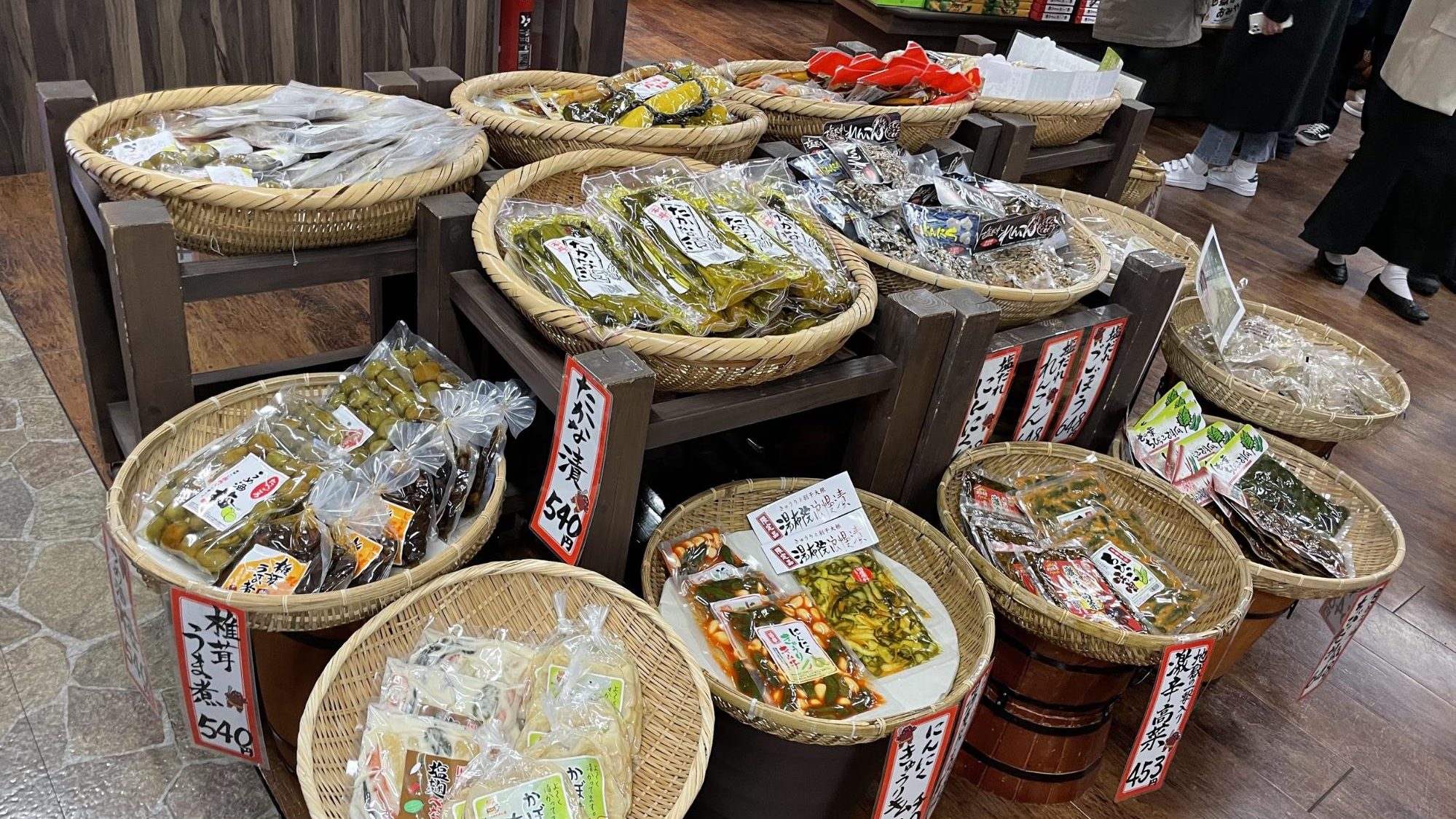 There is also a corner in the shop where you can buy the little demon mascot of Beppu Hell and also see two cute little demons hugging each other.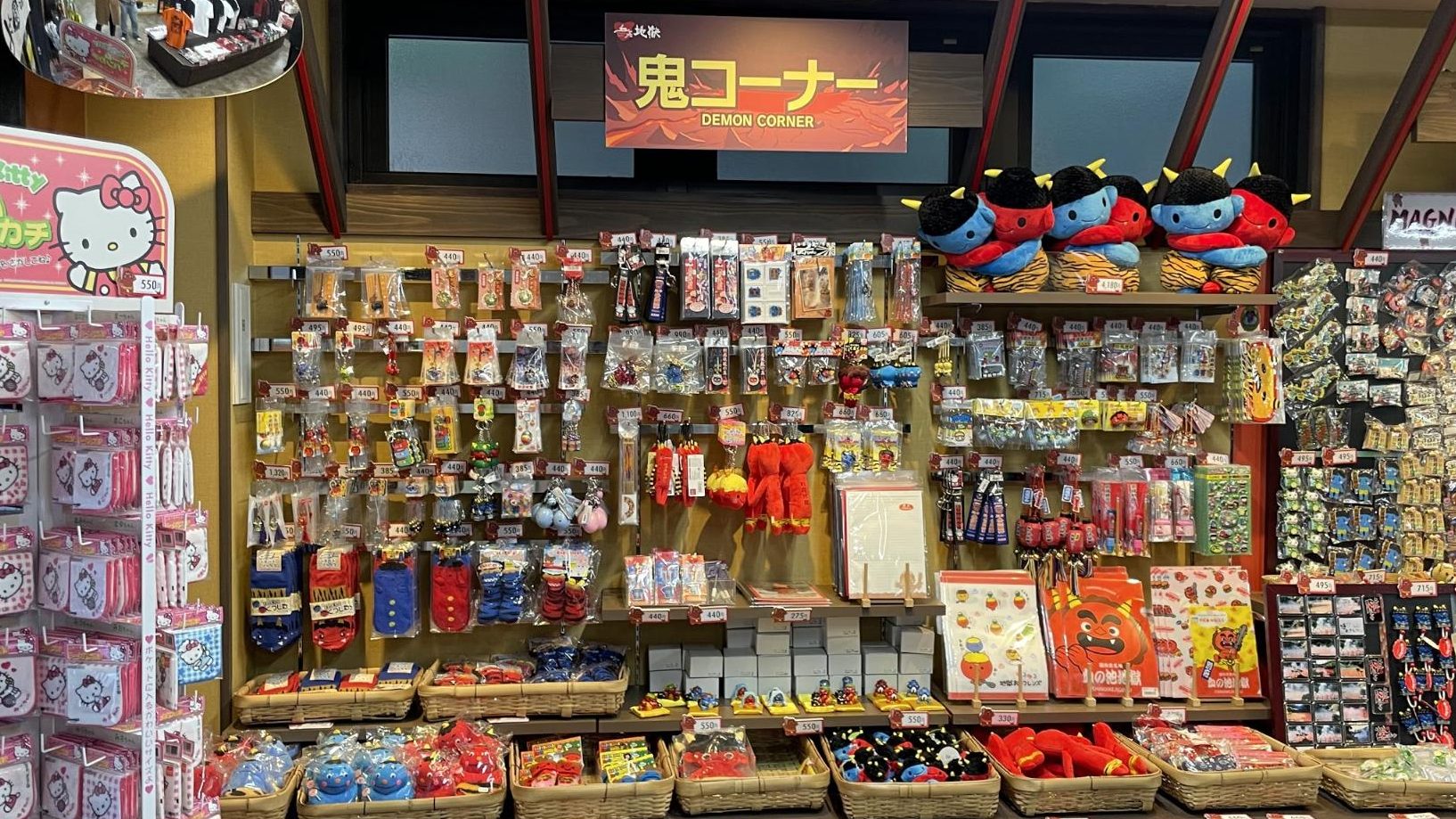 Footbath
All visitors can enjoy a free footbath on the grounds of the Chinoike Jigoku. In autumn, the footbath is filled with yuzu citrus fruit which creates a refreshing fruity fragrance.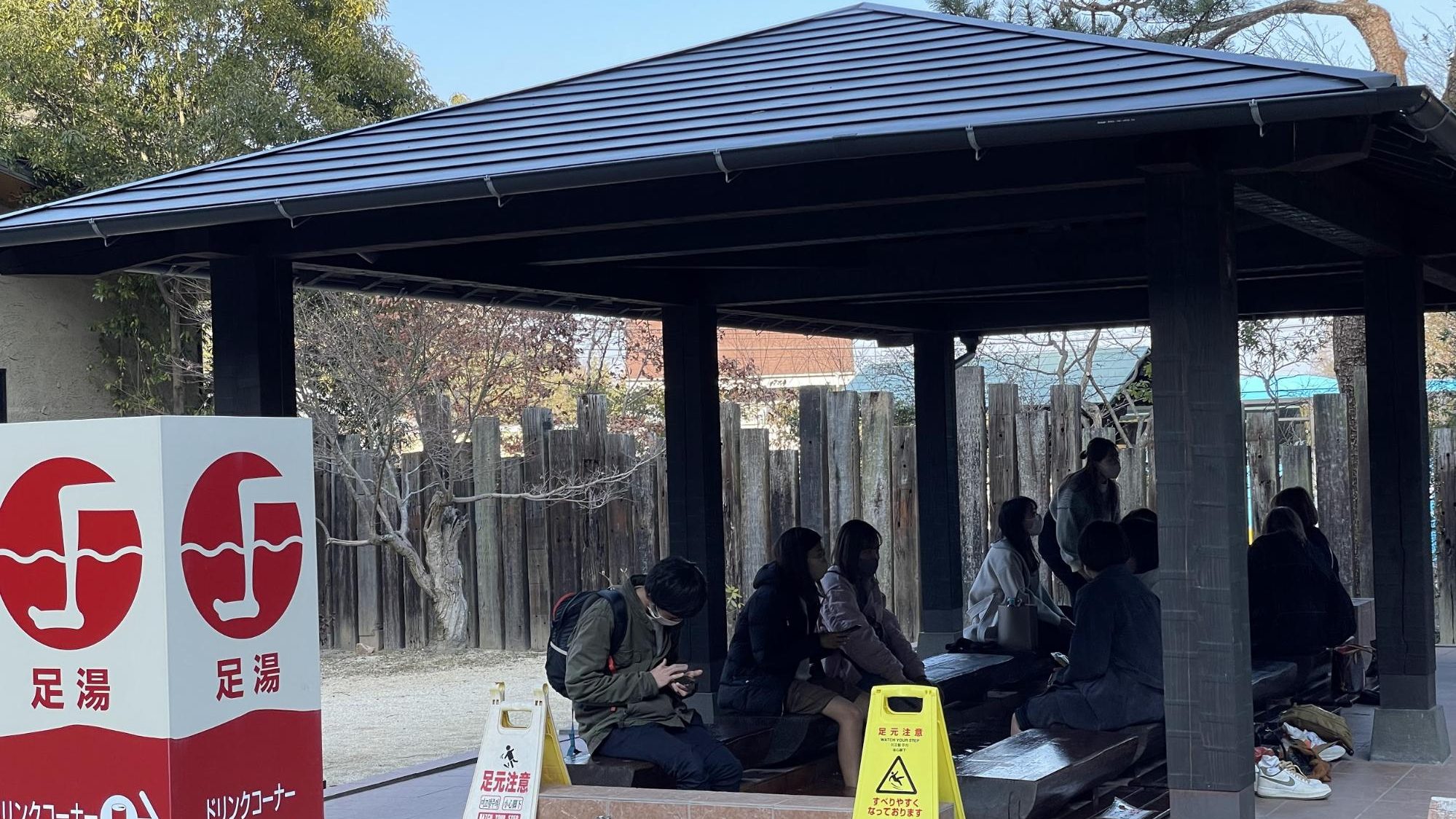 If you want to know more about enjoying Chinoike Jigoku, please visit Wander Compass Beppu located in the Beppu Station building next to LOTTERIA burger shop at Beppu station. The staff will share directions on how to get there. Why don't you visit Beppu and enjoy the onsens at Chinoike Jigoku?
Basic Info
OPEN: 8:00 – 17:00
FEE: 400 yen or 2000 yen for all 7 Hells (Half price for children)
How to get to Beppu Onsen, where Chinoike Jigoku is located.
Recommended hot springs and other attractions can be found by clicking the buttons below, so please have a look!
EnjoyOnsen