After returning from one of the most famous activities in Beppu, the Jigoku Meguri, or Hells Tour, it is a good idea to refresh your tired body by entering a hot spring and eating dinner. In this article, we will introduce our method of enjoying Beppu's onsen culture after returning from a day of sightseeing.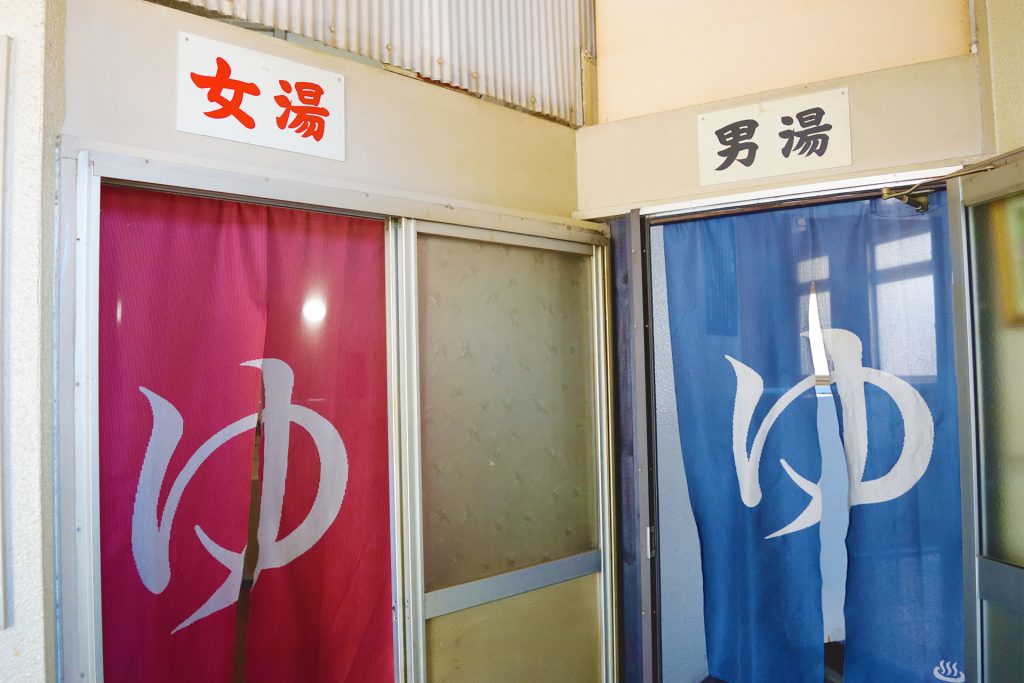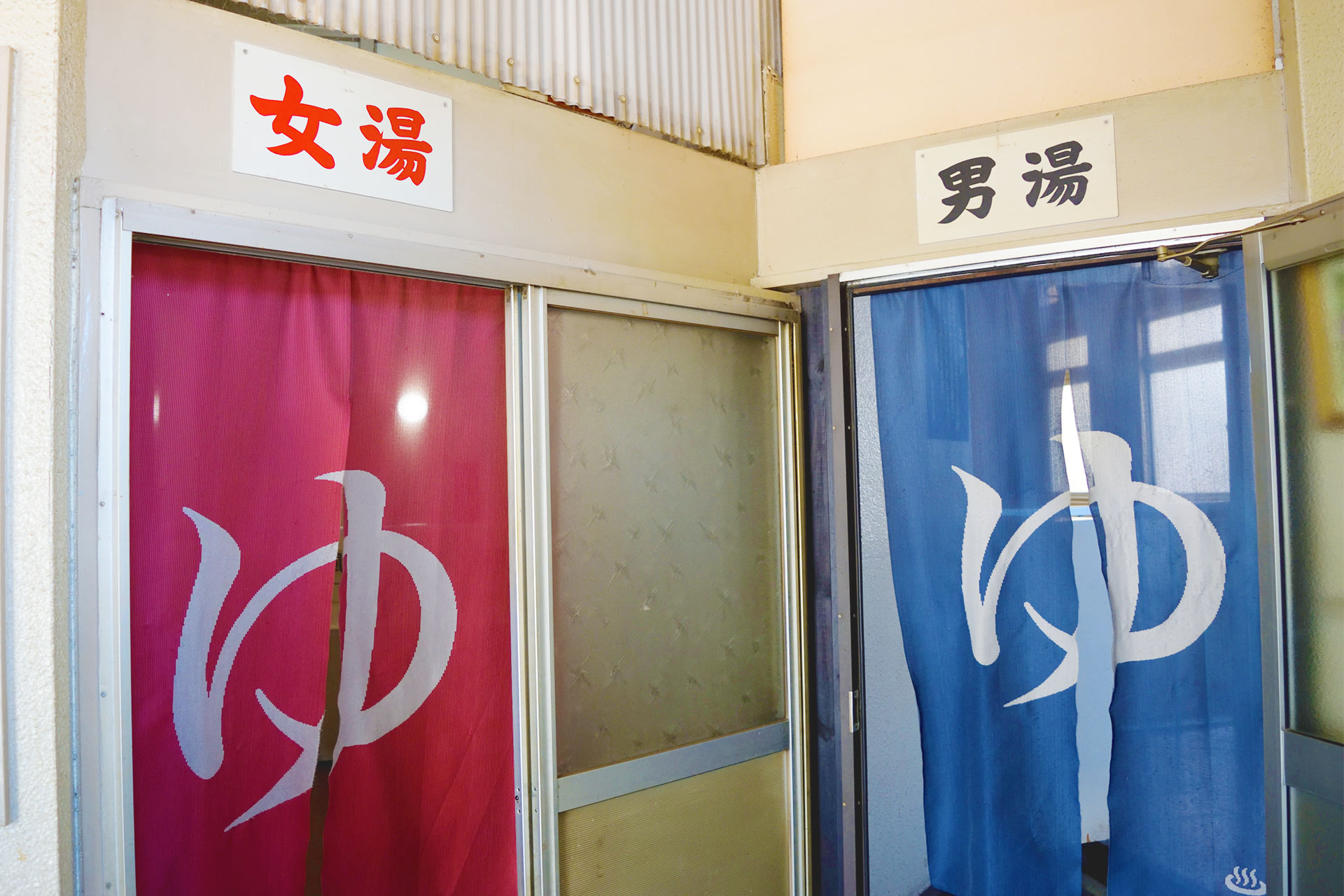 Want to experience onsen culture? First, we need to go to an onsen
Because Beppu boasts the most onsen in the world, you can find them everywhere you go. So of course, there are plenty near Beppu Station as well. These onsen are very convenient as it does not take much time to get to them. A few examples of onsen near Beppu Station are Ekimae Koutou Onsen, Kaimonji Onsen, Furosen, and Takegawara Onsen.
After a long day spent walking around Beppu, nothing feels better than a long soak in an onsen.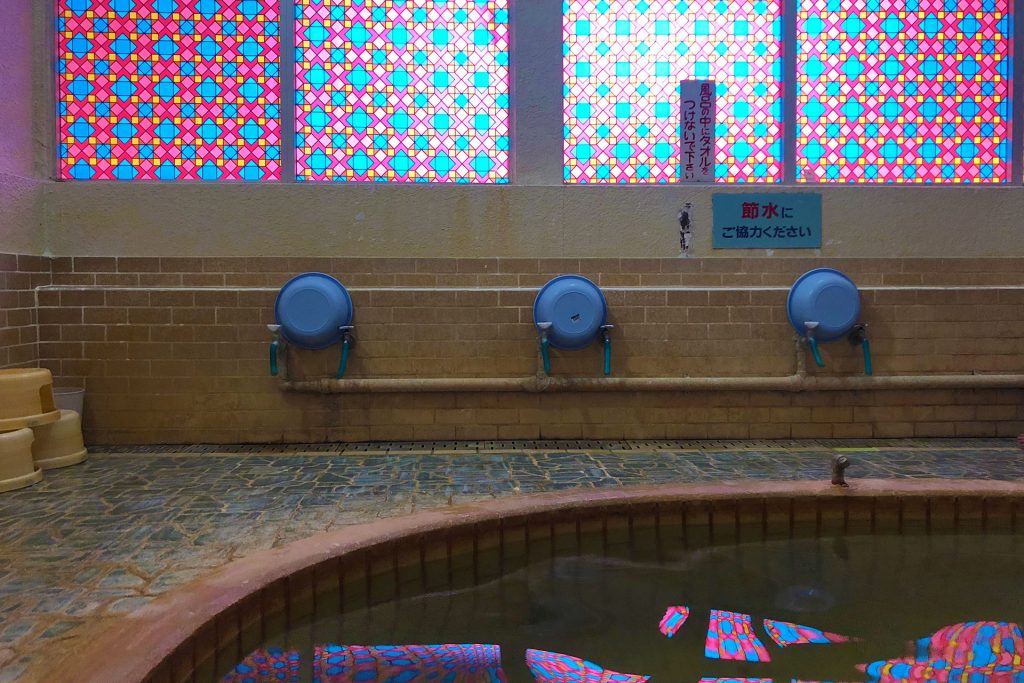 Next Stop, Onsen Gourmet Food
After finishing the onsen, we went to a café that had piqued our interest. If you walk along the Sol Paseo Ginza shopping street, you will pass by a café called Natsume Café on your right.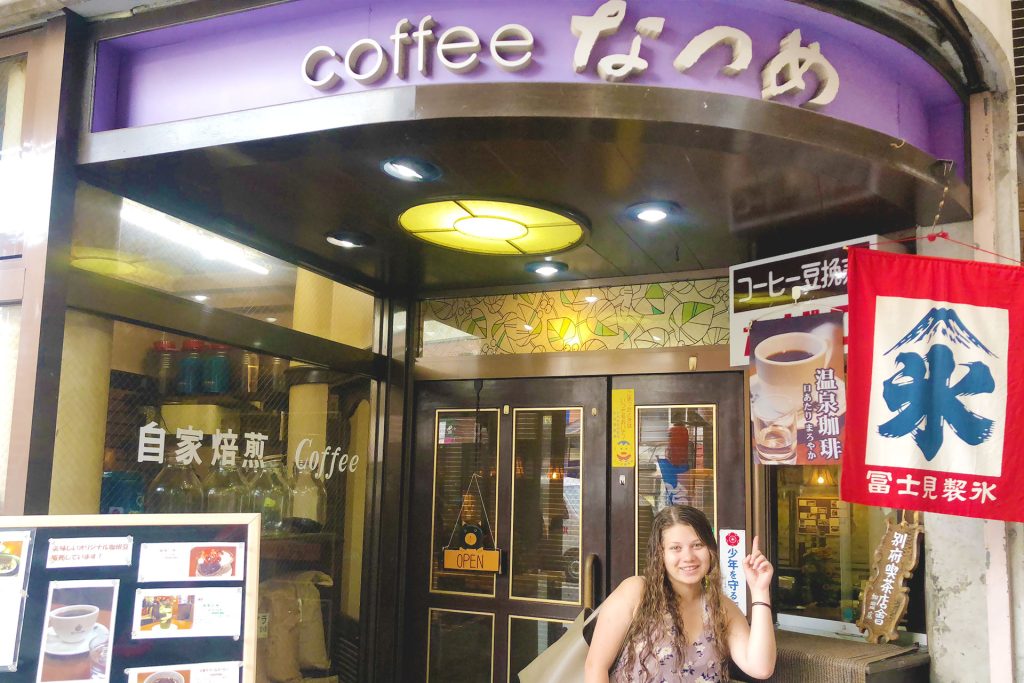 On a signboard in front of the café is an advertisement for "onsen coffee," which is coffee brewed using the hot spring water. The menu of the café is very unique and offers many dishes that reflect Beppu's culture. People from all over will come to drink this specially brewed hot spring coffee, and it is not an opportunity to miss. Due to the onsen water, the coffee takes on a distinct taste that will be difficult to find anywhere else. If you have the chance, this is definitely a good place to take a break from your travels.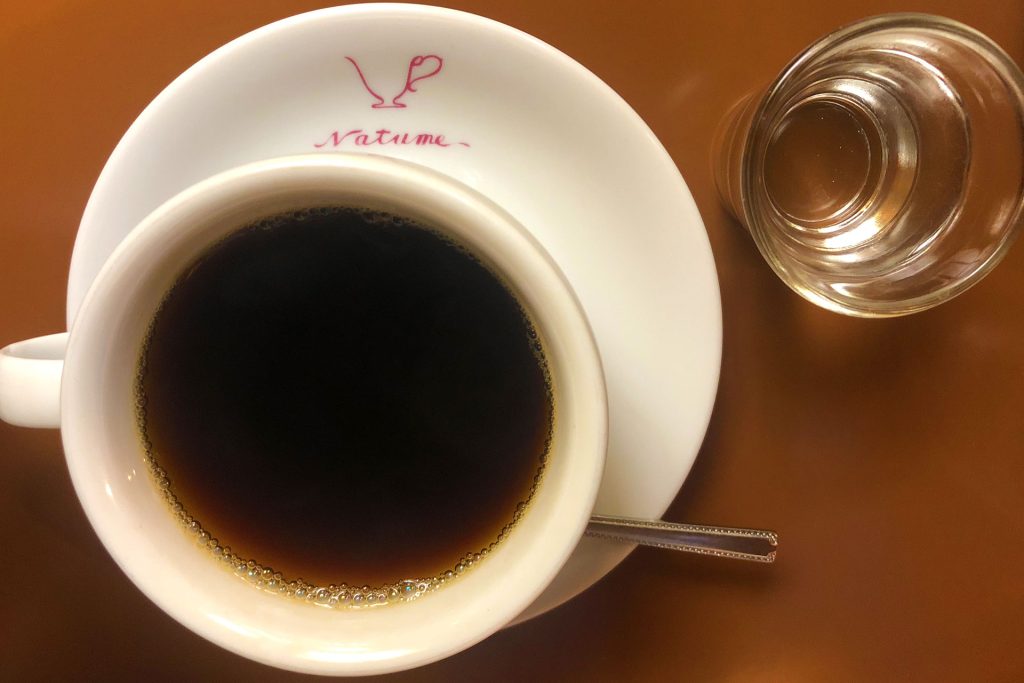 Then, off to an izakaya
For our first izakaya (or Japanese style tavern) experience in Japan, we went to an izakaya called Kansha, which means "Thanks." There are many different styles of restaurants to choose from today, but today we felt that a traditional izakaya best fit the mood.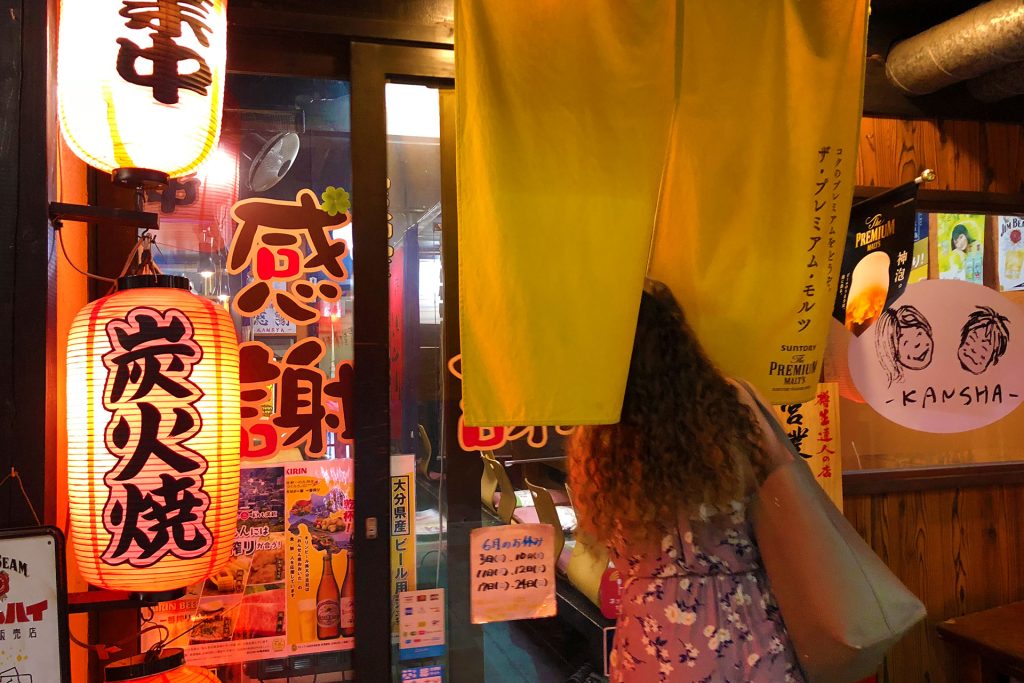 At an izakaya, you can eat various cuisines from all over Japan, as well as being able to drink many different styles of alcohol, both Japanese and foreign. The locals also love izakaya, so you can enjoy the traditional Japanese cuisine in the company of the locals.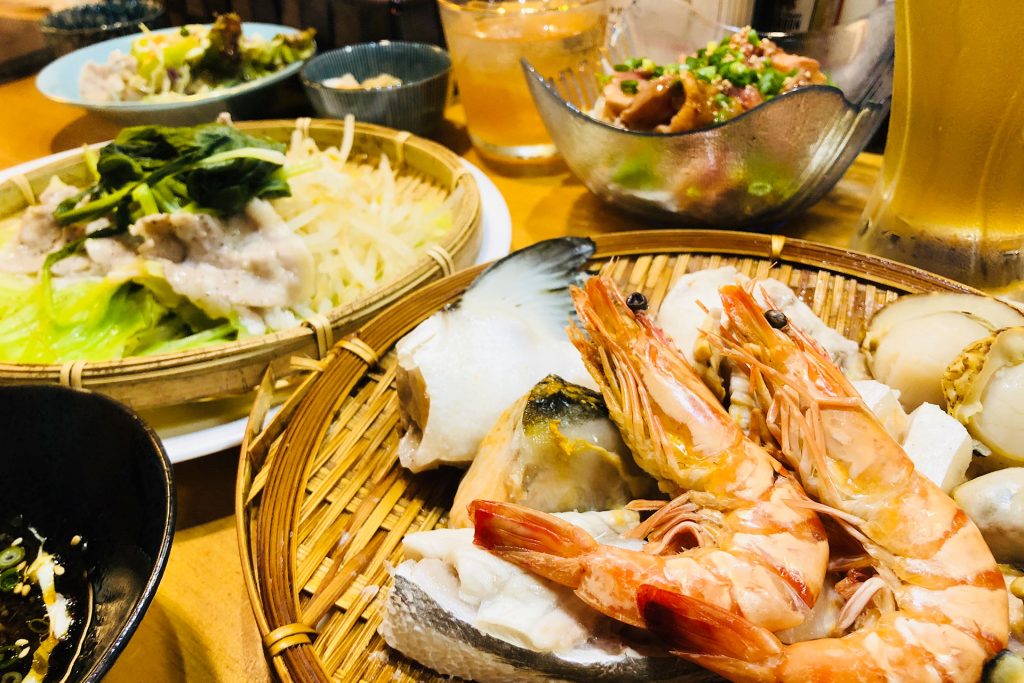 In a hot-spring resort town like Beppu, you can find unique cuisine like Beppu Hell's steamed food. As the workers at the izakaya explained to us, this food is steamed using the steam of the natural hot spring water.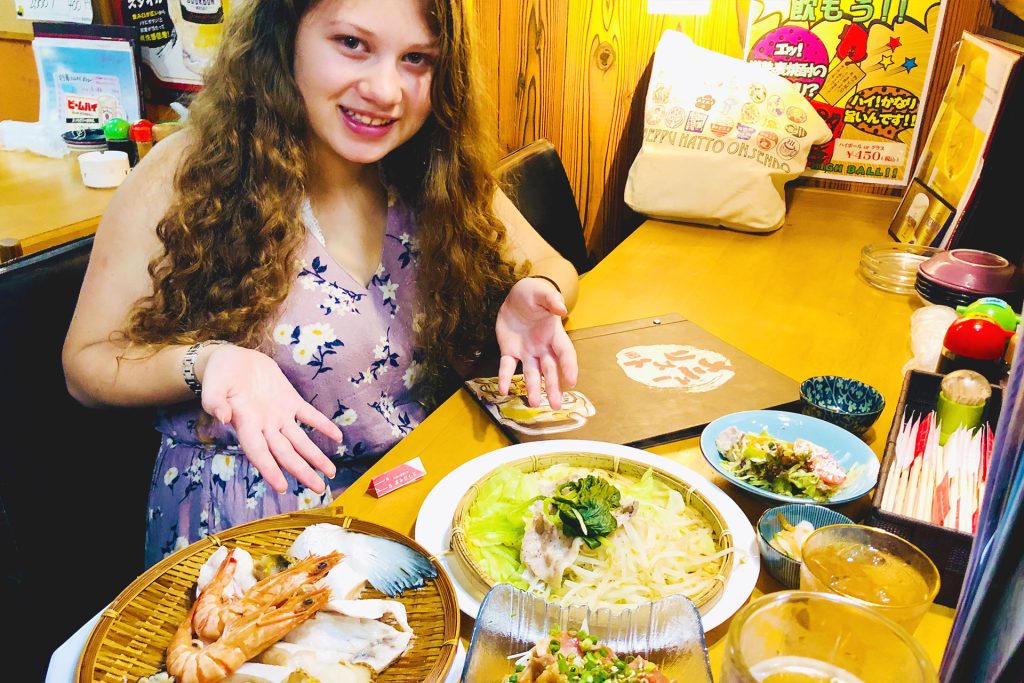 Not only do locals love taking in onsen, but also using hot spring water for the food and drink! Onsen is soaking throughout Beppu and its local culture!
"Today, we went to the Ekimae Koto Onsen. Did you like the hot springs?"
"Of course! It was a very memorable onsen!"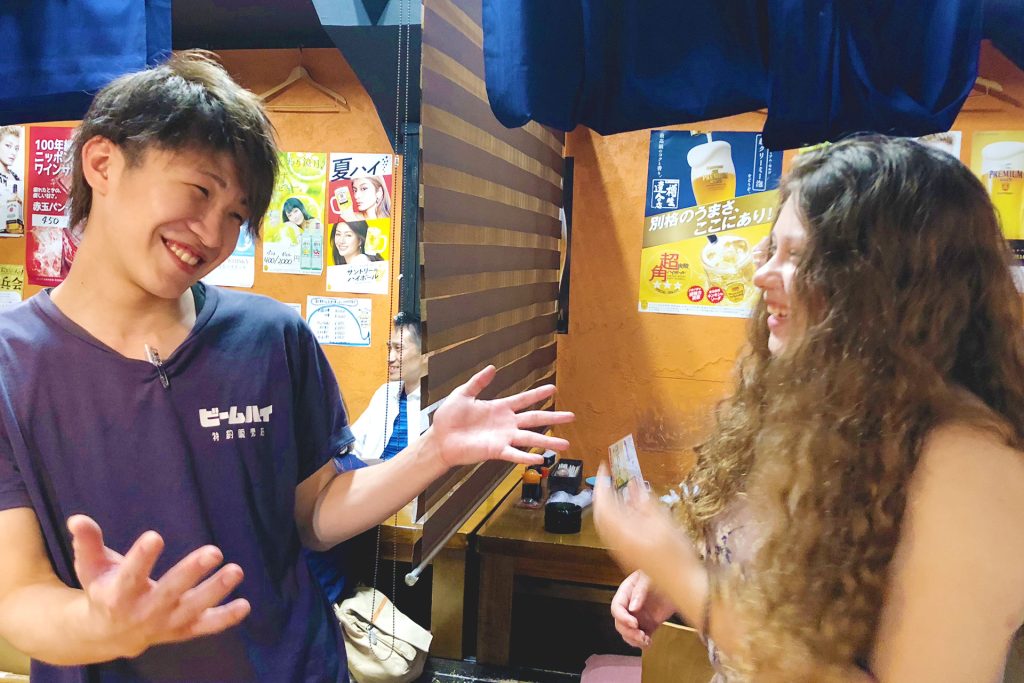 We ended up having a nice chat with the izakaya workers about onsen culture as well. Because onsen is something that everyone can relate to and talk about in Beppu, it is often the gateway to many new conversations and friendships. In this way, onsen help to break down the barriers between tourists and the locals.
Finally, we headed to another onsen! However…
The best thing to do at the end of the day is always to go to an onsen. But be careful because it is not good to enter an onsen after drinking a lot of alcohol! When you enter an onsen, the body warms, blood circulation increases, and the alcohol will spread through your body faster, making you feel even drunker. Therefore, it can be dangerous to drink and bathe.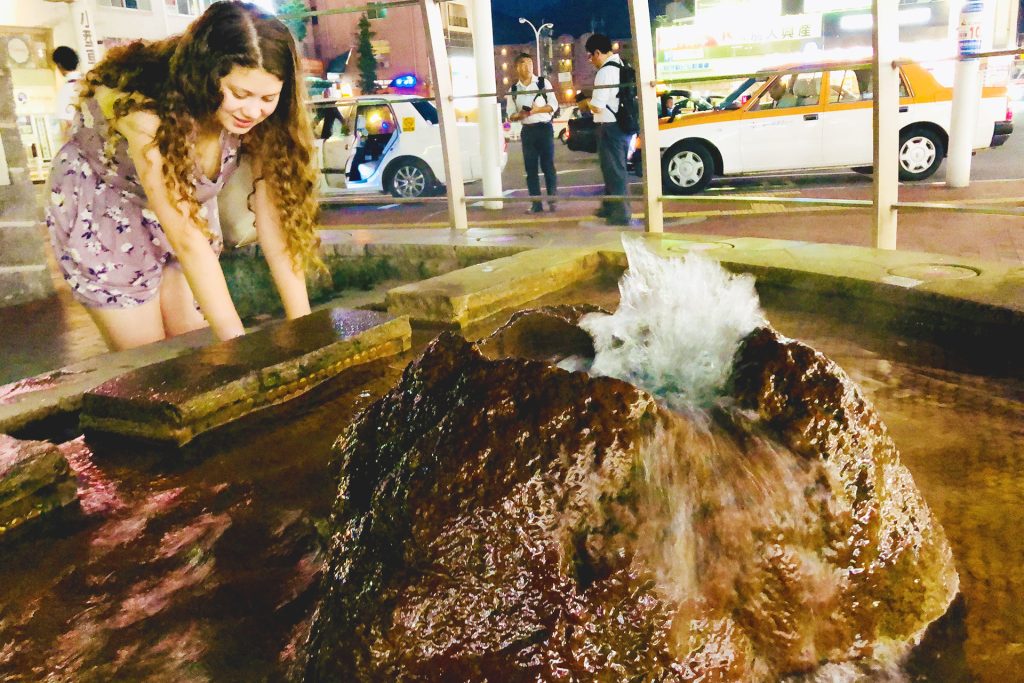 However, today we wanted to finish off our day with a hot spring. If you want to relax, then onsen water is always the best method. Even just by putting your hand in a hand bath, you will feel the same relaxation power that you do when you enter a full-body onsen.
What type of onsen do you enjoy? In the onsen resort town of Beppu, Japan, there are many hot springs to experience, both by Beppu Station and beyond!
Recommended hot springs and other attractions can be found by clicking the button below, so please have a look!
EnjoyOnsen