The history of Beppu Hatto Onsen Festival
In Beppu, which one could say is home to the best onsen in the world, we have a festival which is called "Beppu Hatto Onsen Festival" every April. This is to show gratitude to the onsen in Beppu. Let's see why this kind of festival has started by taking a look at its history.
1910: The board of trade in Beppu planned "Onsen market clearance sale" and held it in November, which is agricultural season. This was an attempt to become famous using Beppu's onsen. This was the beginning of onsen festivals.
1919: In this period, two shrines were started to be deified together and a hot spring shrine was founded in former Beppu Park. Since then, this has been using for Shinto rituals.
Around 1926: "Onsen market clearance sale" and the "Shinto ritual of Beppu shrine" was mixed up and the name was changed to "Fruitful year festival" and this was decided to start from the 1st of April.
1931: "Fruitful year festival" was renamed to "Onsen festival." At this time, the festival was becoming a large scale event like the current festival. On record, hundreds of thousands of people participated at that time.
After World War 2: This festival was suspended temporarily, but it was revived as a festival to thank onsen and is still being held until this day.
2001: The name was changed to "Beppu Hatto Onsen Festival" and was magnificently organised by the whole city.
Beppu Hatto Onsen Festival is held as a one-week event in accordance with this history. We are going to introduce three events which are very lively from this festival.
Ougiyama Fire Festival
There is a mountain in Beppu. This is one of the biggest events in which the mountain is filled with flames. This event was started in 1976. This is to inform the gods of onsen who are resting in Ougiyama in the winter about the coming of spring and offer up flowers, which will bloom after burning field. This huge scale event is one of the common features in Beppu in the winter.
②Beppu Bath Marathon & Onsen Admission Free Event..
Beppu Bath Marathon is an event in which you go to 42 onsens in the span of 5 days which is the duration of this festival. Moreover, during the duration of this event, over hundreds of onsen such as municipal onsen's admission fee becomes free. Furthermore, "Super Bath Marathon" is added. This event entails going to 88 onsens in 5 days. You can be an onsen master if you go to 88 onsens, can't you!?
③The biggest event "YU・Bukkake Festival"
The biggest event of Beppu Hatto Onsen Festival is "YU・Bukkake Festival". Many portable shrines take a round trip in the street in front of Beppu Station which would be changed into a pedestrian paradise. The water of onsen comes and goes from the top, side, and every possible side and this festival comes to a close with grand music. There are people who carry the portable shrines, splashing water, being splashed by water, and dancing with the music. It is extremely lively. This event takes one hour and all participants will become one. You will feel this sense when you enjoy this event.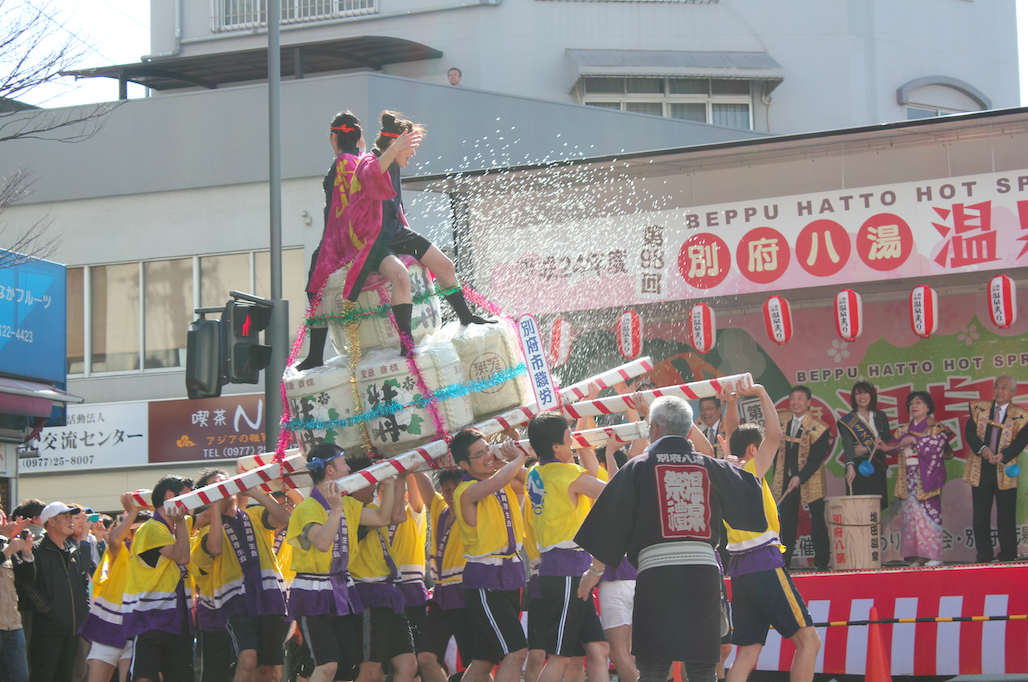 This one-week festival is one of the most symbolic festivals in Beppu. You'll see all the attractions which are created by all the people in Beppu. You can enjoy not only onsen but Beppu's delicious, local cuisine as well with the coming of spring. Why not join in on this event?
How to get to Beppu Onsen.
Recommended hot springs and other attractions can be found by clicking the buttons below, so please have a look!
EnjoyOnsen