A Trip To Experience The Everyday Life Of The Residents Of Beppu
In Beppu, travelers gather to experience the plenty of famous onsen found in Beppu.
Onsens are a part of life for the locals; children learn how to greet their neighbors and people gather to share with each other about their daily lives to develop relationships with one another.
On this trip Kei was the guide to this kind of experience found in Beppu.
Kei can't speak English. However, he used the abilities of Haruka who can speak English on this tour.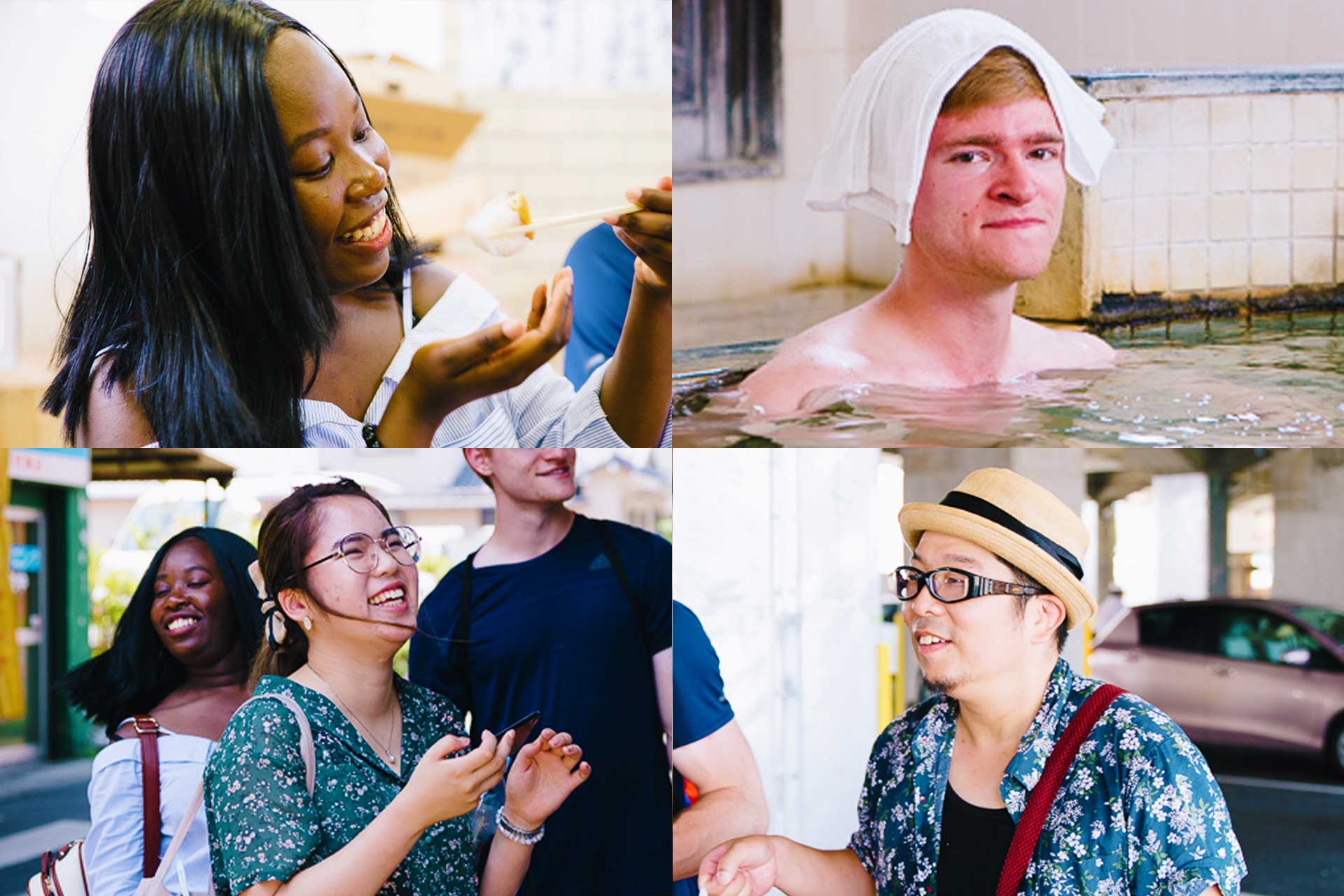 The top left photo is of Sharon, who is from England. The top right photo is of Austin who is from America. The bottom left photo is of Haruka the interpreter. The bottom right photo is of Kei, the onsen maniac and guide.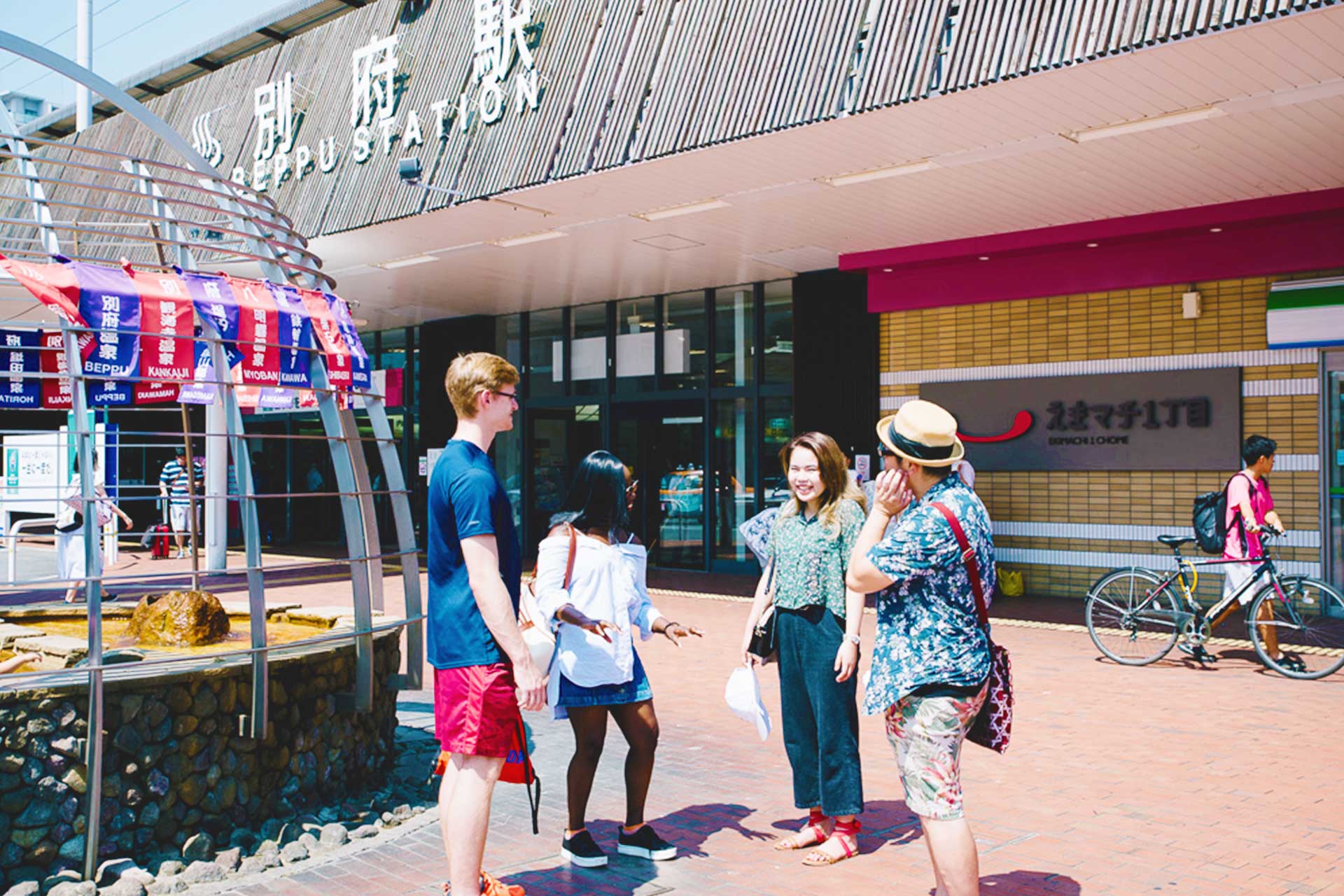 The two guests taking the trip this time are Austin from America and Sharon from England. They both have an interest in onsen and like sake as well.
We all decided to meet at Beppu Station and started the trip with a cordial expression "Nice to meet you!"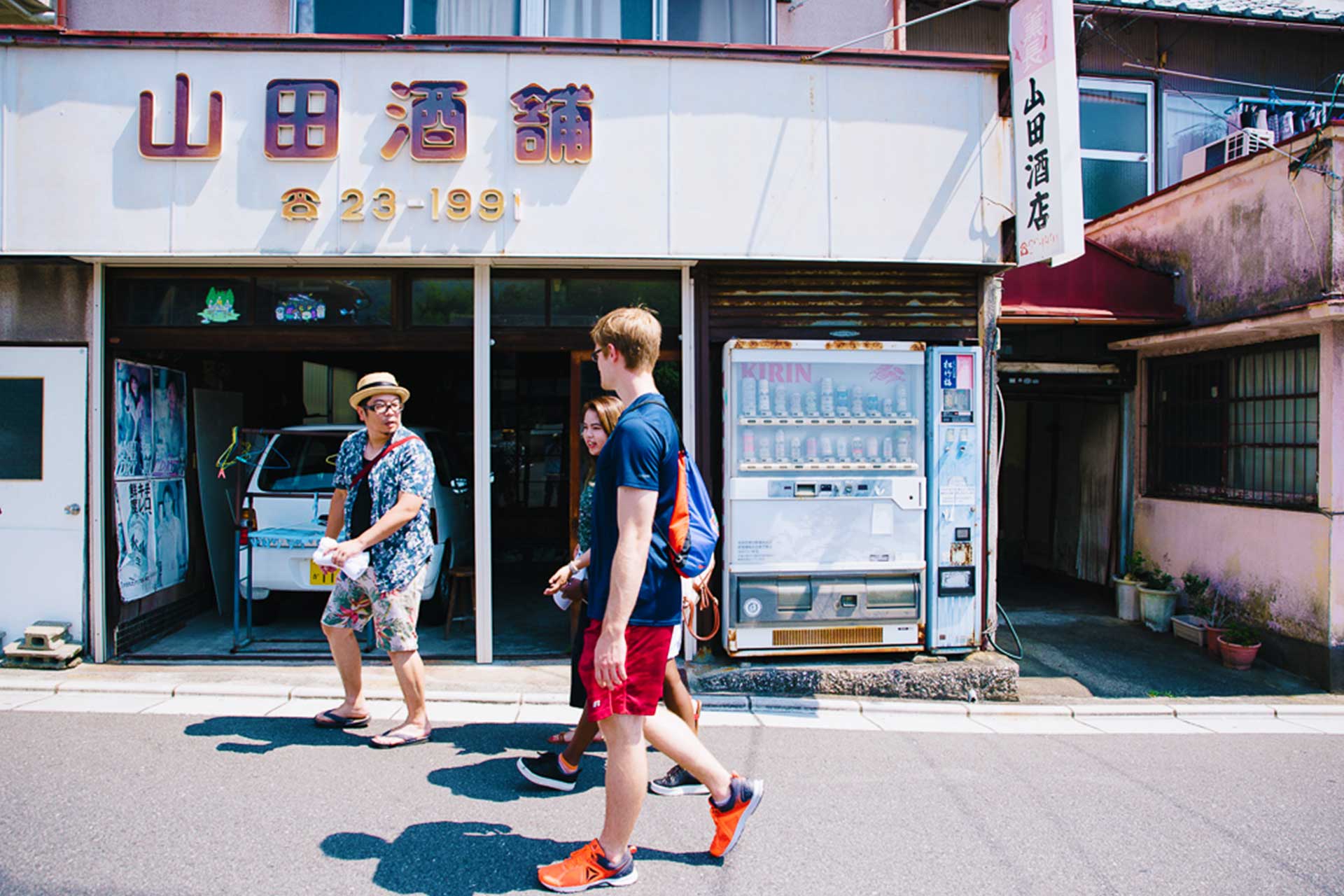 Beppu is very proud of the fact they rank number one in Japan for the amount of onsen water discharge. That is the reason why there are over 100 onsen facilities found in Beppu. As the guides explained this kind of thing to the travelers, they left the station on foot and arrived to their destination three minutes later.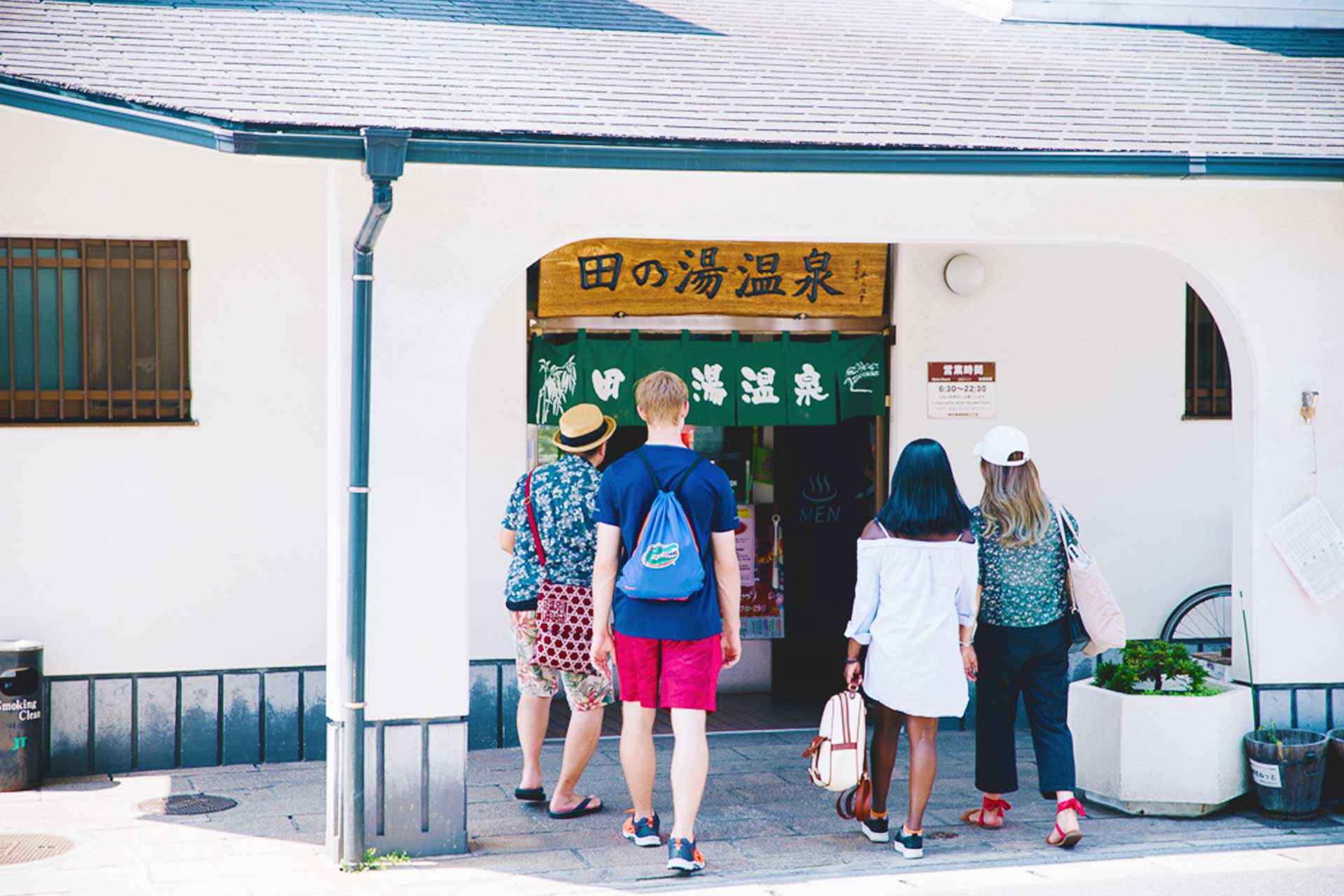 The first destination was Tanoyu Onsen.
This onsen is used everyday by the locals. The people in the neighborhood have their own decided schedule and usually bathe in the onsen at the same time everyday. Beppu onsen`s water is usually between 42 and 46 degrees Celsius, and since the temperature is so high, it is necessary to prepare before entering the onsen. Austin and Sharon were thrilled about their first visit to a local hot spring.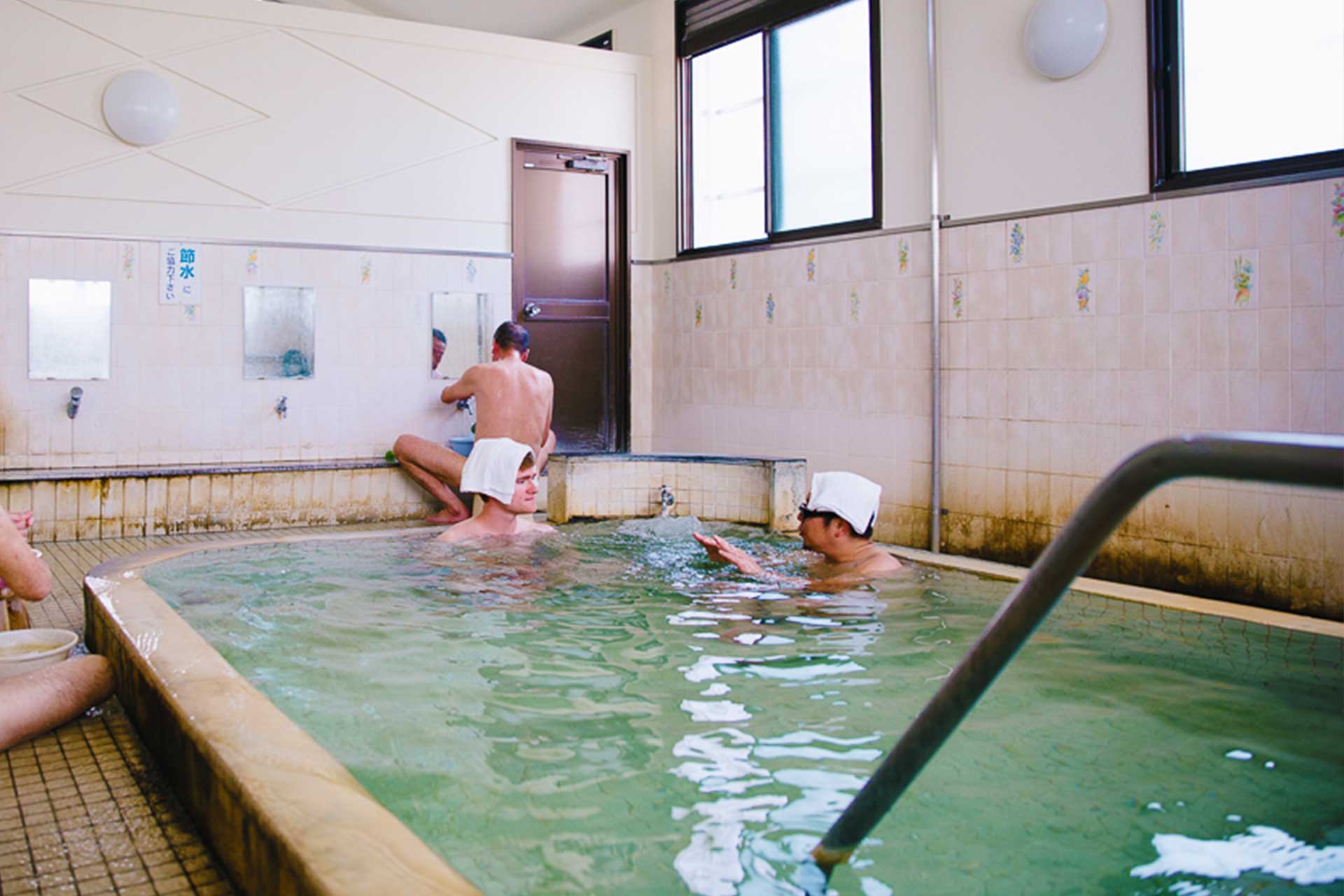 They entered the onsen by saying "Konnichiwa." Bathing in local onsen gives you a special experience to know the details about Beppu onsen. But it's very important to know the rules if you want to experience onsen and create a good relationship with locals.
[Local onsen entrance manner]
1.Greet other bathers
2.Wash yourself before entering the onsen
3.Don't add water without asking permission. Rather, ask "Mizu wo irete ii desuka? (Can I add water to the bath?)" to the people in around you first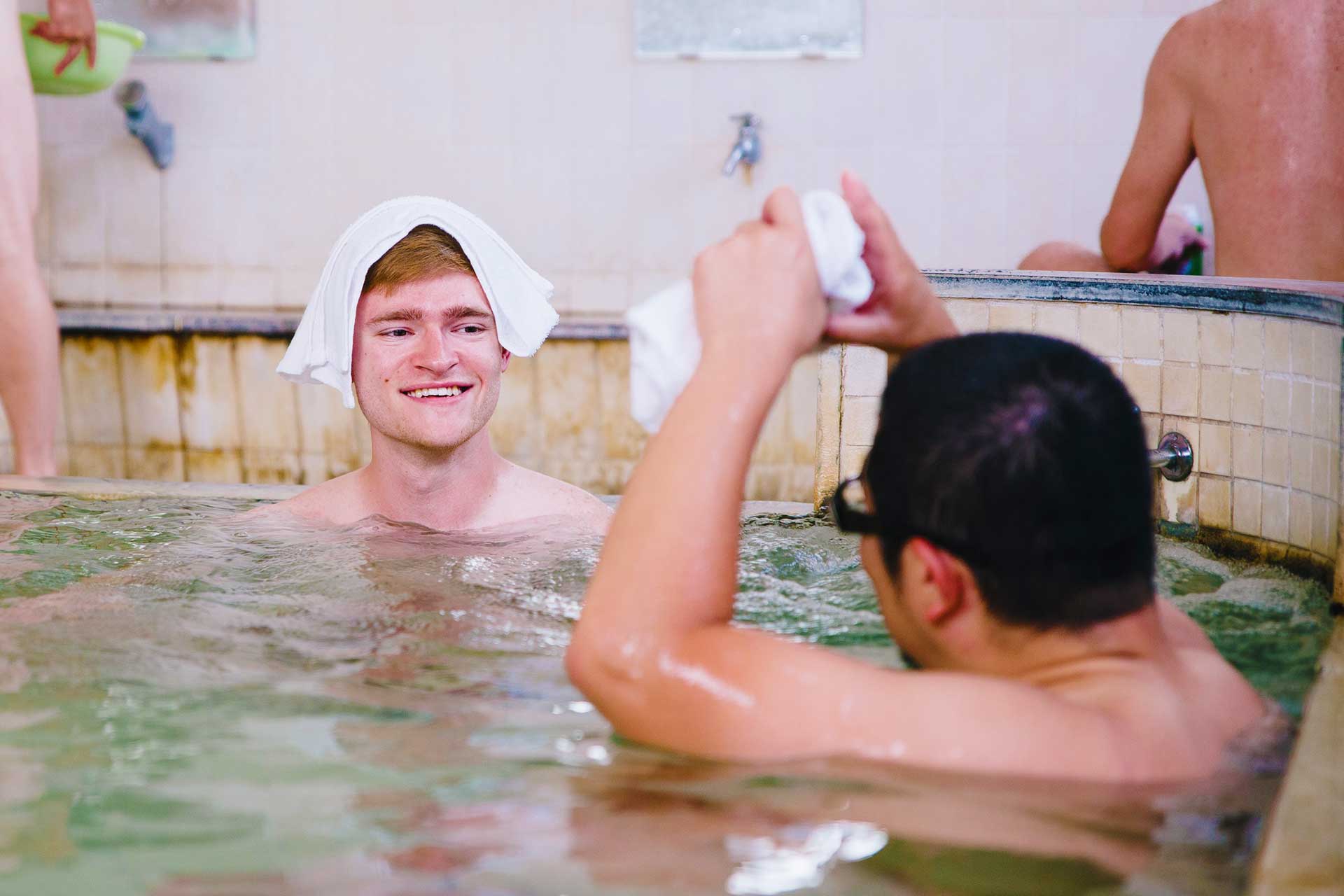 "Aahhhhh it feels so good!" was the first words that came out of Austin's mouth after he entered a local onsen for the first time. If you become used to this kind of hot water, you will feel relieved and it will wipe away the tiredness of the day. You will then understand why onsen have been loved for many years by the Japanese.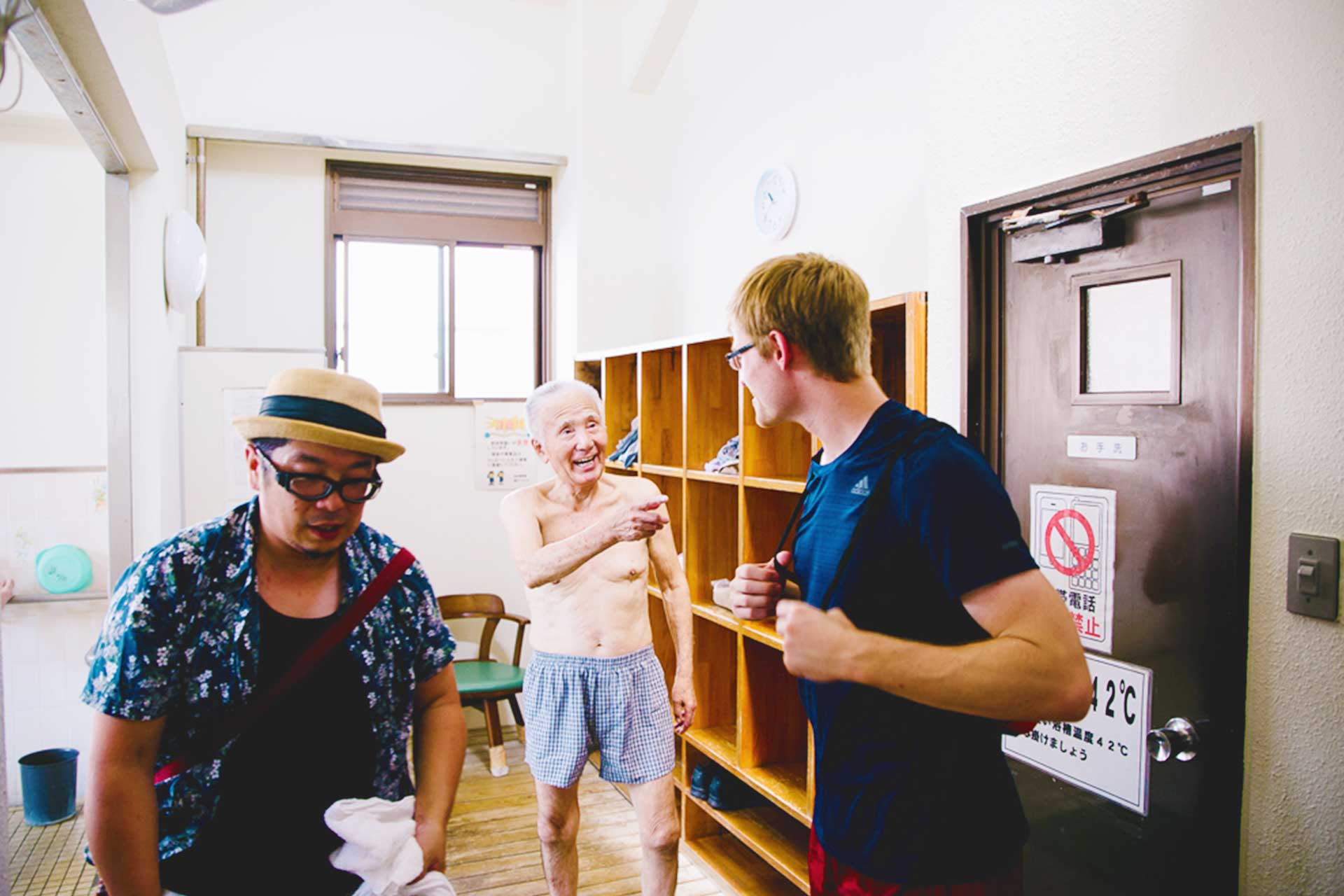 Making contact with locals is one of the attractions of onsens.
Austin said, "Konnichiwa, Amerikanjin desu. (Hello, I am an American)." Everyone was happy when he used some simple Japanese phrases like the one above.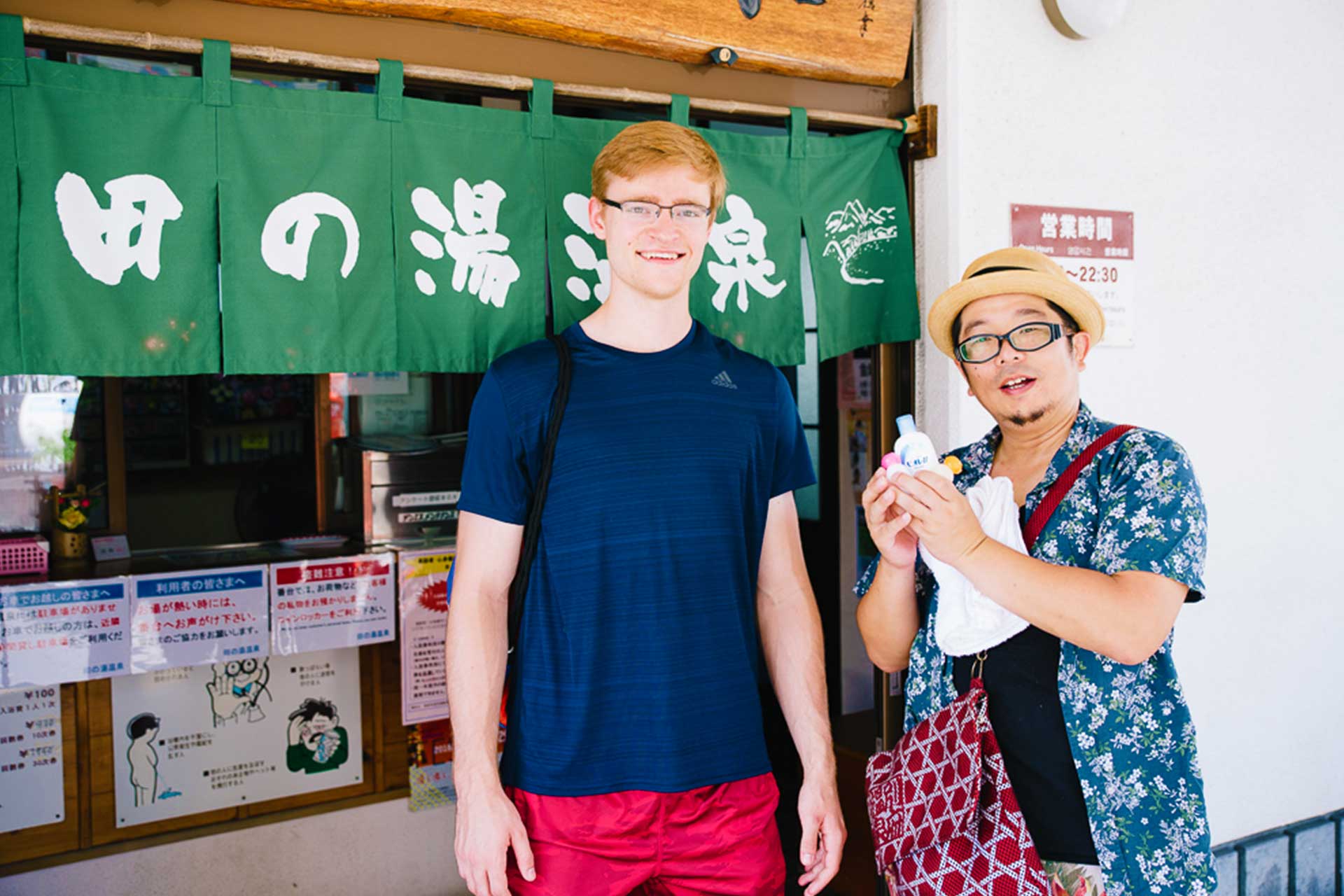 Usually, at local onsen there are no towels, shampoo, body soap, etc, so it is advised you bring your own things. However, here you can purchase these amenities.
Towel 220 yen, body soap 50 yen, shampoo 50 yen, etc.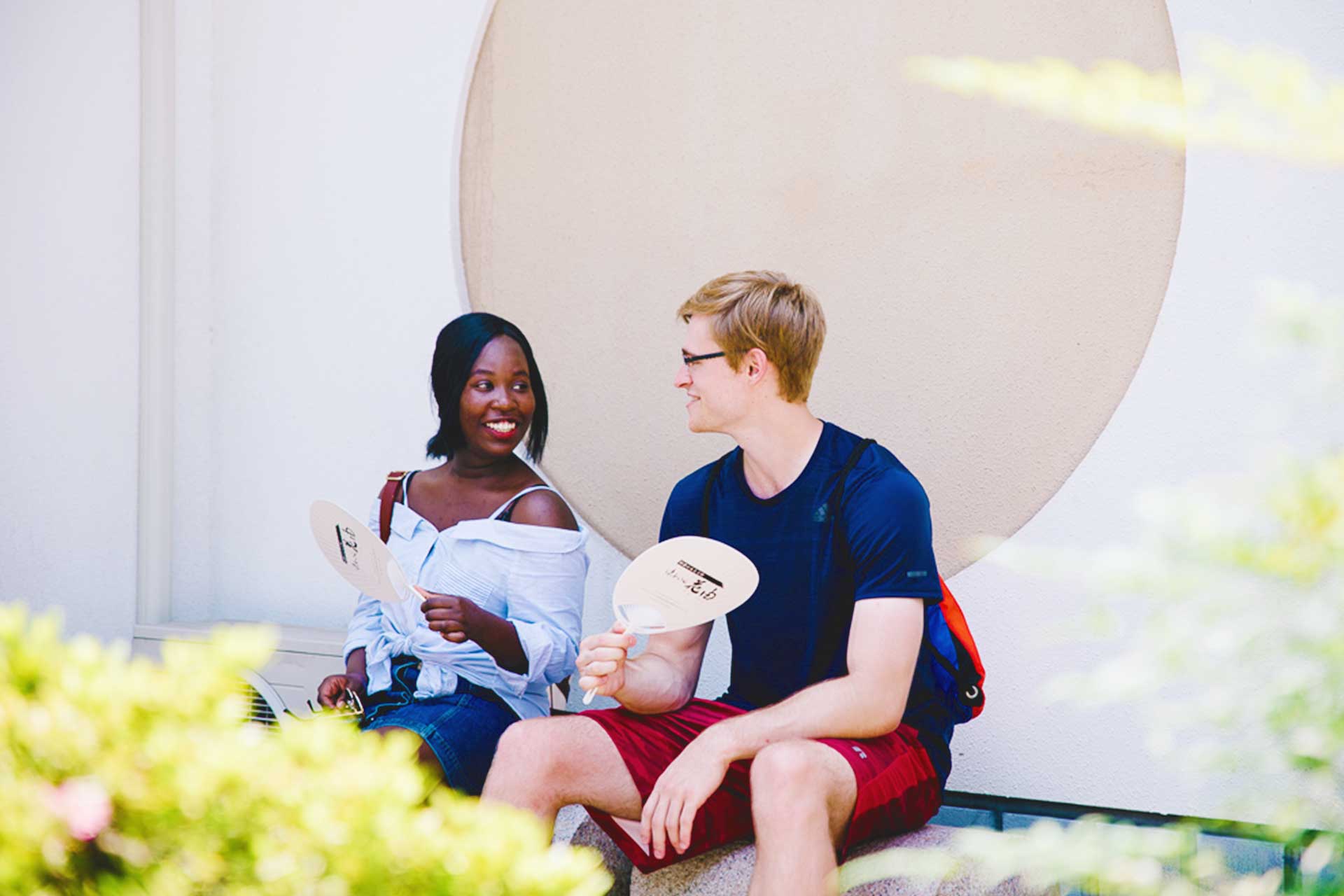 After bathing in the onsen, it is customary to sit on the bench in front of the onsen and chat with a local while letting your body cool down. This is Beppu style.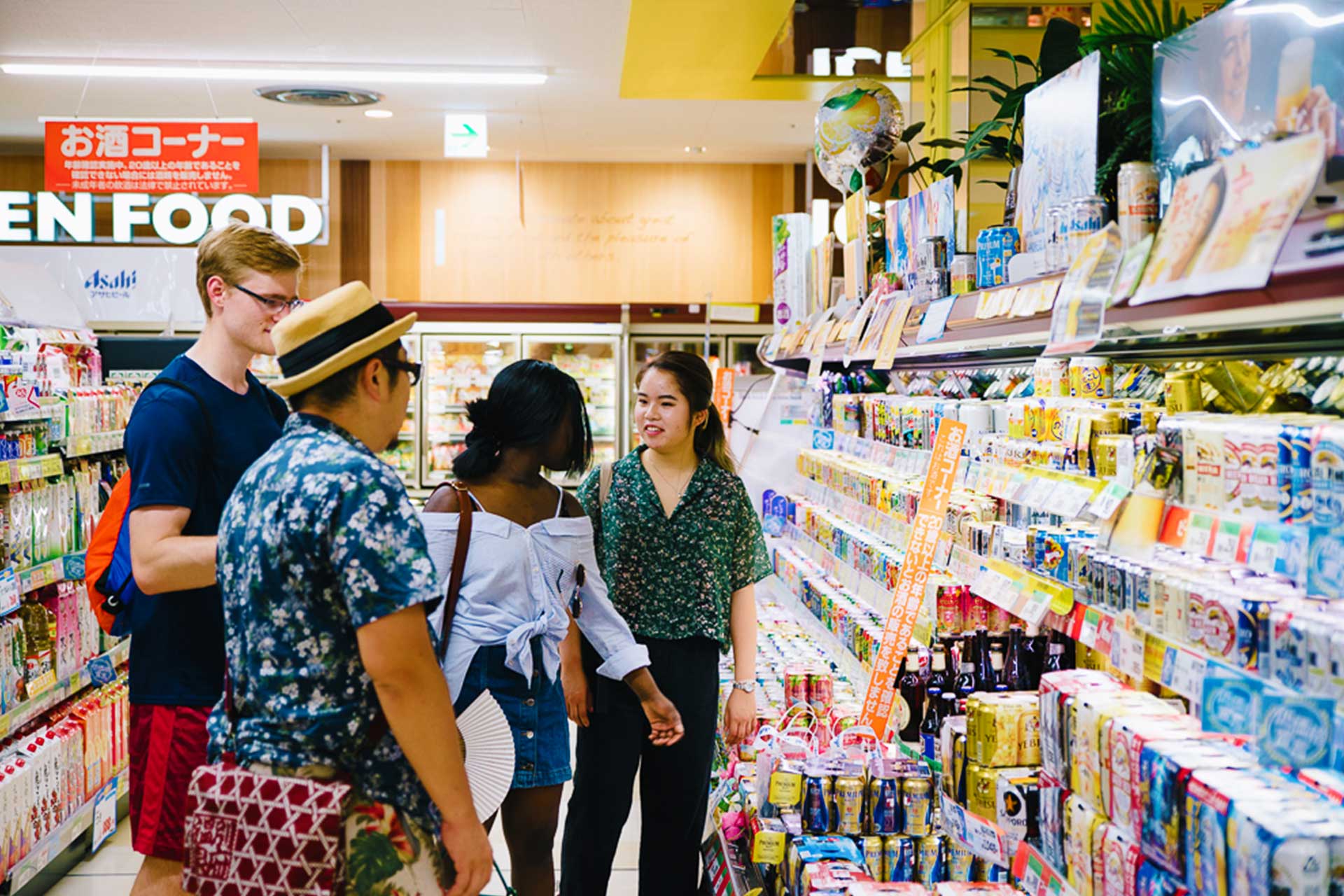 Next up, they arrived at the supermarket (Maruimiya store) where they bought beer and sake, which is one minute on food from Tanoyu Onsen.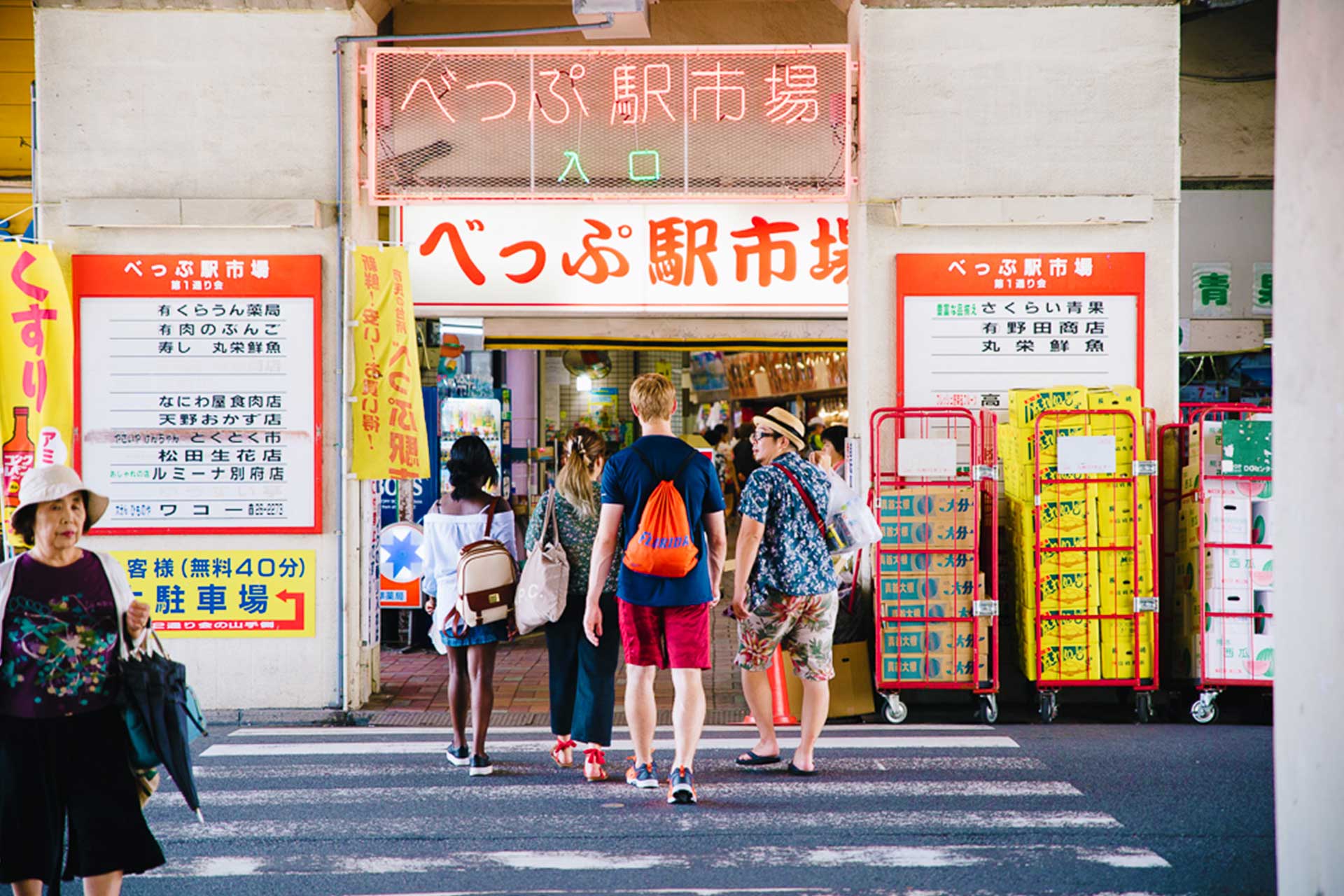 Our second destination was the Beppu local market. Here the people of Beppu, day after day buy meat, fish, side dishes and other various goods at the market. You can see fresh fish and other regular everyday food and things. It is fun to compare the local goods to your own country`s.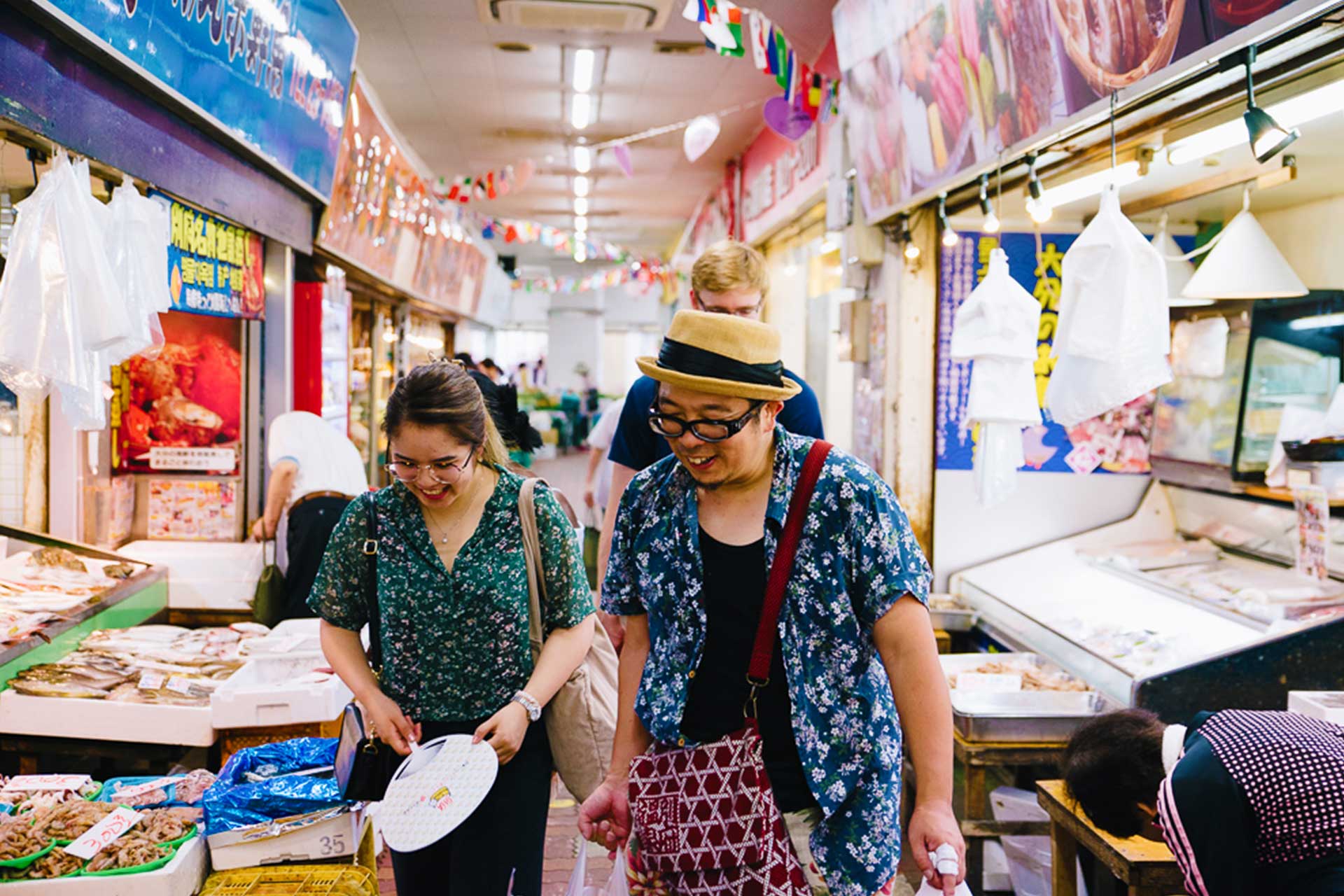 Here you can buy many things, such as fried chicken, tempura and other various cooking ingredients. Afterwards, if you come to the local market, you have to try Noda Shoten shop's maki zushi (sushi roll). Just about everyone in Beppu knows this popular shop and people who live outside of Beppu also come and to try this shop's food. Of course, I also had to try the maki zushi.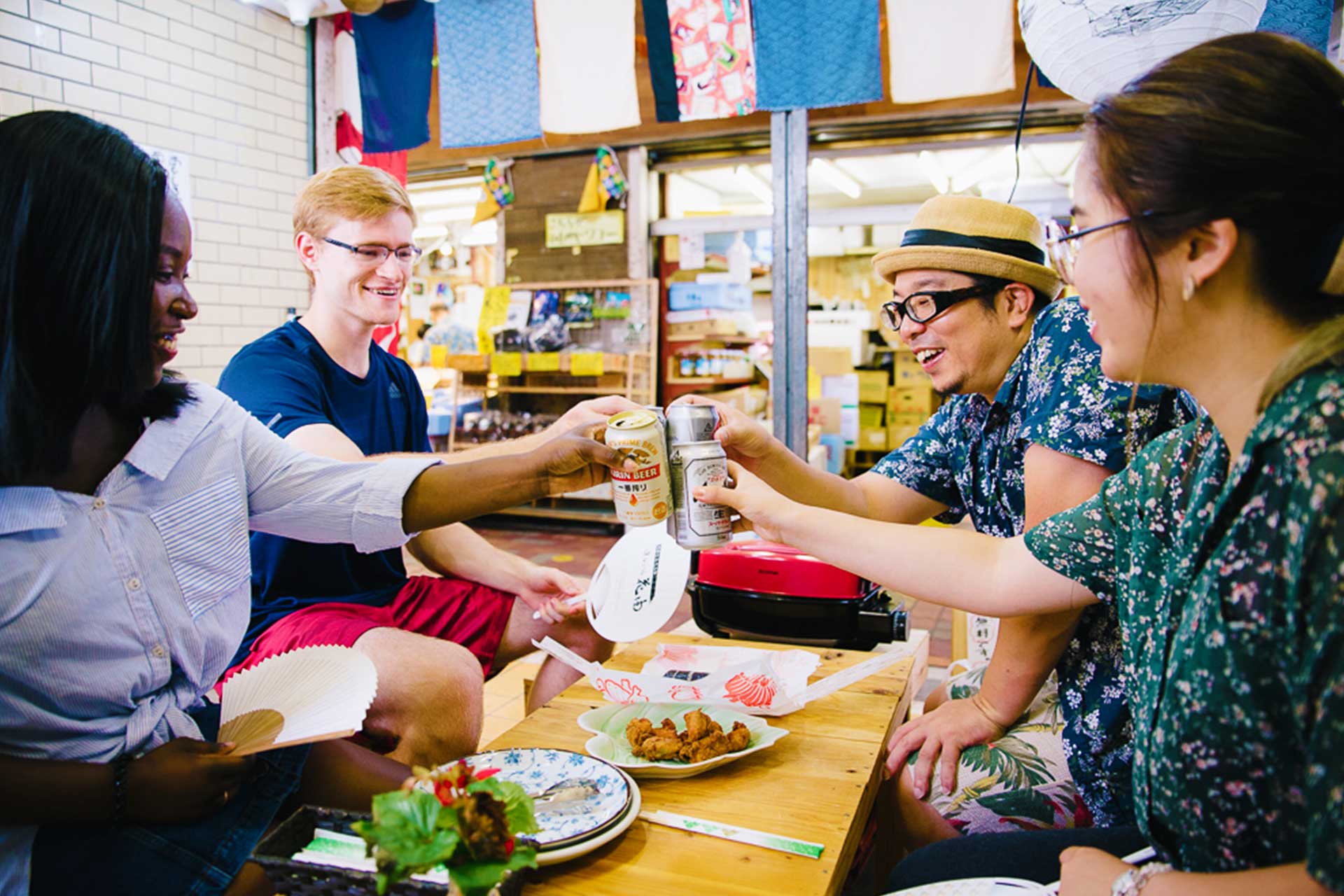 While inside the local market, they said,"Kanpai (Cheers)!" as they drank sake and enjoyed lunch. They had fun viewing all the reasonable and delicious looking goods that were lined up on the table. They could also feel a special atmosphere while eating in the market. It was Kei, our guide's absolute recommendation.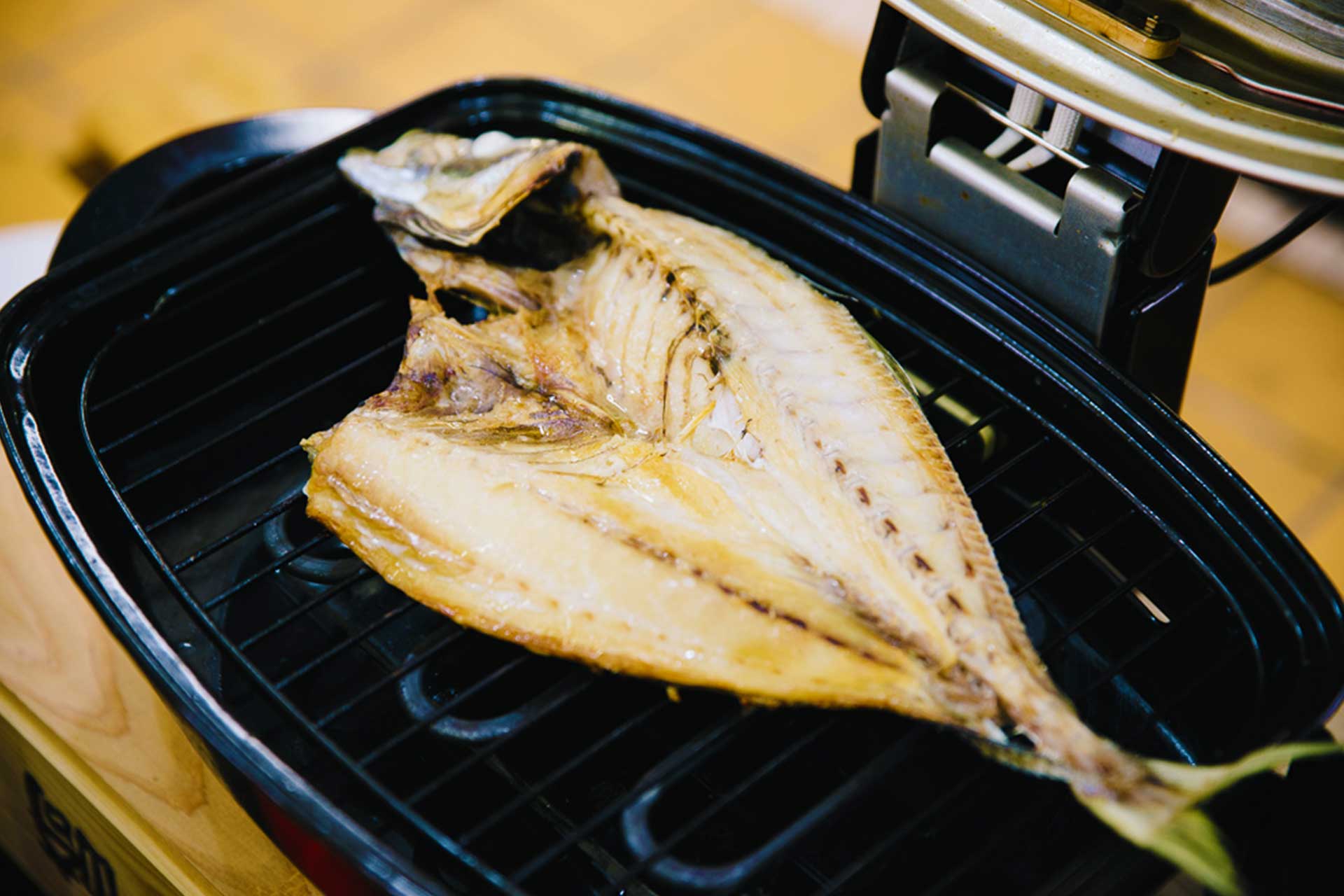 Today's main dish was beer and dried large horse mackerel (700 yen). Inside the local market, there is a fish shop where customers can grill the fish they have purchased. It is a secret that the locals only knew about until Kei kindly taught them.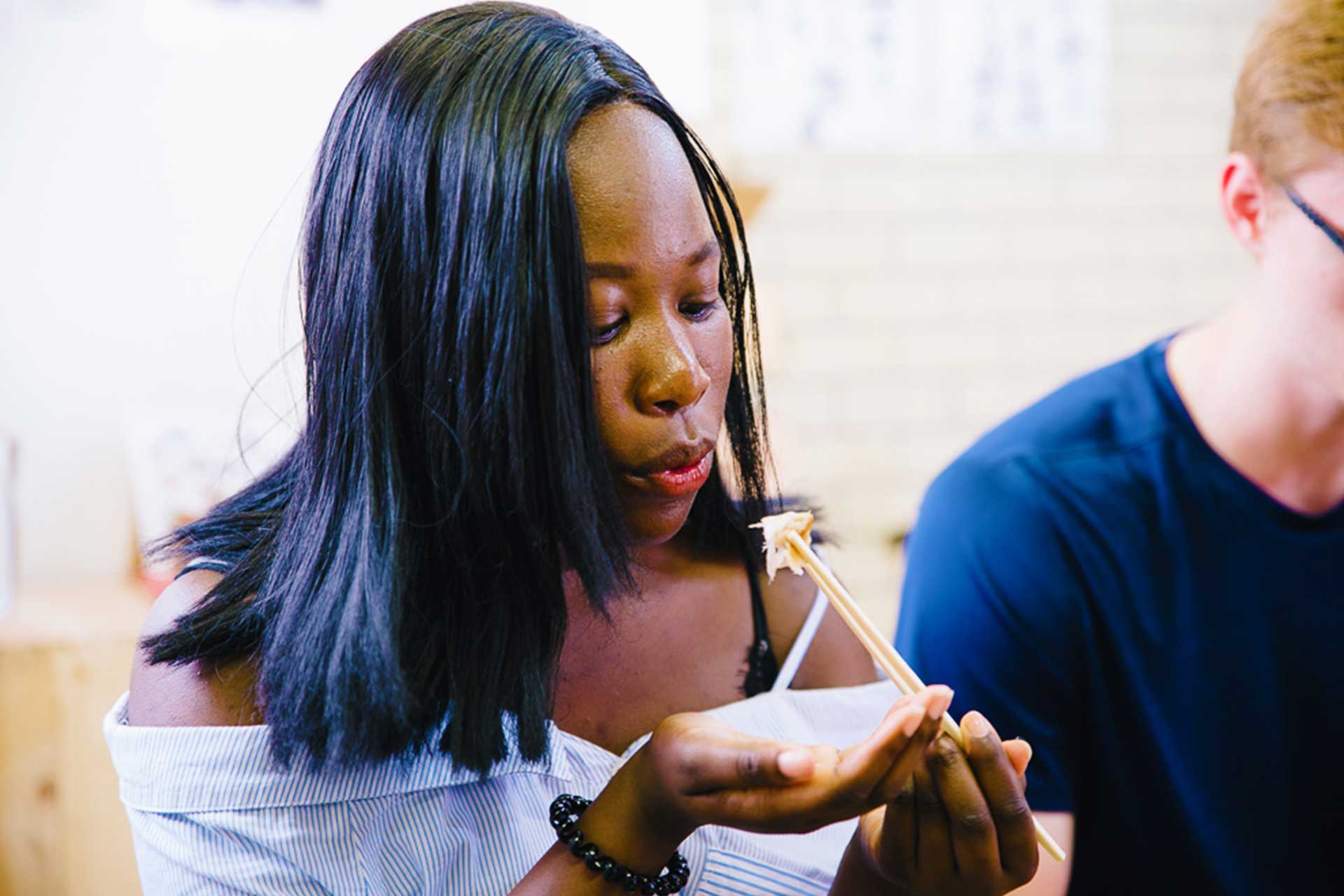 "Itadakimasu (Let's eat)!" This was the first time in her life trying a bite of this dried mackerel. "Oishii (Tasty)!" She was impressed by the salty flavor and indescribable scent of the sea bream.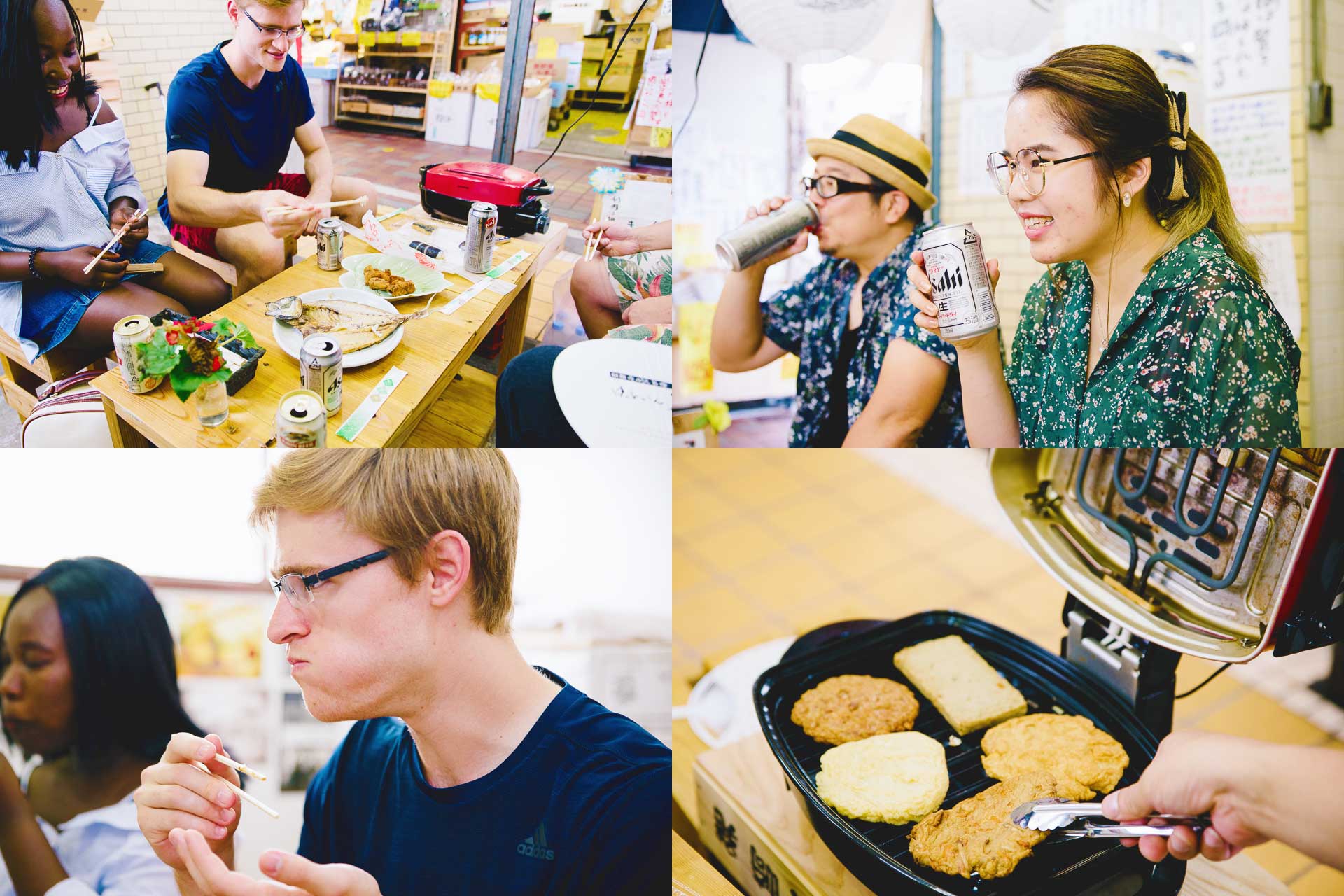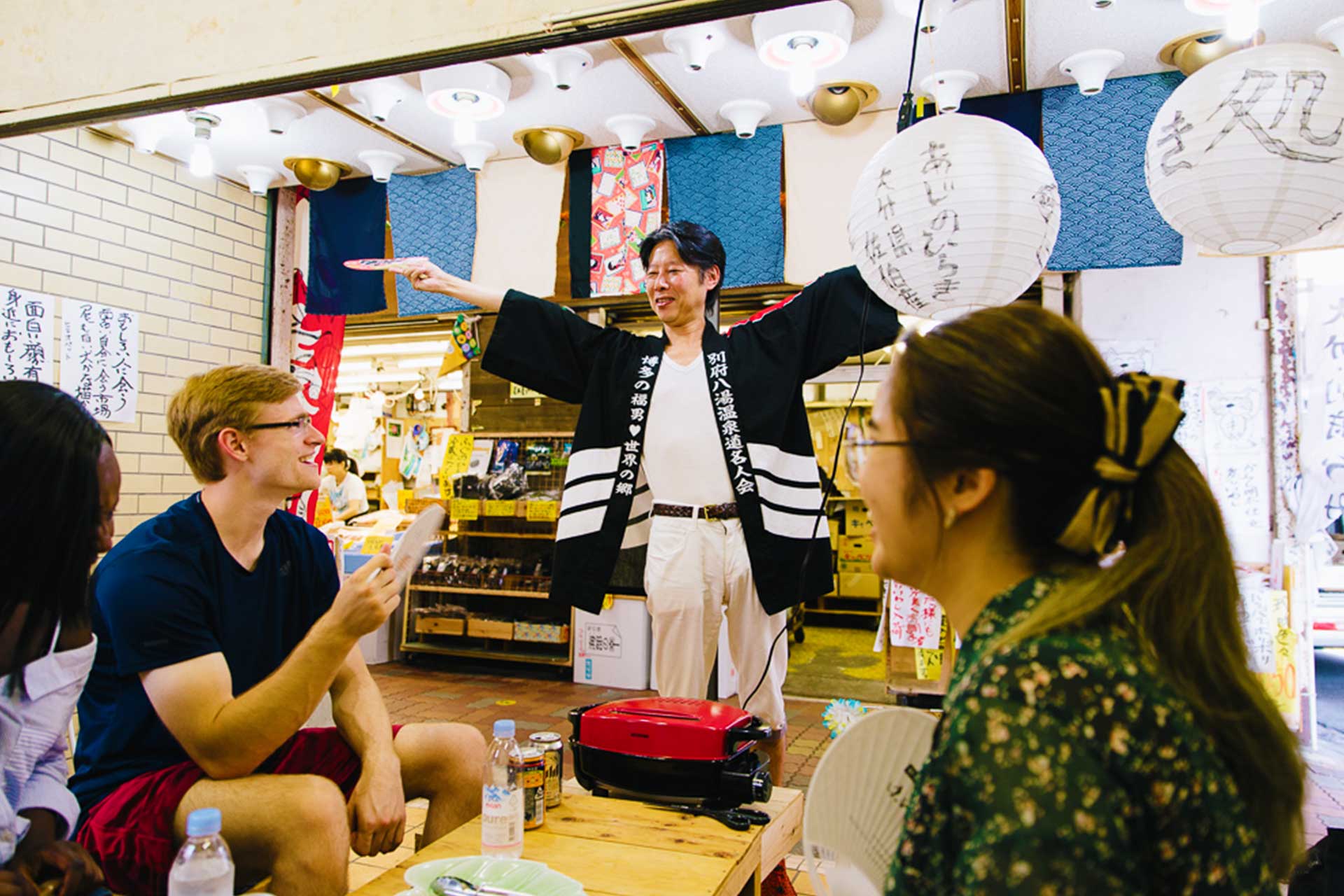 Tasty sake, food and an occasional talk with shoppers while leisurely enjoying the lunch was very fulfilling. All through lunch, the four people had smiles and looked like they had been friends since they were kids. The price for beer and lunch for four people was only 4,683 yen. That's cheap!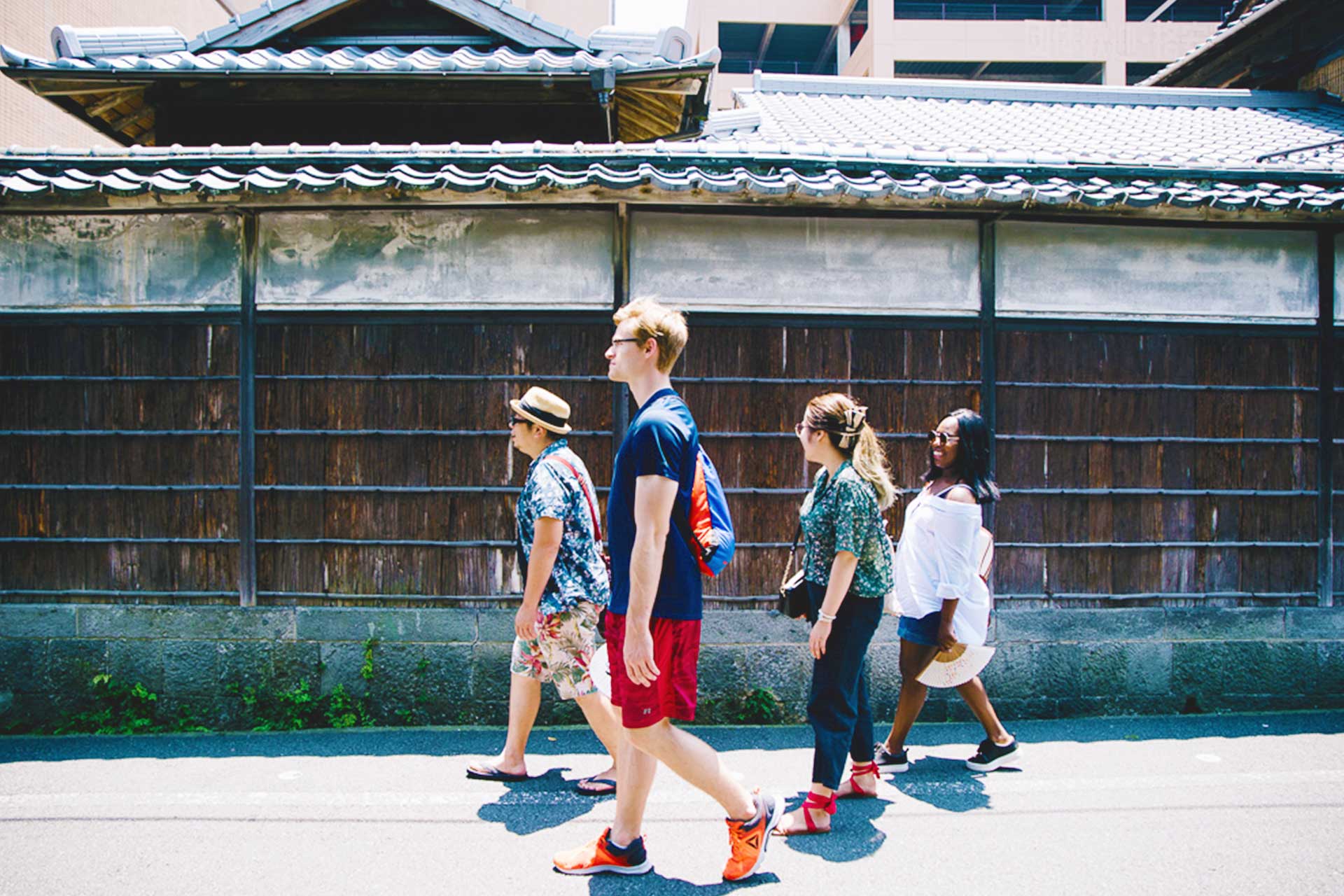 After eating they took a walk and checked out the city center of Beppu.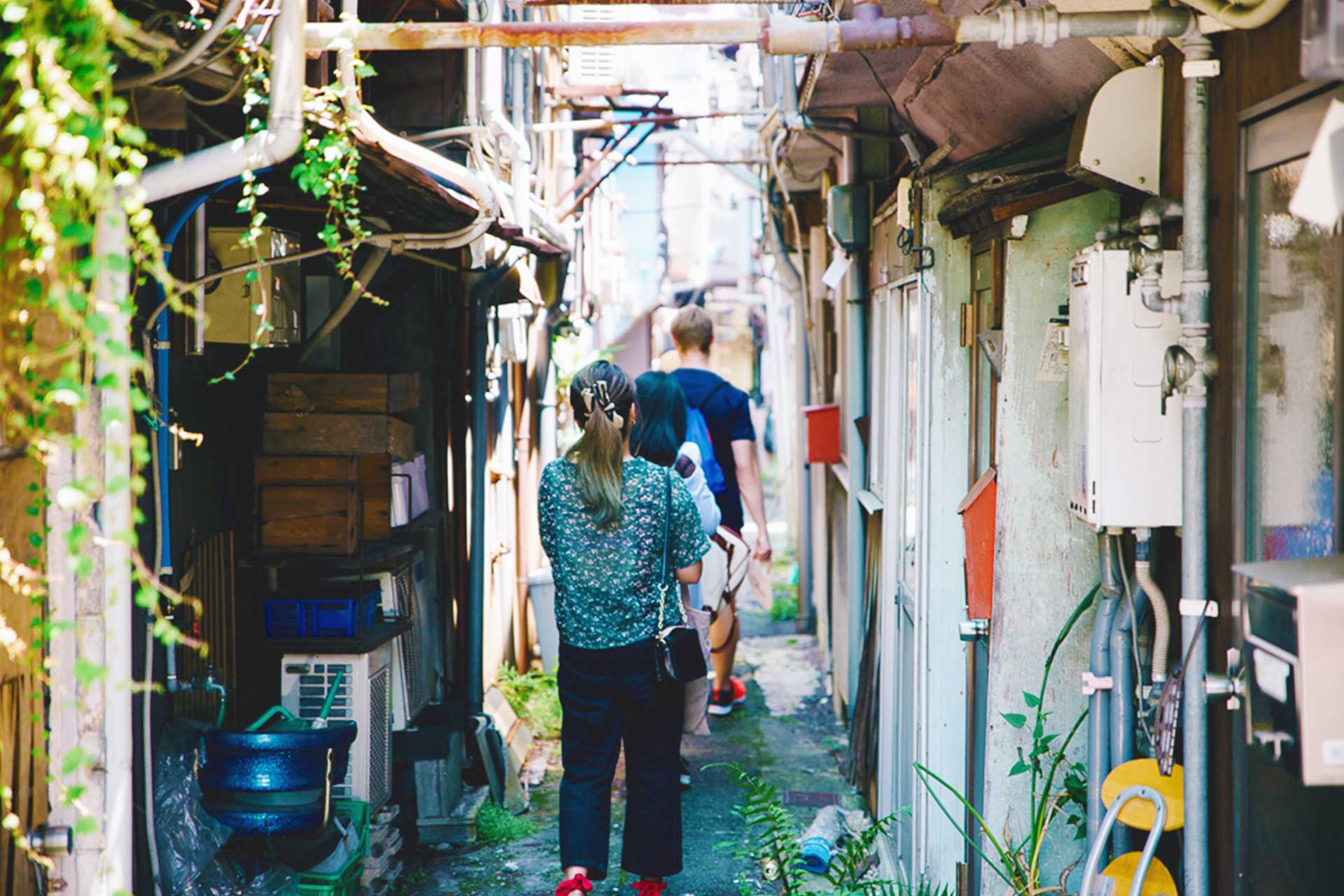 In Beppu, the scenery is unique with plenty of narrow and old back alleyways to explore as well. And one way to enjoy Beppu is finding cheap and delicious shops in those back alleyways.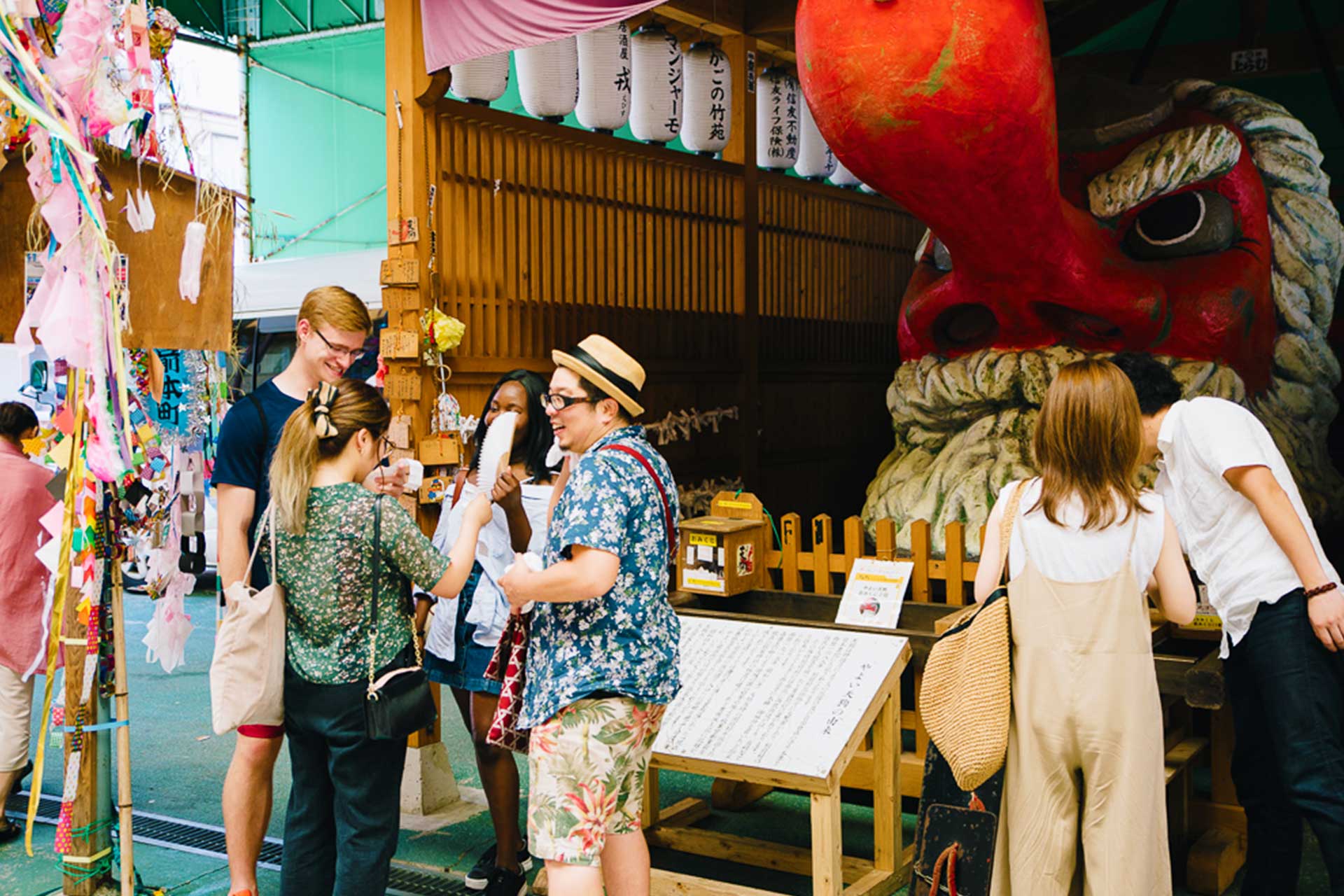 Let's try omikuji (Japanese fortune) that is dearly loved by Japanese. There are also omikuji written in English as well so that everyone can enjoy them.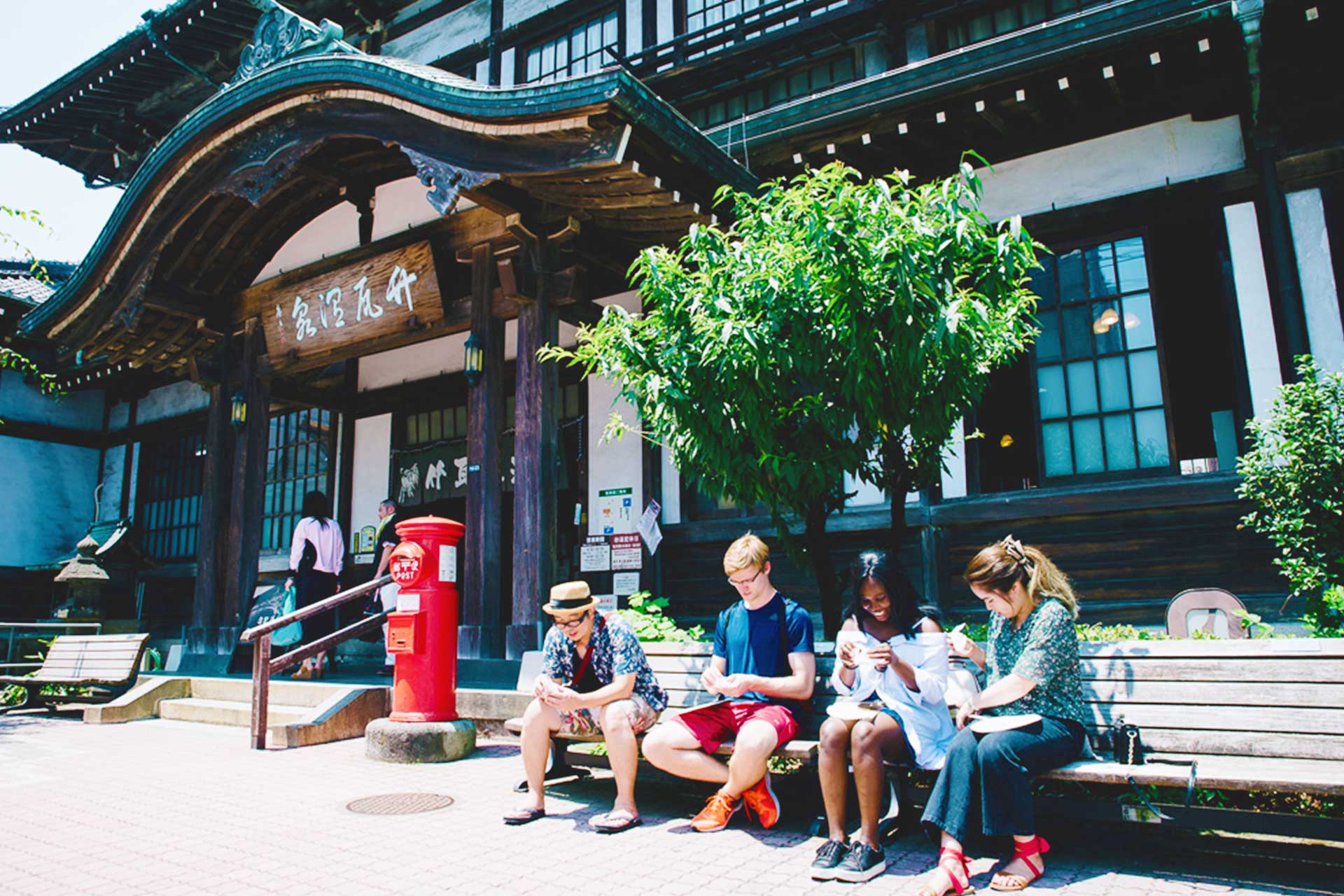 After about ten minutes of walking, we arrived at the symbol of Beppu Onsen, Takegawara Onsen. Nearby, we ate dessert at a Japanese sweets shop called Shiotsukido that sells locally made desserts called "yuzuman" (yuzu is a Japanese citrus fruit). It was a blissful break time, eating sweets and sitting on the bench.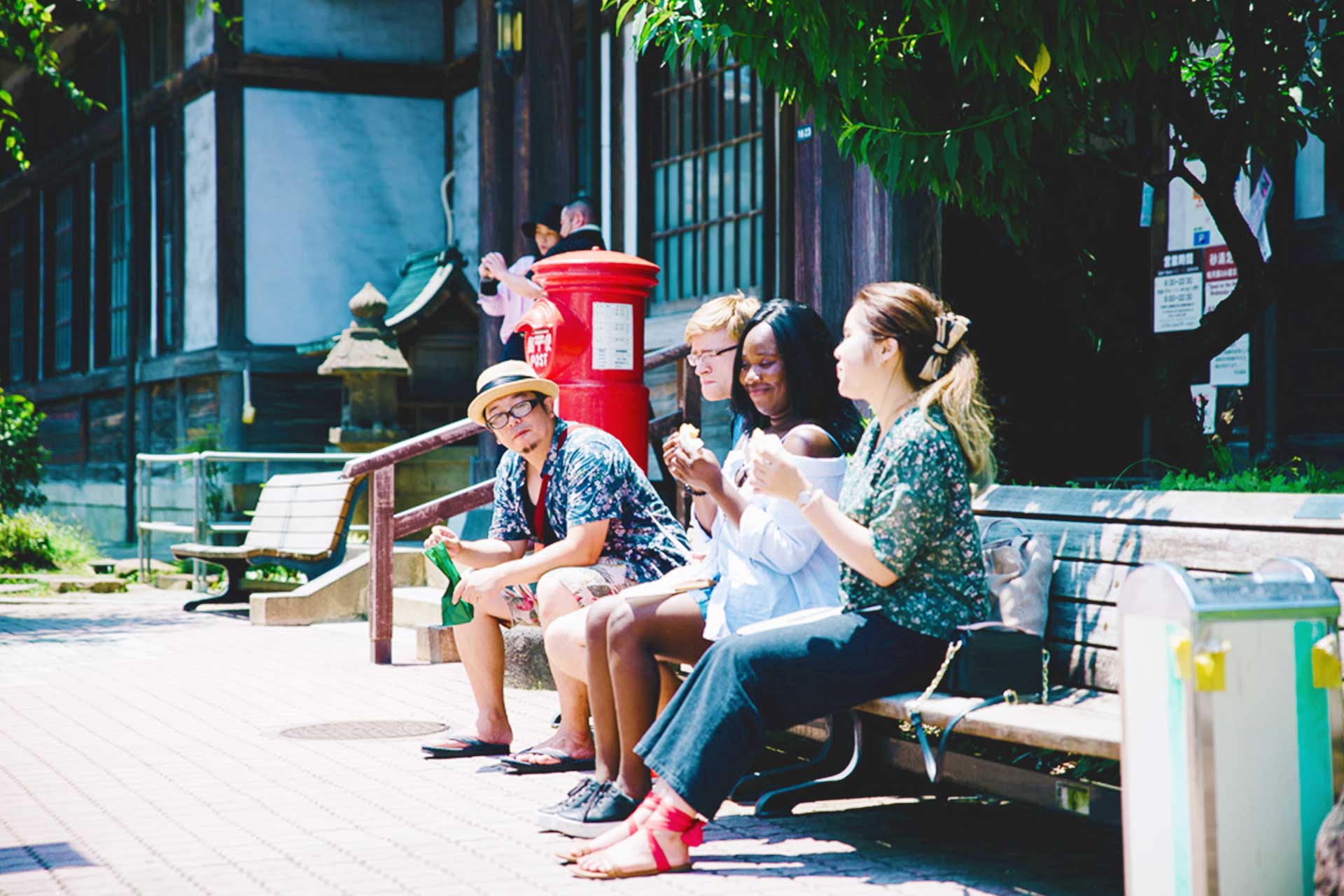 "Oishii!" The yuzu's acidity and sweetness are exquisite.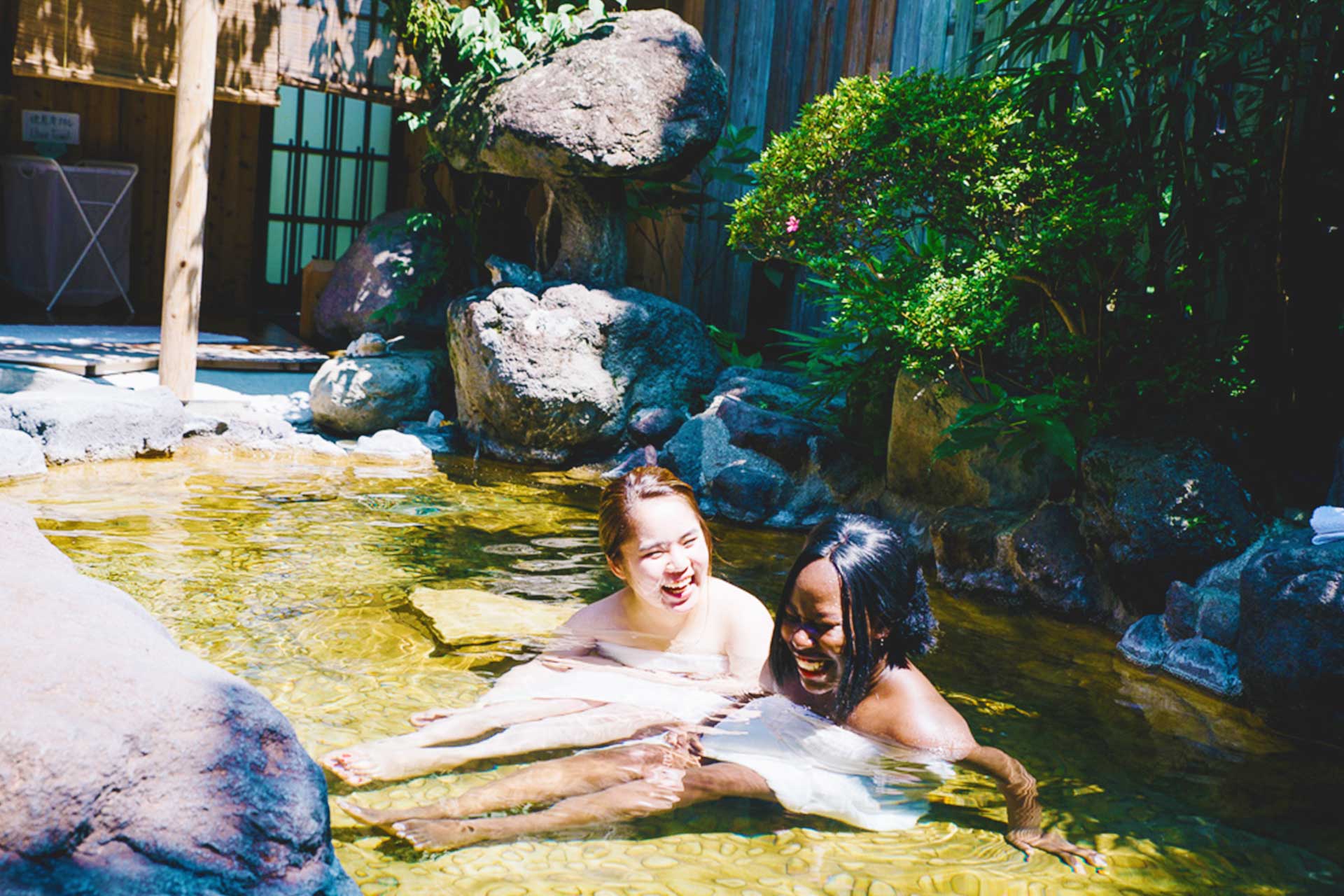 And then, just at the right time to clear their head after drinking sake*, they arrived at Yamada Bessou, the final destination. Here they enjoyed the luxuriousness of the outdoor onsen.
*Please be careful after drinking alcohol and entering in an onsen because there is a risk of heart failure.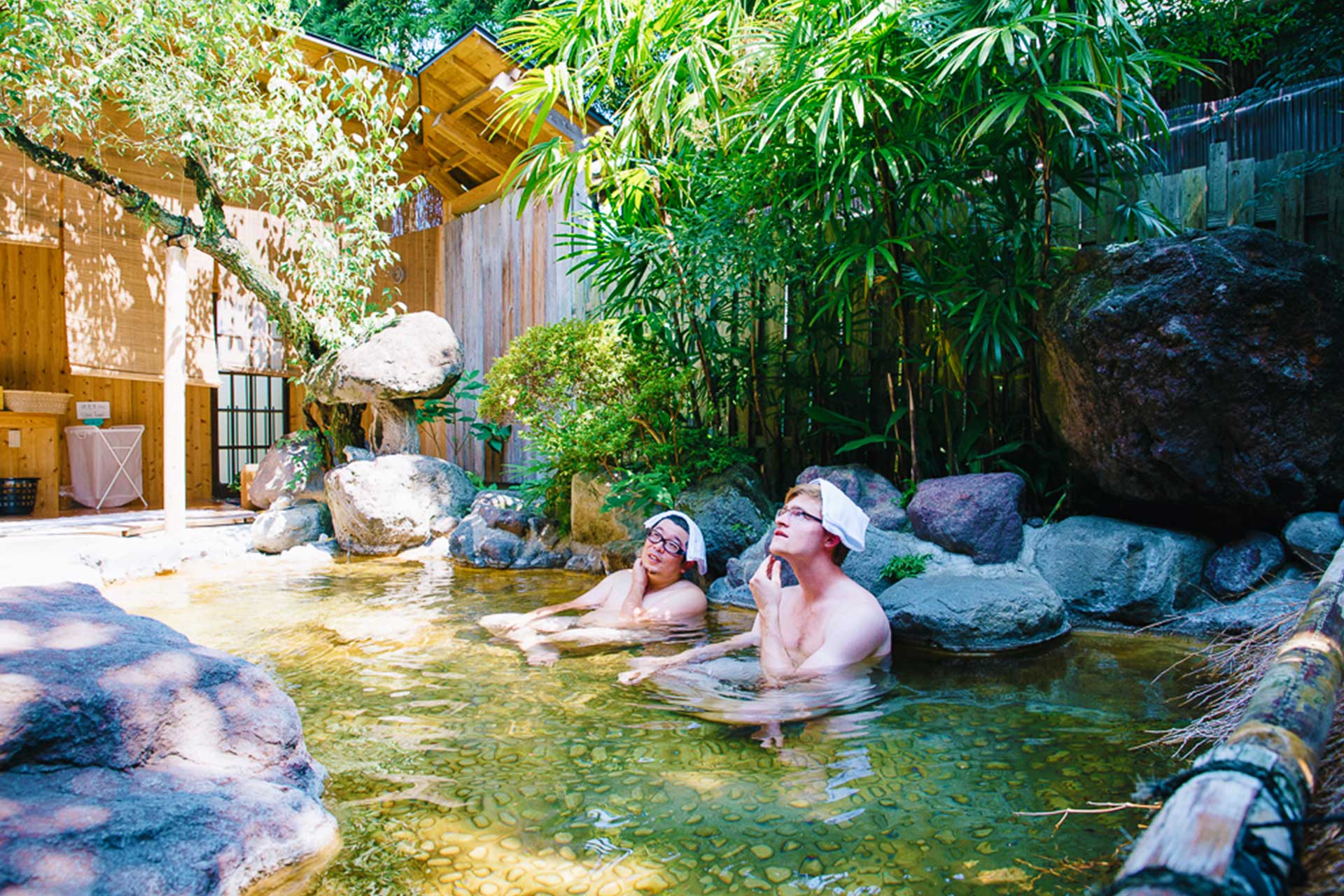 Austin Bryan said, "It was really fun being able to experience a little bit of the people of Beppu's daily life."
Sharon Chikwiramakomo said, "It was the first time eating tempura and dried mackerel and it was very delicious. I was able to have a really good experience."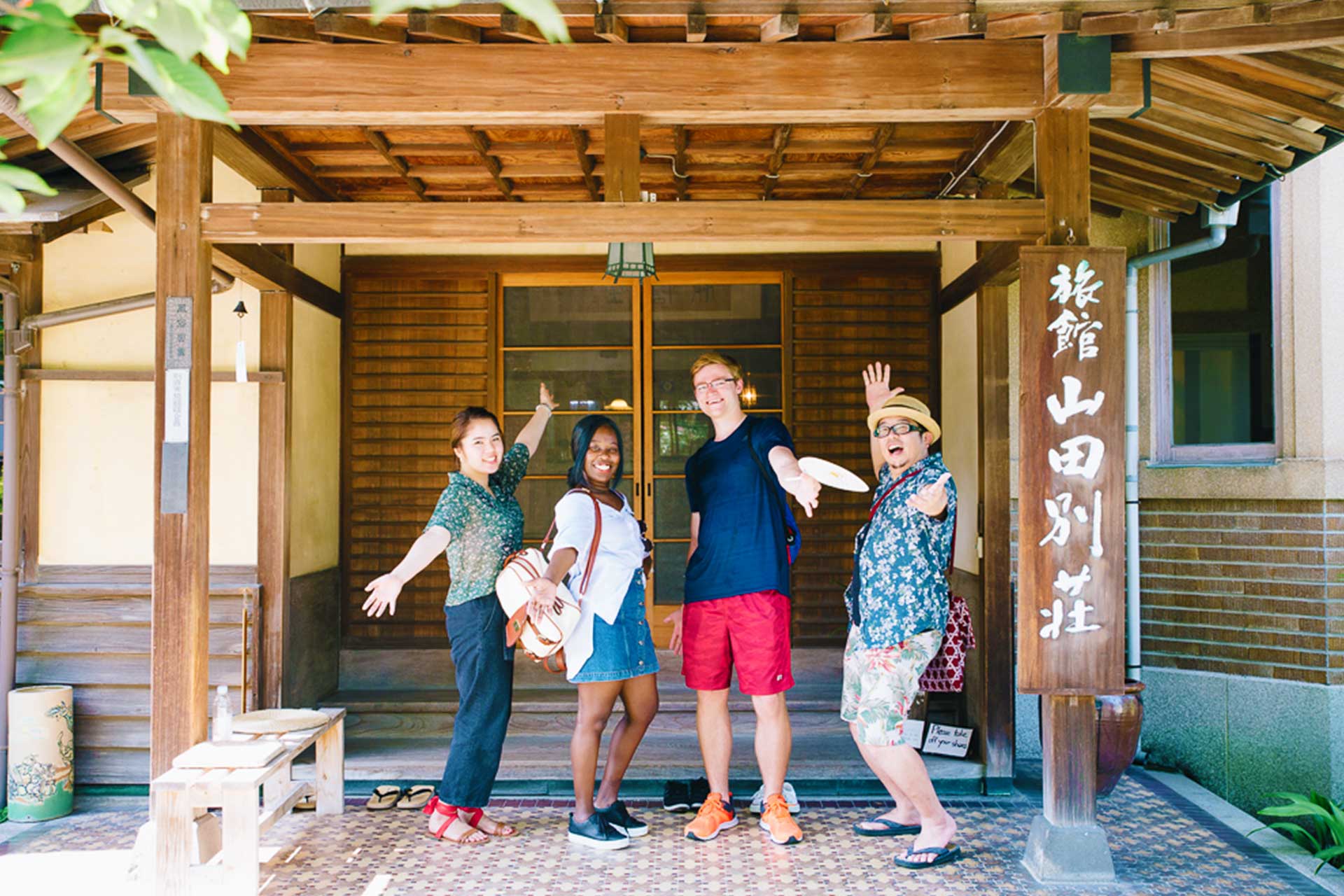 Let's Take a Test to Find Out Which Onsen Suits You The Best!
If you answer some easy questions, we can tell you which onsen you should visit!
EnjoyOnsen