Kyushu is home to some of Japan's most beautiful onsen. We want to take you on a guided tour of one of Kyushu Onsen's greatest treasures: Beppu!
One Of Kyushu Onsen's Most Popular Spots
Onsens in Beppu are more than just places where people go to bath, but rather are a part of people's lives where they establish relationships with neighbors, coworkers and also reap the benefits of the therapeutic properties of the onsen water. In this special part of the culture of Beppu three men take a journey in order to gain some understanding of the hidden magic that takes place at the onsen of Beppu.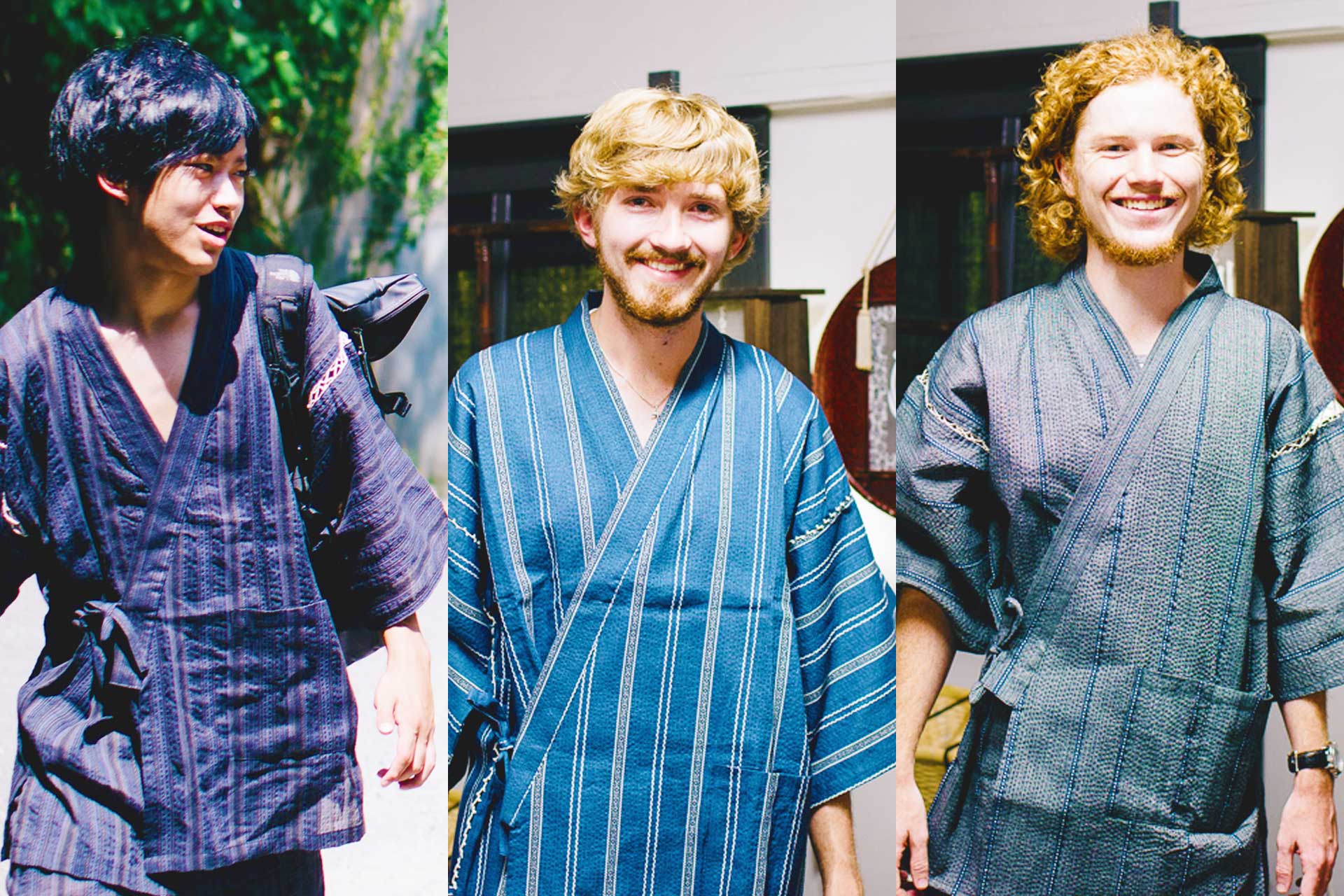 The photos starting from the left side. Ryuhei the guide and interpreter and the two travelers from America Michael and Austin.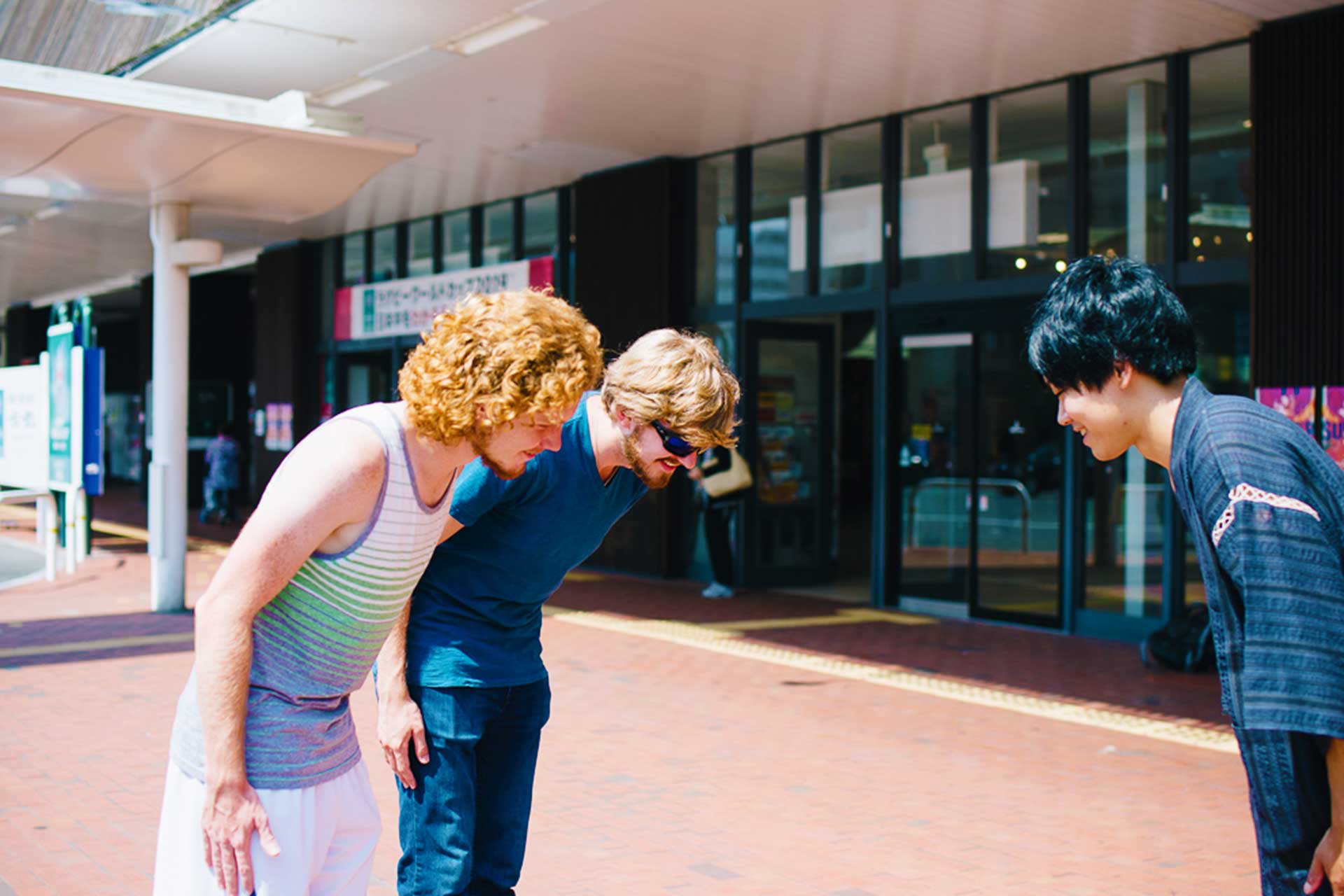 Our Tour Begins
The tour began with greeting each other in the front of Beppu Station. This time the tour guide was Ryuhei, who is an extremely nice guy that loves Beppu's onsens.
Michael and Austin are two travelers from America who are curious about Beppu's onsens and want to enter an onsen to see what it is like.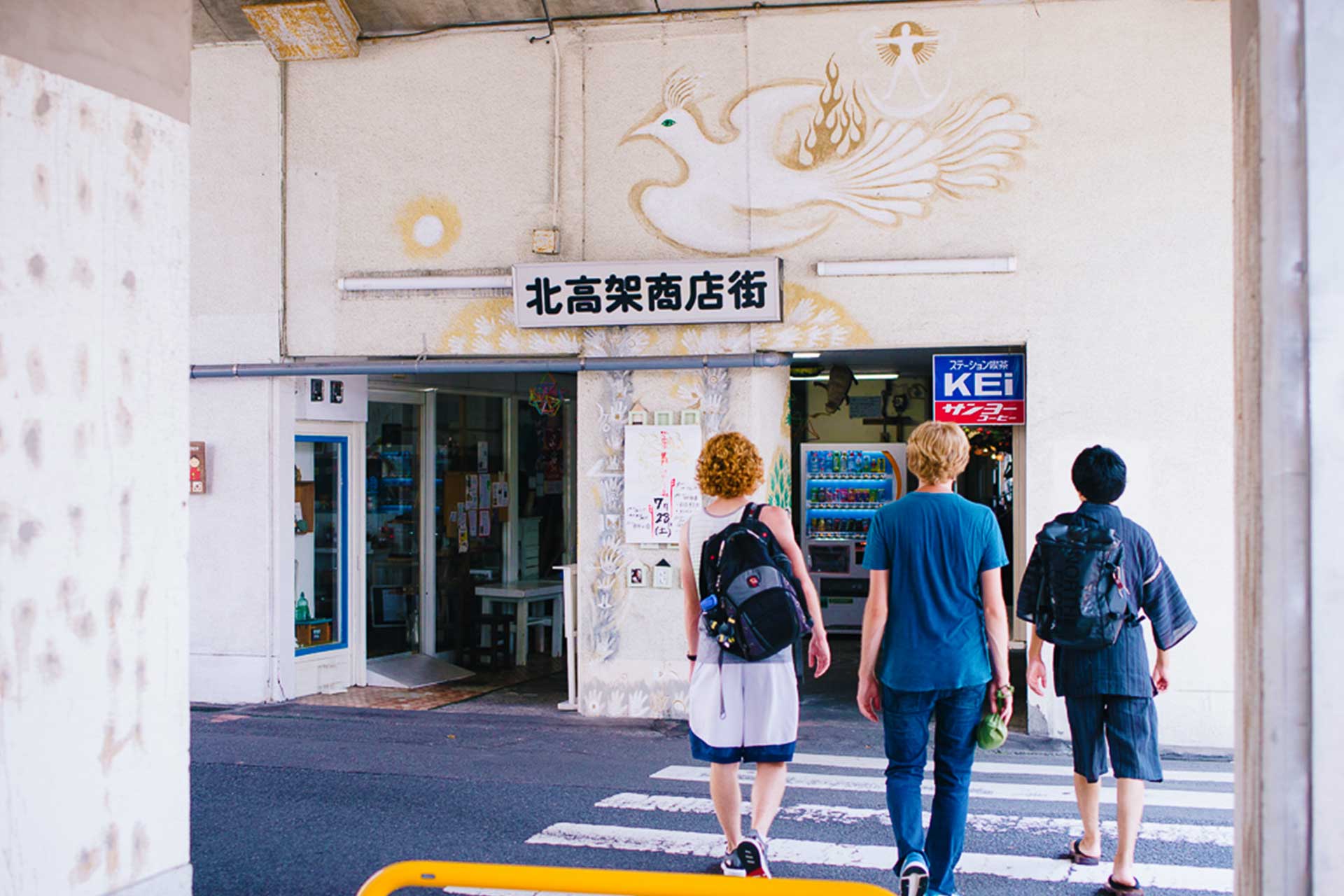 From Beppu Station there is an interesting shop called "Ten Ten Beppu" that is about a minute away on foot that is located in the middle of a shopping district "kita kouka shoutengai"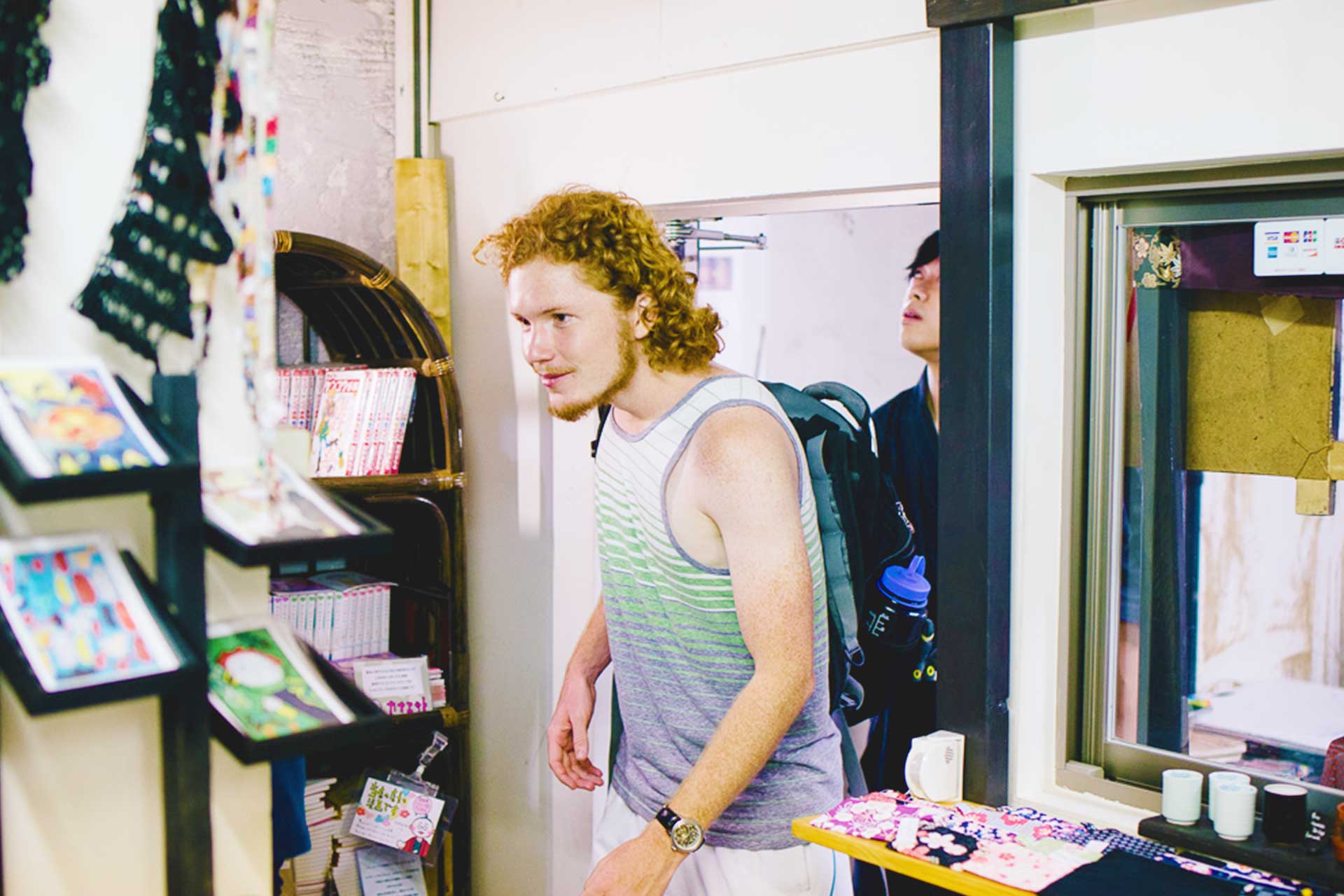 "Konnichiwa (Hello)" said the three as they entered the shop with big grins on their face.
At this shop there are kimonos, traditional clothes, etc. that available for rental.
This time they rented a summertime kimono like robe called a "jinbei"
(1 day Jinbei rental costs 1,000 yen )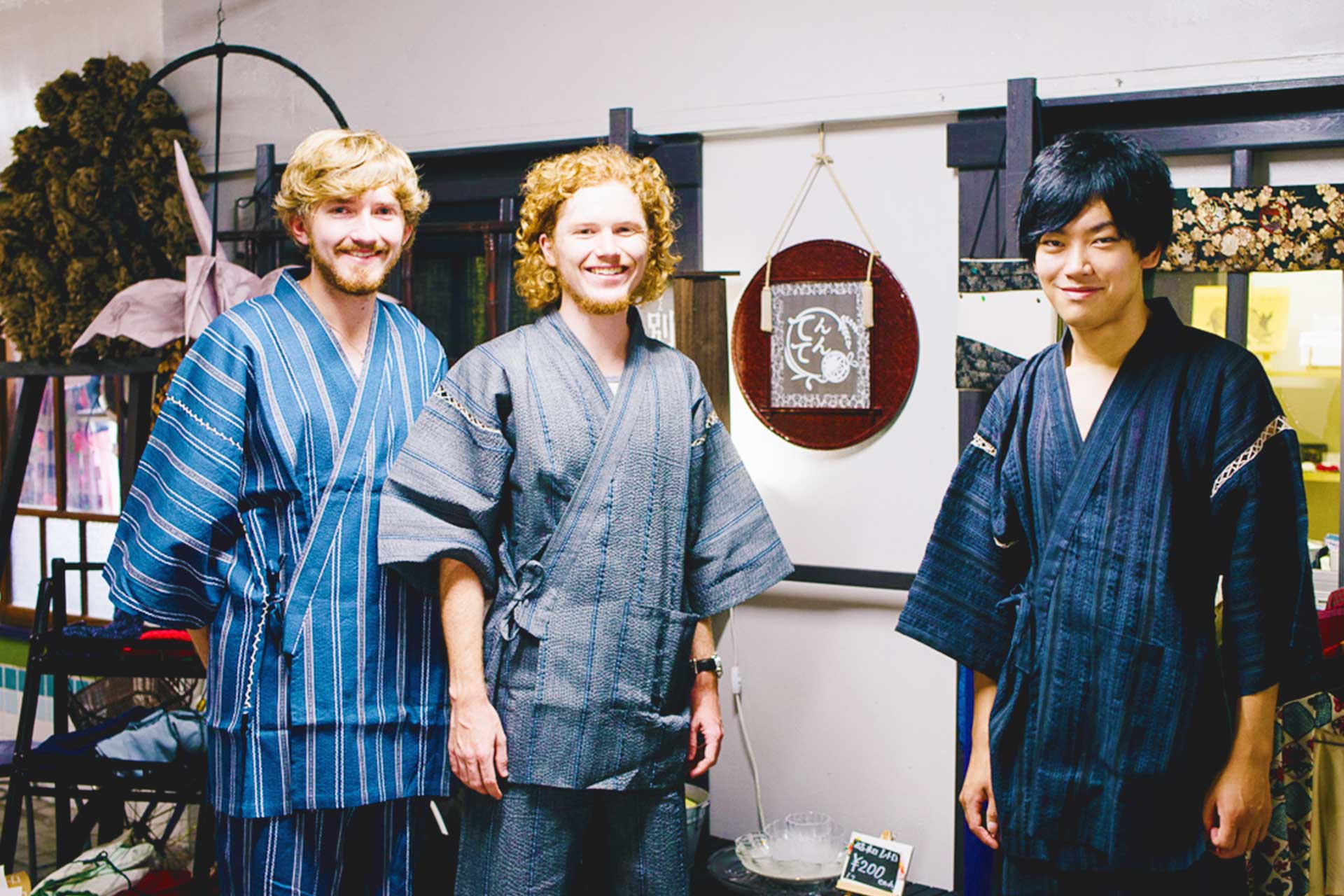 Being fitted for the jinbei while soaking up the shop's unique atmosphere raised their spirits. The two slipped into the Jinbeis and they looked so cool that they would definitely raise the interest of everyone they pass.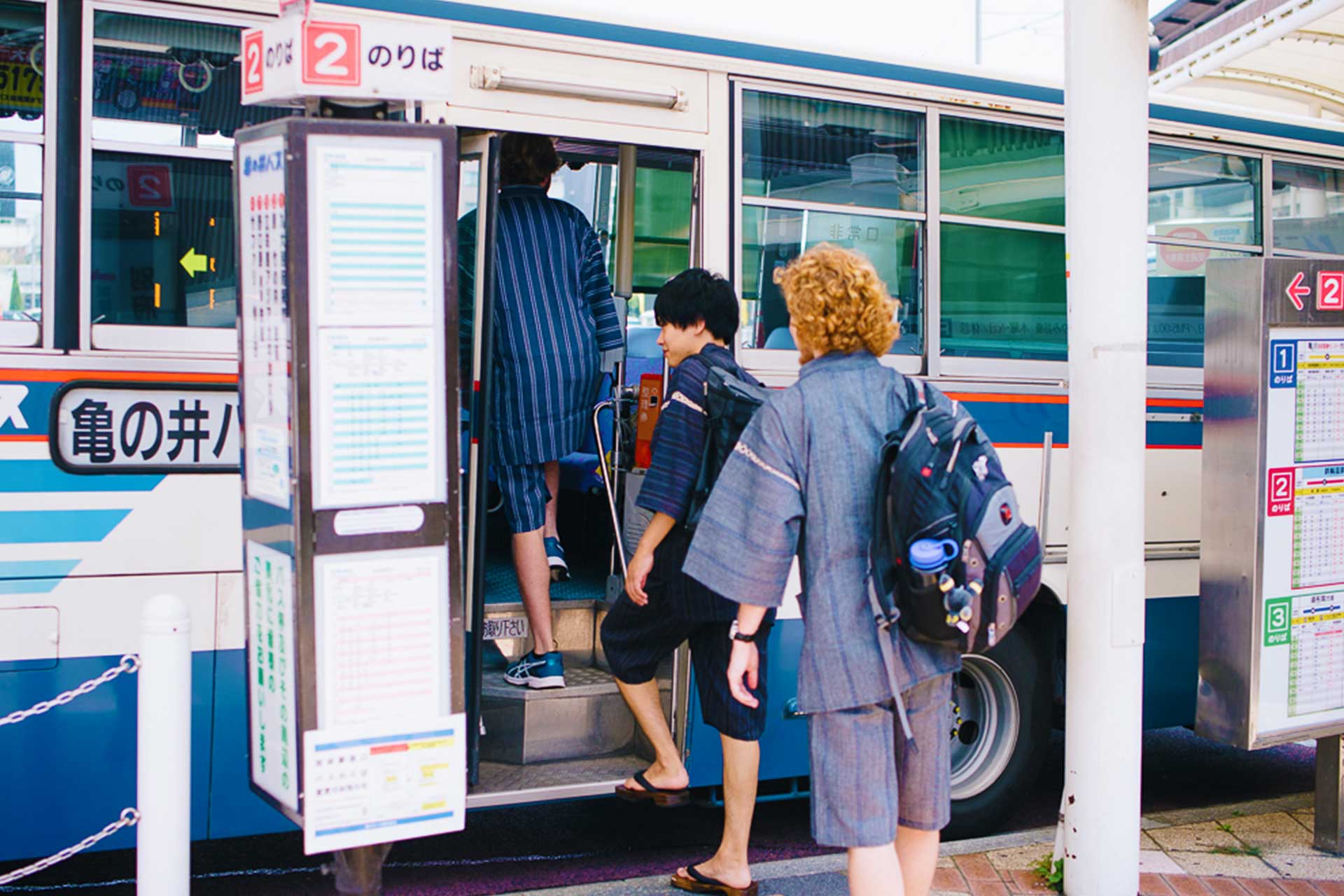 The three dressed in Jinbeis, boarded the bus with excitement. The destination they planned to go to a place rich with onsens called "Kannawa".
(Kamenoi bus) JR Beppu station west →(Bus No. 5.7.41 / 16minutes / 330yen)Kannawa bus center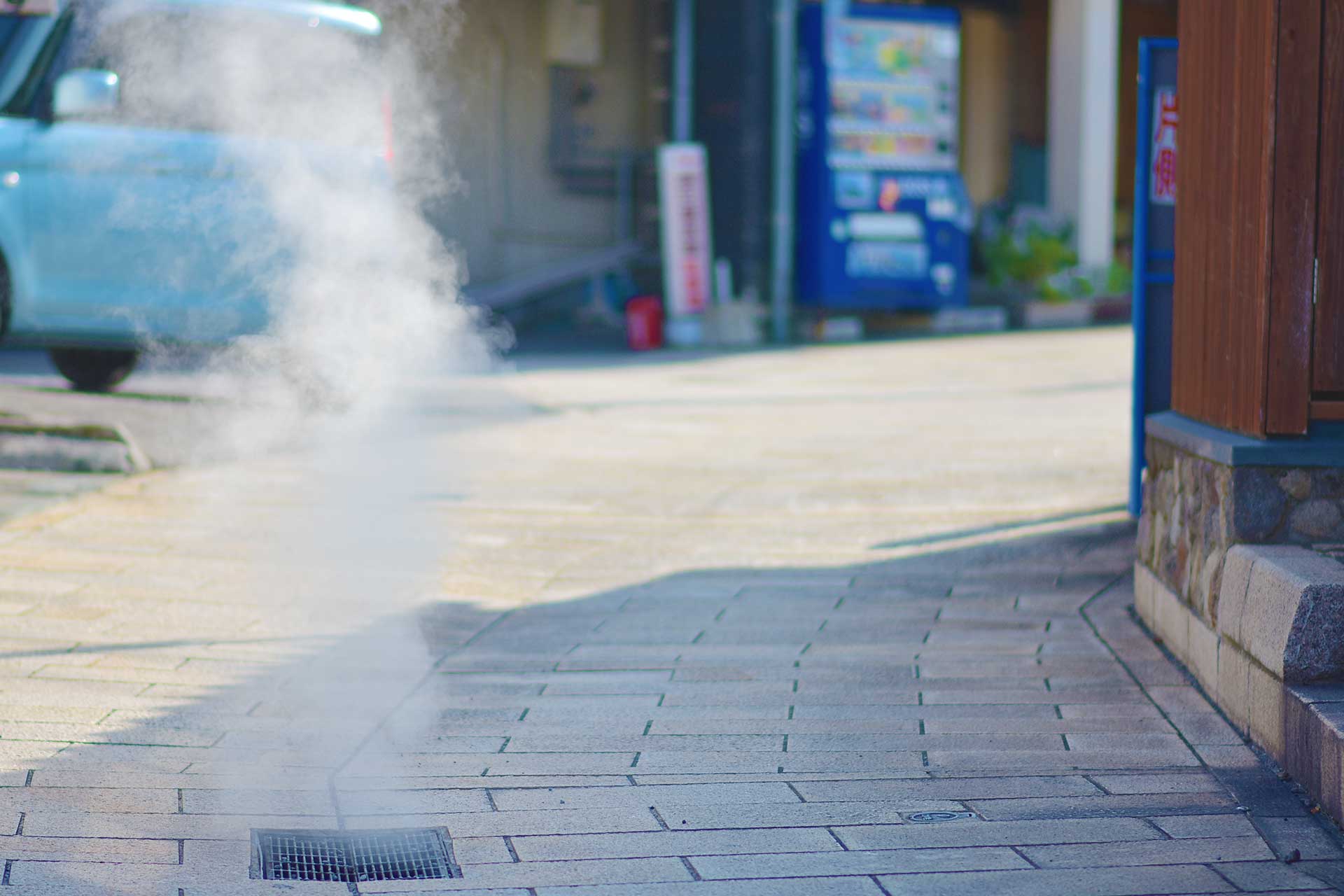 Where The Onsen Steam Rises: Kannawa
Kannawa is a place filled with onsen water flowing through various places such as, drains, pipes, etc.. It is a truly rare and interesting place and just talking a walk around the area is entertaining in itself. During the walk, they went to check out Jigoku Baru Onsen which is an onsen that is used by the residents of the neighborhood on a daily basis.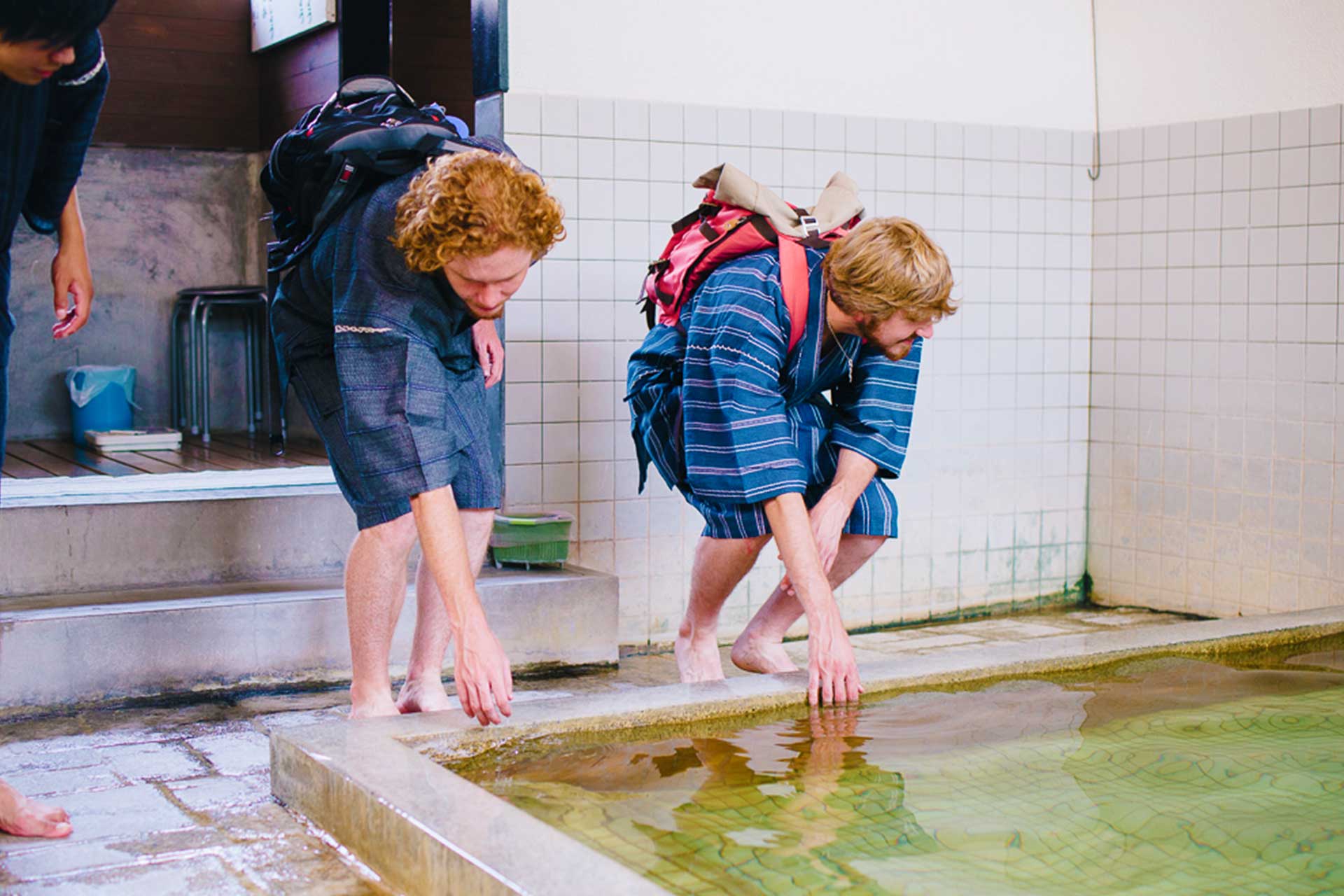 It was fun to watch them experience an onsen for the first time. The temperature was so hot!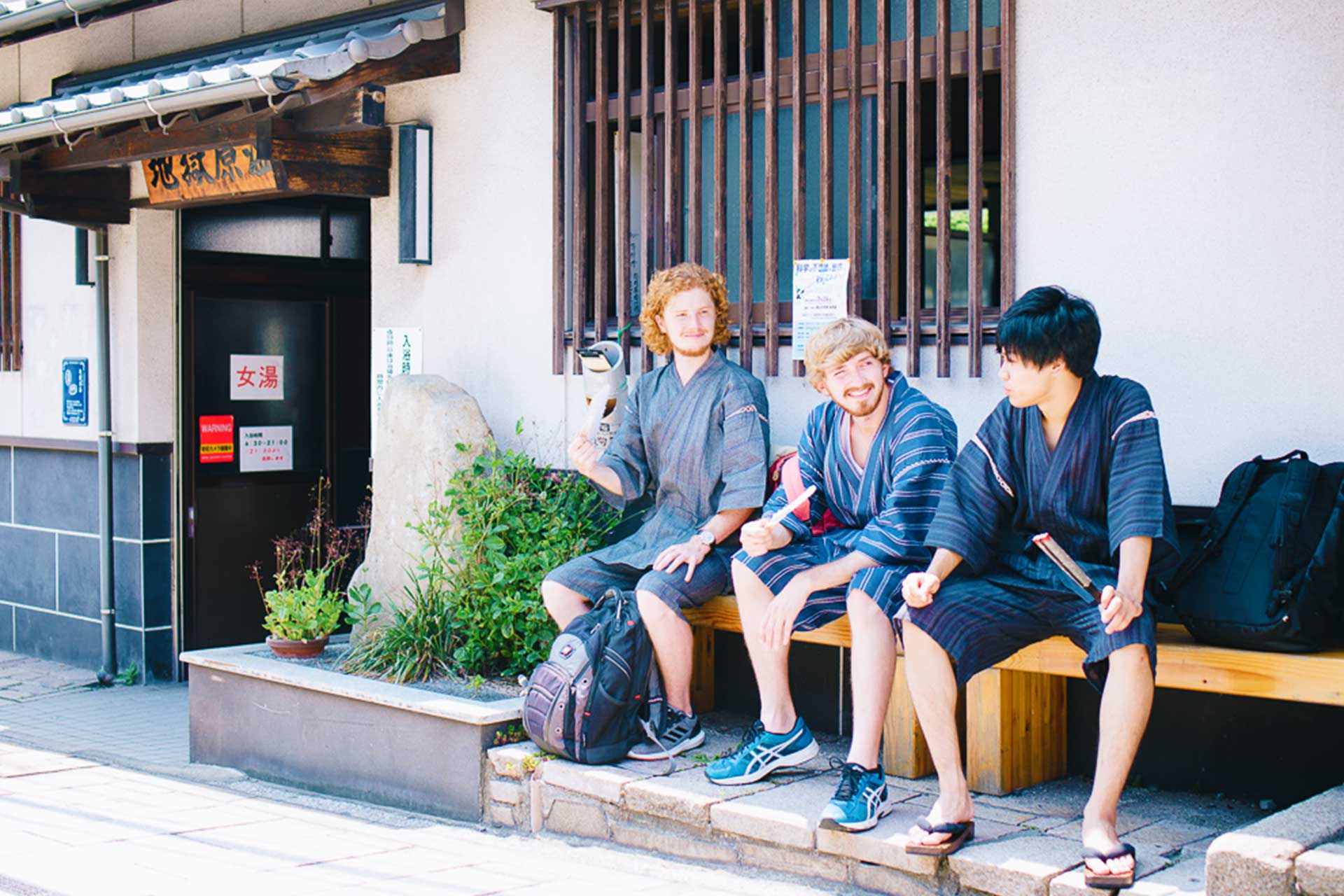 They took a break on a bench in front of the onsen. Michael and Austin enjoyed the view of Kannawa while wearing the Jinbei and relaxing. They felt like locals of Beppu.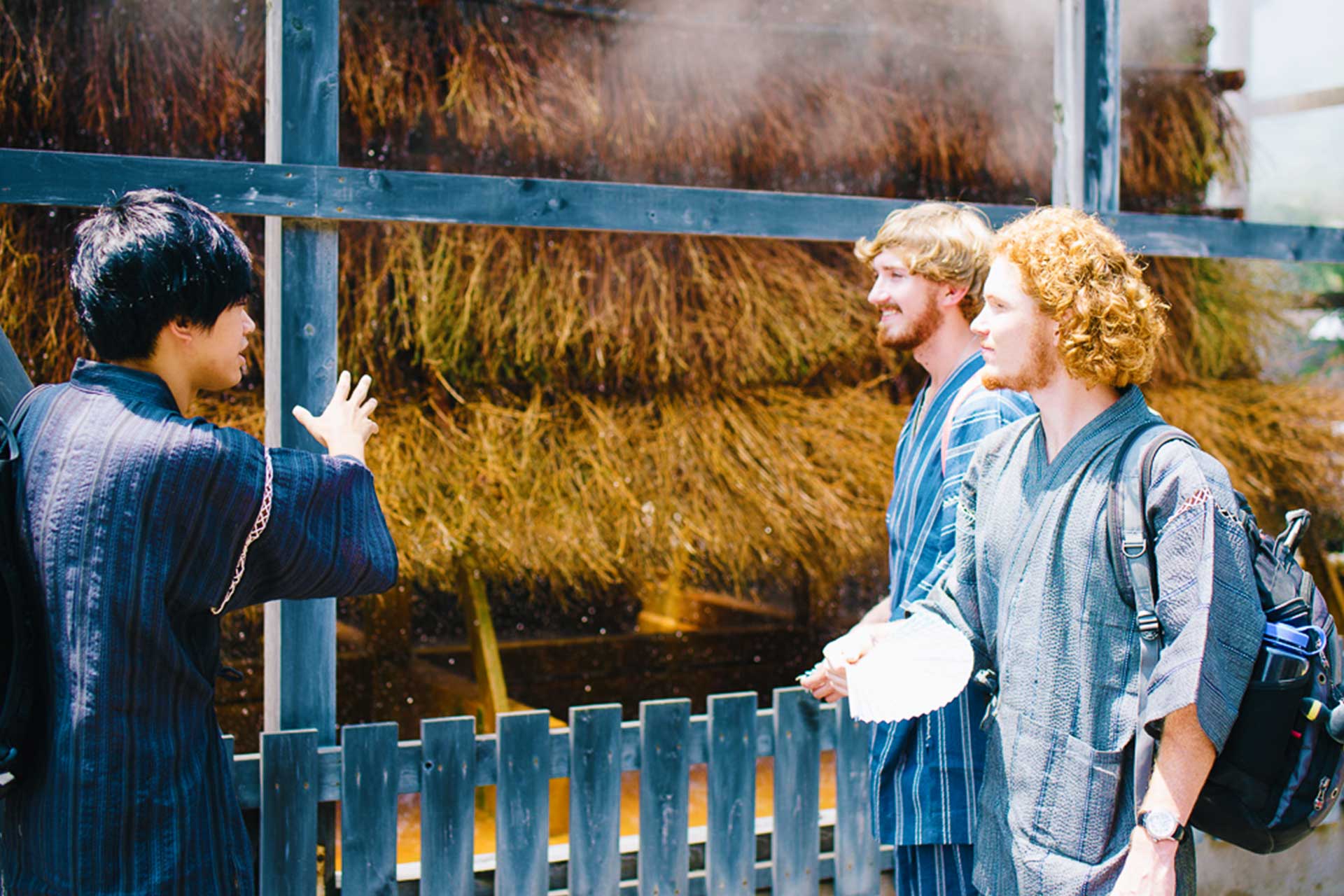 Local Beppu Onsen
While walking around Kannawa they arrived near the well-known Hyotan Onsen. At Hyotan day after day, tourists come from all the world to visit. They were curious about the bamboo water cooling system that was developed in Hyoutan so they decided to go and check it out. A 100 degree onsen can flow through bamboo without spilling over which makes it a suitable device for storing onsen water.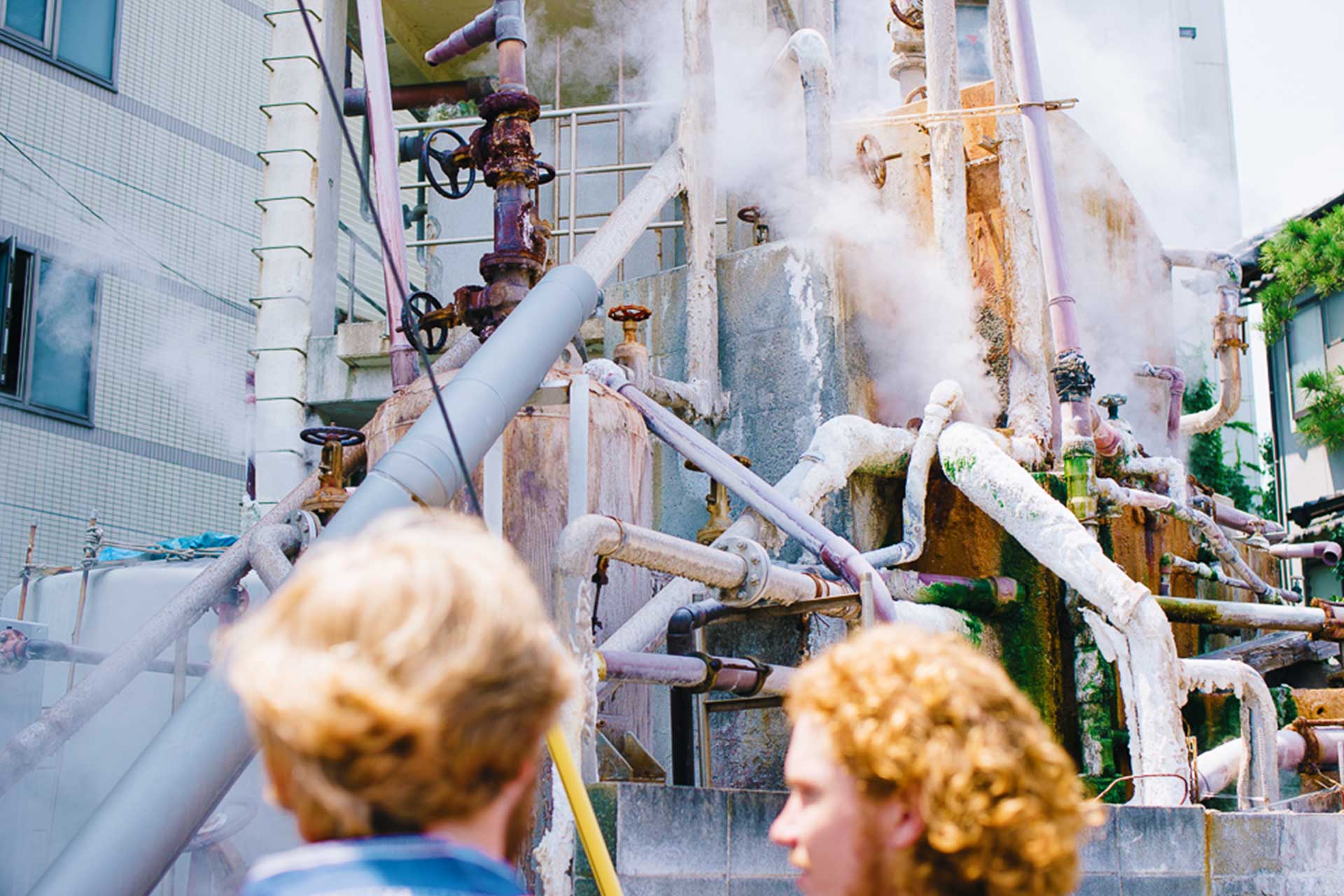 In the back alleys of Kannawa, you can catch the rare sight of the source of onsen water.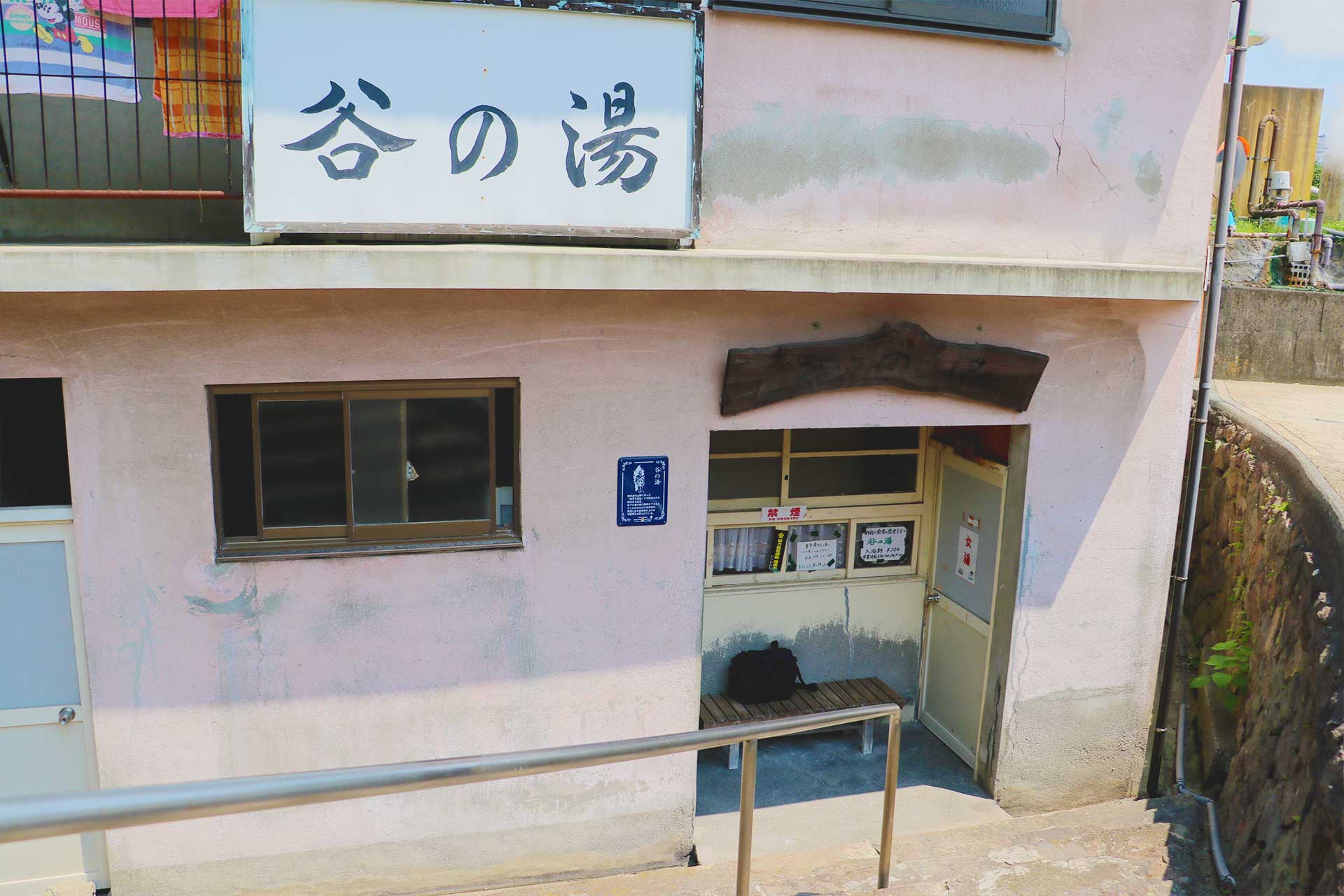 Within the local onsens there are some places that are hard to find, such as "Taninoyu". A very elegant and very popular onsen that only a few locals know about it. This time Ryuhei has a strategy in which he visit many onsens which will raise the desire of the people around him to enter the onsen. In the end he choose a great onsen to visit for them.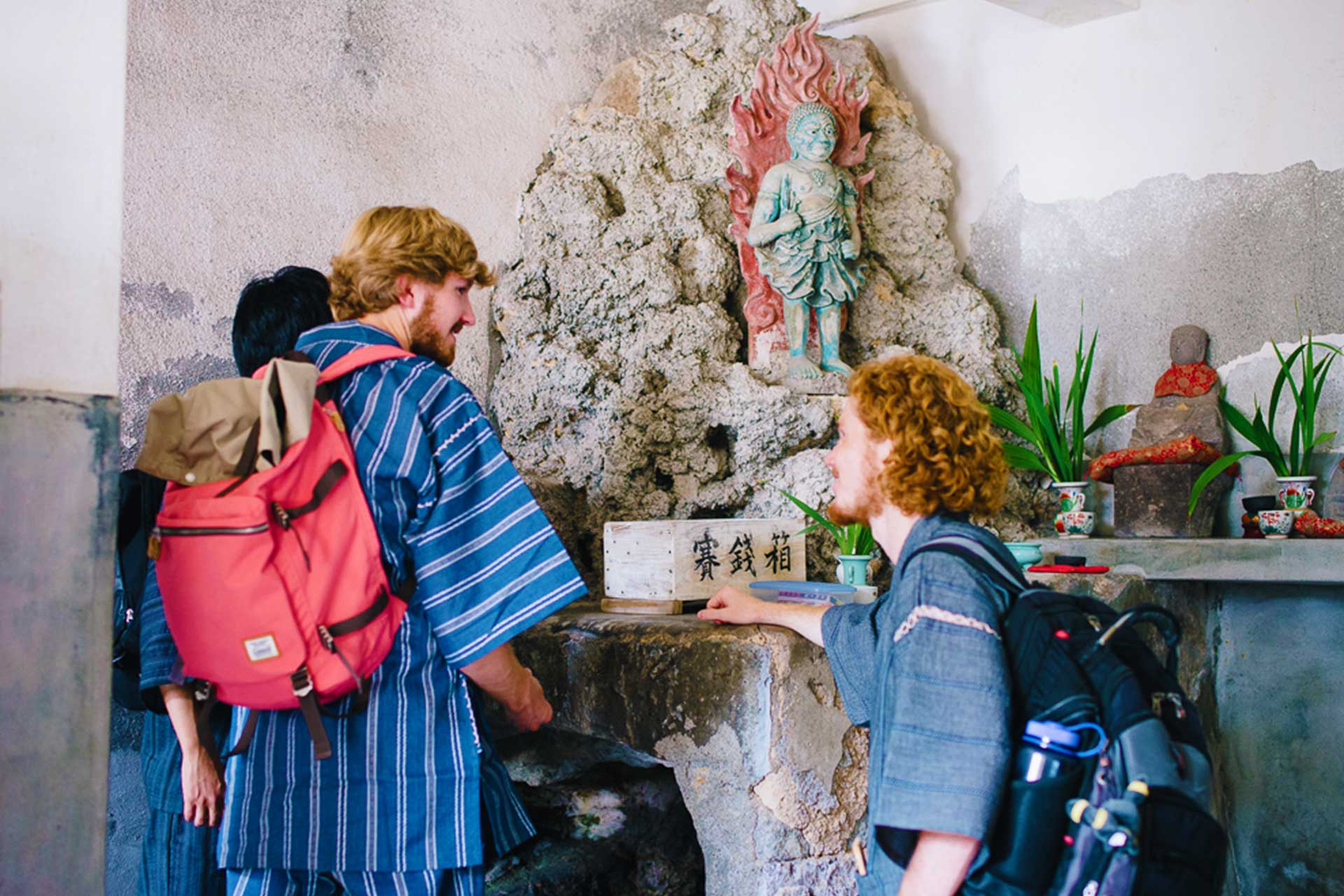 If you enter "Taninoyu", you should view the statue of the fierce Buddhist deity "Fudo myou ou" which sits inside the men's onsen. This statue is a very rare thing to find in an onsen.
After hearing about "Fudo myou ou" Michael and Austin suddenly felt a strong urge to enter the onsen.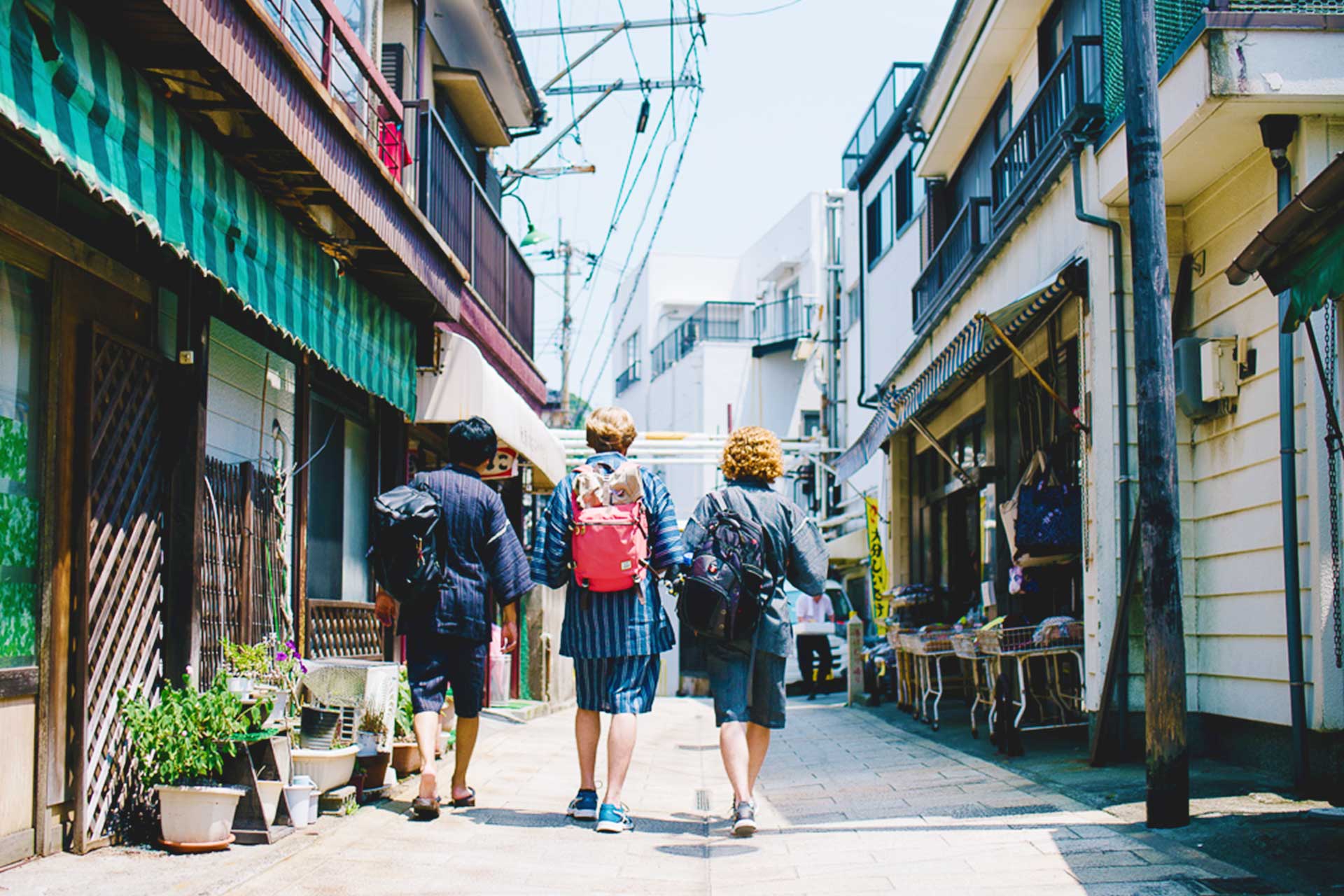 While taking in the view at Kannawa one can visualize what an old Japanese onsen town was once like. A unique characteristic of Kanawa's onsens is that after bathing in the onsens your skin will become very smooth and your body will stay warm long after as well.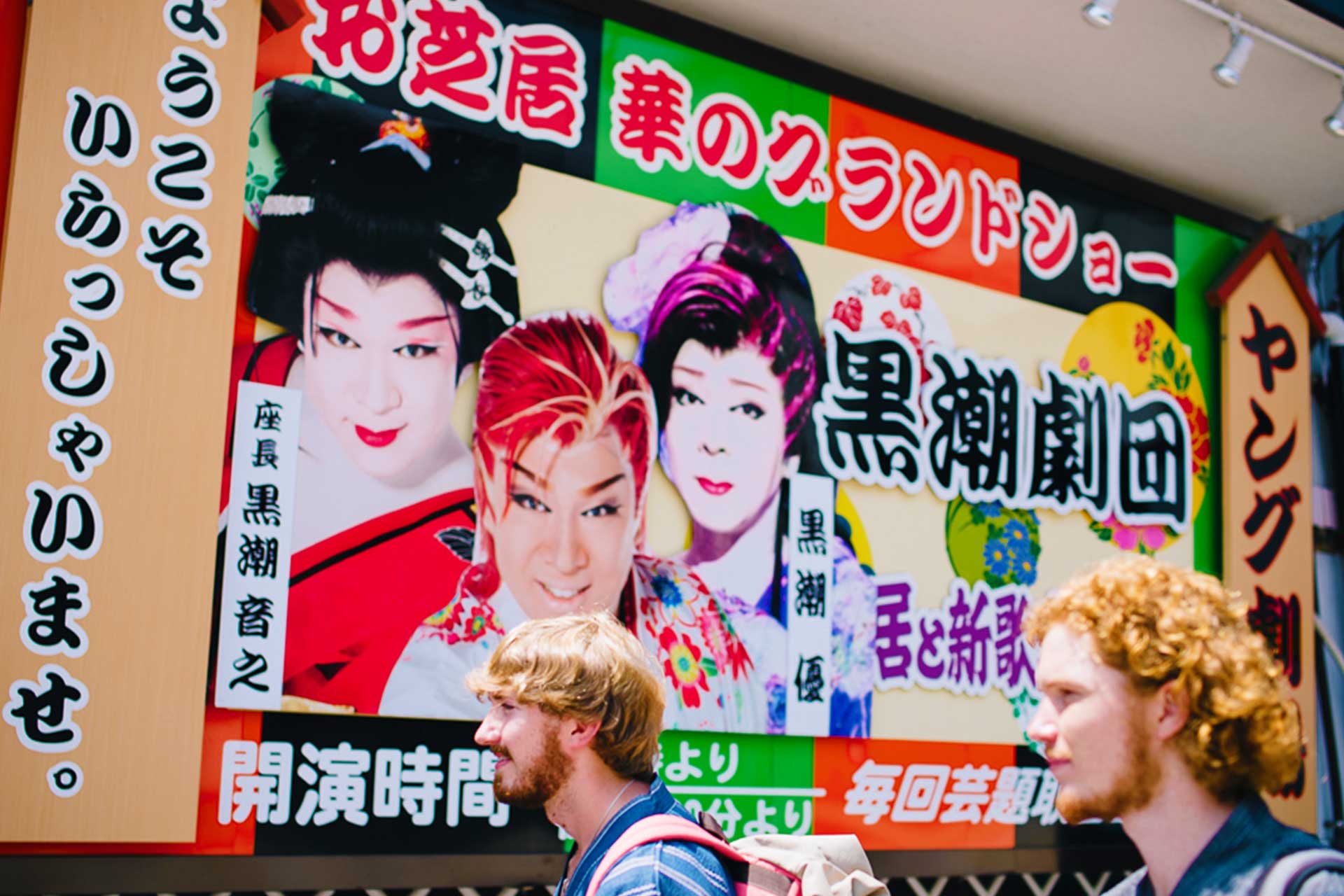 At the young center in Kannawa, every day there is a very entertaining show about samurais that worth going and seeing.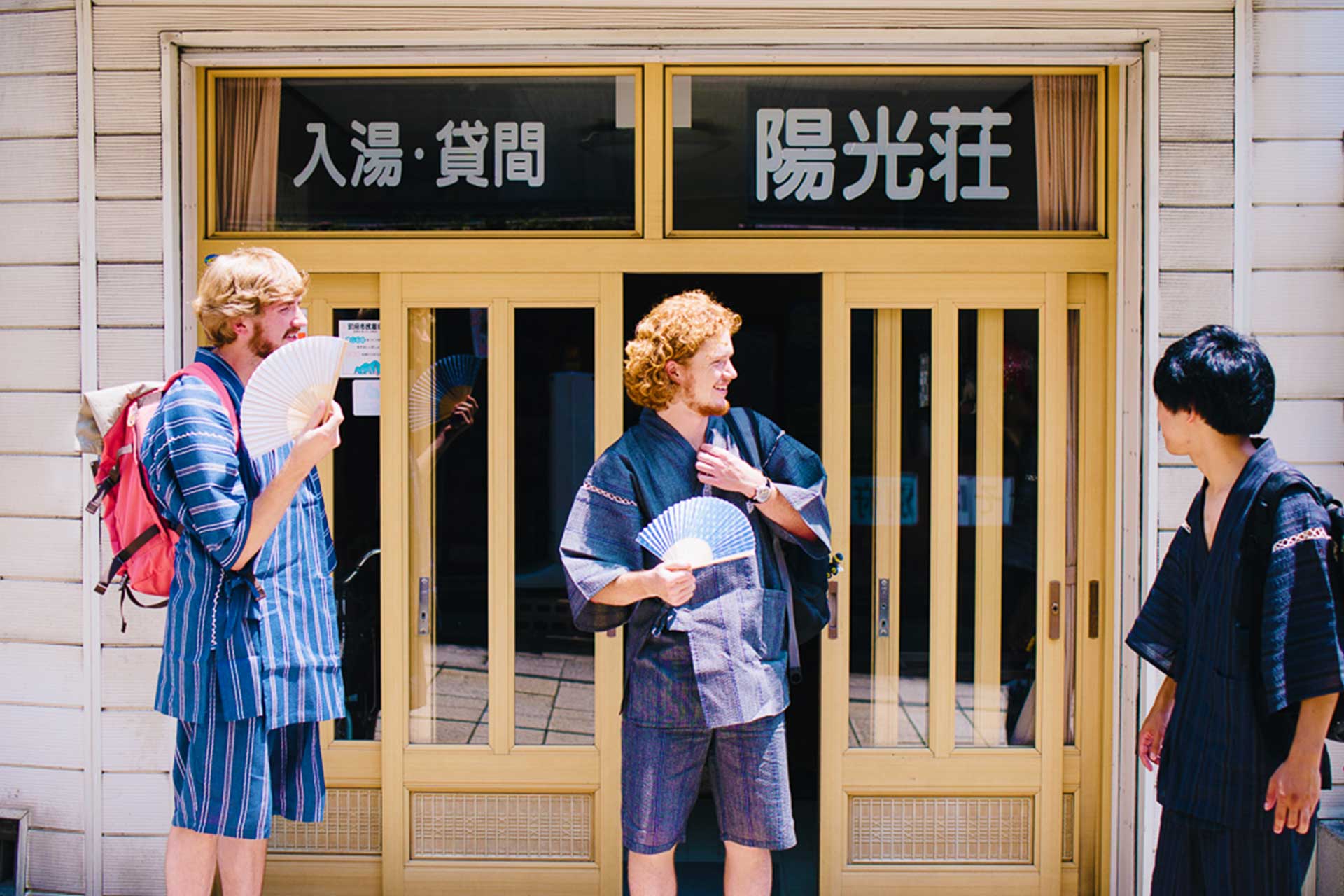 Onsen Hotels and Onsen Ryokan
In Kannawa, there are cheap rooms available that you can stay at for two or three nights. There are also places to stay at that are similar to guesthouses. When Japanese people think of Kannawa, everyone thinks that even for Japan, Kannawa is a rare place filled with traditional accommodation. Some of the oldest and best onsen hotel in Kyushu can be found here. Let's go in and have a look.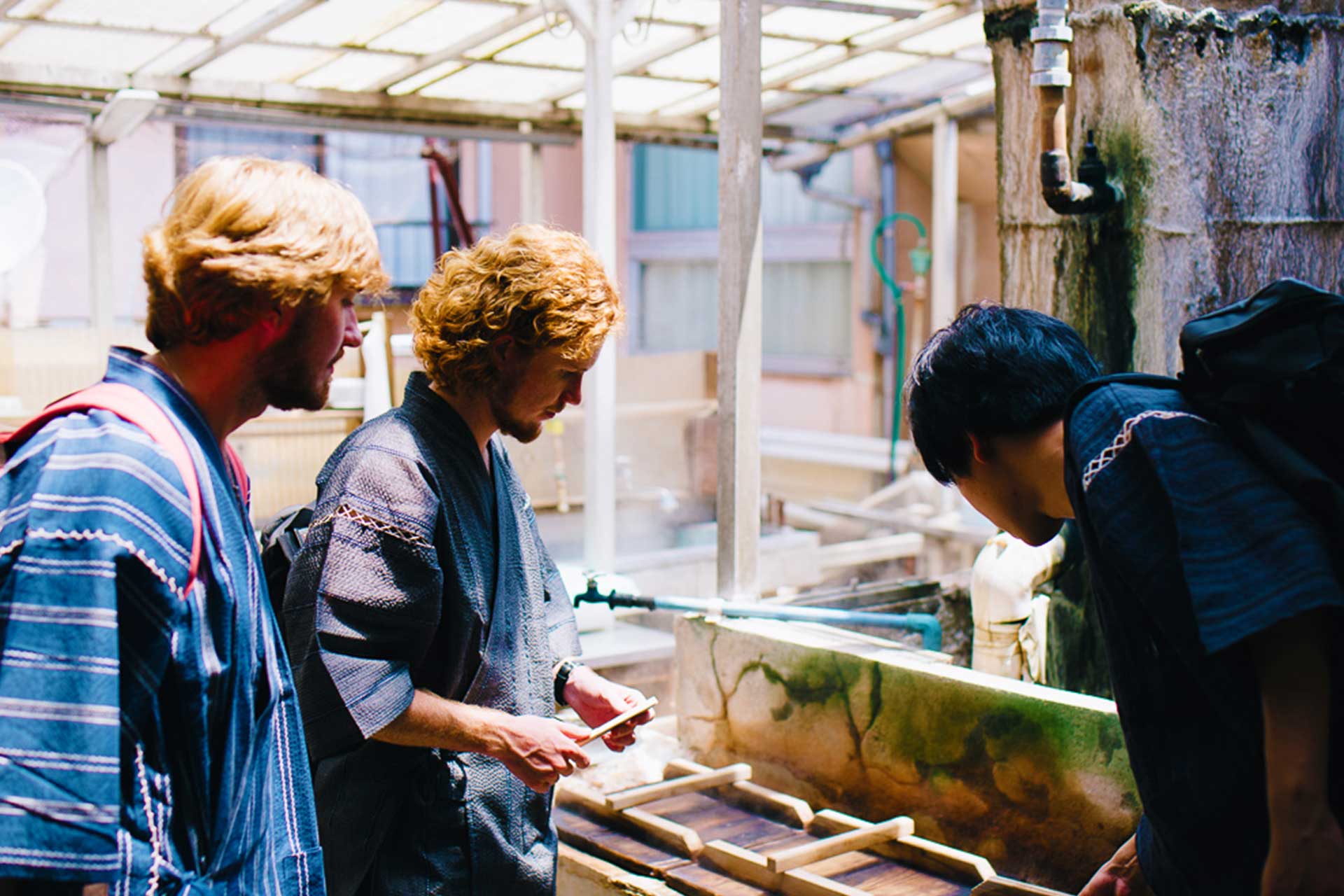 The rooms for rent do not include meals. Instead, the rooms are equipped with a do-it-yourself full-service kitchen and a common space where you can prepare bought ingredients and steam then in onsen steam pots. In this area, there are many areas that are equipped with onsen steam pots. Inside Beppu, there are only three places (Horita, Myoban and Kannawa) where you can have a steam food experience because the temperature of the steam reaches 100 degrees. Because of the high temperature of the steam from the onsens found in Beppu this way of making food can only be found in Beppu.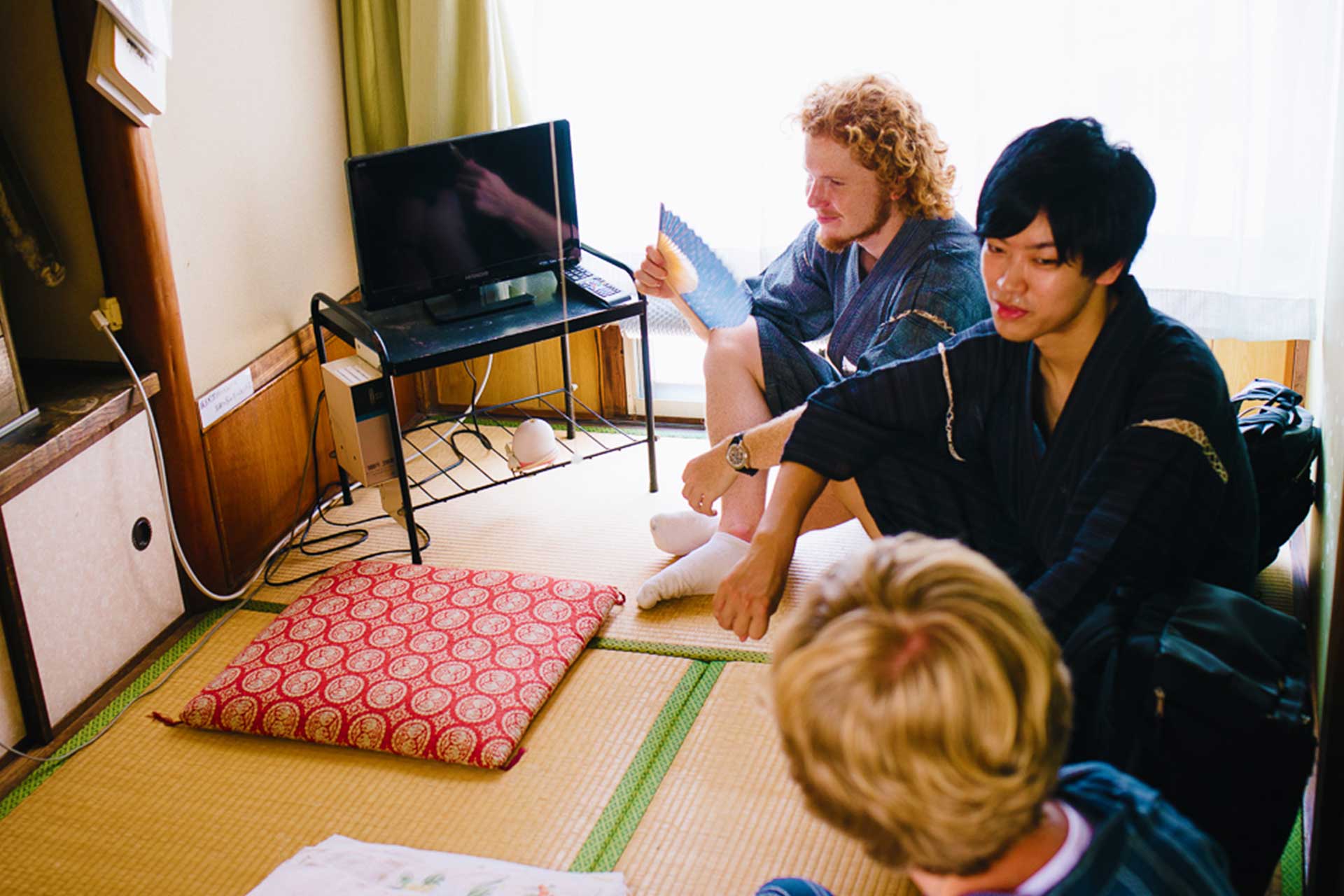 There was a tatami room to relax in and after several minutes it became lunchtime and Michael said "I'm hungry"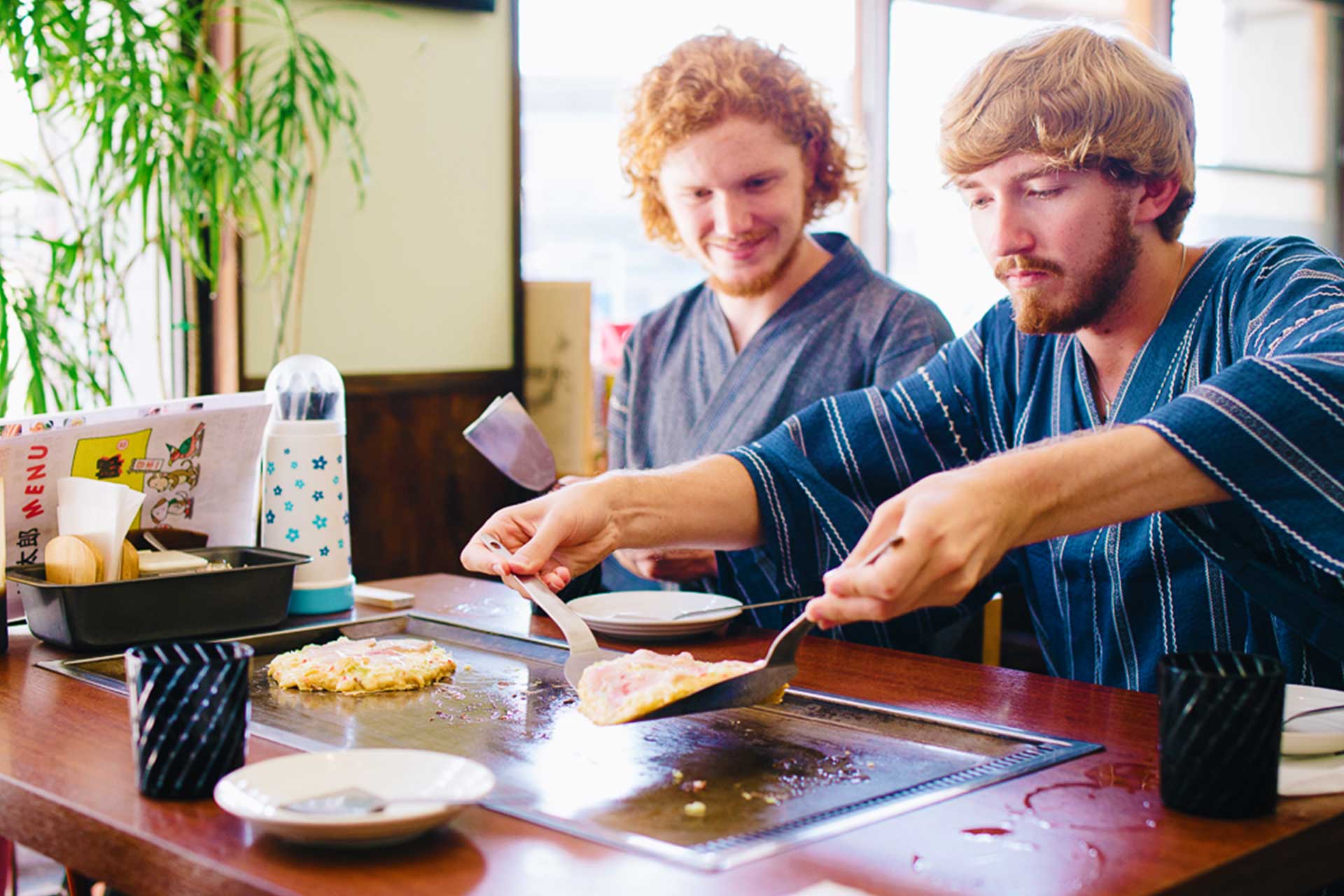 Local Food
Lunchtime. The day's lunch was the "Momotaro" shop's okonomiyaki. Even though this shop was not featured in the guidebook, Ryuhei assured them it was cheap and delicious.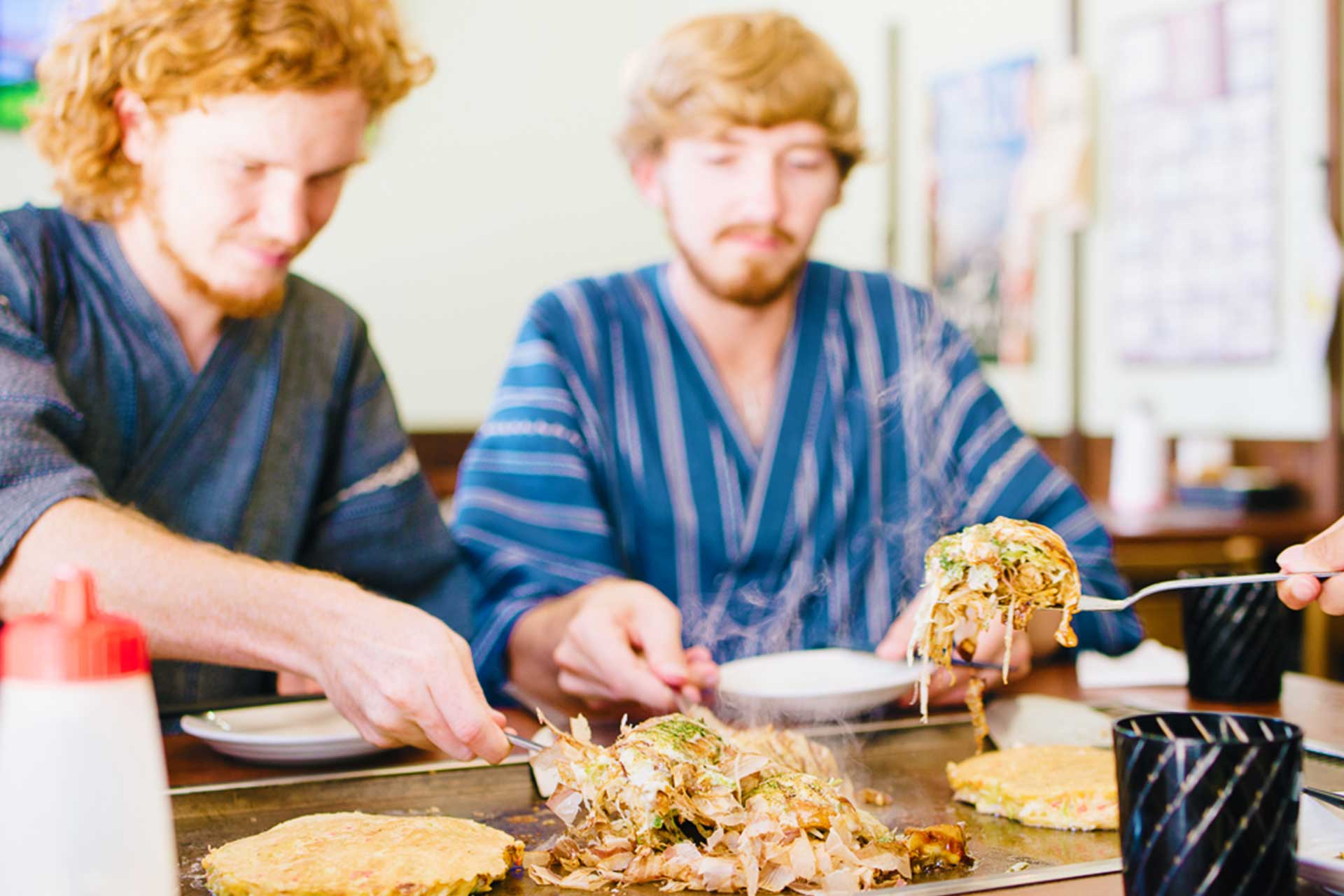 "Itadakimasu" The Okonomiyaki looked so delicious everyone couldn't wait to try it.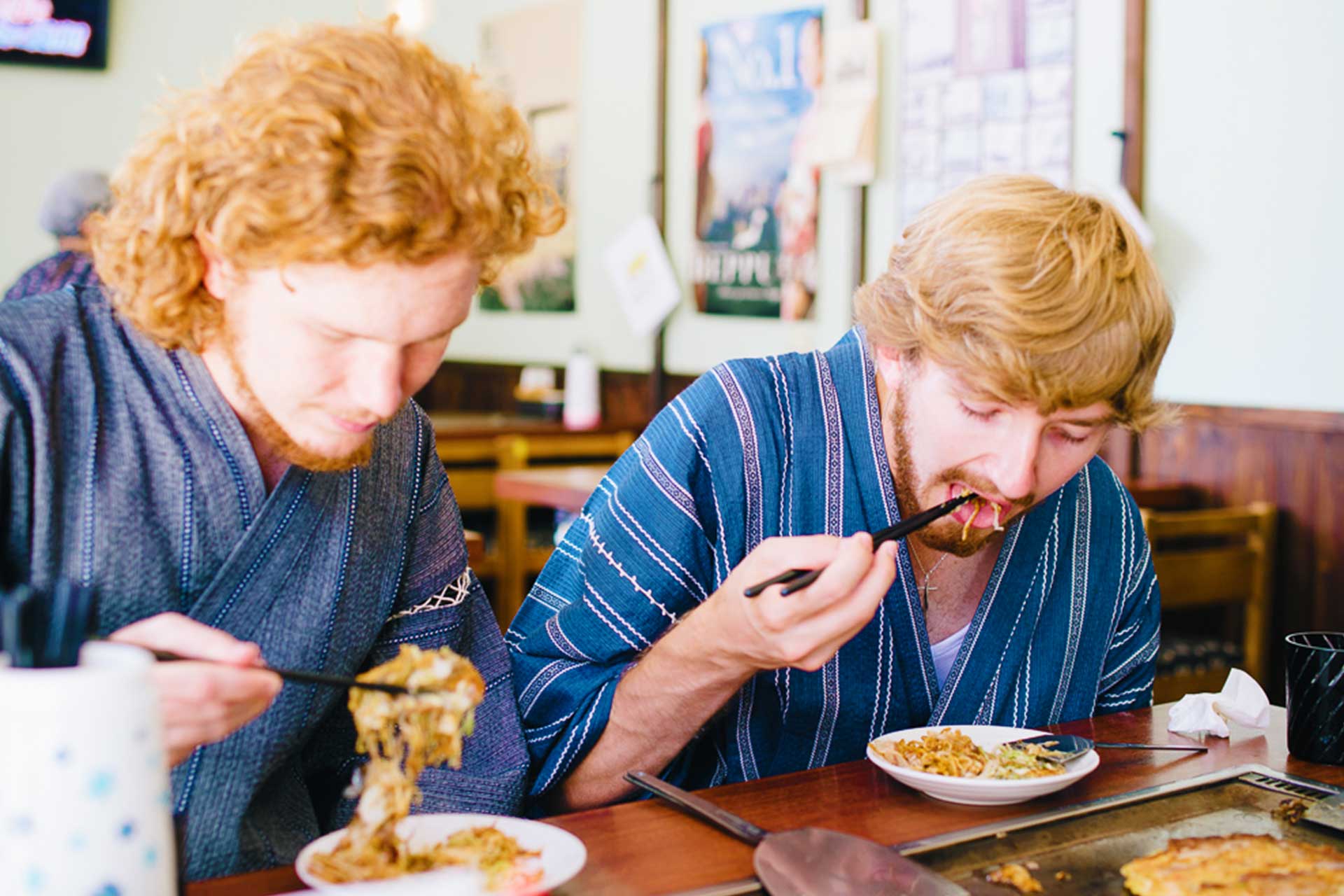 That's delicious! Since this okonomiyaki isn't high-class cuisine almost anyone can enjoy the delicious flavor without spending a fortune.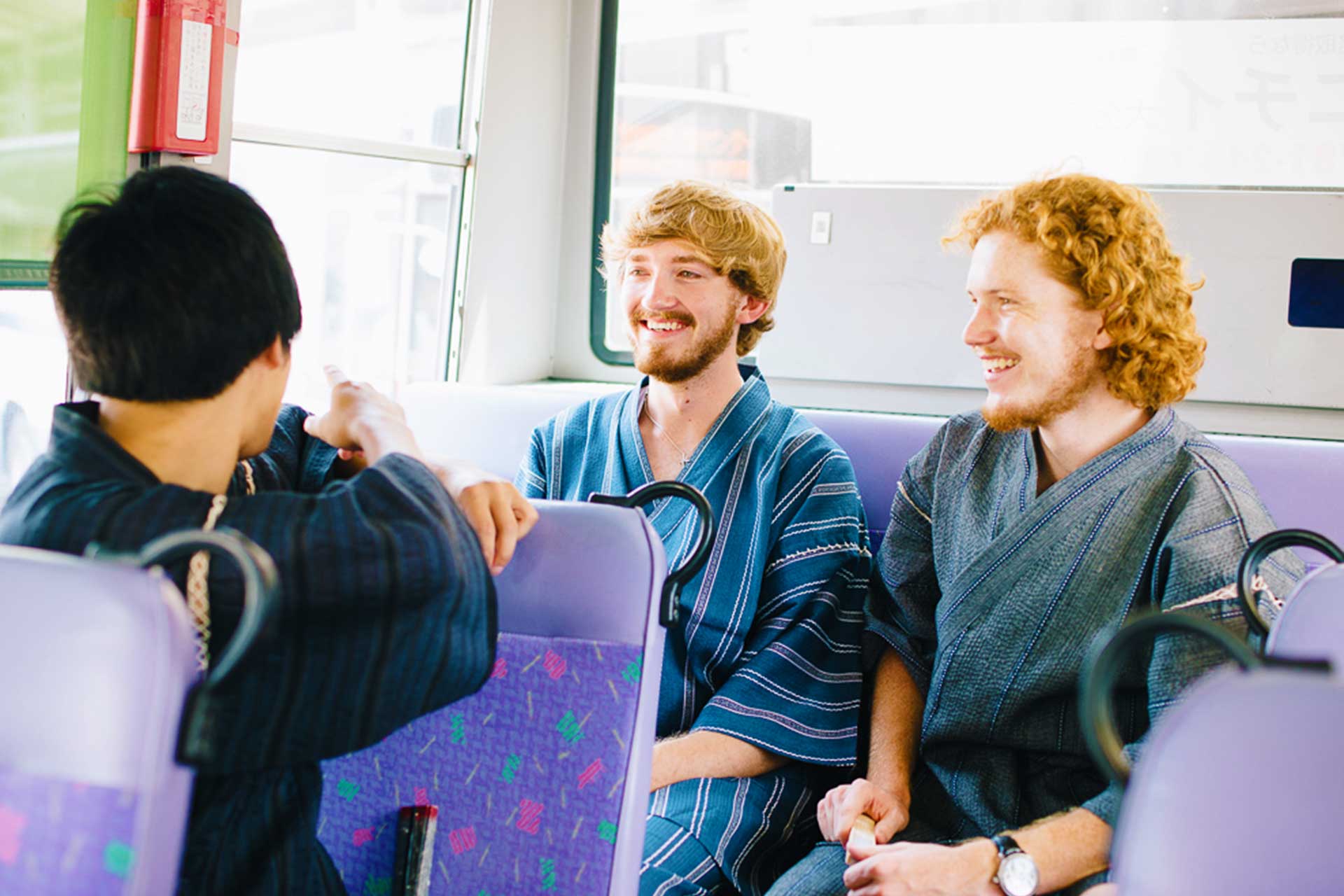 Onsen In The Mountains: Myoban
After eating they boarded the bus and headed to Myoban, a place unlike any other found in Beppu with sulfur hot springs and many traditional places.
(Kamenoi bus) Kanawa bus center →(Bus No. 5.24.41 / 7 minutes /200yen)Konya Jigokumae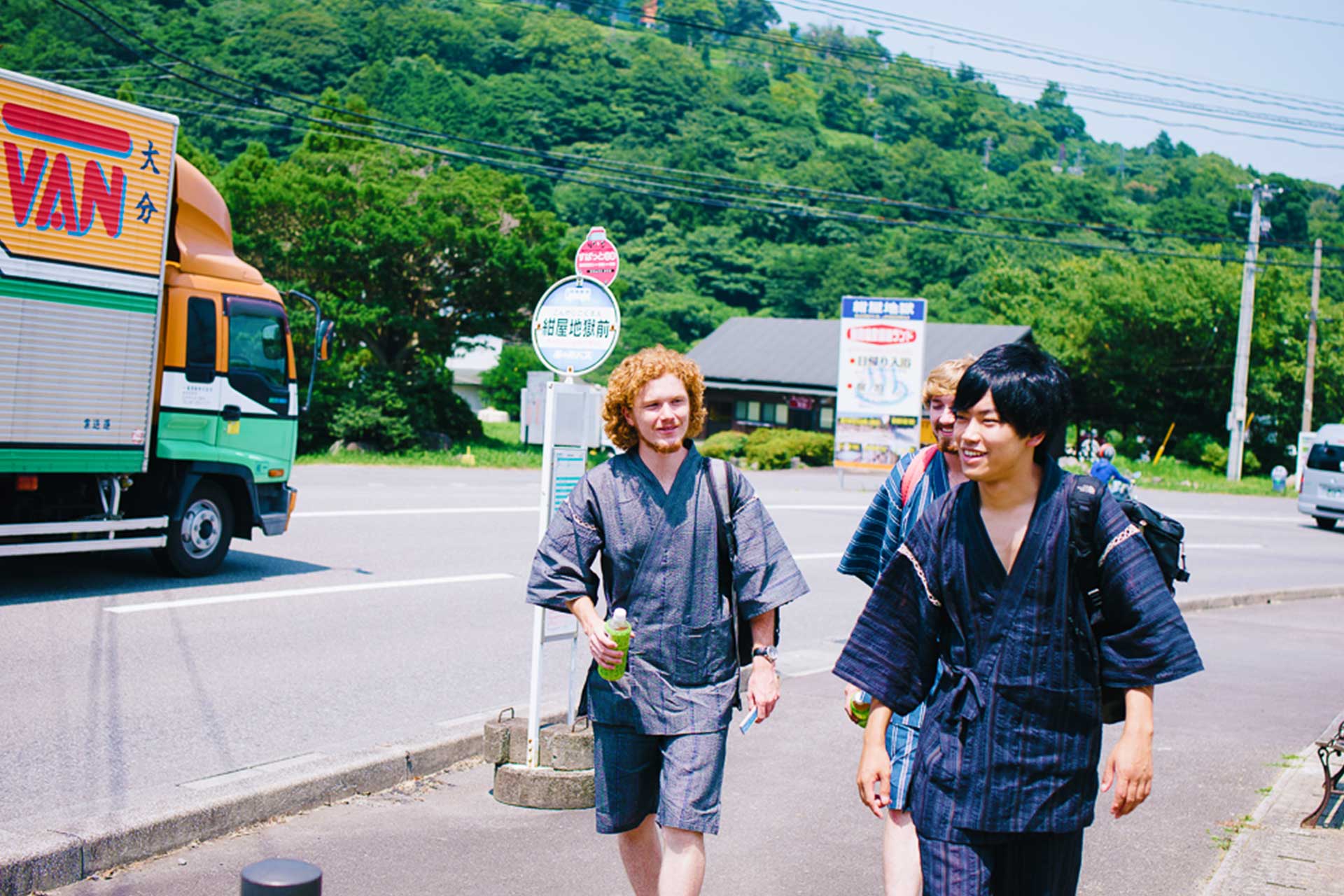 After deboarding the bus they were able to smell the scent of sulfur immediately. In Beppu visitors and people that relocate from places all over Japan come and enjoy the various types of onsens in Beppu.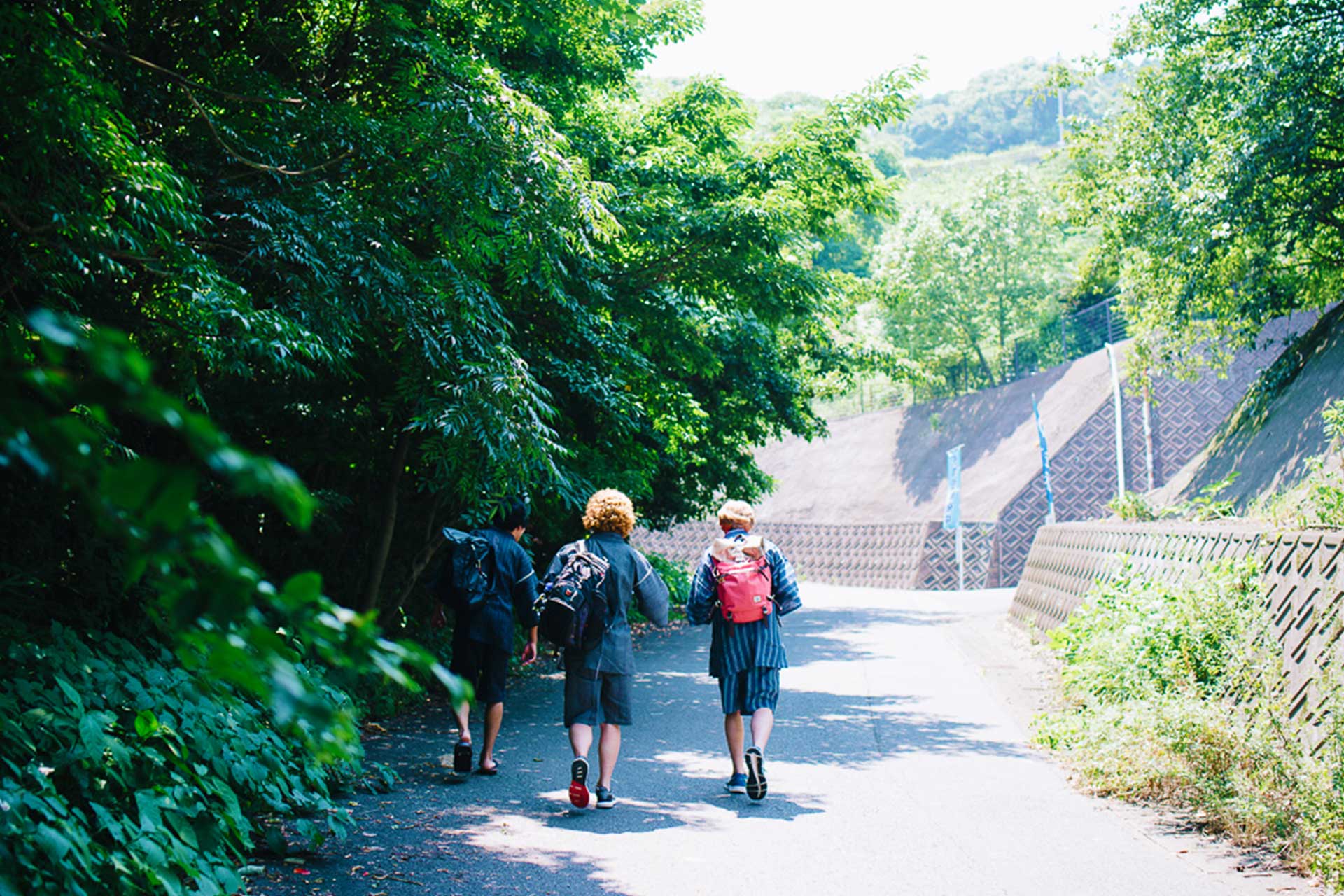 Let's test their ability to climb a small portion of the mountain. Today's main event is going to an onsen "Tsuru no yu" that is situated in the mountains.
The slope was steeper than they had imagined. However, with effort and perseverance, the three of them climbed the mountain knowing the destination location would be worth the struggle.
After crossing through the tunnel the graveyard soon came into view.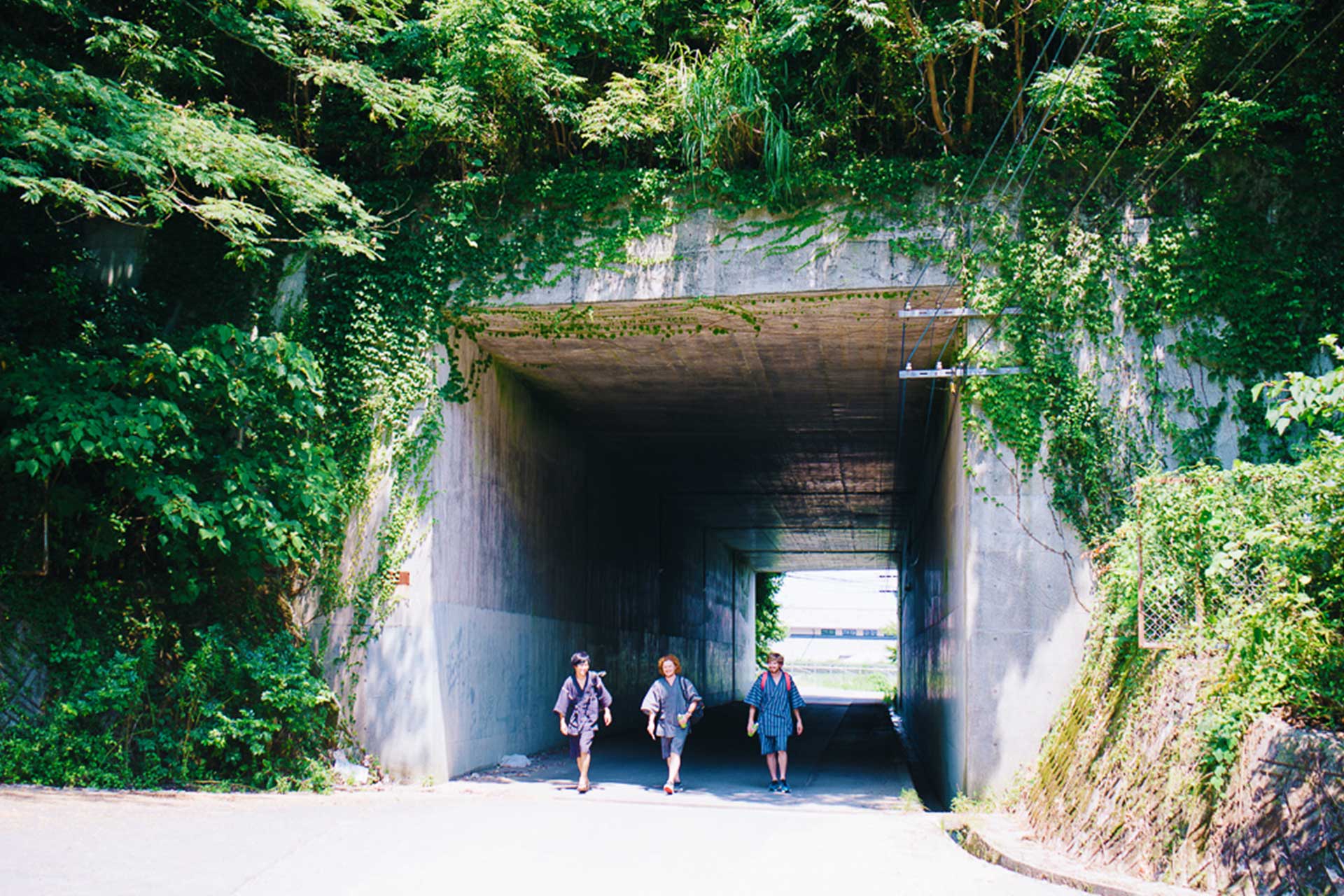 The hill was filled with gravestones. In Japan the dead are cremated and they can be buried in a compact space however, in western countries the dead are usually not cremated and buried in coffins, so more space is needed to bury them.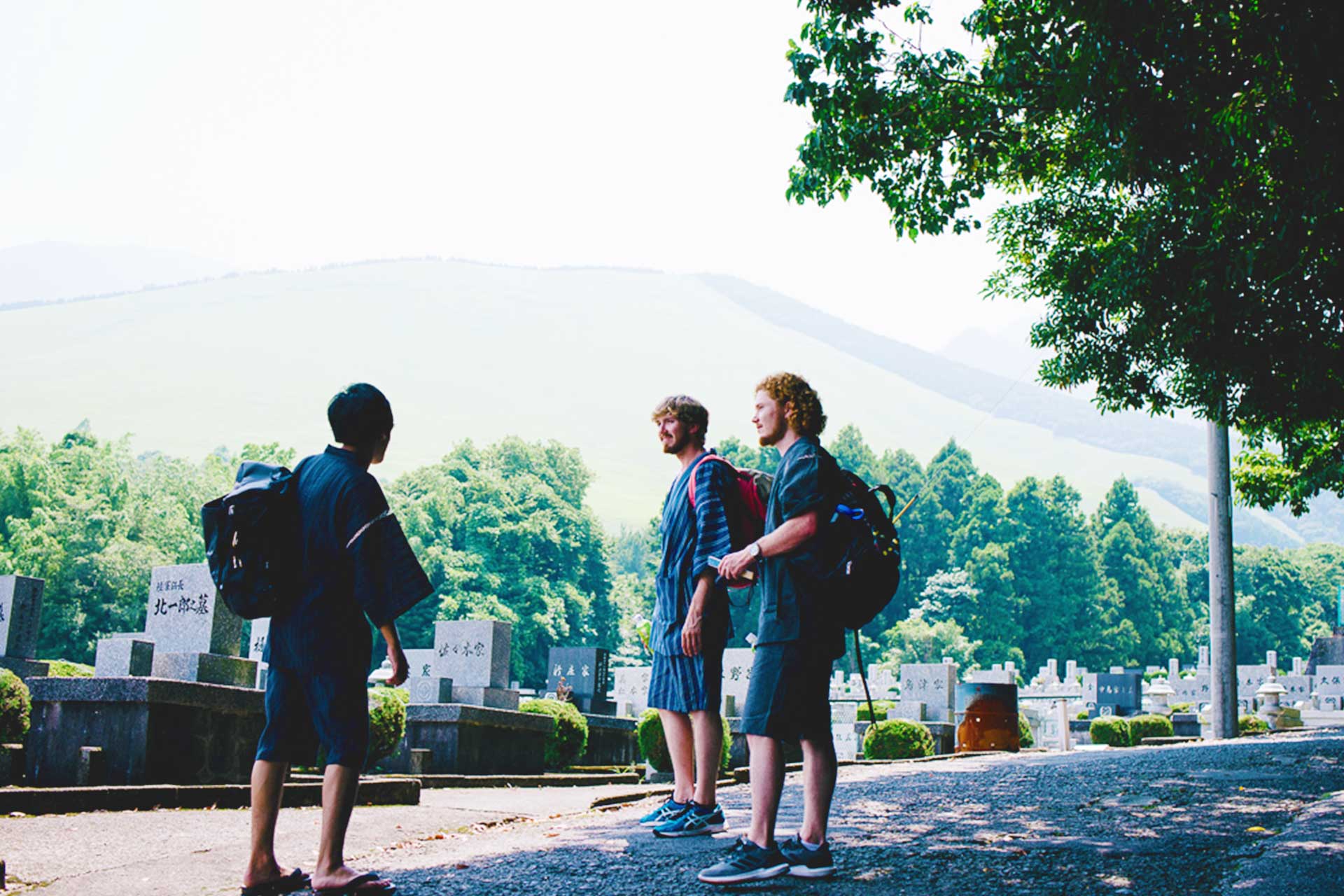 After 25 minutes the grave site came into view and after another 20 minutes walking through the graveyard they arrived at their destination.
Beautiful Hidden Onsen
After much effort they finally arrived at the onsen "Tsuru no yu" situated in the mountains. Do you know why they went there? After bathing in the onsen water this question is easy to answer.
"Aaaahh!" The three let out deep sighs of relief after entering the onsen.
They could feel the thick scent of sulfur penetrate their nostrils as they enjoyed the time with the highest feeling of ecstasy.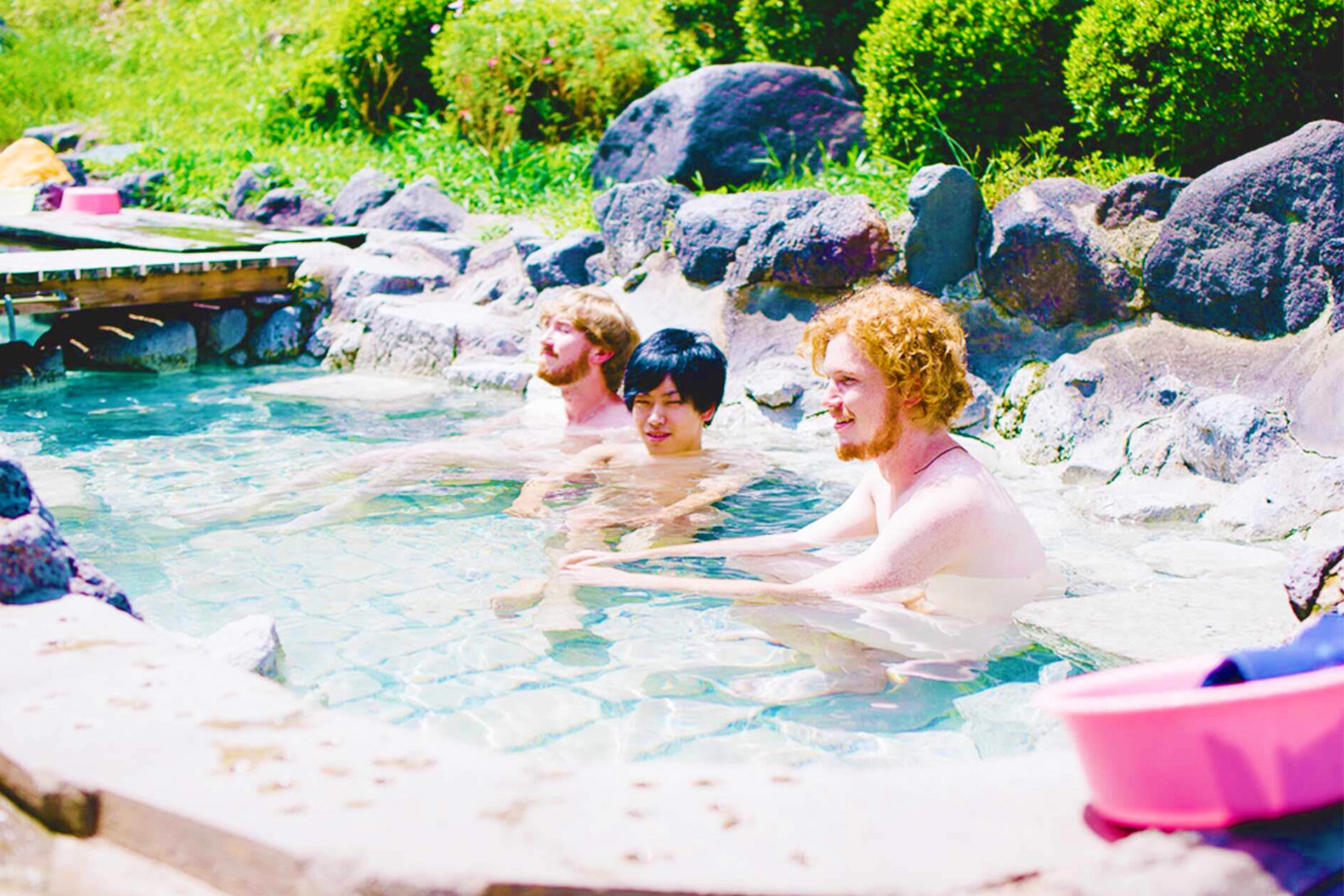 Even though such an amazing onsen "Tsuru no yu" exists many people still don't know about it. It is an onsen where both and men and women can bath in it at the same time. It is free to bath there for all. This is an onsen surrounded by nature that everyone should try just once while visiting or living in Beppu.
Michael said, "The view at Kannawa was very unique. I wanted to try onsen steamed food. The onsen was amazing!"
Austin said, "It was thrilling to try on Japanese clothes. Bathing in the onsen was totally refreshing. After bathing in the onsen my skin felt so great. If you visit Japan you should definitely try out an onsen."
※If you go alone to Tsuru no yu or Hebin yu it could be potentially dangerous as there is not lighting equipment so please be advised when visiting there.
We hope you found the tour to your liking. If you are looking for Kyushu Onsen, this small hot spring resort town may be just the place for you!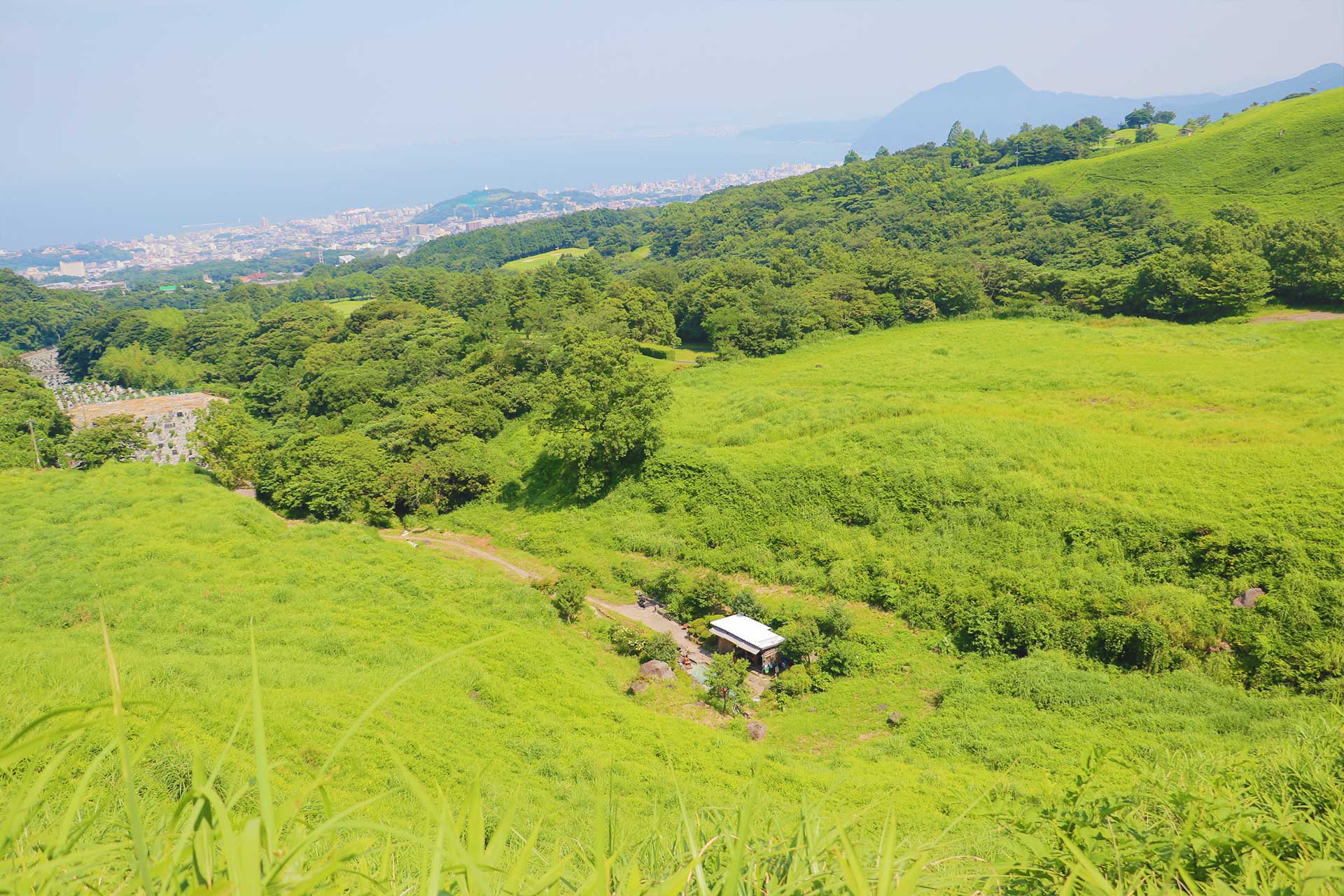 Let's Take a Test to Find Out Which Onsen Suits You The Best!
EnjoyOnsen