There are seven kinds of spring qualities that can be found in Beppu, the onsen capital of Japan. It is rare to have such varied kinds of onsens in a small town. In this article, we will introduce you three of the ways to enjoy different onsen combinations.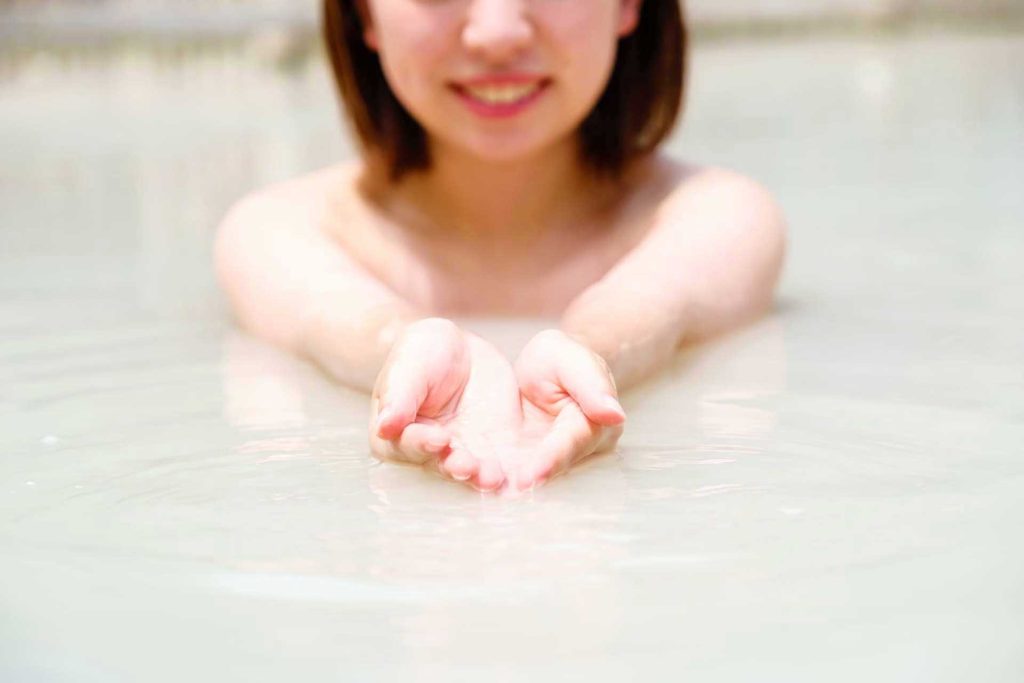 Onsen goers strive to bathe in effective way. This is called "Kinousen (bathing in the effective way)." It refers to a method of further enhancing the effectiveness of hot springs by bathing in a combination of two different kinds of hot springs.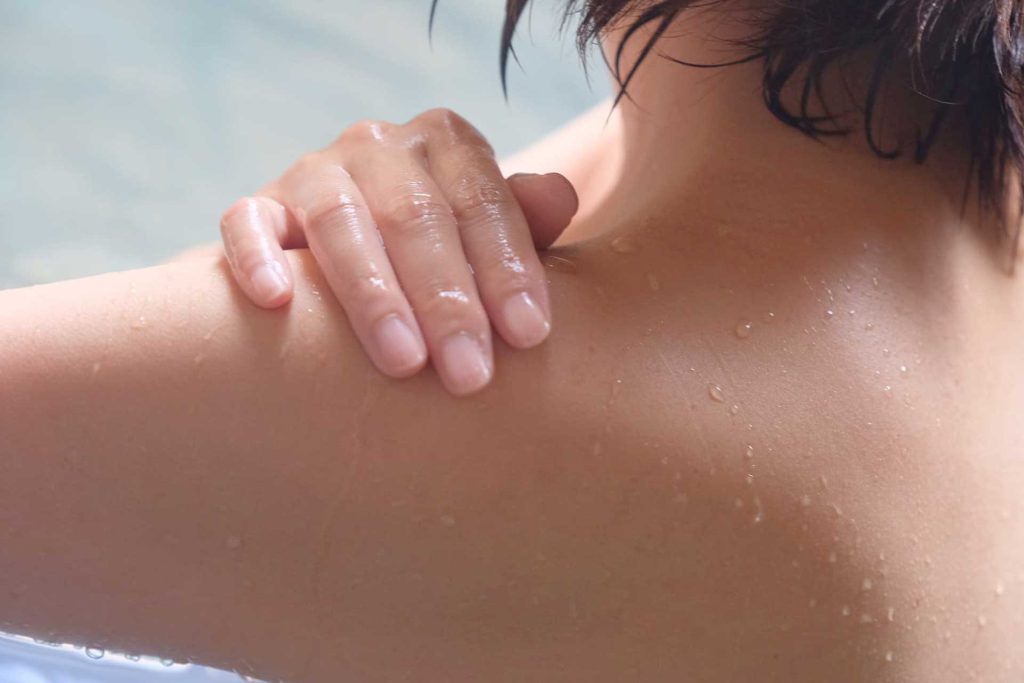 Onsen Combination for Beauty Boost
Beppu has eight hot-spring areas called Beppu Hatto (these include Beppu, Hamawaki, Kankaiji, Kamegawa, Shibaseki, Kannawa, Myoban, and Horita). The best recommended beauty combination is to enter the hot spring in Kannawa after entering the hot spring in Myoban.
STEP 1. Onsen in Myoban → STEP2. Onsen in Kannawa
To maintain the beauty of your skin, cleansing and moisturizing are important. If you imagine that Myoban Onsen is like a shampoo of the skin for cleansing and Kannawa Onsen is like a conditioner of the skin for moisturizing, it may be easier to understand. You can cleanse sebum and exfoliate in the strong, acidic hot spring in Myoban.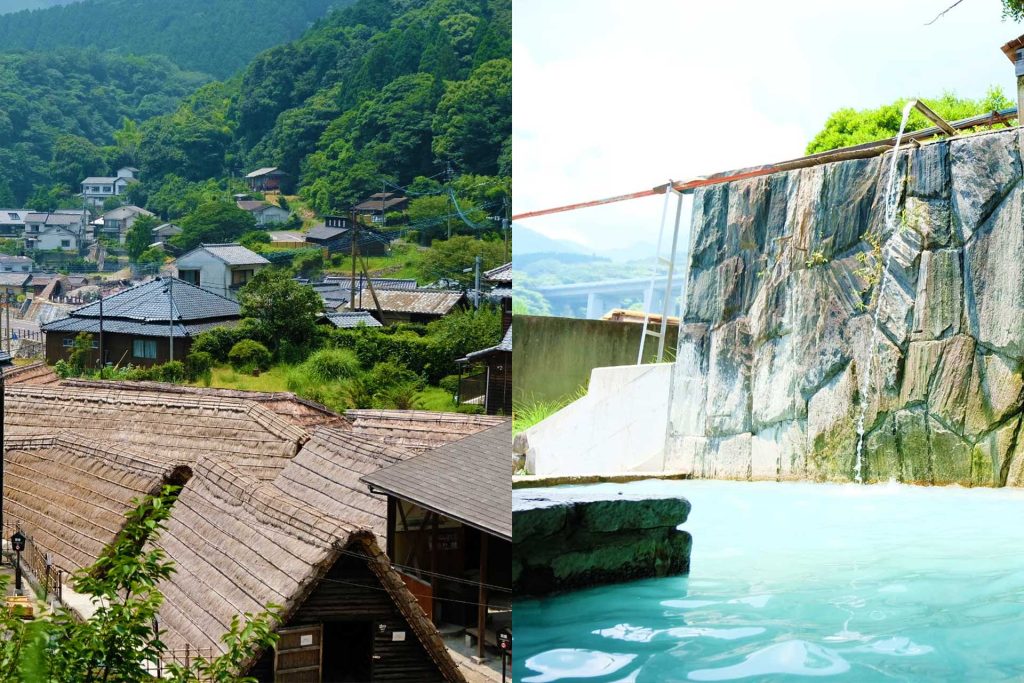 After that, you skin gets soaked in a weakly acidic hot spring in Kannawa. In Kannawa onsen, the skin is moisturized because the hot springs contain a lot of metasilicic acid, which is known as a moisturizing ingredient. Please feel your silky smooth skin.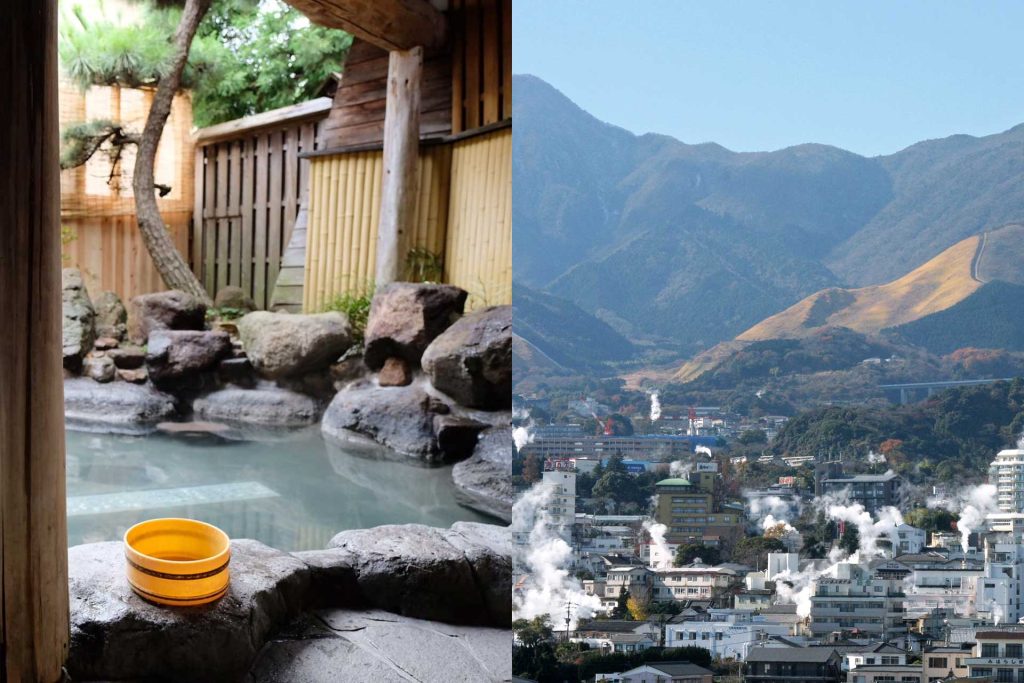 Myoban Yu no sato and Yuya Ebisu are well known onsen in Myoban.
Hyotan Onsen, Kannawa Mushiyu and Shibuyo-yu are well known onsen in Kannnawa.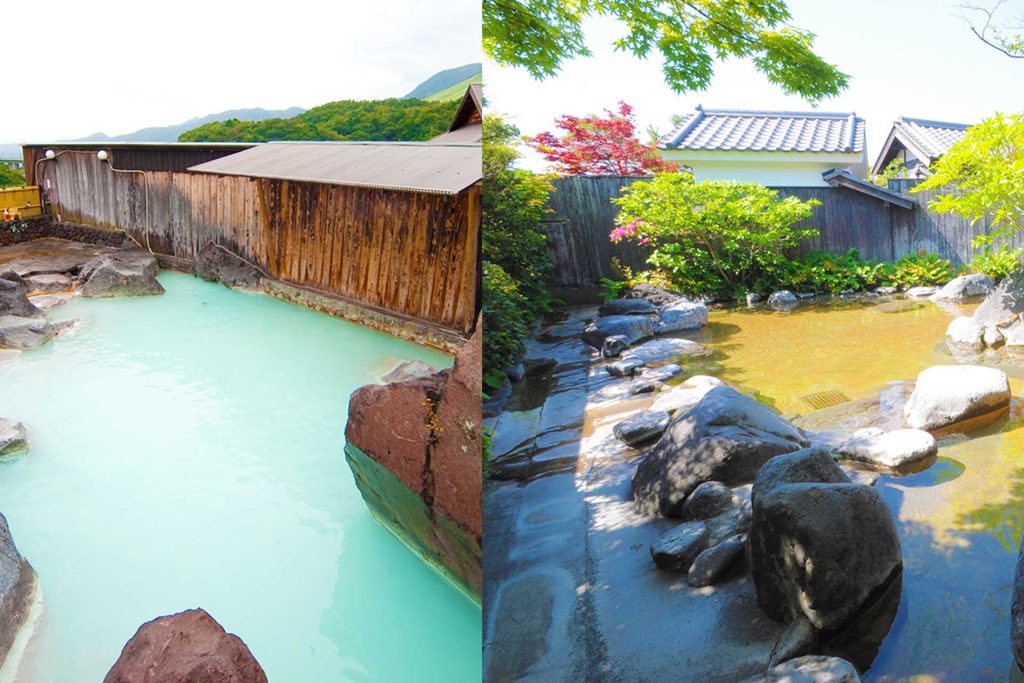 Special Skin Beauty Course; Onsen Serum?!
In Japan, there is a hot spring called "Bijin-no-yu" which means hot water of beauty. One of them is a weakly alkaline sodium bicarbonate spring. Although you may not be able to imagine it even if it says the name of the ingredient, when you touch the hot spring, you will find the thick texture clinging to the body in a way that you can not feel with water!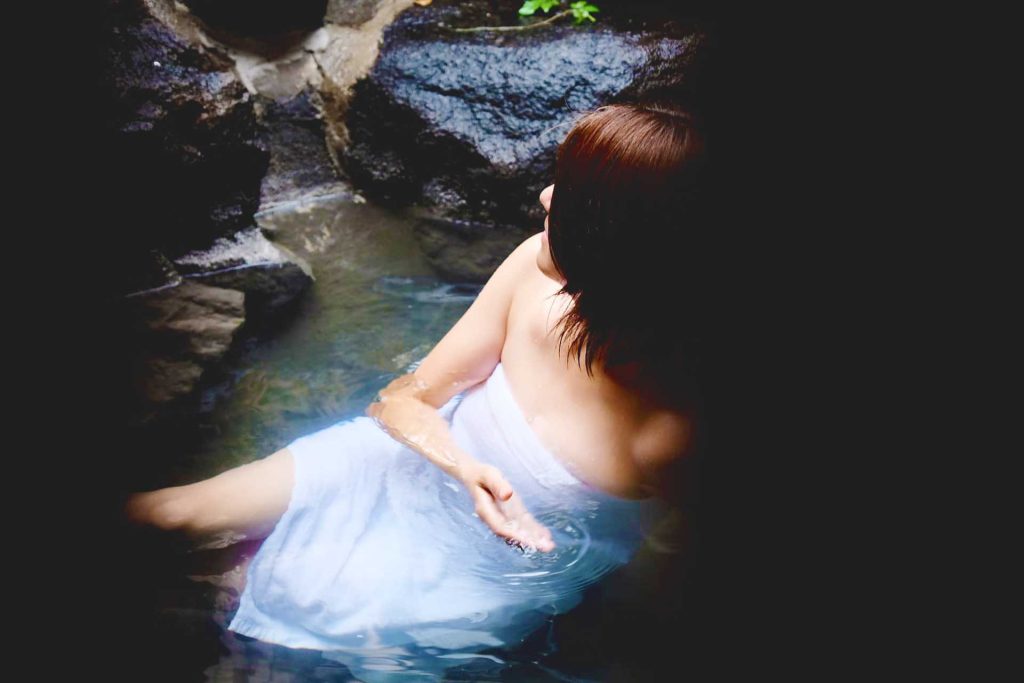 We recommend Teru-yu for your first bath and then, go to Ho-zan-so or Oka-no-yu in Beppu to boost the effects.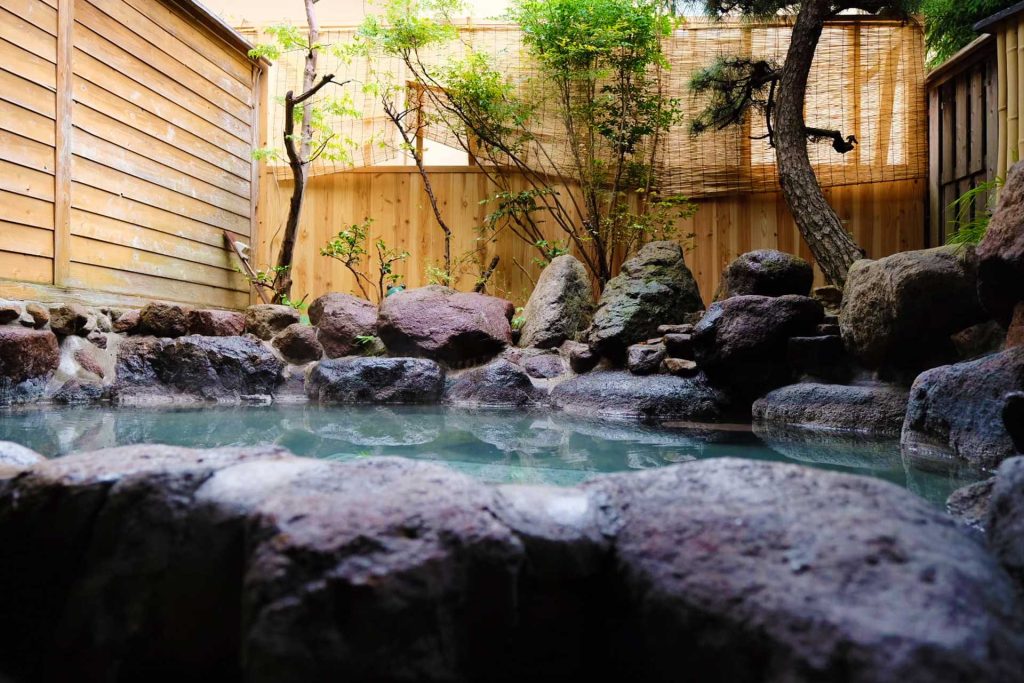 For the first bath, keep the sebum of your skin in good condition. Then, take a rich mineral onsen for the second. You may feel the onsen is as if a serum for your skin, though it may take more than one bath. Just reading this article would be not enough to tell you, but once you touch onsen you will know it. Enjoy the texture of soft hot spring water abundant with nature's beauty minerals.
Reborn Experience
Why don't you refresh more by taking "Oniishi no yu" after "Kannawa Mushi yu"? "Kannawa Mushi yu" has a relaxing atmosphere in the dark and narrow inside area. You may feel like meditating. On the other hand, "Oniishi no yu" has an open-air bath. You may feel like breathing deeply to get fresh air. This combination seems like a relaxing experience from the womb to the outside, as if you could experience your birth once again. Do you think you can meet your new self as if you were reborn?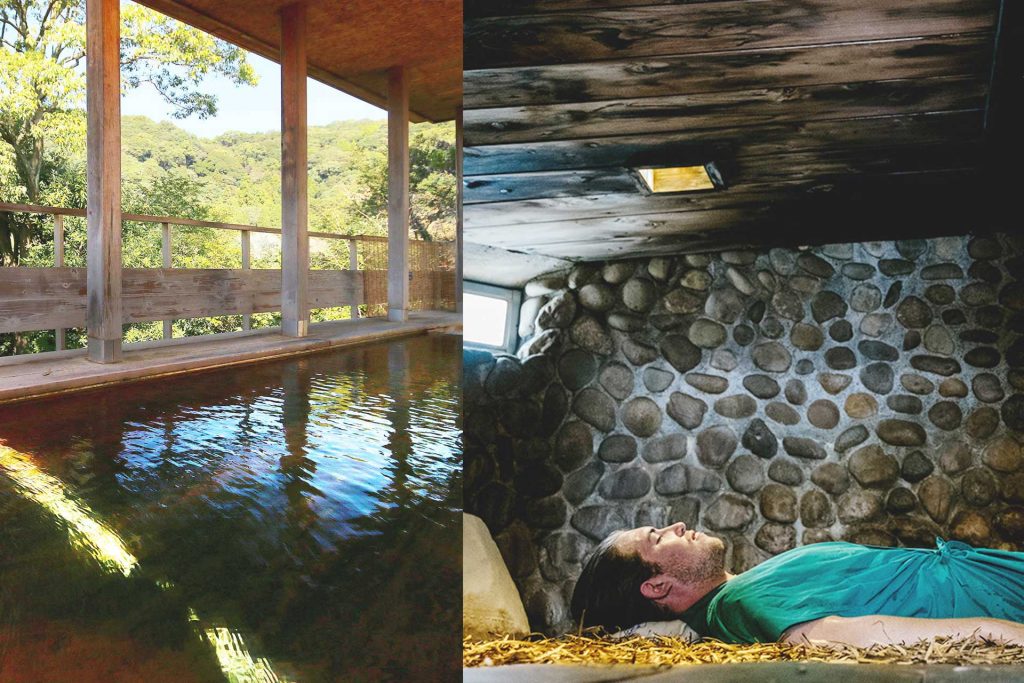 We introduced you to "Kinousen (bathing in the effective way)." These combinations were born from the experience of onsen goers. Another combination is Mushi yu (Steam bath) and Suna yu (Sand bath) which may boost metabolism. The place with the highest number of onsen sources in Japan is Beppu. There is not only one type of onsen, as each onsen has different spring qualities. Therefore, you can enjoy the luxuriousness of onsen bathing in Beppu. Which onsen combination will you find?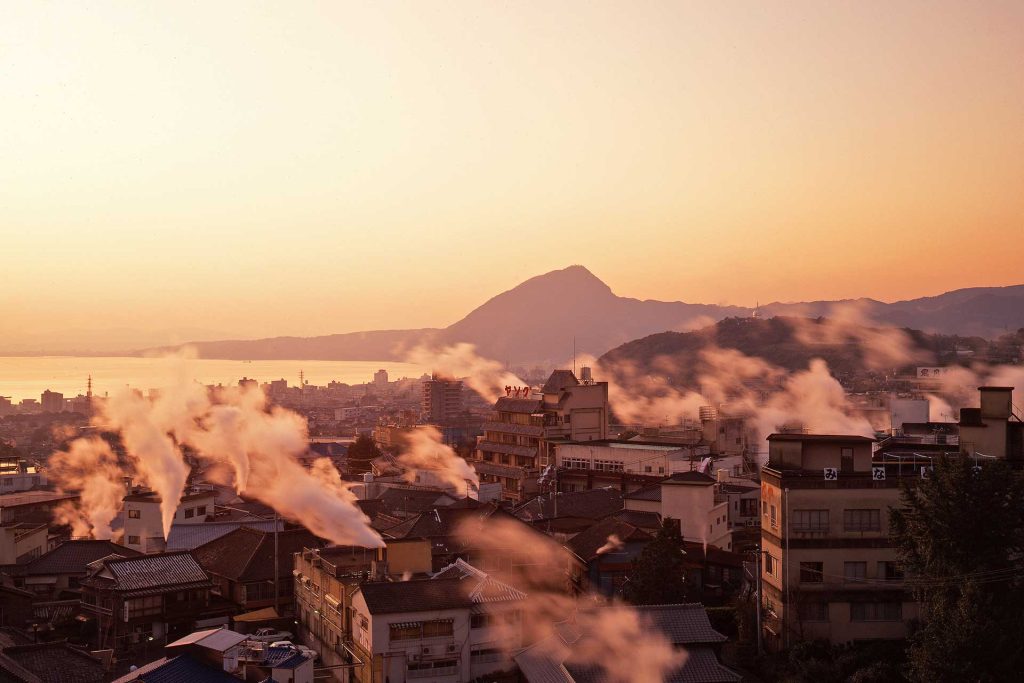 Recommended hot springs and other attractions can be found by clicking the buttons below, so please have a look!
EnjoyOnsen