The Japanese culture has long cherished onsen for its health benefits, but many who come from countries where hot spring bathing isn't common practice wonder, "why?". So if you have ever wanted to know "Is onsen good for your skin?" or "Can onsen help you lose weight?" this is the article for you. First, we will take a look at hot spring healing and then explain why is onsen good for you.

Onsen Healing History
When medicine was yet to be properly developed, the Japanese relied on bathing in onsen and drinking their waters to treat their illnesses. This practice of using hot springs to heal the body is called "toji."

However, to experience toji is not just to simply enter hot springs. In fact, toji guests are to rest an extended period of time at an inn, soaking in onsen everyday and preparing their own food. At first, only prominent members of society could afford to make these onsen excursions as travel was very limited in Japan and required government permission. The during the Edo Period, even commoners could receive permission to travel if their purpose was for toji. And thus, places of onsen healing called "toji-ba" began to form.

Toji and toji-ba remained popular throughout the Meiji and Showa periods and into the post-World War II era. Since then, medical care evolved with Japan adopting Western-style medicine, and traditional Japanese tastes fell out of style. Thus, the need for onsen healing began to dwindle, leaving few toji-ba alive today. Even though Japanese people are well aware of onsen's health benefits, there are many who are unaware of the healing practice of toji and fewer still visit toji-ba.
Among the most famous of these rare toji-ba is Beppu's Kannawa district, which still hosts toji guests to this day. Here, a group of young women tries to keep this beautiful tradition alive. They call themselves the "Toji Joshi" (translated literally to "onsen healing girls").
Onsen Girls: Who Are The Toji Joshi?
The origins of this group was but a seed in the mind of chairwoman Shizuka Kanno when she fell in love with onsen. During her time as a businesswoman, she would often visit to cure the fatigue of life and work. One day while searching for her next hot spring to visit, she came across the word "toji" and began to research. Upon learning about this old custom, she thought, "This is what I've been doing this whole time! I want to share this with everyone!"

According to Kanno there are only about 10 toji-ba left in Japan, but none of them felt as alive and eager to carry on their traditions as much as the people of Kannawa. Kanno wanted to help the people of Kannawa promote Toji, so she decided to create her own sharehouse with the purpose of promoting toji to Japan and the world. After finding her home base, named Toji House, she began to look for like-minded women. In February, 2020, Toji House officially opened.
When asked "Why women? Why Toji 'Joshi'?" (the word "joshi" translating to "girls" or "women") Kanno answered, "I felt I wanted to support young women. During the first half of life, women rush through many major life events and it gets hard. Through toji, I want to tell them there are many ways to live."

The Toji Joshi of course practice entering onsen everyday, but also consider cooking, exercise, and taking part of the community parts of the toji process. They say, "We define toji as a quiet time to reconsider our body and mind."
This is the Toji Joshi Declaration
Get to know and understand hot springs correctly
Love hot springs and treat them as a limited resource
Soak in onsen remembering our motto: "Toji is a quiet time to reconsider our body and mind"
Instead of focusing on washing the body, prioritize cleansing the mind, soak in the hot spring, relax your body and soul, and restore your true self
When you return to your true self, make an effort and challenge yourself to strive forward in your own world with your own uniqueness
If you get tired, soak in the hot spring again
Respect and value the diverse lifestyles of people around hot springs
Communicate the goodness of hot spring culture to Japan and the world
Toji Joshi will make Beppu City Kannawa Onsen their sacred place
Focusing on Kannawa Onsen, we will hold various projects and events in Japan and around the world, so feel free to join us♡
Onsen Health Benefits
What are the benefits of soaking in hot springs? If you are worried about the spread of coronavirus and are wondering "Is onsen hygienic?" you may read about onsen and the spread of viruses here. As long as you abide by social distancing rules and maintain the three C's, you can enjoy the health benefits of hot springs. These benefits are multifaceted and you may be surprised how far reaching the effects are.
Physical Health
Some of the health benefits provided by onsen have to do with the onsen temperature in Japan. Onsen between 40 to 42°C promote healthy blood circulation and boosts the immune system. One Toji Joshi member said her average body temperature rose 1 degree and she feels more energized since adopting the Toji Joshi lifestyle.

The effect of the water pressure of hot springs also results in health benefits. The effect on the body is similar to that of receiving a massage. That means It is also good for swelling and aching parts of the body.

The buoyancy effect of the water is also good for you. Floating when immersed in hot springs allows your body to escape gravity, and is often used for rehabilitation.

We even asked, "Does onsen help you lose weight?" and indeed the Toji Joshi failed to disappoint. You won't find it written on the official list of healing effects, but some say that onsen can help stimulate metabolism and burn calories. Entering onsen of 42°C for about 10 minutes burns 70 to 80 calories which is only a little less than jogging for 10 minutes. Naoko Itatsu states that entering onsen and then exercising has been especially effective for her.

Toji is meant to heal the body, but in cases of injury or illness it is best to pay attention to the onsen components. Onsen often list the illnesses and ailments that they are effective against, as well as sicknesses that may be exacerbated by their use. So, be sure to check the onsen side effects before entering any particular hot spring.
Mental Health
What might be even more surprising is the mental health benefits of hot spring bathing. Of course, going to the hot spring area refreshes your mood and reduces stress. As onsen are often located in scenic spots, being surrounded by beauty and nature can amplify this effect. Of course relieving stress helps mental well-being, but the Toji Joshi members claim it goes even further.

Indeed, toji includes an aspect of what is often referred to as zen or even mindfulness. It is like being held warmly by mother nature, naked, by yourself and only time to think. It is indeed the perfect place to separate from our phones and social media and be alone with our own minds. Even more exciting was that one of the members, Akane Hashimoto, told us that some of her best ideas are born while soaking in hot springs.

In addition to the meditative aspects of onsen, the Japanese have always used onsen as a place to socialize. After experiencing the isolation of quarantine, we all felt how important communication was to mental wellness.

Chika Shiraishi said, "During June I felt I didn't want to talk to anyone. But when I came back to Beppu and talked with the ladies at the onsen, my heart was healed. My feelings of isolation disappeared."

It is necessary for most of us to find a sense of belonging in order to stay okay. Onsen is just the place for that. Through the community onsen, or "jimosen," the Toji Joshi say they have become kinder, more open people.

You can read on the right way to communicate with Japanese in onsen in "Honor The Onsen Communication" here!
Is Onsen Good For Your Skin?
Of course no interview with Toji Joshi would be complete without asking about onsen beauty secrets. From their glowing, blemish-free skin the answer seemed obvious, but even still, we asked, "Is onsen good for skin?"

Depending on the onsen components, different hot springs can have the effects of peeling, cleansing, moisturizing, and so on. The osmotic pressure of the onsen itself allows the skin to soak up these beautifying minerals which then results in improvement in skin condition.

Kanno even told us her personal anecdote that she was able to get rid of a blemish at Koudei Onsen's mudbath. The young women all attested the older ladies they see everyday at the onsen have beautiful skin!

The onsen girls' share house in Kannawa is surrounded by many sodium chloride springs. Azumi Takahashi told us this type of onsen has a moisturizing effect. Additionally, when your pores are rough, they recommend a detoxing steam bath at Mushiyu. And for sensitive skin? Luckily there are plenty of simple onsen in Beppu to accommodate.
Toji Joshi's Favorite Onsen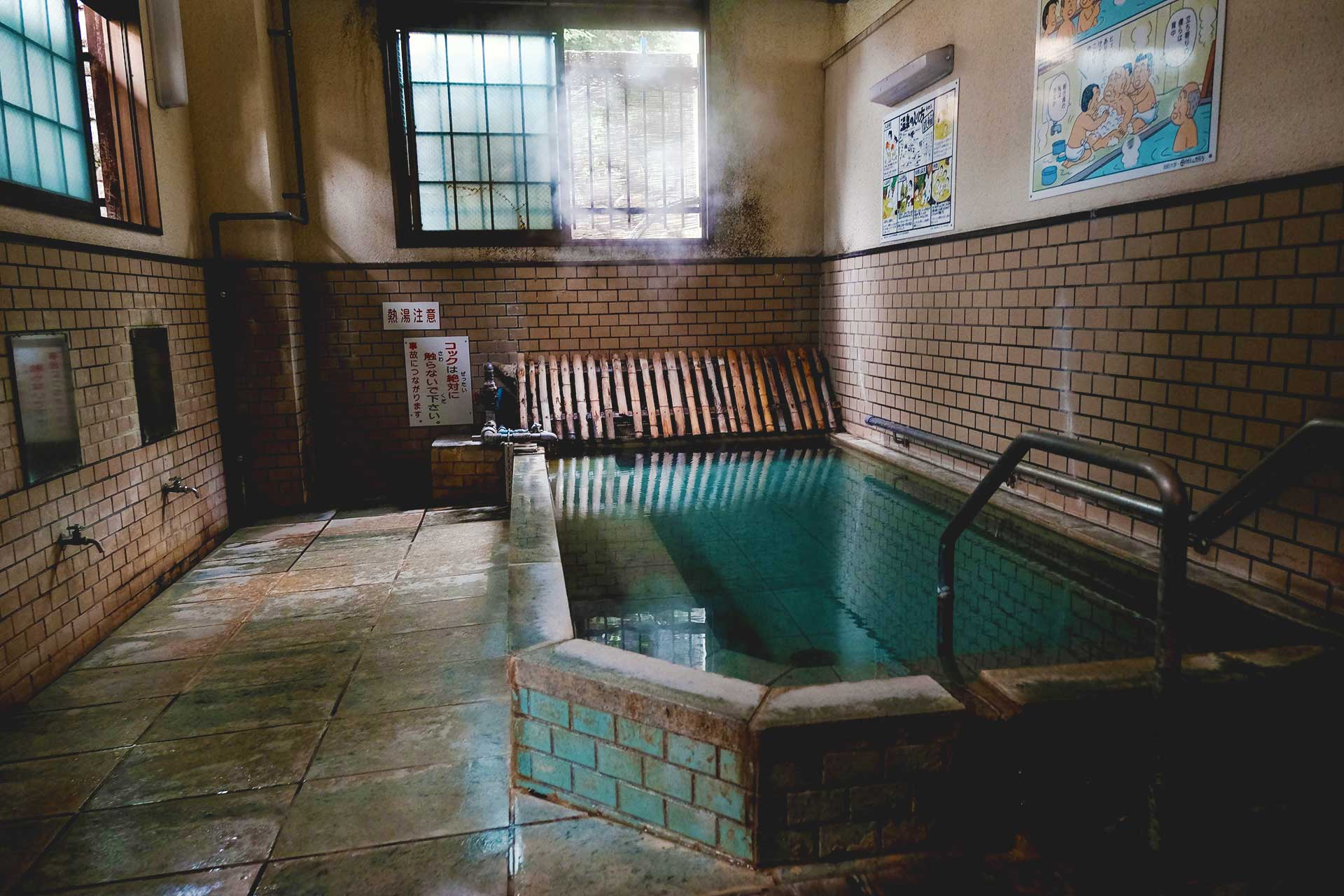 Akane Hashimoto: Shibu No Yu
Azumi Takahashi: Mikaeri Onsen
Chika Shiraishi: Sujiyu Onsen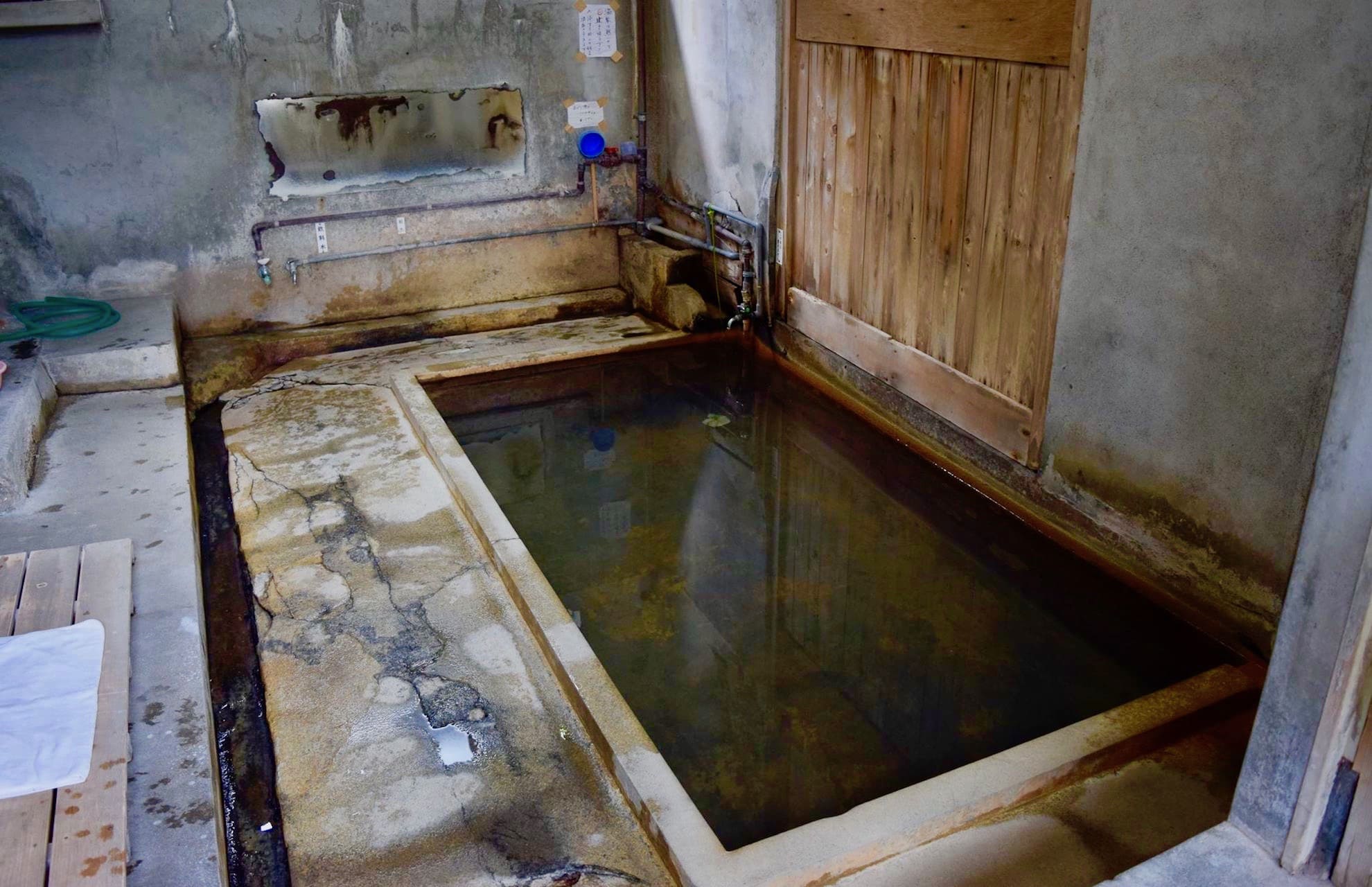 Naoko Itatsu: Tanino yu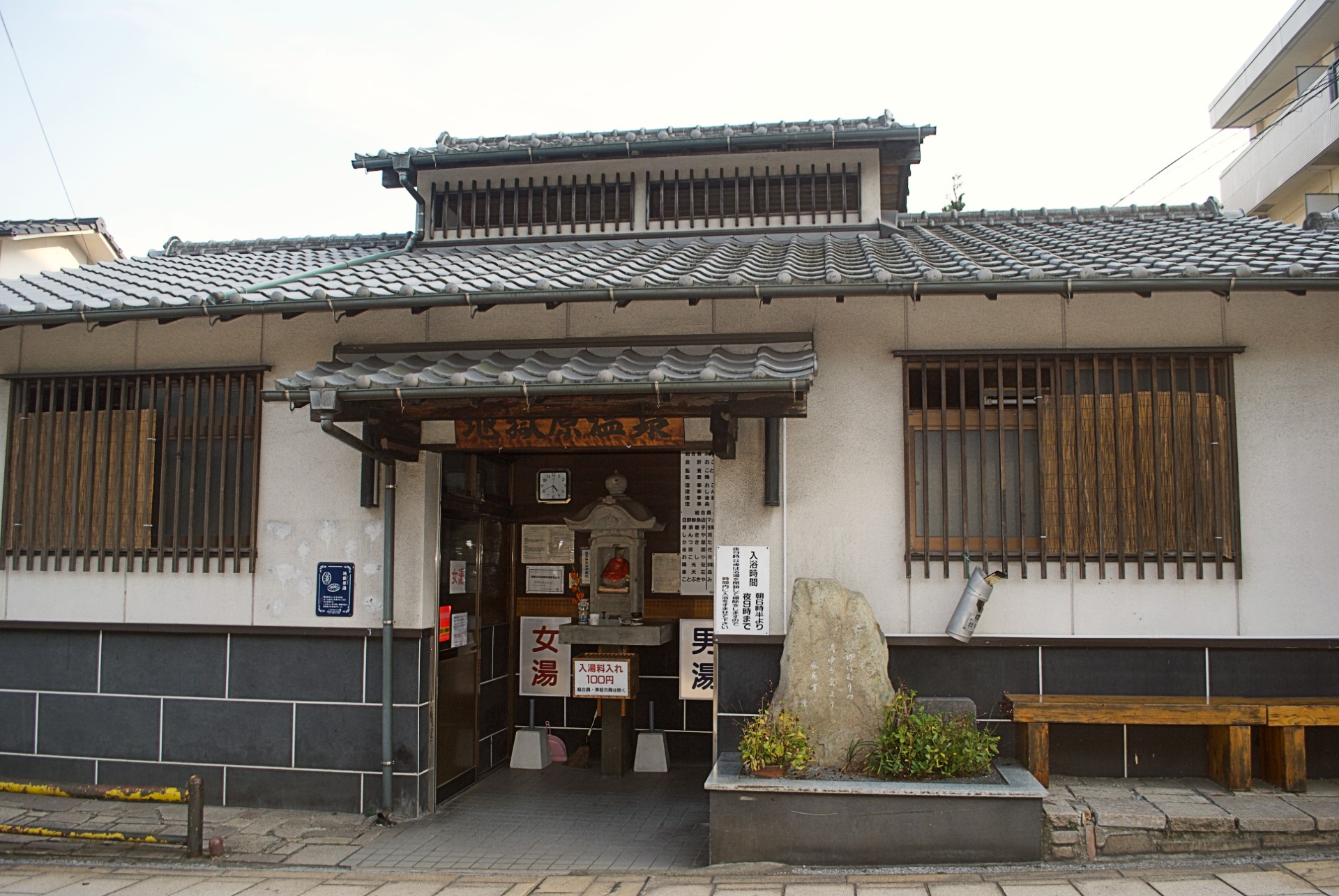 Shizuka Kanno: Jigokubaru Onsen
Where you can find Toji Joshi
The Toji Joshi have their own website, https://toji-joshi.com, where you can find their philosophy and even sign up to become an Onsen Girl yourself! Otherwise, the Toji Joshi can be found on Instagram and for English-speakers they have created a new Instagram account where you can learn more about toji and upcoming events.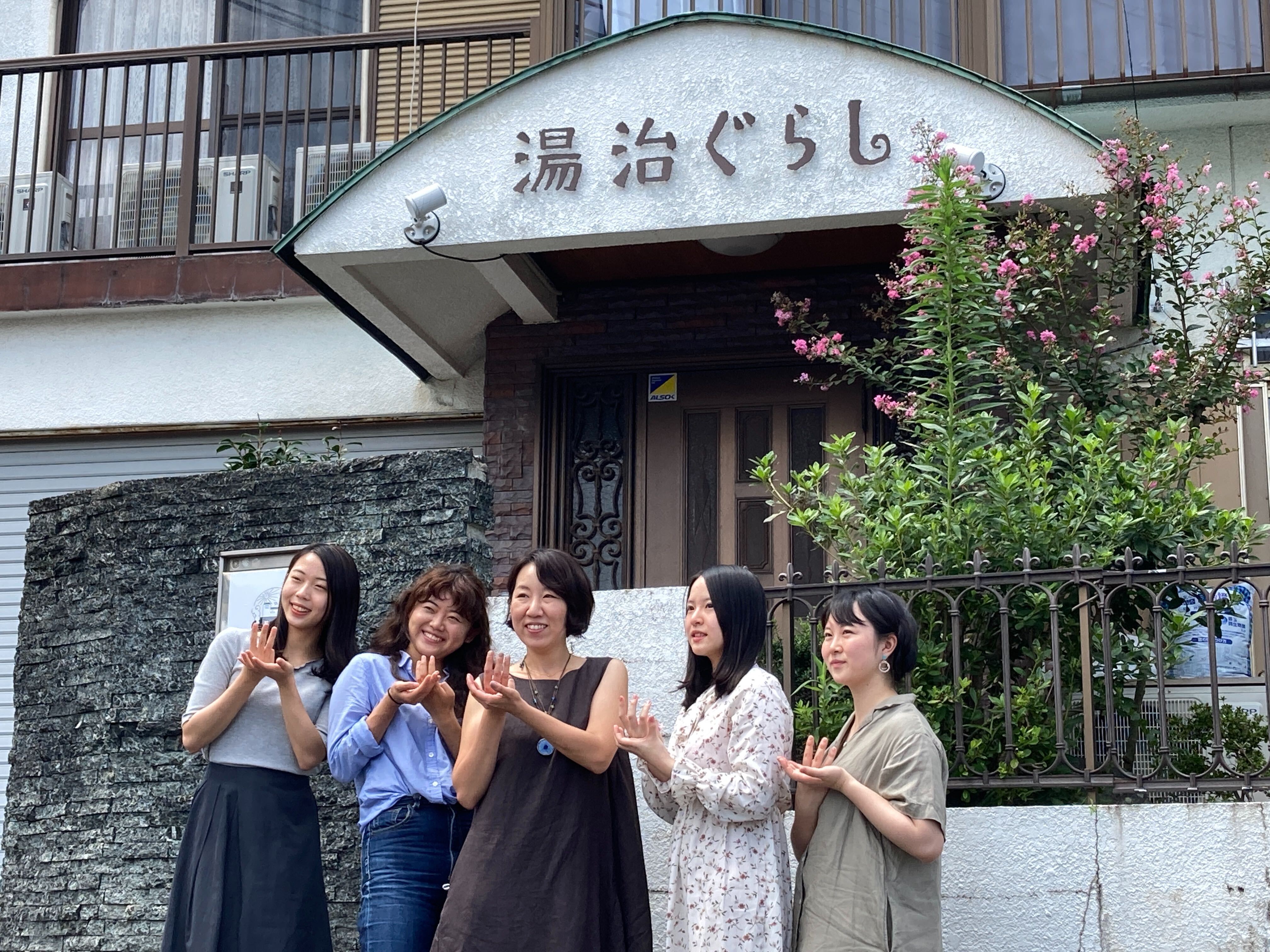 Upcoming Events
Morning Event (TBD)
①Phisical: The group will practice yoga together
②Mental: Then they will visit a local onsen
③Social: The group will invite workers and local university students to socialize and network.
The Toji Joshi hope to hold this event once a month.
Garage Sale
MINSUI
– The Toji Joshi want to pair tourists and APU students with locals to exchange culture and food
Lastly, we asked the Toji Joshi what they want to say to the world. Of course, they want everyone to know about and experience onsen in Japan and toji for themselves.

"In these times of coronavirus, I think it is a culture that can help us."

"We want everyone to visit us Toji Joshi in Kannawa. Beppu has the sea, the mountains, and onsen. It's a wonderful place abundant in nature."

We sincerely hope that the practice of toji continues to be reexamined.

How to get to Beppu Onsen, where Kannawa and the Toji Joshi are located.
EnjoyOnsen