How to Enjoy Beppu Vol.12 – From Germany
~Always By Each Other's Side, Two Brothers' Visit Beppu~
Hello! It's me again! Onsen lover Haruka Styles! In Japan, we call spring "haru." I'm a spring baby, so that's where the name "Haru"ka comes from. And spring is on its way to Beppu.
Recently, the weather has continued to be just perfect for my guided tours. On a one of these perfect days, two brothers from Germany, Thoralf and Roman, came in looking for a guide.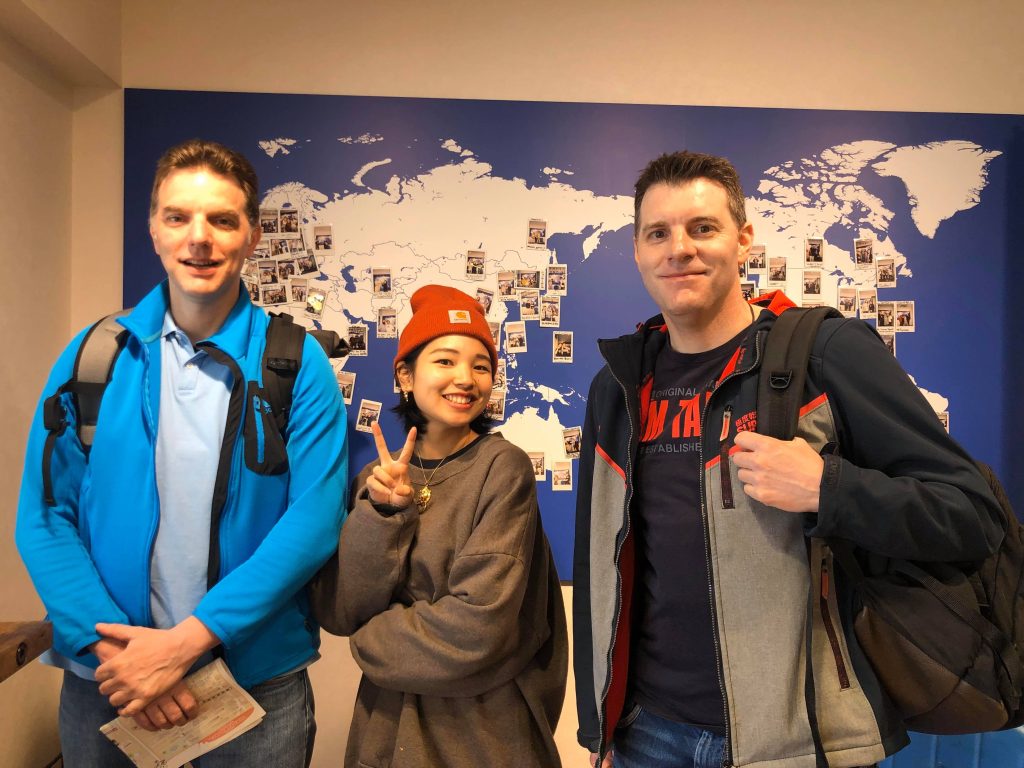 The two, who are on their 2nd trip to Japan, said they are deeply interested in Japanese historical structures. Last time, they went to places crowded with historic buildings, like Kyoto and Nikko, to check out the castles and shrines. It is their second time in Kyushu, as well; they went to Nagasaki on their previous trip. It is their very first time in Beppu, however.

"Why did you come to Beppu?" I asked them.

"Our final destination was Yakushima in Kagoshima prefecture. We knew that Beppu was a place famous for onsen that was on our way to Yakushima, so we decided to stop by. But I have a tattoo on my arm, so I can't enter the hot springs," Thoralf lamented.

But in Beppu there are over 100 onsen that accept tattoos! For more details, check this link.
With that, on a lovely day, we made our way to a place where those with tattoos can enter called Beppu Kaihin Sunayu. This is a place famous in Beppu for its sand bath experience. And because it's located along the ocean, it is a perfect place to visit on a day with clear skies.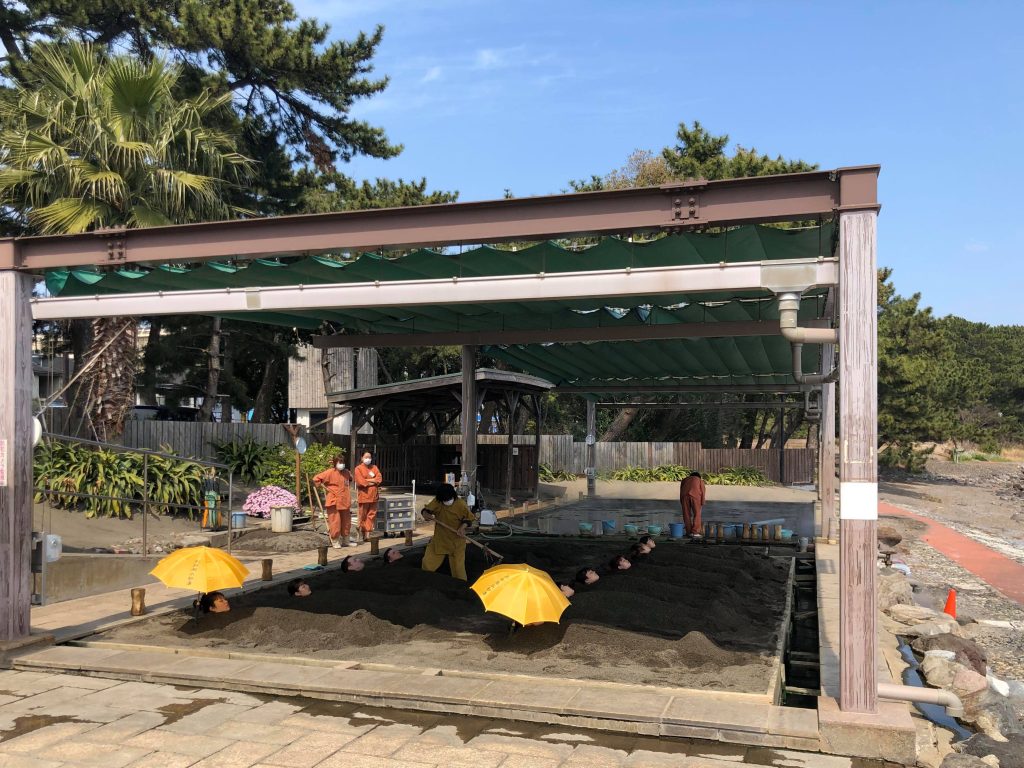 Though we headed there at once, as always this place was filled with tourists. This is a local's tip! It is normal to wait over an hour to enter the sand bath, but we suggest you go in the morning, as it will be a shorter wait than the afternoon. We were able to get in soon after we arrived.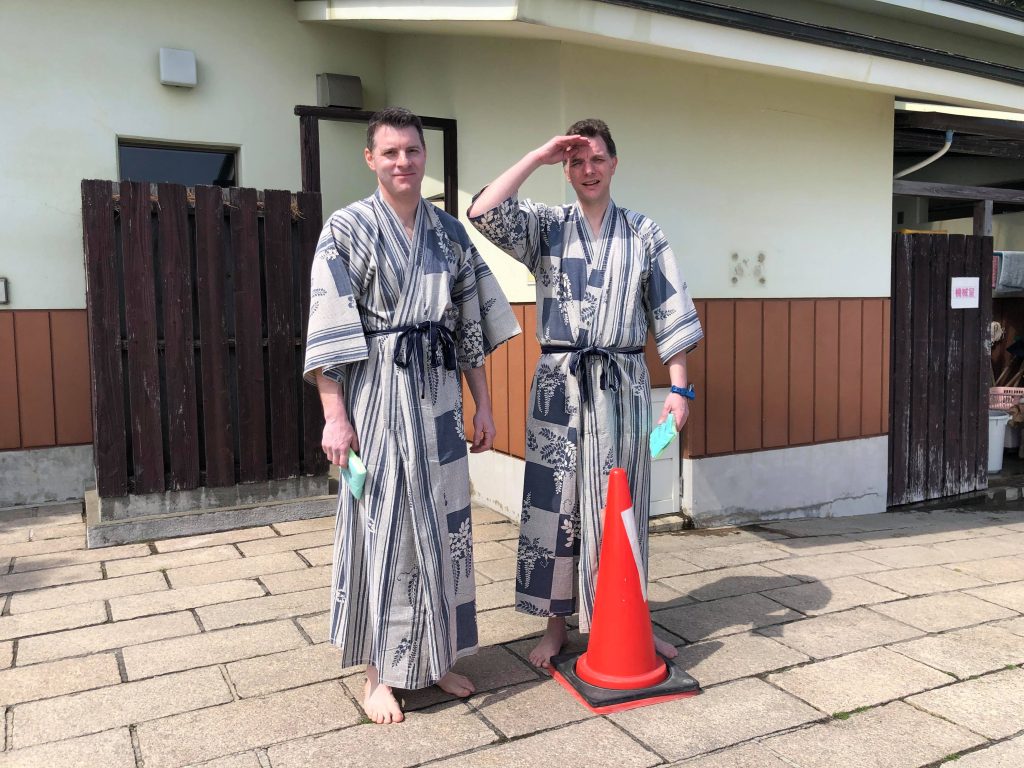 Wearing a yukata is a requirement to use the sand bath. It is also a great opportunity to wear traditional Japanese clothing. Looking great in traditional garb, the two hurried to dive into the sand bath.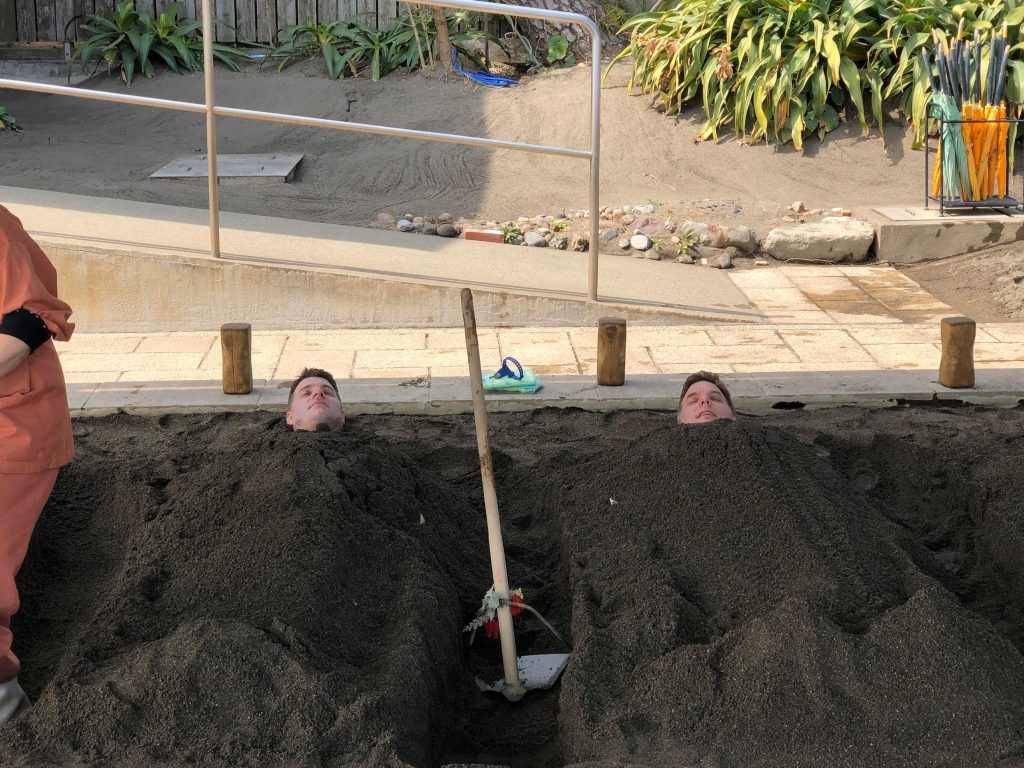 They laid on top of the sand, and a few minutes had not passed before their bodies were hidden under it. As the hot spring source runs underneath the sand, it is by nature an onsen. By using that onsen and blanketing ourselves with sand, we achieved our sand bath at just the right temperature. Now the time had come to just relax for a while, being buried in the sand.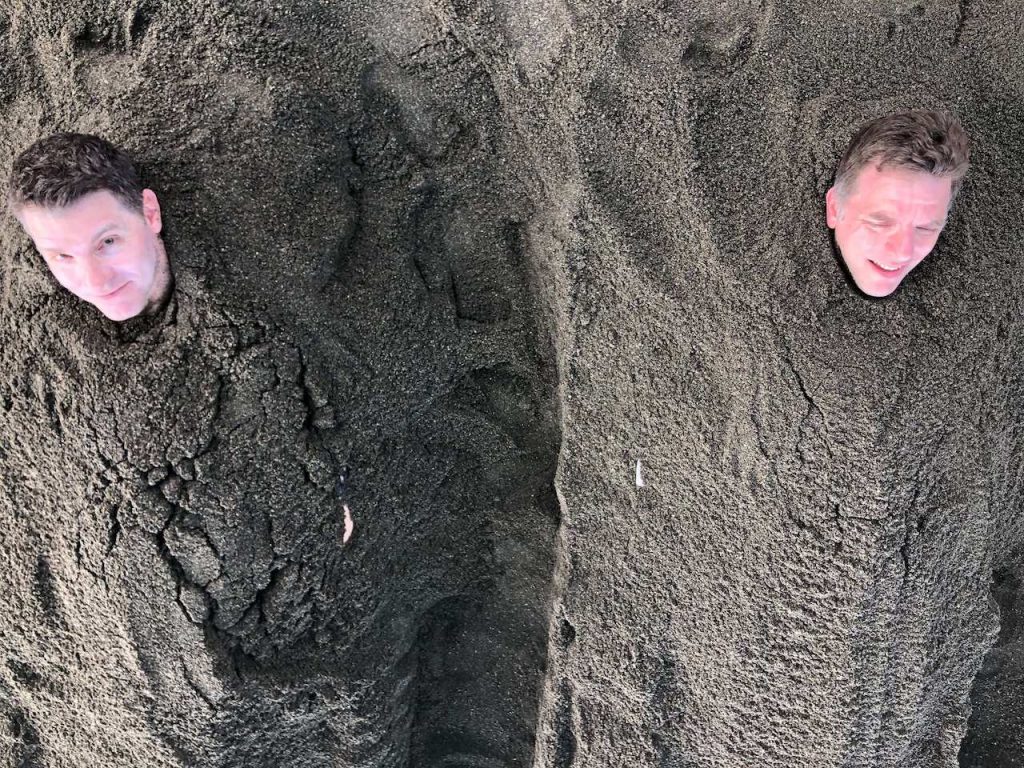 "At first, the sand felt heavy," Roman said, but little by little, they grew accustomed to the weight and got comfortable.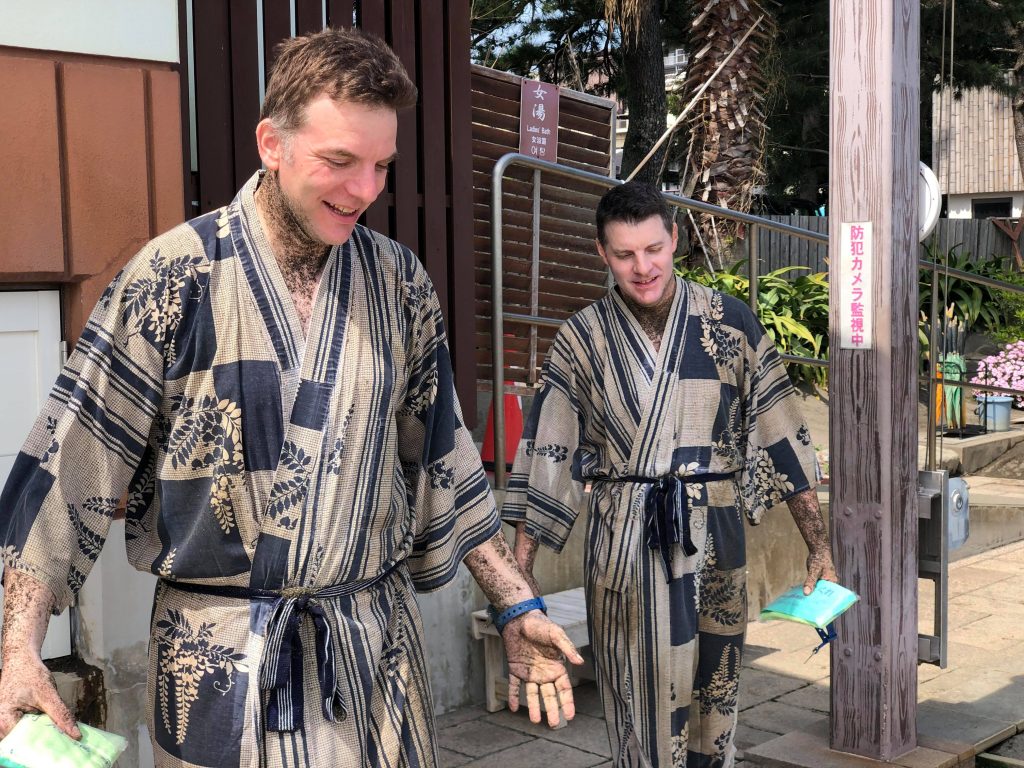 The time spent enjoying the heat of the sand and listening to the sound of waves was extraordinary. To be able to relieve your fatigue and entrust yourself to nature is precisely what this sand bath is about. The pair said they were more than satisfied to enjoy such an experience. After the sand bath, I asked them their purpose for going on this trip.

"Since the day we were born we have always been together, but since becoming adults, we spend less and less time with each other. Traveling together is very important to us."

I, myself, have 3 older brothers, but they have their own jobs and families to attend to, so spending time together like we once did is rare. Seeing these 2 reminds me of my siblings and family back home. This summer, my brothers are planning to visit me in Beppu. Thanks to Thoralf and Roman, I think from now on I want to start cherishing family time a bit more. It was a wonderful day, in which, through onsen, I was able to get to know these brothers traveling Japan.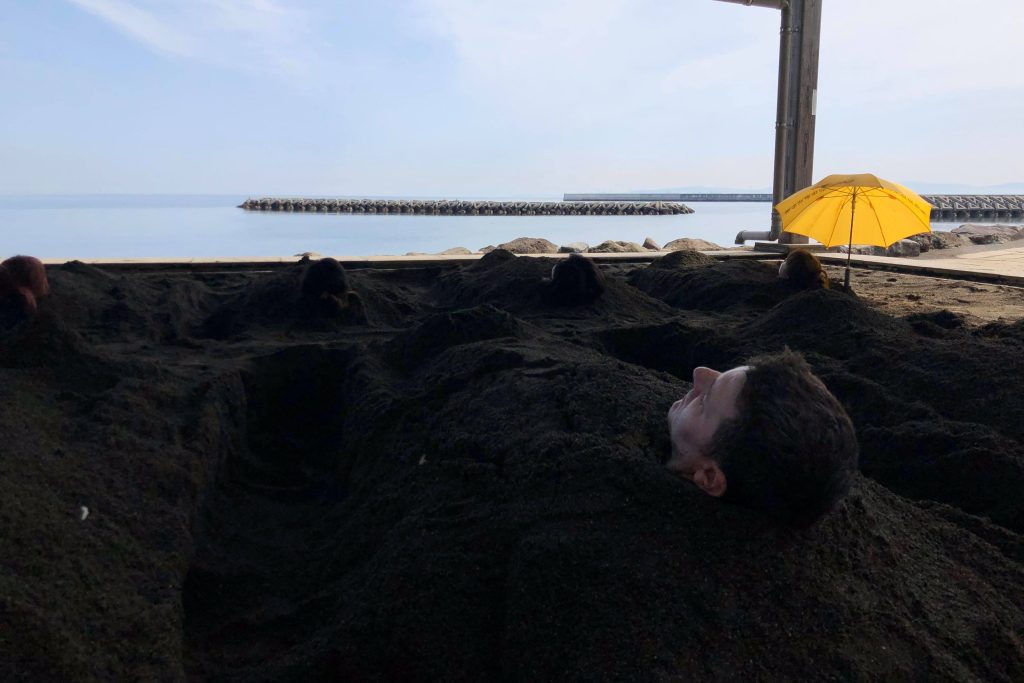 Basic Info
Beppu Kaihin Sunayu
OPEN:From March to November 8:30~18:00 (reception until 17:00)
From December to February 9:00~17:00 (reception until 16:00)
※Depending on congestion, the last reception may be moved to an earlier time.
※Please note sand bathers may need to wait to use the facilities depending on congestion and bath preparation. We ask for your understanding. (Maximum 12 people at one time)
CLOSED: the 4th Wednesday of every month (in case of a national holiday, the following day will be closed)
FEE:1,050YEN
TATOO: ALLOWED
WEBSITE: https://www.city.beppu.oita.jp/sisetu/shieionsen/detail9.html
PHONE: 0977-66-5737
EnjoyOnsen