Beppu Onsen Suginoi Hotel takes advantage of its premium location to ensure superb views of Beppu's surrounding mountains and the Beppu Bay in the distance. This expansive hot spring resort spoils its guests with luxury comforts and a delicious buffet, creating a memorable and curated onsen experience.
A Luxurious Stay Carefully Tailored to Provide the Utmost Comfort and Relaxation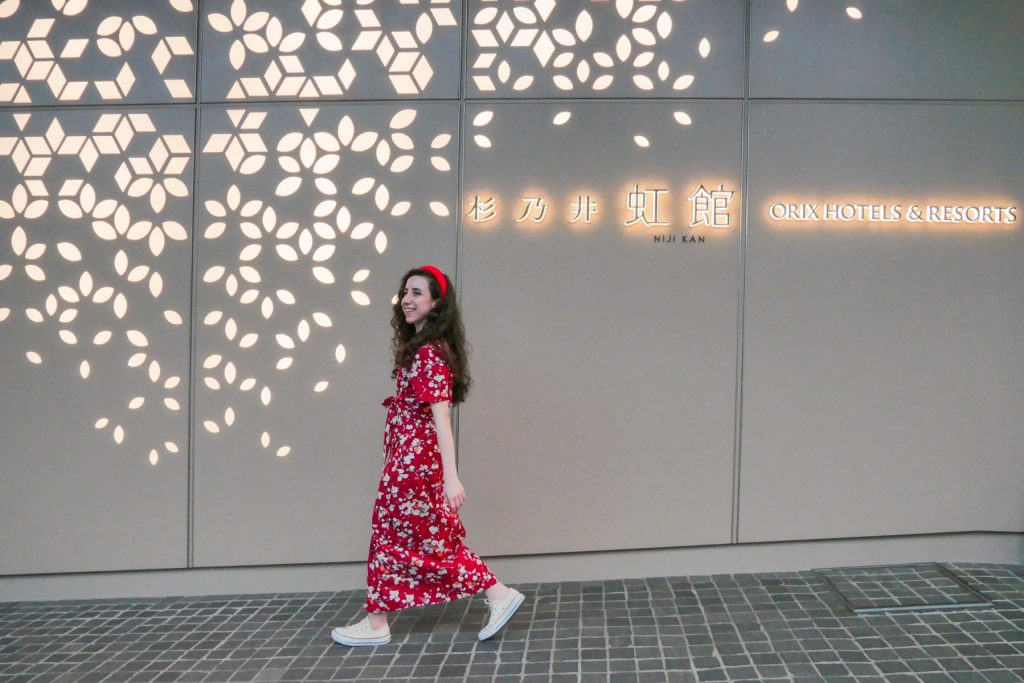 Tucked away in the hills of Beppu, Suginoi Hotel stands framed by gorgeous natural surroundings, a red traditional-looking bridge with lanterns, and a crystal-clear stream bubbling its way down the valley. Although far from the city center, this hot spring resort is equipped with everything you might desire and even more, as we quickly learned during our stay there.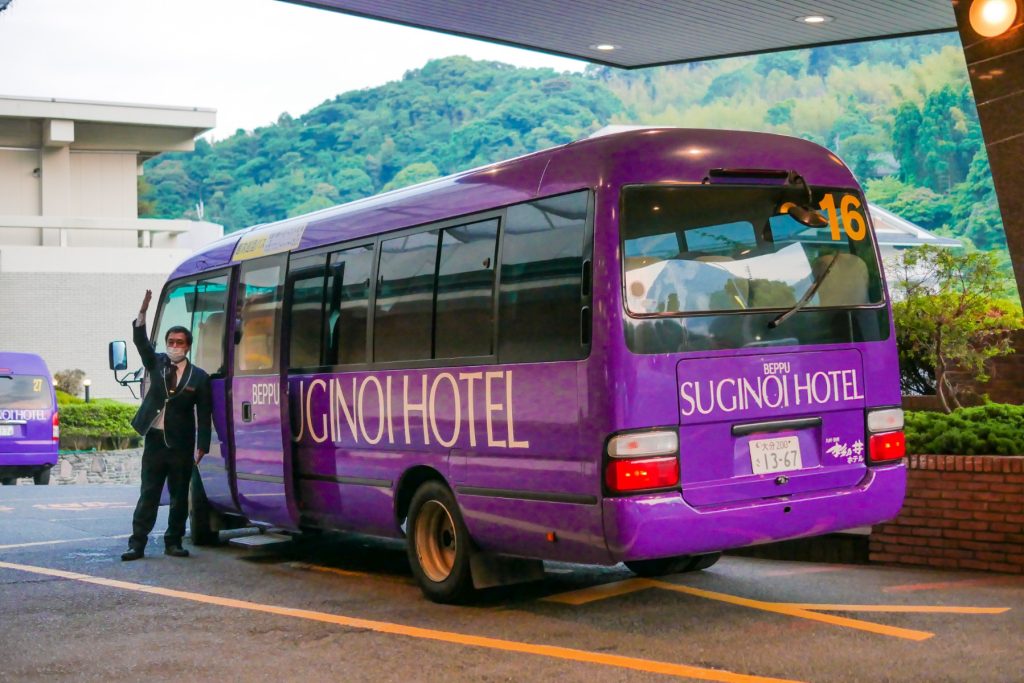 Guests of Suginoi Hotel won't have to worry about transportation as they can take advantage of the hotel's free shuttle bus service departing from Beppu Station.
The hotel boasts 3 buildings for a total of 587 guest rooms, 3 public hot spring facilities, and a summer-limited indoor pool. It takes up a sizable portion of the hill, so they even provide a shuttle bus service to help guests comfortably move from one building to another.
This service was just one example of their extremely thoughtful attention to guests and came in handy when we decided to explore the spacious grounds of the resort. From a convenience store and a coffee shop to a game arcade and gift shop with a vast selection of local souvenirs, and even a karaoke hall and a bowling facility, Suginoi Hotel seems to have thoroughly sorted its guests' entertainment out!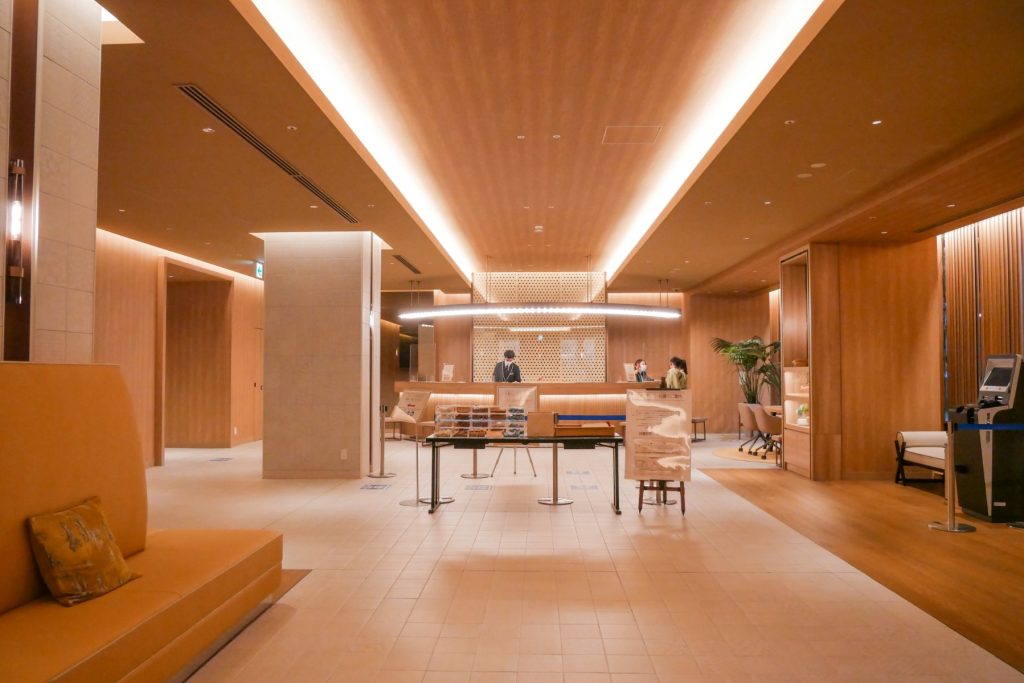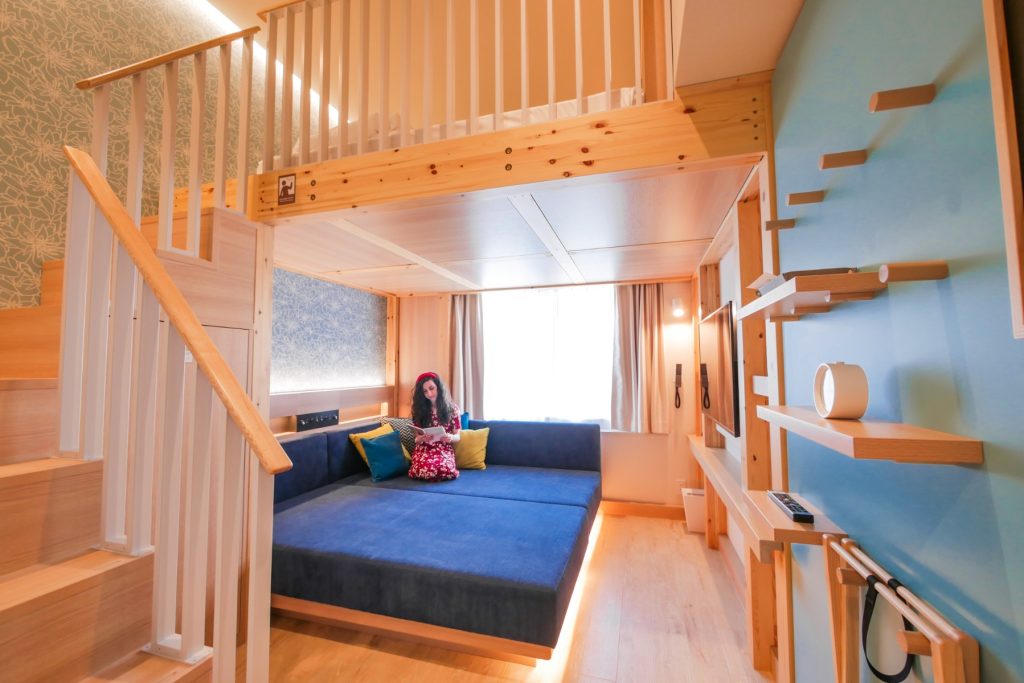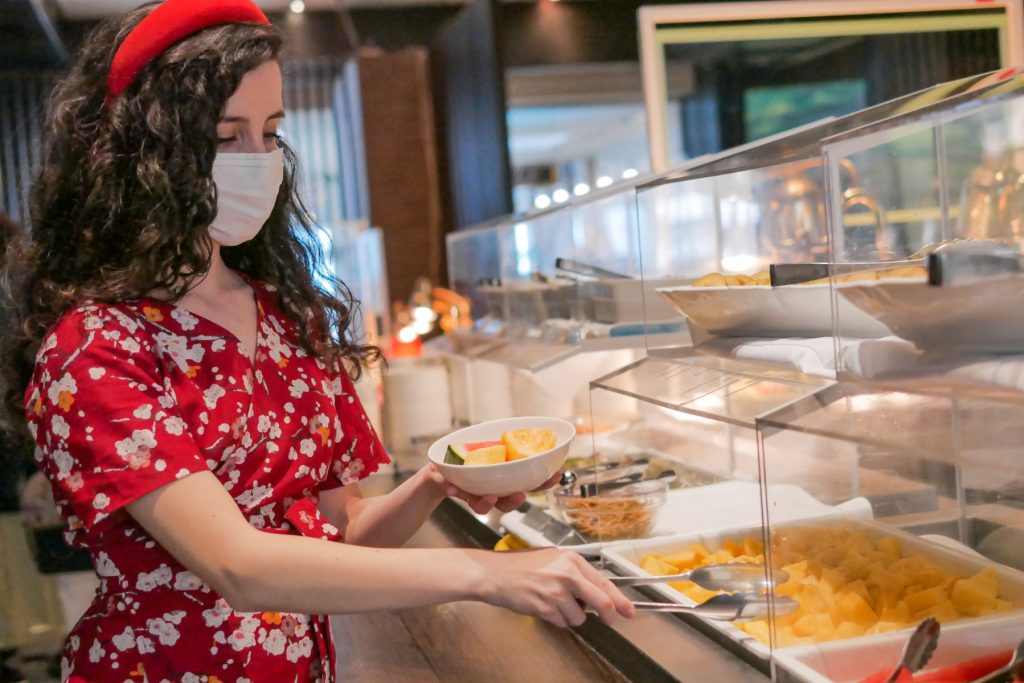 Guests of the Niji-kan have access to all of the other buildings' facilities and restaurants, including the lavish buffet-style banquet at Buffet Restaurant Seeds. Thus, after some time relaxing in our room, we made plans to dine there and hopped on the shuttle bus heading to the Hon-kan Main Building.
Buffet Restaurant Seeds comes with ample seating space and windows that guarantee you won't miss a second of the hotel's iconic views. The blue area of the buffet hall presents glimpses of Beppu's marine panorama and the green area shows the verdant silhouette of the nearby mountains.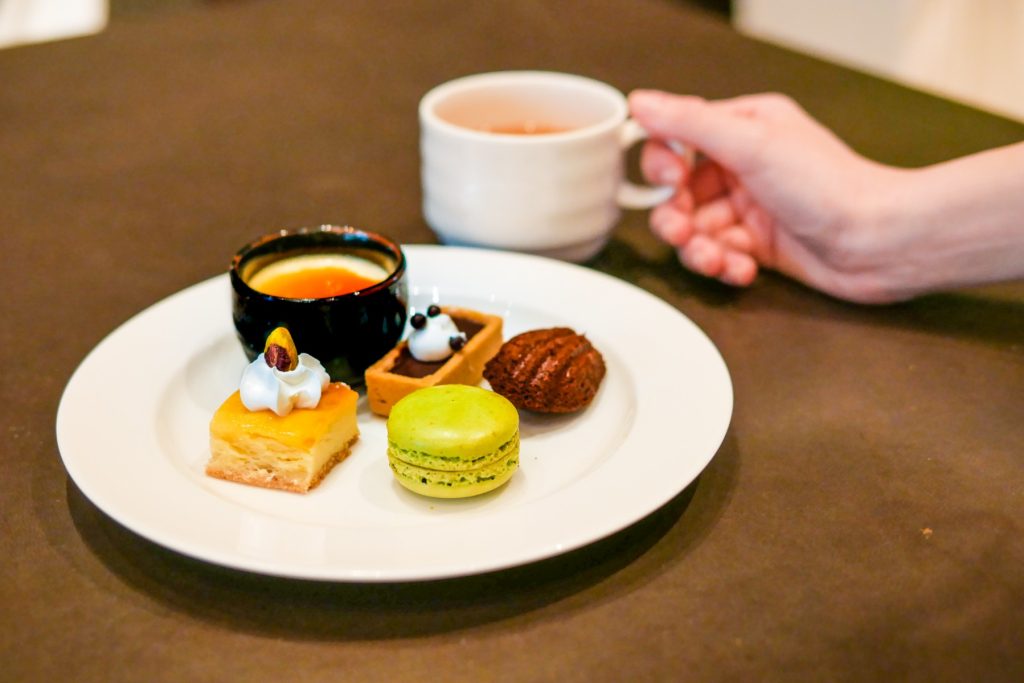 The abundant variety of Japanese, Western, and Chinese dishes let us savor all kinds of seasonal and fresh ingredients from the land and sea of Beppu. Determined to make the most out of that top-notch culinary experience, we made sure to tour each and every food stand, scooping mouthwatering portions of paella at the Spanish corner, colorful vegetables at the salad bar, and caramel-coated pudding at the dessert table.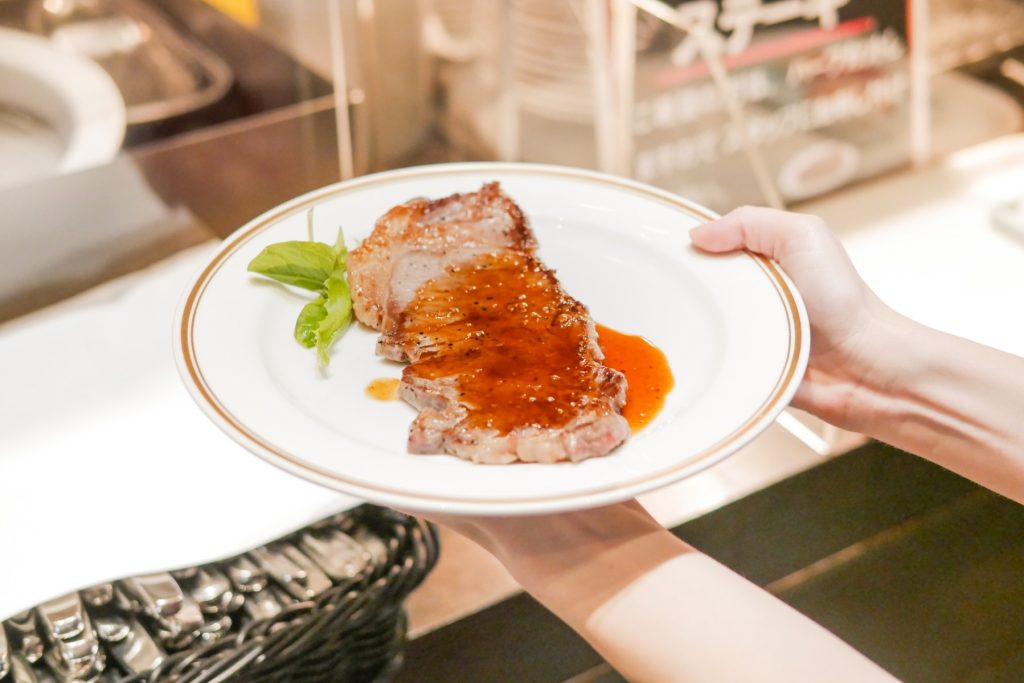 Highlights included the freshly made sushi plate arranged by the hotel's own sushi masters and the juicy steak that was skilfully cooked and garnished right in front of our eyes.
Admire Superb Views of Beppu's Sea and Mountains by Soaking in Suginoi Hotel's Panoramic Onsen Baths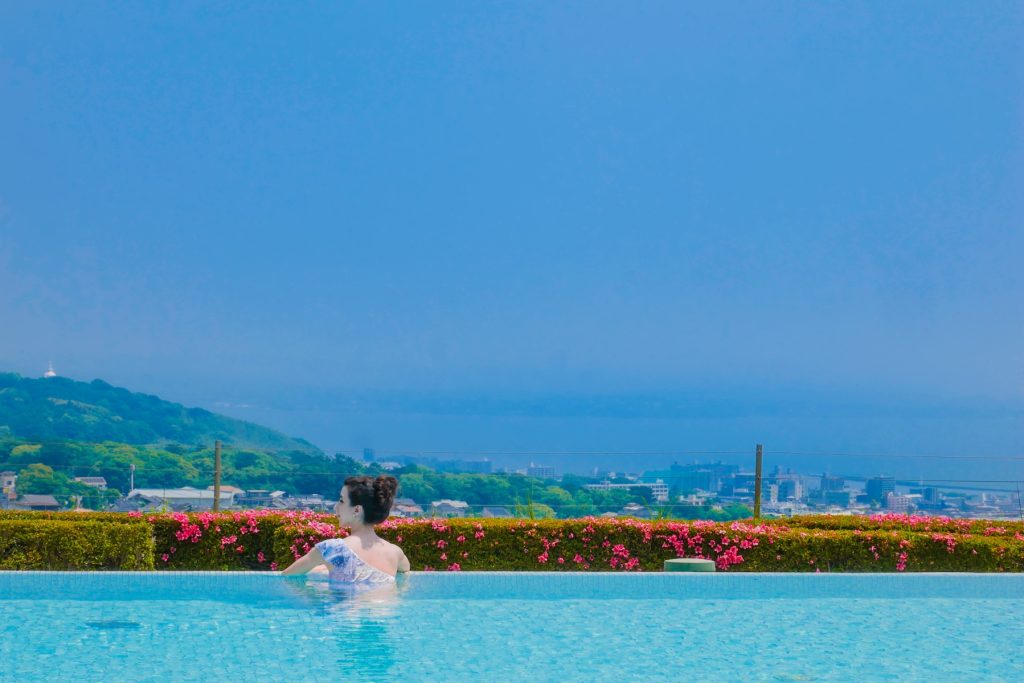 Suginoi Hotel's hot springs are renowned for their spectacular panoramic views of the bay, perfect for relishing moments of coexistence with the gorgeous natural scenery. By soaking in the warm water, we got to gaze at magnificent nature as far as the eye can see by day and admire Beppu's glimmering cityscape at night.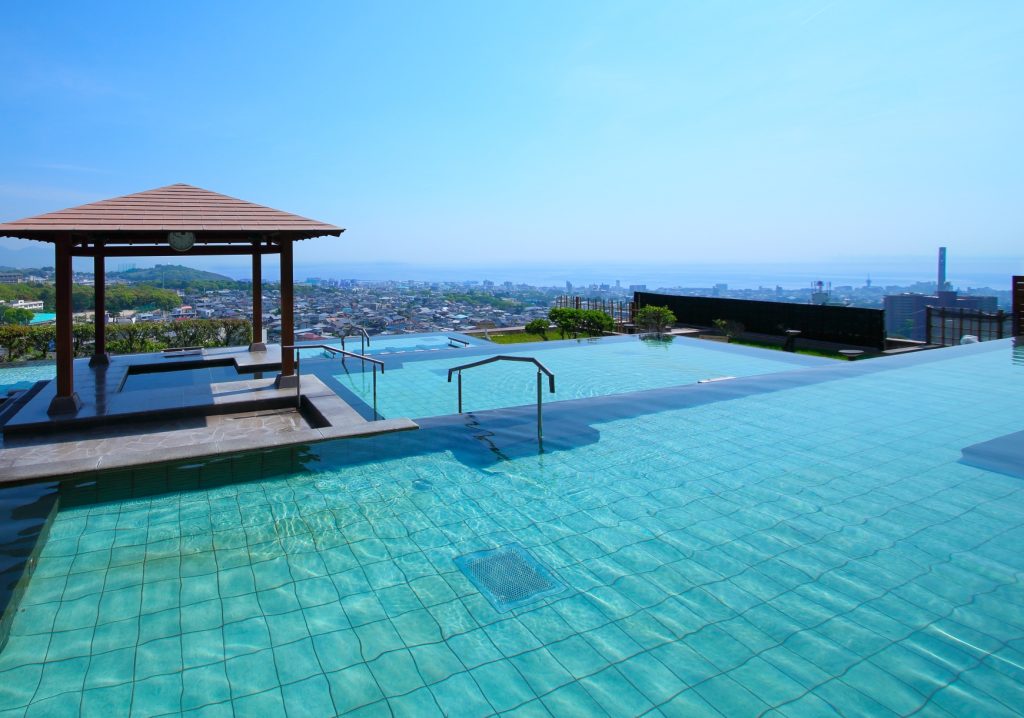 Both of Suginoi Hotel's main onsen facilities, Tanayu and The Aqua Garden, are located not far from the Nijikan, inside Suginoi Palace, so that's where you need to head if you are planning to spend some healing time in the hot springs.
Popular for its extensive sights of picture-perfect dawns, Tanayu is an onsen complex resembling traditional Japanese rice terraces spreading out into 5 tiers of baths comprising an indoor bath, a semi-open-air bath, and three open-air baths. The complex also offers a sauna and a barrel bath made of fragrant "hinoki" cypress wood. With such a large and soothing array of hot springs, we got to fully appreciate the liberating sense of openness and calm exuding from the vast scenery in front of us.
*Swimsuits are not allowed when bathing at Tanayu.
*Please note that tattoos are not allowed.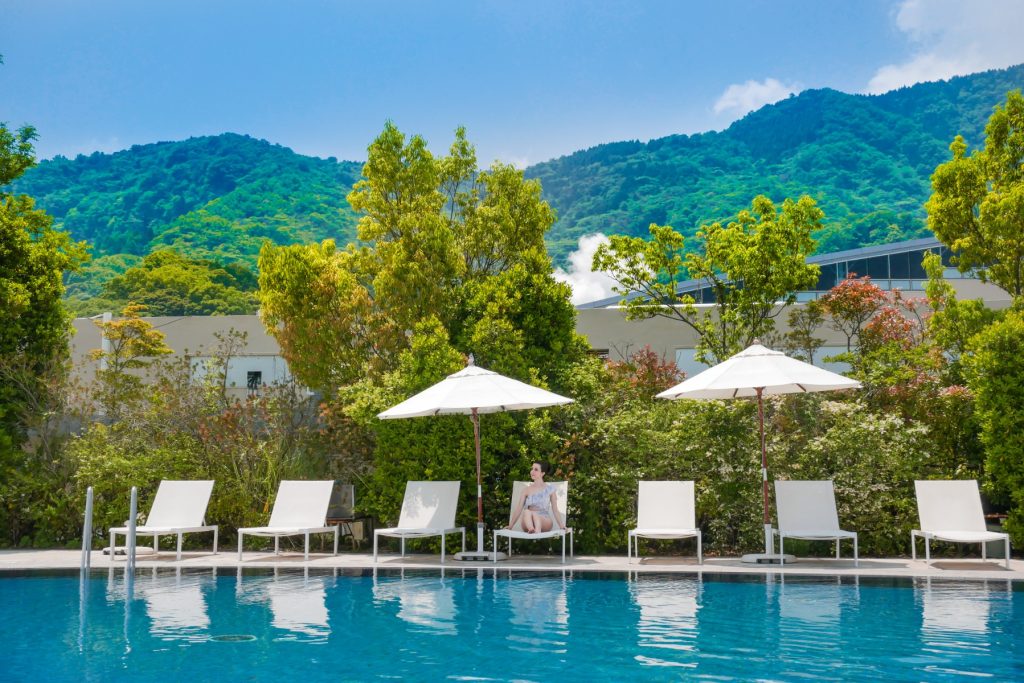 The Aqua Garden's most appreciated feature is probably the Observation Spa, a large onsen bath overlooking the picture-worthy panorama of Beppu Bay. Thanks to a trick of perspective, the bath appears to be one with the sky and sea, letting us fully enjoy the view with no barrier of any sort. If Tanayu is more about relaxation, The Aqua Garden is equipped with everything you need to spend a cheerful day with family or friends, including onsen pools to swim in or float on using swim rings and a rest area with deck chairs and patio umbrellas where we could unwind and just be in the moment.
*Swimsuits are required when bathing at The Aqua Garden.
*Please note that tattoos are not allowed.
*The area will be closed for renovation between September 26 and December 16 in 2022.
Enjoy a Panoramic Bath at Beppu Onsen Suginoi Hotel
With top-quality service and a delectable buffet of local delicacies, a stay at Suginoi Hotel will help you feel pampered and refreshed! Soak in their panoramic onsen baths to make your relaxation time linger even longer.
Information
Beppu Onsen Suginoi Hotel
Name: Panoramic Open-Air BathTanayu
Opening hours:
・Hotel guests
5:00 am – 12:00 am (summer time)
6:00 am – 12:00 am (winter time)
・Visitors
9:00 am – 11:00 pm (last entry 10:00 pm)
Closing days:
Irregular (the facility might be closed for maintenance)
Name: The Aqua Garden
Opening hours:
・Hotel guests
11:00 am – 11:00 pm (last entry 22:00)
・Visitors
11:00 am – 11:00 pm (last entry 22:00)
Closing days:
Irregular (the facility might be closed for maintenance)
*The Aqua Garden will be closed for renovation between September 26 and December 16 in 2022.
Price (admission is valid both for Tanayu and The Aqua Garden):
・Hotel guests
free
・Visitors
Adults
1,500 yen – 2,800 yen (depending on the period of the year. Please check the website for further information)
Children (3 years old – elementary school students)
1,000 yen – 2,000 yen (depending on the period of the year. Please check the website for further information)
Website (Japanese): https://www.suginoi-hotel.com/
Website (English): https://www.suginoi-hotel.com/english/