Teeming with magnificent views of the ocean, splendid hot springs overlooking the sea, a gourmet buffet boasting local specialties, and a wide variety of on-site amusements, the hot spring facility Oedo Onsen Monogatari Beppu Seifu provides such an enjoyable experience that you might even spend the entire stay just relishing its many comforts, making for the best fun-filled onsen retreat experience you can find in Beppu!
A Lavish Buffet Featuring Seasonal and Local Delights 
Among the numerous charms of Beppu Seifu is the seasonal grand buffet, so appreciated that many guests visit the inn over and over again just to feast on the scrumptious array of dishes. The inn takes great pride in selecting regional delicacies from Oita Prefecture and the rest of Kyushu (the southernmost of Japan's main islands where Oita Prefecture is located) that are renowned for their premium quality and unparalleled taste! As the menu is meticulously prepared while keeping the changing seasons in mind, guests can continuously savor dishes made with the freshest ingredients that change depending on the time of their visit, providing glimpses into Japan's unique food culture throughout the year.
We arrived at the dining venue, which is located on the top floor of Beppu Seifu, right before sunset and found the restaurant filled with the golden light of the sun slowly sinking below the horizon, tinging the sea with the same fiery hues. The spacious venue offers tables by the windows, allowing guests to eat while admiring either the gorgeous marine panorama on one side or Beppu City turning into a spectacle of glittering lights and wafts of steam as soon as the night comes on the other. As seat reservations are not available, we suggest arriving early to ensure that you are able to dine at your favorite table, adding gorgeous views to your meals.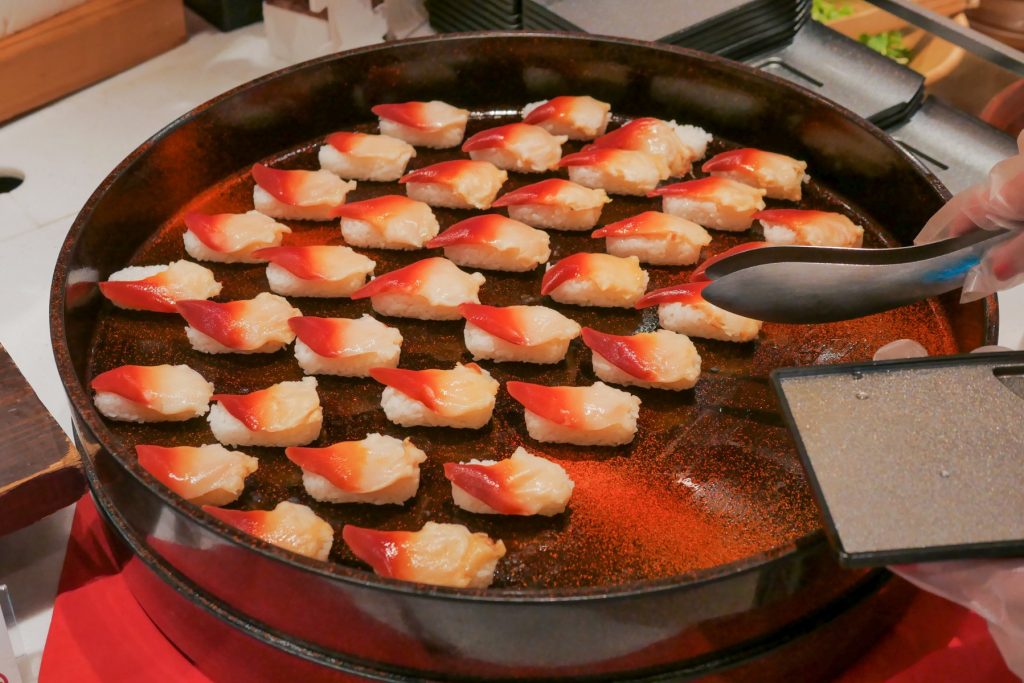 Famous Japanese chefs contribute to Oedo Onsen Monogatari's buffet menus, and although it is a national chain, each location offers options unique to the specific region. Beppu Seifu is no exception, utilizing local ingredients and aiming to create an entertainment-filled dining experience that will transport you to a world far from daily life, allowing guests to journey through the flavors of Japan and create unforgettable memories with local cuisine.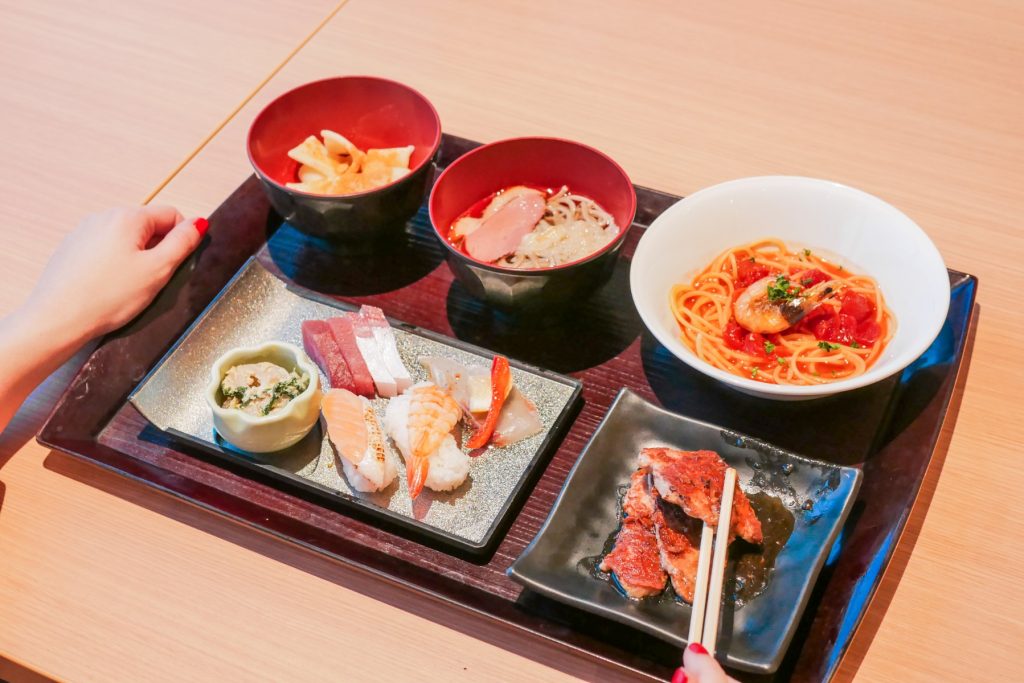 In front of us was an impressive parade of mouth watering Japanese, Western, and Chinese dishes that were so beautifully presented and arranged on the plates that we couldn't wait to taste them for ourselves! The banquet was made even more exciting by the chefs cooking some of the delicacies availableーlike freshly fried crispy "tempura" and fried chicken, perfectly al-dente pasta, and even juicy sirloin steaksー on the spot, displaying their incredible cooking skills for guests to enjoy.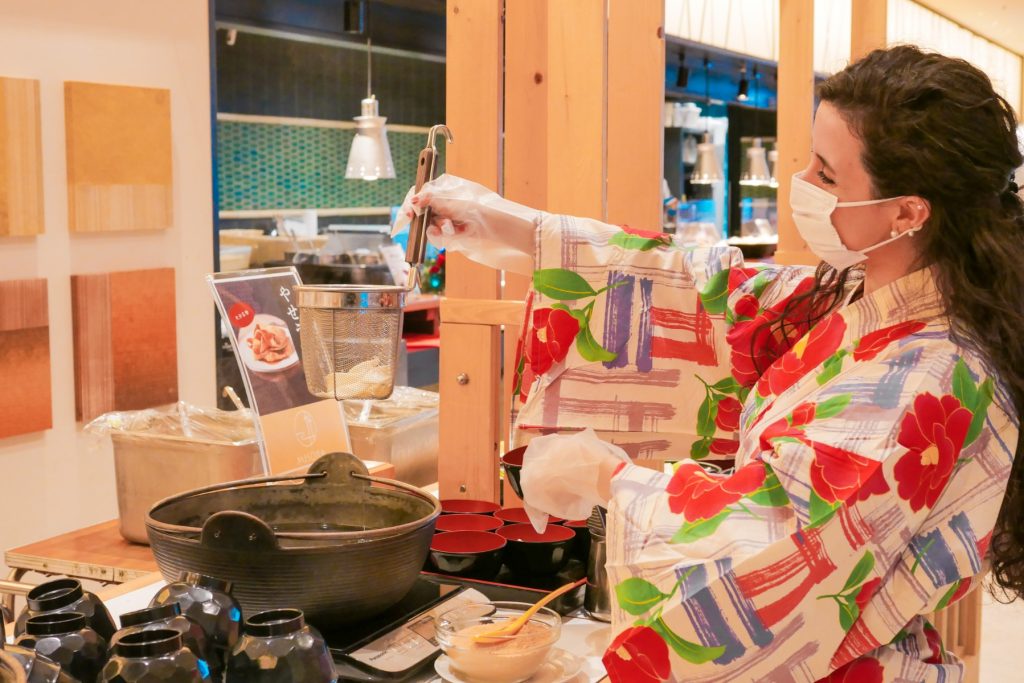 Yaseuma, dumplings with sweet soybean flour 
At the time of our visit, in addition to the standard menu, Beppu Seifu was offering their gourmet winter buffet. Filled with delicious dishes showcasing the best of Kyushu's winter flavors, we could choose from a heaping array of delicacies from the land and the sea, such as yellowtail "sashimi" and sea bream carpaccio made with fish freshly caught in Oita, or locally-sourced chicken and saffron used for mouthwatering paella. We loved feasting on the all-you-can-eat sushi and Oita's staple dishes like "dangojiru" (a savory soup with dumplings, chicken, and vegetables) and more. We could even try cooking some of these specialties on the spot ourselves, like the fresh "yaseuma" (long and flat dumplings) that we boiled and sprinkled with sweet soybean flour to our tastes.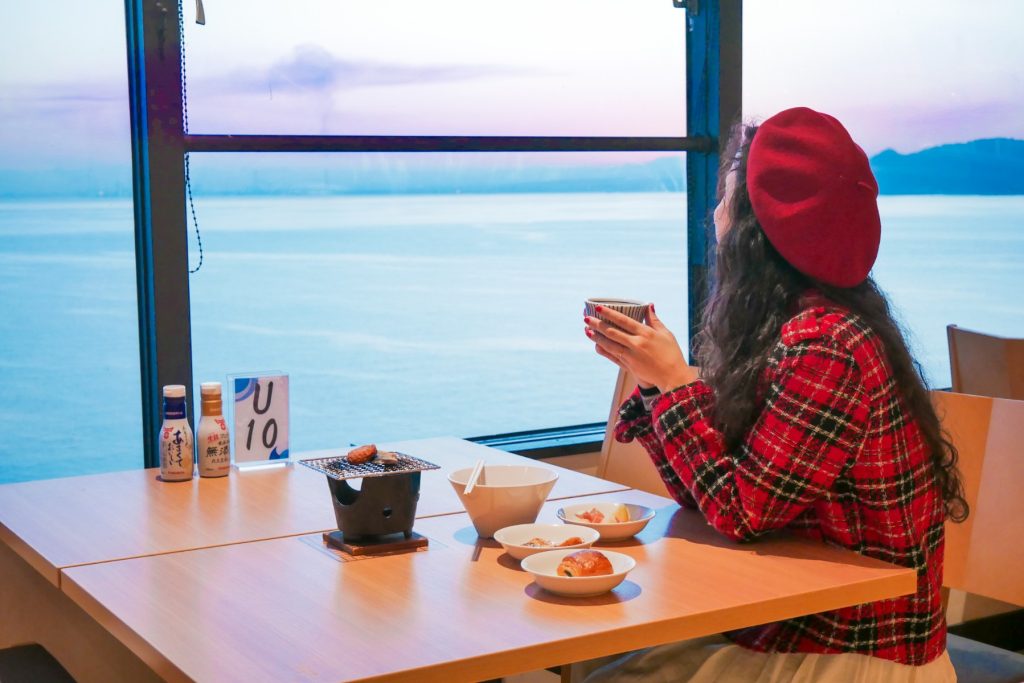 Breakfast was equally amazing! As it was held in the same venue, this time we could soak in the magnificent colors of Beppu's sunrise dyeing the sea and sky pink. The breakfast offer is no less abundant than the one at dinner and can accommodate everyone's preferences, as guests can choose among a wide selection of Japanese and Western dishes, as well as sweet and savory treats!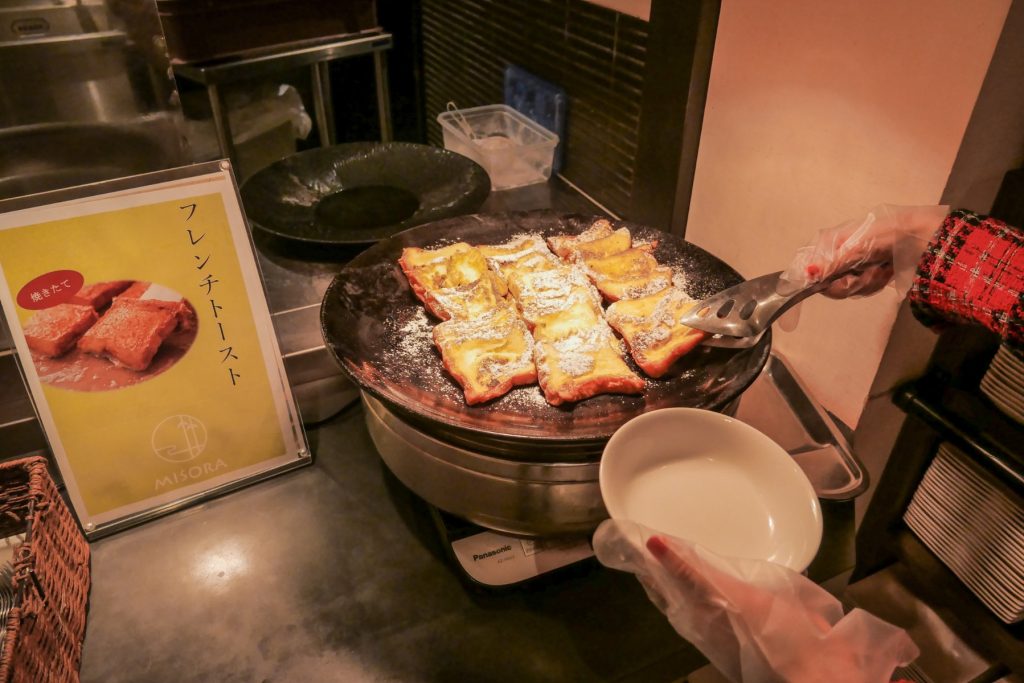 Choosing your favorite dish will be impossible, whether it be the fish you grilled yourself at your table, the deliciously buttery pastries, or the popular "nokkedon" (seafood rice bowl) that is stacked with your favorite seafood selections! In addition to this, chefs cook live during breakfast as well, so we could taste freshly cooked Oita ramen noodles and relish Beppu Seifu's prized freshly baked french toast!
Endless Fun Awaits at Beppu Seifu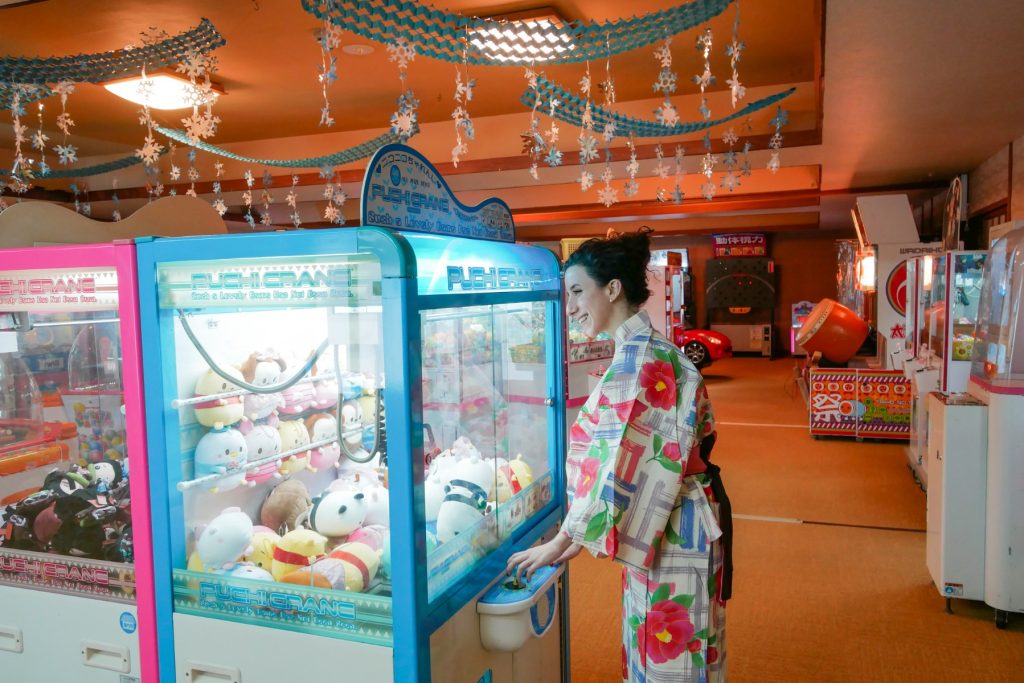 Transporting you away from your daily routine is not only the fine dining experience but also the many amusements available on site. We didn't even need to step outside the inn to enjoy an afternoon filled with relaxation and entertaining activities, which are perfect if you are traveling with family or friends! After changing into our favorite "yukata" robes, picked from the colorful selection available in the lobby's yukata corner, we spent some time unwinding in the cozy lounge where we could get glimpses of the promenade and sea expanding right outside the inn. The lobby even houses a shop that sells select Oita specialties such as confectioneries and sake, which would be great souvenirs to bring back home! 
Japanese pop culture enthusiasts will also surely appreciate that Beppu Seifu has an entire room packed with popular manga series and a "tatami" straw mat lounge next to it, equipped with colorful bean bag chairs that were positioned so that we could also view the sea while sitting and reading. Not far from the manga corner is also another pop culture lover's favorite: a classic Japanese arcade where you can play fan-favorites such as crane games and rhythm games like "Taiko no Tatsujin."
Relax in Rooms Overlooking Splendid Marine Scenery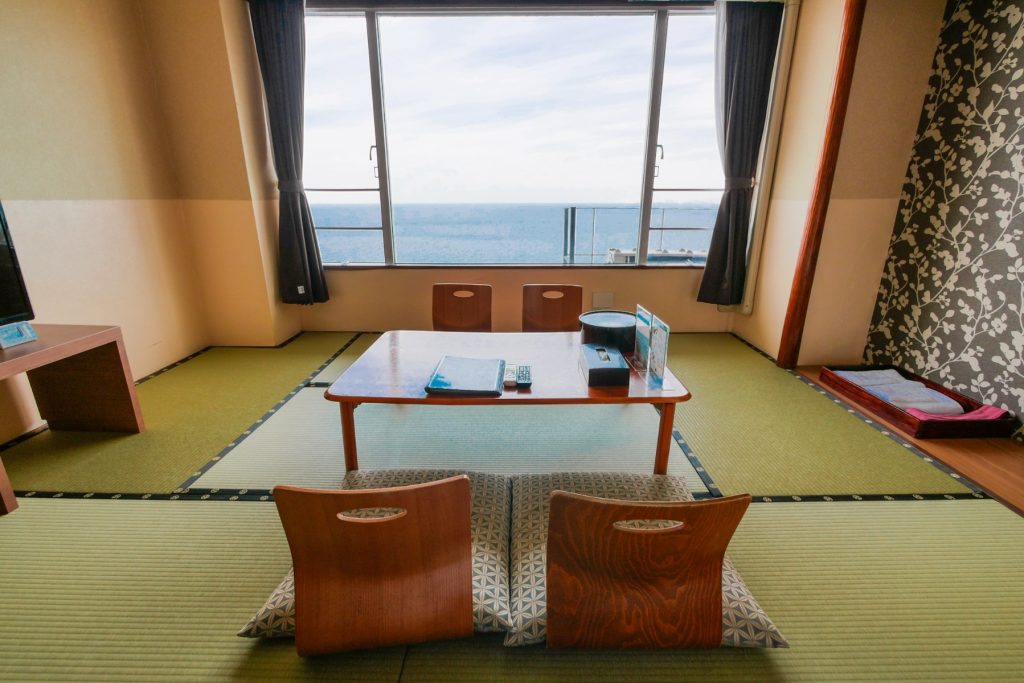 Taking advantage of the beautiful yukata, we also decided to take some photos around Beppu Seifu, as there were many cute spots we could use as the perfect insta-worthy background, including the gorgeous entrance of the inn and the beautiful, traditional Japanese setting of our room. Guests of Beppu Seifu can choose between Japanese-style rooms, Western-style rooms, or Japanese-Western-style rooms. Ours was the third option, and the peaceful ensemble of tatami and Japanese furniture where we sat to drink our green tea, complemented by the large window framing a portion of the sea, gifted us moments of tranquility throughout our stay! 
Hot Springs that Let You Take In the Beauty of the Sea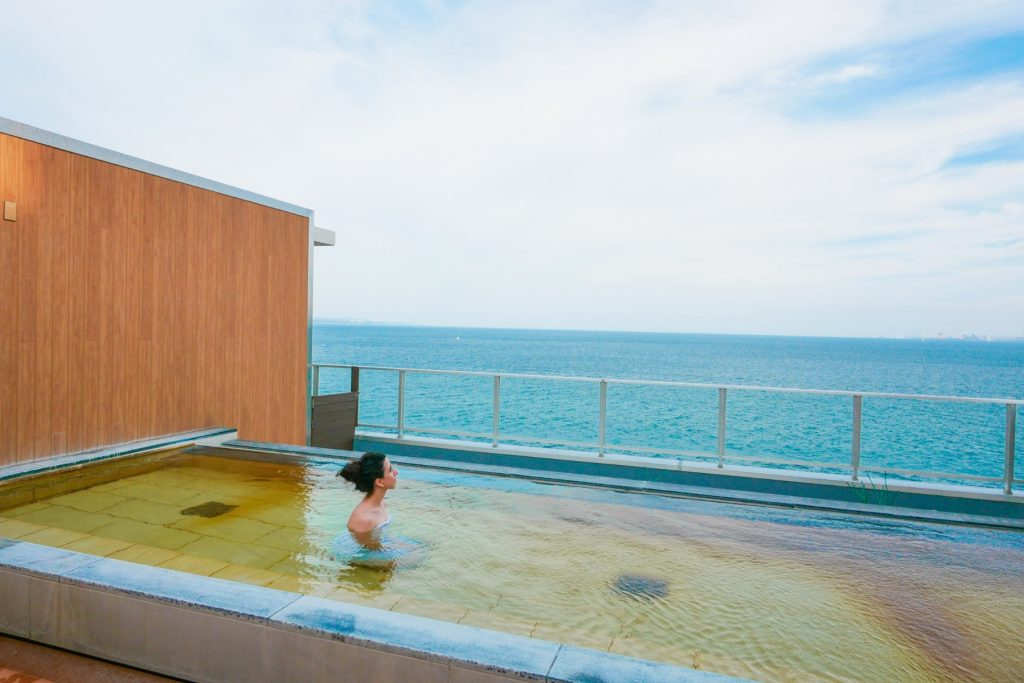 *Please note that bathing in the onsen while wearing a towel is not usually permitted.
Known as the city of hot springs, Beppu boasts Japan's largest volume of hot spring water, so no trip to this onsen heaven would be complete without a soak in the hot springs! Beppu Seifu enriched our stay with some truly wonderful baths overlooking the sea, from where spectacular sunsets and sunrises can be witnessed.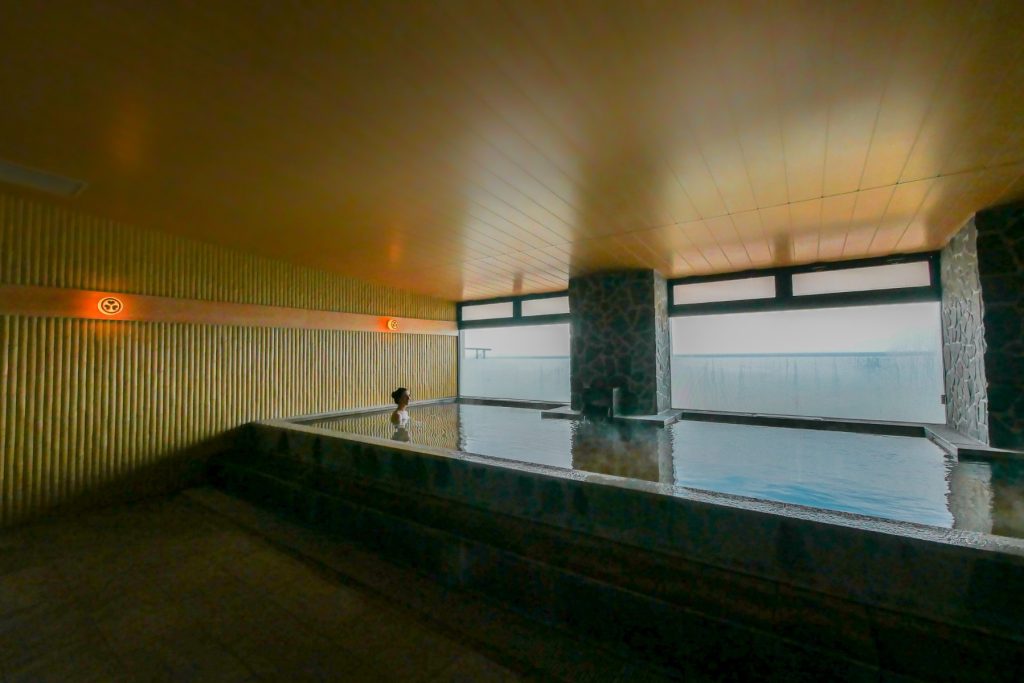 First, we enjoyed the comfort of the indoor large communal bath on the third floor, which is adorned with wood and suffused lighting and offers superb views of the sea, then we went up to seventh floor where, in the open-air hot spring, we found peace while immersed in the hot water and taking in the panoramic views of Beppu Bay!
Spend a Blissful Time Amidst Scrumptious Buffets and Comforts at this Onsen Inn by the Sea
Oedo Onsen Monogatari Beppu Seifu is a place of refined dining experiences and amusements that is conveniently located in the center of Beppu and by the sea. With spectacular marine panoramas, luxurious onsen, and sumptuous buffets, this hot-spring inn grants an unforgettable time in Beppu! 
Information 
Name: Oedo Onsen Monogatari Beppu Seifu
Opening hours (large communal bath and open-air bath): 3:00 pm – 12:00 am, 5:00 am – 10:00 am
*Please not that bathing in the onsen facility is prohibited for those with tattoos
Website (Japanese): https://beppu.ooedoonsen.jp/
Website (English): https://beppu.ooedoonsen.jp/en/
*The latest information is available on the official website of Oedo Onsen Monogatari Beppu Seifu (Japanese). Please use an automatic web translation tool to check the information and make your reservation.
How to get to Beppu, where Oedo Onsen Monogatari Beppu Seifu is located.
tsunagu japan