Delicious dishes for the palate and gorgeous views for the eyes await you at Okamotoya Shop, one of Beppu's most eminent restaurants when it comes to the local "jigokumushi" ("hell-steaming") cuisine. Tucked away in the city's verdant mountainside, Okamotoya carefully prepares and enriches its specialties with Beppu's beneficial hot spring steam directly from the source, using this healthy cooking method that has been appreciated since centuries ago.
Feast on a Banquet With Delicious Dishes Cooked in Beppu's Rich Onsen Steam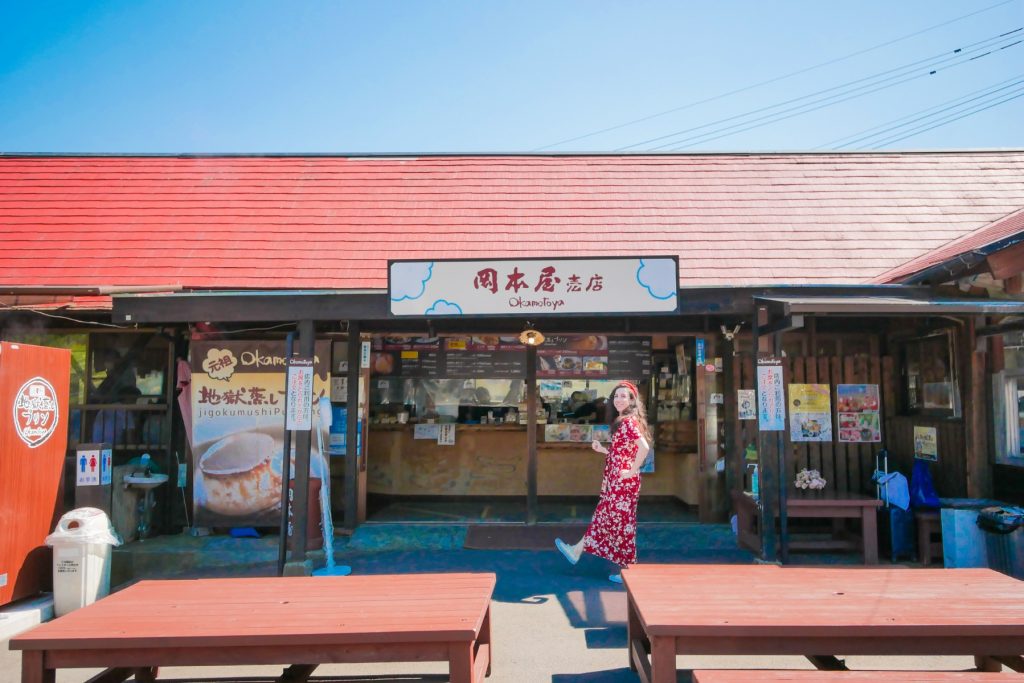 Beppu is one of Japan's most beloved hot spring resorts. Blessed with abundant nature, the city's "onsen" (hot spring) sources are capable of producing more hot spring water than any other hot spring area in the country. Traces of this close relationship with the forces of nature appear to be everywhere: along its steam-filled streets and alleys, onsen-packed seaside and mountains, and even in the city's specialty dishes. Such an intimate coexistence helped develop delicacies and cooking methods that take advantage of the hot springs' power and benefits.
Okamotoya's specialty, jigokumushi "hell-steaming" cuisine, is said to have been practiced in Beppu since the Edo period (1603 – 1868) and consists of harnessing natural hot spring steam to cook a wide range of ingredients in "jigokugama" ("hell pots") stone steamers. We could witness part of this fascinating cooking process at the entrance of the shop where, among wisps of steam, some of their flagship products are proudly displayed.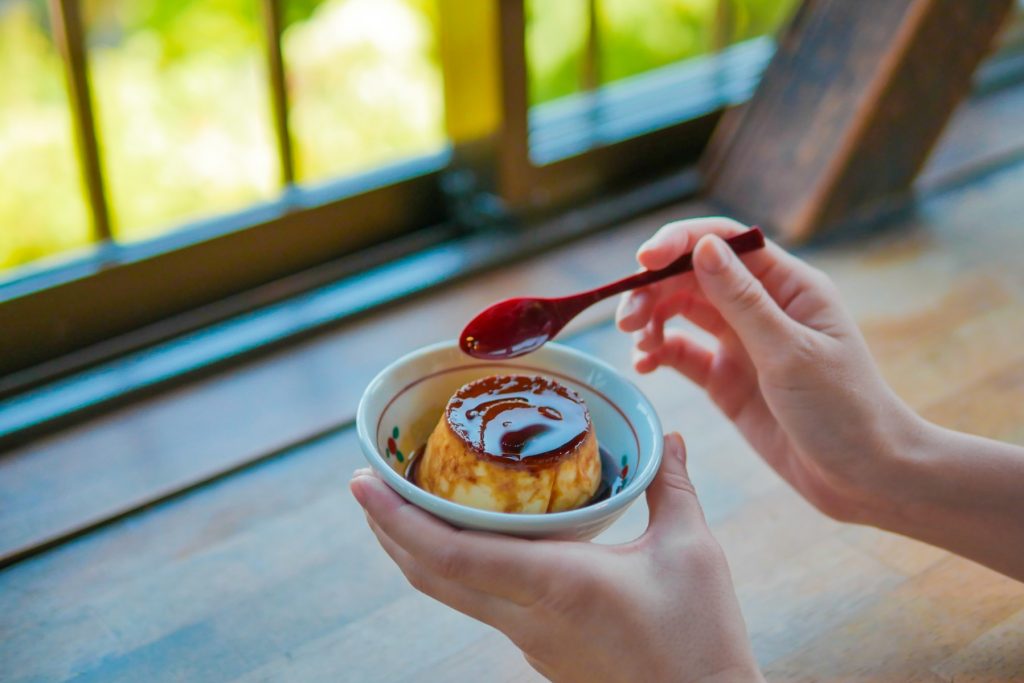 Whether it be salty, spicy, or sweet, jigokumushi seems to complement every sort of flavor by enhancing the innate tastes of the ingredients. Permeated by intensely hot steam chock-full of minerals, vegetables emerge sweeter yet flavorful, meat and seafood soft yet juicier, while eggs and desserts acquire a well-rounded tang.
We can attest to the wonders of this cooking method, as we were able to relish Okamotoya's long-time best-seller jigokumushi pudding – so delicious that locals and visitors alike make their way to Beppu's Myoban mountainous area only to feast on this addictive treat of custard and caramel.
Their hell-steamed pudding has been popular since its debut in 1988 and has since maintained the original recipe that has won the hearts of many. The secret to such explosive success lies in Okamotoya's experts sapiently steaming the pudding to draw out the luxurious intensity of the fresh, high-quality eggs, milk, and cream used. Sulfur-laden steam is a true flavor booster and crafts a well-balanced dessert that is not overly sweet and is firm yet exquisitely soft.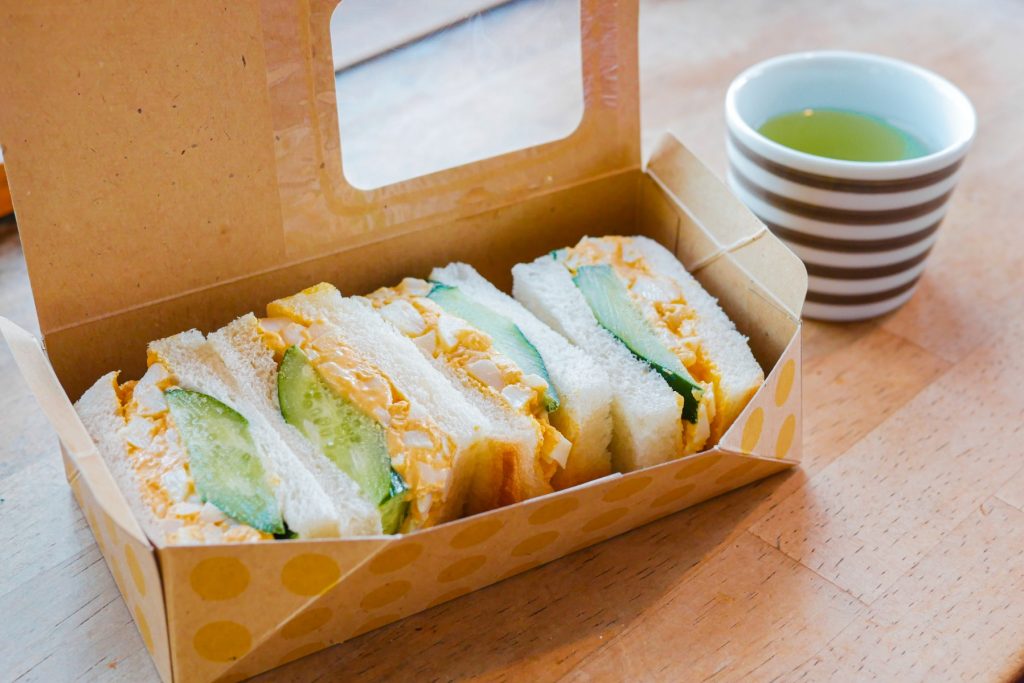 Eggs seem to be a particularly fitting ingredient for jigokumushi. They are not only great when used for puddings, but they can also be steamed and savored as they are. Naturally flavored by the minerals in the steam, jigokumushi onsen "tamago" eggs are a simple and delectable snack frequently seen around Beppu.
Here at Okamotoya, they are offered on the menu prepared in a variety of styles, including as jigokumushi egg sandwiches which harmonize the sumptuous creaminess of the eggs and the freshness of the cucumbers, and as "jigoku onigiri" (hell rice balls) which wrap the richness of the soft-boiled eggs and their buttery yolks with fragrant rice together into one tasty morsel.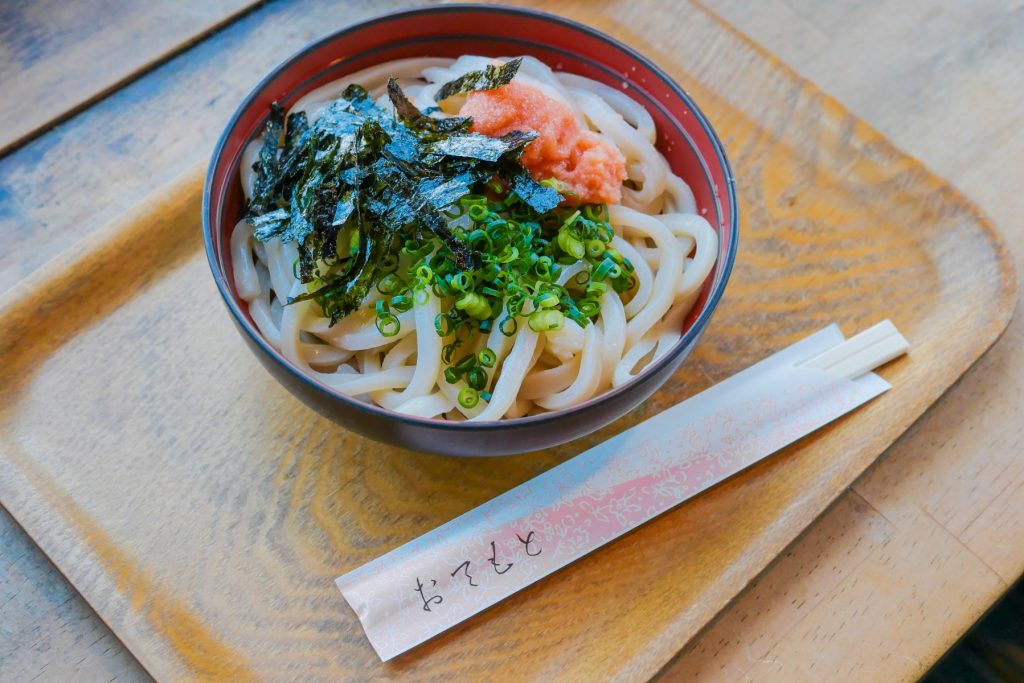 Also very popular are Okamotoya's "udon" noodles. We saw more than one visitor slurping on these appetizing bowls and decided to order one for ourselves from the tantalizing list of choices. Their most recommended option is the "ontama udon," garnished with one of Okamotoya's prized soft-boiled eggs, but we wanted something spicier and went for their "mentai udon," topped with spicy cod roe. Perfectly chewy and firm, as expected from handmade udon brought in from Kagawa Prefecture, Japan's udon capital, they were a joy to eat.
If you want your taste buds to jump for joy, look no further than Okamotoya, but be aware that many of their dishes are handmade and rely on the natural flow of steam, so quantities might be limited and especially popular items might sell out quickly. We recommend you visit the shop in the morning to not miss any of their mouth-watering treats.
Treat Your Eyes First and Enjoy Views Teeming With History and Nature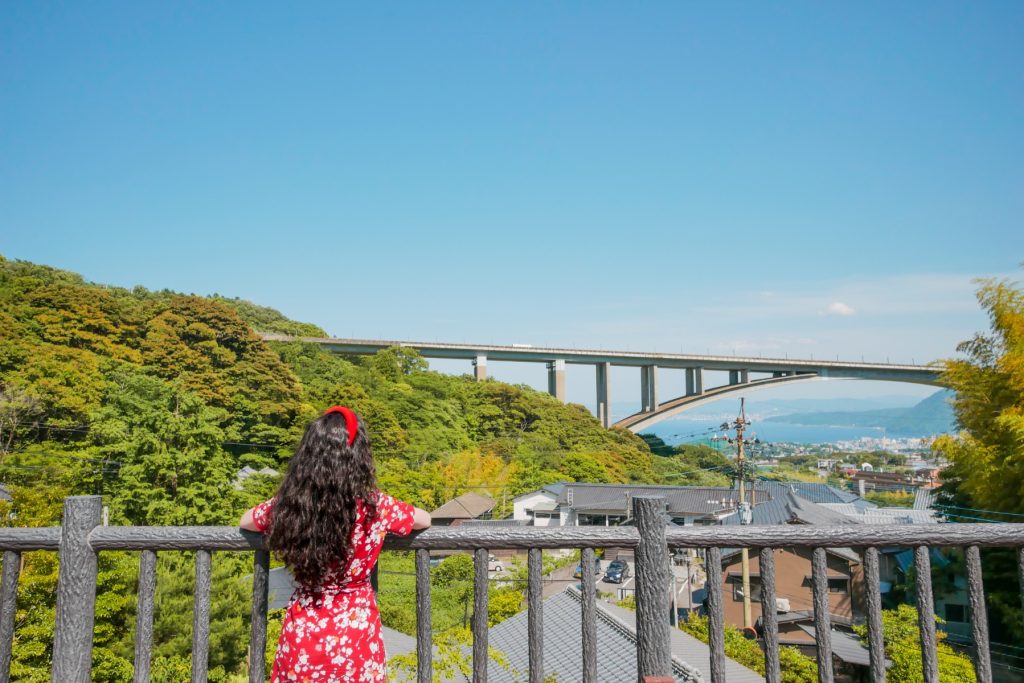 The location adds flavor to this culinary experience. Okamotoya lies among Beppu's wooded mountains, granting a scenic view over the city, the distinctive arch of Myoban Bridge, and even the sea. Particularly exciting were the panoramic seats by the window where, while sitting on tatami mats, we enjoyed a superb jigokumushi meal together with sweeping scenery that was a feast for the eyes.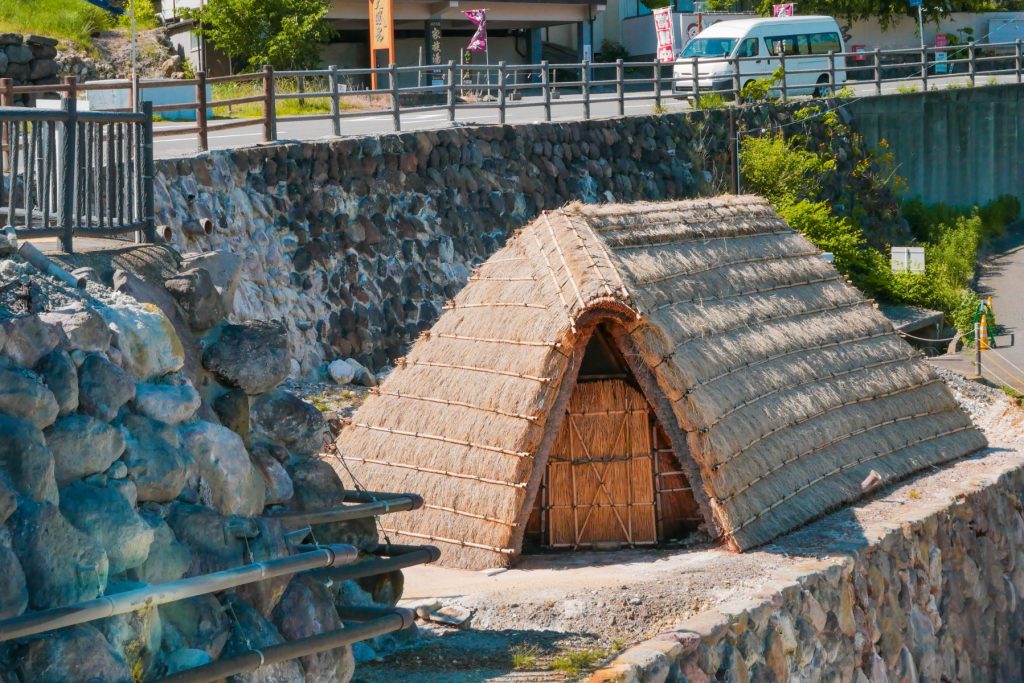 The fascinating panorama of Myoban is exalted by its historical roots. The area is dotted with the singular presence of "yunohanagoya." With their distinctive triangular-shaped thatched roofs, visitors might think they are the remains of some ancient, mysterious village, but the story behind them is far more surprising than this.
Since the Edo period, yunohanagoya huts have been involved in the manufacturing of "yunohana" (flowers of hot spring water), a type of sinter produced by crystalizing beneficial mineral components from Myoban's hot spring steam and blue clay. Used today in a wide variety of body-care products such as bath salts and unique to Beppu's Myoban Area, yunohana's production techniques aren't found anywhere else in the world, forming a culturally relevant landscape that was also designated a nationally Important Intangible Folk Cultural Asset.
Taste Some Healing Moments at Yamanoyu's Panoramic Private Onsen Baths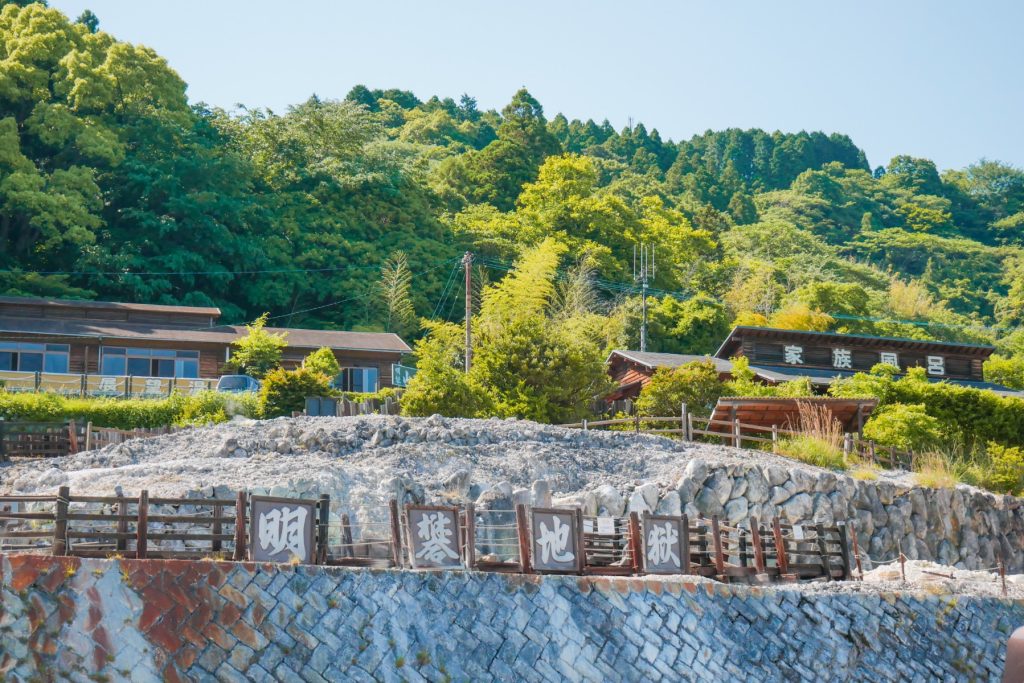 After relishing superb food and views, visitors can also savor moments of relaxation at the nearby Yamanoyu hot spring baths. Located just opposite Okamotoya Shop and commanding the valley from its position, Yamanoyu ensures an equally breathtaking panorama.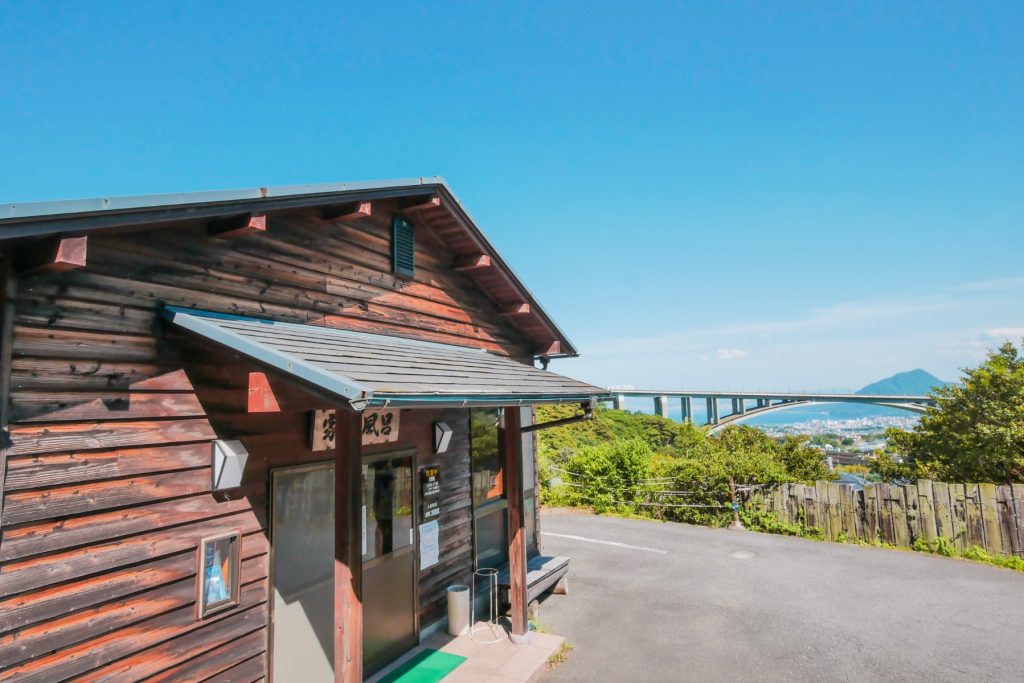 The facility houses two different types of onsen baths: the communal "Panoramic Stone Baths" and five private "Family Baths," both embodying elements reminiscent of a mountain hut and served by Myoban's luxurious hot spring water. Rich in sulfur, a dip in these onsen will grant some profound moments of healing.
Enjoy Delicacies and Panoramas Forged By Beppu's Magnificent Hot Springs at Okamotoya Shop
Outstanding food will highlight your time at Okamotoya Shop. While immersing yourself in splendid nature and history enriched by the magnificence of onsen, don't miss the chance to savor Beppu's most coveted and distinctive treat, jigokumushi pudding. You won't easily forget its taste and will want to return for more!
Information
Okamotoya Shop
Opening hours: 8:30 am – 6:30 pm (Last order 5:30 pm)
Closing days: None
Price:
・Jigokumushi pudding: 330 yen
・Jigokumushi egg sandwich: 660 yen
・Mentai udon: 660 yen
Website (Japanese): https://jigoku-prin.com/shop/index.html
Website (English): https://jigoku-prin.com/en/shop/index.html
Myoban Jigoku Walkaway
Opening hours: 8:30 am – 5:30 pm
Closing days: None
Price: 200 yen
Website (Japanese): https://jigoku-prin.com/myoubanjigoku/index.html
Website (English): https://jigoku-prin.com/en/myoubanjigoku/index.html
Yamanoyu
Opening hours: 1:00 pm – 7:00 pm (Last entry 6:00 pm)
Closing days: Closed on Tuesdays (when a national holiday falls on a Tuesday, it will be closed the following day)
Price:
・Panoramic Stone Baths: 500 yen
・Private Family Baths: 1,500 yen (1 hour)
Website (Japanese): https://jigoku-prin.com/hotspring/index.html
Website (English): https://jigoku-prin.com/en/hotspring/index.html