Onsen vs Hot Spring: What's The Difference?
If you love hot springs as we do, you too are waiting til the day we will all be able to visit different hot springs all around the world once again. Until then, let's start by exploring onsen vs hot springs.
So what is the difference between an onsen and a hot spring? Some may believe onsen is simply the Japanese word for "hot spring," but technically that is not the case. Whereas a hot spring can be defined as a spring that produces geothermally heated water, onsen must be of a certain temperature and contain a certain amount of minerals. (You may read more about what qualifies as an onsen here: What Is Onsen? All Questions Answered!)
With that being said, each has their own charms. In this article, we will take a look at one beautiful example of each.
Different Dimension Hot Springs You Must Experience
Anyone who likes experiencing hot springs should be aware of Beppu – the Japanese capital of hot springs and the world-famous Blue Lagoon in Iceland. In fact, both places must be on any hot spring fan's "To Go" list! They will provide you with an unforgettable experience for sure. We will outline the unique appeal of both, so you can decide your next destination.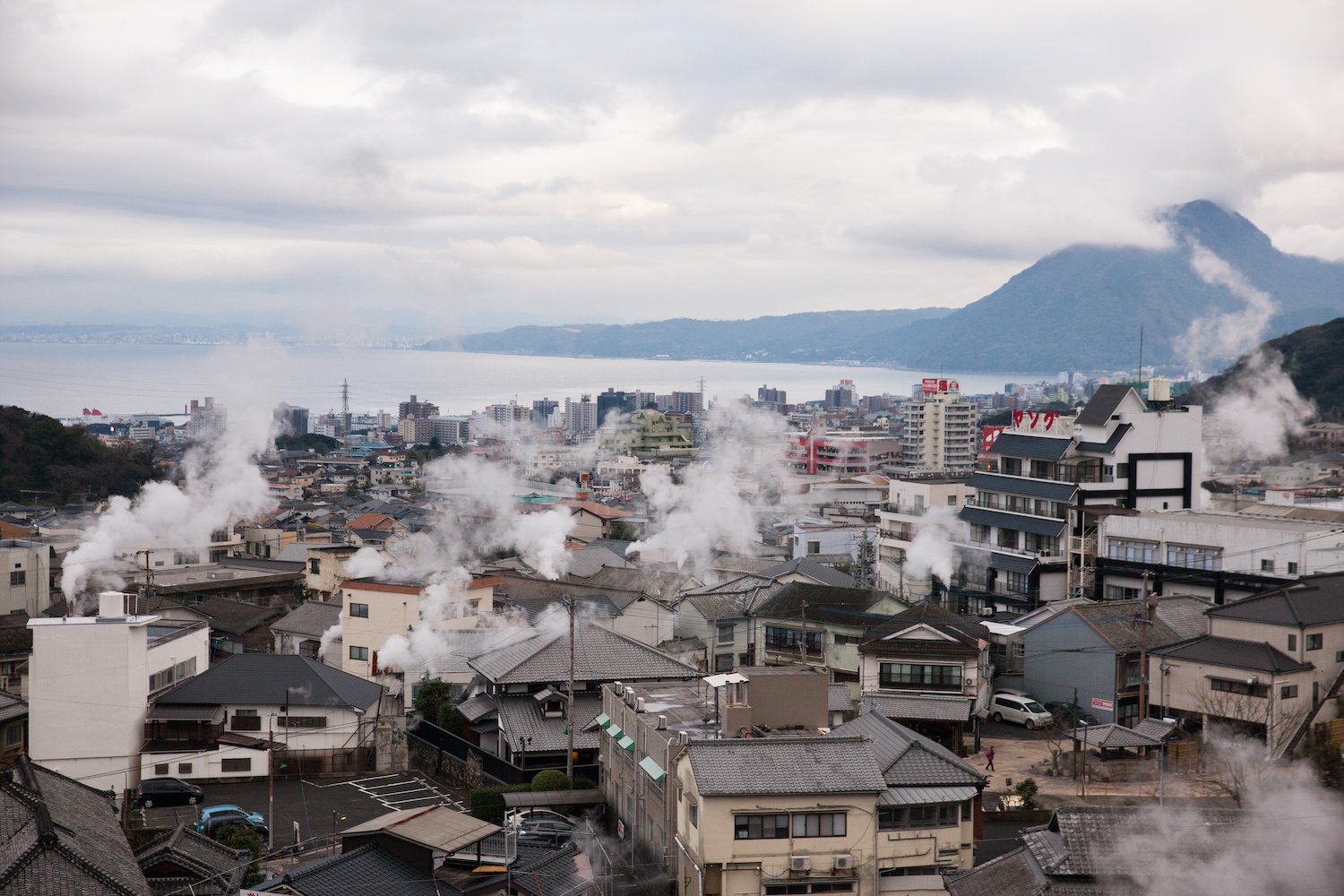 Beppu: Japan's Onsen Capital
Located on the island of Kyushu in Japan, Beppu is second only to America's Yellowstone National Park in terms of amount of hot spring water produced.
Plenty of Options
Beppu, despite being a little Japanese town, offers hundreds of hot springs where you can enjoy bathing in various ways. Here you will find hot springs with crystal clear waters, vivid blue waters, muddy onsen, and even onsen where you soak in the sand.

That is not to mention numerous private onsen with exceptionally relaxing atmosphere. We suggest our article, Top 10 Private Onsen In Beppu. Relax! No One Can See You! for further reading.
The chemical composition of onsen in Beppu is also different depending on each hot spring as outlined on our article on the geothermal process of spring formation: How Onsen Works: A Geothermal Gift. And these different qualities of onsen have varying effects on the body. There is even evidence they have a healing influence on different parts of your body. To learn more about onsen healing and different onsens' different effects on the body read Why Is Onsen Good For You? Ask The Onsen Girls.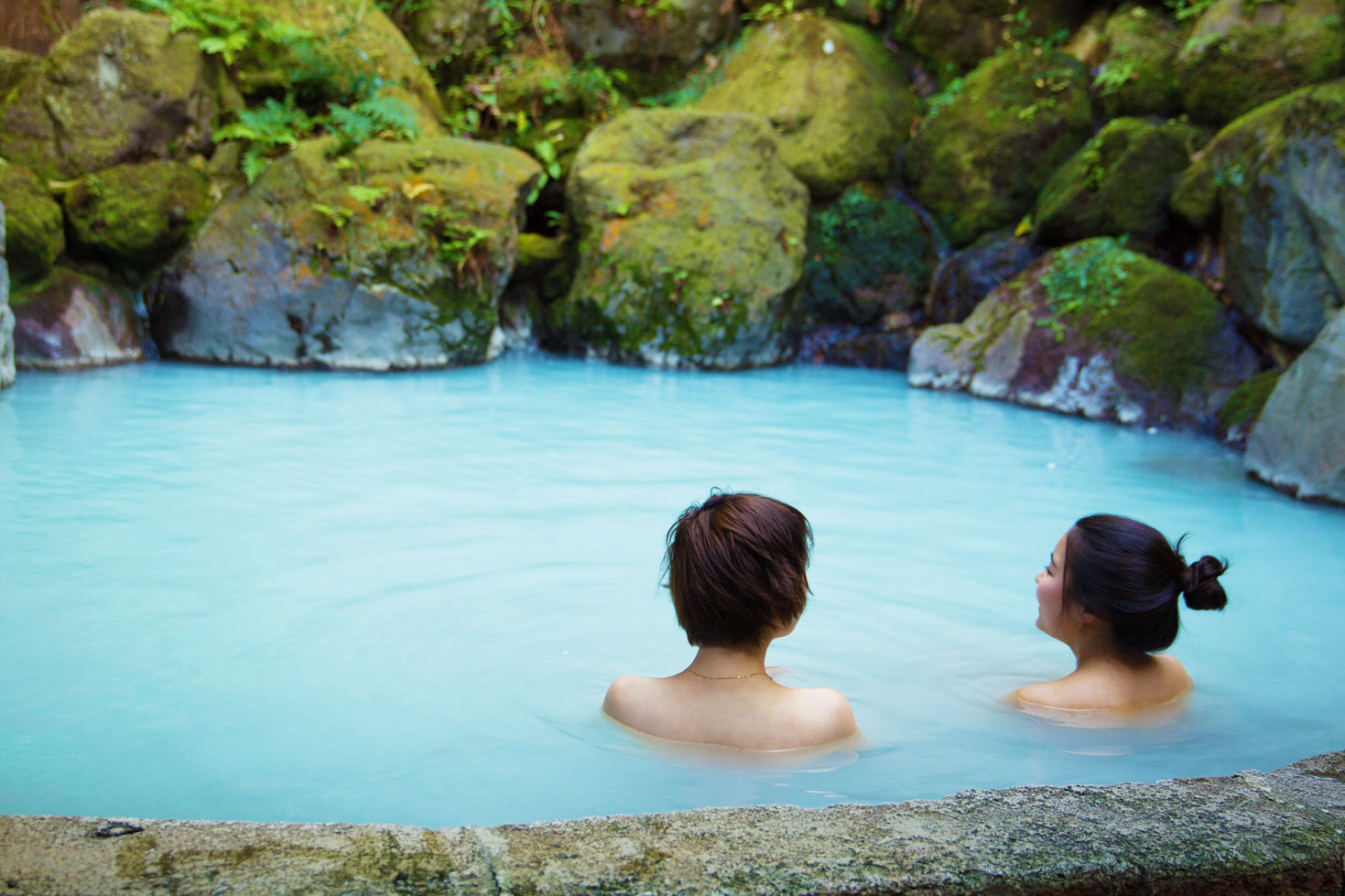 Some hot springs in Beppu can change into a vivid color (like Mugennosato Shunkashuutou pictured above) not dissimilar to Blue Lagoon.
Tranquil Nature
Hot springs in Beppu are less commercialized than Blue Lagoon, so it is a perfect place to feel the tranquility of the surrounding nature and experiencing Japanese traditions as well. Besides, Beppu City is geographically located in a way when you can enjoy all four seasons and experience various natural scenes while you are soaking and relaxing; that is, the city is located between the mountains and the sea, so you have onsen with beautiful views of either to choose from.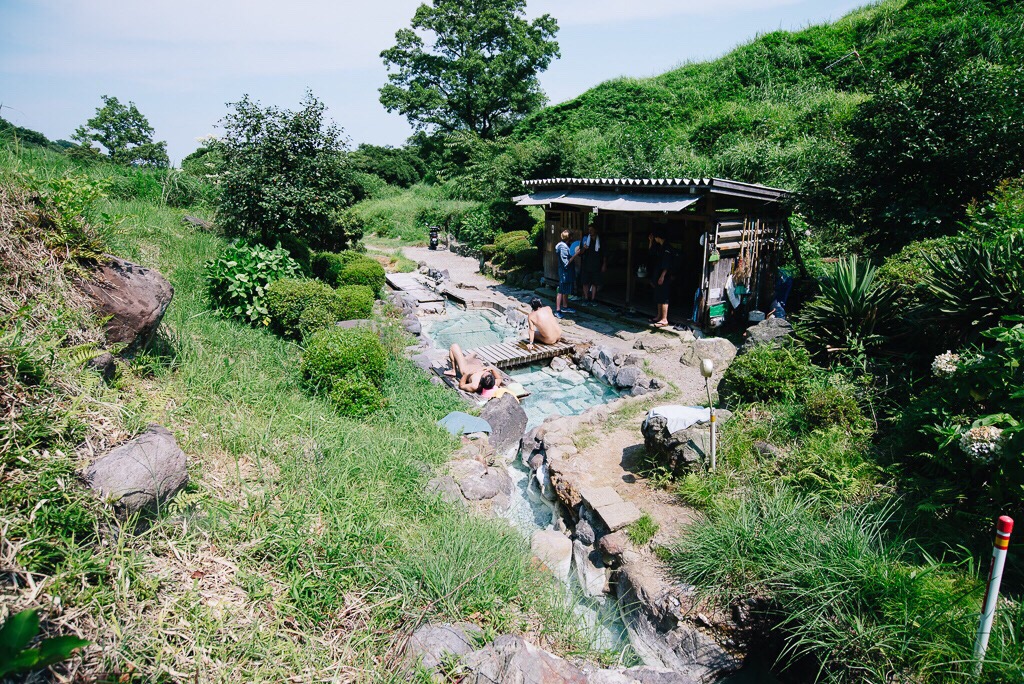 Beppu is also home to some beautiful hidden onsen like Tsurunoyu, which you can read more about here.
Fun For All
Soaking in the hot spring is a sensual ritual for every Japanese that usually takes place in the evening before dinner. In Beppu, as in most of the other Japanese onsen, visitors bathe naked, with men and women in separate rooms. But you will also find mixed spaces where you can wear swimsuits ( like Kitahama TERMAS) or yukata (like at the sand bath Kaihin Sunayu). And of course, any private onsen welcomes friends and families regardless of gender.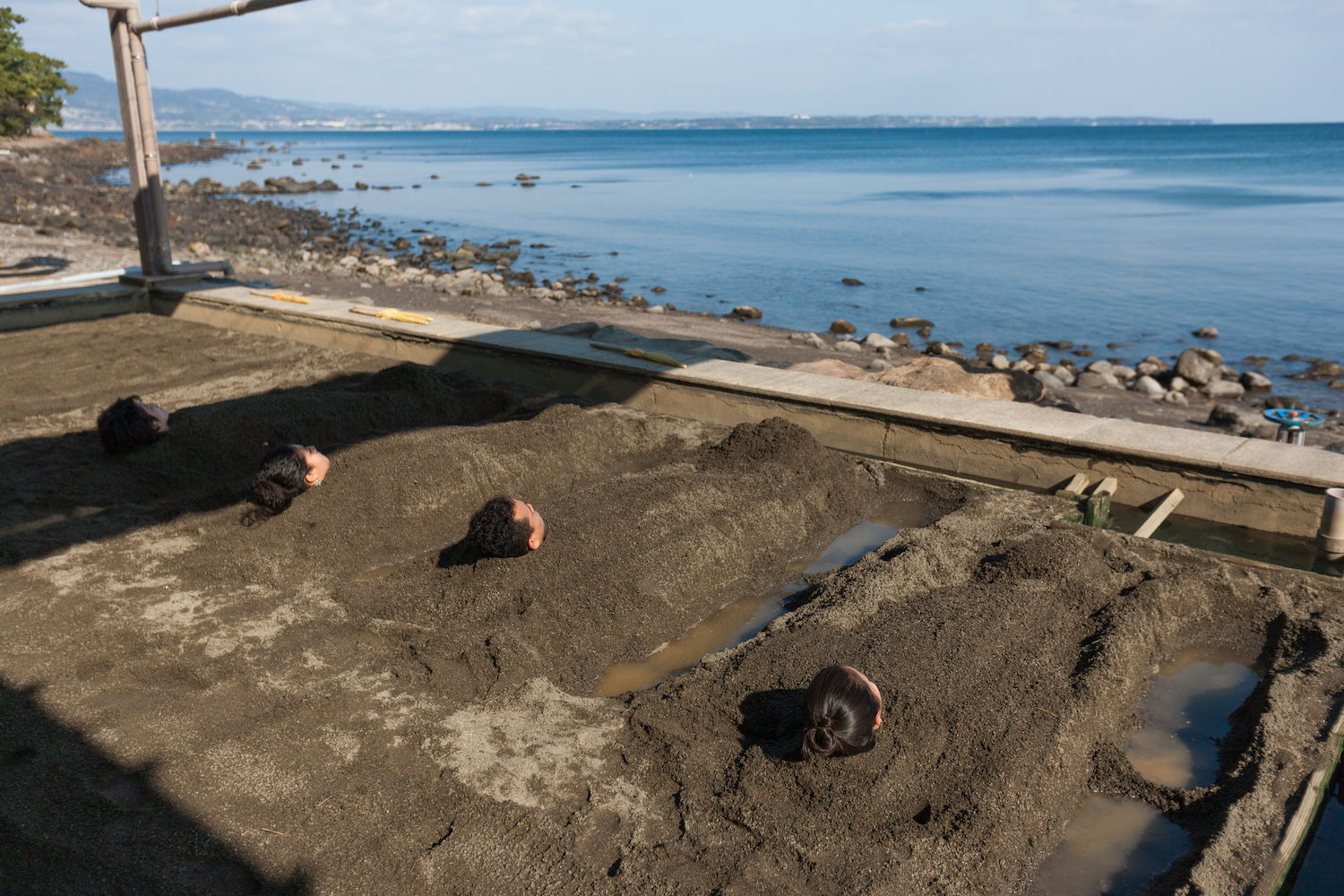 Blue Lagoon: Iceland's Geothermal Spa
When you would like to experience something completely different from an onsen in Beppu, I suggest you go to Iceland – a cold land on the junction of lithospheric plates in the northern part of the Atlantic Ocean. The country is full of active volcanoes (just like Japan) which also makes it extremely attractive for the hot spring hoppers. I was lucky to visit this country with the terrain that looks like another planet twice, and both times I enjoyed soaking in the Blue Lagoon hot spring.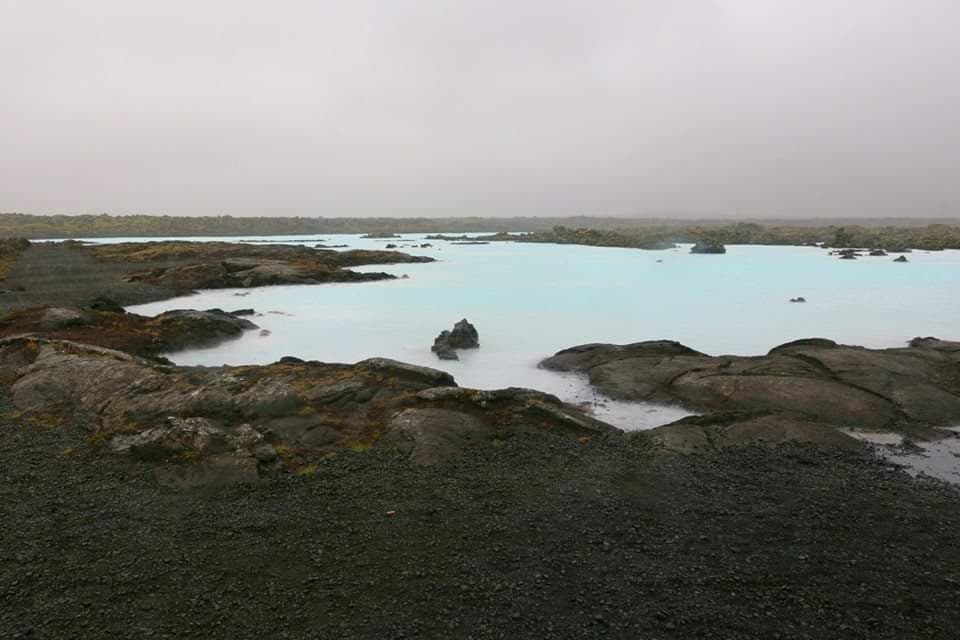 Unearthly Atmosphere
Unlike in Beppu, the weather around Blue Lagoon is stably cold and foggy. The hot spring itself is massive, resembling a huge lake with turquoise water that merges with the horizon because of the fog and only rare black rocks can be seen. I felt completely lost several times until the wind blew away the fog and let me understand where to move. The water in Blue Lagoon is so pleasantly warm (about 40 °C) that you will not want to step out of the water, especially when the wind is strong. Due to its unusual terrain and sophisticated water color, Blue Lagoon is also a perfect place to take pictures. Additionally, the mud under your feet there is good for softening skin. They even sell a cosmetic line made of this mud in the hot spring shop.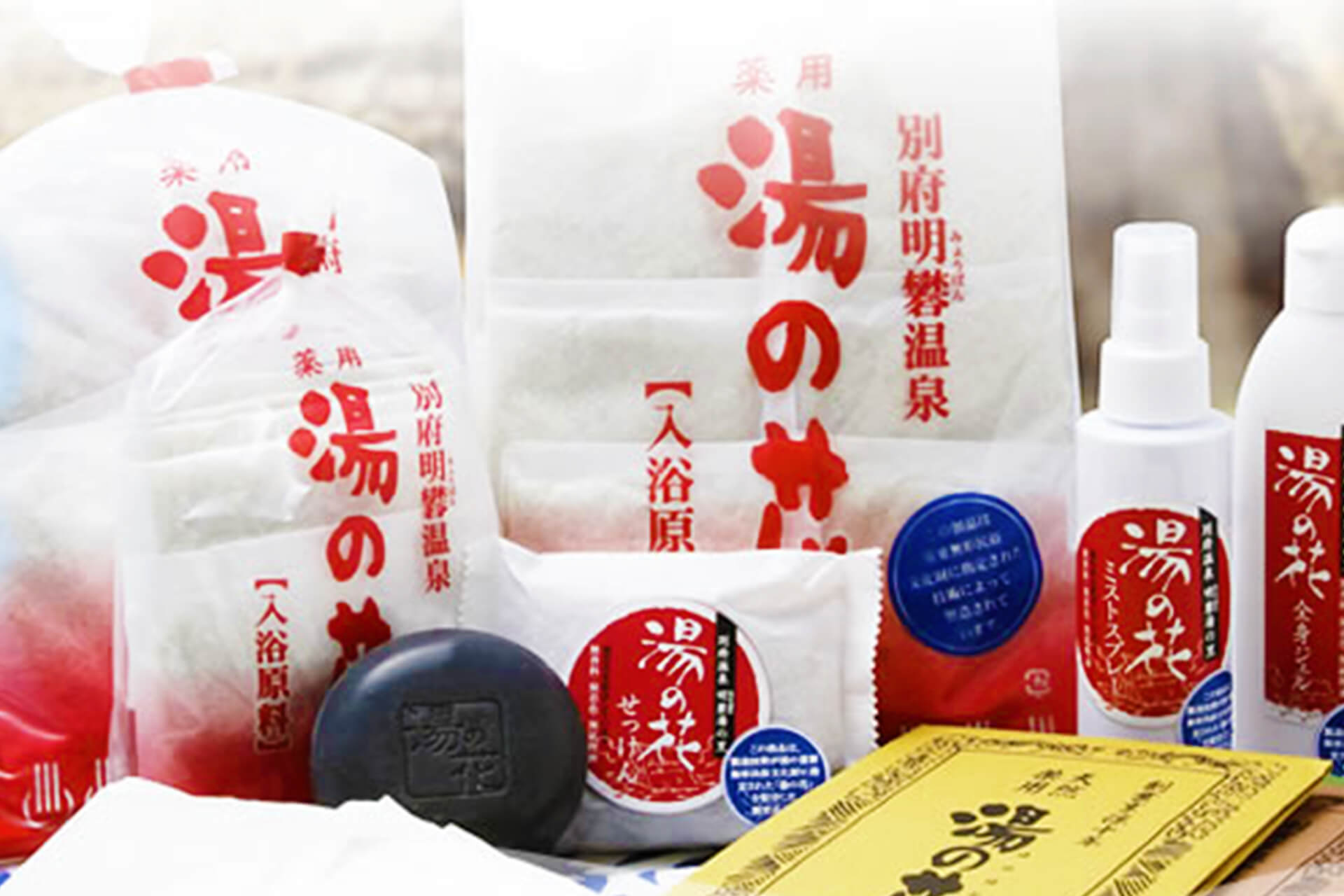 By the way, Beppu also sells beauty products made from the minerals found in onsen. You can read more about that here.
Major Mixed Gender Hot Spot
In contrast to most hot springs in Japan, Blue Lagoon is a mixed hot spring where you need to wear swimsuit and rent ropes and towels in the entrance. Be prepared to see a lot of people soaking with you at the same time, as this place recently became exceedingly popular. However, if you would like to enjoy Blue Lagoon privately, you can stay in their hotel or use spa facilities. Blue Lagoon is a bit expensive compared with onsen in Beppu. The entrance fees to Blue Lagoon start from 5,000 yen and require pre-booking. On the other hand, in Beppu, you can just come as you like and pay usually 200 to 500 yen and enjoy any onsen as long as you like.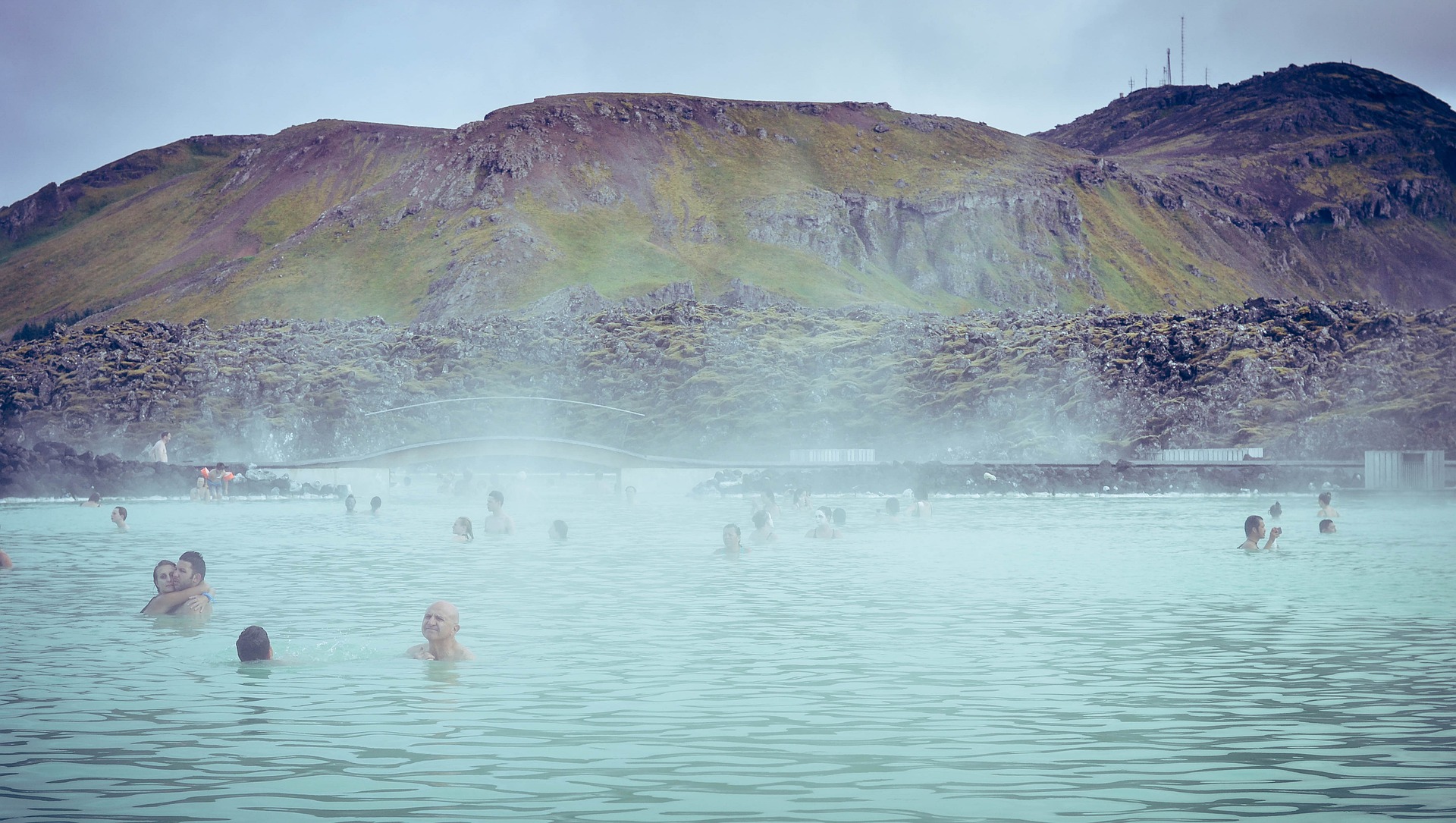 Onsen vs Hot Spring: Our Conclusion
Both Beppu Onsen and Blue Lagoon are well worth the visit. Though the two are clearly distinct, it is precisely because they are so different that we are eager to spread our wings and travel world hot springs once more!
If you like to have company while in Beppu or have any intention to know more about the locality, please feel free to contact our Tomodachi Guides from Wander Compass Beppu. They are always happy to assist with your travels!
EnjoyOnsen