Coming to Japan and not trying to soak in the velvety waters of onsen is a crime. Especially if you are looking for private onsen in Kyushu, you must visit Beppu – the genuine hot spring capital of Japan. However, many foreign visitors are reluctant to enter a public bath with other people. They prefer to enjoy it alone or with their families and loved ones. On the other hand, other foreign visitors may have tattoos. Many hot spring facilities do not allow people with tattoos to use their public spaces. Indeed, if you are willing to pay a little extra for private onsen in Beppu, the city features a lot of establishments that offer private facilities for families, couples, and solo travelers who would like to feel the ambiance in a private way. Needless to say, the water properties vary depending on the establishment, but their quality stays on an exceptionally high level. In this article, you will find the top 10 private onsen facilities that offer private rooms with baths for their best and most shy customers.
Our Top 10 Private Onsen In Beppu
Hyotan Private Onsen
Personally, I consider Hyotan Onsen one of the most popular hot springs around Beppu. In addition, it is the only hot spring in Japan that can boast 3 Michelin stars. It was founded over 100 years ago and since then it has become a unique facility where you can enjoy hot springs in various ways. Besides the traditional hot spring baths, you can also try sand bathing, the sauna inhaling station, and the drinking fountain. This onsen features 8 styles of indoor baths and 6 open-air baths for private use. In addition, each private bath has a sauna. Locals believe that the waters of this hot spring help with curing joint stiffness, muscle pain, chronic skin diseases, chronic gynecological diseases, gastrointestinal disease, and many more. When you get hungry, don't miss the sophisticated Jigokumushi (hot spring-steamed) dishes they prepare in the facility. And if you would like to try cooking over the volcanic steam, they also offer such an experience!
Address: 159-2 Kannawa, Beppu, Oita 〒874-0000
Tel: 0977-66-0527
Opening Hours: 9 am – 1 am
Website: http://www.hyotan-onsen.com/english/ https://enjoyonsen.city.beppu-jp.com/hyotanonsen/Closing Days: Schedule may change on public holidays
Price (Private/Family Bath): from 2,150 Yen per 60 min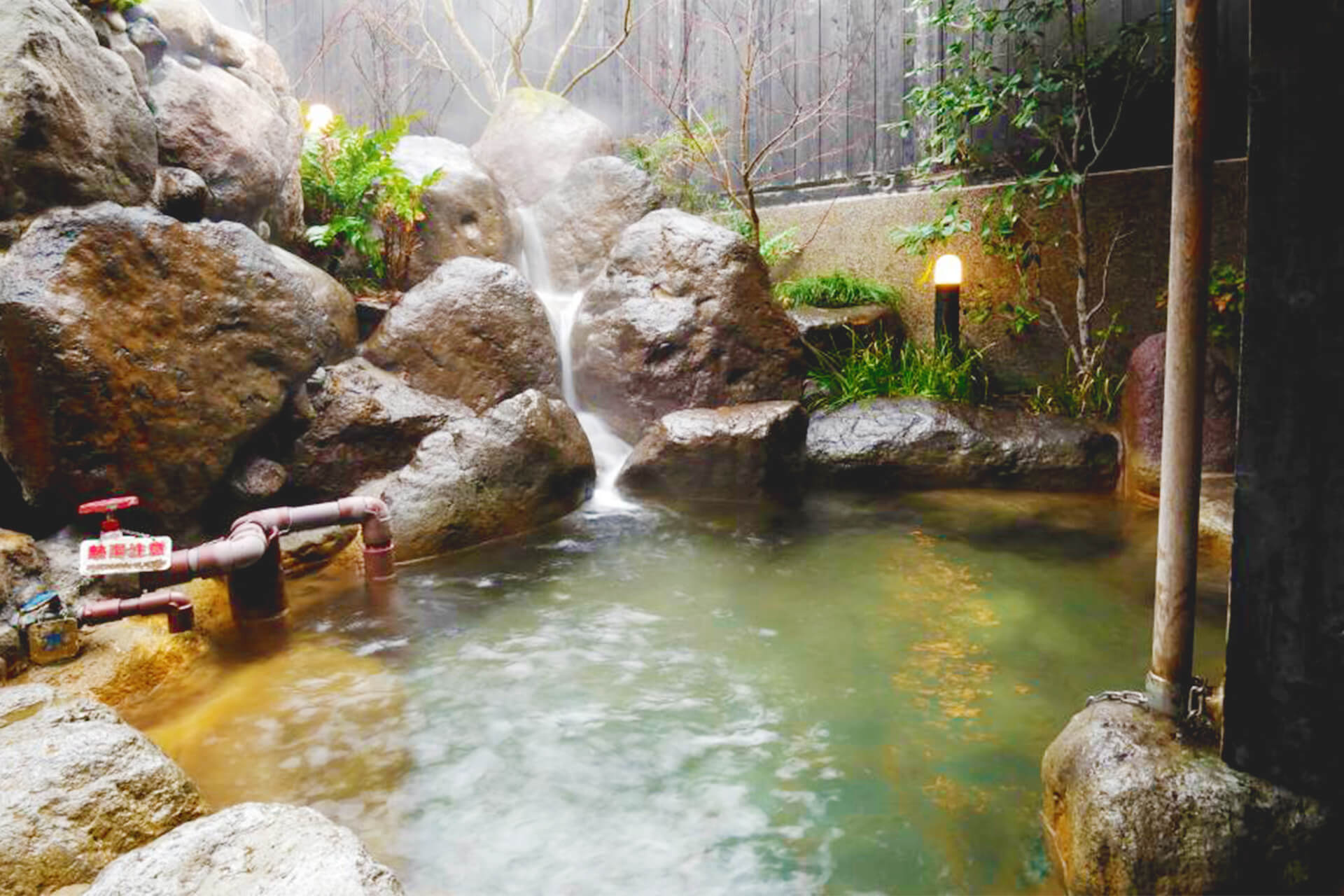 Shibaseki Private Onsen
Shibaseki hot spring got its name in the Edo period from the fossil firewood (called shiba) that was discovered here. It is located on the north side of Kannawa and features a nice municipal bath. Additionally, Shibaseki Onsen features two indoor baths of different temperatures. For those who want to bathe privately, there is a family bath too. This hot spring became a National Health Hot Spring Resort in 1997 for its therapeutic waters and breathtaking natural surroundings. The waters of this hot spring help with poor blood circulation, mild cases of asthma or emphysema, stiffness in muscles and joints, insomnia, and much more. You can get all amenities at Shibaseki Onsen for a very reasonable price.
Address: 4-kumi Noda, Beppu, Oita 〒874-0016
Tel: 0977-67-4100
Opening Hours: 9:00 – 20:00
Website: http://www.gokuraku-jigoku-beppu.com/entries/shibaseki-onsen
https://enjoyonsen.city.beppu-jp.com/shibasekionsen/
Closing Days: The second Wednesday of each month
Price (Private/Family Bath): 1650 Yen for 60 min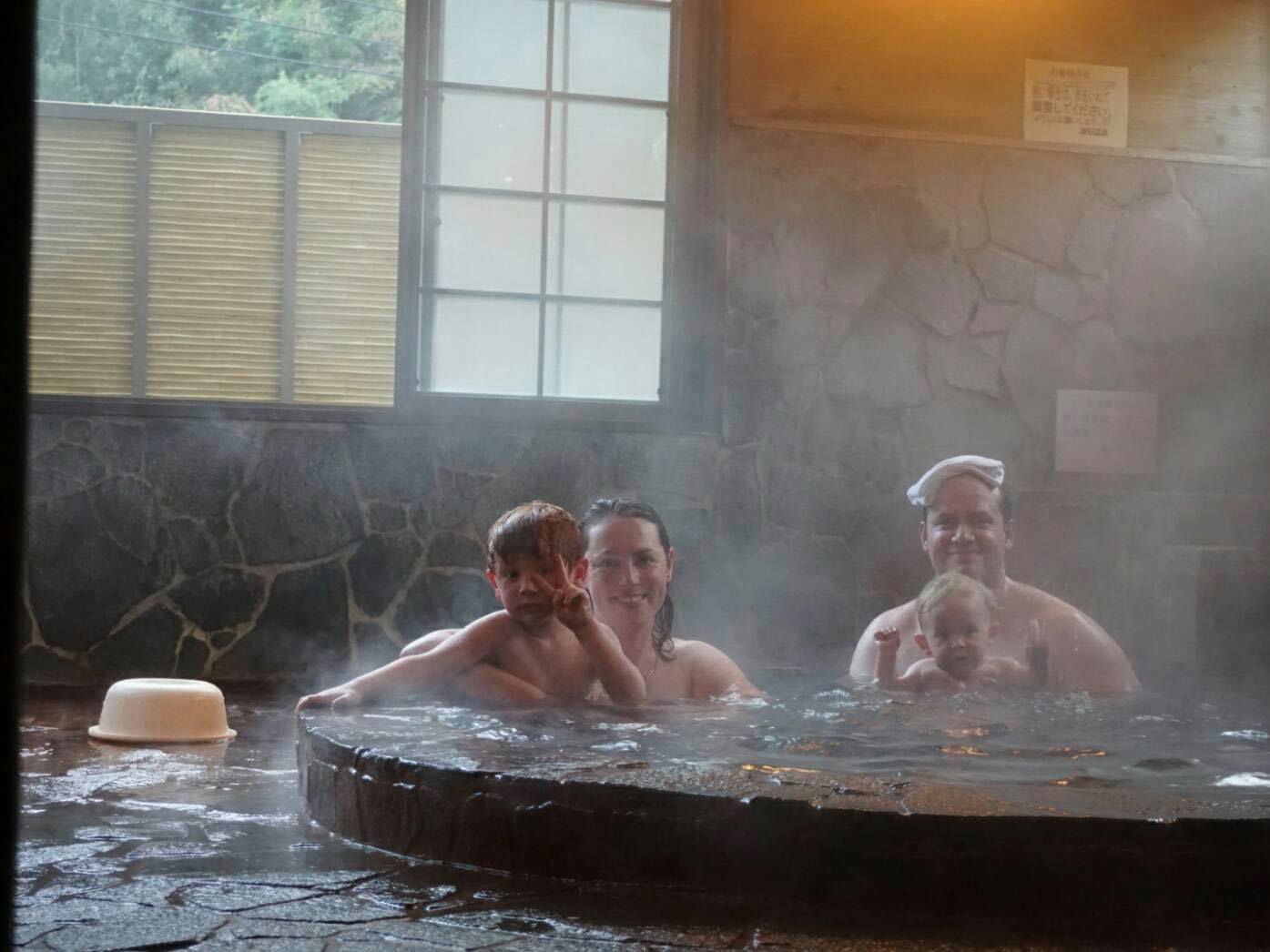 Sakura Yu
Sakura Yu is a pretty large facility that features 20 family baths of different sizes and styles. The name of this hot spring comes from the sakura tree. Indeed, if you visit this onsen in spring, you will definitely enjoy admiring cherry blossoms not only at the entrance to the facility, but also from the window of your room with a private bath. Autumn scenery is also astonishing in Sakura Yu with its colorful maple trees. This onsen has sodium magnesium bicarbonate chloride waters that heal stiffness in muscles and joints, itchiness, chronic digestive tract disease, coldness, and much more. Whether you come solo, with your partner, or family, you will find a perfect private bath in Sakura Yu at any time!
Address: 4-2 Hotta, Beppu, Oita〒874-0831 (front of Beppu Intersection)
Tel: 0977-25-8431
Opening Hours: Weekdays 11:00 – 23:00 (Last admission), Weekends and public holidays 10:00 – 24:00 (Last admission)
Website: http://www.sakurayu.net/
https://enjoyonsen.city.beppu-jp.com/sakurayu/
Closing Days: No
Price (Private/Family Bath): 2000 – 3000 Yen for 60 min depending on the bathtub size and quantity of people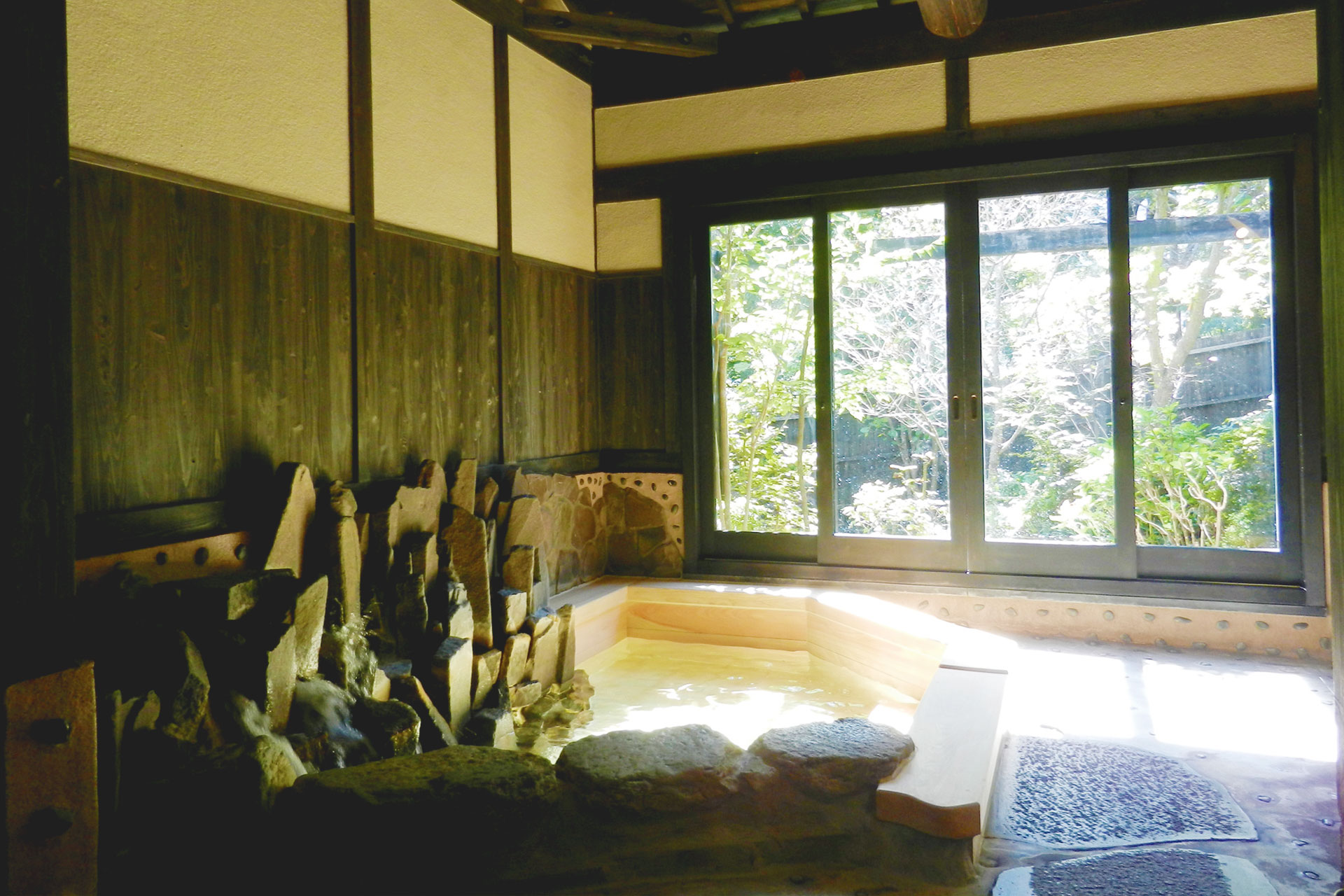 Ryokan Sennari
Ryokan Sennari is a traditional Japanese style hotel just a two-minute walk from Beppu Station. If you would like to upgrade your stay to a higher level and spend a night in a traditional Japanese room, this ryokan is a proper choice. The facility features only eight rooms, a large rock bath, a small rock bath, an open-air bath, and three kinds of private baths. Unfortunately, you cannot use it if you do not stay in this ryokan.
Address: Noguchi-motomachi 2-18, Beppu, Oita 〒874-0933
Tel: 0977-21-1550
Website: https://beppu-sennari.com/en/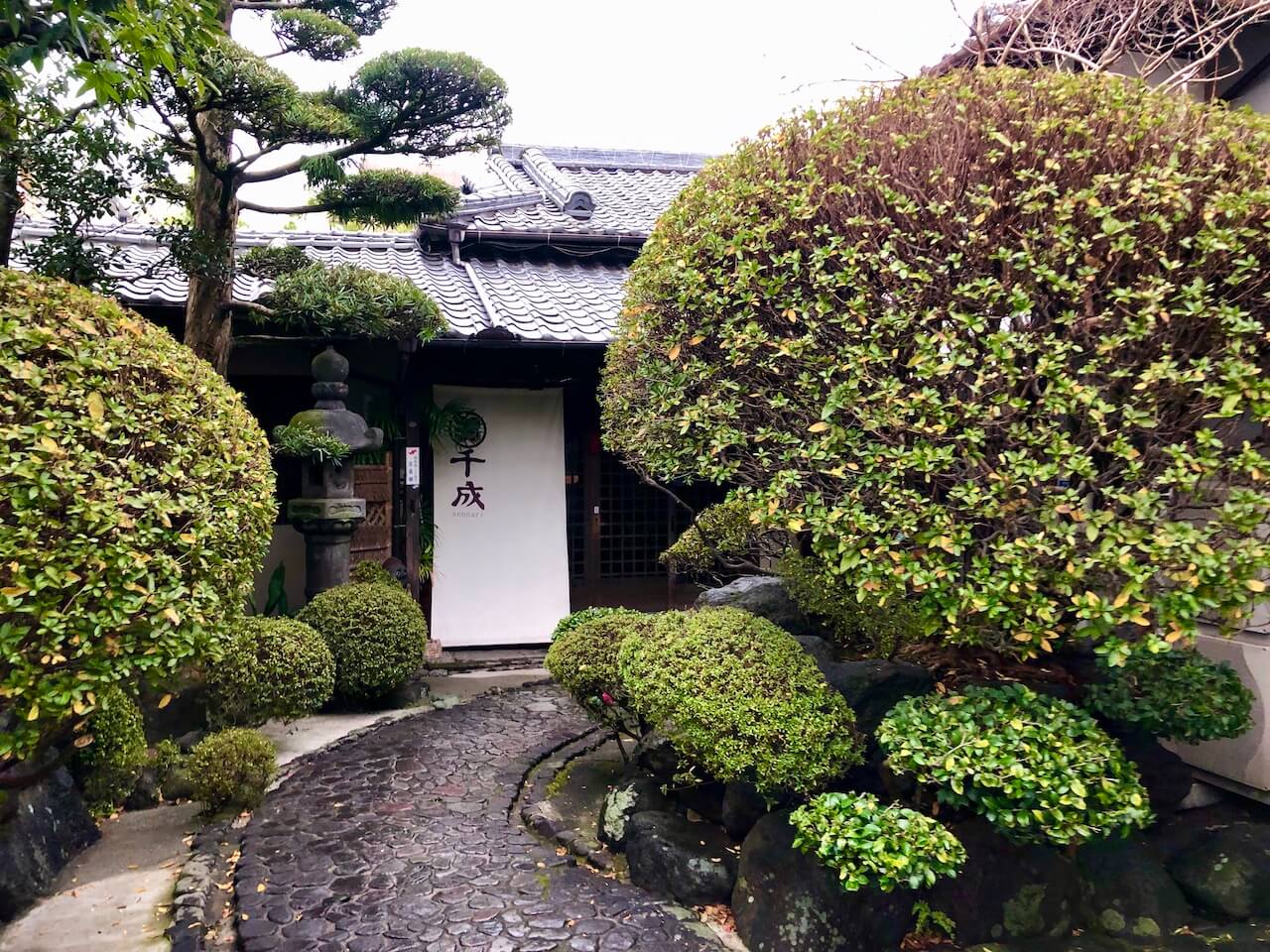 Myoban Yama no Yu
This large onsen facility boasts an outstanding location, facing Beppu Bay and the picturesque arch of Myoban Bridge. Upon arrival to the Myoban area, you will notice a pleasant sulfur smell and at night, you will have a chance to look upon Beppu's breathtaking nightscape. The facility has several private baths for an extra charge. The waters in this hot spring have a milky color and are believed to cure joint pain, nerve pain, muscle pain, bruises, and much more. Nearby, you will also find a small souvenir shop where you can purchase Myoban Jigoku Yunohana – a bathing powder that contains blue clay with Myoban hot springs' characteristic minerals. So, if you want to take a bath at home and feel like you are in Myoban Yama no Yu, I suggest you bring some as a souvenir.
Address: 1-kumi, Myoban, Beppu, Oita 〒874-0843
Tel: 0977-66-5881
Opening Hours: 9:30 – 21:00
Website: http://www.jigoku-prin.com/en/
https://enjoyonsen.city.beppu-jp.com/yamanoyu/
Closing Days: Tuesdays
Price (Private/Family Bath): 1,500 Yen for 60 min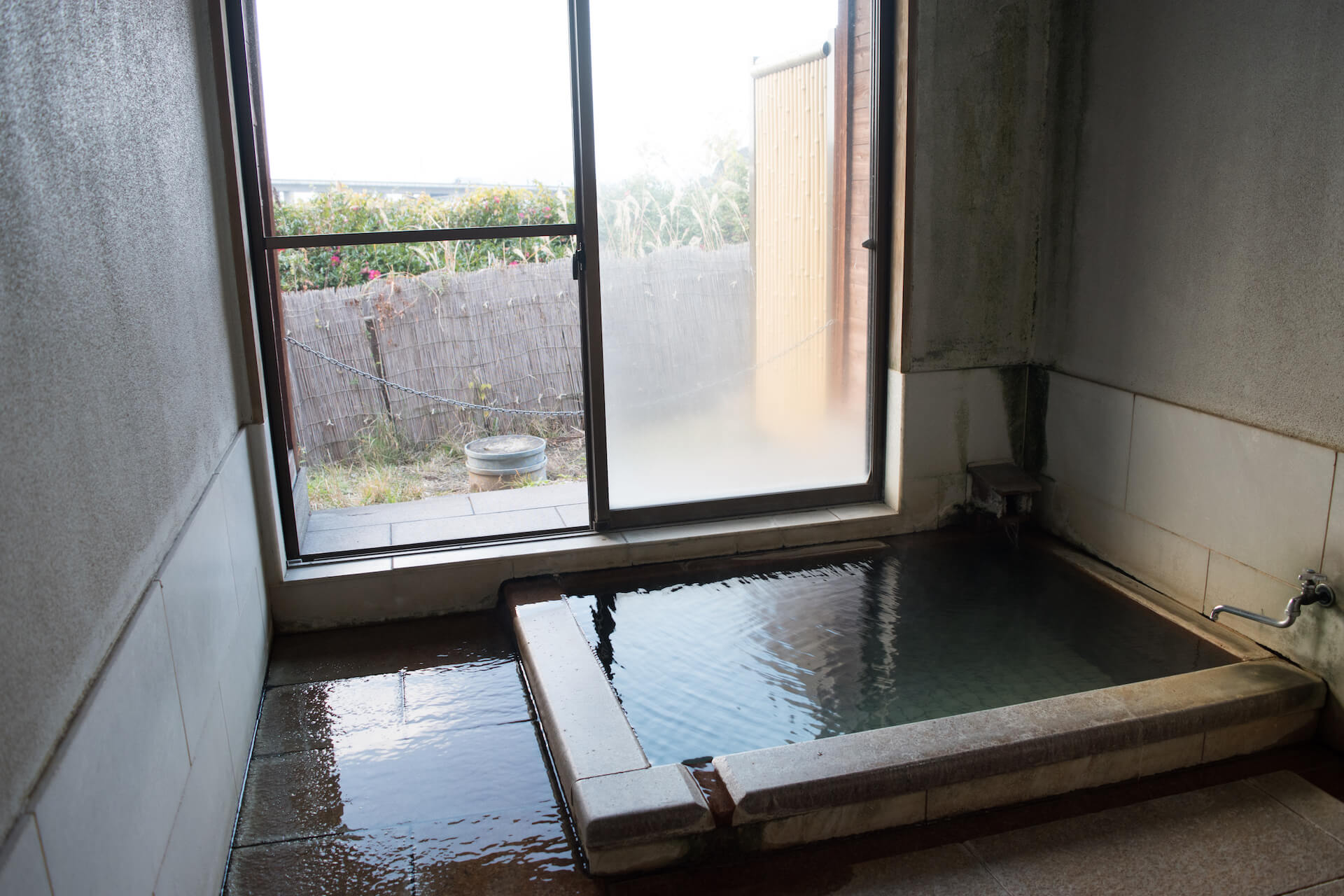 Hebin Yu
If you are a more adventurous person and look for hidden gems, you will be pleasantly surprised to discover one of Beppu's "secret" hot springs that also features a great view of the city. It is located around 2 km away from Myoban hot spring. Hebin Yu features four baths that can fit a maximum of 2 to 4 people, each with pretty hot and very clear water. If you like discovering wild places with little influence from civilization, this gender mixed onsen is for you. Additionally, the view on the river will let you feel relaxed. To add more thrill, Nabeyama no Yu is also a famous hot spring not far from Hebin Yu. Unfortunately, it has officially been closed since a murder that occurred a few years ago. Also, don't miss Tsuruno Yu if you decided to come all the way to this area. This spring is more popular with locals. I am sure that you will feel as private as possible here without paying any money.
Address (Access): take a bus (number 5, 9, 24, 41 or 43) from JR Beppu Station (west exit) and exit at Myoban Onsen station. On the road you will see the sign「ヘビん湯」, then a 2 km walk will take you there.
Closing Days: Always open
Website: https://enjoyonsen.city.beppu-jp.com/secret-onsen/
Price (Private/Family Bath): Free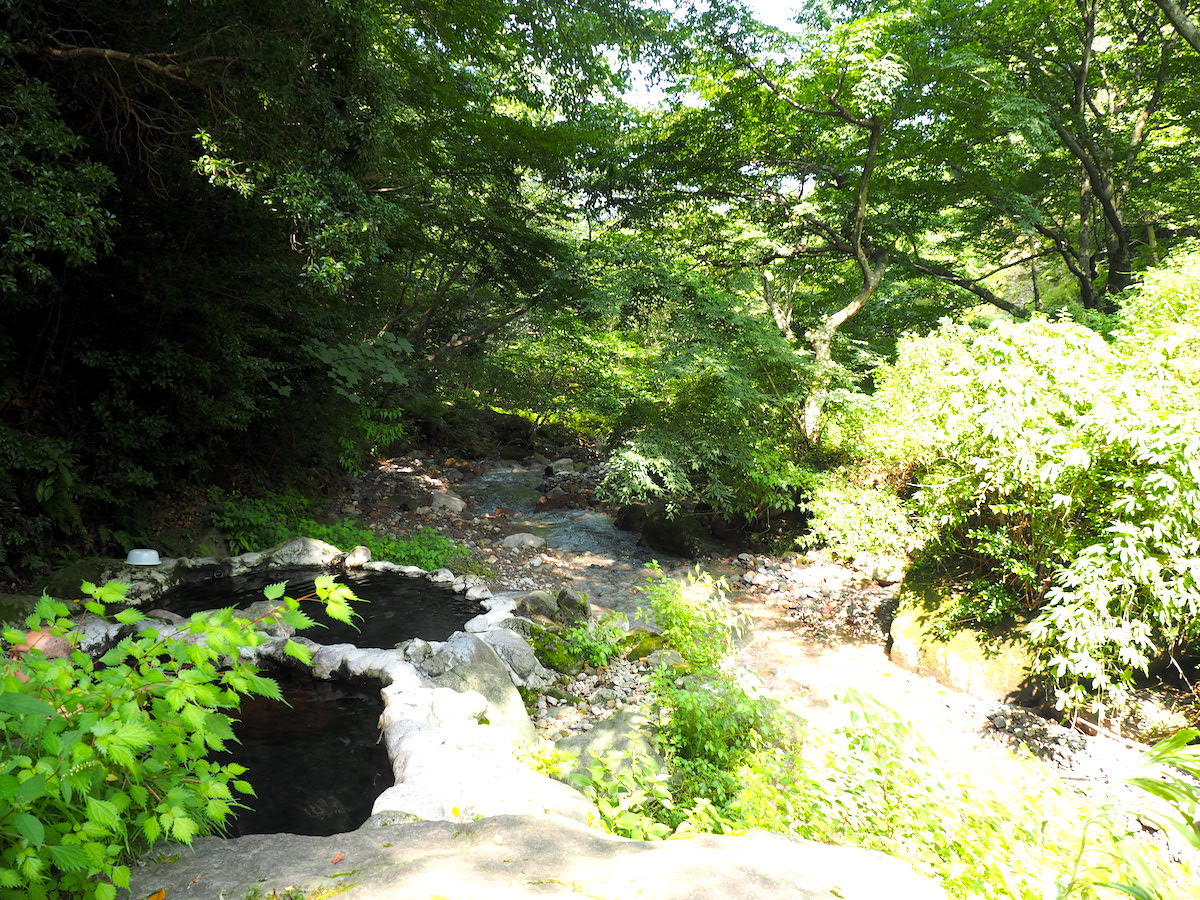 Sabo Takasaki
For those who want to experience something different in terms of hot springs in Beppu, I suggest visiting Sabo Takasaki café、which is probably less sophisticated, but still private. To enjoy the natural hot spring in this establishment you just need to pay for one drink. The owner – Takasaki san decided to make this onsen accessible to the public after his retirement. He genuinely likes to meet new people, so a visit to this hot spring/café will also satisfy your thirst for knowledge about local people and culture. Mr. Takasaki is also very knowledgeable about Japanese hot springs, so if you have a chance, please chat with him.
Address: 1-2-11 Asami, Beppu, Oita 〒874-0812
Tel: 0977-23-0592
Opening Hours: 10:00-17:00
Website: https://takasakif.exblog.jp/
https://enjoyonsen.city.beppu-jp.com/cafetakasaki/
Closing Days: Tuesdays
Price (Private/Family Bath): Drink 450 Yen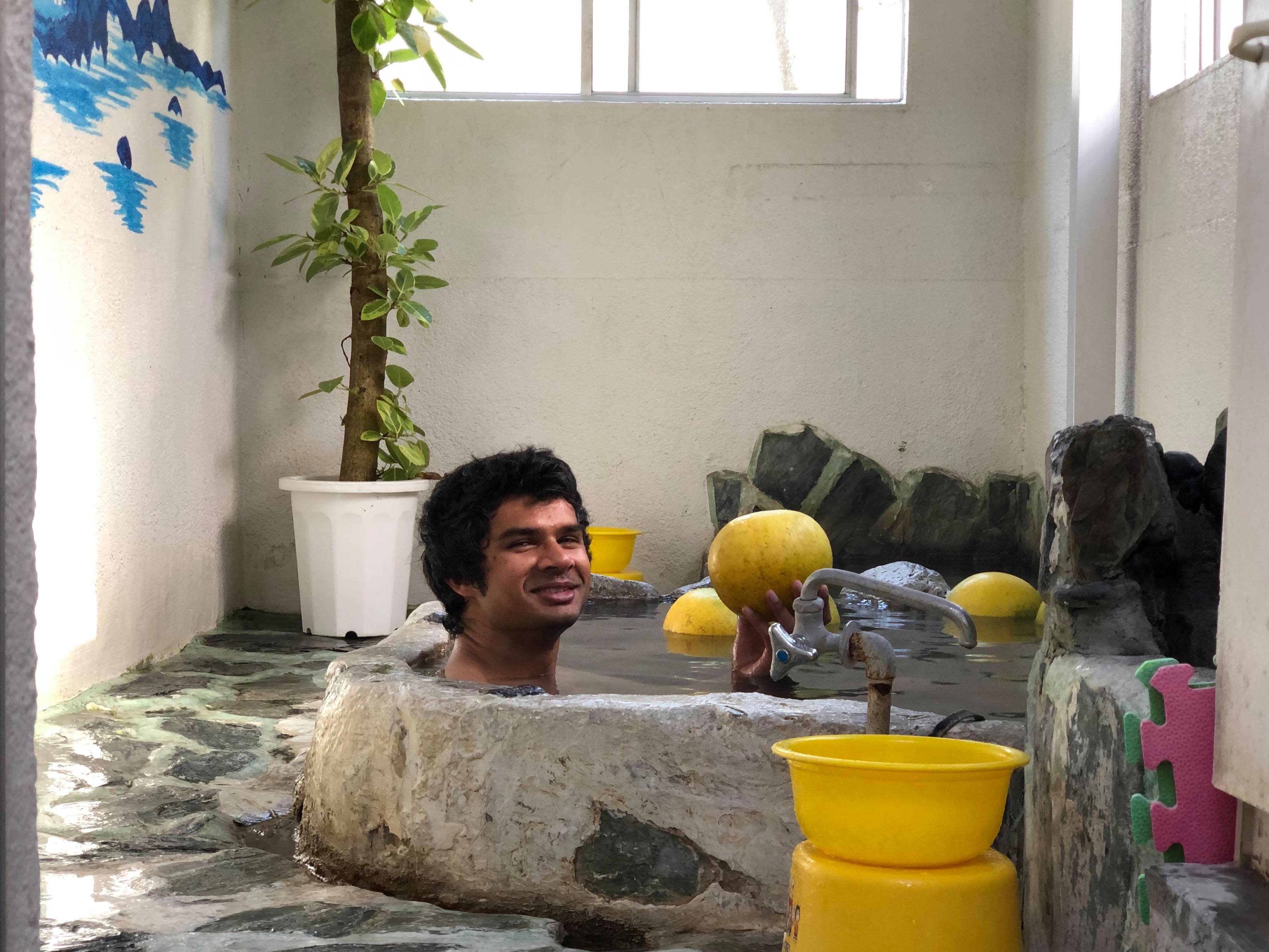 Oku-Myoban Sanso
Like in many family baths in Beppu, in Oku-Myoban Sanso, the staff changes water in the bathtubs every day. By its name, you probably can guess that this facility is also located around the Myoban area. "Oku" in Japanese means beyond or the one that has been before. Oku-Myoban Sanso features only three family baths; two are inside and one is outside. An interesting fact about this hot spring is that the mineral deposits in the water change their color depending on the weather. It is more likely that you will bathe in more milky water in winter and in more transparent in summer. If you like sulphur springs, this hot spring is a great choice with the average temperature of 42°C (107.6°F), and 40°C (104°F) in summer only.
Address: 1-Kumi, Yuyama, Beppu, Oita 〒874-0004
Tel: 0977-67-2229
Opening Hours: 10:00-20:00
Website: http://okumyouban.kakurezato.com/
Closing Days: Wednesdays
Price (Private/Family Bath): 500 Yen per 60 min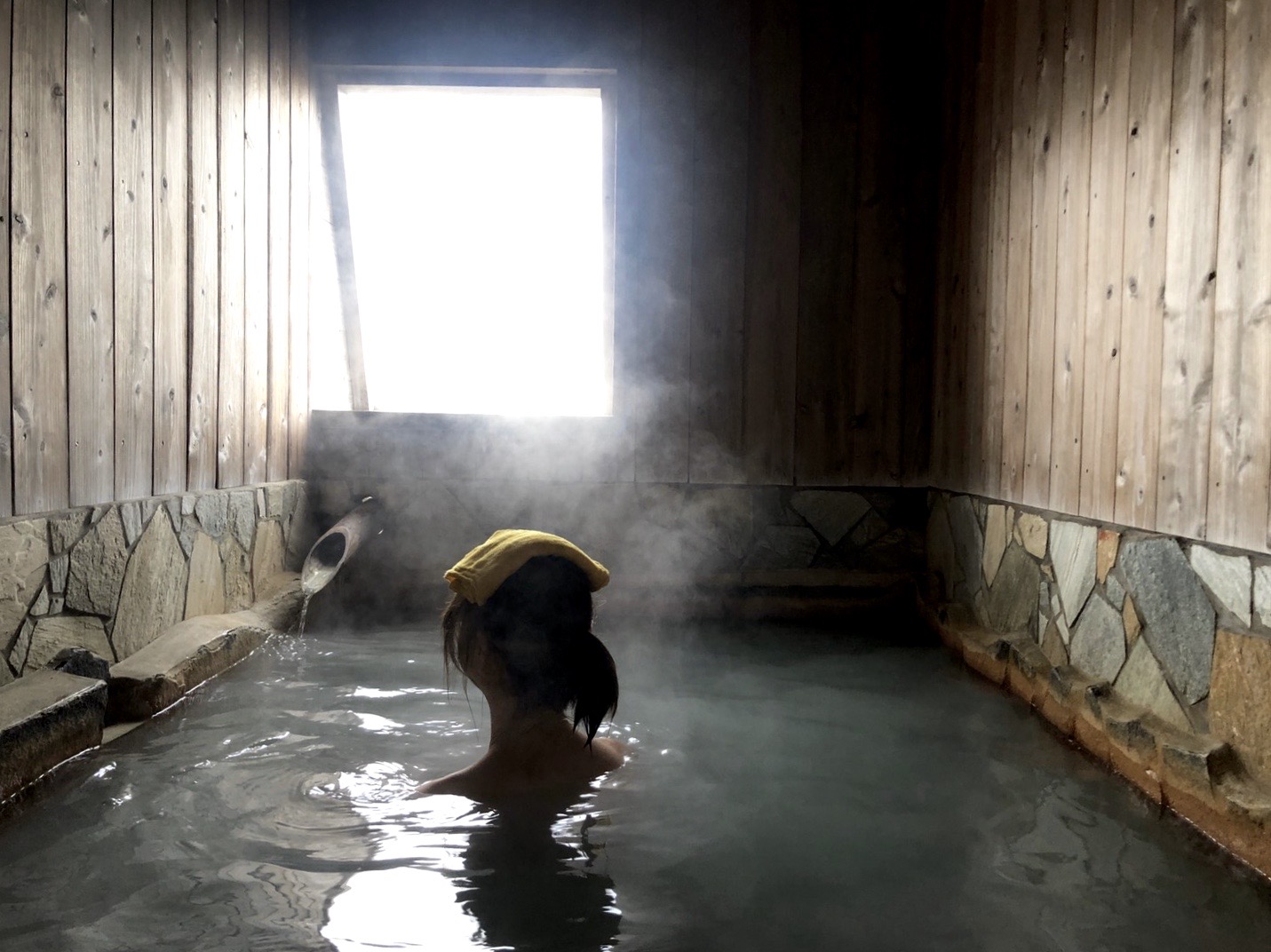 Tsukahara Onsen Kakó No Izumi
Tsukahara hot spring comes out from an active crater called "Tsukahara-Jigoku" on the northern side of Yufu. This unique onsen features one of the most peculiar waters in Japan. In Tsukahara hot springs, you can experience highly acidic water, which is second in Japan with a pH value of 1.4. Also, it is in first place for the number of iron ions and in second place for the number of aluminum ions in Japan. When you taste this water, you will notice how sour it is! Please do not soak for more than two minutes at a time! The waters here are good for treating cuts, burns, chronic skin inflammation, neuralgia, diabetes, and other ailments. The facility features five private baths, so you can easily enjoy this hot spring with your family or partner. They also prepare volcanically cooked eggs, which they steam for 20 hours. Try it when you're there!
Address: 1235, Tsukaraha, Yufuin-cho, Yufuin, Oita 〒897-5101
Tel: 0977-85-4101
Opening Hours: June – August 9:00 -19:00; September – May 9:00-18:00
Website: https://www.tukaharaonsen.jp/english/
https://enjoyonsen.city.beppu-jp.com/tsukaharaonsen/
Closing Days: Year-end/New Year's
Price (Private/Family Bath): 1000 Yen per 60 min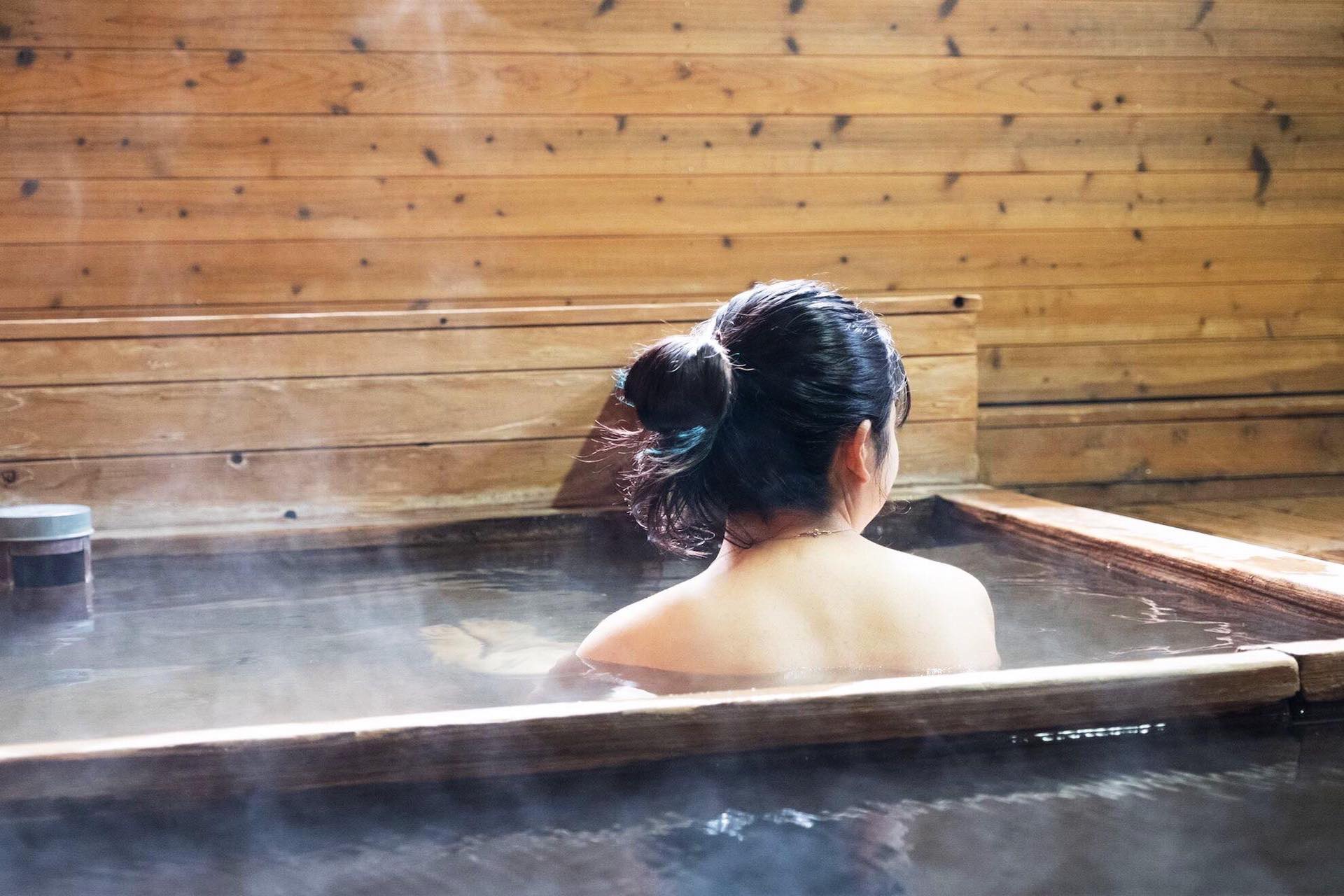 Mugen no Sato Shunkashuto
Mugen no Sato Shunkashuto is a slightly more expensive hot spring compared to the majority of public onsen. However, you will feel a more private and luxurious atmosphere here. This facility offers only three private baths that can fit up to four people. One of them – "Taki" is right under a small waterfall. Fresh water constantly flows into the bath and the sulphur steam has a very gentle aroma. The water, which changes color depending on the weather, softens your skin and is good for treating stiffness in muscles and joints, itchiness, chronic digestive tract disease, and much more.
Address: 6 kumi Horita, Beppu, Oita 〒877-0831
Tel: 0977-25-1126
Opening Hours: April – November 10:00 – 20:00; December – March 10:00 – 18:00
Website: http://mugen-no-sato.com/
https://enjoyonsen.city.beppu-jp.com/mugennosatoshunkashuutou/
Closing Days: sometimes closed due to the weather conditions
Price (Private/Family Bath): From 2,500 Yen per 50 min on weekends and 60 min on weekdays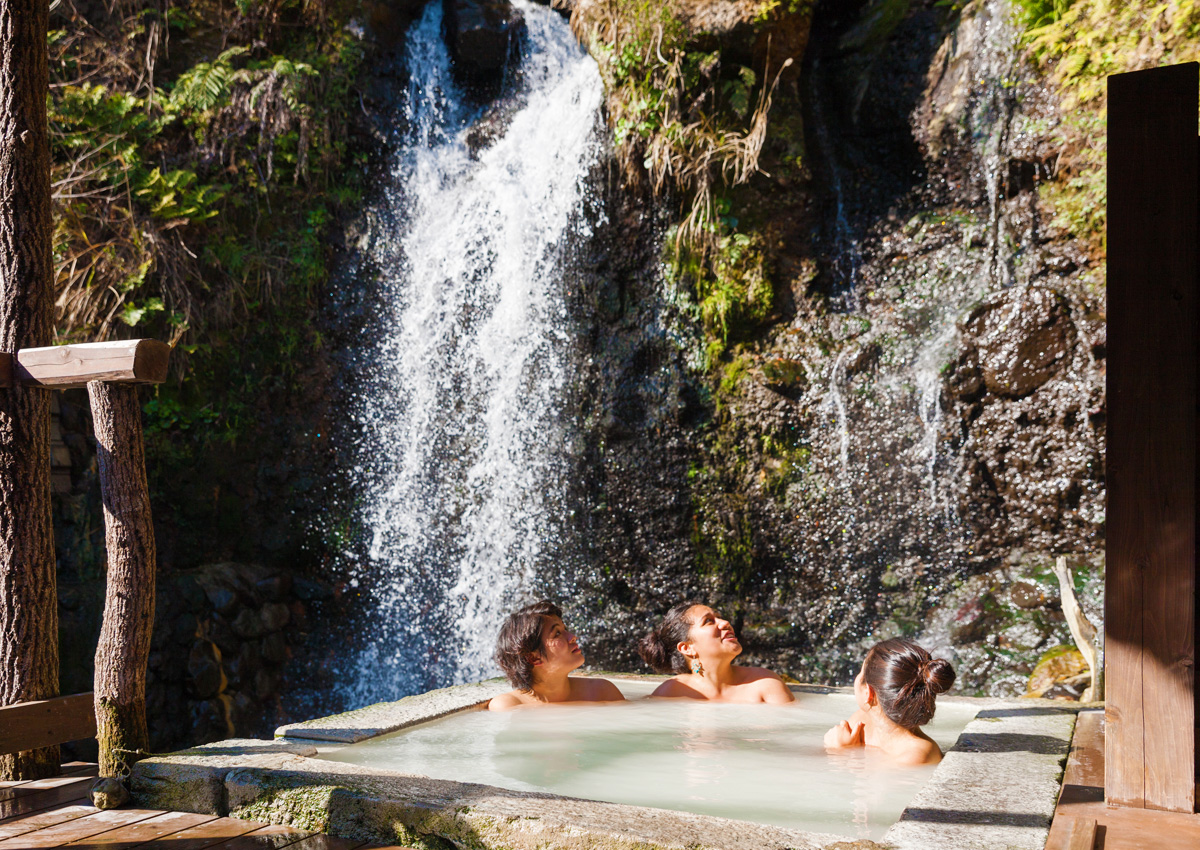 Private onsen is truly made to let you enjoy the ambiance and feel yourself in an authentic Japanese atmosphere. I am sure you will find something suitable on this list if you are looking for Kyushu private onsen. And if you don't, please contact any of the Tomodachi guides from Tourists's Hub & Lounge Wander Compass Beppu. They will be happy to tell you more about the town, find a suitable private hot spring and book it for you, and introduce you to local culture and people.
EnjoyOnsen