Experiencing hot springs when you travel around Japan must be on your "to-do" list. However, if you are traveling with companions of the opposite gender, you may be worried if you can share this hot spring experience together. Rest assured that Beppu has a variety of mixed gender onsen waiting for you.
Mixed Onsen #1: Beppu Onsen Hoyoland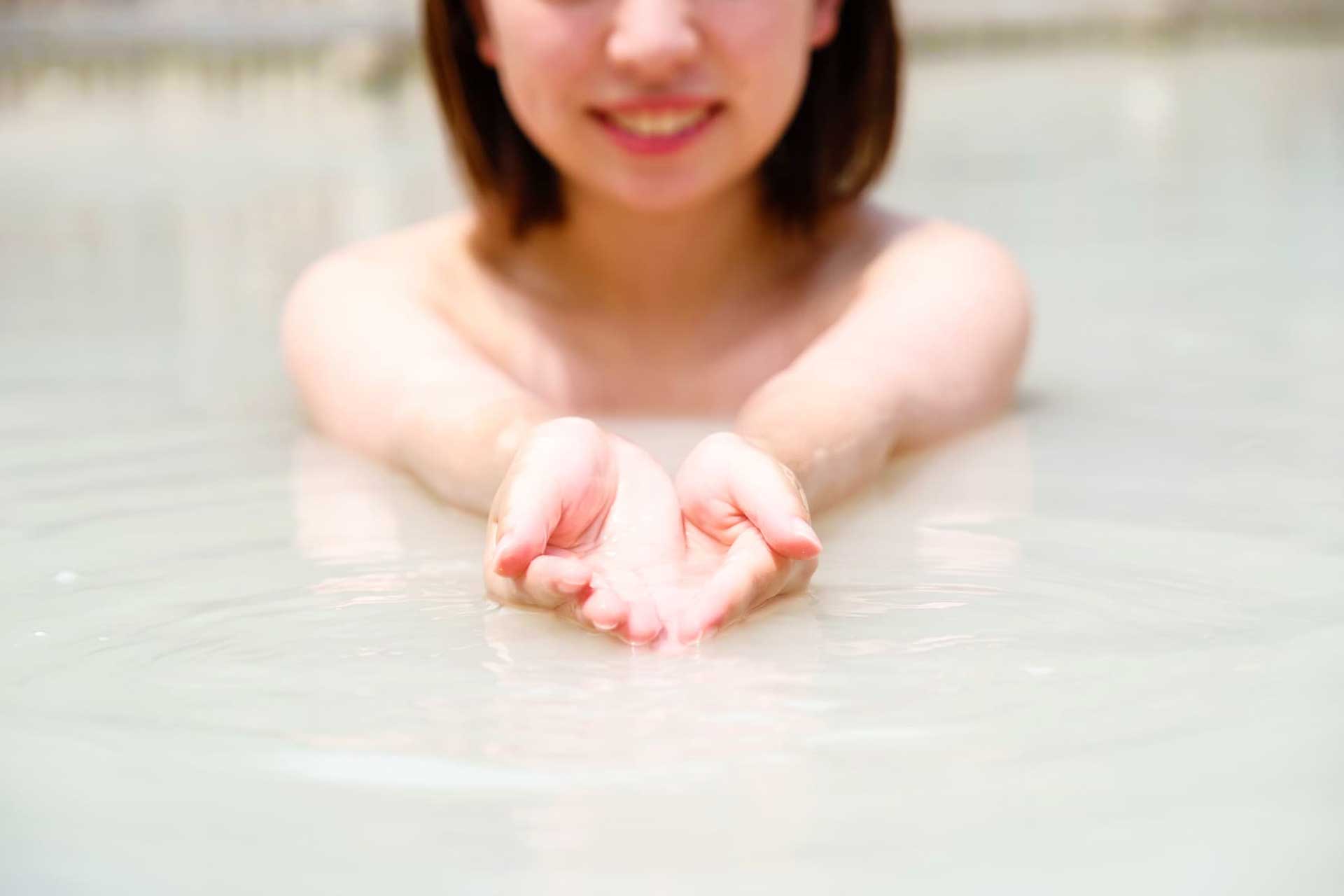 Would you like to experience something different from most hot springs in Japan? Hoyoland onsen will provide you with such a chance! The distinctive feature of this facility is that here you can bathe in warm mud baths which make the water look super milky. This type of hot spring is very rare in Japan. The mud at the bottom will help you to reach the best beautifying effect on your skin if you apply it directly while soaking, which shouldn't take more than 10 to 15 minutes. This onsen features four indoor bathtubs with fresh hot spring water; two are in the men's section and two are in the women's one. On the other hand, all the pools outside are gender-mixed and separated only with a bamboo railing. Note that you are not supposed to use a bath towel or swimsuit in the baths. As women enter this mixed gender onsen from an area behind the fence it is not a big problem, because the cloudy water doesn't let anyone see what is under its surface.
Additionally, I suggest you try a sauna at this onsen. Here, you will feel very specific sulfurous vapors that won't let you stay there long, but will become an unforgettable experience for sure. Hoyoland is a perfect choice for those who are looking for a unique hot spring with a therapeutic and spa effect without separating from friends and loved ones.
Address: 5 Myoban, Beppu, Oita
Tel: 0977-66-2221
Website: http://hoyoland.webcrow.jp/onsen.html
Opening Hours: 9:00 – 19:00
Price: JPY 1,100
To know more about Hoyoland, please refer to this article.
Mixed Gender Onsen #2: Kaihin Sunayu (Beppu Beach Sand Bath)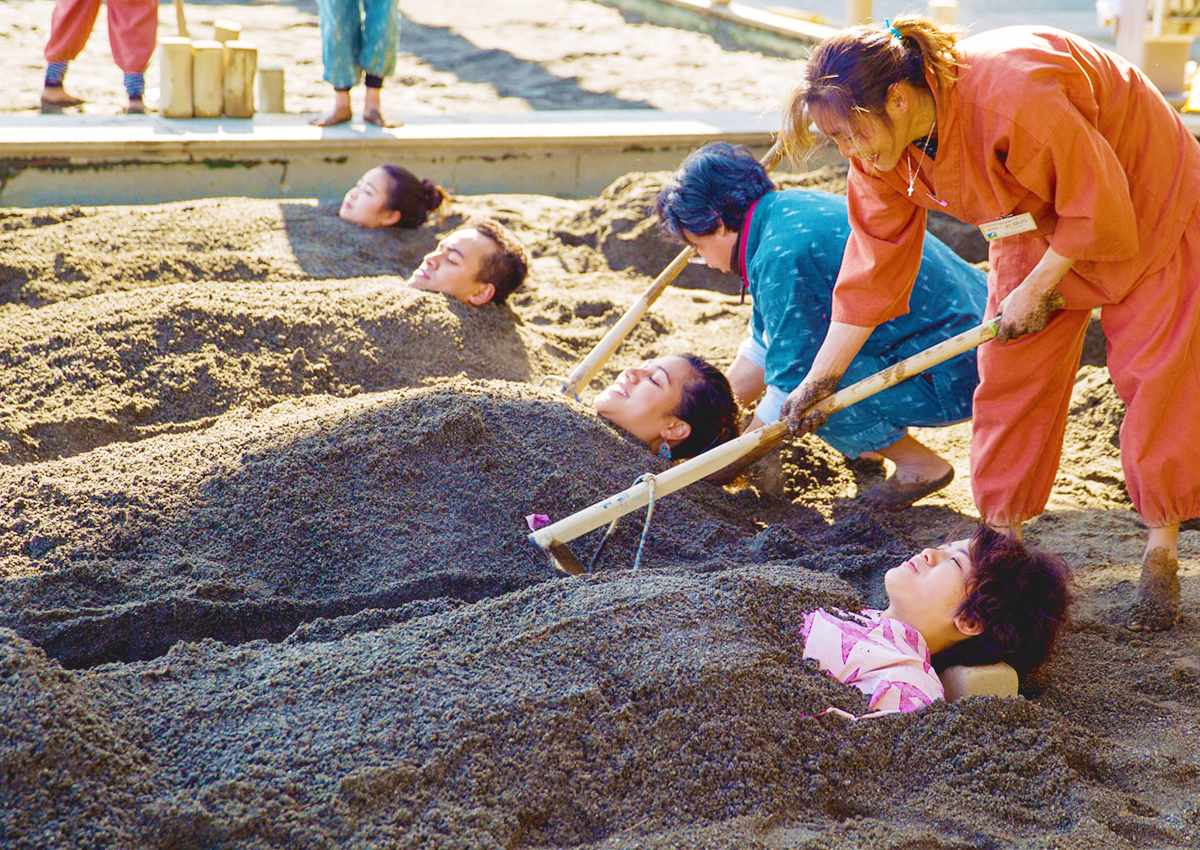 Can you imagine a hot spring facility without actual water? In Beppu, you will easily experience one of those. Beppu Kaihin Sunaba is an Japanese mixed bath where you bathe in warm sand instead of hot water. It is located on the coast of Beppu Bay, so you can enjoy a breathtaking view of the sea while being buried in the sand. 15 minutes spent under the sand will make you feel warm and then sweat. Due to the geothermal processes occurring underground, the sand is heated naturally in Kaihin Sunaba.
When you arrive at this coed onsen get a sunakake-ken – Sand Cover Ticket. The staff will provide you with special yukata for bathing. Men and women enter the bathing area together in yukata. Then, the staff will show you the place to lie down and help to cover your entire body, except for your head, in the sand. Beppu Kaihin Sunaba is an unusual hot spring even for Japanese, so you may experience waiting in a queue as you cannot make reservations here. Please come up a bit earlier to avoid crowds!
Address: 9 Shōningahama, Beppu, Oita
Tel: 0977-66-5737
Website: https://www.city.beppu.oita.jp/sisetu/shieionsen/detail9.html
Opening Hours: March to November: 8:30 – 18:00; December to February: 9:00 – 17:00
Price: JPY 1,050
To know more about Sunayu, please refer to this article.
Mixed Gender Onsen #3: Kitahmama Termas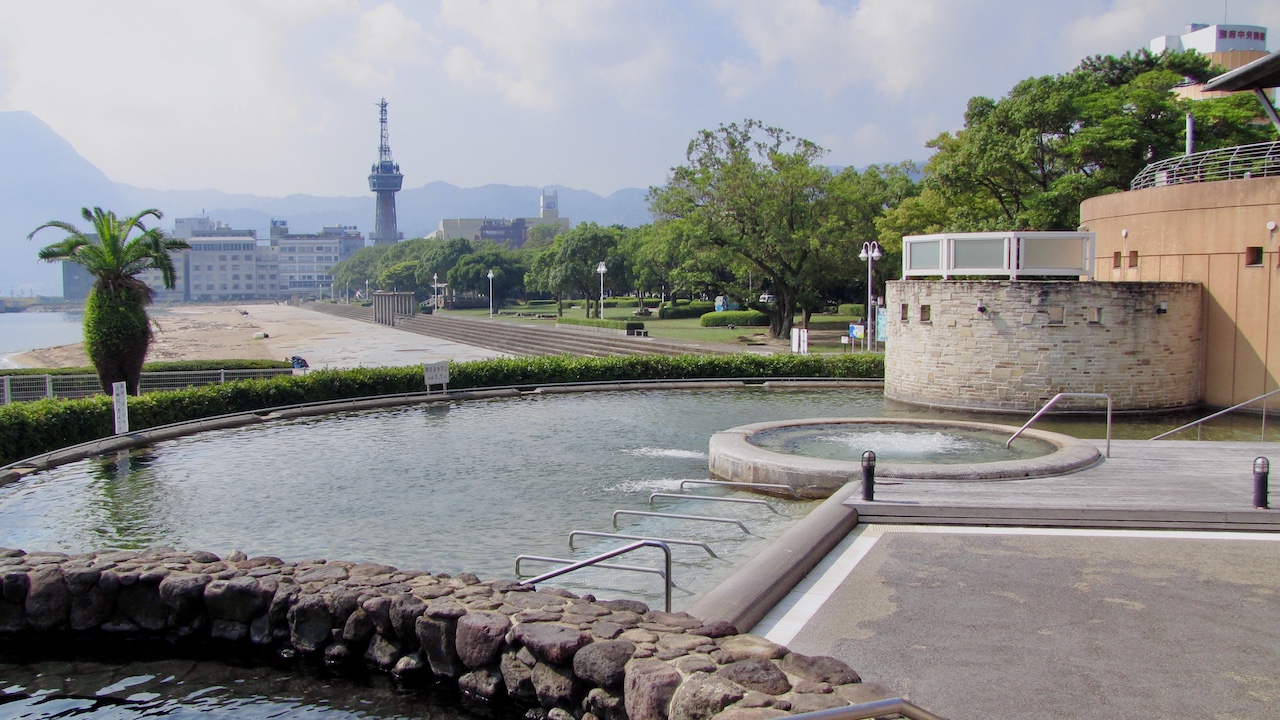 Much like the sand bath and mud bath, this is another mixed gender onsen where you don't have to worry about being naked and you can spend time with your friends. Here, in your bathing suit, you will be able to enjoy a spacious outdoor bath that overlooks Beppu Bay. In addition to the amazing view, the jacuzzi in the center of the pool adds to this place's considerable charm.
What's more is that when you are done lounging in the outdoor bath, you can enjoy a traditional bathing experience inside, where the men's and women's facilities are separated. There is even a sauna that uses the steam from the onsen hot spring waters! Kitahama Termas is the best of both worlds!
Address: 11-1 Kyomachi Beppu, Oita
Tel: 0977-24-4126
Website:https://www.city.beppu.oita.jp/seikatu/gaikokujinmuke/ei/detail11.html
Opening Hours: 10:00 – 22:00 (last entry 21:00)
Price: JPY 510
To know more about Kitahama Termas, check this article out.
Private Onsen
Another option in Japan for a mixed onsen experience is private onsen. Family or private onsen is always a good choice to experience Japanese hot springs, avoid crowds, and spend time only with those who you would like to. Many hot spring facilities in Beppu offer private tub chartering. Please refer to the following article to find out more about the best onsen facilities that offer private bathing: "Top 10 Private Hot Springs in Beppu. Relax so no one can see you!"
However, if you would like to combine a private bathing experience and stay in an authentic Japanese atmosphere with sophisticated local food, I suggest you book a few nights in traditional Japanese ryokan around Beppu. Some of these inns boast private hot spring baths inside the guest rooms!
If these three mixed hot springs are not enough, please look at the following three onsen:
– The Aqua Garden
– Garden Bath "Soranoyu"
– Kitahama Onsen THERMAS
Indeed, Beppu can offer a lot of various experiences for hot spring lovers. Best of all, you can enjoy onsen with friends. Along with rich history, delicious food, and outstanding location, featuring a unique natural environment, Beppu is definitely a must-visit destination when planning your trip to Japan. Only here you will be wrapped in the cozy atmosphere of a rural city with warm hospitality and have a chance to try as many hot springs as possible.
If you have any doubts, would like to have company while in Oita, or would like to know more about the locality or these mixed gender onsen, please feel free to contact our Tomodachi guides from Wander Compass Beppu. They are always happy to assist with your travels!
How to get to Beppu, where Hoyoland, Kaihin Sunayu, and Kitahama Termas are located
EnjoyOnsen