Japanese-style room with stone and cypress private bath
Windows overlooking majestic scenery, soothing Japanese rooms, delectable meals teeming with local delicacies – these are just a few of the things that made our stay at Yukemuri no Sato Azumaya so special. Located in the heart of old Beppu, this inn is sure to let you soak in Beppu's charms in many different ways!
Explore Beautiful Grounds Imbued With Relaxation and Panoramic Views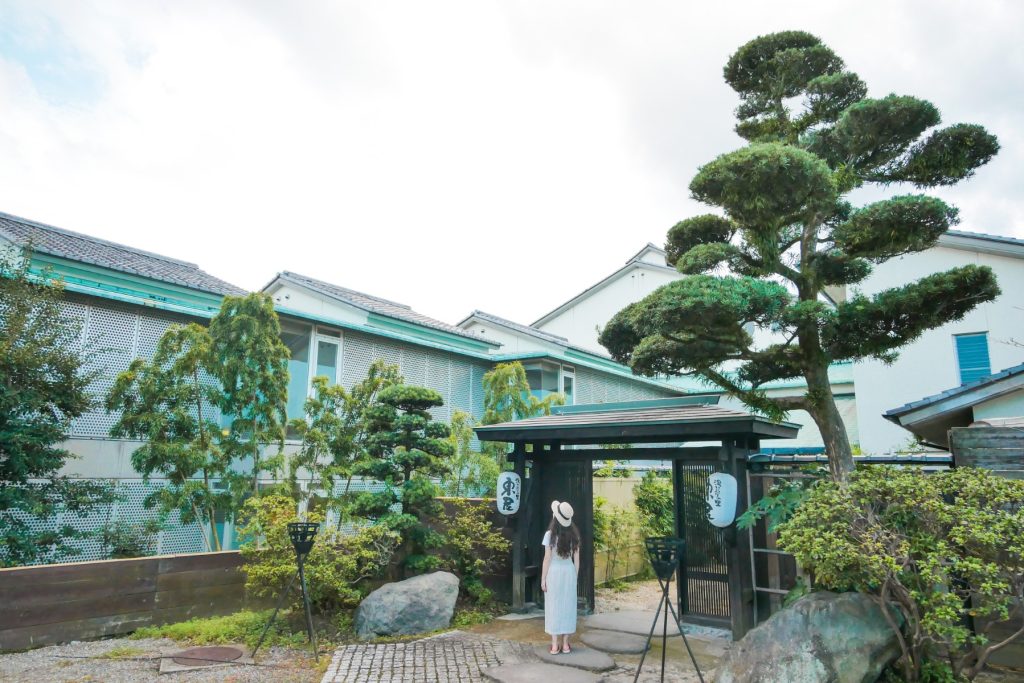 At Yukemuri no Sato Azumaya, large windows frame one of Beppu's most quintessential panoramas: the old neighborhood of Kannawa. We let our eyes wander through that maze of tiny alleys as we sipped on some Japanese green tea by the window of our room. In this historical area, nostalgic stone-covered streets encounter the wooden figures of old inns and hole-in-the-wall onsen spots beloved by the locals. The neighborhood is blessed with such an incredible abundance of hot springs that hot water flowing under the surface of its streets and large trails of steam floating in the air are ever-present sights.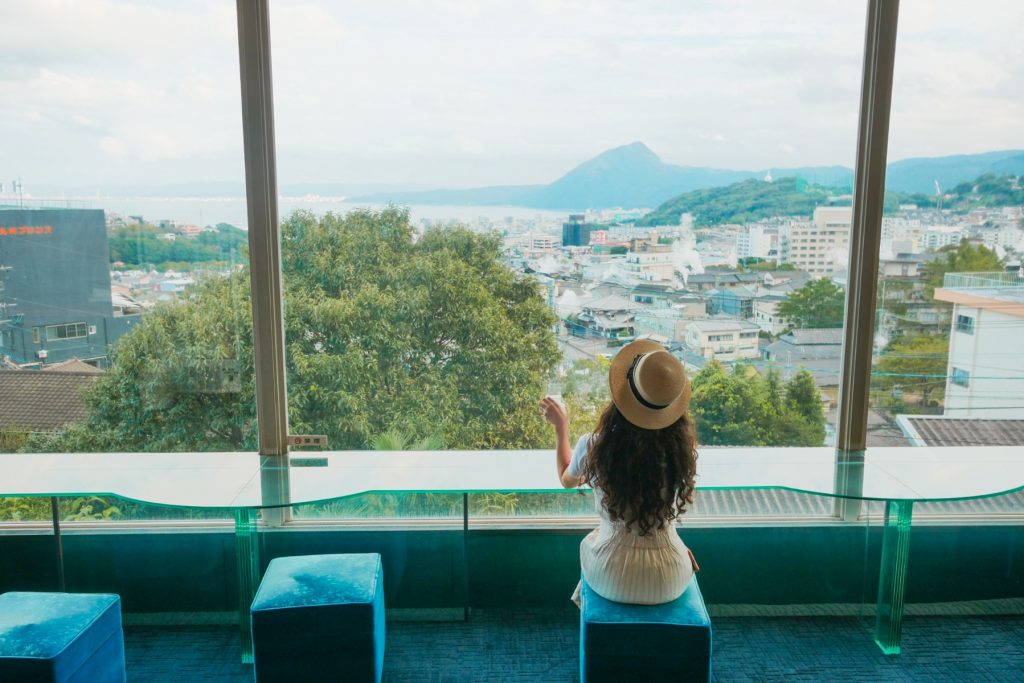 Yukemuri no Sato Azumaya's panoramic lounge
Yukemuri no Sato celebrates this fascinating sceneryーwhich was even selected as one of Japan's 100 landscapes to be preserved for the futureーby immersing us in this city of hot springs from the very first moment we stepped into their doors. Beppu's wafts of steam can be admired from various rooms around the inn, including the panoramic deck and panoramic lounge on the second floor. As the inn is located in an elevated area, you get a true sense of the power and scale of the steam. With our body and mind eased by these views, we sat on some comfortable wicker chairs and appreciated the panorama filtered by gorgeous vegetation, then chilled with some of the drinks available for free to guests.
The panorama was equally beautiful at night, when we could enjoy the unique mixture of Beppu's marvelous illuminations and steam jetting out into the dark sky.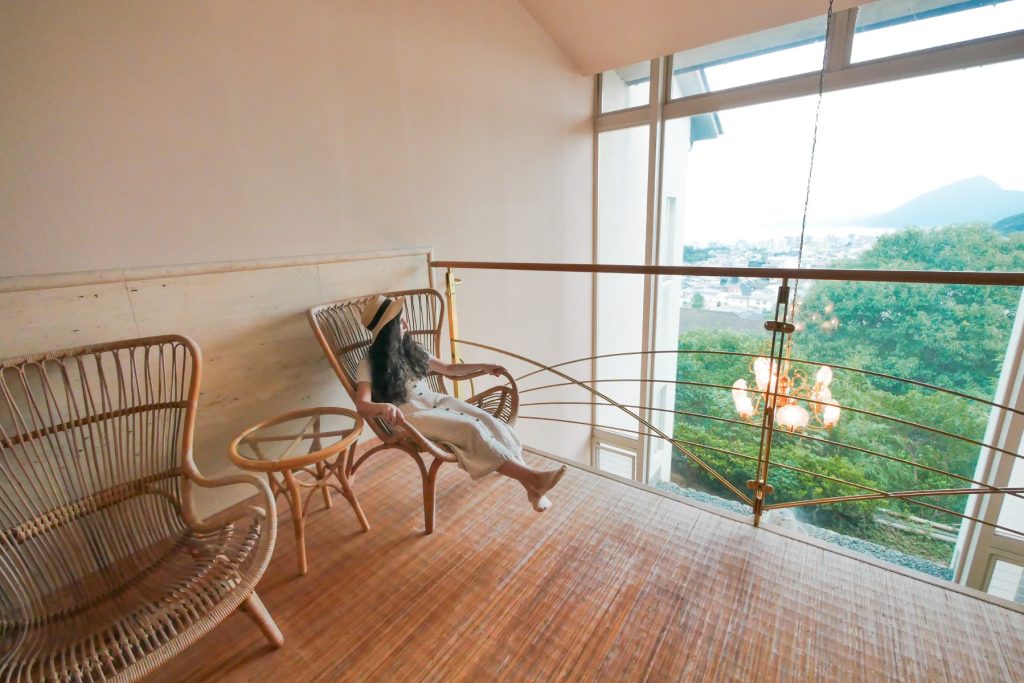 Yukemuri no Sato Azumaya's panoramic indoor deck
Yukemuri no Sato Azumaya is not only renowned for overlooking magnificent scenery, but also as a spacious inn infused with relaxation. It only has 9 rooms and can accommodate a limited number of guests, making it a true oasis of elegance and peace! The facility is embellished with a multitude of refined touches like the giant flower arrangement in the hall or a majestic Japanese pine tree by the entrance.
Our room was a calm Japanese space where we could slowly rejuvenate ourselves. The focus was on the view, but beautiful "tatami" straw mat flooring and wooden decor made it an even more comfortable space.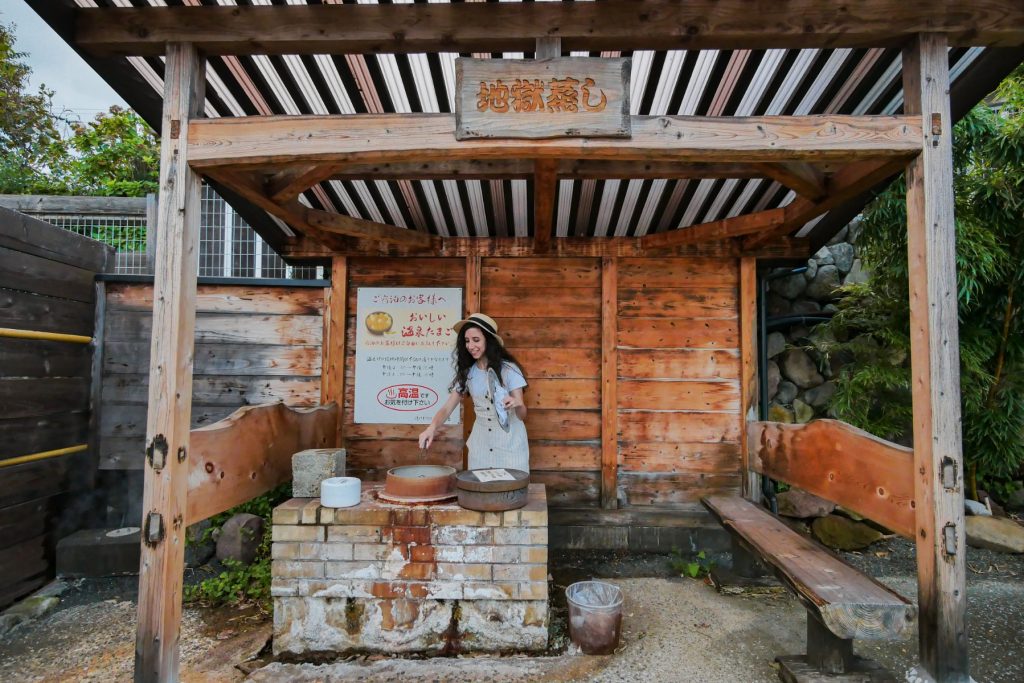 We concluded our tour of the building with a local specialty, "jigokumushi tamago" eggs. Cooked in "jigokugama" ("hell pot") steamers using Beppu's mineral-rich steam, they are often found around town as a quick and delicious snack. Jigokumushi "hell-steaming" cuisine is said to have been practiced in Beppu since the Edo period (1603 – 1868), so don't miss the chance to savor this long-established style of cooking that can be rarely found even in Japan.
Unwind in Luxurious Rooms With Private Onsen Baths and Grand Meals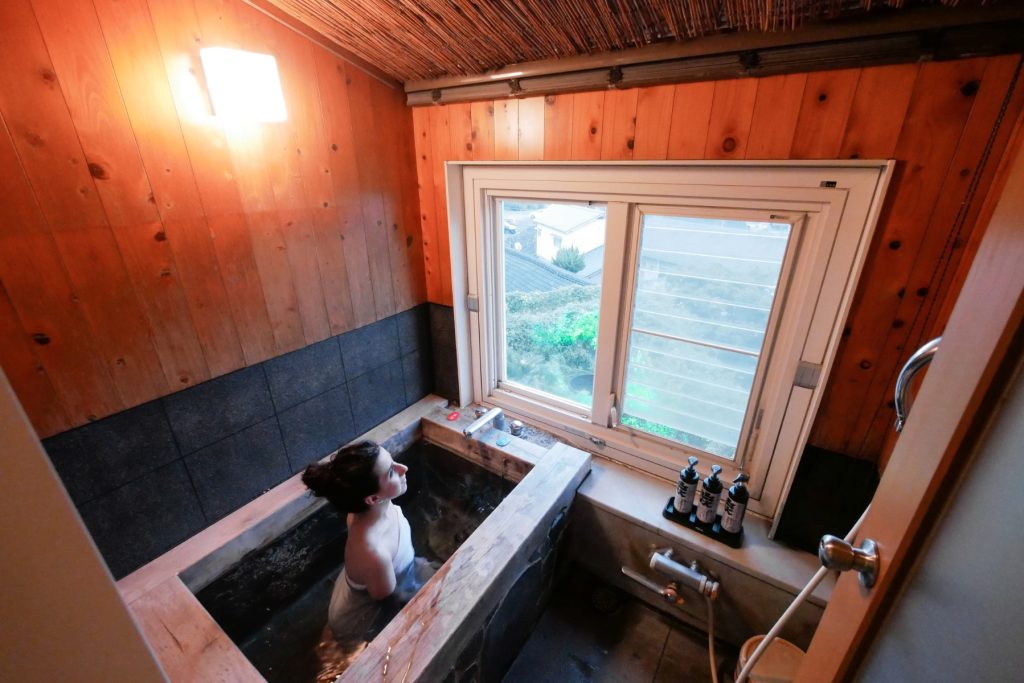 *Please note that bathing in the onsen while wearing a towel is not usually permitted.
The main highlight of our stay at Yukemuri no Sato Azumaya was the hot springs. Enriched by spectacular views expanding over Kannawa to the mountains and sea is the panoramic semi-open-air bath on the top floor. Complemented by an indoor bath and sauna, this communal bathing area was perfect for soaking our fatigue away!
All the rooms at Yukemuri no Sato Azumaya are also equipped with sumptuous private indoor baths facing lovely greenery where we could unwind without having to worry about other guests.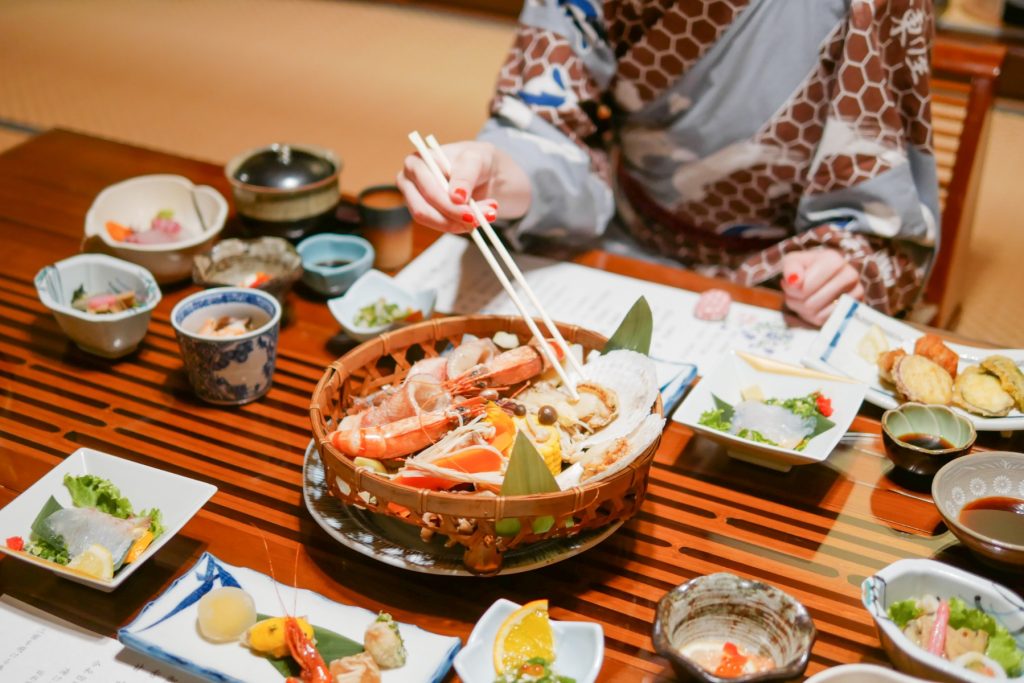 n the comfort of our room, we also relished a colorful "kaiseki" meal course, beautifully arranged in a multitude of fine tableware. As we were served seasonal ingredients from Beppu and Oita Prefecture, we could enjoy the uniqueness of the local cuisine and taste one of the city's most appreciated delicacies, a basket of jigokumushi seafood and vegetables. Delicate and perfectly balanced in taste, they were a treat for the palate!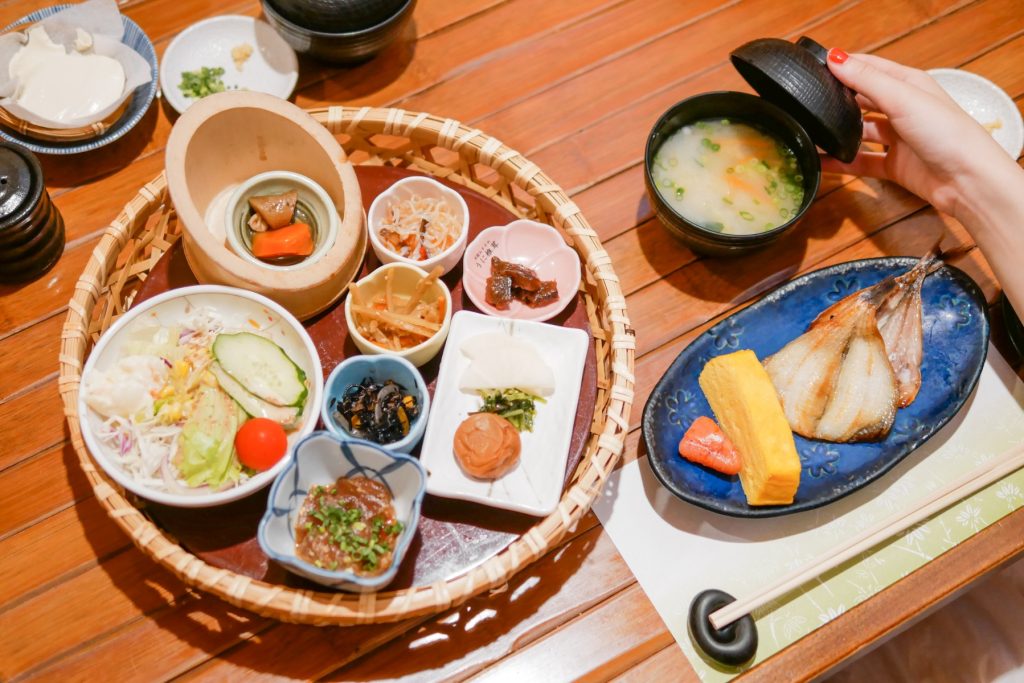 The morning after, we satisfied our taste buds with a traditional Japanese breakfast which included an ensemble of Japanese side dishes, hearty miso soup, and juicy grilled mackerel. This time, the meal was served in a private room in the dining area of the inn, ensuring equal privacy as when we dined in our room, making both great ways to leisurely enjoy time with family and friends!
Elegance and Superb Meals Await in Beppu's Steam-Filled Kannawa
Located in one of Beppu's most unique neighborhoods, Yukemuri no Sato Azumaya is an inn infused with refined details and majestic panoramas of steam and nature. It spoils visitors with high-quality local delicacies that will make your mouth water.
Information
Name: Yukemuri no Sato Azumaya
Price: 9,000 – 23,000 yen per person
*depending on the plan and room
Website (Japanese): http://beppu-azumaya.com/
Website (English): http://beppu-azumaya.com/en/
How to get to Beppu, where Yukemuri no Sato Azumaya is located.
tsunagu japan