Anyone who has visited Beppu knows of the Hells Tour. For those who don't know, it's a good thing you've come to this article. Within this hot spring haven in Japan are unique "viewing onsen" that are only found in Beppu.
The Beppu Hells Tour – or Jigoku Meguri – is comprised of 7 spots called "hells" that are scattered around Beppu. At an onsen where we cannot enter and can only look at, what in the world is there to see? Roughly explained, each of the seven hells is a place where we can take the time to see how the earth on which we reside is alive.
Today, we'll introduce how to efficiently visit these seven hells so those who don't know – and even those who do – will definitely want to read this article!
What Are The Beppu Hells?
Well, before we introduce the first hell, there are some things that you have to know. Beppu is a hot spring city in Japan that boasts being the home of over 2000 onsen. One town has 2000. That's insane! In other words, the hot springs are spouting out in various places like roads and farms. Farmers of old called these infertile areas where boiling water, gas fumes, and hot mud spouted "jigoku" – or "hell." This is the hells' origin. The visiting of each hell, which has its own specific characteristic, in one go is the "Jigoku Meguri" – or "Hells Tour."
The somewhat calm Oniishibozu Jigoku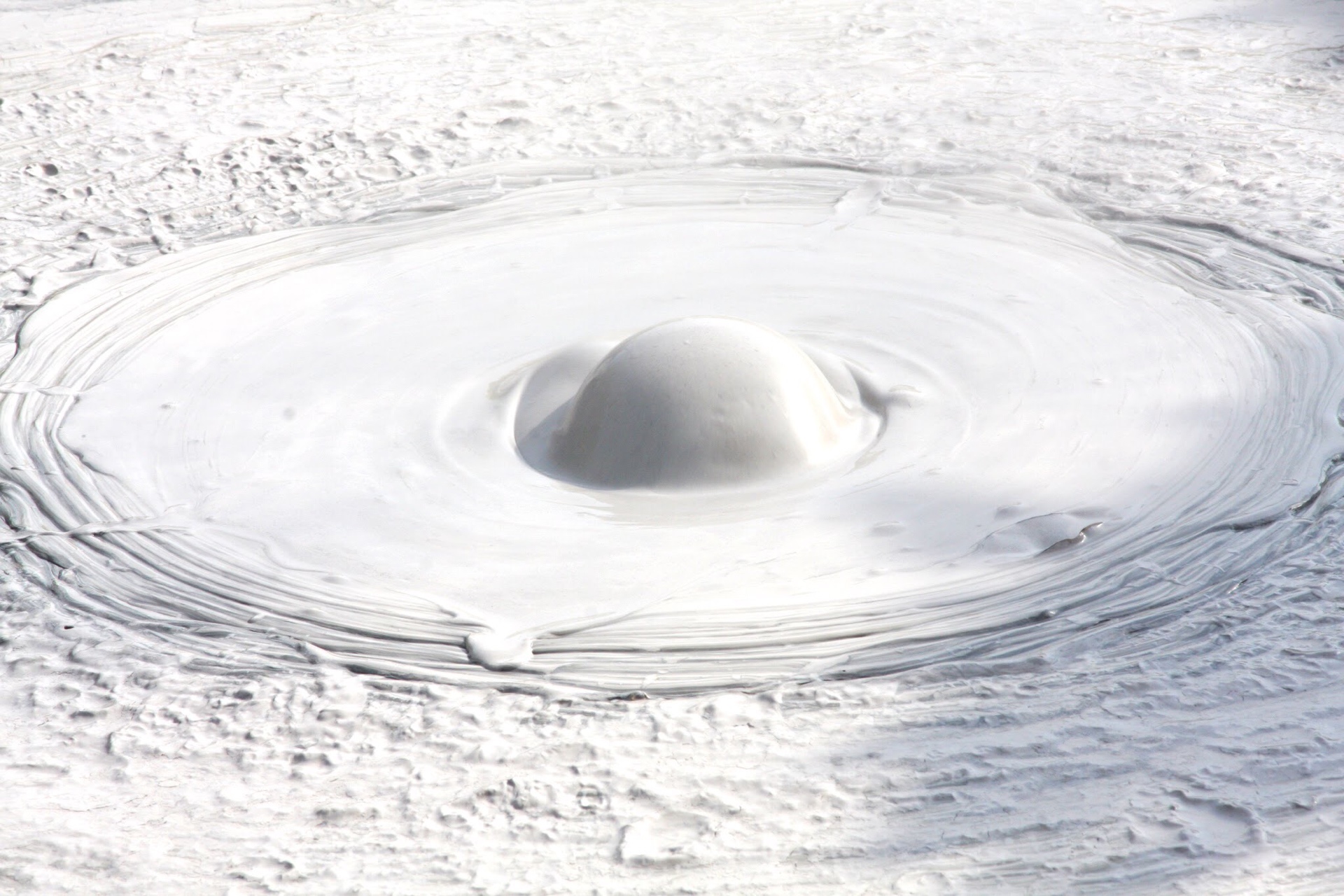 At the edge of the hell-dense area of Kannawa quietly stands Oniishibozu Jigoku. A writer living in Beppu has said that out of all the hells, this is the most healing spot. Escaping the crowds of people, at Oniishibozu Jigoku surrounded by trees, the sound of seething mud bubbling resounds. Staring at the seething mud which resembles a shaven head, which is the origin of the place's name, calms the heart for some reason. Being able to feel the warmth of nature and trees, in proximity to Oniishi no yu is also wonderful.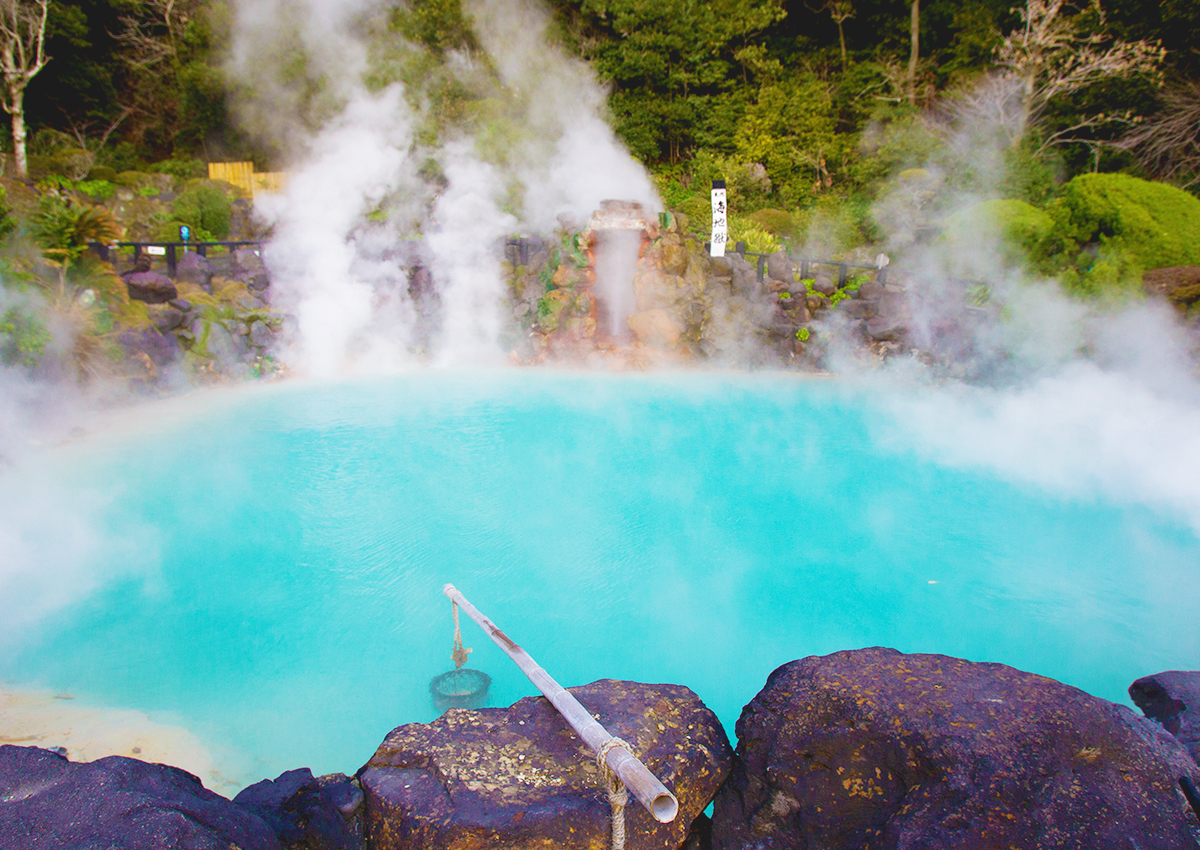 Immediately near Oniishibozu Jigoku and coming out the entrance, you gaze at beautiful water lilies, lotus fruits, and azalea and willingly move forward, a coast blue onsen engulfed by pure white steam comes into view. You unwittingly end up breathing in its beauty, but its temperature is 98ºC! Here, among many other things, you can enjoy foot baths and onsen tamago (hot spring egg), so definitely try checking this place out!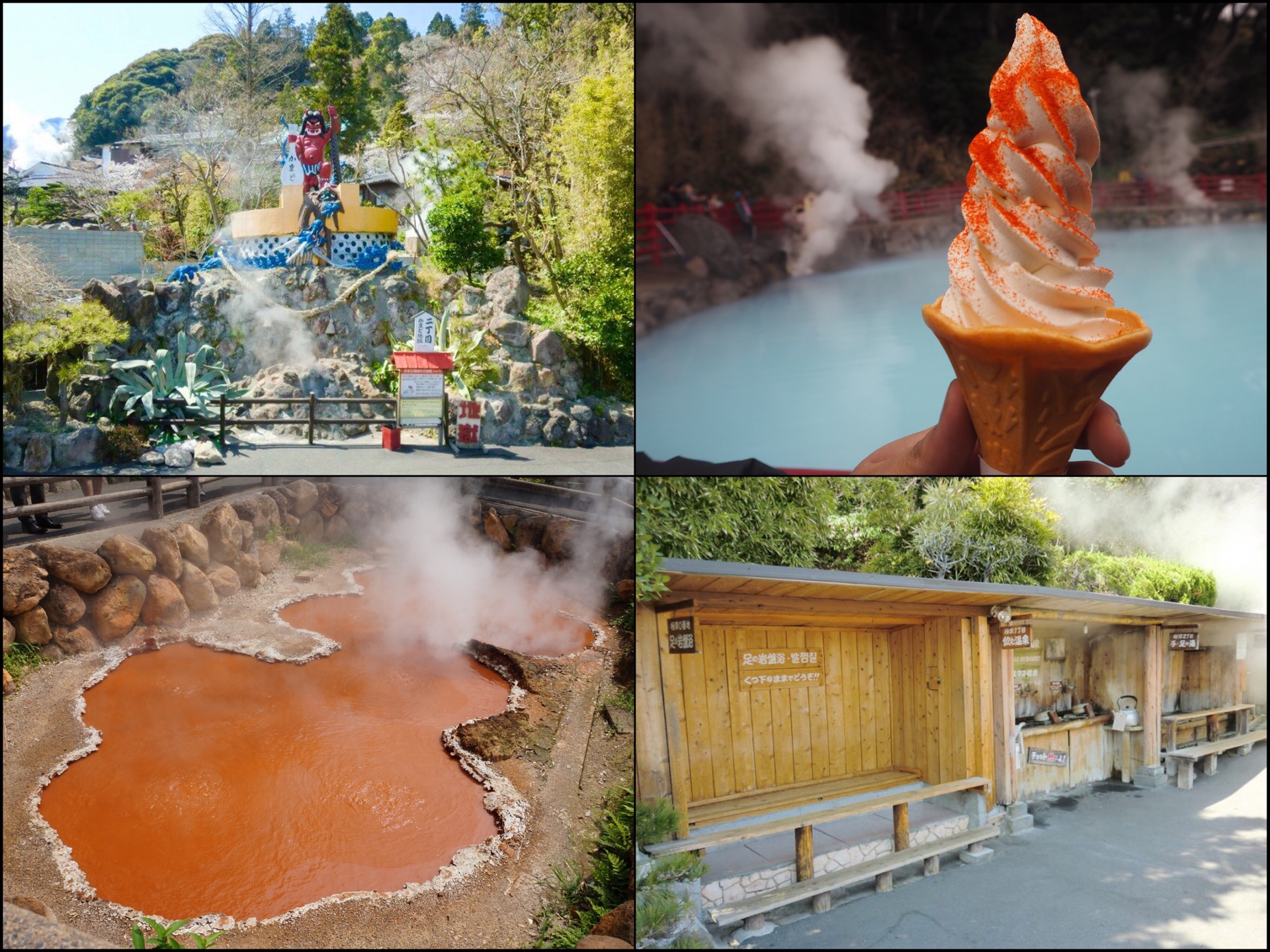 After walking at a steady place for about three minutes from Umi Jigoku, you'll arrive at Kamado Jigoku – or Cooking Pot Hell. This single hell – condensed with a variety of activities such as taking foot baths, drinking onsen water, and dining on onsen cuisine while watching the hell show – offers a chance at a rare personal experience. It truly is an amusement hell. Here, you'll make unforgettable memories!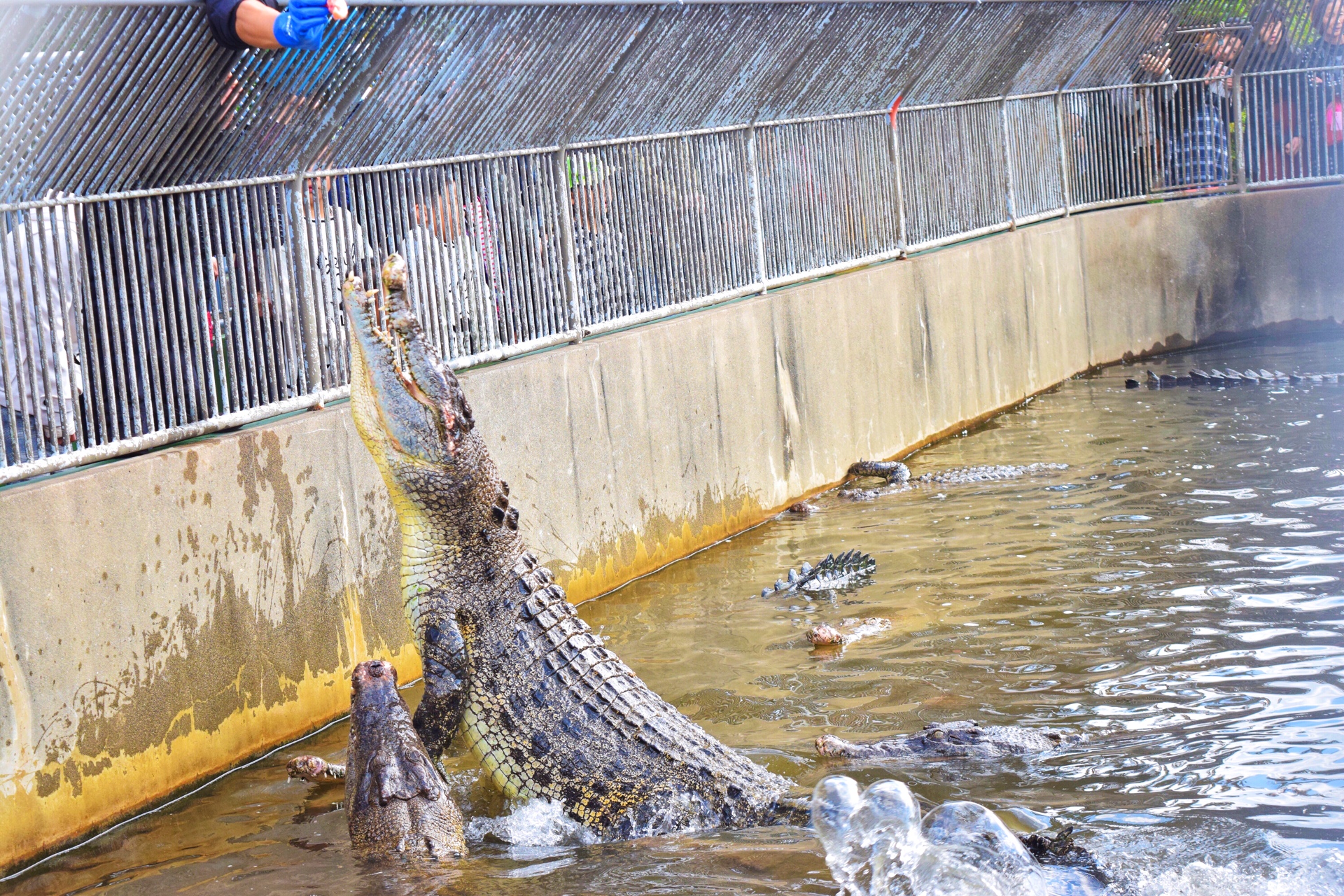 On the other side of a road that is sandwiched between Kamado Jigoku and this hell is a place popularly nicknamed "Crocodile Hell" – It's Oniyama Jigoku (Monster Mountain Hell)! Here, the onsen's heat is utilized to breed around 70 crocodiles. The feeding which takes place every Sunday and Wednesday really packs a punch and is a must-see!! For the times check HERE!
Japanese garden & Amazon?! Shiraike Jigoku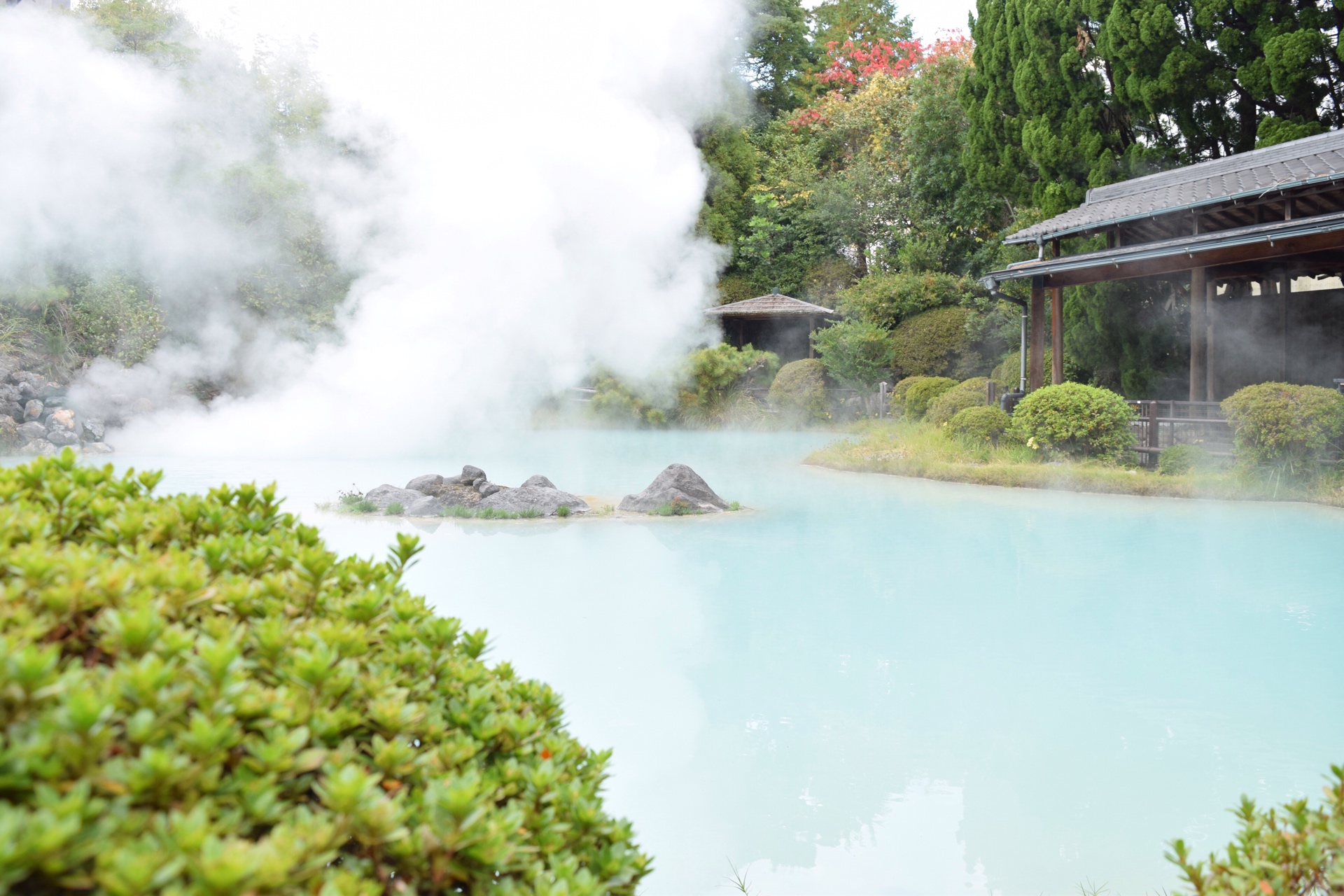 From Oniyama Jigoku, when you descend Miyaki slope where souvenir shops are gathered, you can see Shiraike Jigoku (White Pond Hell) on the right side. In accordance with its name, the steam rises from a white-emerald green hot spring in a Japanese garden, making it quite beautiful. However, this is not its only noteworthy feature. At Shiraike Jigoku, the onsen's heat is used to breed tropical fish. With the gigantic fish, Pirarucu, which grows up to four meters long, amongst 10 other types of tropical fish, Shiraike Jigoku is Beppu's mini Amazon!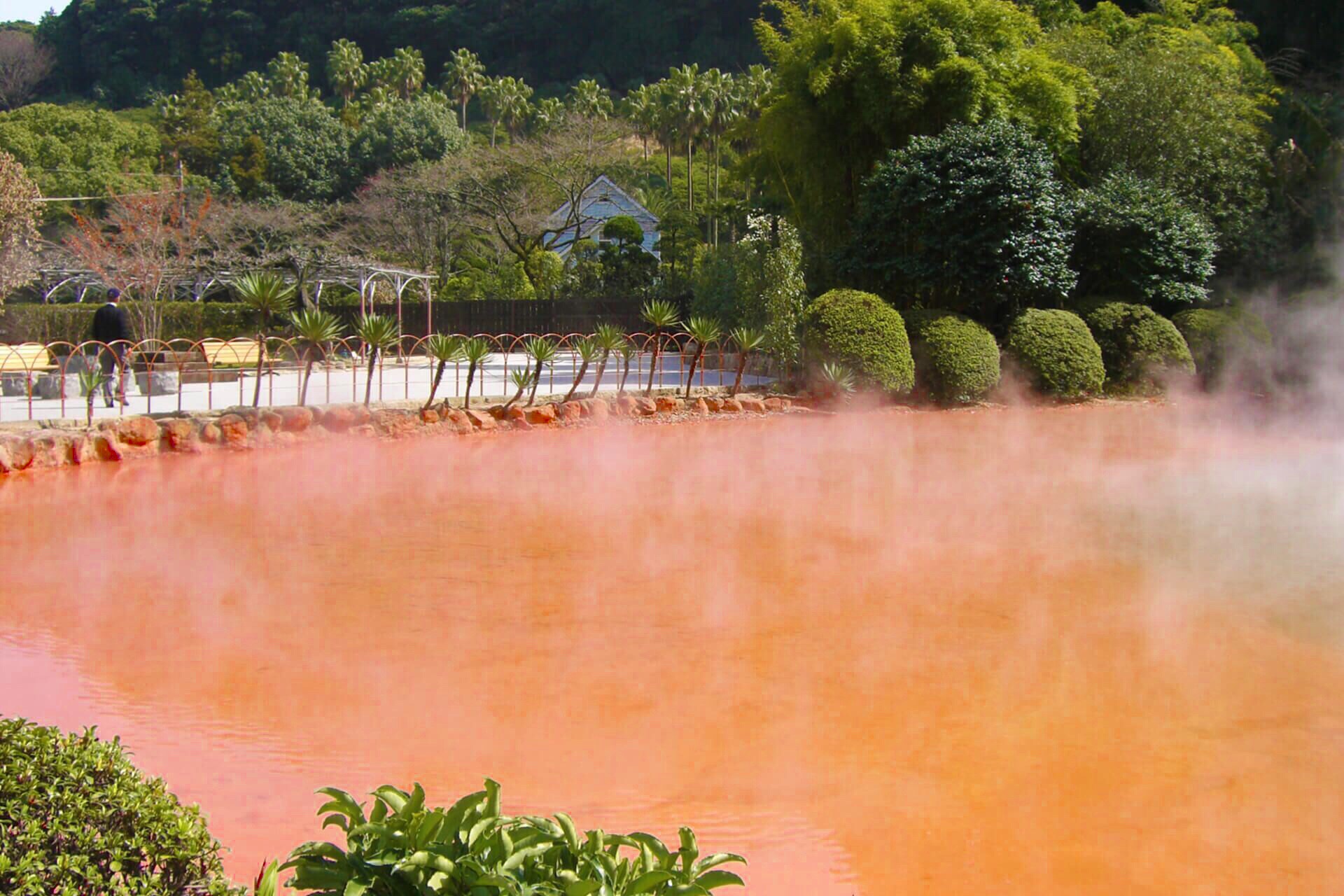 From Shiraike Jigoku, there is a Kannawa bus stop when you descend the Miyuki slope. From here to Chinoike Jigoku is seven minutes by bus, and around another 30 minutes on foot. Chinoike Jigoku, also known as Blood Pond Hell, existed over 1300 years ago, making it Japan's oldest natural hell. As its name suggests, steam rises from a bright red hot spring which makes for something both terrifying and beautiful. Said to be effective in treating skin diseases, this hot spring features a foot bath and customers are able to purchase medical salves made utilizing its hot mud.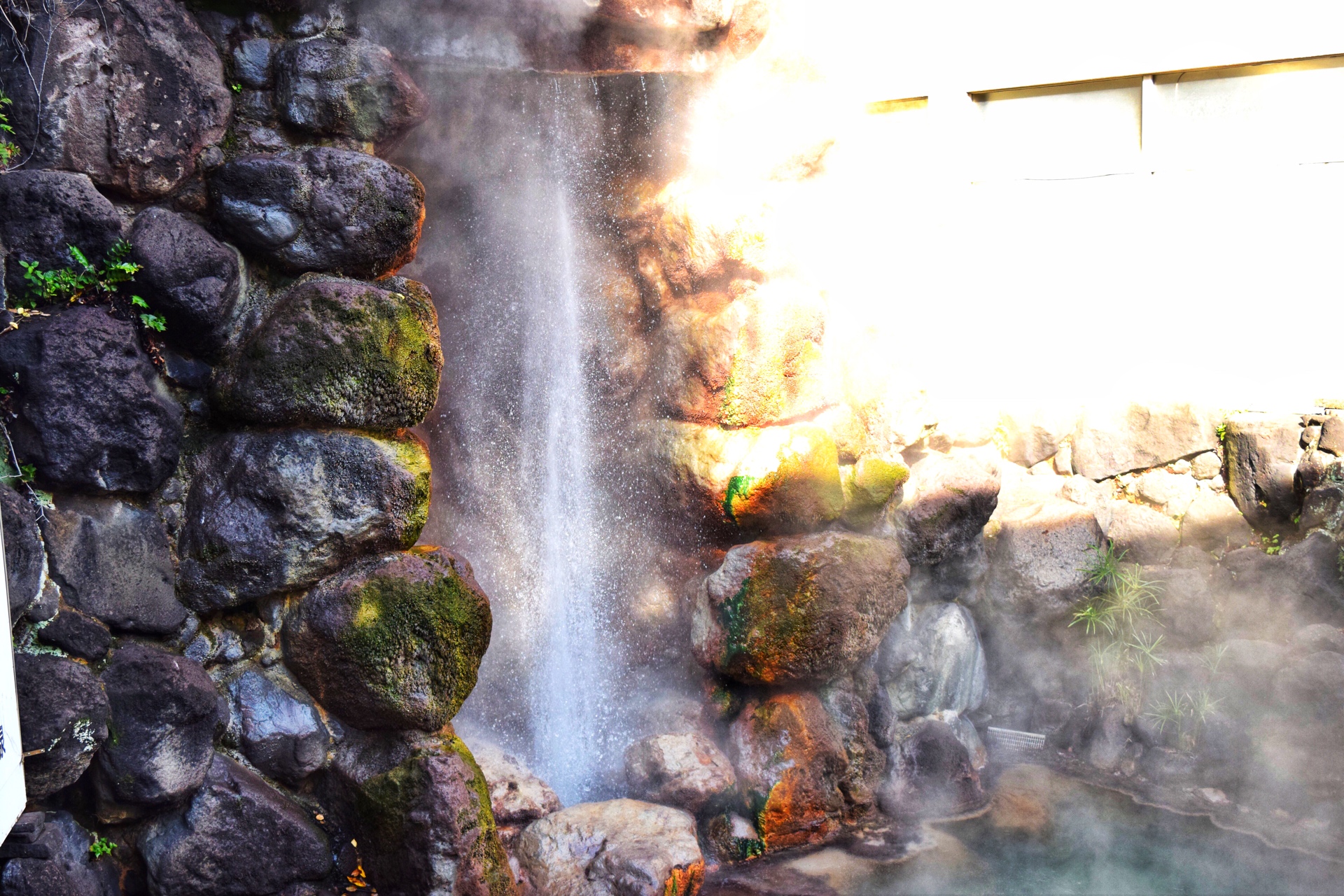 Almost immediately next to Chinoike Jigoku is Tatsumaki Jigoku. What you can see here is a geyser. Every 30 to 40 minutes, boiling water vigorously shoots out from the ground which makes for quite the sight. You can really feel that the earth is alive. If you visit during the Spring, you can't miss out on the premises' azalea garden. The way the mountain slope becomes a patchwork of pink is beautiful.
Now that you read about the seven hells in order, what do you think? At first, you may have thought that seven hells was too much but – by reading this article – you may have realized each of the seven hells have unique characteristics, making it impossible to lose interest! Beppu is the only place in the world where you can see such a variety of different hot springs within a 1 kilometer radius. It can't be helped that some people will wonder why there are so many different kinds, but we'd like for you to try doing the Hell Tour yourself! You may also be interested in Beppu Hells Night, a special event where you can visit the hells at night.
Beppu Hells Map
Click here for a map of the hells!
Price
The price for each hell of Beppu is 400 yen, but you can purchase Hells of Beppu admission ticket that includes all 7 hells for 1800 yen. Let's catch a glimpse of the earth's unknown mysteries!
If you want to know how to get to Beppu Hells or have any other questions, you can visit Wander Compass Beppu located at Beppu Station.
How to get to Beppu Onsen, where Jigoku(Hells) are located
Recommended hot springs and other attractions can be found by clicking the buttons below, so please have a look!
EnjoyOnsen